Last Updated on January 29, 2022 by Chris and Lindsay
We have set out to track our actual RV travel budget and expenses in order to help you understand the actual costs of RV living. While there are many factors that impact your budget, we found that there are not many realistic examples of RV budgets out there to study.
You can view our actual accounting with each individual expense in this Google Sheet. We update it virtually on a daily basis (as long as we have reliable internet!) so you can literally track our expenses as we incur them!
But if you are not interested in the nuts and bolts of our full-time daily living expenses, we welcome you to read on for a summary about each particular month. In each monthly budget post, we'll provide you not only with the specific line-item expenses but also with any tips and tricks we used to stay within budget!
We break our monthly expenses down into the following items:
$800 "Fixed Expenses" (Standard things like insurance, cell phones, and other "home" expenses)
$1,200 "Travel Expenses" (Roughly $40/day for meals, camping and everything else)
Join along and see how we do each month!
RV Travel Budget – December 2021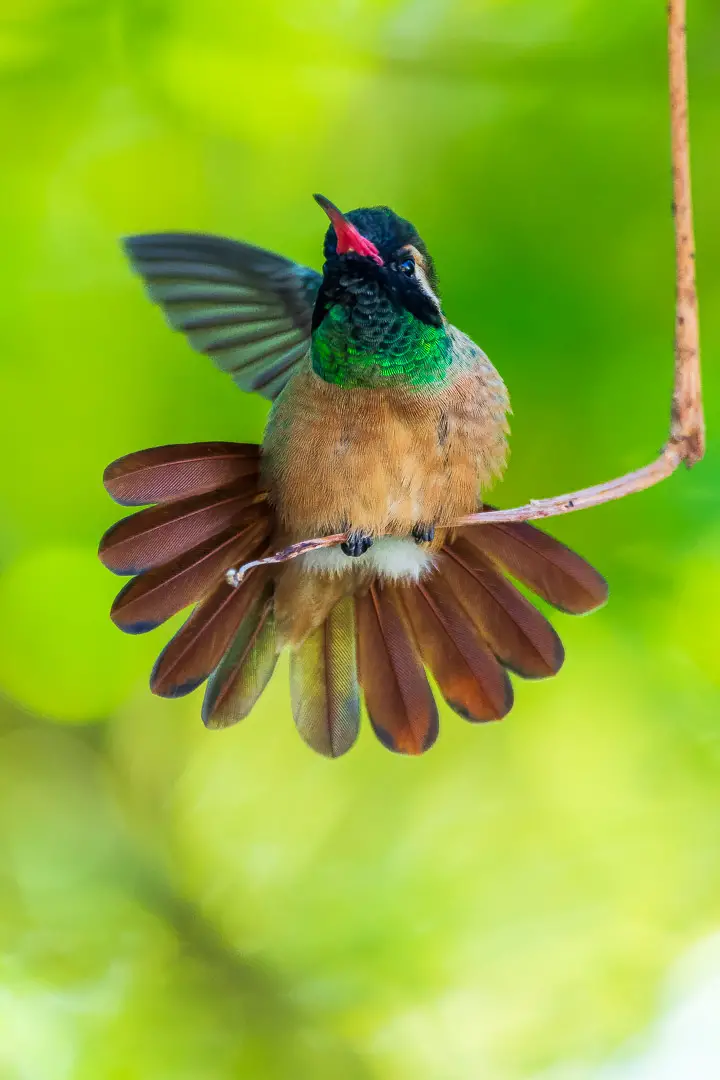 December started and ended in the southern state of Baja California. For the first 3 weeks we remained camped at Don Chano's campground in Mulege. We found daily routines that included morning paddles up the Mulege River on our SUP and daily walks with Everest and Huckleberry.
And we spent most of our days working on building our second website and trying feverishly to keep up with our first. 
But we became very restless to travel again. And so by the start of the fourth week in December we packed up our campsite in Mulege and headed just 15-20 miles south to camp at La Playa el Coyote on the Bay of Concepcion. 
After 4 incredibly peaceful nights camping at Playa el Coyote, including both Christmas Eve and Christmas, we again felt restless to travel on further south. With New Years approaching and friends in Los Barriles, we decided to make the long (6-ish hours) drive from the Bay of Concepcion to Los Barriles.
We stopped briefly in La Paz for some logistics, such as shopping at Wal Mart and topping off with propane in the RV. But made our way to Los Barriles and met up with our friends in a campground there. 
Following that first night we met a big dose of disappointment when we tried to find the free camping we knew existed in the dry riverbed (arroyo). Instead of finding a spot, we found that virtually every foot of space on the beach that was not too soft to drive through was filled up with very long-term campers.
We had planned to spend a month or so camping there, saving additional money in our budget and getting massive amounts of work done. 
As it turns out, after our second night in a campground in the middle of a very noisy Los Barriles, we made the decision to leave the East Cape and make the quick run to the Pacific side of the peninsula to a large, free camping area just north of Todos Santos.
We had spent New Years Eve in the spot two years earlier and knew it would be a nice, quiet place to spend a few nights around that time. 
So we wrapped up the month, celebrating both the end of an old year and the beginning of our next year of marriage, near Todos Santos where we woke each morning and watched surfers catch waves with humpback whales breaching in the background. 
READ MORE: Find out more about our entire budgeting and spending process in this post!
A Quick Overview of our MONTH YEAR RV Travel Budget
| | | |
| --- | --- | --- |
| Expense | Amount | Daily |
| Camping | $447.50 | $14.44 |
| Groceries | $386.50 | $12.47 |
| Meals Out | $160.00 | $5.16 |
| Other | $131.50 | $4.24 |
| | $1,125.50 | $36.31 |
| Fixed Expenses | $800.00 | |
| Total Expense | $1,925.50 | |
| Total Budget | $2,000.00 | |
| UNDER BUDGET | $74.50 | |
| -FUEL | -$140.00 | |
| OVER Budget | -$65.50 | |
For the month, we were slightly over budget and had to borrow $65 from savings.
We were pretty spot on with our November projections that our camping expenses would rise due to the fact we were paying for a proper campground in Mulege for most of the month.
And we were also right that our grocery expense would come down significantly now that we were living primarily off the groceries we stocked up on in November.
We did have quite a few utilities that came up in our miscellaneous category.
From big expenses such as the one over $30 on medical supplies at a pharmacy to another $25 spent on a data plan from the Mexican cell phone carrier and all of the little water and propane refills and laundry, we had quite a bit going on.
And if it weren't for a $140 tank of gas, we would have been nearly $75 under budget for the month.
Our Fuel Budget – $140
We only spent $140 on fuel this month for one tank of gas. Because we literally did not move the RV for the first three weeks of the month we saved a lot during that time.
But once we decided to move, we moved! And that used up the rest of our last November tank plus an entire tank itself as we drove all the way down the rest of the peninsula to Los Barriles and then over to Todos Santos.
We had thought about staying at Coyote Beach through the end of the month just to save gas money. But when we got itchy feet to travel, we took off and ended up needing a tank of gas in the final week of the month.
READ MORE: See our exact expenditures summarized above in this Google Sheet where we track day-to-day expenses and leave you notes for what and why we incurred each expense!
A Breakdown Of Our Expenses
Below is a breakdown of the circumstances and situations we found ourselves in that allowed us to remain under budget for the month.
Camping – $447.50 ($14.44/day)
Camping started out budget-heavy for three weeks of using $15 of our $40 daily allotment on camping in Mulege. Then we were able to save $5 a day on camping and boost our scenery and quality of life with 4 days on Coyote Beach.
We got caught in an expensive ($30/night) campground in Los Barilles for two nights before decided to bolt on over to Todos Santos to free camp through the rest of the month to try and keep us on track for our entire budget.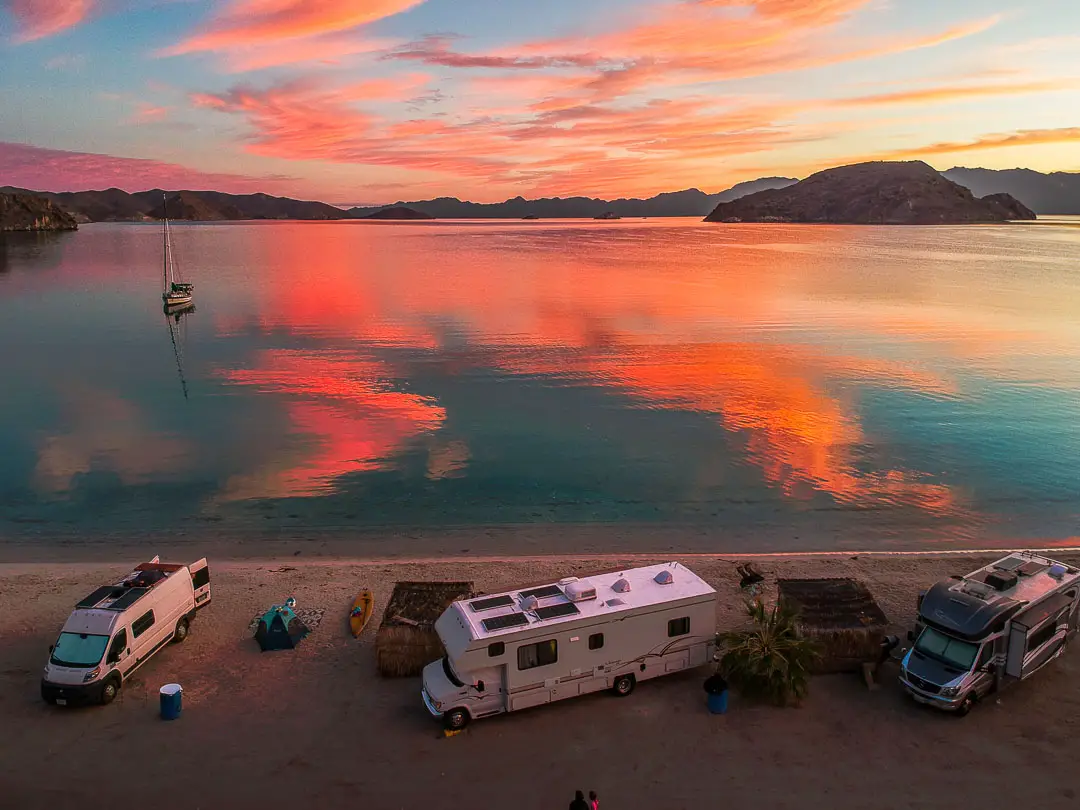 NOTE: Although our favorite camping membership is Harvest Hosts, we always travel with our Passport America membership. For under $50/year, we usually make our money back within one or two nights. Anytime we decide it is time for a formal campground we always check out Passport America campgrounds first.
Groceries – $386.50 ($12.47/day)
Compared to November, our grocery expenses dropped in half. We were able to live on the vast stockpile we made in November and didn't have to buy too many things.
But we did have a huge $165 morning of grocery shopping at Wal Mart in La Paz. Once again we were stocking up on things we knew we wouldn't find in the small grocery stores in Los Barilles, where we planned to spend the month of January. 
Meals Out – $160.00 ($5.16 day)
We stayed around the same in December as in January when it came to meals out. In all, we only went out 10 times and spent $160 total. We socialized a little in December, which accounted for the bigger expenses in this category.
Overall we're pretty happy with how this worked out in our budget and imagine January will be around the same.
Other Expenses – $131.50 ($4.24day)
December was logistics-heavy and we had a fairly high amount for this category. Our two biggest expenses are those we could have actually taken from other "buckets" in our budget.
We purchased $30 at the pharmacy, which we could have taken from our "fixed expenses" portion of the budget ($800 total) that we have set aside for medical. And $25 we spent on a TelCel SIM card so we could get data to work could have come from our monthly business expenses budget.
But we decided to absorb these expenses into our "other" category to try and tighten our belts to see if we could make it strictly on $40 per day.
We also had a sizable chunk of these expenses go to laundry, which we put off for as long as we could, and to propane refills both for the RV and our portable tank. The rest was spent on water and bolts for the RV tires.
Oh yeah, and the $10 "donation" we were forced to make to police in Loretto.
NOTE: The Mexican government requires all drivers to carry at least liability insurance for the duration of your visit. We ALWAYS go with a policy from Baja Bound as we get the exact coverage we need and save plenty of money in our budget for fun things in Mexico… like tacos!
Wrapping Up
Altogether we are pretty pleased with the fact that we were really only over our $2,000 budget by $65 considering that we had to get used to absorbing fuel costs into our budget.
And while we debated how much money we could save by leaving the campground throughout the month, we ultimately decided that we could cut corners elsewhere in our budget to keep us on track.
We did find that we went back to our reliable strategy of free camping at the end of the month to cut back camping expenses (and groceries and going out!).
Although we ended up in a state of uncertainty as to where we would be able to spend a long January month living and working, we feel like we can keep January relatively close – if not even pulling ahead to recoup that $65 overage we experienced this month.
About Author