Last Updated on March 22, 2022 by Chris and Lindsay
We have set out to track our actual RV travel budget and expenses in order to help you understand the actual costs of RV living. While there are many factors that impact your budget, we found that there are not many realistic examples of RV budgets out there to study.
You can view our actual accounting with each individual expense in this Google Sheet. We update it virtually on a daily basis (as long as we have reliable internet!) so you can literally track our expenses as we incur them!
But if you are not interested in the nuts and bolts of our full-time daily living expenses, we welcome you to read on for a summary about each particular month. In each monthly budget post, we'll provide you not only with the specific line-item expenses but also with any tips and tricks we used to stay within budget!
We break our monthly expenses down into the following items:
$800 "Fixed Expenses" (Standard things like insurance, cell phones, and other "home" expenses)
$1,200 "Travel Expenses" (Roughly $40/day for meals, camping and everything else)
Join along and see how we do each month!
RV Travel Budget – November 2021
November was an exciting month for us as it marked the transition between continued travel in the US with our friends Joe and Lilly and our return to the Baja Peninsula. 
We started the month in Northern Arizona for a few more days of camping with Joe and Lilly before returning to their house in Prescott to stage for our Baja adventures. We visited ruins in Canyon de Chelly and boondocked for a couple of nights in national forest land outside of Flagstaff and Williams.
And we kept it simple, old-school camping in the woods with a nice fire to encourage companionship and conversation off and on throughout the week. 
From there we spent two weeks with our friends in Prescott where we did some minor maintenance to the RV and began stocking up on items for our trip to Baja (Can you say 4 x 50 lb bags of dog food!).
Among other things, we loaded up with a 6 month supply of all of the vitamins and supplements that Lindsay takes to keep her Crohn's Disease at bay. We also grabbed other items we knew we wouldn't find in Baja – things like dairy-free creamer, non-dairy cheese and Nutter Butters (Lindsay's new addiction). 
Then it was on to Baja! For the first few nights, we carried a spare tire that we offered to deliver to a family who had a travel trailer that was broken down. We stopped in San Felipe for a night to say hello to some old friends and then we made our way south in quick fashion to reach the small village of San Ignacio.
From there it was a beautiful morning drive to the town of Mulege, where we planned to spend the rest of the month and most of December living and working.
We arrived in Mulege on Thanksgiving Day, delivered the tire and enjoyed a Thanksgiving Margarita and Tacos at our favorite restaurants in town. Then it was time to inflate the stand-up paddleboard and begin getting into the rituals and routines that come with staying stationary for a month or so. 
READ MORE: Find out more about our entire budgeting and spending process in this post!
A Quick Overview of our MONTH YEAR RV Travel Budget
| | | |
| --- | --- | --- |
| Expense | Amount | Daily |
| Camping | $129.00 | $4.30 |
| Groceries | $816.33 | $27.21 |
| Meals Out | $166.98 | $5.57 |
| Other | $42.49 | $1.41 |
| | $1,154.80 | $38.49 |
| Fixed Expenses | $800.00 | |
| Total Expense | $1,954.80 | |
| Total Budget | $2,000 | |
| UNDER BUDGET | $45.20 | |
How much money we spent didn't change in November. But how we spent that money did.
We had a big swing toward groceries, as we were stocking up on food to get us into and through Baja. Two big trips, in particular, accounted for over half of our total grocery expense this month. 

But the amount we spent on meals out, camping and for miscellaneous expenses remained relatively low. We didn't have any real financial surprises in November, which was nice.
And we were able to get to a place where we could "reset" our spending in pesos, which rounded out to a nearly-even 20 pesos to the dollar.
This makes doing the conversion math so much easier! 
Our Fuel Budget – $923.96 ($628.96 US / $295 Baja)
We burned through the last of our fall fuel budget, having made the fateful trip west from Wyoming into Oregon and then again to the desert of Pahrump, Nevada when we came down with COVID in October. And because we moved quickly through the northern state of Baja California, we ended up using 2 tanks of gas.
Fuel costs were slightly higher in Baja than what we had grown used to paying in the Western states, and not quite near what we would have paid for fuel in California. We spent $295 between two tanks of fuel in Baja and the remaining $628.96 on fuel inside the US.
So at this point, fuel gets rolled into our monthly expenses in Baja and we will have to account for it in the $2,000 we allocate ourselves as a budget when traveling.
The good news is that the second tank of gas in Baja is mostly full and we don't plan to travel from Mulege until the end of December. So we'll save our fuel for 4 weeks or so before we have to fill up again. 
READ MORE: See our exact expenditures summarized above in this Google Sheet where we track day-to-day expenses and leave you notes for what and why we incurred each expense!
A Breakdown Of Our Expenses
Below is a breakdown of the circumstances and situations we found ourselves in that allowed us to remain under budget for the month.
Camping – $129 ($4.30/day)
Our camping budget remained relatively low at the end of the month. Although once we arrived to Mulege and got settled into the campground there, we were done with free camping for a while.
But most of the rest of the month involved no camping fees. Two of those weeks were spent "mooch docking" in our friends' driveway prior to Baja. But we ended up with a fair number of 0's next to our camping expenses in the month of November.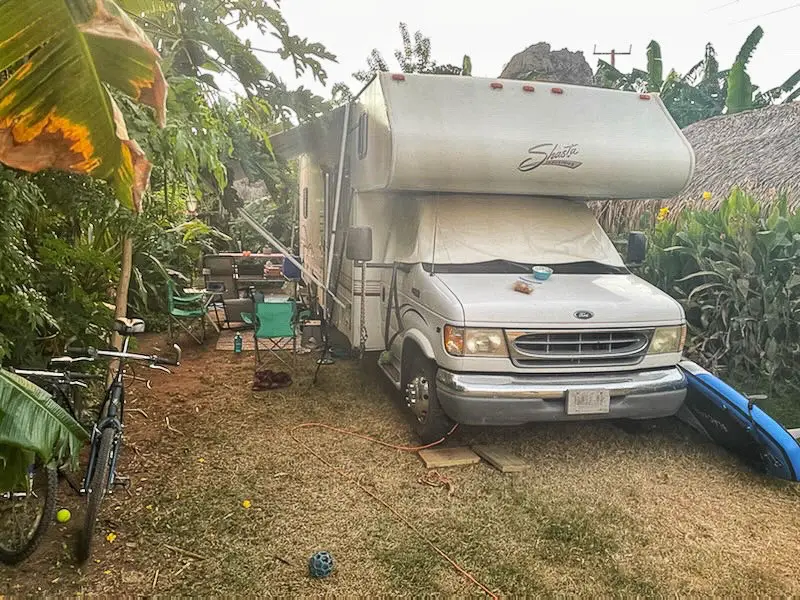 NOTE: Although our favorite camping membership is Harvest Hosts, we always travel with our Passport America membership. For under $50/year, we usually make our money back within one or two nights. Anytime we decide it is time for a formal campground we always check out Passport America campgrounds first.
Groceries – $816.33 ($27.21/day)
Our grocery expense in November was quite a bit higher than in previous months. But we planned for this because we knew we would save money camping at our friends' house and could allocate that for stocking up on groceries for Baja.
Surprisingly, many of the items in grocery stores in Mexico are approximately the same price as in the US. Plus there are a few of our favorites that we had to load up to take with us. We don't feel like we'll spend anywhere near this much on groceries in future months in Baja.
It's more likely our "going out" expenses will increase because we'll be back in the land of the shrimp and fish taco! 
Meals Out – $166.98 ($5.57 day)
We went out almost equally between time in Arizona and time in Baja. In the whole month, we only grabbed 4 meals out at fast food places (clearly for convenience, not health!) before we hit Baja.
Then we picked up the pace a bit with eating at our favorite places back in Baja. But at the end of the month, we were pretty evenly split in how we spent money in this category.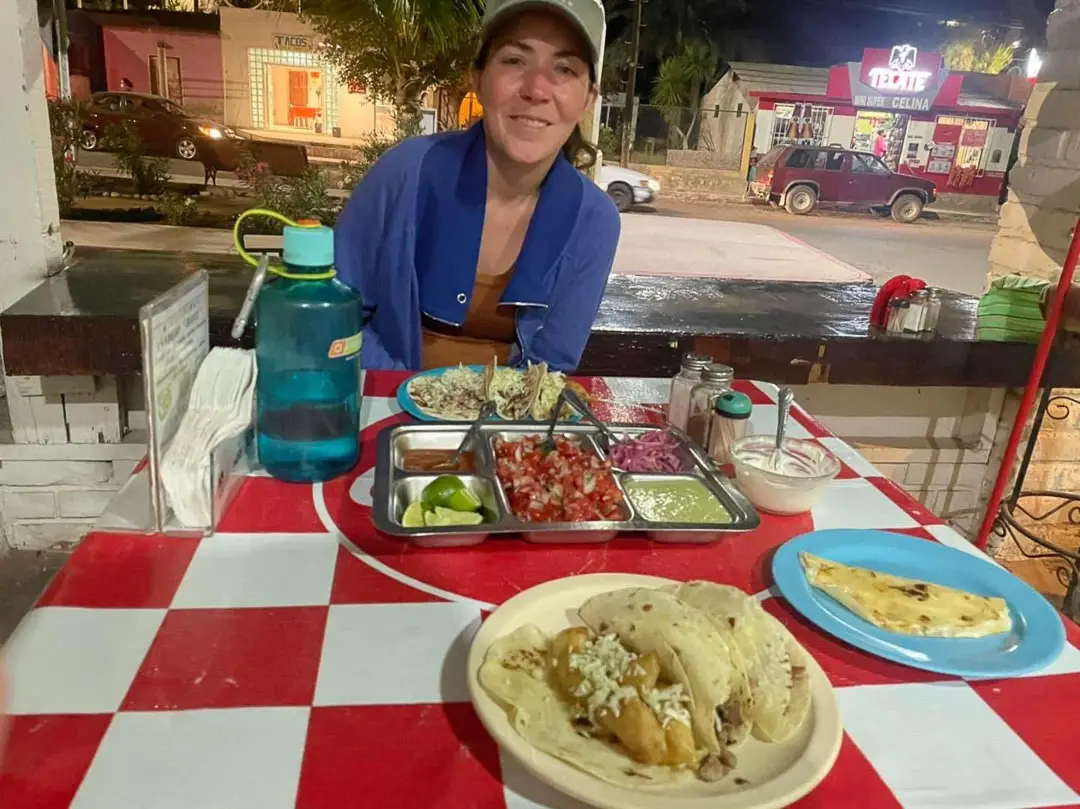 Other Expenses – $42.49 ($1.41/day)
There were very few logistics, and no major surprises when it came to miscellaneous expenses. The biggest expense was a $32 propane refill in Arizona.
We also donated $5 to help a Mexican man get medical treatment and we spent another $5 filling up the RV and all our drinking water containers with purified water. 
NOTE: The Mexican government requires all drivers to carry at least liability insurance for the duration of your visit. We ALWAYS go with a policy from Baja Bound as we get the exact coverage we need and save plenty of money in our budget for fun things in Mexico… like tacos!
Wrapping Up
All in all, we're pretty pleased with how the month wrapped up. Knowing that we need to incorporate fuel into our monthly budget is going to change how we spend money in December.
And also knowing that we will be stationary at a campground for $15 per night for most of the month will mean we'll change how we spend money. We usually excel at camping on a budget.
So the fact we'll have a higher-than-average camping expense in December, our other categories should be lower. 
About Author