Last Updated on February 26, 2022 by Chris and Lindsay
We have set out to track our actual RV travel budget and expenses in order to help you understand the actual costs of RV living. While there are many factors that impact your budget, we found that there are not many realistic examples of RV budgets out there to study.
You can view our actual accounting with each individual expense in this Google Sheet. We update it virtually on a daily basis (as long as we have reliable internet!) so you can literally track our expenses as we incur them!
But if you are not interested in the nuts and bolts of our full-time daily living expenses, we welcome you to read on for a summary about each particular month. In each monthly budget post, we'll provide you not only with the specific line-item expenses but also with any tips and tricks we used to stay within budget!
We break our monthly expenses down into the following items:
$800 "Fixed Expenses" (Standard things like insurance, cell phones, and other "home" espenses)
$1,200 "Travel Expenses" (Roughly $40/day for meals, camping and everything else)
Join along and see how we do each month!
RV Travel Budget – September 2021
September 2021 saw us back on the road for the first time in 9 months. We had spent December 2020 to August 2021 remodeling our new Class C RV while working full time to pay for all of the remodeling projects and to save up for travel and additional fuel expenses.
We technically left Florida on August 28. But our first stop was to visit Lindsay's family in North Georgia so we did not include that in our RV travel budget as these expenses were paid in our August stationary budget.
As we lived on less than $2,000 per month while stationary, we made the commitment to keep the same budget as we traveled. With nearly 4 years of full-time RV living under our belts at this point, we were pretty confident that we could manage to stay under $2,000 per month – not counting fuel.
Once we reached Colorado, our month was split fairly evenly between nearly two weeks in Colorado and two weeks in Thermopolis, Wyoming.
In Colorado, we spent a good deal of time camping and exploring Great Sand Dunes National Park. While here we made fast friends with a younger couple who may travel with us into Baja. We also interviewed for the YouTube channel, Tiny Home Tours!
Then it was on to Thermopolis, Wyoming – our favorite small town in America! We had friends here in 2018 when we left on our initial journey. But a year later, when we had a near-catastrophic breakdown, we ended up spending 5 months living and working in Thermopolis.
So it will always hold a special place in our hearts. And this was our first time returning since we left at the first part of September in 2019. We always have a hard time leaving Thermopolis. So what we thought would just be a week to ten days quickly turned into the last 2 weeks of September!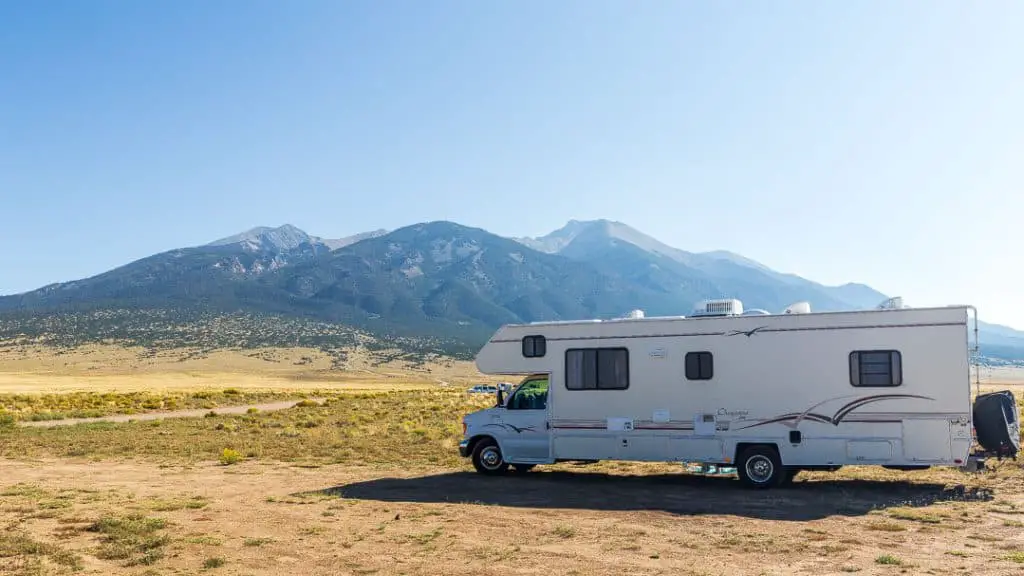 The Burden of Fuel
Fuel was a huge unpredictable beast for this leg of our journey. Not only would our new RV get worse gas mileage (we anticipated between 6-7 mpg at most), the price of fuel was also skyrocketing due to seasonal and political reasons.
We also had the goal to race toward the western half of the US in quick time, so we knew that we would go through quite a bit of fuel in the beginning part of our trip and we would then slow down and use less fuel throughout the following months.
As such, we set aside $3,000 of savings we earned through working additional odd jobs to pay for what we expected to be approximately 3 months of travel in the US.
Our goal was to reach Baja, Mexico at the later part of November, at which point we would budget the cost of fuel INTO our $2,000 monthly budget and thus live exclusively on $2,000 per month.
READ MORE: Find out more about our entire budgeting and spending process in this post!
A Quick Overview of our September 2021 RV Travel Budget
| | | |
| --- | --- | --- |
| Expense | Amount | Daily |
| Camping | $104.58 | $3.49 |
| Groceries | $445.95 | $14.87 |
| Meals Out | $345.32 | $11.51 |
| Other | $274.36 | $9.15 |
| | $1,170.21 | $39.02 |
| Fixed Expenses | $800.00 | |
| Total Expense | $1,970.21 | |
| Total Budget | $2,000.00 | |
| UNDER BUDGET | $29.79 | |
As you can see from the overview, we managed to just barely remain under budget throughout the month of September.
This was not an accident. On the contrary, we made several intentional decisions to ensure that we were within budget.
Although we did have a little bit of a surprise mechanical repair, we were able to absorb that cost with some cost-saving tips and tricks.
We'll get into the details of each line item below and why we were a little over or under our anticipated amount.
Ultimately we're pleased that our expenses were within budget for the month!
Our Fuel Budget
We did spend a total of $1,037.97 on fuel in September. This brought our fall fuel balance down from $3,000 to $1,962.03.
Most of this fuel was spent in driving from Georgia to Colorado in the first few days of the month.
READ MORE: See our exact expenditures summarized above in this Google Sheet where we track day-to-day expenses and leave you notes for what and why we incurred each expense!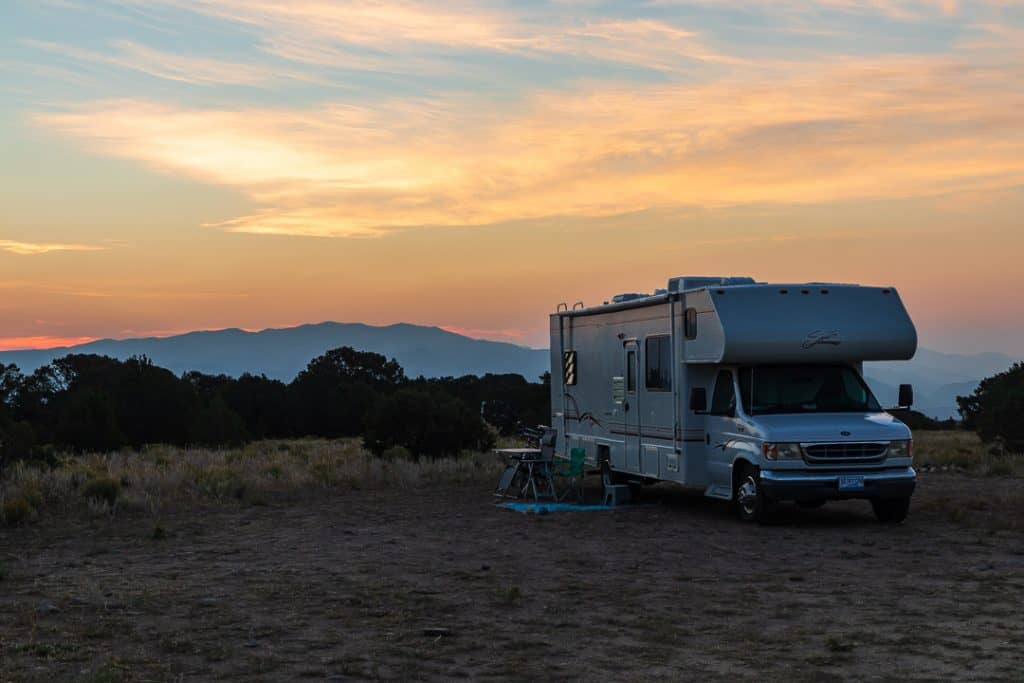 A Breakdown Of Our Expenses
Below is a breakdown of the circumstances and situations we found ourselves in that allowed us to remain under budget for the month.
Camping – $104.58 ($3.49/day)
We started the month wrapping up our time "mooch-docking" at Lindsay's family's house in Georgia. And we ended the month with 2 weeks of "mooch-docking" with friends in our favorite small town in America, Thermopolis, Wyoming.
This saved us a lot of money in camping. We only camped in a proper campground for 2 nights this month using our Passport America membership.
Yep, this is the plug for Passport America. For less than $50/year, we paid for our membership over these 2 nights. Plus the campground had great hot showers, plenty of solid WiFi and some pretty good views.
Another 2 nights we paid to camp at Dillon Reservoir, just outside Breckenridge, CO as this was as close as we could camp to town when visiting Lindsay's cousin (plus it was pretty awesome in itself!).
The rest of the time we free camped mostly on BLM land, which offered a great combination of views and outdoor activities with budget-saving costs!
NOTE: Although our favorite camping membership is Harvest Hosts, we always travel with our Passport America membership. For under $50/year, we usually make our money back within one or two nights. Anytime we decide it is time for a formal campground we always check out Passport America campgrounds first.
Groceries – $445.95 ($14.87/day)
We spent a fair amount of money on groceries, though less than we would have thought. When we free camp so much we tend to go a few days without buying groceries and then we're hit with a big bill as we restock.
We also left Florida pretty well stocked so we didn't have to buy many groceries from the start. But we did stock up on groceries before we entered Thermopolis as we knew there was only one grocery store with exorbitant prices.
Meals Out – $345.32 ($11.51 day)
This was a relatively high amount for going out. But most of this was due to the fact that we were back in Thermopolis after leaving almost 2 years earlier.
We had some catching up to do with friends and we wanted to visit a few of our old favorites from when we lived in town during our near-catastrophic breakdown. This is not a normal level of spending for meals out.
Other Expenses – $274.36 ($9.15/day)
Other expenses we incurred were mostly centered around a minor maintenance issue. We paid a friend $100 to change out our rear differential pinion seal and the related parts. Plus we purchased oil and an oil filter to change our oil in Thermopolis. And we also had to fill up on propane once.
| | | | | | |
| --- | --- | --- | --- | --- | --- |
| | Camping | Groceries | Meals Out | Other | TOTAL |
| Per Month | $104.58 | $445.95 | $345.32 | $274.36 | $1,170.21 |
| Per Day | $3.49 | $14.87 | $11.51 | $9.15 | $39.02 |
Wrapping Up
Overall, anytime you end the month under budget it is a good month! And since we are full-time RVers, any savings from one month extends our time on the road by that much more.
The $29.79 saved from this month will go into a pot and wait for (hopeful!) savings in October!
About Author