You can view our actual accounting with each individual expense in this Google Sheet. We update it virtually on a daily basis (as long as we have reliable internet!) so you can literally track our expenses as we incur them!
But if you are not interested in the nuts and bolts of our full-time daily living expenses, we welcome you to read on for a summary about each particular month. In each monthly budget post, we'll provide you not only with the specific line-item expenses but also with any tips and tricks we used to stay within budget!
We break our monthly expenses down into the following items:
$800 "Fixed Expenses" (Standard things like insurance, cell phones, and other "home" expenses)
$1,200 "Travel Expenses" (Roughly $40/day for meals, camping and everything else)
Join along and see how we do each month!
RV Travel Budget – February 2022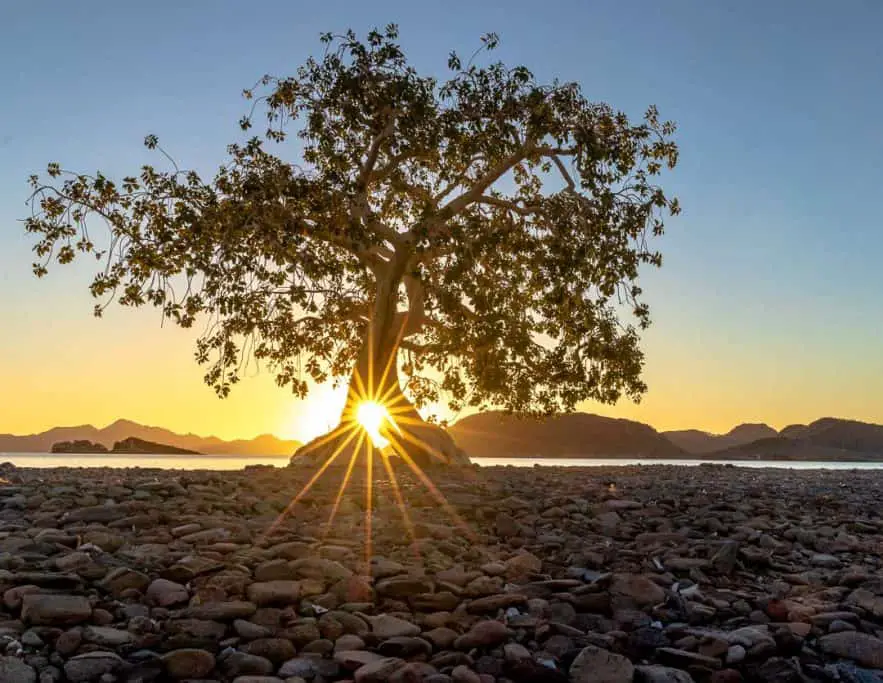 February was a good month as it brought good friends to meet and travel with us. We spent the first 12 days in Mulege wrapping up online work we knew we needed to do and making peace with our time in the town. Because we spent so much time in Mulege already we decided that we would not stop on our way back north.
During this month our fridge broke on us. Fortunately, there was an RV fridge repairman camping a few sites over at Don Chanos. However, he diagnosed the issue and pronounced the fridge dead. So we'd have to borrow a cooler and start purchasing ice this month to get us through the time our friends could join us from Arizona.
We did not want to abandon Baja and return to the US prematurely, so we purchased a small 110V mini-fridge that would operate off our inverter and battery bank, that Scott and Melissa picked up and carried with them on their way to join us.
When our friends Scott and Melissa arrived in the middle of the month, we started making plans to head south to La Paz to spend a few months on the beaches out there. Our other friends from Arizona, Joe and Lilly, arrived around the same time and we decided to travel together as far south as Joe and Lilly were headed.
We spent a few days camping on Playa Los Cocos, along the Bay of Concepcion, before a night at Juncalito beach just south of Loreto. From there, Joe and Lilly split off to go to Agua Verde while we continued south with Scott and Melissa.
With just one brief night at La Maranatha campground in La Paz, we ran our errands to top off our fuel and propane and fill our camper with groceries before heading out to the beaches outside of town.
The rest of the month was spent waking up to the sound of clear water lapping the white sandy shores of our favorite beach, paddleboarding a few miles each morning, working through most days and enjoying incredible sunsets and campfires almost every evening through the rest of the month.
READ MORE: Find out more about our entire budgeting and spending process in this post!
A Quick Overview of our February 2022 Travel Budget
| | | |
| --- | --- | --- |
| Expense | Amount | Daily |
| Camping | $225.00 | $8.04 |
| Groceries | $436.50 | $15.59 |
| Meals Out | $124.50 | $4.45 |
| Other | $45.00 | $1.61 |
| | $831.00 | $29.68 |
| Fixed Expenses | $800.00 | |
| Total Expense | $1,631.00 | |
| Total Budget | $2,000.00 | |
| UNDER BUDGET | $369.00 | |
During February we were able to play catch-up on the additional fuel expense we incurred in January.
The month started out relatively expensive as we were living in Mulege and paying for camping.
But aside from a big grocery trip in La Paz, the rest of the month was relatively inexpensive as we found ourselves free camping on our favorite beach in Baja.
Our camping expenses were lower – closer to our usual US expense and our expenses for going out was less as well as we spent a little more on groceries than normal.
However, we also didn't have any budgetary surprises in February, mostly because we were staying put for most of the month, either in Mulege or in La Paz.
Our Fuel Budget
In February we purchased one tank of gas in La Paz prior to setting up camp for the rest of the month. Our tank was almost on empty and fuel prices had risen, so we paid $180 for the full tank of gas.
This was significantly less than January, and in line with our principle that we would only need to fill up on gas around one time per month. We're hoping we have the same results in March as we do not plan to drive more than one tank or so worth of fuel that month as well.
READ MORE: See our exact expenditures summarized above in this Google Sheet where we track day-to-day expenses and leave you notes for what and why we incurred each expense!
A Breakdown Of Our Expenses
Below is a breakdown of the circumstances and situations we found ourselves in that allowed us to remain under budget for the month.
Camping – $225 ($8.04/day)
We started the month of February in Mulege paying $15 per night for camping. This was our norm through December so we learned to balance the cost of camping with the money we could save elsewhere.
We also had the chance to spend 3 nights paying $10 per night to camp at Playa Los Cocos on the Bay of Concepcion. This is one of our favorite places in all of Baja to camp because it is affordable, beautiful and there is no cell service!
And then we made our way to our favorite beach in Baja, where we were able to set up camp for the indefinite future and pay absolutely nothing to wake up on the beach!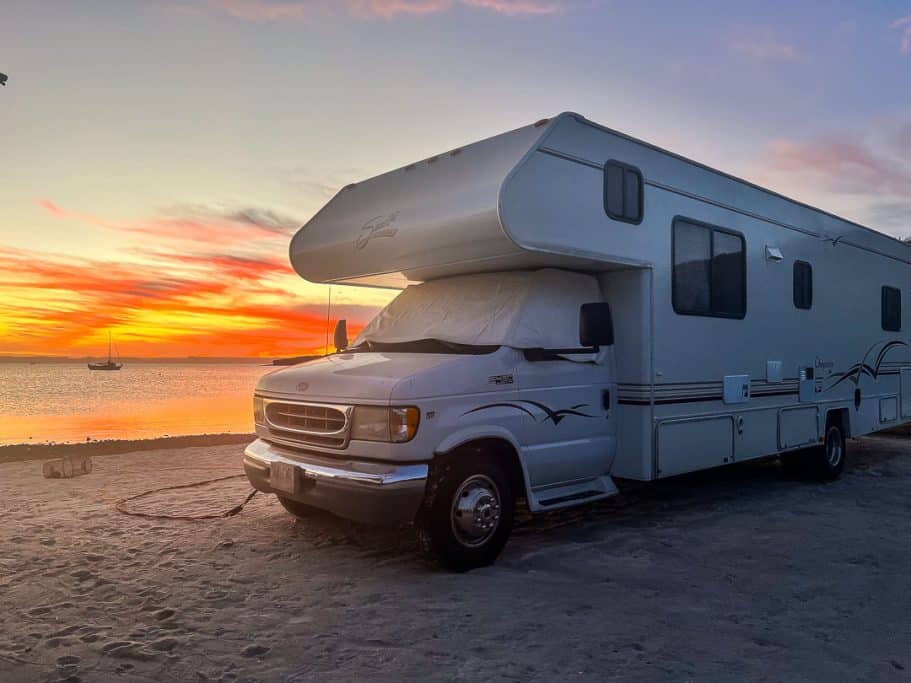 NOTE: Although our favorite camping membership is Harvest Hosts, we always travel with our Passport America membership. For under $50/year, we usually make our money back within one or two nights. Anytime we decide it is time for a formal campground we always check out Passport America campgrounds first.
Groceries – $436.50 ($15.59/day)
Our grocery expense in February was the middle of the road for all of our time on the road. Although it was more than January, it was less than our previous 3 months in the US before we left for Baja.
We had one big trip to Wal Mart in La Paz that set us back nearly $150. But otherwise, we just maintained our grocery inventory and cooked most of our meals rather than going out.
Meals Out – $124.50 ($4.45 day)
We didn't have a huge expense for going out to eat in February. In fact, this was our second least expensive month since we started tracking our expenses in September 2021. We attribute this partially to trying to get back into living more frugally in Mulege.
But most of the savings came from the fact that we ended up at the beaches in La Paz where we only went out to eat twice in two weeks. It's easy not to spend money when there aren't places around to spend it!
Other Expenses – $45.00 ($1.61/day)
We didn't have any miscellaneous surprise expenses in February. In fact, our other expenses category that accounts for a lot of the logistical needs of living in an RV only required around $12 in laundry expenses, $10 for refilling our portable propane tank, $14 for refilling the propane in our RV and then $10 for a 55-gallon container of water at Playa Los Cocos from which we were able to live more comfortably on the beach without having to use fresh purified water from our water tank.
Wrapping Up
February was a good month from a budgetary standpoint. This was good because we needed to play catchup from spending extra money on fuel in January as well as to prepare for the possibility of paying for a whale shark tour in March. In all, we were under budget nearly $400.
This was good as it covered the extra fuel, let us save for a whale shark trip and start thinking about paying for the repair to our refrigerator, which we learned would cost $700.
About Author