Last Updated on April 13, 2022 by Chris and Lindsay
You can view our actual accounting with each individual expense in this Google Sheet. We update it virtually on a daily basis (as long as we have reliable internet!) so you can literally track our expenses as we incur them!
But if you are not interested in the nuts and bolts of our full-time daily living expenses, we welcome you to read on for a summary of each particular month. In each monthly budget post, we'll provide you not only with the specific line-item expenses but also with any tips and tricks we used to stay within budget!
We break our monthly expenses down into the following items:
$800 "Fixed Expenses" (Standard things like insurance, cell phones, and other "home" expenses)
$1,200 "Travel Expenses" (Roughly $40/day for meals, camping and everything else)
Join along and see how we do each month!
RV Travel Budget – March 2022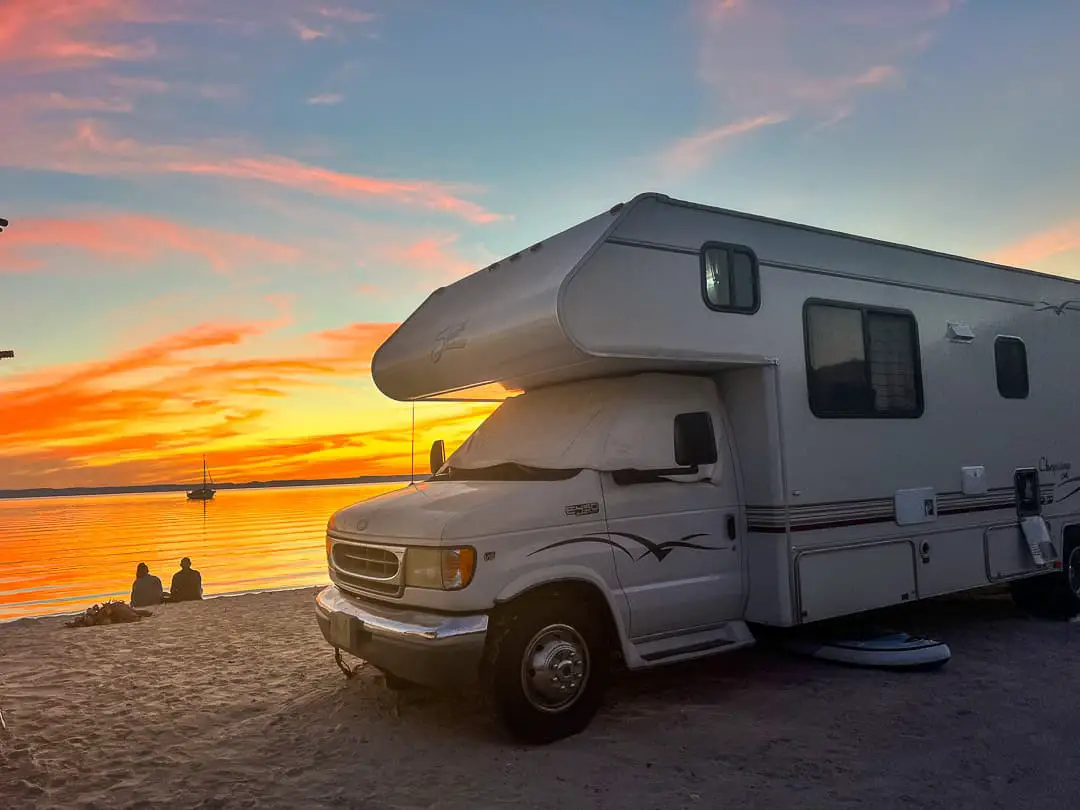 March was a great month for us. We started by camping at our favorite beach in La Paz and ended at a different one! When we arrived at Pichilingue Beach in February, we continued our stay here until the very end of the month.
During this time Lindsay was able to go swimming with whale sharks, we paddle boarded to visit a sea lion colony, hiked dozens of miles through the desert and enjoyed spectacular sunrises and sunsets from on the beach.
And while we had the opportunity to enjoy ourselves so much, we also had to say farewell to new friends we made while staying at the beach. Serge, Natalie and their son Max are a Ukrainian family that had been traveling through mainland Mexico prior to the invasion of their country.
We met them and invited them to camp with us, which they did until the day we left them at the end of the month. We shared meals together, helped each other with random tasks and projects around the campers and even saw Serge through when he was stung by a stingray.
Of course, we also found quite a bit of productivity with being able to film our journey for our YouTube channel and work on our websites. We balanced work with pleasure as there was so much to enjoy about the time at the beach.
And then at the end of the month, we left Pichilingue Beach and spent one night camping at Tecolote Beach. This was quite an experience as we picked Sunday as the night to camp there.
As it turned out, Sunday means "fun day" in La Paz and we had hundreds of people park around our camper and party on the beach all day. It was mostly a great experience, although the music was so loud we could hardly talk to each other inside the camper!
The next night we camped at Rancho El Camino, a boys and girls ranch that caters to kids on the outskirts of La Paz. We played a round of disc golf just before sunset and were invited to participate in a staff Bible study. We donated $20 to the ranch in exchange for camping and a round of disc golf.
After that, we made a long drive north to Juncalito Beach, which is just south of Loreto. When we were here before it was cold and windy and our friend Scott got his 5th wheel stuck in the sand – but Lindsay saw its potential.
So on our way north we stopped here and were gifted a fantastic sunset, a quiet night of sleep and a perfectly calm morning after. We added Juncalito to our personal favorites and promised we'd spend more time there when we return to Baja.
Finally, our last night in March was spent at our favorite beach on the Bay of Concepcion – Coyote Beach. It was the week before Semana Santa, or "Holy Week" for the Mexicans that celebrate the week before Easter.
The first night was a little busy with what would end up being the last "batch" of gringos on the beach. But what was to come in April on that beach, well, we didn't plan to stick around.
READ MORE: Find out more about our entire budgeting and spending process in this post!
A Quick Overview of our March 2022 RV Travel Budget
| | | |
| --- | --- | --- |
| Expense | Amount | Daily |
| Camping | $56.00 | $1.81 |
| Groceries | $520.00 | $16.77 |
| Meals Out | $158.50 | $5.11 |
| Other | $320.50 | $10.34 |
| | $1,055 | $34.03 |
| Fixed Expenses | $800 | |
| Total Expense | $1,855 | |
| Total Budget | $2,000 | |
| UNDER BUDGET | $145 | |
We spent all but 2 days of March at the beaches of La Paz. This was great because we were able to save a lot of money on camping, fuel and going out as we were virtually stationary the entire month.
The last few days of the month we left Pichilingue Beach and moved to Tecolote Beach, just down the road. This was a free beach but we had lunch at a local restaurant and purchased a blanket for our RV.
On the final two days of March, we moved from La Paz to Coyote Beach on the Bay of Concepcion. This was great because it is our favorite spot in Baja and there are virtually no ways to spend money outside of camping there.
We wrapped up the month on the Bay of Concepcion, planning the last two weeks of our time in Baja.
Our Fuel Budget – $101.92 spent
Because we spent most of the month stationary we did not need to fill up with fuel more than once. This $101.92 was about 2/3 of a tank and it gave us the ability to drive from La Paz to the Bay of Concepcion, just outside of Mulege before we needed to refill.
However, once we reached the Bay of Concepcion we remained stationary through the end of the month. When we refilled our fuel from this long drive we did so in the first part of April rather than at the end of March.
READ MORE: See our exact expenditures summarized above in this Google Sheet where we track day-to-day expenses and leave you notes for what and why we incurred each expense!
A Breakdown Of Our Expenses
Below is a breakdown of the circumstances and situations we found ourselves in that allowed us to remain UNDER budget for the month.
Camping – $56.00 ($1.81/day)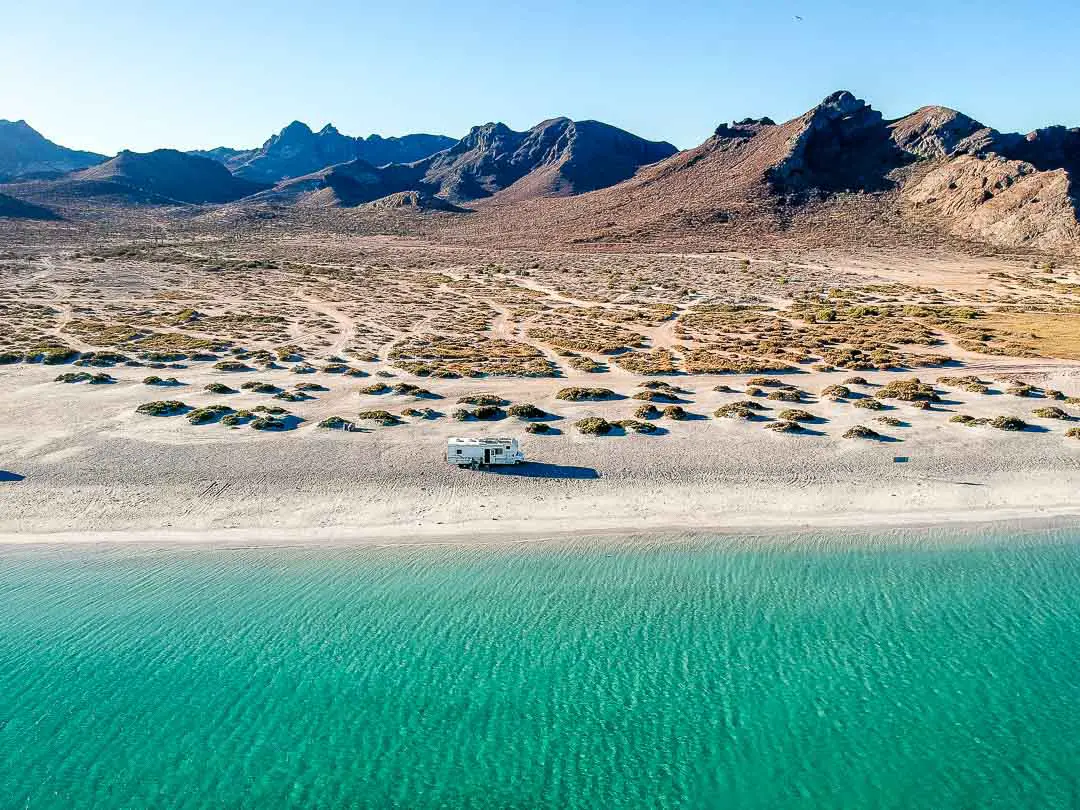 Because we were stationary on a free beach in La Paz for 26 of the 31 days of March we were able to have a very, very low camping expense for the month. In fact, we only paid for camping a total of 3 nights in March.
The most expensive night was one at La Maranatha campground in La Paz on our last night in town before driving back north. We wanted to do laundry, fill up our water and be close enough to the city to be able to take a taxi into town to enjoy one final night with our friends before leaving the southern part of the peninsula.
La Maranatha cost us $26. We also spent $20 in a donation to the Rancho El Camino, a non-profit ranch that helps local boys and girls just outside of La Paz. Because of our background as foster parents, we had no problem donating this to dry camp on the property.
The final $10 camping expense was to pay for our first night at Coyote Beach on the Bay of Concepcion.
Groceries – $520.00 ($16.77/day)
Our grocery expense was the highest of all expenses this month due to the fact that we were stationary and about 30 minutes outside of La Paz. We only went into town once a week for groceries when we caught a ride with our friends to run errands.
Each time we went into town for groceries we had a pretty high bill. But these groceries lasted us most of the week and we prepared our own meals most of the time we were camping.
We did spend around $30 on refilling our purified drinking water. Most of this came from multiple trips into town with portable water containers that we would refill and then pump into our RV freshwater tank. But it also included the drinking water we would use as well.
Meals Out – $158.50 ($5.11 day)
Because we were stationary most of the month we had a relatively low expense for meals out. We did go into La Paz around once per week for dinner. And on those occasions we allowed ourselves to spend more than we normally would because we saved so much money by free camping and only going out to eat once or so per week.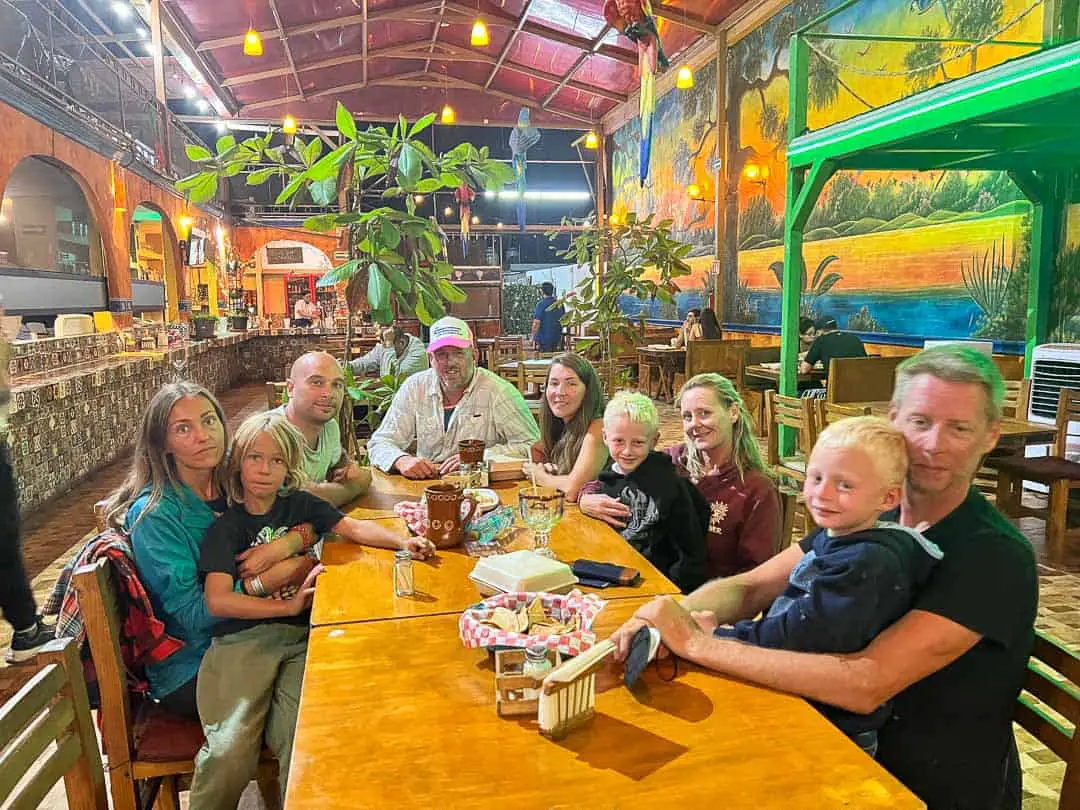 Our biggest meals out also included a celebratory meal with our friends that cost us $51 as well as a farewell meal that we spent $35. Other meals out were typically smaller lunches.
Other Expenses – $320.50 ($10.34/day)
If ever we had to prove our love for Huckleberry, our beloved nearly-2-year-old puppy, it was during this month. Most of the expenses we incurred in this category were veterinary bills paid when he injured his paw and it became infected. We spent a total of $217 in vet bills to get him back to speed.
Additionally, we spent quite a bit on laundry this month – at $42. But this included two entire cleanings of our camper (thanks to all of the sand from the beach and dog fur on the blankets, sheets and towels!).
Lindsay also spent $22 on showers throughout the month when she and our friend Melissa went into town to take proper showers at the La Maranatha campground. We usually take military showers in our camper once every couple of days. But as she and Melissa would go into town for "ladies' day" once a week or so, they would make a stop at the campground for some unlimited hot water.
Finally, we spent $33 on a new blanket for our couch. This is clearly an expense we would not incur regularly and one we didn't really budget for. But when you see a blanket as nice as the one we bought that matches our interior perfectly, it's hard to say no!
Wrapping Up
We are incredibly pleased that we were able to enjoy our final month in La Paz and come in under budget for the month! When we add in the fuel cost for one tank of gas, we still ended up $43 UNDER budget. This is great because we know that in April we will have close to 600 miles (or nearly 2 tanks of fuel!) to drive to return to the US.
We also know that we would have saved even more money if Huckleberry had not had an accident requiring over $200 in veterinary bills. This $250 in total would have gone a long way toward those 2 tanks of fuel coming our way in April!
However, all in all, we are very pleased with how we balanced pleasure and practicality with our budget in March!
About Author