Last Updated on September 2, 2022 by Chris and Lindsay
You will find everything you need to know about camping in La Paz, Mexico in this guide!
Camping in La Paz is not as easy as camping in other cities and towns in Baja.
But the city of La Paz is beautiful and has a charm that will make you want to spend more time in the city than you might have thought. 
As the 4th largest city in Baja, there are roughly 300,000 residents within the city. An overwhelming majority of these are Mexican, which is a welcome relief to many of the small towns that have a high population of ex-pats. 
You can find nearly everything you are looking for in La Paz. Think about some of the things you have missed or needed the last few days, weeks or months.
There is a Wal Mart, several shopping malls and all sorts of chain restaurants, repair shops and high-quality medical facilities. 
Whether you are just planning to pass through (because you have to on your way to Todos Santos, the Cabos or Los Barriles) or whether you want to make it a destination, camping in La Paz is a great idea during your trip to Baja.
Guide to RV Camping in La Paz, Mexico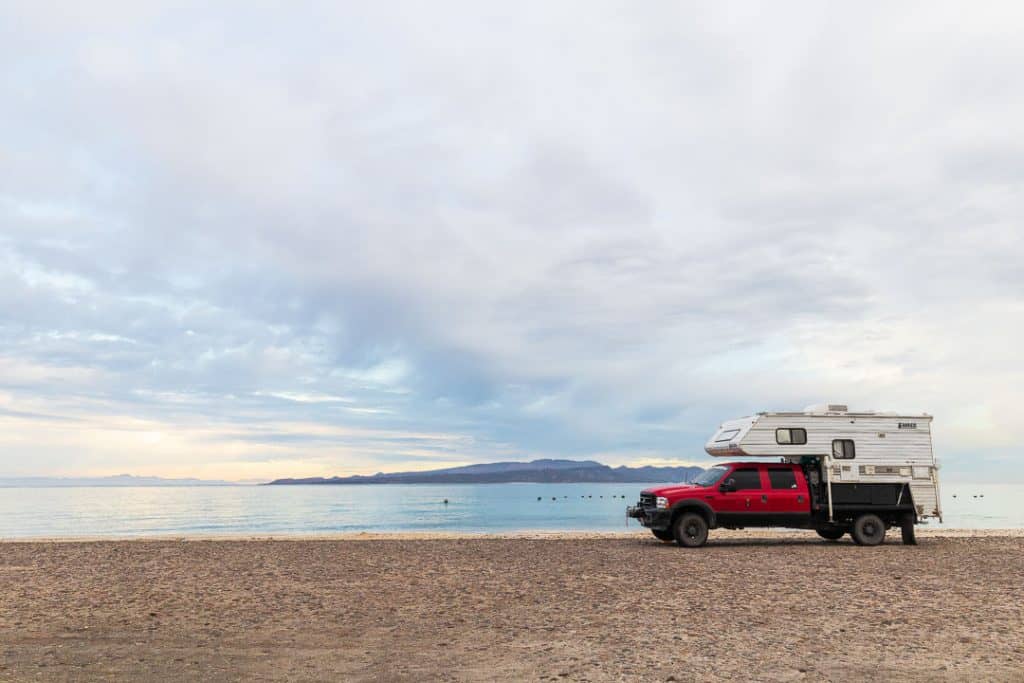 Although there is only one RV campground near the center of La Paz (and another 15 minutes away), La Paz is very RV-friendly.
There are plenty of places to catch up on chores such as laundry, washing the RV, hair cuts and so forth.
And there are lots of options when it comes to keeping up with the necessities such as stocking up on groceries and purified water.
There is only one place to get propane and it is just outside of La Paz.
And if you are not planning to spend the night, there is only one campground where you can dump your tanks for a fee.
But you can get caught up, or get ahead in your planning when you camp in La Paz.
Reasons to Visit La Paz, Mexico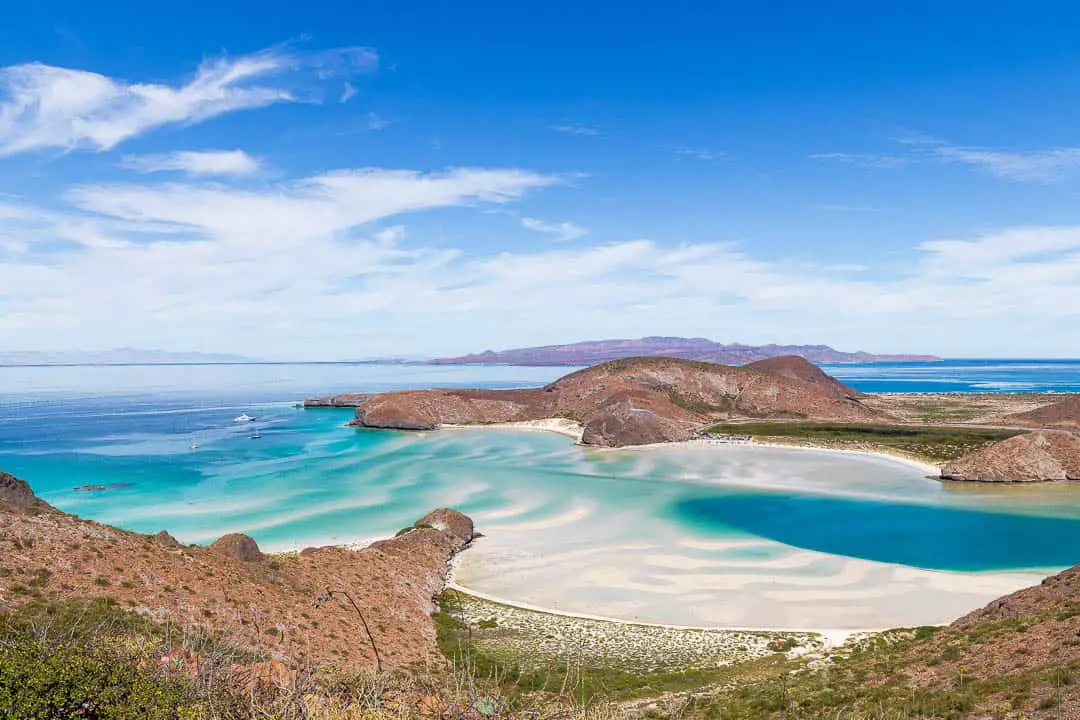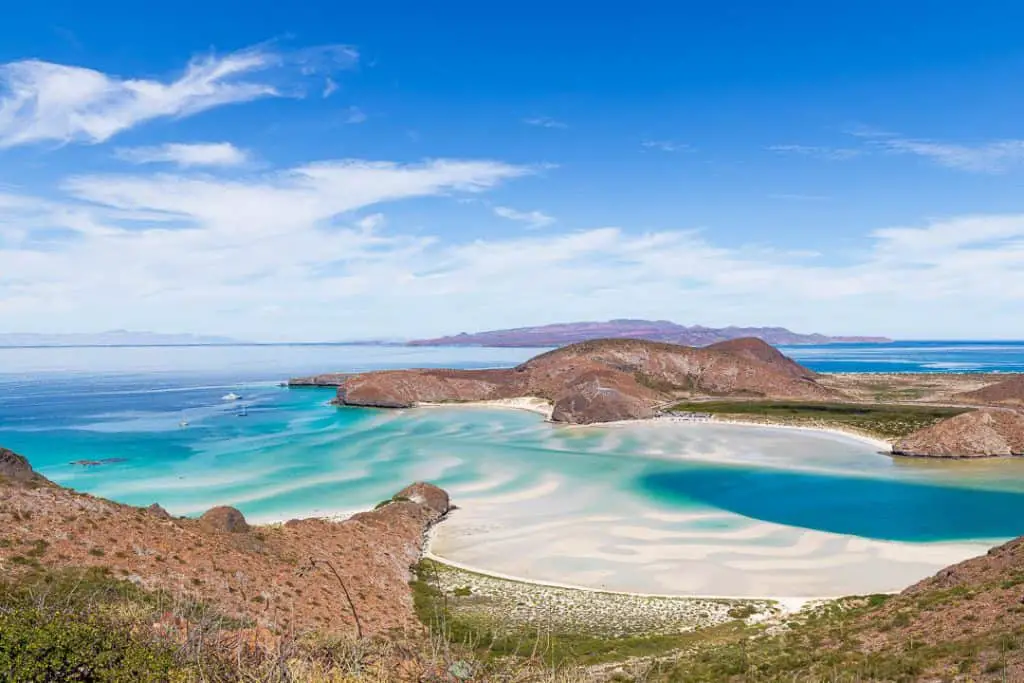 La Paz is a cultural and economic center and is the government headquarters for the state of Baja California Sur (BCS).
As such, there are many reasons to visit La Paz, Mexico.
If you are a fan of beaches there are plenty that line the bay.
You can camp for free at most of them. Marine life is abundant in and around La Paz and you can book a tour with any number of organizations that offer incredible experiences.
The Malecon in La Paz is top-notch. You can walk for several miles along the shoreline and stop into any number of restaurants, cafes, bars and shops.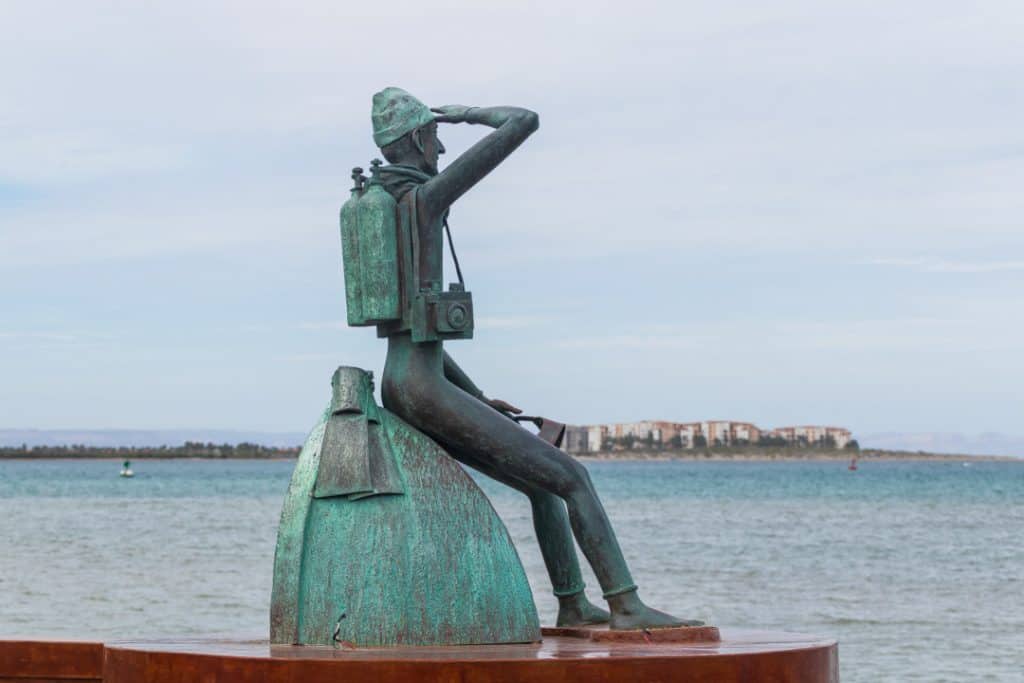 Book a tour on the spot and swim with whale sharks and sea lions in just twenty minutes.
Or if you are there during a weekend, particularly for a special occasion such as Christmas, New Year or Carnaval then the Malecon becomes THE place to be.
We planned to only spend three days in La Paz and ended up spending nearly two months because we enjoyed all that the city had to offer.
In fact, we arrived just before Christmas and stayed through Carnaval because we enjoyed participating in the various events that took place along the Malecon and throughout the city.
Things to do in La Paz, Mexico
There are plenty of amazing things to do in La Paz, Mexico. If you are a fan of art and culture, La Paz hosts a variety of concerts, galleries and events throughout the year.
Outdoor activities find their hub in La Paz as you will book most tours in the city and then be at your destination within the hour.
Whether you're diving a beautiful reef, snorkeling with whale sharks and sea lions or fishing it can all be done right from La Paz. 
1) Walk the Malecon.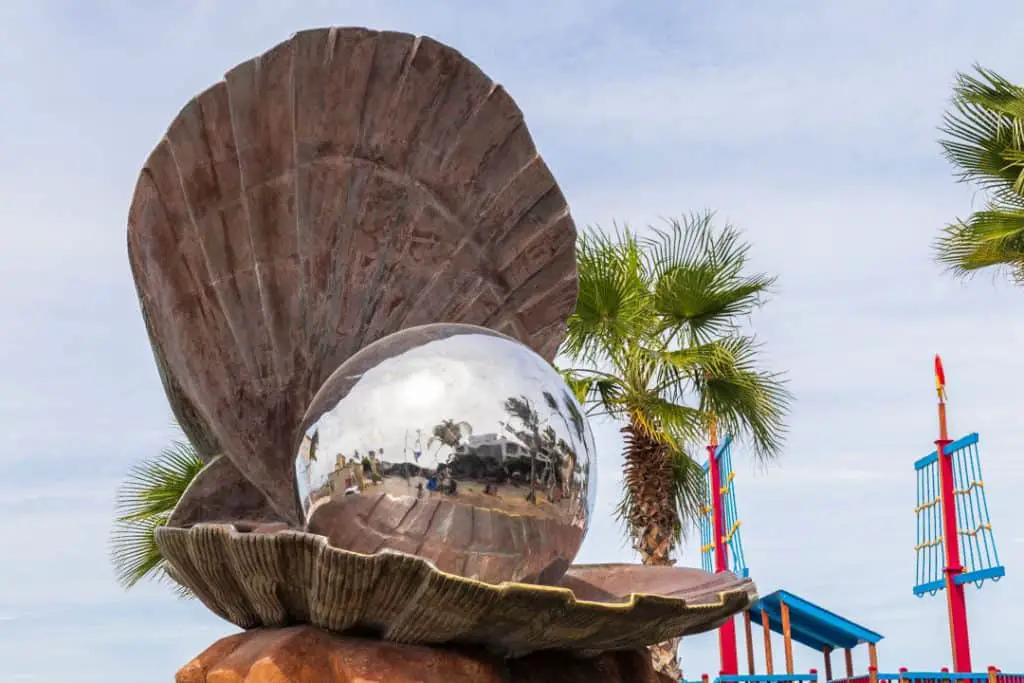 The Malecon is where everything begins and ends in La Paz. You can't miss it, and you don't want to.
Lined with restaurants and displaying sculptures and art at nearly every corner, the Malecon will keep your attention for days.
Pick a favorite place and catch a sunset or sample the food in several restaurants. It will be hard to find a favorite with so many options!
Swim with whale sharks and sea lions. This is probably THE reason to come to La Paz.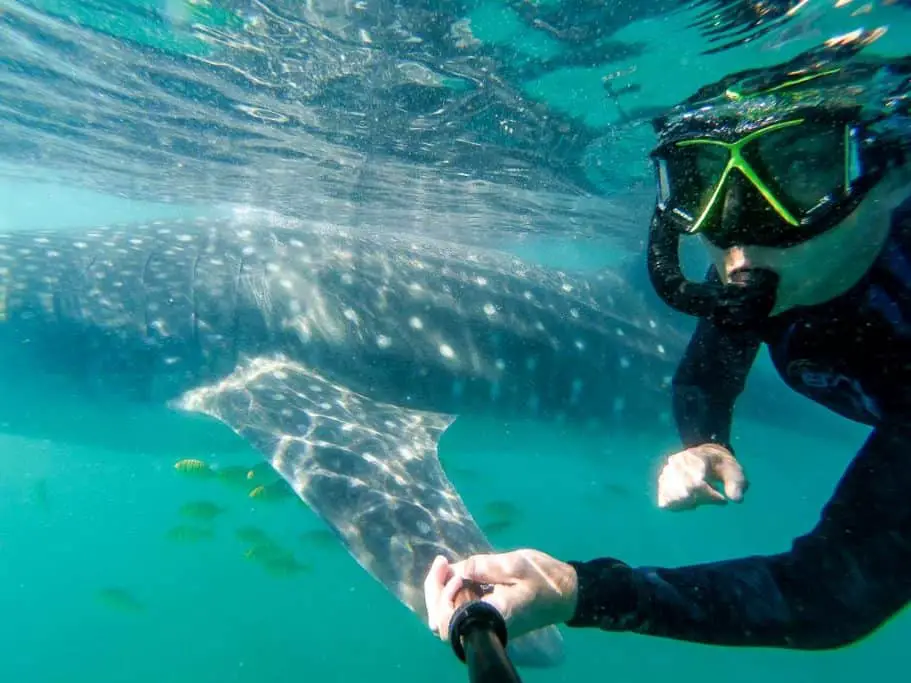 You can find art and culture all throughout Baja (in small doses). But getting an all-but-guaranteed experience to swim with whale sharks is only possible in La Paz.
And while you're waiting, or after you are done, many captains will take you to swim with sea lions at a nearby colony.
Talk about a unique way to spend a day!
2) Visit La Isla Espiritu Santo.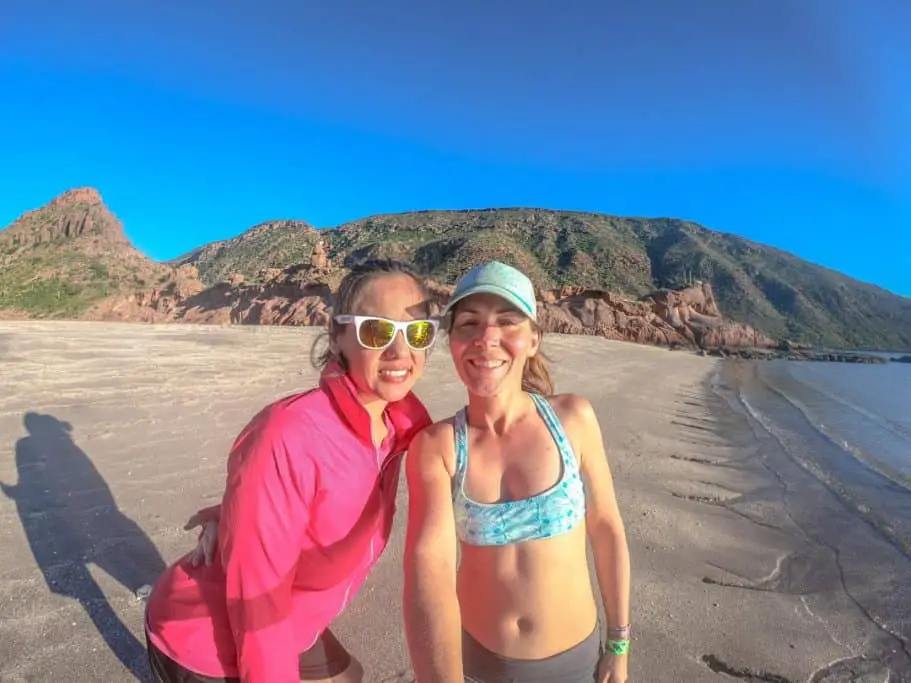 This is the biggest and most popular island in the southern part of Baja for a reason. Animals flock to and around the island making it a haven for those who enjoy the outdoors.
You can take tours to camp overnight on the island and explore it a little at a time. Or book a half-day excursion to snorkel the reef and swim with sea lions.
This island has charmed marine biologists for years and you'll see why as soon as you hit the water!
3) Self-guided tour of the incredible street art.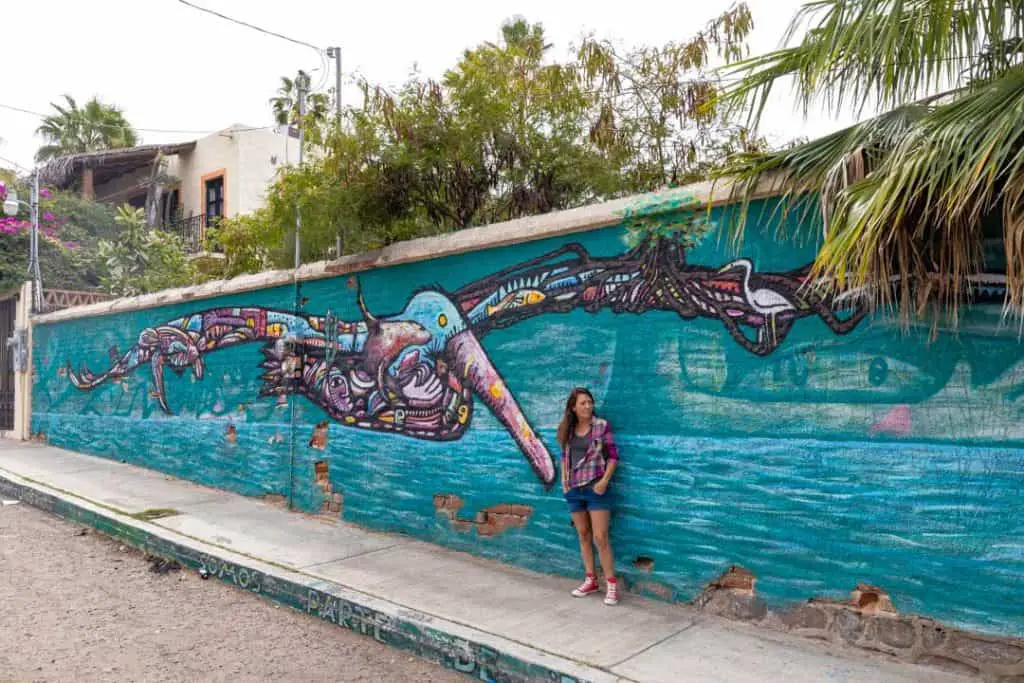 A locally famous artist, Uli Martinez, has decorated walls throughout the streets with his unique art for years. He is known for telling stories with his street art, where you will find multiple images inside of images.
Other artists have also been invited to create a colorful side to the city. Of course, most of the art is near the Malecon.
But you planned to spend days wandering around there already anyway!  
4) Visit Balandra Beach (La Playa Balandra), Tecolote Beach and Pichilingue Beach.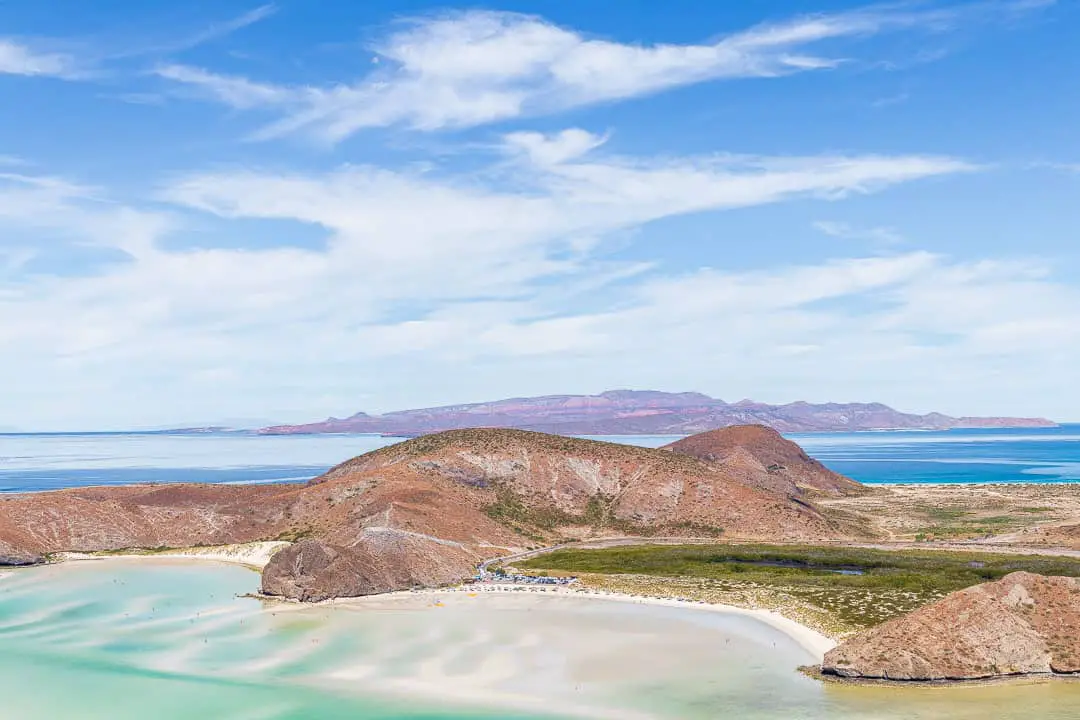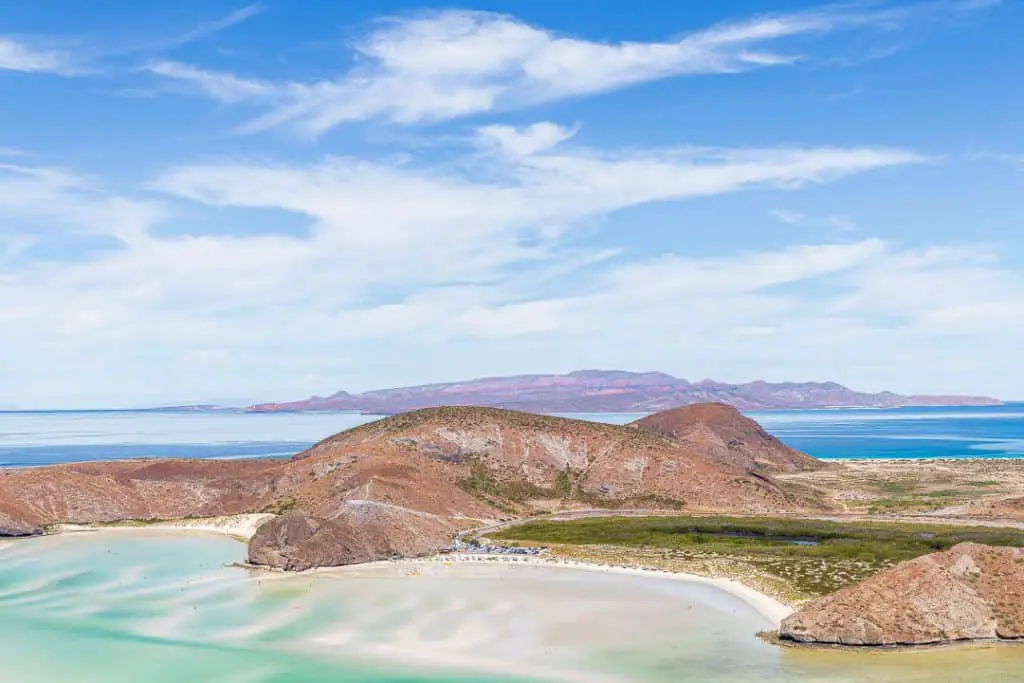 These three beaches combined will make you want to stay in the La Paz area for quite a while.
Balandra beach is probably the most famous beach. It's symmetrical bay empties at low tide and you can walk across the entire sandy shore.
Tecolote can be windy. But when it's not this beach is fantastic as it faces La Isla Espiritu Santo and has endless views of gorgeous water.
Pichilingue is more of a locals beach, for good reason. You can camp here for free and walk just feet into the water to snorkel in a beautiful reef or paddle your SUP or kayak to the nearby sea lion colony. 
5) Scuba dive or snorkel.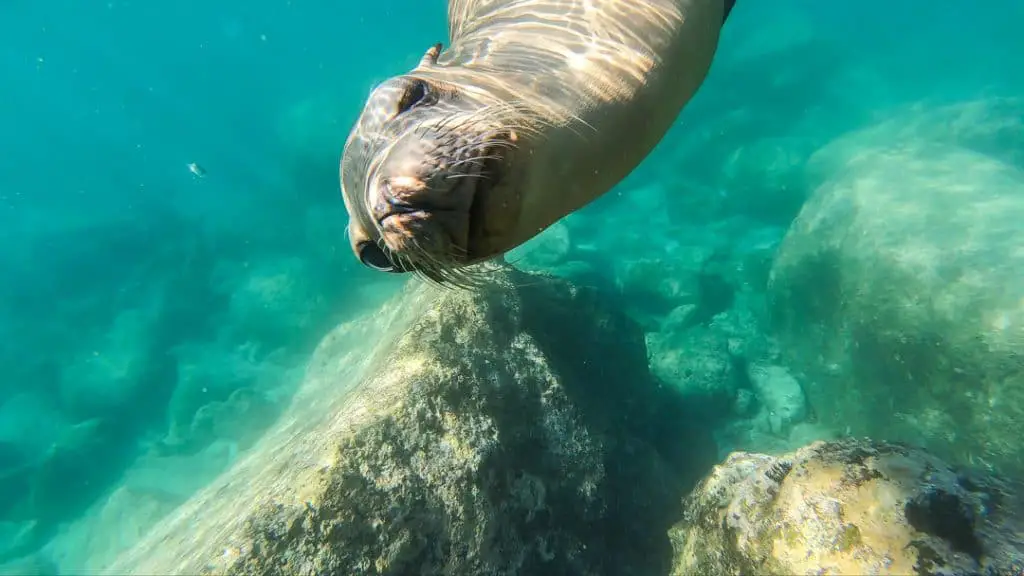 If you love the underwater world then La Paz is your headquarters for booking all of the diving and snorkeling you can possibly want.
Multi-tank dives will often combine activities to spend a few hours at Balandra Beach or snorkeling around with sea lions.
There are even a few liveaboard options if you're really into diving. 
Our Experience Camping in La Paz, Mexico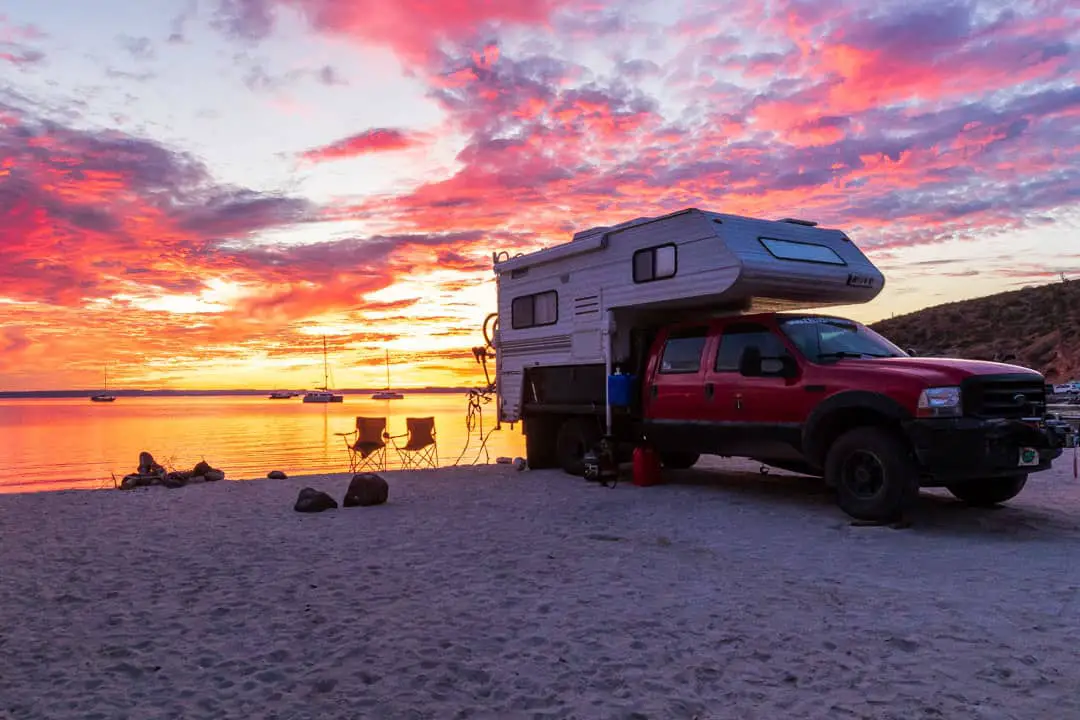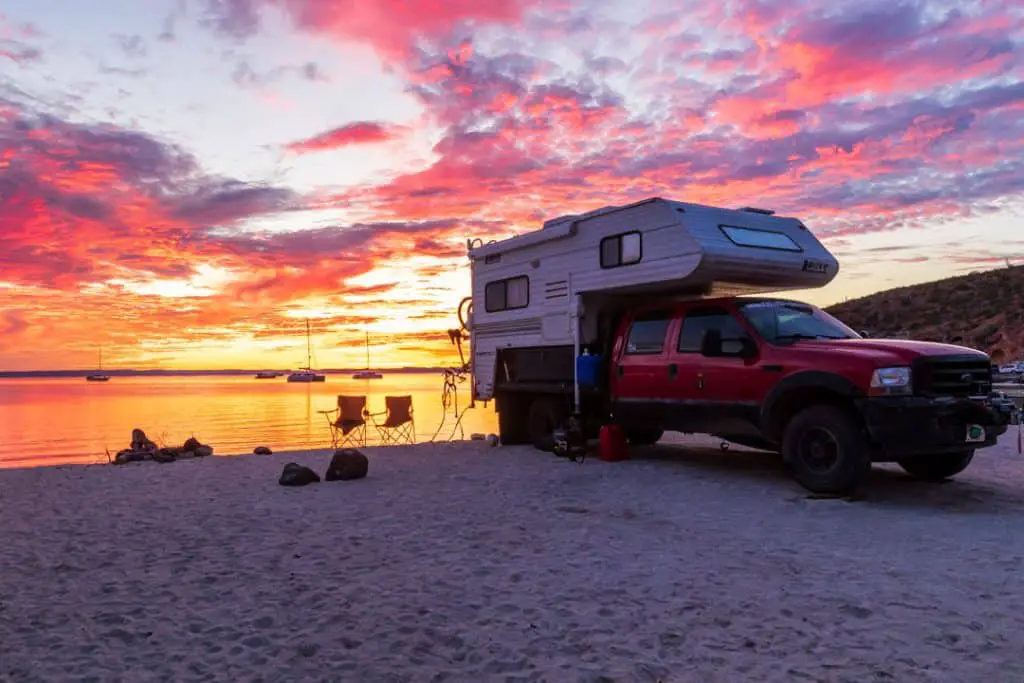 We love La Paz. As soon as we entered the city, passing the giant whale fluke on the way in, we felt a peace about the city that was sure to give it its name.
While we had a guide of sorts at first, a friend we made who knew the city well, we quickly learned to explore La Paz and find the things we enjoy the most about it. 
We spent nearly every morning and evening walking the Malecon. The energy and beauty of the seaside walkway is addictive.
There are always people exercising – running, walking, bicycling and even rollerblading (yes, when rollerblades left the 1990s they found their forever home in La Paz!).
You can find great places to grab a quick snack, or a full-on meal, or take a break for a coffee, ice cream or tasty adult beverage. 
After around a week in the city itself we discovered La Playa Pichilingue, just twenty minutes down the bay. It was incredibly windy at Tecolote, where we heard the camping in La Paz was fantastic.
And Balandra was packed (and is also not a place where you should camp).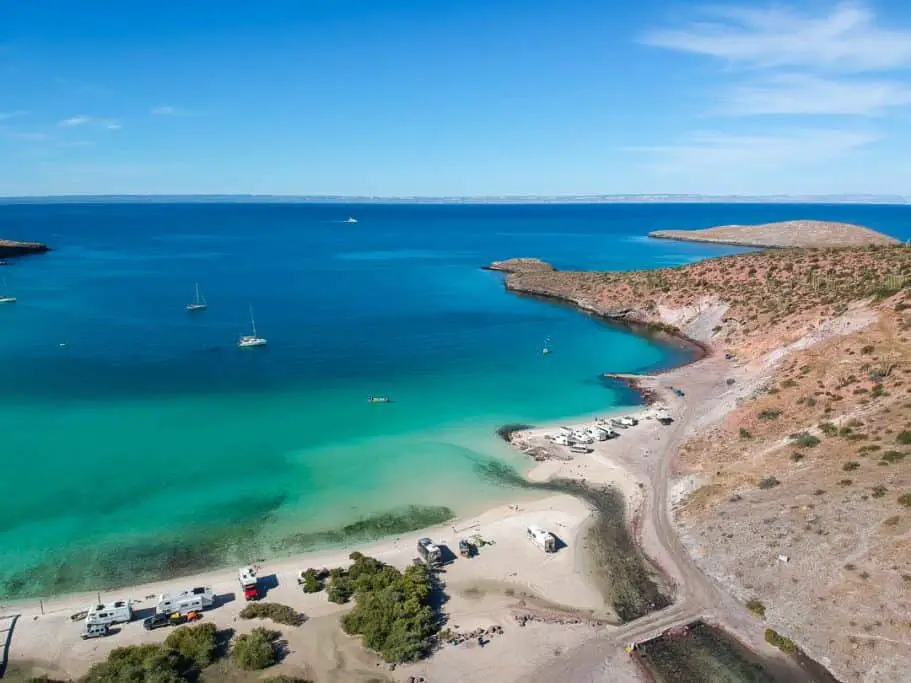 But on our way out to Tecolote, we saw this beautiful little bay, protected from the wind and spectacular in color. We ended up camping at Pichilingue off and on for around a month of our time camping in La Paz. 
During our stay, we participated in celebrating Christmas, New Years and Carnaval.
Each of these events was wonderful in how the city celebrated. For Christmas, every part of the Malecon was lit up in Christmas lights.
Nearly every night there was a performance (or multiple performances) at various blocks along the Malecon.
Entire families spent hours enjoying the festivities and there were even places set up for kids to play and meet their favorite Christmas characters. 
The idea of Carnaval kept us camping in La Paz a little longer. Famous for its Brazilian and Caribbean celebrations, Carnaval is also a big deal in La Paz.
For nearly a week the streets lining the Malecon are closed and vendors, artists and performers line the roadway.
There is a massive parade for the last three nights and the streets are so full of energy, dancing and families having a great time.
We ended up camping in La Paz for 2 nights so that we could walk to the festivities instead of having to drive in from outside of the city. 
Of course, we also had many opportunities to serve others in La Paz. We spent days volunteering at a therapeutic riding center that assists children with disabilities.
Also, we spent the week between Christmas and New Years helping the children of an orphanage in town.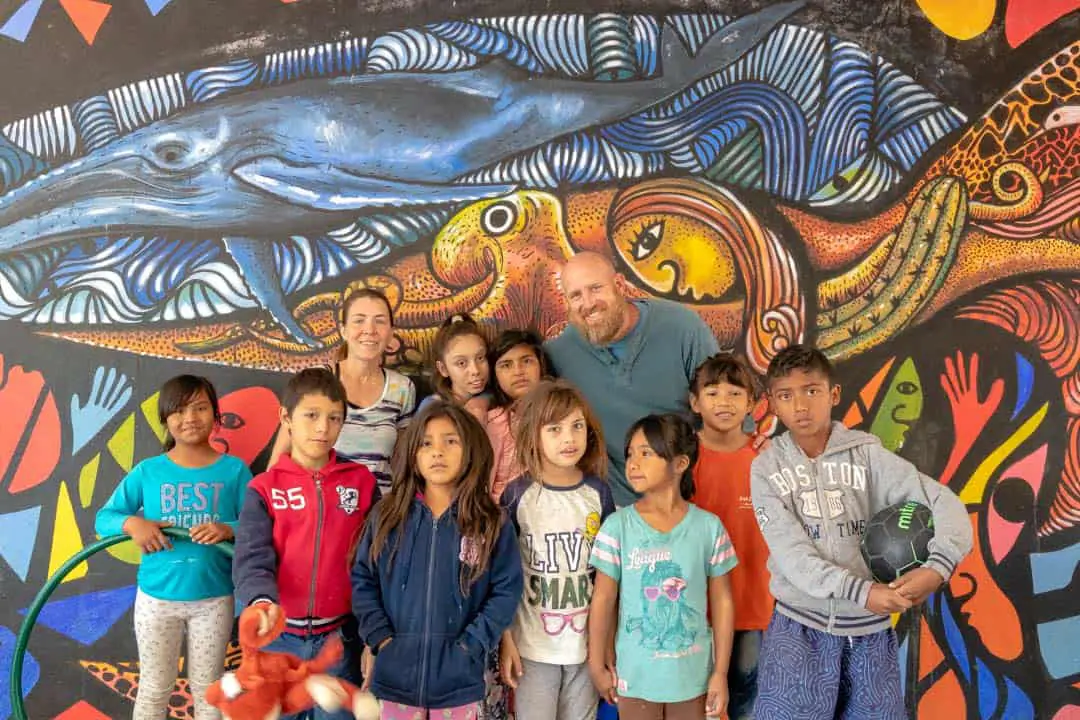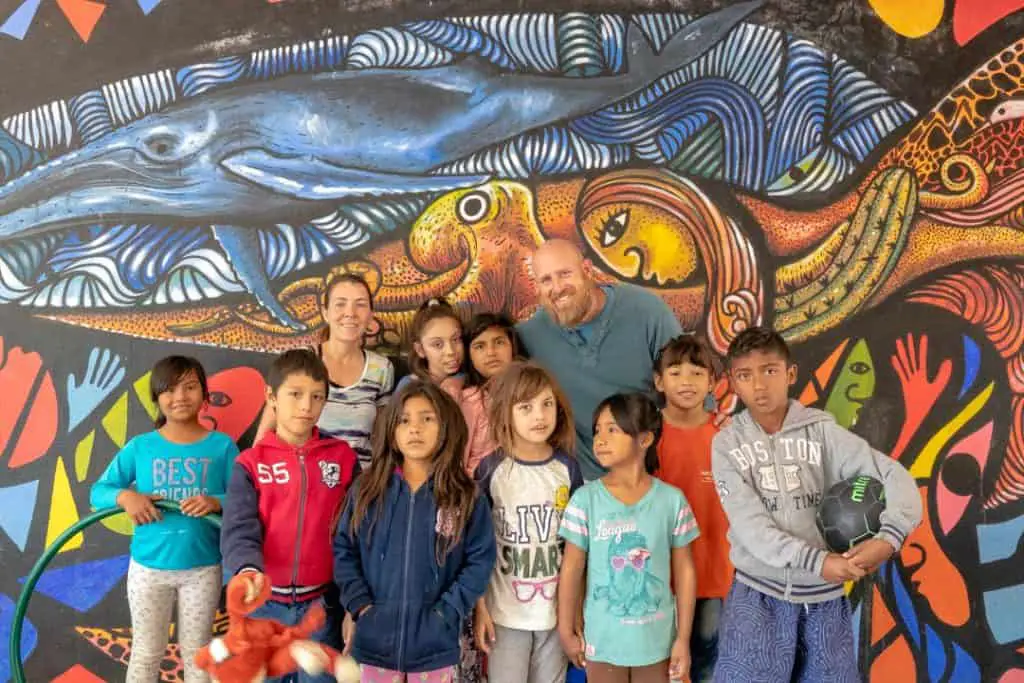 We were able to connect with a local church and through it found that there was so much going on in the community. 
In all, La Paz is one of our favorite cities in North America. We're not city people.
We enjoy our outdoor activities and the space that wide-open places provides. But for a city, it has a special feel to it and we do not regret any of the time we spent camping in La Paz. 
Getting There
If you are traveling south in Baja you will funnel through La Paz nearly at the bottom of the peninsula.
The city acts as sort of a choke point for anyone wanting to drive to Todos Santos, the Cabos (Cabo San Lucas, San Jose de Cabo and Cabo Pulmo) or Los Barriles. So you really can't miss it. 
The roads leading into the city are fairly well maintained. Though with all of the traffic the city invites there are definitely places that could use a little more attention. 
When you enter La Paz from the north you will find your first of two camping options just outside of the city.
The second option is inside the city.
And if you want to visit any of the beaches you will either end up driving through the city via the Malecon or take the bypass around the city. 
RV Camping In La Paz, Mexico
If you are looking for camping in La Paz, there are only 2 campgrounds actually within the city limits.
The first you will approach from the north is La Maranatha. When we took a break from camping at Pichilingue we would spend a night or two here.
It was expensive for our budget (just over USD$25) but there was a dry camping option as well if you did not want full hookups.
The shower facilities are the best we have seen in all of Baja (and even parts of the US). And there is a pool if you are looking to cool off.
This was a great place for us to regroup and plan out the next part of our Baja camping adventure. 
Alternatively, you can stay in the city approximately a 15-minute walk from the Malecon if you camp at Aqua Marine RV Park.
Although it is not nearly as nice, and only offers full hookup spots at the same rate as La Maranatha, you cannot beat the location.
In fact, you are paying for the location when you camp at Aqua Marine because there is really no other reason to be here. 
When we camped in La Paz in the city we chose Aqua Marine during Carnaval so we could enjoy the festivities without having to drive into town. This was a great decision and well worth our money. 
Key Resources for Camping In La Paz, Mexico
La Paz has everything that you need when it comes to resources for your RV.
Here's a quick overview of what you can expect between the two camping in La Paz options: 
| | | | | | |
| --- | --- | --- | --- | --- | --- |
| | | | | | |
| Fuel | Y | Lots of places in La Paz | WiFi | Y | Both offer WiFi |
| Groceries | Y | Wal Mart, Soriano and lots of smaller grocers | Hookups | Y | Both offer full hookups |
| Propane | Y | Only 1 place, Gaspasa, 10 mins outside of La Paz on the way to Todos Santos | RV Size | Y | Both accommodate up to Class A motorhomes |
| Water | Y | Lots of places, many offering hoses to use | Amenities | – | More amenities at La Maranatha |
| Cell | Y | 4G LTE service everywhere | Safety | Y | For a city, La Paz is safe. Both RV parks have gated 24/7 security |
About Author