Last Updated on September 2, 2022 by Chris and Lindsay
Everything you need to know about camping Bahia Concepcion in Baja, Mexico!
Camping on Bahia Concepcion (Bay of Concepcion) is an absolute must when you travel to Baja.
Located between Mulege and Loreto along the Sea of Cortez, Bahia Concepcion offers access to nearly a dozen beaches, each with their own spectacular views and reasons to visit. 
Not all beaches are created equal. Nor are all bays along the Sea of Cortez created equal. Bahia Concepcion is a long, narrow bay that stretches over thirty miles from the Sea of Cortez. It is encased on both sides by desert mountains with only a narrow opening at the northern end.
Historically Bahia Concepcion has been ripe with fish and other marine life. However, over-fishing has led to a drop off in the variety and size of species. It is rumored that whale sharks will still take residence within the bay. But this, of course, depends on water temperatures and the abundance of food. 
Camping on Bahia Concepcion will give you immediate access to all sorts of activities. From paddling your kayak or SUP to snorkeling or swimming, fishing, clamming or just sitting in the sun you can't go wrong with a few days spent along Bahia Concepcion.
Guide to RV Camping Bahia Concepcion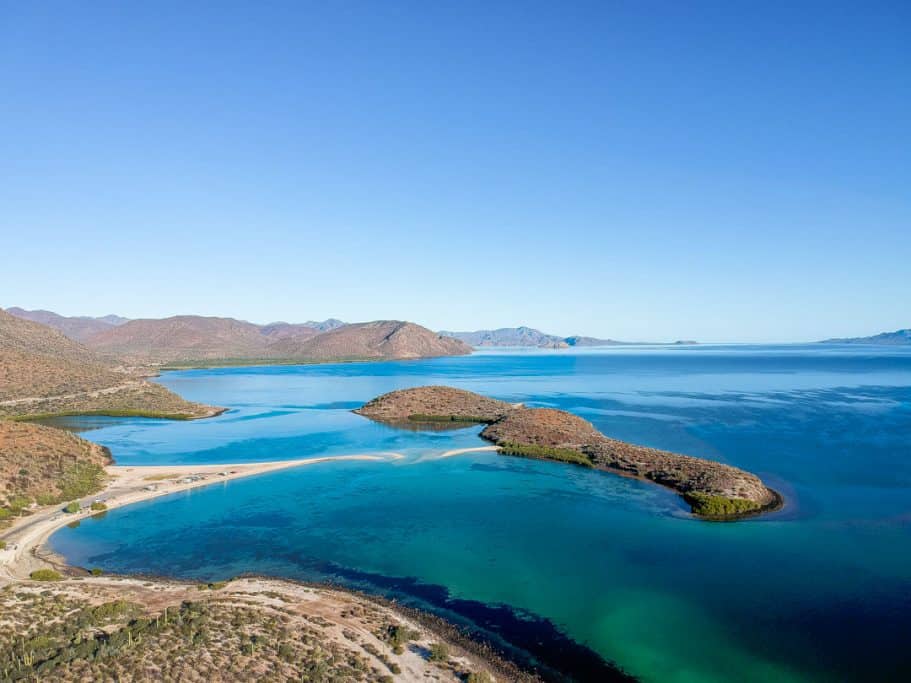 Some people will literally spend half of the year camping along the beaches of Bahia Concepcion. Others will simply spend a night or two in passing through. 
But if you want to see a concentrated area of beautiful beaches for which Baja is known without driving to the very end of the peninsula, then camping in Bahia Concepcion should be your target destination.
Regardless of what size RV you drive and whether you enjoy the company or want to find yourself mostly alone, Bahia Concepcion has a beach for everyone. 
We've visited every one of the most popular beaches that we list below, spending multiple nights at most, and we'll help you understand which beach or beaches are worth your time to visit. 
RV Size and Capabilities
Just to remind you, as a frame of reference, we have a 26-foot truck camper with generally high clearance and 4×4.
However, NONE of the places listed below require 4×4 OR high clearance. But some might test your resolve as you face steep inclines or rocky ledges. 
Each beach IS accessible for most 2wd RVs with standard clearance. Most beaches had at least 1-2 longer 5th wheel RVs, so the length is rarely an issue.
However, there is really only 1 beach suitable for Class A motorhomes (Playa Satispac).
Although it could be possible for you to camp at Playa Requeson in a Class A motorhome if it is not too crowded and you are able to maneuver on the beach. 
Otherwise, this guide should be suitable for every kind of camper looking to experience and enjoy the beautiful Bahia Concepcion.
Whether you are riding a bicycle or motorcycle, tent camping out of your vehicle, live in a van or schoolie or have a Class A or C motorhome you will be able to enjoy camping on the beaches of Bahia Concepcion.  
Reasons to Visit Bahia Concepcion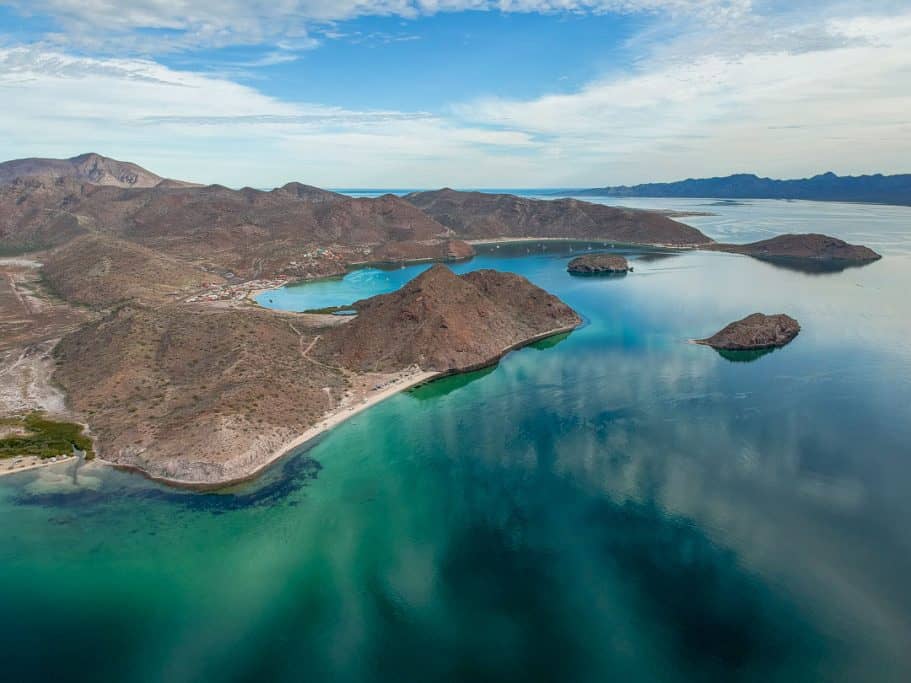 The beaches around La Paz (Balandra and Tecolote) tend to get most of the attention when it comes to postcard-worthy photos. But the beaches of Bahia Concepcion are certainly worth writing home about.
Some offer great community among other RVers while others provide a little room to escape from the crowd.
Each places you on the warm, clear water in the bay and offers the chance for you to enjoy the water however you prefer.
There are numerous hiking trails along Bahia Concepcion as well, offering spectacular views of both the desert and the sea.
Take your hiking boots or unpack your mountain bike or ATV and enjoy the solitude that the bay provides. 
Preparations for Camping on Bahia Concepcion
You will not have cell service, power, water, propane or groceries for the 30 or so miles of beaches that line Bahia Concepcion.
There are a few restaurants where you can grab a bite to eat if you are nearby. And there is a small store near Playa El Coyote.
But before you head out to camp on Bahia Concepcion be sure to stock up on everything. 
From the north, Mulege has pretty much everything you would need to prepare for your stay on Bahia Concepcion.
There are several grocery stores, two purified water vendors and you can fill up on propane at Yee's grocery.
You'll want to spend a night in Mulege to dump your tanks and fill up your battery bank for shore power.
Or you can probably talk your way into paying to dump at one of the RV campgrounds in the area. 
The last place to get fuel is just south of Mulege on your way toward Bahia Concepcion.
It is only 2 hours to Loreto from Mulege, and most longterm campers on Bahia Concepcion will make runs back to Mulege for anything they might need along the way. 
Depending on how long you plan to camp on Bahia Concepcion, Mulege is the best staging area for your travels. 
If you're coming from the south you've already driven through the area thanks to a limited number of highways.
But know that Loreto is your best (and only) place to stock up on everything you would need. And Loreto offers every kind of RV amenity you could want. 
Our Experience RV Camping Bahia Concepcion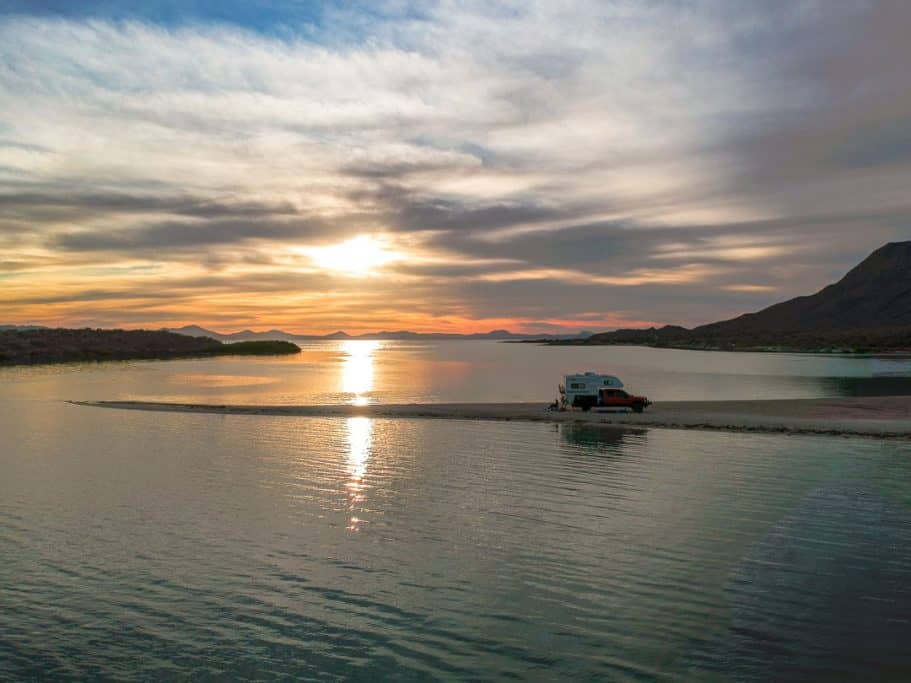 We visited each of the beaches listed below and chose to camp at several during our extended stay in Baja.
We'll indicate why we chose to camp or not to camp at each beach and let you make your own decision when you get there. 
In general, we are not overly adventurous and we do like to avoid crowds. However, we do know that these beaches are very popular and that we are tourists just passing through. 
As such we don't list (or promote) camping in places that are difficult to reach, would put us (or you) in danger or that infringe upon the rights and property of others. 
We are willing to pay a modest amount for our Bahia Concepcion camping experience.
And while we do look after our own dog's mess and ensure that our trash is properly discarded, we do not judge the managers of each beach by the cleanliness of the beach.
We are, after all, in Mexico and some things like broken glass and empty beer cans from time to time are to be expected. 
Camping Courtesy Extends to Camping on Bahia Concepcion As Well
We do ask and encourage you to leave each beach better than you found it. Pick up after yourself and your pet.
Treat other campers and those who manage the beach with respect. Never have we ever had a negative experience in the weeks we've spent camping on Bahia Concepcion.
We've made friends, some now lifelong, and shared memories with others while camping on Bahia Concepcion. 
This will be a magical experience for you (especially if you see a whale shark while paddling your SUP or kayak or experience a beautiful bioluminescence show!).
Please remember this so that others can have a magical experience themselves. 
Camping on Bahia Concepcion is generally safe. There have been reports of petty thefts from time to time.
But campers tend to look after each other. So if you tend to be an unhappy person, you might want to consider making friends during this part of your trip. 
And if you expect things to be the way they are in the US or Canada, you may want to consider staying home.
Vendors are going to walk by your camper at odd hours of the day yelling about what they have to sell. Someone's dog is going to run up to you to say good morning (ours, if you are nearby!).
There will be trash discarded in the bushes around you. Oh, and people might even speak Spanish (you are in Mexico, remember!). 
And lastly, if you are looking for some secret spot or want to complain because we put this post together to help fellow travelers, you are better off staying out of Baja.
Although Baja is a vast desert, most of the places that anyone camps are well known and established.
None of these beaches are a secret. And most of them can hold more travelers at any time of the year (those that look after their own mess).
So get ready to have a great time camping on Bahia Concepcion! 
Getting There
Bahia Concepcion is located approximately 30 minutes south of Mulege along the Sea of Cortez.
The mouth of the bay is a little more isolated, though offers some well-off-the-beaten-path camping options for the adventurous and prepared.
For the rest of us, accessing the beaches in this guide is relatively easy as HWY 1 runs along the coast of the 30-mile stretch of Bahia Concepcion.
Most beaches are well-marked. And most are relatively easy to access. Those with exceptions will be mentioned in their corresponding sections below. 
The following beaches of Bahia Concepcion are listed in geographic order from North to South.
You will approach the first beach, Playa Santispac, approximately 30 minutes after leaving Mulege.
You'll know when you see it as the waters are absolutely stunning and the beach is big, wide and full of white sand.
Camping Bahia Concepcion
Camping at Playa Santispac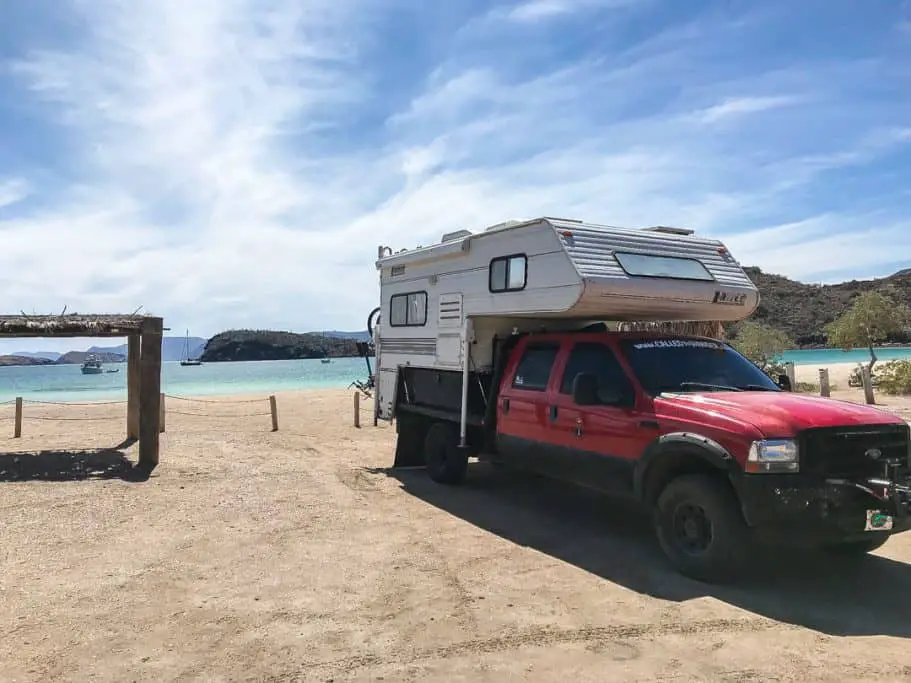 Playa Santispac is the first beach on Bahia Concepcion when you come from the north.
It is probably the most famous beach for camping in Bahia Concepcion for this reason, and for the fact that it is friendly for any size RV.
Camping on Playa Santispac leaves little to the imagination. There is a large bay, approximately a half-mile long, where RVs will camp facing the beautiful blue water.
Depending on how busy Playa Santispac is (and it can get very busy) you may be permitted to park your RV longwise. Or you will end up pulling/backing in as the beach fills up.
This is also a popular beach for longtime RVers down from Canada or the US for the winter. And who could blame them! 
There are a few spots on the fringe of Playa Santispac that are a little more private.
But you are never going to be alone when camping on Bahia Concepcion and Santispac will start you off in that mindset. 
While the crowds might be a turn off for some, surely the multiple shades of blue in the bay, the sailboats moored just offshore and the wonderful and sunny weather are sure to overcome this. 
If you need WiFi when you travel, Playa Santispac is the only beach on Bahia Concepcion that offers that.
Otherwise, there is no cell service either. WiFi is offered from the restaurants on the beach, for a charge, and is only available during the day as it is a solar-powered operation. 
Expect to be bombarded by vendors offering everything from seafood to rugs.
Playa Santispac is so big and popular you'll likely see each vendor two or three times throughout the day.
But if you are seeking turquoise water, have a big rig and have plenty of time to space between other spots for camping on Bahia Concepcion then Playa Santispac is your best option.
Location / Getting There: The first beach on the right, approximately 30 mins from Mulege
RV Types: All types, including Class A motorhomes. 
Cost: 200 pesos (USD$11) per night
Highlights: Beautiful bay, restaurants, WiFi, closest to services (30 min to Mulege) and great for any size RV.
Considerations: Can get crowded and loud and is not for those campers looking to be a little more on their own.
NOTE: We planned to camp at Playa Santispac for one night. We needed WiFi to work and we thought grabbing a bite to eat would be a nice change from cooking all of our meals the previous week.
However the WiFi was incredibly slow (too slow to work), the camping was crowded and the restaurant prices were steep. The bay was beautiful but it was too windy to enjoy any water activities so we opted not to camp at Playa Santispac.
Camping at Playa Escondida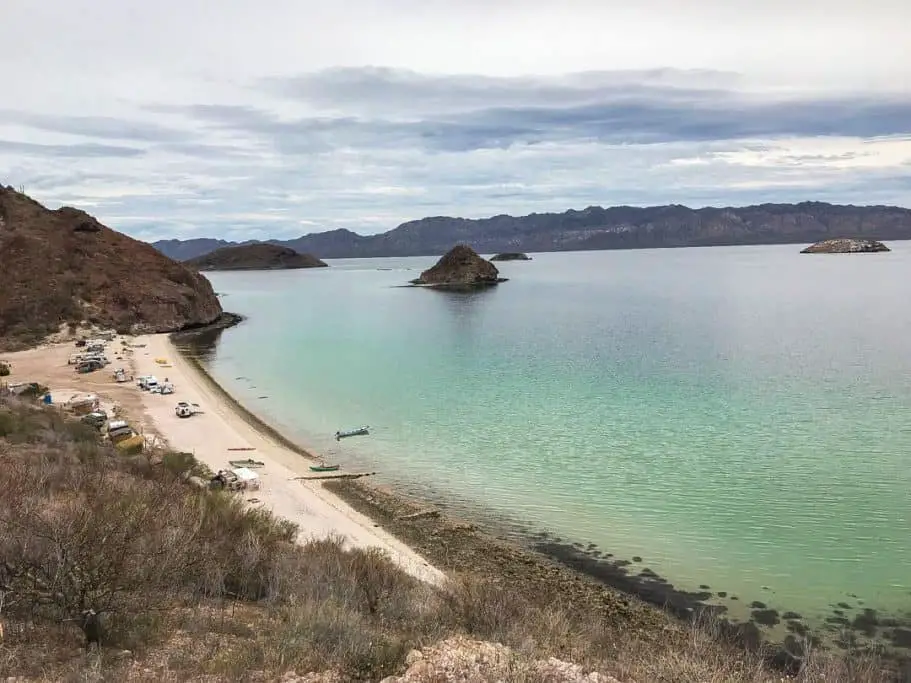 Playa Escondida is the most elusive of the beaches of Bahia Concepcion. If you look on a map you will also see it is the beach that is furthest from the highway.
Which makes it an excellent choice for those people wanting a little more solitude from the truck traffic along HWY 1. 
There is a small sign and turn off just south of a little built-up ex-pat community (you'll know it when you see it).
Follow the dirt road for around 3/4 of a mile and you'll arrive in a secluded beach on Bahia Concepcion with room for around 20-25 RVs.
The road in is a little challenging with some steep grades and road conditions can vary by recent weather. 
It's not advisable for Class A Motorhomes (although we did meet one long-term camper in one). There were some longer 5th wheel RVs here as well. So know your limits. 
We heard from others that it was difficult to reach so we pulled off the side of the highway and walked the road down to the campground.
In doing so we realized that we would have had absolutely no difficulty driving our truck camper there.
Most camping sites at Playa Escondido will have a palapa. But there is a stretch of beach without palapas that is equally available for campers. 
This beach camping on Bahia Concepcion is quite exposed to the wind. If the wind is blowing, it's likely you will be affected.
But if there is no wind, the amount of things you can do to enjoy yourself here is endless. 
There are several small islands nearby within the range of kayak or SUP. The fishing is said to be plentiful. Snorkeling is great.
And just sitting beneath your palapa enjoying the view is well worth the 150 pesos (USD$8). 
Location / Getting There: Just south of the built-up ex-pat community. 
RV Types: Any but Class A (unless you are adventurous)
Cost: 150 pesos (USD$8)
Highlights: Access to beautiful water, less highway noise, a smaller number of RVs
Considerations: Be mindful of the road in and out. We honestly don't know what to do about two decent sized RVs approaching each other from opposite sides of the road because it is rocky, narrow and steep at times. 
NOTE: We visited, but did not camp at Playa Escondido. The day we arrived the wind was ripping and we were told by several campers that it had shown no signs of letting up for days.
While the view is spectacular with or without wind, we wanted to be able to enjoy our SUP. We chose camping at Playa Los Cocos over Playa Escondido to remedy what we couldn't have at Playa Escondido. 
Camping at Playa Los Cocos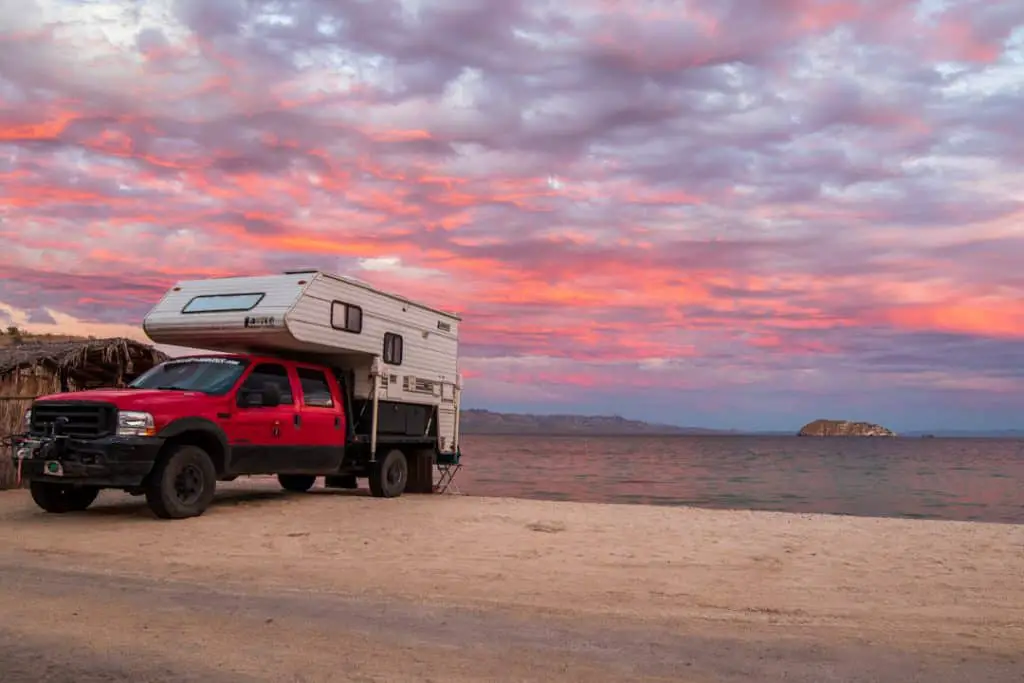 Playa Los Cocos is a great beach on Bahia Concepcion to camp because it is like Goldilocks and the 3 bears when it comes to camping amenities.
It's not too big, but not too small. It's well protected from the wind but still offers spectacular views. And it's a little challenging to reach, but not overwhelmingly difficult. 
When we first visited Bahia Concepcion we drove the entire length of beaches along the bay looking for the one we thought would be best.
While we were amazed at our first glimpse of Bahia Concepcion at Playa Santispac and while Playa El Requeson looked the way it did on the covers of books and websites we had seen, Playa Los Cocos stood out as one we wanted to camp for the reasons described. 
To reach Playa Los Cocos you'll pull off HWY 1 at a relatively steep and short notice of an exit onto a dirt road that almost immediately dips beneath the height of the adjacent highway.
You'll follow this road for around 1/3 of a mile until it spits you out on the beach. This will be intimidating if there have been recent rains.
But the dirt road in is relatively well maintained (there was fresh gravel in places to reduce the depth of the holes). 
This is your standard Bahia Concepcion beach when it comes to camping.
Each spot has a palapa and enough room for a decent size RV. There are pit toilets if you are up to that challenge, and a handful of trash bins.
Vendors make the rounds here like all of the other beaches on Bahia Concepcion. But there is not a whole lot of room for overflow.
This means you either get a spot, or you don't (or you make friends with a new neighbor!). 
Some of the other beaches on Bahia Concepcion have less glamorous "overflow" parking away from the shore itself which can allow for a crowd to form.
That isn't really the case with Playa Los Cocos. 
Location / Getting There: Just south of Playa Escondido on the southern end of the hill that separates the beaches. Follow a dirt road a short distance along the highway to the beach.
RV Types: All but Class A. Pulling off the highway in a Class A is the issue. Plus there is not a lot of room to maneuver and the space between sites (and palapas) is not wide enough.
Cost: 200 pesos (USD$11)
Highlights: Private palapa, sandy beach, beautiful views and only a handful of other campers. 
Considerations: Highway traffic can be loud and the wind is prone to blow directly into the cove. 
NOTE: We camped at Playa Los Cocos for 3 nights and enjoyed each one. The wind was mild in the afternoons, but the mornings were spectacular.
Our dog enjoyed swimming just feet outside where we backed up next to the water. There was a fair amount of wildlife to observe both above and below the water and the price was to be expected. 
Camping at Playa El Burro
Playa El Burro is located almost halfway down the Bahia Concepcion. You will know it when you see the line of houses built on the fringe of the water. 
While we had heard from others that it was a nice place to camp, we have very little to say because it was not very open to RV camping.
Houses line the cove and the only place to camp is a tiny spot of sand at the very north of the line of houses.
In fact, we're not confident that by the time you read this the remaining palapas are not removed for a new house to be built. 
For this reason, we do not advise you to consider camping at Playa El Burro. There were, and always seem to be, several houses for sale.
So if you are perhaps interested in moving to Playa El Burro there may be a great market for this. 
However, we did not camp at Playa El Burro because it felt more like a private beach than one in which RVs were welcome to enjoy. 
Location / Getting There: Nearly midway down Bahia Concepcion, just north of Playa El Coyote. 
RV Types: N/A
Cost: N/A
Highlights: N/A
Considerations: N/A
Camping at Playa El Coyote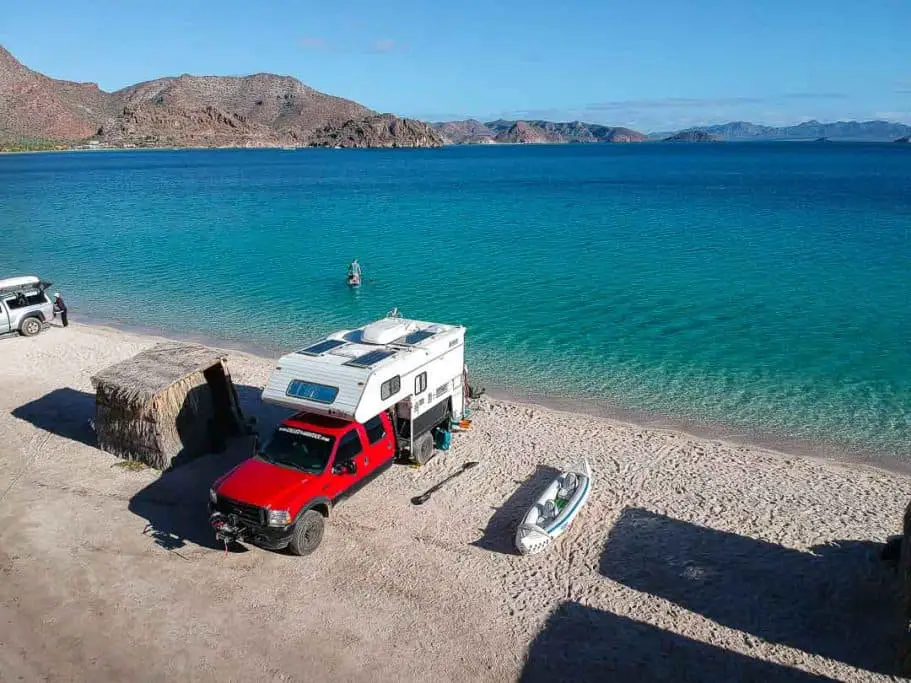 Camping at Playa El Coyote is incredibly popular. And like all things popular, there are reasons why you would want to consider camping here. 
First, you should drive past Playa El Coyote to truly understand what makes it so special.
If you stick to the highway and continue south you will climb up over Playa El Coyote.
From there you will be amazed by the beautiful colors of the water, the smattering of islands in the near distance and the white sandy beach on which palapas are built and, no doubt, occupied. 
Turn around and head back to the beach to take in Playa El Coyote.
Although we would have picked Playa Los Cocos or Playa El Requeson at first glance, we ended up meeting friends at Playa El Coyote.
And while the beach was busy, to our surprise there was an open palapa next to our friends. 
During the 5 nights we camped at Playa El Coyote we experienced everything the beach had to offer.
We took our SUP and kayak out daily. We fished, snorkeled and swam in the turquoise waters. And we made friends among other campers each day. (In fact, one such friendship led to a crazy off-road caravan adventure!). 
There is some highway noise, particularly from trucks braking down the hill above the beach and the beach is not the cleanest due to its popularity.
We visited twice at two different points during the fall and winter and were warned that once Semana Santa takes place in spring the beach (and most beaches on Bahia Concepcion) this beach, in particular, turns into a nuthouse. 
There is a special event that takes place here in the spring, typically the full moon closest to spring (in early March).
We can't say much about it as we promised our friend we would keep the event itself on wraps.
However, if you can time your visit and are willing to be friendly with your neighbors, you may get to experience a one-of-a-kind Bahia Concepcion camping experience. 
Of course, any time (except Semana Santa, and the summer months) is a great time to camp at Playa El Coyote.
There is also a restaurant on the highway within walking distance from the camping. It is known for it's full and half-servings of chicken and is reasonably priced.
There is also a small store here that sells the basics that will keep you alive for a few more days of camping on the beach of Bahia Concepcion.
To reach the main camping area you will drive a narrow road that is wedged between the mountain rocks and the bay.
Take it slow and be sure to look ahead before you begin the drive as it is one-lane, and barely at that.
The reward for this somewhat harrowing experience is the pristine waters and white sandy beaches of Playa El Coyote.
Location / Getting There: Just south of Playa El Burro about a quarter-mile past a restaurant on your right. The turnoff will be to your left and is steep. 
RV Types: All but Class A. The larger the RV the more challenging it will be. But there is always plenty of 5th wheel RVs camped here.
Cost: 200 pesos (USD$8)
Highlights: Beautiful water, sunrise/sunsets, access to great snorkeling and fishing. Long-term RV campers are typically incredibly friendly and can fill you in on most any place to visit in Baja.
Considerations: It can be busy and a little loud from traffic. The rocky drive in might be a gut check. And you will see vendors throughout the day.
NOTE: We camped at Playa El Coyote for 5 nights and had a wonderful time. The mornings were typically calm and the wind picked up in the afternoons.
We learned to do our water activities earlier and our siestas later. This is definitely a place you will want to camp on Bahia Concepcion.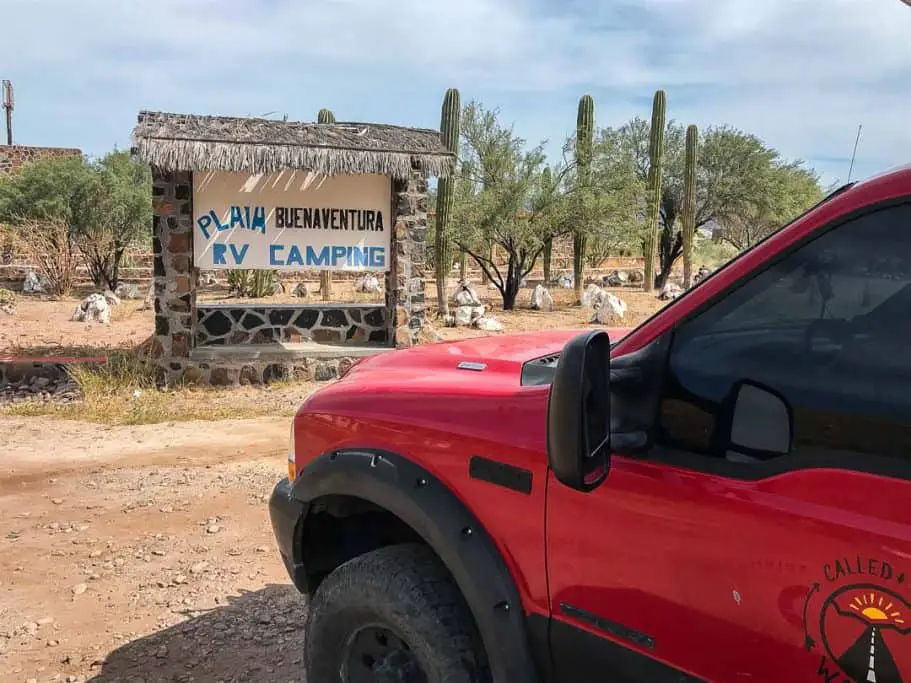 Buenaventura is an oddity of a Bahia Concepcion beach because it is privately owned and thus is sometimes open and sometimes not.
On our way south the beach was open and we were told that "Taco Tuesdays" at a restaurant there was quite worthwhile.
We didn't camp here on our way south but intended to on our way back north. 
However, when we returned to Bahia Concepcion from Loreto the road into Buenaventura was closed.
We did not see anyone to ask about what time of year or other qualifications existed for camping at Buenaventura. 
For this reason, we can't recommend that you plan to camp here. However, it may be worthwhile if it happens to be open when you travel through.
The beach is nice and well maintained and has its own little cove on Bahia Concepcion. There is a restaurant where you could take a night or two off of cooking your own meals.
And because it is so privately managed it would be about as safe a beach to camp as any beach on Bahia Concepcion.
But it has to be open… and we can't tell you when that will be.
Location / Getting There: After Playa El Coyote you will travel inland for approximately 10-15 minutes before returning to the coast. Almost immediately in doing so you will see several buildings on a white sandy beach beneath you and space clearly indicated for camping. 
RV Types: N/A
Cost: N/A
Highlights: N/A
Considerations: N/A
Camping at Playa El Requeson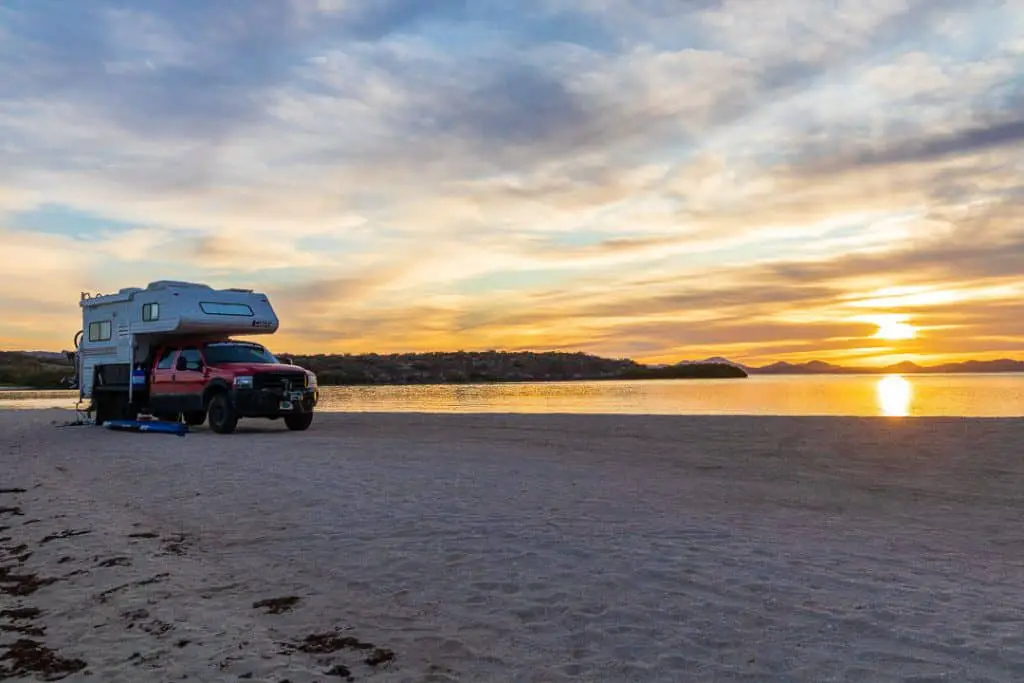 Camping at Playa El Requeson is an absolute must when camping Bahia Concepcion.
This is THE picturesque beach on RV postcards (are there RV postcards?!) where you will actually be camping on a sand bar between the beach and an island just offshore. 
Playa El Requeson is also the only beach on Bahia Concepcion with a paved exit from the highway.
Yes, it is that popular and you will likely see a fair number of day-trippers visit the beach during your stay. 
When you take the exit you will reach a point where you can turn left for camping at Playa El Requeson or turn right for camping at La Perla (below).
Head left and keep driving until you reach a small shack on the beach and likely a sign indicating donations. 
There is some debate as to whether these are "donations" or "fees" as Playa El Requeson is supposedly part of the Mexican park system and thus open to the public.
But the fee is 150 pesos (USD$8) which is beneath the standard rate for camping on Bahia Concepcion, the grounds are somewhat maintained (trash bins are monitored, palapas are reinforced, basic security is offered).
We had no issue paying the 150 peso fee and when we arrived we were one of only about 8 other RVs camping at El Requeson. 
When the tide is high there will be a shallow channel separating the beach from the nearby island.
However, at low tide, this channel disappears and you can walk over to the island and hike across it on well-established trails.
Views of the mouth of Bahia Concepcion from the island are spectacular.  
There is a vibrant marine life around the island and in both small bays between the camping sandbar and the island.
We saw everything from stingrays (be mindful when playing in the water) to triggerfish, parrotfish and pufferfish enjoying the rocky coastline of the island. 
When the wind is down this is a great place to SUP or kayak and we've been told the fishing/spearfishing is decent just outside the shallow bays.
However, when the wind is up it can turn your Bahia Concepcion camping experience into an indoor marathon.
When you camp on the sandbar you are completely exposed to the wind that seasonally blows straight between the shore and the island.
In fact, the wind was so strong one night we decided to change the angle we were camped to reduce the noise and swaying we experienced. 
We also had the opportunity to experience an incredible show of bioluminescence on our first night of camping at El Requeson.
Every fish, wave or other disturbance lit up the water in a brilliant aqua glow. We spent an hour throwing sand and rocks in the water watching the bioluminescence spark at each disturbance. 
By far camping at Playa El Requeson is one of our top recommendations for beaches to camp on Bahia Concepcion. 
Location / Getting There: This beach is near the southern end of Bahia Concepcion, is well marked and has a paved exit from the highway. 
RV Types: All types (but note Class A may have difficulty maneuvering on the sand bar when there is a crowd). 
Cost: 150 pesos (USD$8)
Highlights: Picturesque beach and bay, plenty of water sports activities, amazing sunrises/sunsets and plenty of beauty to absorb. 
Considerations: It can be crowded, some highway noise and not always the cleanest due to its popularity. 
NOTE: We spent 3 nights camping at El Requeson and enjoyed each one. The first was cold and windy but offered our bioluminescence show.
The second and third were less windy and milder in temperature. The wind was typically calm in the mornings but picked up in the afternoon.
Ultimately we left when the wind decided to remain strong through the night and into the next morning as we knew there were other beaches (above) that were less exposed to this northerly wind. 
Camping at Playa La Perla
Camping at Playa La Perla is a great alternative to camping at Playa El Requeson if the latter is busy.
Both beaches are within about a half-mile of each other and at the same exit from the highway. Playa La Perla is definitely a step down from what you can expect at Playa El Requeson.
And there are only a handful of palapas so you likely won't find too much of a crowd here. 
Playa La Perla offers a private cove half the size of either cove at El Requeson and can be exposed to the same strong winds.
It is the smallest of all campgrounds on Bahia Concepcion so there is a decent chance that you will have a bit of privacy if that is what you want. 
Because of it's proximity to El Requeson and all that beach has to offer, you can have the same experiences on the water when you camp at Playa La Perla as when you camp at El Requeson.
Location / Getting There: Take the same paved exit as Playa El Requeson but turn right instead of left at the fork.
RV Types: All but Class A. There is one steep section of the dirt road where longer RVs will have a better chance of bottoming out. In fact in the times that we visited Playa La Perla we only saw truck campers in any of the campsites. Even 5th wheel trailers may be too long. 
Cost: 150 pesos (USD$8)
Highlights: Access to the same features as Playa El Requeson without the crowds.
Considerations: The road in can be a little challenging for longer rigs and there are far fewer places to camp at Playa La Perla than other beaches on Bahia Concepcion.
Playa Armenta
Playa Armenta is the furthest south you can camp on Bahia Concepcion. It will literally be the last place you see (aside from a private turnoff) as you make your way back inland into the mountains leading toward Loreto. 
We passed on camping at Playa Armenta simply because of the road to the beach. The pull-off from the highway is relatively steep.
And then the road down to the beach is steep, narrow and can be dicey when recent rain washes it out. 
As we passed Playa Armenta several times in our time traveling around Bahia Concepcion, each time there was nobody camping at Playa Armenta. 
So if you have a smaller RV capable of making the trek down the road to the beach, or are tent camping or on a bicycle, then you will likely have the entire beach all to yourself. 
Like the other beaches of Bahia Concepcion, Playa Armenta has its own little cove and access to the bay.
We can't speak to the marine life there. But we wanted to camp here so that we could explore the southern part of Bahia Concepcion less explored.
I guess that will have to wait until we have a small RV or a little more courage! 
Location / Getting There: The last beach on Bahia Concepcion with a small turn-off on the left before heading inland.
RV Types: The smaller and more agile the better. 
Cost: N/A
Highlights: N/A
Considerations: Driving to the beach can be dicey. 
In Conclusion: Our Recommendation
Camping on Bahia Concepcion is an absolute must for anyone traveling through Baja.
With 9 formal beaches and numerous informal ones, you could spend as much time in this part of Baja as you have available. 
If you have the time, we recommend that you plan to camp at several beaches on Bahia Concepcion.
Based on our experience, we'd recommend that you consider camping at: 
Los Cocos
El Coyote
El Requeson
Each of these beaches offers a unique perspective of camping on Bahia Concepcion while giving you the same laidback experience that likely drew you to camping in Baja in the first place. 
But as much as we advise you to enjoy camping on Bahia Concepcion, we do recommend that you not get "stuck" here (or at least not on your first trip to Baja).
There are plenty of great places to camp in Baja and we feel like the further south you go the more you will enjoy the people, places and things to do. 
But you can't skip camping on Bahia Concepcion.
And, if you are like us, it is always possible to budget a little bit of time camping here on your way south and then again on your way back north (unless you are taking the ferry to the mainland, in which case stop on your way down to La Paz!) 
We hope you enjoy your time camping on Bahia Concepcion!
About Author