Last Updated on February 26, 2022 by Chris and Lindsay
We have set out to track our actual RV travel budget and expenses in order to help you understand the actual costs of RV living. While there are many factors that impact your budget, we found that there are not many realistic examples of RV budgets out there to study.
You can view our actual accounting with each individual expense in this Google Sheet. We update it virtually on a daily basis (as long as we have reliable internet!) so you can literally track our expenses as we incur them!
But if you are not interested in the nuts and bolts of our full-time daily living expenses, we welcome you to read on for a summary about each particular month. In each monthly budget post, we'll provide you not only with the specific line-item expenses but also with any tips and tricks we used to stay within budget!
We break our monthly expenses down into the following items:
$800 "Fixed Expenses" (Standard things like insurance, cell phones, and other "home" expenses)
$1,200 "Travel Expenses" (Roughly $40/day for meals, camping and everything else)
Join along and see how we do each month!
RV Travel Budget – October 2021
October 2021 was an interesting month for us. Ultimately we spent more money camping than we anticipated, but far less in going out to eat. As fuel prices continued to rise we decided in September that we wanted to limit our travel to Wyoming and eastern Idaho before heading south through Utah and Arizona on our way to Baja in November.
We also planned to meet dear friends of ours who were out exploring the Pacific Northwest in their truck camper. The location was TBD, but likely near a slew of hot springs that we wanted to enjoy in Idaho.
Yet at the same time, our good friend "Baja Steve" was in Bend, Oregon in the final month of preparations before his return to Baja, which meant it would be good for us to meet with him before he left. This idea stretched us beyond our fuel budget. But we knew it was a good decision to go see him.
So we left Thermopolis, Wyoming and made our way to the small town of Dayville, Oregon to spend a weekend with Steve and two of his friends with whom we intended to talk and plan our return trip to Baja.
This was fateful for us because we also ended up contracting COVID this weekend, which changed our travel plans even more! Like most people, we didn't realize we had the virus for a few days. But we had already planned to boondock in the Bonneville Salt Flats at the western edge of Utah.
We met our friends there. But knowing something was off, we kept our distance and essentially began our quarantine in the high desert. After a loss of taste and smell confirmed our case, we made our way to Ely, NV to take a test (which ultimately confirmed our own confirmation). From there we headed down to Pahrump, NV because we knew that we needed sunshine and warmth as part of our healing process.
Chris celebrated his 40th birthday overcoming COVID in Pahrump and as soon as we were through with our quarantine we headed back north to southern Utah, one of our favorite places to explore.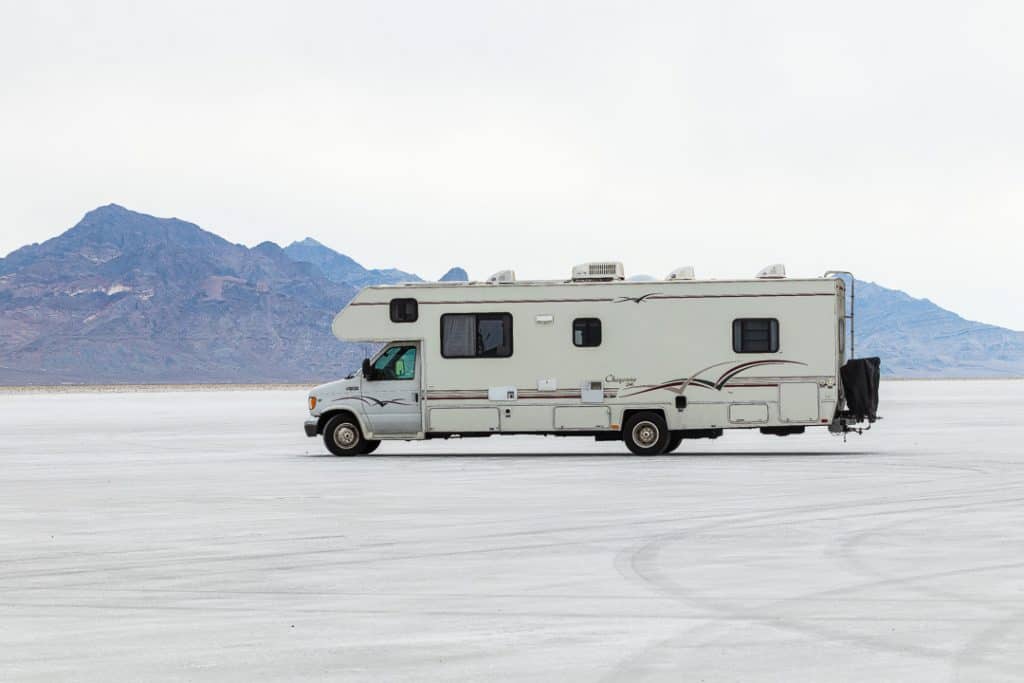 READ MORE: Find out more about our entire budgeting and spending process in this post!
A Quick Overview of our October 2021 RV Travel Budget
| | | |
| --- | --- | --- |
| Expense | Amount | Daily |
| Camping | $310.76 | $10.02 |
| Groceries | $598.58 | $19.31 |
| Meals Out | $103.32 | $3.33 |
| Other | $105.73 | $3.41 |
| | $1,118.39 | $36.07 |
| Fixed Expenses | $800.00 | |
| Total Expense | $1,918.31 | |
| Total Budget | $2,000.00 | |
| UNDER BUDGET | $81.69 | |
As you can see from the overview, we managed to come out ahead again with the average expenses that we anticipate.
However, Huckleberry (our youngest pup) was sick for a few days and we had to take him to the vet. Fortunately, he turned out OK and did not require any major medical attention.
But that still set us back a little. And on the note of dogs, we also had to purchase dog food. We budget $70/month (found in our $800 "fixed expenses") for pet expenses so we went over on this.
We'll break that down below and share how we ended up going over budget for the month, just barely!
| | |
| --- | --- |
| $148.85 | Veterinarian |
| + $58.08 | Dog Food |
| $206.93 | Total Pet Expense |
| – $70.00 | Budgeted |
| – $29.79 | September Savings |
| – $81.69 | October Savings |
| $25.45 | OVER Budget |
Our Fuel Budget
We did spend a total of $1,280.05 on fuel in October. This brought our fall fuel balance down from $3,000 to $681.98. This is in large part because of our decision to travel further to Oregon to see Baja Steve, and then to drive further south than we intended to Pahrump as well as the return to southern Utah at the end of the month.
READ MORE: See our exact expenditures summarized above in this Google Sheet where we track day-to-day expenses and leave you notes for what and why we incurred each expense!
A Breakdown Of Our Expenses
Below is a breakdown of the circumstances and situations we found ourselves in that allowed us to remain under budget for the month.
Camping – $310.76 ($10.02/day)
Although we both started and ended the month free (or almost free) camping on BLM land, the middle of the month ended up quite costly. We started our spending streak with 2 nights in Dayville at the only camping option in town ($33/night).
Then we also spent a total of 8 days in formal campgrounds ("RV Resorts") using our Passport America membership as we finished off our quarantine. Even with those days camping we still ended up at a very respectable $10 per night average.
NOTE: Although our favorite camping membership is Harvest Hosts, we always travel with our Passport America membership. For under $50/year, we usually make our money back within one or two nights. Anytime we decide it is time for a formal campground we always check out Passport America campgrounds first.
Groceries – $598.58 ($19.31/day)
There was nothing out of the ordinary with our grocery budget. Except, perhaps, that we may have overpaid a little on groceries because we ordered them for pickup rather than shopping ourselves when we were recovering from COVID.
Otherwise, this is more than September, only because we had to start to restock the groceries we that we had stocked up on before we left in September.
Meals Out – $103.32 ($3.33 day)
This was much lower than September and more in line with what we usually spend for two main reasons.
First, in leaving Thermopolis we no longer had "social spending" in eating out with friends or at our favorite places. Additionally, COVID kept us in for over half the month.
Other Expenses – $105.73 ($3.41/day)
This expense would have been virtually nothing had it not been for the fact that we had to purchase our America The Beautiful National Park pass on the first day of the month!
The $80 purchase is well worth every dollar. But otherwise, we only spent money on filling up with propane and a few small items for the camper.
NOTE: If you plan to visit any number of US National Parks while on the road then do not hesitate to purchase your America The Beautiful pass. This is one of our absolute must-have RVing essentials!
Wrapping Up
Although we were over slightly in our budget for the month (thanks to our trip to the vet with Huckleberry!) we are pretty pleased that we were pretty close to target.
One thing that does concern us moving forward is that we spent more on fuel this month than we anticipated. Both the drive to Oregon and to Nevada were unexpected and not budgeted.
Plus the price of fuel skyrocketed both in these locations and in general. So we know that November is likely to push us over budget on fuel and force us to dip into our savings a little. But we are confident we can recoup the overage when we arrive in Baja and spend 5-6 months there!
About Author