Last Updated on February 26, 2022 by Chris and Lindsay
Some of the best slot canyons in Utah, and arguably the world, are accessible to adventurers of all hiking interests and levels. We were caught off guard by Utah's beauty the first time we visited the state.
And as amateur outdoor enthusiasts on a pretty tight full-time RVing budget, we were pleasantly surprised to find that we could enjoy some of the best hikes and slot canyons in Southern Utah without spending much money.
We were also pleased that we didn't have to commit to learning climbing and rappelling techniques or to invest in technical climbing gear to be able to explore the slot canyons in Utah in places like Grand Staircase Escalante National Monument, Zion National Park, Little Wildhorse Canyon, Buckskin Gulch or any number of other slot canyons in Utah.
In this post, we'll lay out for you the most incredible slot canyons in Utah that you can reach without needing any technical skills or equipment. We'll also give you a few pointers to make your slot canyon hike safer and more enjoyable.
The 8 Best Slot Canyons in Utah
Developing a list of Utah's slot canyons we wanted to explore was easy. But determining which ones were the best, most beautiful and well worth your time was a challenge.
Trip map courtesy of
Wanderlog
, a trip planner app
Whether you want to explore some of the best hiking trails in each national park in Utah, or you are looking to get far off the beaten path into exploring the narrow passageways, steep canyon walls and twists and turns of some of the most spectacular slot canyons in the world, we'll guide you through our list of the top slot canyon hiking options in Utah.
Buckskin Gulch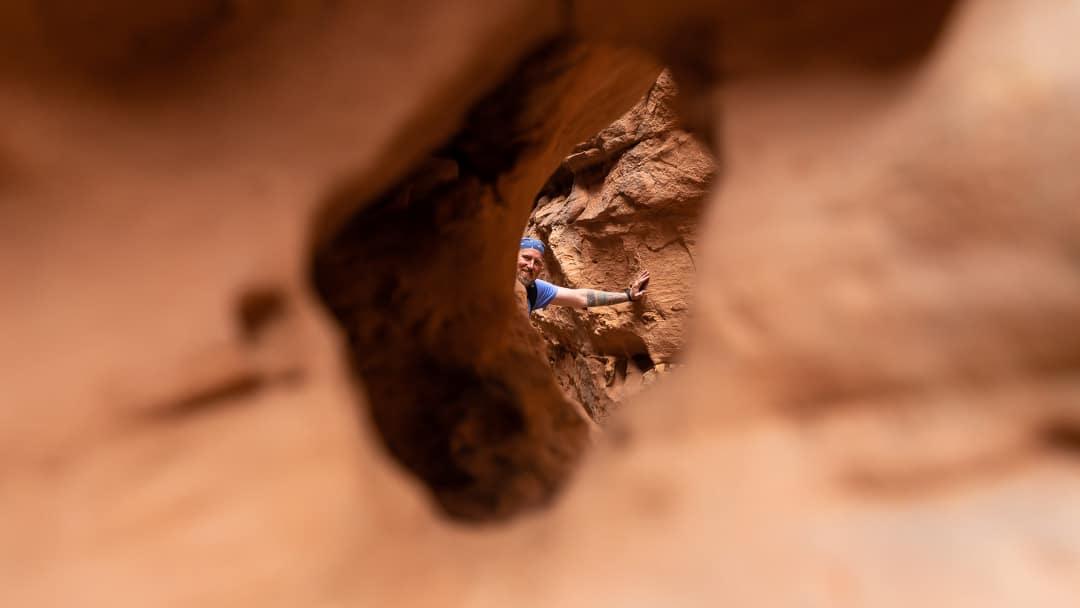 At around 15 miles long, Buckskin Gulch is one of the longest slot canyons in the world. If it's not already on your list to do, it should be as the hike through this amazing slot canyon is rated one of the best in Utah.
Location: Located about halfway between Kanab (UT) and Page (AZ). You can hike Buckskin Gulch starting at the main trailhead or start further down where the path gets prettier at the Wire Pass Trailhead. Both trailheads are located on House Rock Valley Rd, approximately 4.5 miles and 8.3 miles from Hwy 89.
Distance: 15 miles (or less as out-and-back)
Difficulty: Moderate
Although Buckskin Gulch is one of the most popular multi-day hikes, you can do as much or as little of it as a day hike. If you are in top shape and start early it is possible to complete all 15 miles in a day.
However, we found that we stopped too many times for pictures to make it more than 4-5 miles into the slot canyon. If you don't commit to the entire journey you'll end up making an out-and-back of it.
While we prefer to not backtrack, the beauty of this hike can be enjoyed twice as much if you do. There are no technical requirements for hiking this trail. But do note that you may come across water and/or a few areas of steep terrain as you navigate the steep canyon walls.
There are 4 access points to hike all or part of the gulch: White House Trailhead, Wire Pass Trailhead, Middle Passage and Lee's Ferry Trailhead.
Wire Pass Trail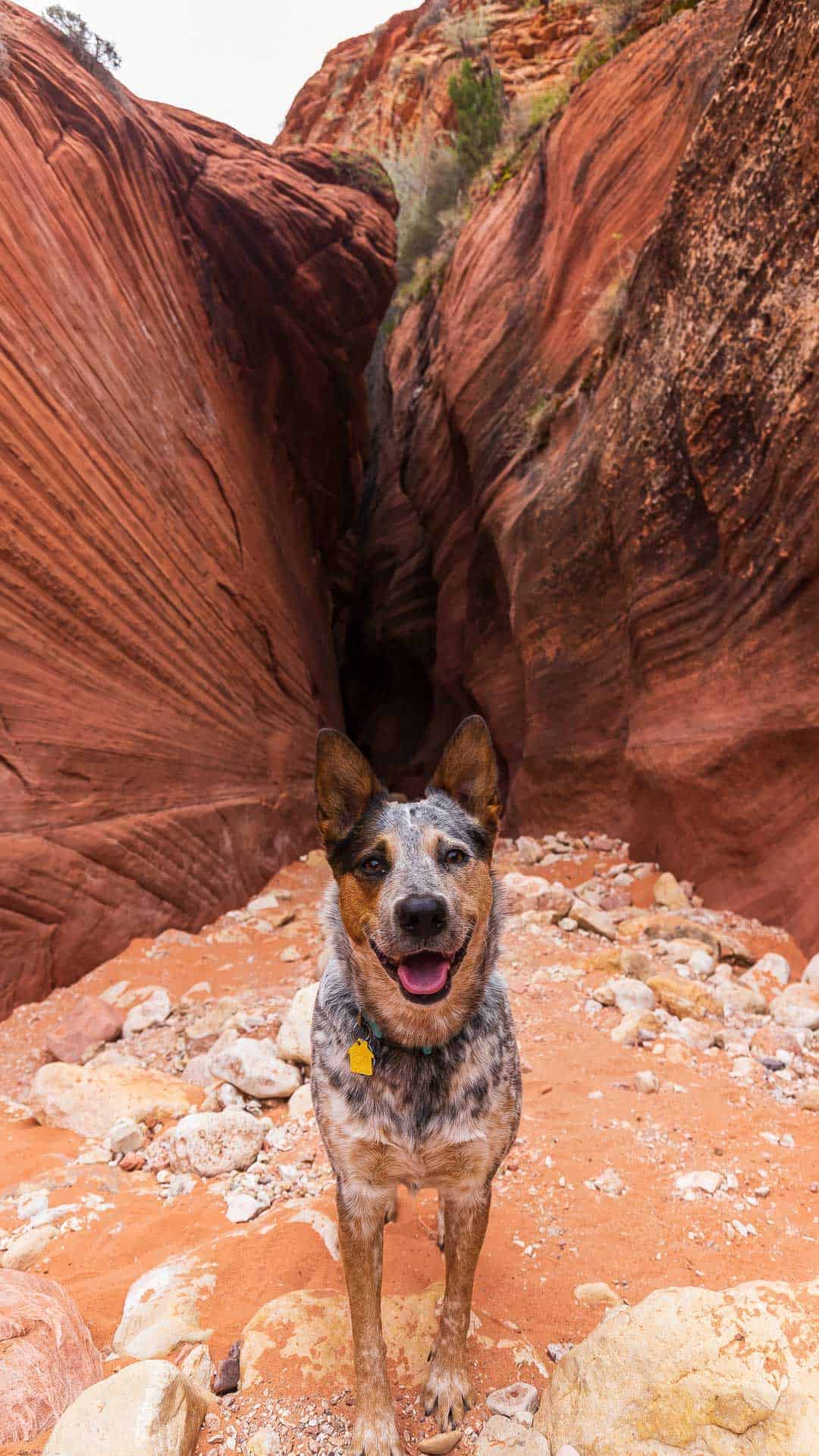 Wire Pass Trail is the prettier, more condensed version of Buckskin Gulch that actually converges with the gulch in a T. You can split your Buckskin Gulch trek into a smaller, more manageable hike by beginning at Wire Pass Trail.
Or you can do like most people and simply make it a day hike out and back.
Location: Located about halfway between Kanab (UT) and Page (AZ). The Wire Pass Trailhead is located on House Rock Valley Rd, approximately 8.3 miles from Hwy 89.
Distance: 3.5 miles out-and-back
Difficulty: Moderate
Wire Pass Trail is a great slot canyon trek for most people as the trail itself is not technical or dangerous. Like other trails in Southern Utah, make sure to check in advance for rain or excessive heat, pack plenty of water and dress accordingly.
The first part of the trail is a little anti-climatic as it begins in a wide wash that meanders slowly toward the steeper canyon walls for a mile or so. But no doubt once you ender the slot canyon section of the hike your breath will be taken away.
This is a great trail to take with your dog too, assuming you have plenty of food and water for your pup and you commit to cleaning up after it.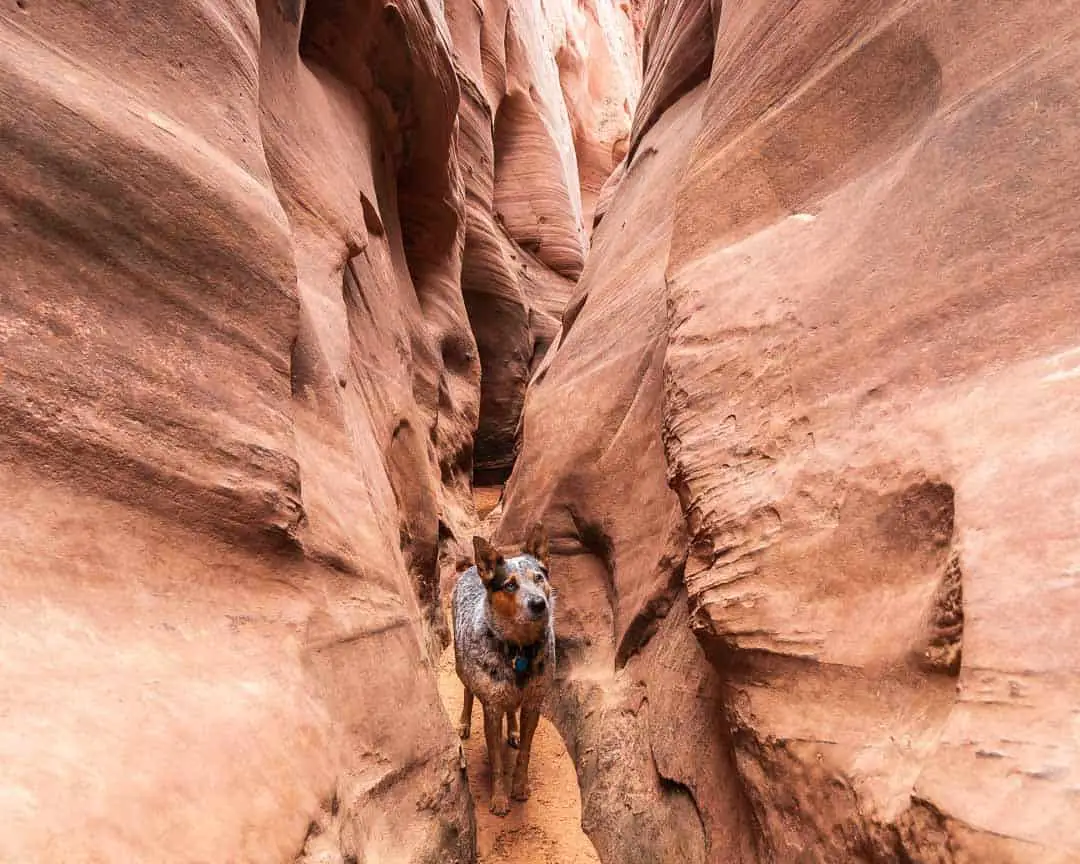 Little Wild Horse Canyon
Little Wild Horse Canyon is a remarkable canyon near Goblin Valley State Park in the south center of the state. While not as accessible as some of the more popular slot canyons near Zion National Park, Little Wild Horse is definitely one that should be on your list.
Location: Follow directions toward Goblin Valley State Park. Turn west on the dirt road as you near the park and follow the direction to the trailhead parking.
Distance: 8-mile loop (Shorter out-and-back)
Difficulty: Moderate
Little Wild Horse Canyon offers beautiful scenery that combines the typical narrow passageways hemmed in by sandstone walls with the occasional wider spaces that give the slot canyons their perspective.
You can hike Little Wild Horse Canyon either as the full 8-mile loop that includes Bells Canyon, or simply make an out-and-back as far into the canyon as you'd like.
Like other slot canyons, this trek starts out less than exciting down a wide path. But eventually, this funnels into the narrow canyon. Depending on the previous day's weather you may have to skip over or through some shallow pools of water.
Make sure to check the weather, carry plenty of water and dress accordingly for this hike.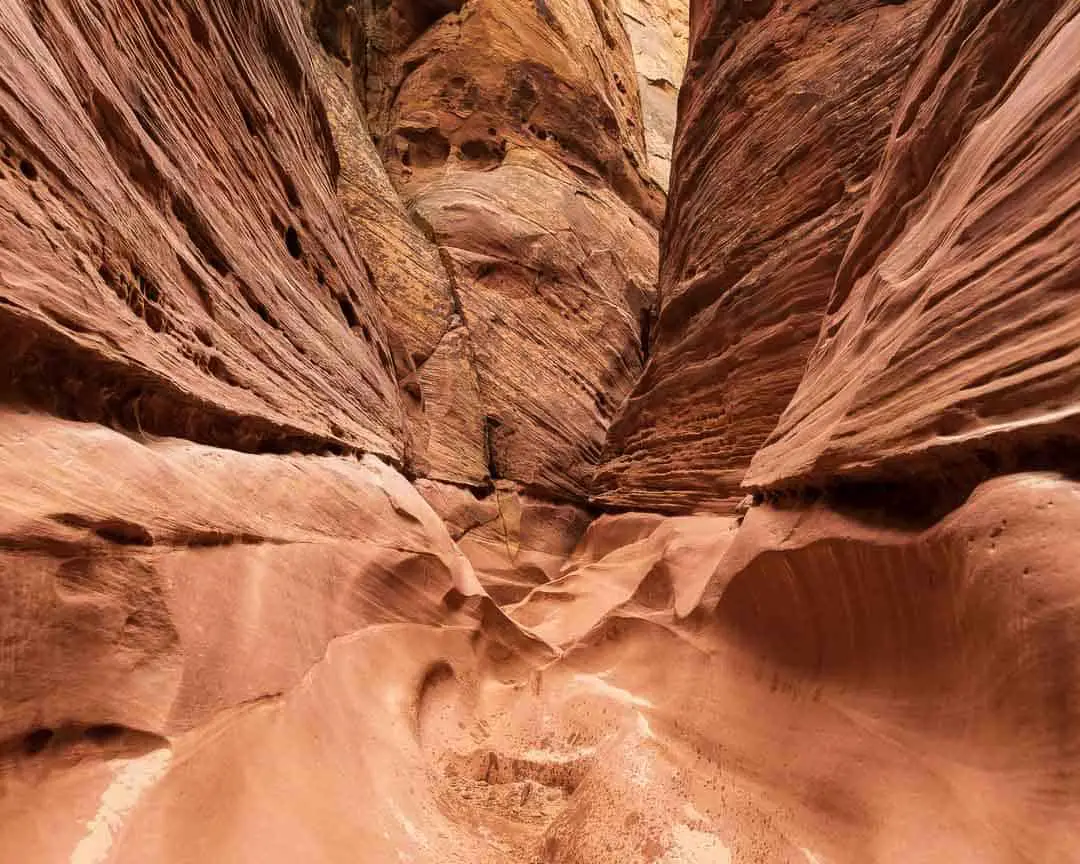 Zebra Slot Canyon
Zebra Slot canyon was our first, and thus probably the most memorable slot canyon hike. Located in the vast and beautiful Grand Staircase Escalante National Monument, just a few short miles outside of the town of Escalante, the slot canyon is both accessible and relatively easy to enjoy.
Location: Head east out of Escalante on UT-12 until you reach Hole In The Rock Road almost exactly 5 miles out of town. Follow this dirt road for 8 miles to the trailhead parking for Zebra Tunnel Trailhead.
Distance: 5-mile out-and-back
Difficulty: Moderate
Hiking Zebra Slot Canyon will start similarly to many other Utah slot canyon hikes. You'll canvass a well-marked trailhead several miles through open space in Grand Staircase Escalante National Monument.
The path will narrow as you cross several rudimentary cattle guards and you'll follow a sandy wash toward a rock outcropping seemingly in the middle of nowhere. Here is where the adventure begins as you enter the slot canyon and hike further into the adventure.
You'll likely pass through several pools of water before you enter the narrow canyon and you make find yourself shimmying up over boulders to explore further. The actual zebra-striped rocks for which the slot canyon gets its name are a short distance into the canyon.
As usual, be sure to have plenty of water as you may end up hiking several miles fully exposed to the sun in dry, hot temperatures.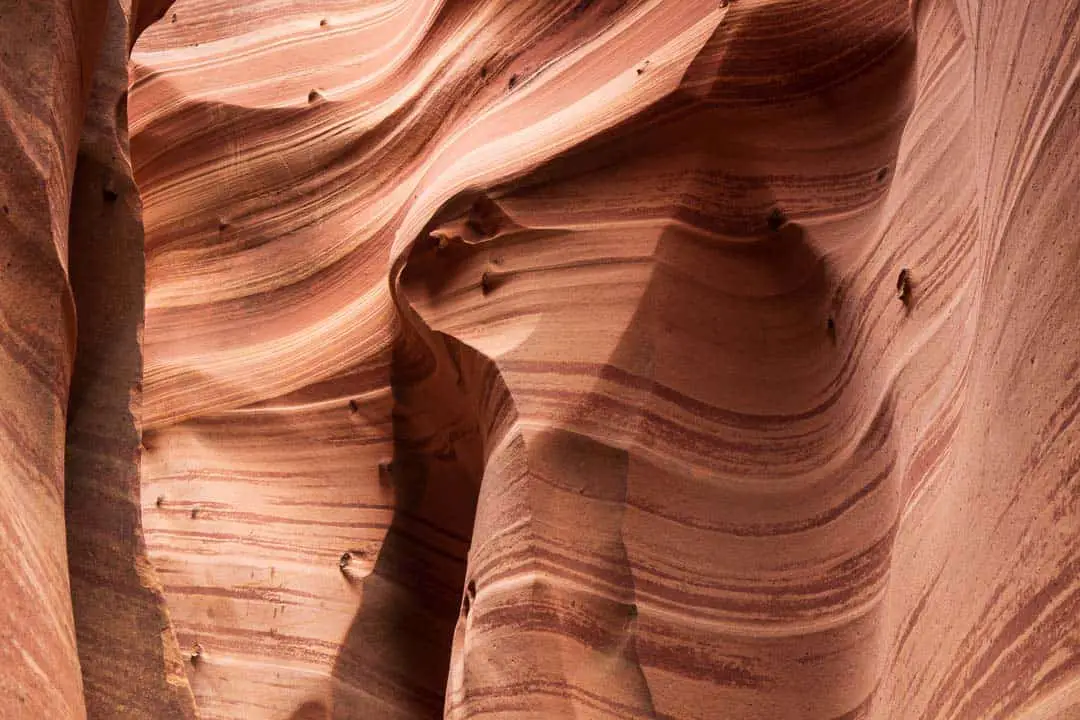 Burro Wash (Capitol Reef National Park)
Burro Wash, located in Capitol Reef National Park, is one of the top-rated hikes in the park.
Location: Head 7.8 miles south along Notom-Bullfrog Road off of UT-20 east of Torrey.
Distance: 7.5 miles
Difficulty: Moderate
Burro Wash trail starts with a two-mile hike through a wide wash before climbing over a boulder, through a pool of water and into a series of narrow rock walls.
By far, most hikers enjoy the last portion of the hike through the narrows. If you've hiked through Peek A Boo Slot Canyon this canyon will pale in comparison.
But if you're collecting as many short and easy day hikes as possible, this is one of the best Utah has to offer.
Zion Narrows (Zion National Park)
Zion National Park has rightly earned a reputation as being one of the most beautiful national parks for hiking. This is especially true if you plan to visit Zion in winter. And the Narrows in Zion National park are among the apex of Utah slot canyons.
Location: Enter Zion National Park and make your way toward the Temple of Sinawava.
Distance: 15.5 miles (much shorter day hike possible)
Difficulty: Difficult
As the name suggests, the Zion Narrows is the narrowest section of the canyon where the Virgin River makes its way through the canyons. It is quite accessible for short hikes that leave out much of the beauty that a long hike would entail.
Most people start on the Riverside Walk at the Temple of Sinawava and complete the "bottom-up hike" that requires no permit or technical skills.
A more strenuous hike would entail the "top-down hike" from Chamberlain's Ranch. This requires a permit and will likely encompass multiple days of hiking.
Either way, you'll be spending time hiking in the Virgin River so equip yourself properly.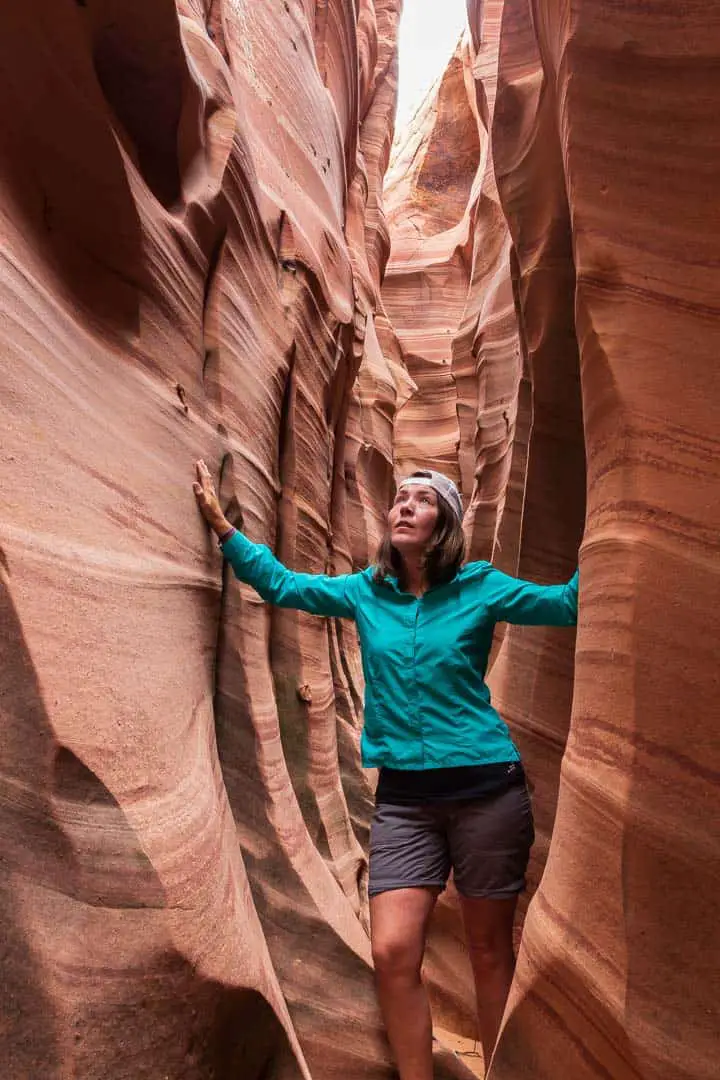 Dry Fork Narrows, Spooky and Peek a Boo Slot Canyons
The Grand Staircase Escalante National Monument lends itself to many great hikes and slot canyons. And if you've already added Zebra Canyon to your list of Utah slot canyons to hike, you might as well continue down Hole In The Rock Road another 18 miles to enjoy the beautiful slot canyons that Spooky Gulch and Peek a Boo canyon provide.
Location: Head east out of Escalante on UT-12 until you reach Hole In The Rock Road almost exactly 5 miles out of town. Follow this dirt road for 8 miles to the trailhead parking for Zebra Tunnel Trailhead.
Distance: 6-mile loop
Difficulty: Difficult
Hole In the Rock road is a gateway to unraveling the beauty of the Grand Staircase Escalante National Monument as the road cuts through the heart of the landscape.
If you are adventurous enough you can follow it all the way to the northern end of Glen Canyon National Recreation Area and enjoy all of the adventures that entail.
But stopping at Spooky Gulch and Peek A Boo Slot Canyon is unforgettable. You will need to be agile and in decent shape as you will navigate some narrow spots, including a drop-off.
The hike starts from the trailhead and carries into the Dry Fork Narrows. From here you'll enter Peek A Boo Slot Canyon via a narrow uphill climb and carry on into Spooky Canyon where you'll face a steep drop.
In all this hike through Peek A Boo Slot Canyon is consistently ranked by hikers of all sorts as one of the best slot canyons in Utah. It's particularly nice since the drive in weeds out a lot of traffic places like the Narrows in Zion have.
Willis Creek Slot Canyon
Willis Creek Slot Canyon makes our list as it is one of the most family-friendly slot canyon hikes in Utah. Plus getting there is a real treat as you once again traverse through the incredible landscape of the Grand Staircase Escalante National Monument.
Location: From Cannonville turn south on Kodachrome Road and continue on Cottonwood Canyon Rd. Turn right onto BLM500/Skutumpah Rd and stay right for approximately 6 miles.
Distance: 4.5 miles out-and-back
Difficulty: Easy
Willis Creek Slot Canyon is a great option if you want to hike as a family or with dogs. There are not a lot of technical areas in the canyon and the scenery is on par with many of the other canyons in Grand Staircase Escalante.
Depending on the time of year, plan to hike either in or on Willis Creek for much of the trail. It is not a very strenuous hike and one you can complete even after a long day of exploring other nearby gulch and canyons.
But it makes the list because of its remote location and the fact that there is a good chance you will have most of the canyon to yourself.
Tips for Hiking the Slot Canyons of Utah
The southwestern portion of the United States is home to some of the best slot canyon hikes in the world. But hiking in Utah, in particular, requires that you keep several things in mind for both your safety and enjoyment during your hike.
Slot canyons are formed by the funneling of water between narrow walls that have eroded over time. As such, they remain entirely susceptible to flash floods which can be easy to overlook on a clear, sunny day.
The following tips will give you great advice on how to enjoy Utah's slot canyons without finding yourself in a dangerous situation.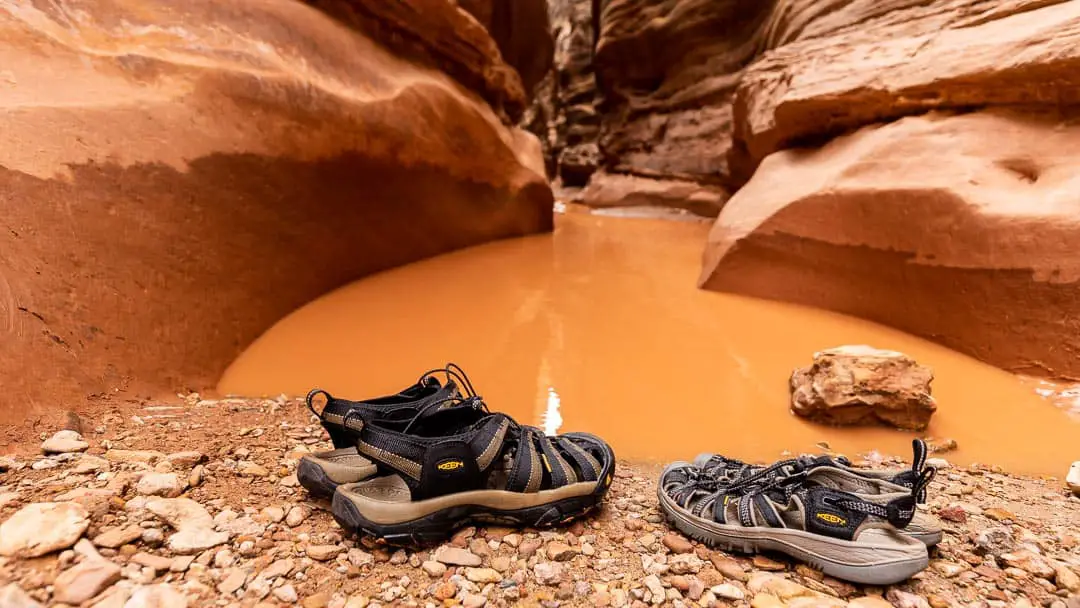 Check the weather in advance.
This is a solid piece of advice for any slot canyon hike or canyoneering adventure. The canyons were formed by wind and water erosion over time and the deep walls are great at funneling water.
Further, weather in Utah can start clear and sunny and end up in torrential rain. Flash floods are a clear and present danger in the event of any rain so knowing the weather conditions in advance is a must for safety.
Stop in at local ranger stations/BLM offices for updates.
You can check in on the weather conditions and other factors that might affect your hike by stopping in to chat with rangers at the nearby National Park or BLM offices. Rangers will be able to share information such as road and trail conditions and give you a relative idea of whether the hike is possible.
Several times we have either been talked out of one hike, or convinced of another, because of advice from rangers.
Carry lots of water.
By far the most important thing to pack when hiking these slot canyons is water. This is doubly true if you plan to hike late spring through early fall. Summer hikes are almost all but unadvised due to the brutal summer heat.
But even the shoulder months in Utah can be hot. Drink plenty of water before the hike. Carry additional water with you. Be considerate of your dogs as well and carry water for them.
Some trails may have water along the way suitable for animals. But don't plan to find potable water for yourself.
Dress accordingly.
Layers are usually key, especially when hiking during late fall to early spring. What may start as a crisp, cool morning will turn into a warm day, particularly as you exercise. Throw in the heat of midday sun and you'll find yourself peeling off layers.
But equally important is ensuring proper protection from the sun. Whether adding layers of sunscreen or a simple lightweight UV-protectant shirt, dressing accordingly will make your hike more enjoyable.
Also, know whether or not to pack water shoes on your hike. We typically carried ours with us and changed as necessary as not all trails will have water features that require special navigation.
Have a great offline hiking and/or GPS mobile app
We use both Gaia GPS and All Trails whenever we hike anywhere. Both have offline features that allow you to see the trail (AllTrails) and/or leave waypoints and track your hike (Gaia GPS).
Whatever app you prefer, you should have one that will at least let you mark the start of the trailhead and/or drop breadcrumbs along the way so you can find your way back to the parking lot.
Additionally, we carry a lightweight portable USB charger in the event we need to recharge our phones during the hike.
Wrapping Up: We hope you have enjoyed this list of great slot canyon hikes in Utah. While we admit this list is not all-encompassing of the many other great options, we think you'll enjoy it as you build your own adventure list! Let us know which of these is your favorite and any details we may have left off!
About Author