Last Updated on May 28, 2022 by Chris and Lindsay
Don't want to miss out on all the great things to do in Thermopolis, Wyoming? This guide is all you need to have an amazing time in Thermopolis!
From soaking in the hot springs to exploring the Wind River Canyon, there is no shortage of family-friendly things to do in Thermopolis, Wyoming. 
Thermopolis is a small town in the northwestern corner of Wyoming. Named after the mineral hot springs for which the area is best known, the town boasts only 3,000 residents and one stoplight. 
Many people only pass through town on their way to/from Cody and Yellowstone National Park. But Thermopolis is a great place to stop for a few days.
Whether you are traveling with kids or just by yourself, there are plenty of things to do in Thermopolis. Explore the town and its surrounding area. Or rest and relax for a long weekend in town. 
We've put together this list of things to do in Thermopolis, Wyoming to help you enjoy your time in this quaint Western town!
Things To Do In Thermopolis, Wyoming
While there is a range in how much you can spend while enjoying the area in and around town, there are plenty of things to do in Thermopolis, Wyoming that won't break the bank. 
Here are 10 things to do in Thermopolis that will cost you nothing at all! 
FREE Things To Do In Thermopolis, Wyoming
1) Visit Hot Springs State Park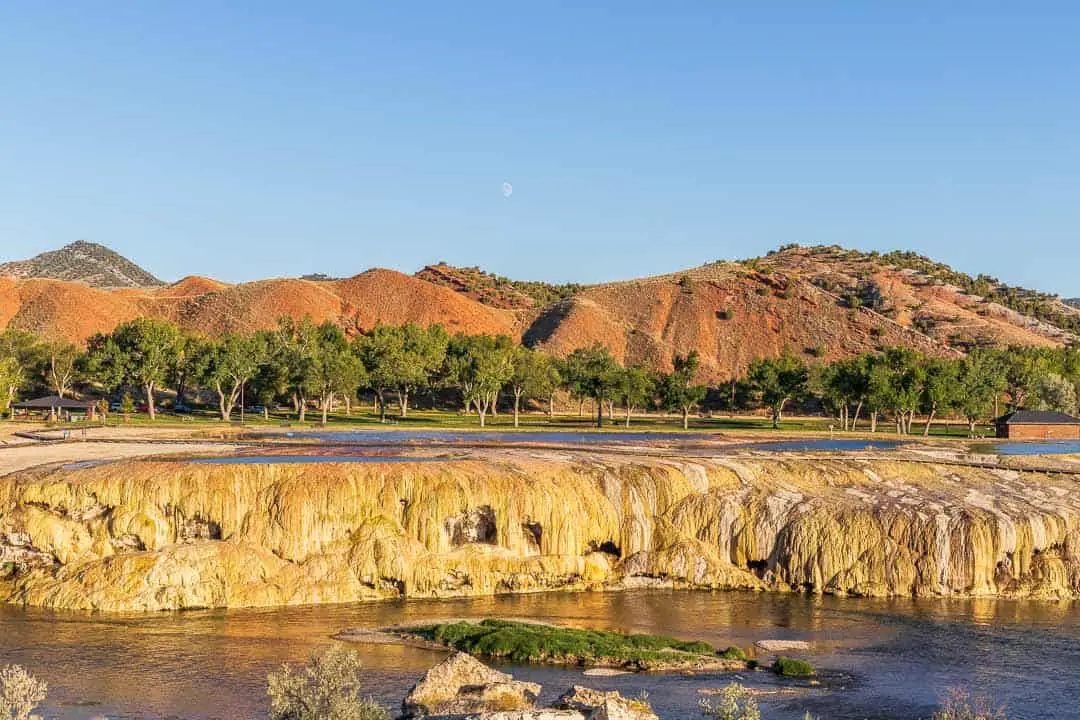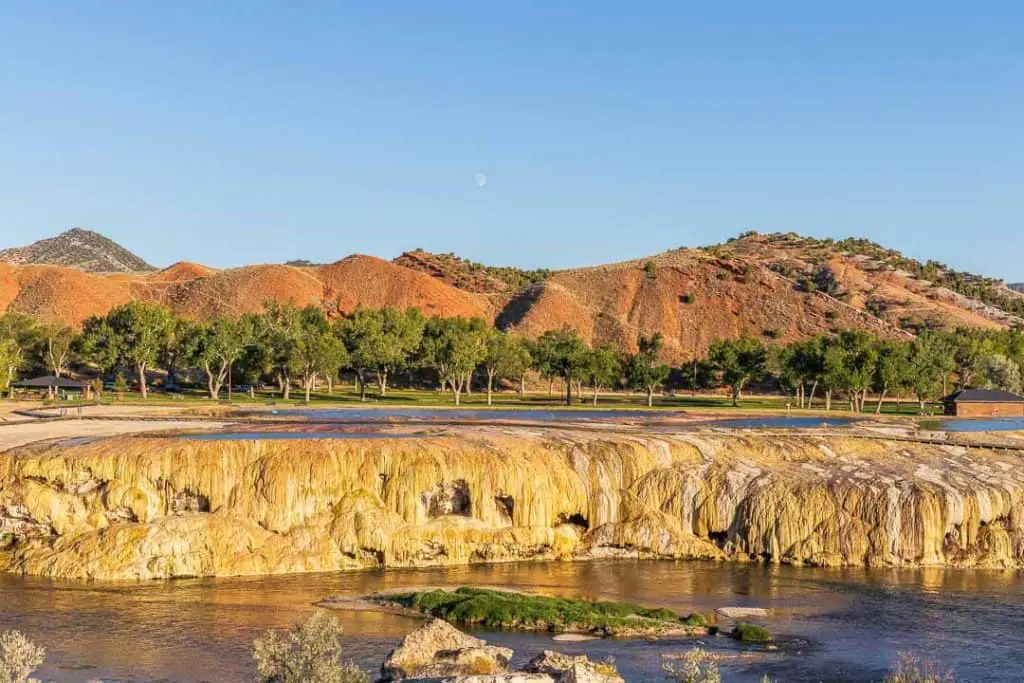 If you plan to visit Thermopolis, Wyoming for any amount of time, Hot Springs State Park must be at the top of your list. A rare gem among state parks, the park is one of the most well-maintained and beautiful parks in the US.
Unlike most other state parks, the entrance is also FREE every day of the year.  The park is located near the center of town and boasts ample parking and picnic tables to serve as your base camp for a relaxing day.
There are plenty of things to do while enjoying the state park. One of the first attractions within the park is the world's largest mineral hot spring (by volume).
Located at the northeastern corner of the park, the "Big Spring" headwaters flow from beneath the ground and make their way across the park before cascading down the terraces into the Big Horn River. 
A small platform allows you to overlook the headwaters. Follow the mesmerizing flow to the walkway that will take you to Rainbow Terrace. Depending on the day, the colors and flow will vary as the water trickles over the edge of the terrace. 
Hot Springs State Park also hosts various free events throughout the year. Some of the more popular include the Big Horn Basin Folk Festival (early August), Gift of the Waters Pageant (early August) and various concerts throughout the summer. 
There is plenty of lush green grass on which to picnic, nap or read a book. The park is also very dog-friendly. The rules require your dog to remain on a leash.
But as long as he or she is well behaved you likely won't have any issue letting your dog run free through the park with you. You will also find access to three hot springs in which you can soak located within the park.
The state bathhouse allows free admission for 20 minutes. But you can also choose to spend the day at either Star Plunge or Hellie's Tepee for $15.50 for the entire day.  
Hours: Open all day and night. 
READ NEXT: Check out our ultimate guide to things to do in Hot Springs State Park!
2) Explore the Petroglyphs at Legend Rock
The area around Thermopolis is full of pre-Columbian history. A trip to Legend Rock provides evidence of civilizations that left their mark on the land years before the town was settled. 
Dating as far back as far as 10,000 years, hundreds of petroglyphs recount the stories and history of ancient settlers. Legend Rock is located approximately 23 miles outside of Thermopolis on your way toward Cody. 
Hours: May – September 8 AM – 6 PM. October – April contact the Thermopolis Chamber of Commerce for a key. 
Directions: Take Hwy 120 toward Cody/Meteetsee for approximately 21 miles. Turn left at Cottonwood Creek Road and follow until the second cattle gate. Follow this road until it forks and stay to the left until you reach the site. 
3) Hike With Bison And Climb Monument Hill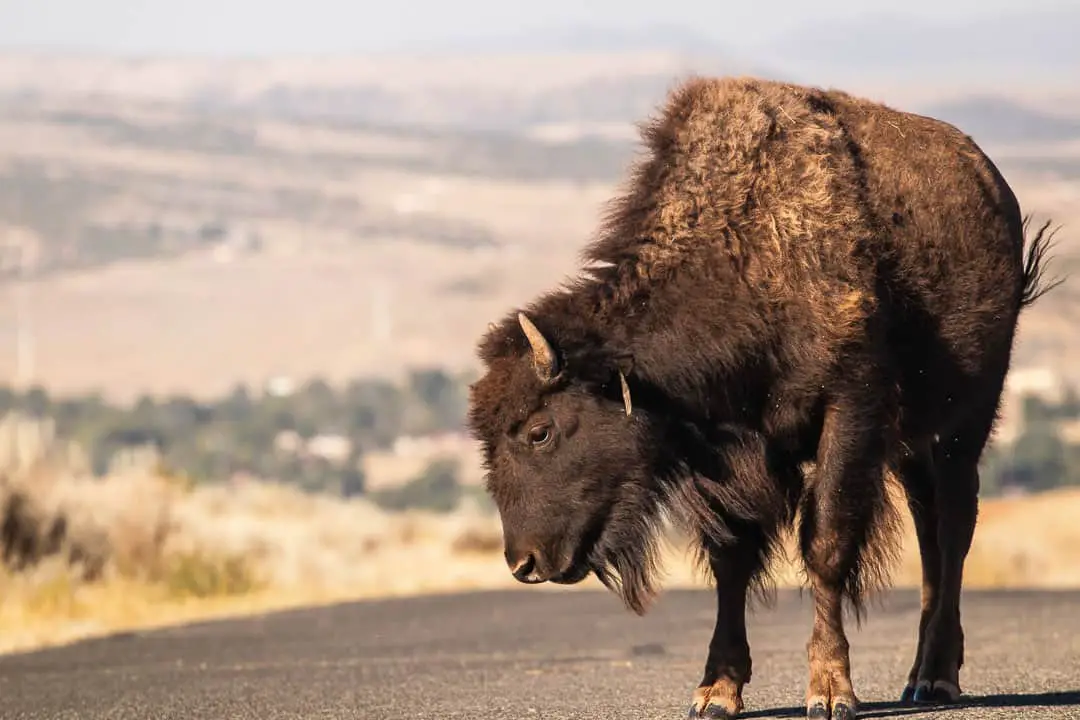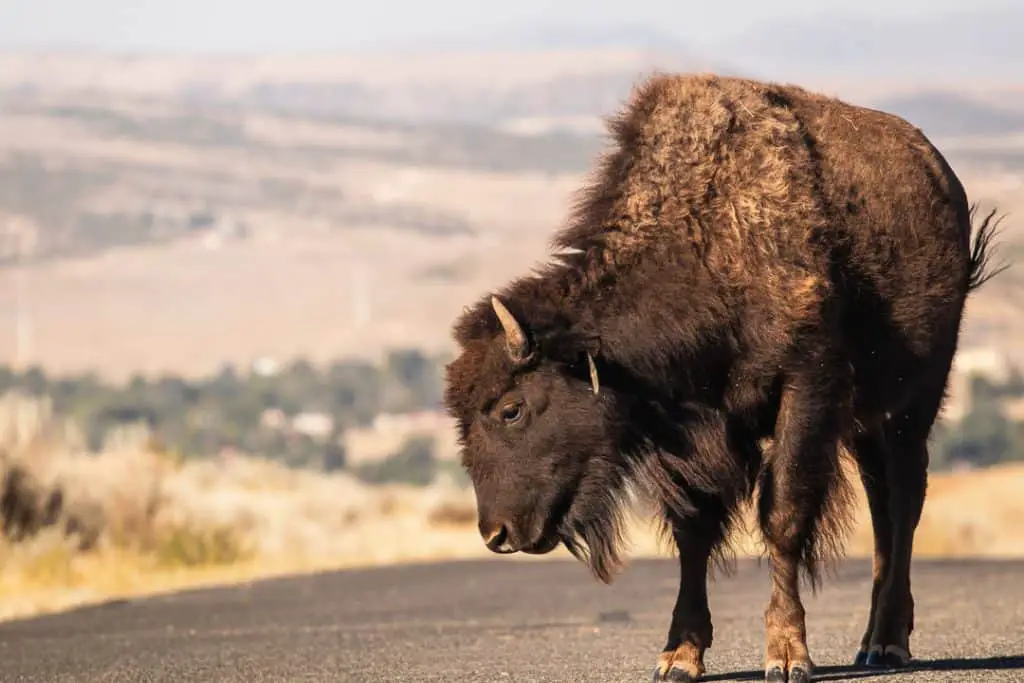 One of the more unique things to do in Thermopolis, WY is hiking through the bison pasture. Technically located within Hot Springs State Park, the bison pasture provides an opportunity for you to get up close and personal with a herd of bison. 
Typically there are around a dozen bison that are visible and accessible every day of the year. The herd prefers different areas of the pasture each day.
But a drive to the top of the pasture rewards you both with a view of the surrounding area and with the location of the bison. While bison are ample in Yellowstone National Park (WY) and Custer State Park (SD), this park offers more than just the chance to see bison.
You can actually get out and explore the many trails that criss-cross through the pasture. One of the best parts of the bison pasture is hiking to the top of Monument Hill. From there you can see all the way to the Wind River Canyon. 
Hours: Open all day and night. 
Directions: There are 3 entrances/exits to the park. The most central is located behind Star Plunge. Follow the road up into the bison pasture. 
4) Take A Relaxing Soak In The Mineral Hot Springs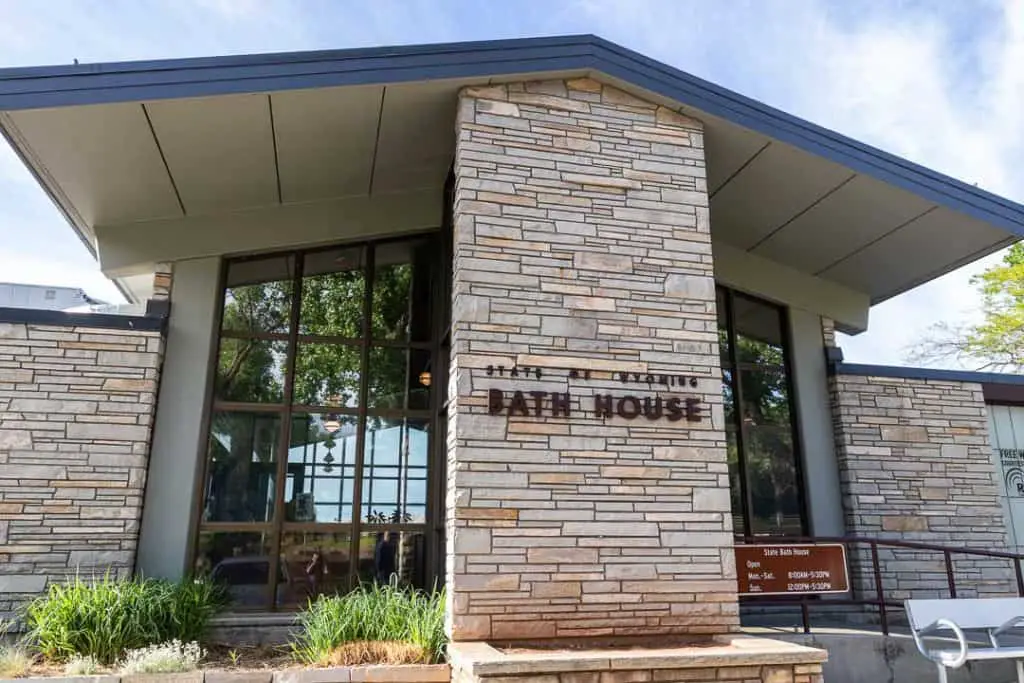 Soaking in a mineral hot spring is by far the most popular thing to do in Thermopolis, WY. While there are 3 private hot springs in Thermopolis, the Hot Springs State Park Bath House is 100% free to visit thanks to the treaty with the Native Americans who handed over the land over a century ago. 
As such, every visitor is welcome to a 20-minute soak in the mineral hot spring. Featuring both an indoor and outdoor soaking pool, the Bath House is filled with mineral water piped in from The Big Spring. 
Water temperatures range between 104 – 110 degrees Fahrenheit, making it as relaxing as it is healthy for your body. While the 20-minute rule is in effect per visit, there is technically no limit to the number of times that you can return to the Bath House. 
Hours: 8AM – 5:30PM Monday – Saturday, 12PM – 5:30PM Sunday
Directions: Located inside Hot Springs State Park between Hellie's Tepee and Star Plunge. 
READ NEXT: Check out our ultimate guide to the hot springs in Thermopolis to learn about the other hot springs in the area!
5) Search For Bighorn Sheep In The Wind River Canyon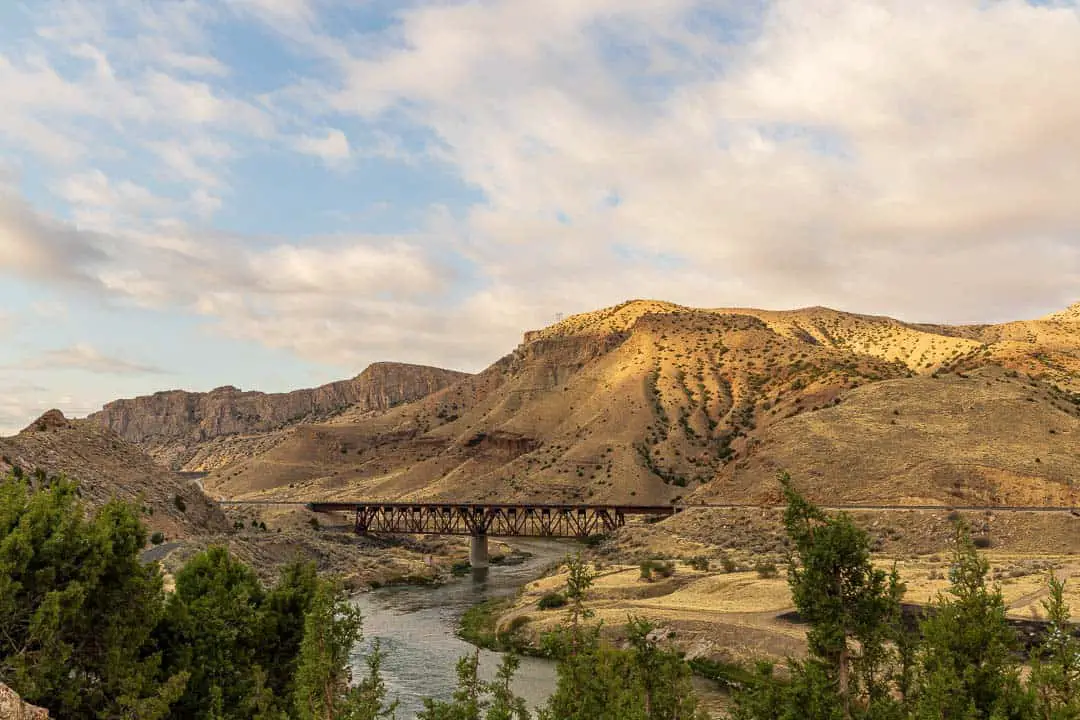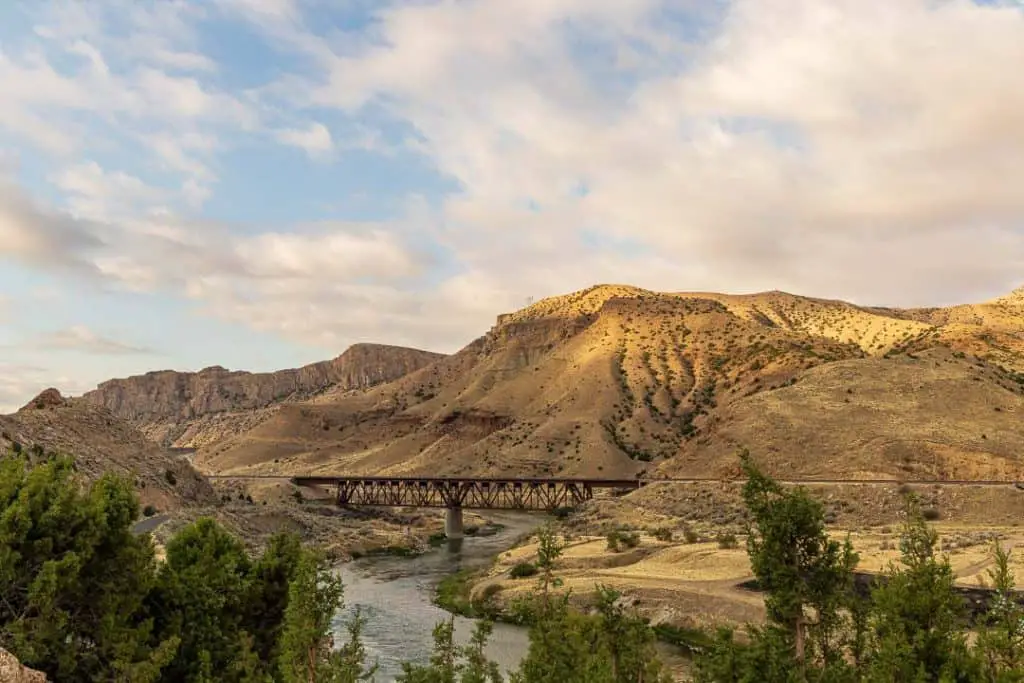 The 15-mile drive through the Wind River Canyon is one of the most spectacular drives in the US. Just a few miles outside of Thermopolis, the canyon is full of opportunities to "ooh and awe" of the views. 
While many people pass through the Wind River Canyon without stopping, there are plenty of places to pull over to enjoy the views. Plan a picnic at any number of pull-offs. 
Or take your fishing or hiking gear with you and explore the beauty of the river itself. Bighorn sheep, deer and even bears are known to frequent the steep hills along the river. 
It is nearly impossible to visit Thermopolis, Wyoming without driving through the Wind River Canyon. We recommend that you make it an intentional stop while passing through the area!
Directions: The Wind River Canyon is located approximately 5 miles south of town on Hwy 20 E. Alternatively, if you are traveling to Thermopolis from the south you will pass through the Wind River Canyon on your way to visit Thermopolis. 
6) Spend The Day Swimming In Boysen Reservoir 
The Boysen Reservoir is the lake formed by the damming of the Wind River just south of the Wind River Canyon. With ample snowfall and rain throughout the winter and spring, the Boysen Reservoir fills to the brim each year. 
Fishing and water sports are very popular at Boysen Reservoir. If you enjoy fishing, the reservoir is known for having plentiful catches of walleye, perch, crappies and brown trout. 
Whether you trailer your own boat to the reservoir, rent one or simply want to enjoy the water from the shore, a trip to the reservoir is definitely something you should do in Thermopolis if you visit during the summer months.  
Directions: From Thermopolis, take Hwy 20 through the Wind River Canyon toward Shoshoni. There will be various turnoffs to Boysen Reservoir approximately 20 miles outside of town. 
READ NEXT: Need a place to camp? Check out our ultimate guide to camping in Thermopolis, Wyoming!
7) Try On A Buffalo Coat At Merlin's Hideout
If you've ever seen the Hollywood hit movie "The Hateful Eight" then you may be familiar with the quality of buffalo robe available at Merlin's Hideout. The film's main character donned a handmade buffalo robe custom-made by Merlin in Thermopolis! 
Merlin creates his masterpieces by hand in the tanning facility. Each year he takes freshly harvested buffalo hides and turns them into beautiful and functional apparel in the spirit of the way things were done in the old west. 
If you are looking for unique things to do in Thermopolis, visiting Merlin's Hideout should be on your list. Located near the center of town, just behind Family Dollar, Merlin's Hideout seems an obscure destination when visiting Thermopolis.
Yet each year thousands of tourists pass through just to see the handiwork that goes into turning each hide into a prized robe. 
Contact the store in advance to schedule a tour of the facility. 
Phone: (307) 864-3657
Address: 626 Richards Street, Thermopolis, WY 82443
8) Cheer For Local Cowboys At A Ranch Rodeo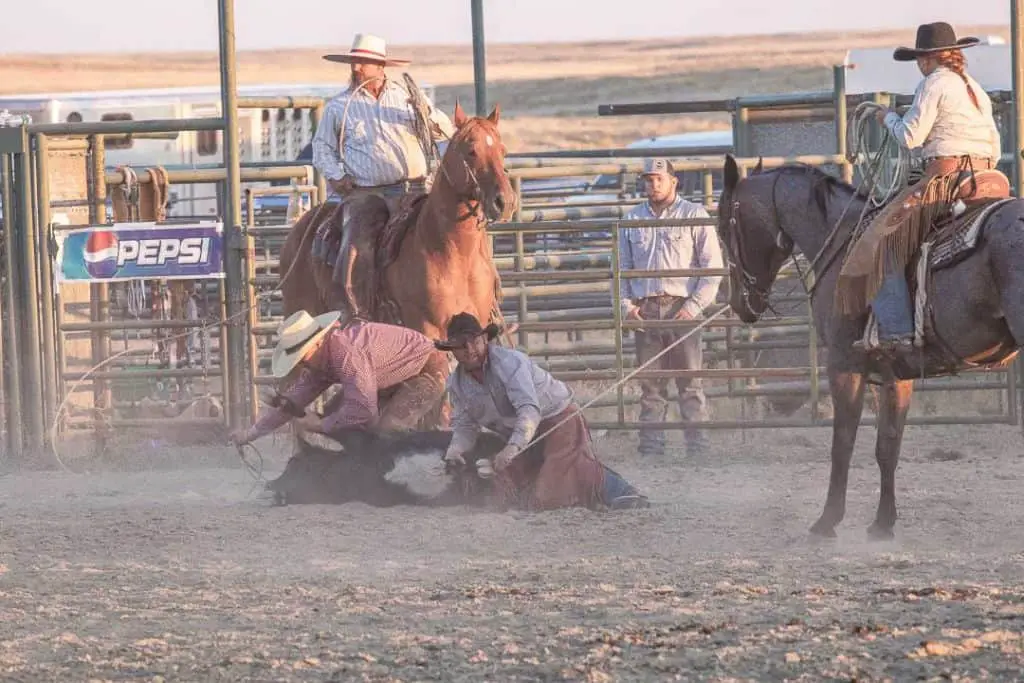 Wyoming continues to boast a thriving cattle industry. And in order to keep up with the worldwide demand for Wyoming beef, local ranches must have the best cowboys. 
Every year Thermopolis and other local towns (Shoshoni, Tensleep) host "ranch rodeos" as a way to showcase the cowboy way. Unlike professional rodeos, ranch rodeos consist of teams of cowboys from the local ranches competing at events that are practical to the day-to-day life of a Wyoming cowboy. 
While there are cash prizes for the winning teams, bragging rights are just as important to the cowboy contestants. As such the ranch rodeos are often more fun to watch because they feature amateur cowboys putting it all on the line to win the competition. 
Learn about the skills required to be a cowboy by watching events such as team branding, wild cow milking, team penning, team doctoring and bronc riding. 
9) Walk Around Downtown And Meet Local Artists And Merchants 
One of the best things to do in Thermopolis is simply taking a stroll around town. When you visit you will notice that the town is small. In fact, there is only one stoplight in the entire town! 
At this light, on Broadway, you can stroll around the downtown area of Thermopolis and enjoy its small-town look and feel. Here you will find dozens of restaurants and shops within a few city blocks. 
If you happen to visit Thermopolis on a second Friday of the month then you will be treated to the monthly "Art Stroll" that takes place downtown. Enjoy festive local music, food and street vendors as you walk down Broadway and the surrounding blocks. 
During the summer you can find the farmer's market popping up on weekend mornings in the same part of town. Enjoy the freshest produce from Thermopolis and the surrounding areas. 
Address: Hwy 20 and Broadway St (the stoplight)
10) Enjoy A Horse Event At The Hot Springs County Fairgrounds
If you enjoy activities that involve horses then you will have to keep an eye out for the schedule at the Hot Springs County Fairgrounds. Located across from the high school, the fairgrounds play host to a variety of equine events throughout the year.
In fact, there are very few weekends in the year when there is not some form of an event taking place at the fairgrounds. Twice a year (spring and fall) the fairgrounds host the WYO Quarter Horse sale. Buyers from all over the world visit Thermopolis to purchase some of the best horses in the US. 
The fairgrounds also host various equine clinics throughout the year. During the summer you can watch kids compete in the Gymkhana rodeos. Of course, when bigger acts come to town you can expect them to take place at the Hot Springs County Fairgrounds.
The PRCA Rodeo and annual Demolition Derby are two such events you do not want to miss if you happen to be in town when they take place. 
Address: 1213 Springview Street, Thermopolis, WY 82443
5 LOW-COST Things To Do In Thermopolis, WY
While there are plenty of FREE things to do in Thermopolis, Wyoming there are also plenty of LOW-COST things to do as well. If you are traveling with kids of any age you are likely on the lookout for ways to keep your children entertained. 
And if you're not traveling with kids, you can still enjoy any of these suggestions as though you were! Here are a few of the more popular low-cost things to do in Thermopolis!
1) Float The Bighorn River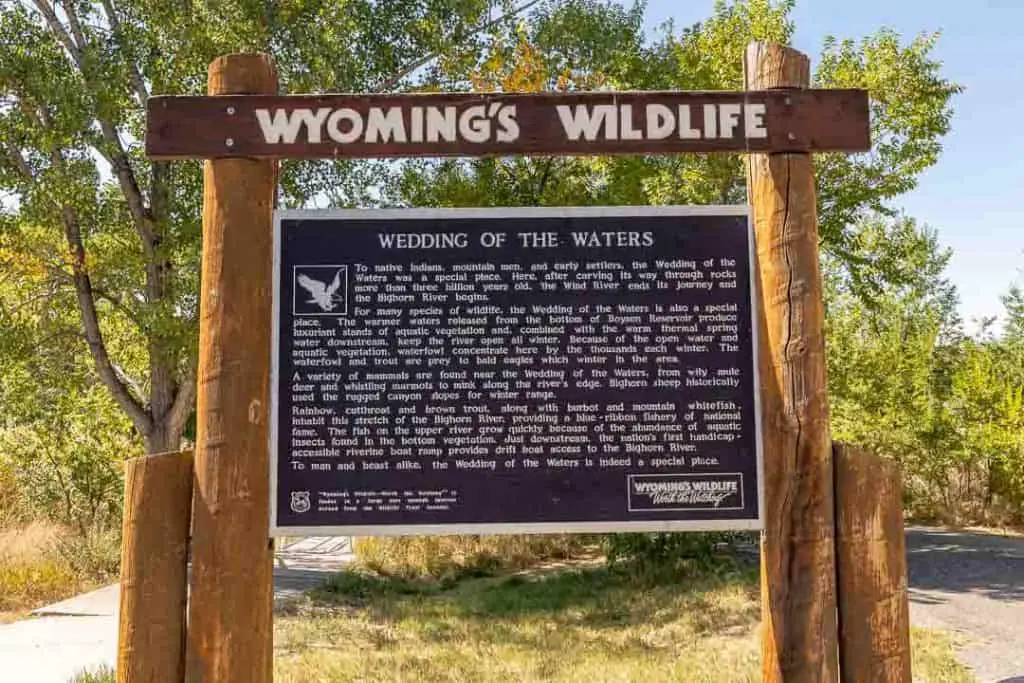 The Wind River and the Bighorn River are actually the same river! The Wind River races through the rapids of the Wind River Canyon and steadies itself into the Bighorn River at a place called the Wedding of the Waters. 
Here you can put in tubes, kayaks or other floats and enjoy a lazy day drifting down the Bighorn River. Floating will take you through quiet countryside and past geologic structures exposed by the river over time. Look for deer and antelope along the water's edge. 
If you want, take food and drink and have a picnic on your way down the river. Depending on the rate of flow and where you want to pull out of the river, you could spend 2-3 hours enjoying the spectacular views. 
Many people pull out at the 8th Street Bridge. But it is possible to float all the way to Hot Springs State Park where you can pull out and enjoy a picnic in the park!
If you don't have your own floats, you can rent them at Rent Adventure just a few miles from the drop-off point at the Wedding of the Waters.
Dusty will also arrange transportation for you either/or/both from the starting or ending points of the float.
Cost: $10 / tube rental (+ family dropoff/pickup) 
Phone: (307) 921-2334
Address: 845 Shoshoni Street, Thermopolis WY 82443
2) Grab An Ice Cream And Play A Round Of Mini Golf at Dairyland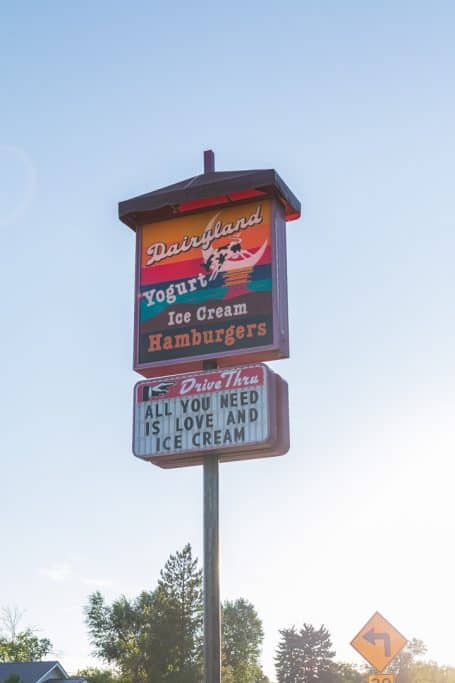 Who doesn't love a delicious dessert? We haven't met a kid yet who doesn't! If you are looking for a relatively inexpensive thing to do in Thermopolis, WY then you should consider spending part of an evening at Dairyland. 
Dairyland serves burgers, hot dogs and other munchies and can make for a great quick bite to eat. But it is more well known for its sweet desserts. 
Pick up a bite to eat and then head next door to play a round or two of mini-golf. 
Cost: $5+ per person (golf is $4.24/round and FREE for kids under 4). 
Address: 510 Park Street, Thermopolis, WY 82443
3) Splash Down A Waterslide At Star Plunge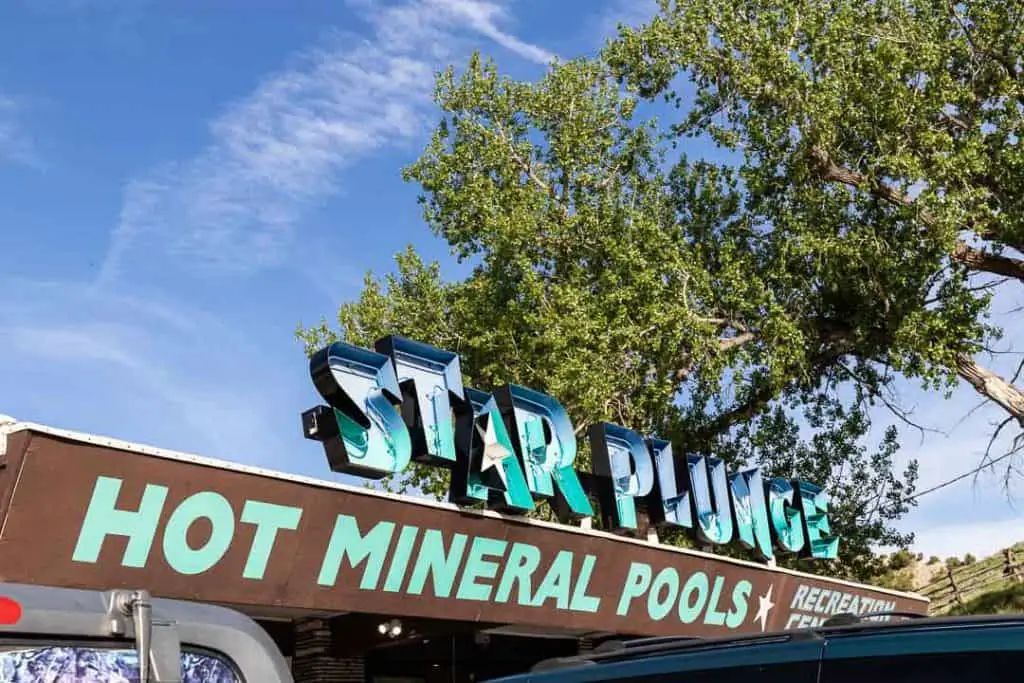 Most kids will ooh and aww when you drive past Star Plunge in Hot Springs State Park. And for a very reasonable price, you can entertain the kids for hours (or let them entertain themselves). 
Star Plunge is one of two private hot springs in the state park that offer excitement in addition to relaxation. This makes it the perfect place for you to relax while your kids exhaust themselves playing. 
With three water slides, a high dive and several pools warmed by the mineral hot springs, Star Plunge is by far the most family-friendly option for soaking. 
One of the best features of Star Plunge is its all-day access. Your entrance fee allows you the ability to come and go as you please throughout the day.
Play for a few hours and then head out to explore other activities in the area. Then return to relax after dinner. 
Cost: $12.50 (Adults and children age 5+), $6.00 (Children under the age of 5)
Address: 115 Big Springs Drive, Thermopolis, WY 82443
Hours: 9 AM – 9 PM
4) Discover Dinosaurs At The Wyoming Dinosaur Center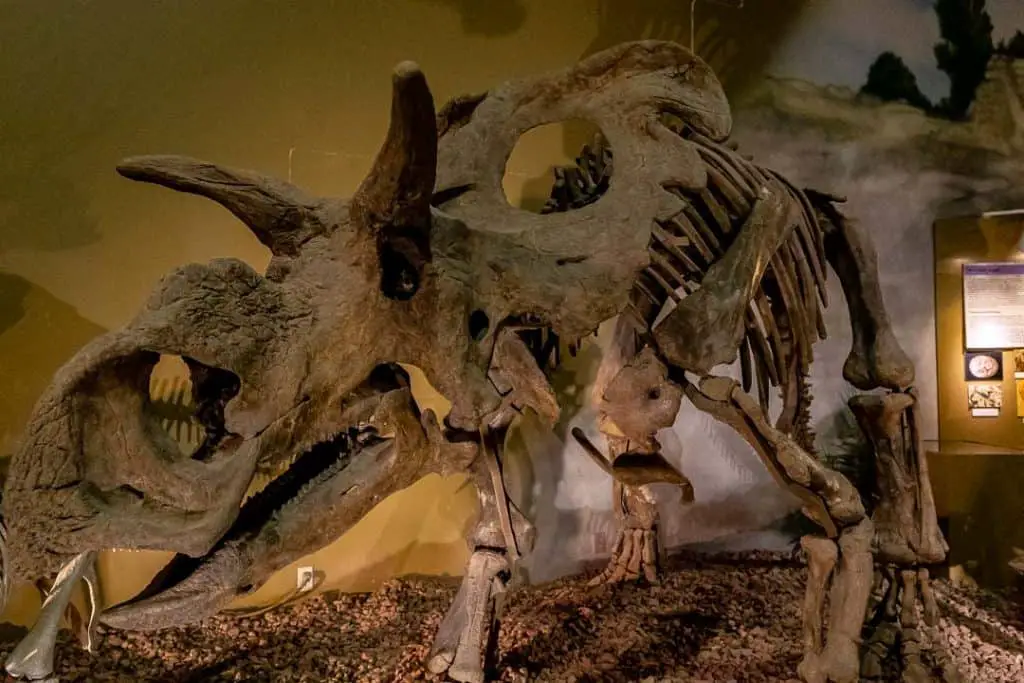 Wyoming and the surrounding areas are ripe with dinosaur fossils. As such the Wyoming Dinosaur Center boasts a vast collection of fossils, many of which have been found in and around Thermopolis. 
Kids will likely enjoy some of the larger fossils in the main museum room. However, there is much to learn about dinosaurs as you walk through time through the dinosaur center. 
And because an active dig site is located just minutes from the Wyoming Dinosaur Center there is an open viewing of a laboratory where scientists clean recently discovered fossils and prepare them for display. 
If your kids are really into dinosaurs then for a few dollars more you can join a daily tour of the dig site itself. Learn what kind of dinosaurs are being unearthed and the process of bringing them from the site into museums around the world. 
If you really want to remember your time at the Wyoming Dinosaur Center then schedule to actually take part in a dig and join the scientists on the hunt for new fossils! 
Cost: $12 (Adults and children 13+), $10.00 (children ages 4-12), FREE (Children under 4)
Address: 110 Carter Ranch Rd, Thermopolis, WY 82443
Hours: 8 AM – 6 PM daily (May 15- September 15)

5) Hunt For Rare Rocks, Gems And Fossils With Help From Ava's Silver And Rock Shop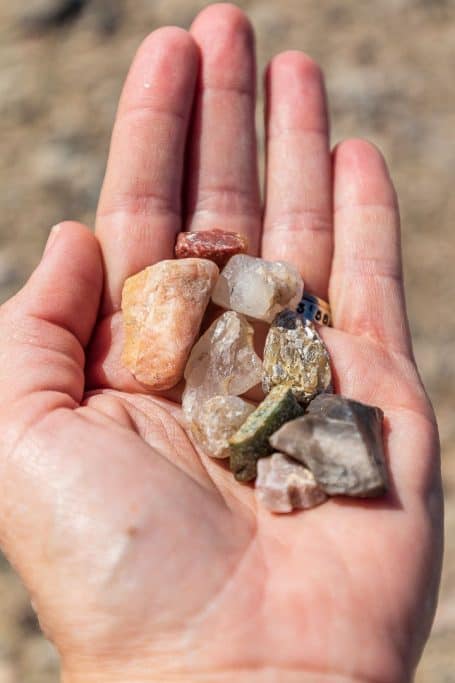 The land surrounding Thermopolis is ripe with rocks, gems and fossils of all sorts. In fact, if you pick up a handful of rocks out of the Bighorn River you are likely to see variation like no other. 
But actually knowing what you are looking at, or searching for a specific kind of gem or fossil is a whole other story. Ava's Silver And Rock Shop has collected a variety of different rare rocks on display for sale in the store.
If you enjoy rare gems, rocks and fossils then you will likely spend hours perusing the shelves and talking with the owners of the store. However, if you would like to set out on your own rock-finding adventure you can ask Ava for a copy of her rock hunting brochure.
This guide will tell you not only what kind of rocks and gems are native to the area, but also exactly where to go to search for them! Turn your day into a scavenger hunt and try to find as many different rocks as you can!
Cost: $5 for the Rock Hunting Guide
Address: 631 Shoshoni Street, Thermopolis, WY 82443
Phone: (307) 864-3800
Upgrade Your Experience: Premium Adventures
If you are traveling on a budget you can enjoy most of the things to do in Thermopolis on less than $15 per person. But there are a few things that are worth the extra cash if you want to create a remarkably memorable experience. 
Here are our favorite premium things to do in Thermopolis, WY. 
1) White Water Raft The Wind River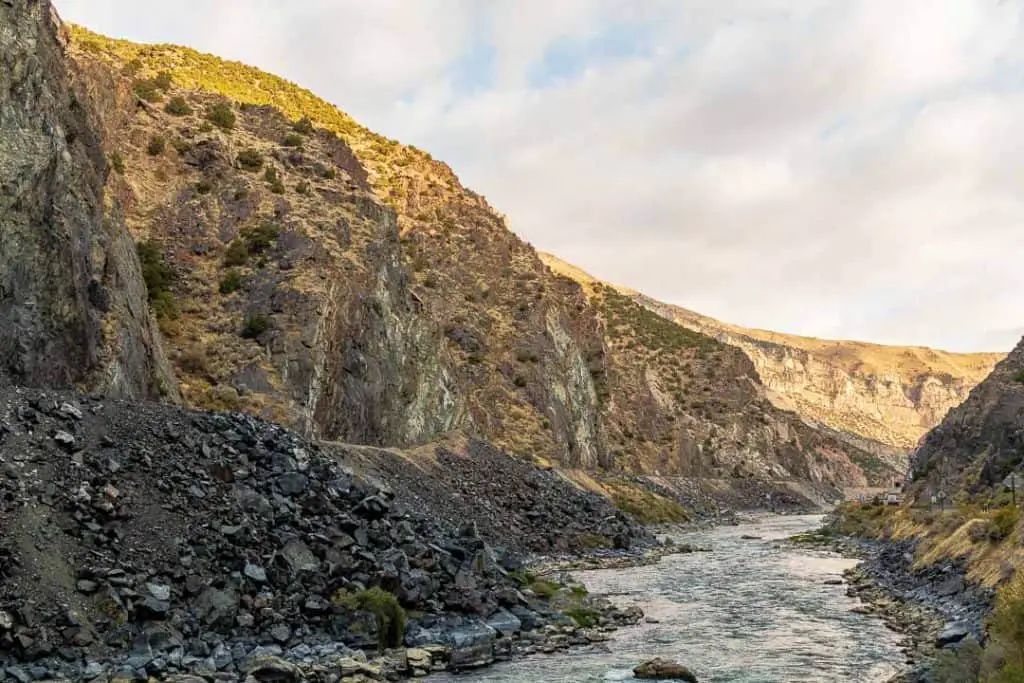 The Wind River can be a fierce river at times. When the spillway opens in spring to allow snowmelt and rain runoff into the river the rapids become truly spectacular. 
A quiet river turns adventurous as the flow creates over a dozen class 3 and 4 rapids through the canyon. When not paddling hard to navigate the rapids, the view of the Wind River Canyon from the river is remarkable and truly one of a kind.
And while other rivers in the West have more renown, there is no doubt that rafting the Wind River will truly be one of the most amazing experiences and at the top of the list of things to do in Thermopolis. 
As access to the Wind River is granted only through the Native American Reservation, only one company (Wind River Canyon Whitewater and Fly Fishing)  operates white water rafting tours.
But prices are very reasonable and the guides are top-notch in their expertise and professionalism. 
Cost: $79 half-day options of either upper or lower river ($125 full day, full river)
Address: 210 Hwy 20 S, Suite 5
Phone: (888) 246-9343
2) Enjoy World-Class Fishing On The Bighorn River
Thermopolis is known as one of the best fly-fishing locations in the US. If you know what you are doing you can find yourself landing some world-class fish at many points along the river. 
But even if you don't know exactly what you are doing, there are plenty of guides in the area that will offer you a truly memorable fishing experience. Guided tours will take you from the Wedding of the Waters to Hot Springs State Park on either a half or full-day fishing trip.
You will float down the river in a drift boat and the guide will slow down and put you in places where there are likely to be fish. You don't have to fly fish on these trips, so don't let that discourage you. There are a variety of different fish that can be caught with simple spinning rods. 
So if fishing is on your Wyoming bucket list, don't miss out on the opportunity to fish the Bighorn River while visiting Thermopolis. 
Cost: $350+ (Guided tours, half-day)
3) Dig For Dinosaur Bones At The Wyoming Dinosaur Center Dig Site
If you've always wanted to try your hand at being an archeologist and a visit to the Wyoming Dinosaur Center only whet your palette, then consider digging for fossils at the active dig site. Located just a few miles from the Wyoming Dinosaur Center, the dig site excavates fossils on a daily basis.
People travel from all over the world to experience the hands-on discovery of fossils that are recorded and, in some cases, displayed in the museum itself. 
This is a must-do for any dinosaur lover visiting Thermopolis. You will spend an entire day doing exactly what the professionals do as they search for ancient fossils. 
It is a little pricey. But the experience will be life-changing – especially if you are one of those amateur archeologists who unearths a rare find! 
Cost: $150 (adults), $100 (children under 13)
Address: 110 Carter Ranch Rd, Thermopolis, WY 82443
Hours: 8 AM – 6 PM daily (May 15- September 15)
4) Eat Prime Rib At Safari Club
OK, so you could eat anything on the menu at the Safari Club. But the restaurant itself is known for being one of the only places within a 2-hour drive of Thermopolis where you can savor a delicious 14 oz prime rib. 
But even if you don't order a steak, be sure to pay a visit to the Safari Club to take in the many animals mounted on the walls around you. 
The owner of the Hot Springs Hotel is an avid hunter and has collected mounts from expeditions all over the world. Many of the mounts are original. Although some of the more controversial mounts are replicas of animals that were captured for medical purposes, measured and recreated for the Safari Club. 
Don't worry, when you dine at the Safari Club you won't be eating anything mounted on the walls!
Cost: $12+
Address: 115 E Park Street, Thermopolis, WY 82443 (Located inside Days Inn)
Hours: Mon – Friday 3PM – 9PM, Saturday – Sunday 12PM – 9PM. 
WRAPPING UP
Whether you plan to visit Thermopolis for a day, week or even longer you will have no issue finding great things to do to keep yourself entertained! These are a few of our favorite things to do in Thermopolis! Let us know which ones we may have missed so we can add them to the list!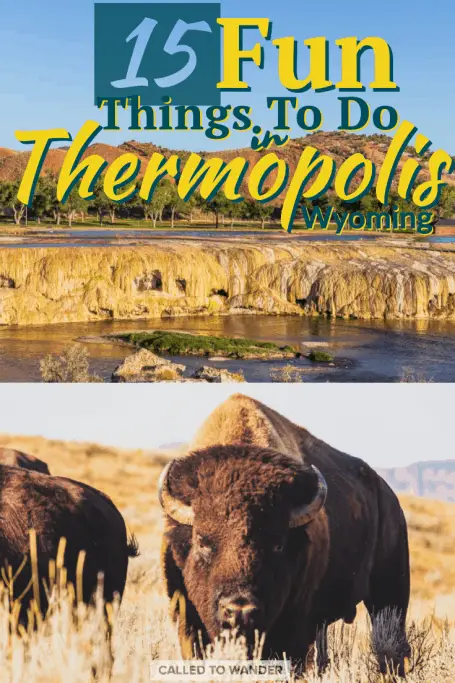 About Author