Last Updated on February 26, 2022 by Chris and Lindsay
If you're looking to spend one day in Yellowstone you can do it! But it's going to be one busy day!
Yellowstone National Park is basically one big figure-8 that spans nearly 200 miles if you drive the whole loop. 
But the good news is that Yellowstone is the kind of place where driving is kind of like being in a theme park. Instead of strapping into your favorite ride, you're buckled up in your own vehicle driving along throughout the park. 
One upside of the park being so large is that the scenery changes every few miles. So even if you're planning only one day visiting Yellowstone you will certainly not be bored by the landscape along the way. 
Stop at Old Faithful, the most famous geyser in the US, drive through mountain passes full of elk and stand in awe of the 3rd largest canyon in the US and spy bison, elk and coyote in any of the landscapes you pass. 
We've visited the famous park several times and have put together this list of all the things you should try to do in one day in Yellowstone.
So let's get started!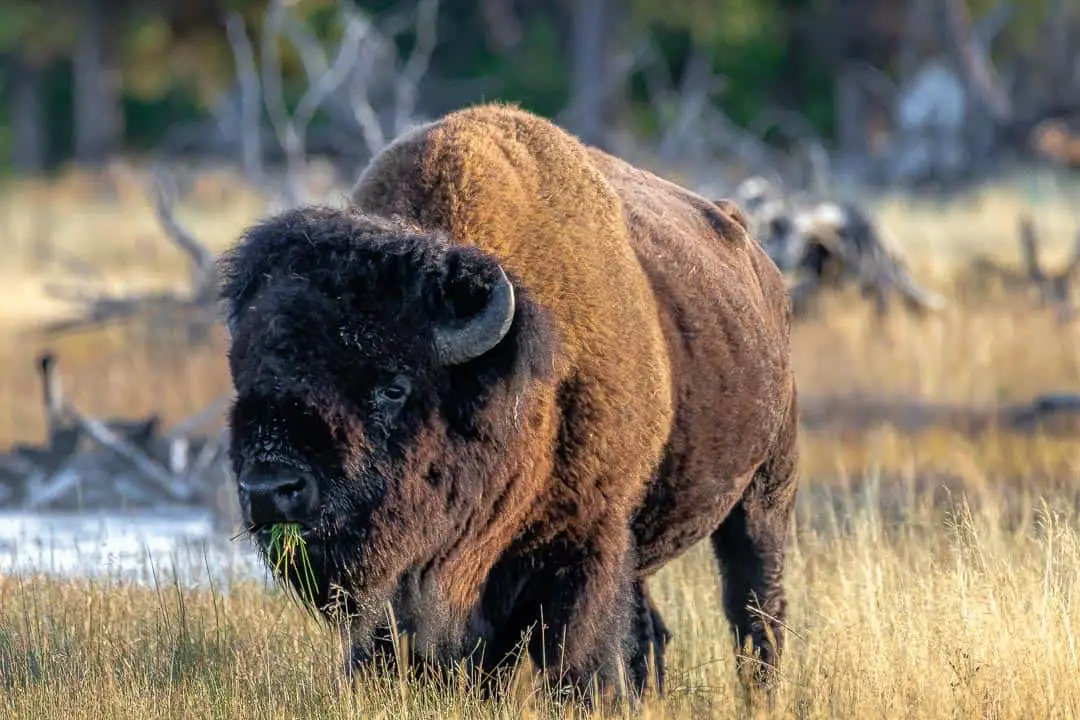 Affiliate Disclaimer: In this post we make several recommendations to tours we recommend you consider if you are on a tight time frame and want to see the best that Yellowstone National Park has to offer!
One Day In Yellowstone Itinerary
Yellowstone National Park is formed at the boundary of Wyoming, Idaho and Montana. There are 4 primary entrances into Yellowstone National Park (5 if you count driving north from Grand Teton National Park). 
As such, this Yellowstone itinerary will assume that you are starting your one day in Yellowstone from somewhere inside the park.
The park has a distinctive "figure-8" road structure so you can start and end at the same place, wherever this may be. 
If you are able to find camping or other lodgings in the park then you are perfectly situated for your busy day. 
But if not, Cody is approximately 2.5 hours from the East Entrance. And West Yellowstone, Montana is a great option as it is only 30 minutes from the West Entrance. 
TIME-SAVING TIP: Join this tour and see the best of Yellowstone in one day!
An Overview: One Day in Yellowstone Itinerary
Yellowstone National Park covers nearly 3,500 square miles of some of the most people landscape in North America.
As such, narrowing down a list of things to see and do with one day in Yellowstone is difficult. 
However, these are the highlights you need to plan into your Yellowstone itinerary:
Witnessing the eruption of the world-famous Old Faithful Geyser
Stand in awe of the spectrum of colors of Grand Prismatic Springs
Be mesmerized by the terracing flow of waters over Mammoth Hot Springs
Take in views of the 3rd largest canyon in the US at the Grand Canyon of Yellowstone
Enjoy sunset and wildlife watching at Hayden Valley
Each of these activities is described in detail below as we help you make an incredible adventure out of your one day in Yellowstone! 
Sunrise / Early Morning Along Yellowstone Lake
Most visitors travel to Yellowstone from Cody, Wyoming. This stretch of highway is absolutely spectacular.
In fact, President Theodore Roosevelt once called it the most beautiful highway in America. 
If you're leaving from Cody, go as early as possible as it's a 2.5-hour drive to the East Entrance.
If you were able to camp overnight inside the park, Bay Bridge Campground or Grant Village will put you on the east side of Yellowstone where you can catch the sunrise over Yellowstone Lake.
There are plenty of picnic pullovers along the lake so pick any one spot and enjoy the early morning. 
Typically fog will lift throughout the park in the early morning hours, giving the drive a special feel.
Keep an eye out for wildlife as nearly all animals in the park are more active during morning and evening hours.
In each time we've visited Yellowstone National Park we've been greeted by bison walking along the road in the morning! At Yellowstone Lake you should be able to spot bison, swans, moose and maybe even a wolf stopping to take a drink in the lake!
Greet The Old Faithful Geyser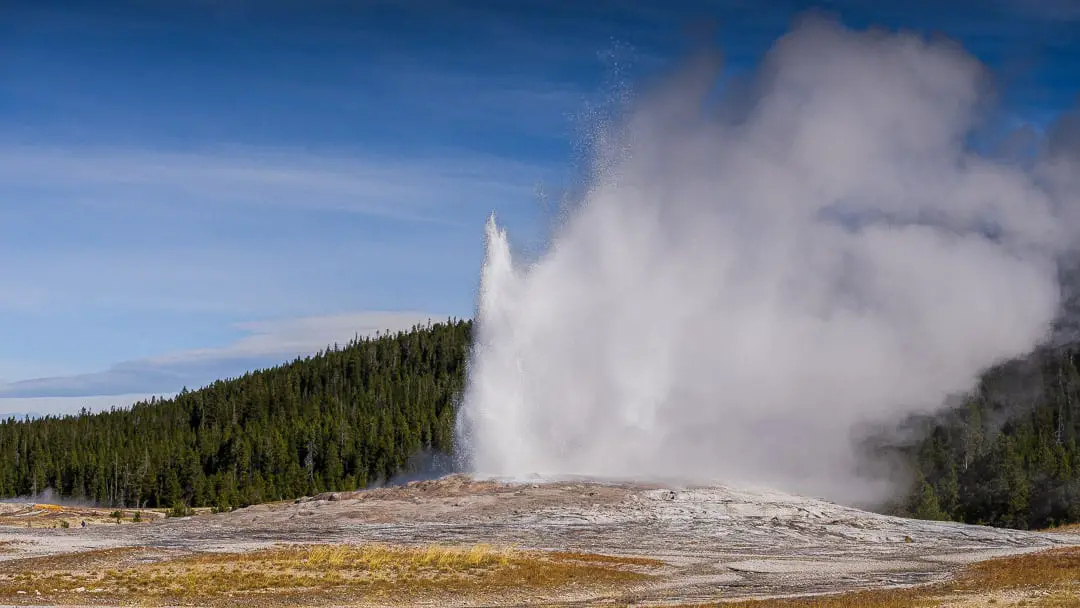 They say that the only things that are certain in life are death and taxes. But the Old Faithful geyser earned its name by having a fairly consistent and predictable eruption schedule. 
From Yellowstone Lake, you will be around 45 minutes from Old Faithful.
Along this portion of the drive, you will cross the Continental Divide twice, climbing up over 8,000 feet along the way.
Stop wherever you'd like as there are a few designated turnouts and picnic areas in place to encourage taking in the views.
Old Faithful is not going anywhere anytime soon and it erupts on an almost hourly frequency. So whether you race to get there or stop along the way will not matter. 
The drive into the Old Faithful complex reminds you that this experience is like meeting a mega-celebrity.
The road widens and has different turnoffs and the parking lot is huge. Find your spot and then meander over to the observation deck. 
Here you'll find benches in place to accommodate the massive crowds that have literally traveled from all over the world to witness the eruption.
If you just missed the previous eruption, you'll have an hour or so to wander Geyser Loop Trail, which is a walkway around Old Faithful where you can witness several other less predictable geysers in the area. 
Regardless of where you hunker down to watch Old Faithful, it is definitely something to see. Temper your expectations, however, as some eruptions are more massive than others. 
But for us, after witnessing it on our first trip to Yellowstone National Park we decided one time is enough. Still, if you'd enjoy another geyser show then stick around another 60-90 minutes for the next one!   
PRO TIP: Join this tour and spend 2 days discovering the best of Yellowstone National Park!
Geysers Galore & Grand Prismatic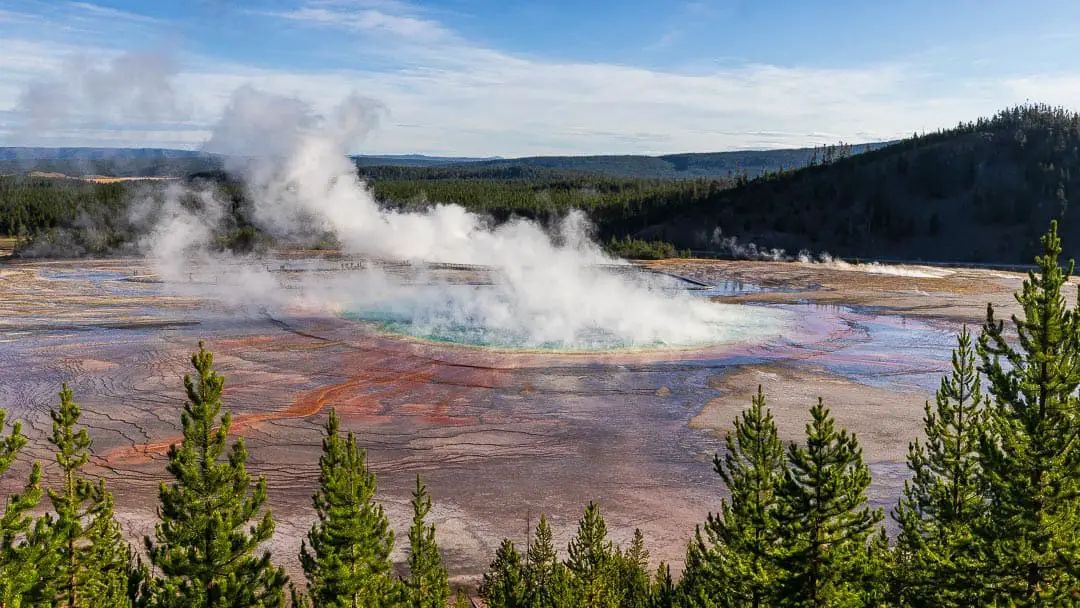 From Old Faithful, you'll head north along the western edge of the park. Here you'll come across geysers galore as this side of Yellowstone National Park is known for its geothermal activity.
Of course, stop where you would like to stop along the way. 
But with only one day in Yellowstone, we'd recommend you keep moving until you reach Grand Prismatic Spring, just 15 minutes down the road.
This is our absolute favorite place in the entire park and it perhaps the most photographed!
You'll want to get here mid-morning after the temperatures have risen enough that the steam off the hot springs does interfere with your view, but before the tour busses and other crowds start to amass.
You can park in the parking lot and follow the short walkway that takes you across the river and around a half dozen smaller hot springs.
Each one is colored differently from the minerals in the water.
But the highlight is Grand Prismatic Spring, the largest spring that boasts every color you could possibly imagine! 
It's hard to capture all of the colors, and certainly the size of the spring from the observation deck.
So now that you've seen Grand Prismatic Spring up close, we recommend you backtrack to the Fairy Falls Trail parking lot.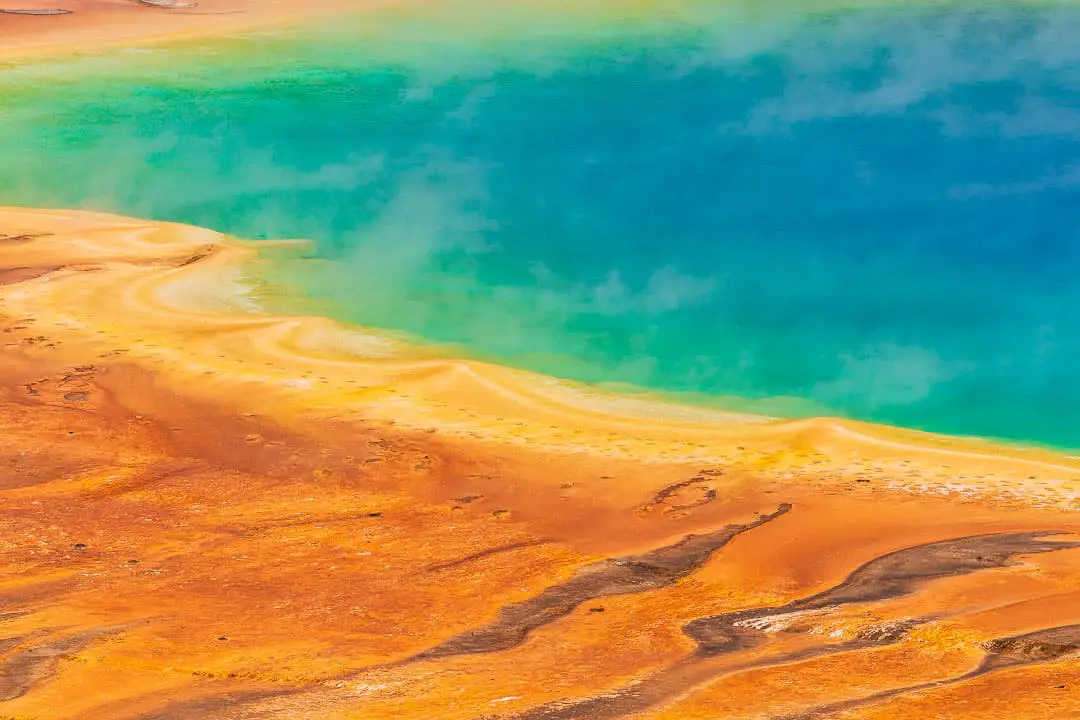 Although it is no secret, there is a 1-mile easy trail, the grand prismatic overlook trail, that will take you on the backside of Grand Prismatic Spring and up a hill that overlooks the colorful hot springs.
If you want to stretch your legs further you can keep taking the trail around as long as you'd like. If you do the entire trail it will end at
But with just one day in Yellowstone National Park, you'll want to hike to this viewpoint, snap a few photos and then head back to your vehicle. 
Mammoth Hot Springs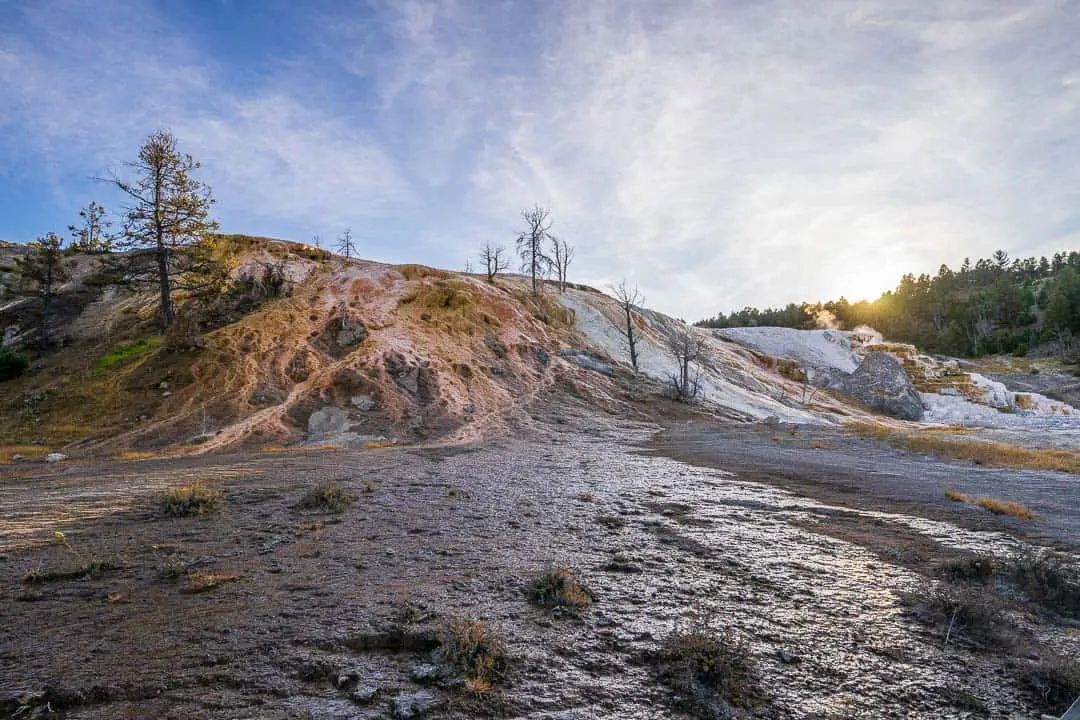 After seeing Grand Prismatic Springs the other geysers and springs in the park will pale in comparison.
From here, drive north along the western edge of the park en route to Mammoth Hot Springs.
This part of the drive will take just over an hour and there will be numerous places to pull over for lunch along the way. 
As you pass the West Yellowstone Entrance/Madison you're going to climb in elevation. The road will take a lot of twists and turns and you'll really feel like you are on your own roller coaster.
Look for wildlife in the woods as the elk tend to become more numerous the closer you get to Mammoth Hot Springs.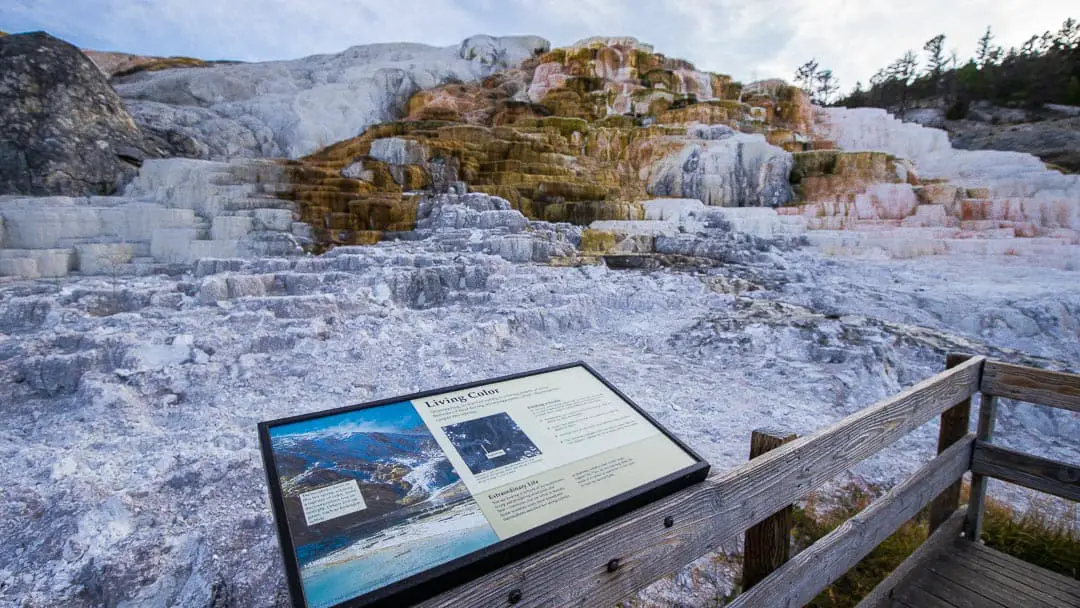 The Mammoth Hot Springs Terraces are worth your next stop. Here the mineral water has cascaded and formed natural steps where the water and various colors radiate from the stream.
Depending on the time of year, you may actually see elk in the visitor center area here too. 
But then it's back in the vehicle as you head across the northern portion of the Yellowstone loop on your way to the Grand Canyon of Yellowstone. 
Have more time to spend in Yellowstone National Park? Check Out Our 2, 3 & 4 day Yellowstone Itinerary here!
Stand in Awe of the Grand Canyon of Yellowstone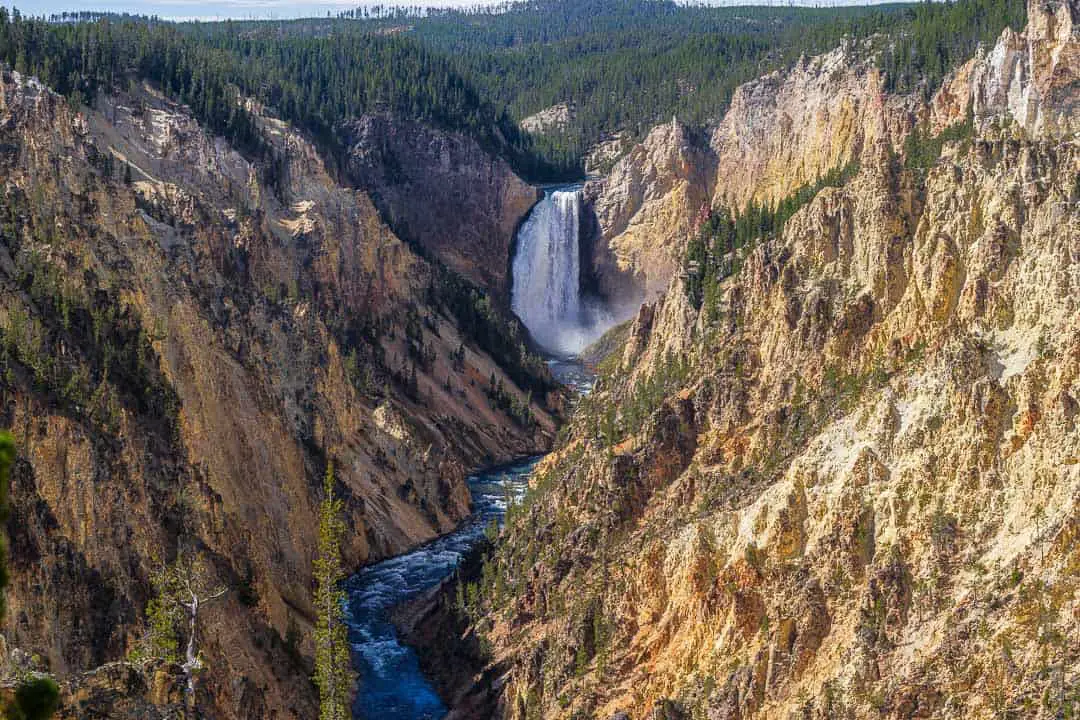 By now the sun has likely crested and the afternoon hours are upon you. The crowds have grown throughout the park, so don't be surprised that you won't be the only one gawking at the beauty of Yellowstone's Grand Canyon. 
As the 3rd largest canyon in the US, behind the Grand Canyon (Arizona) and Palo Duro Canyon (Texas), these views are sure to captivate you. 
There are several places you can park and take short hikes (or short drives) to view different parts of the canyon.
But by far the most popular and iconic spot is the Lower Falls. 
Look down the yellow-tinted canyon that gave the park its name and watch the water cascade over the falls in mesmerizing fashion. 
You may want to allocate a little time checking out some of the other views in the area, including Grand View, Artist Point, Upper Falls and Inspiration Point.  
This is a great place to spend the late afternoon. But don't get caught up too long.
The last stop on your one day in Yellowstone National Park itinerary is going to end with a spectacular view of the sunset (and hopefully wildlife) in Hayden Valley. 
Sunset in Hayden Valley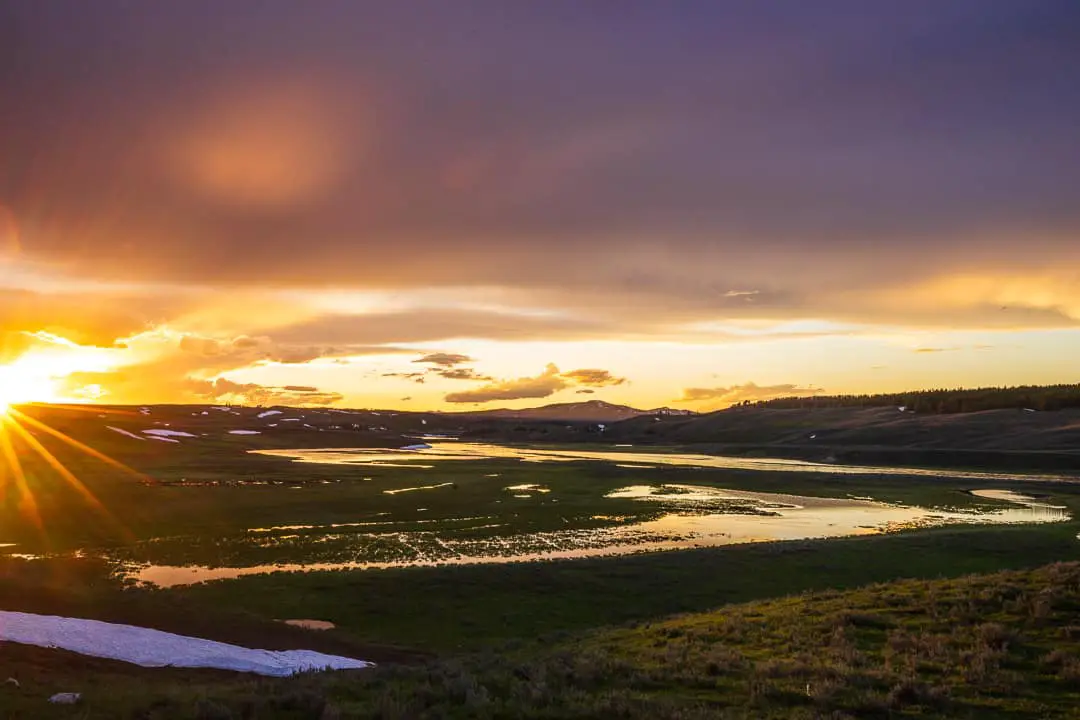 Whereas the western half of Yellowstone National Park is known for its geothermal activity, the eastern half of the park is known for the prevalence of wildlife.
And perhaps the most popular place to view wildlife is through Hayden Valley.
This will also be on your way back to the start of your one day in Yellowstone completing the loop.
From Yellowstone's Grand Canyon, follow the road south and you'll see that the Yellowstone River will start running parallel to the road on your left.
This stretch of the park, known as Hayden's Valley, shows you a different side of the park where the valley stretches out between mountain peaks.
If you're a wildlife enthusiast you'll want to find a place to park, set up a chair and grab your camera or binoculars. 
Here wildlife can literally come from any direction. You'll see bison tracks across the plains near the river. Elk and deer will begin to draw out of the treeline. And you may even see one of the famous Yellowstone wolves. 
Even if you don't see any wildlife, you're bound to have a spectacular sunset through the valley. And, in this stretch of the road, bison can be plentiful along and actually on the road. So keep your eyes peeled. 
Wrapping Up Your One Day In Yellowstone Itinerary
At this point, the sun has set and you are likely exhausted from such a busy day visiting Yellowstone National Park.
But no doubt you've seen and done everything that has inspired your next trip back to the park – or adding on a second day. 
Exit the park wherever your accommodations require. If you have the time to stay until night truly falls and if you happen to be blessed with clear skies, you'll have amazing views of the stars as there is no ambient light within a hundred miles. 
While we can't say it's advisable to spend just one day visiting Yellowstone, we can say that anything in this Yellowstone itinerary can be drawn out over the course of a few days.
There are lots of hikes you can take, more time you can stop and enjoy the view and always new opportunities to look for wildlife. 
But to this point, we hope you enjoyed your adventure!
RV Camping Guide: Yellowstone National Park
Now that you have an idea about what to see and do in Yellowstone National Park in one day, here are some resources to help you figure out where to camp and find other camping necessities in the area. 
How To Get to Yellowstone
Yellowstone National Park is accessible from every compass direction. By far the most common is from Cody, Wyoming to the east.
But you can also access Yellowstone from the north by either dropping from Montana into Mammoth Hot Springs (from Bozeman) or Tower Roosevelt (through the Beartooth Highway out of Red Lodge).
You can also enter from the west at West Yellowstone or from the south in Grand Teton National Park. 
While Yellowstone and Grand Teton National Parks are technically two separate parks (with two very different geographies) we consider them one whenever we travel through the area.
We will typically start in one and pass through the other afterward. So if you haven't spent one day in Grand Teton National Park yet, that should be your next adventure!
Where to Camp in Yellowstone National Park
Like all US National Parks, there are several formal campgrounds within the park itself. We call these "node" campgrounds because you will find them in all of the major junctions throughout the figure-8 roadway in the park.
Some campgrounds close seasonally and 5 of the 12 require reservations.
We were fortunate once to get a spot at one of the first-come-first-serve campgrounds that had just opened and they literally dug the site out of the snow as we pulled in! 
However, camping outside of Yellowstone is also possible and a great way to save in your camping budget. Some of the places will be a bit more glamorous than others.
Because the park is so massive and you can literally enter it from any direction, we'd advise you to consult iOverlander to find spots specific to your point of entry/exit to Yellowstone National Park. 
However, we spent the night at a rest stop in West Yellowstone just a half an hour drive back into and out of the park (it made for a great way to stay in the park past dark and to rise early and be some of the first people in the park the next morning). 
We also camped in the National Forest between Grand Teton and Yellowstone National Park.
There were several places with more formal campgrounds where you paid a small fee to camp. But there are also some places that are dispersed camping at large without fees. 
Nearby Camping Amenities
Just as camping options vary by where you begin and end your one day in Yellowstone itinerary, where you choose to stock up on food, water and propane will also vary. 
There are several small stores in the park where you can purchase mostly overpriced food. And most campgrounds will have access to potable water. Some will offer dump stations and only one has full hookups (Fishing Bridge RV Park). 
For all other necessities, it is best to shop in the towns before you enter Yellowstone National Park. Cody (Wyoming) will have pretty much anything you need. So will Bozeman (Montana).
Other smaller towns like Red Lodge (Montana) and West Yellowstone (Montana) will be hit or miss on propane but will have food and fuel options.
And if you are heading north through Grand Teton National Park, Jackson will have pretty much everything you could need.
About Author