Last Updated on February 26, 2022 by Chris and Lindsay
In this post, we break down the best one to four day Yellowstone itinerary options so you can plan your trip to Yellowstone National Park the way that you would like.
These Yellowstone itineraries are all based on the higher season travel, between May and October, when snow is less likely to hamper your plans. 
At the very least we suggest you plan to visit the following destinations as part of any Yellowstone itinerary:
Old Faithful geyser
Grand Prismatic Spring
Grand Canyon of Yellowstone
Read on to learn more about each of these places and opportunities to spend between one to four days exploring Yellowstone National Park! 
One Day
Itinerary
Two Day
Itinerary
Three Day
Itinerary
Four Day Itinerary
Old Faithful
X
X
X
X
Grand Prismatic Spring
X
X
X
X
Grand Canyon of Yellowstone
X
X
X
X
Hayden Valley
X
X
X
X
Yellowstone Lake
X
X
X
X
Mammoth Hot Springs
X
X
X
Boiling River
X
X
X
Tower Fall
X
X
X
Mt. Washburn
X
X
X
Fairy Falls (Hike)
X
X
Firehole Lake Drive
X
X
Norris Geyser Basin
X
X
Hiking/Riding/Boating Excursion
X
What to See in Yellowstone National Park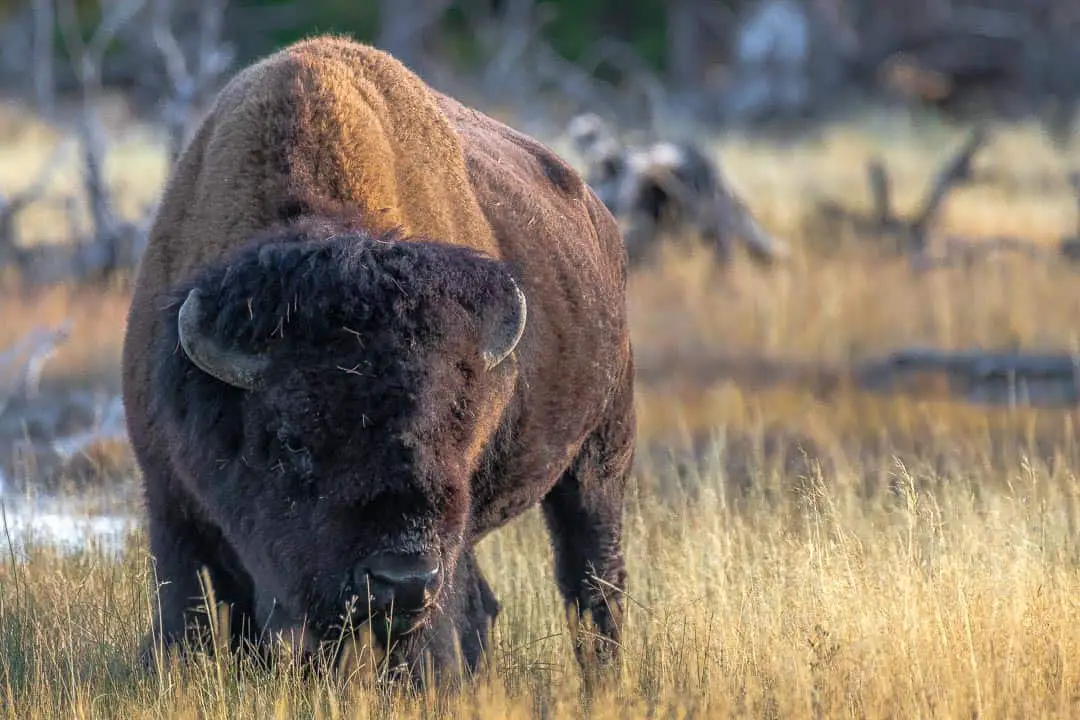 Affiliate Disclaimer: In this post we make several recommendations to tours we recommend you consider if you are on a tight time frame and want to see the best that Yellowstone has to offer!
While there are plenty of incredible landscape features and wildlife to see in the 3,500 square miles of Yellowstone National Park, these are the key places we think you should not miss with any one to four day Yellowstone itinerary. 
Old Faithful is perhaps the most iconic sight in Yellowstone. With eruptions on fairly regular 60-90 minute intervals, it is hard to pass up on a visit of any length to Yellowstone.
Grand Prismatic Springs is a radiant hot spring that you've likely seen on book covers and postcards. Situated behind several smaller and uniquely colored hot springs, Grand Prismatic Spring combines all of the colors of the rainbow in its brilliant display. 
Grand Canyon of the Yellowstone is the 3rd largest canyon in the US and well worth a full day on it's own. With two main waterfalls and a canyon that has given Yellowstone its name there are several great lookouts and a half dozen short hikes with great views.
Hayden Valley is perhaps your greatest chance to see the wildlife for which Yellowstone is known. You've very likely to see bison moseying along the road here. And in the early mornings and evenings you may see elk, moose, bear and wolves along the treeline.
Yellowstone Lake is the largest lake in the world above 7,000 feet. It has 110 miles of shoreline, of which you'll drive a good portion in the southeastern corner of Yellowstone. There are plenty of great places to pull over and stretch your legs and keep an eye out for wildlife. 
Mammoth Hot Springs is another outflow of hot mineral water in Yellowstone. What makes it unique is that the minerals have built up over time and created spectacular terraces over which the water flows. 
How Much Time Do I Need To Visit Yellowstone National Park?
While we have spent as little as one day in Yellowstone, we would recommend that you consider up to four days in Yellowstone for your itinerary. 
Of course, there are many variables to consider as you plan your trip.
Will you be traveling in an RV or plan to camp inside the park?
Did you reserve accommodations in nearby West Yellowstone, Cody or at one of the locations inside the park?
Do you plan to do many outdoor activities such as hiking, or will you mostly be in your vehicle? 
The answer to how much time do you need to visit Yellowstone depends on how thoroughly you would like to explore the National Park. 
Yellowstone is a special place and we want you to make the most of your time there. We've visited several times in our truck camper, and at different times of year.
And each time we visit Yellowstone our experience is unique.    
So whether you have one day or four days for your Yellowstone itinerary, get ready to see some incredible natural features and impressive wildlife along the way!
TIME-SAVING TIP: Join this tour and see the best of Yellowstone in one day!
Driving Through Yellowstone National Park
If you are driving through Yellowstone National Park you will be pleased to know that it is quite easy to start and end at the same place without much backtracking. 
In fact, if you look at a map of Yellowstone you will see that the park is set up like a "figure-8."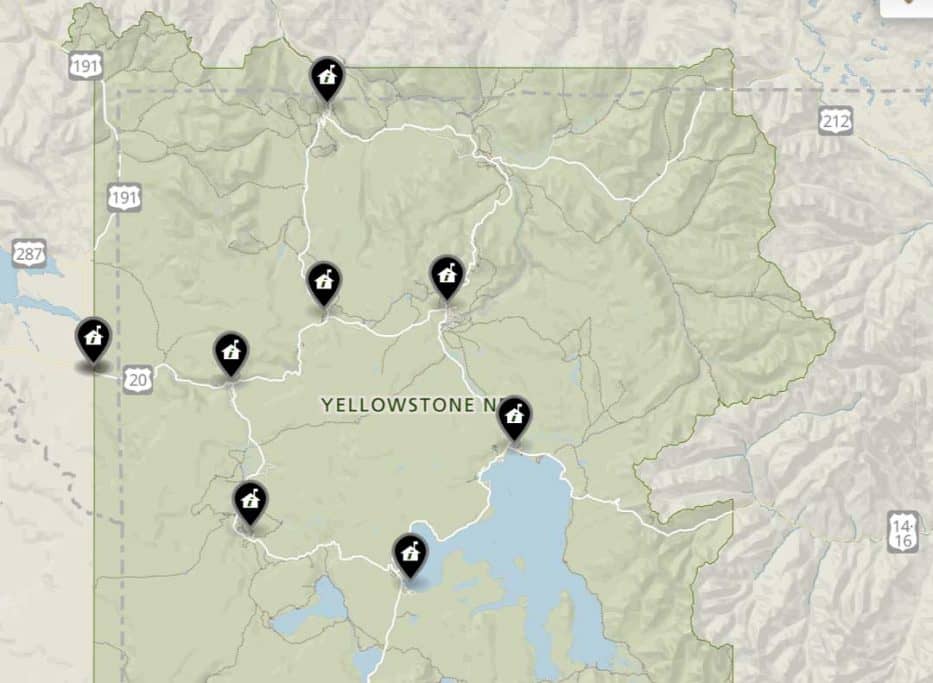 Thus you could easily spend multiple days exploring Yellowstone from the same starting point. 
This is great news because it really does not matter where you choose to spend the night in Yellowstone. 
Western Side of Yellowstone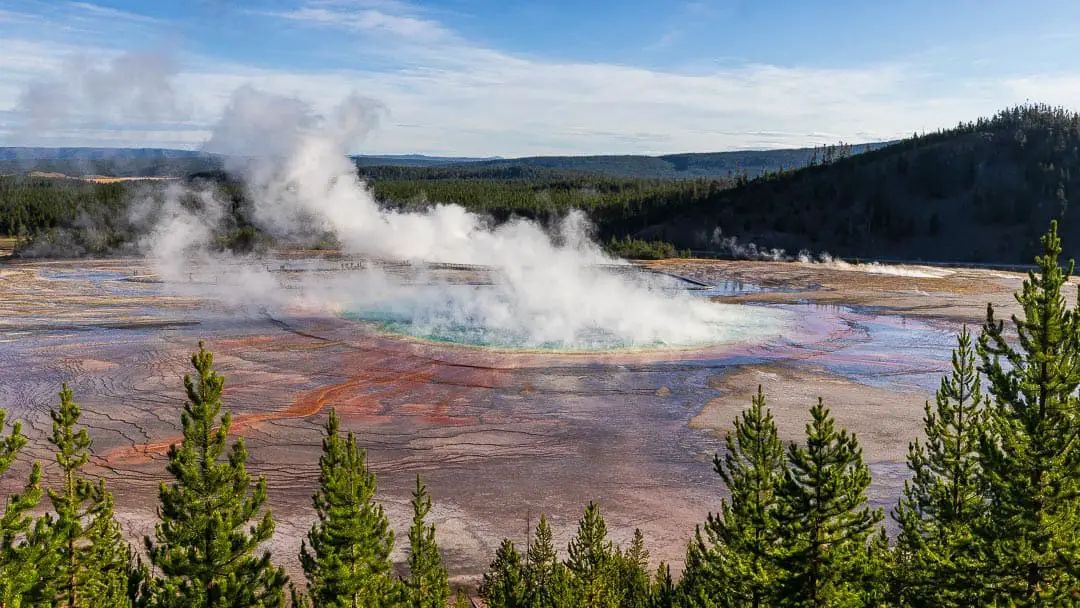 Generally speaking, the western side of the park has more geothermal activity. This is where you will see the famous Old Faithful geyser.
But you'll also find numerous other geysers and hot springs, including Grand Prismatic Hot Spring. 
Eastern Side of Yellowstone
Likewise, generally, you will find more wildlife on the eastern side of the park. Hayden Valley is the most likely place to see wildlife.
As such it is a popular place to set up for sunset and wait to watch elk, bison and bear crawl out of the treeline and across the Yellowstone River. 
Northern End of Yellowstone
The northern part of the park is higher in elevation and features for drastic dropoffs and twists and turns in the road.
Here in the northwest part of the park you'll find the magnificent Mammoth Hot Springs terraces.
You'll also find the Grand Canyon of Yellowstone to the northeastern section of the park. 
Southern End of Yellowstone
Yellowstone Lake covers most of the southern section of Yellowstone and invites all sorts of adventure. The forest is also very thick and every time we've driven through here in the early morning we've seen bison unfettered by thick fog. 
Now that you have a general understanding of the geography of the park, let's get into our one to four day Yellowstone itinerary options
Yellowstone One Day Itinerary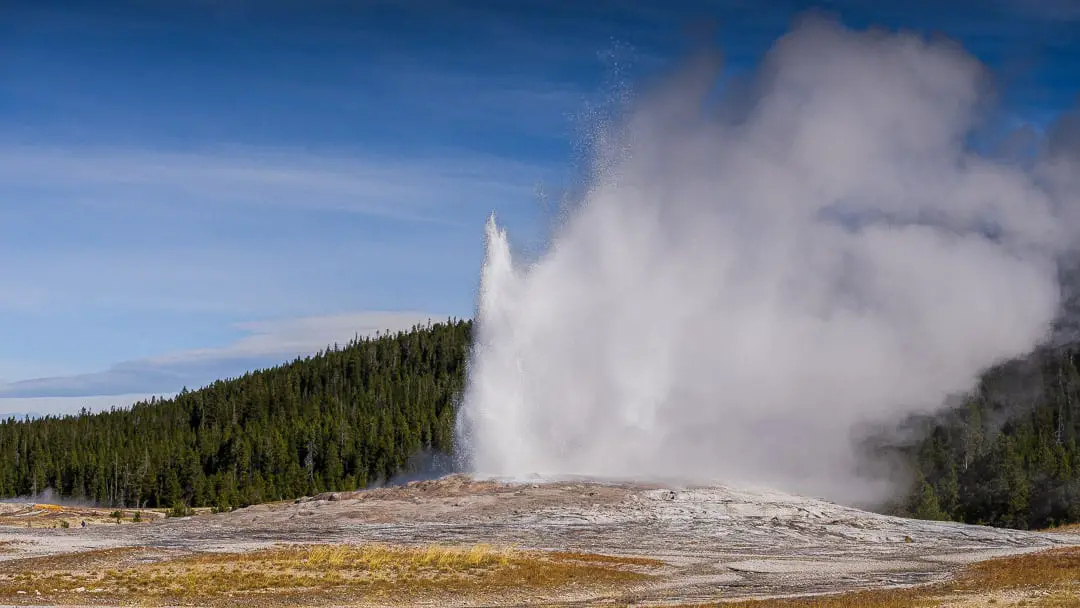 Seeing Yellowstone in one day is virtually impossible. If you did not get out of your vehicle and you had relatively decent traffic (including the bison who like to hog the road at times!) the entire figure-8 drive would take around 5 hours. 
But we don't think you should drive the whole day.
An overwhelming majority of Yellowstone visitors never wander further than 15-20 minutes from their vehicle.
We recommend giving yourself the time to enjoy a few places where you can stretch your legs along the way. 
However, if you only have one day consider using our one day Yellowstone itinerary to plot out your course in greater detail than what we share below. 
That being said, even with a full day of driving you will still have plenty of time to stop at any point of interest along the way. 
With one day in Yellowstone, we'd recommend that you spend most of your day in the southern loop of the park. 
In this section of the park you will see:
The Old Faithful geyser
Grand Prismatic Spring
The Grand Canyon of Yellowstone 
Hayden Valley
Yellowstone Lake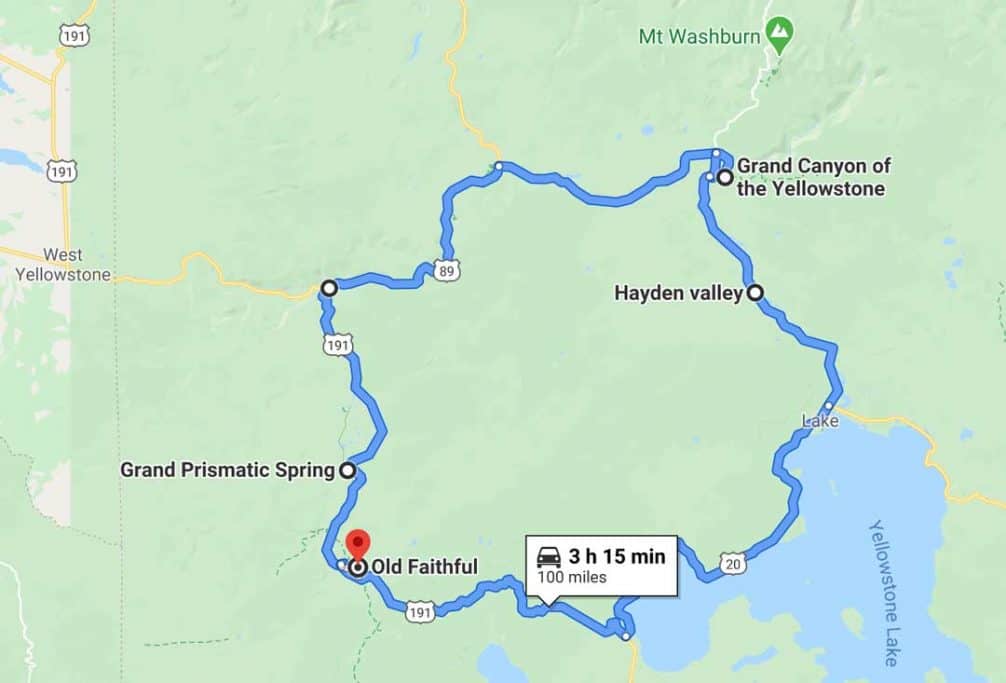 Yellowstone Two Day Itinerary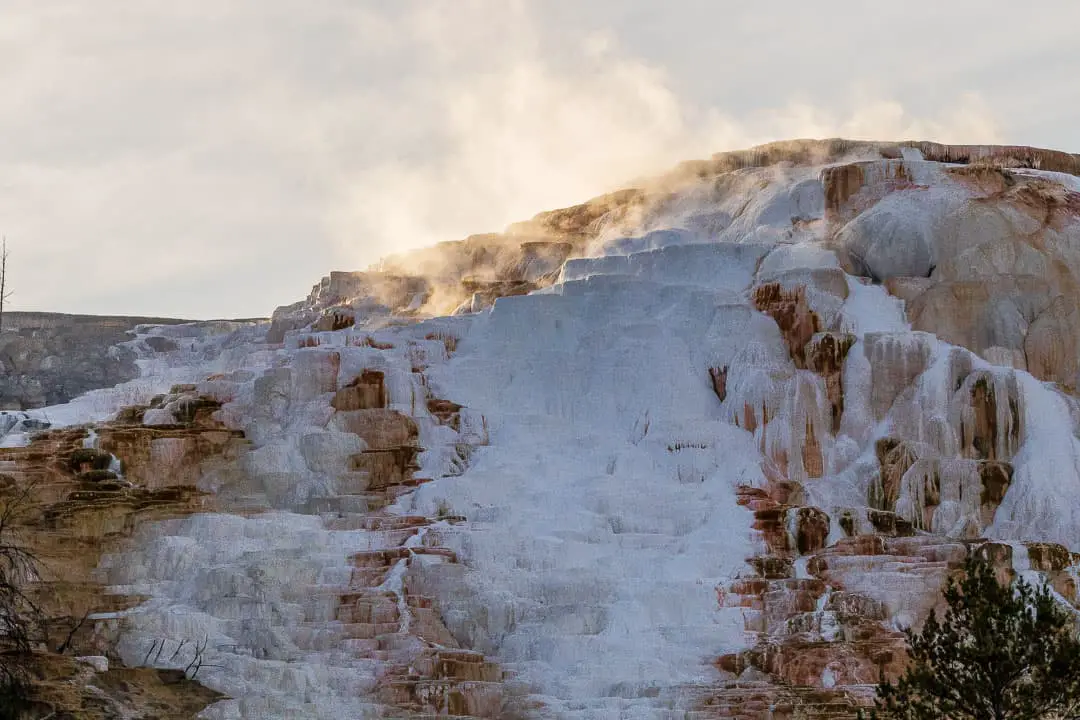 A two-day Yellowstone itinerary allows you to build on the one-day itinerary by adding the northern loop of the park to your journey. 
You'll still be moving pretty quickly, but you can include everything from the above one-day itinerary, and add the following: 
Mammoth Hot Springs
Boiling River (hot springs)
Tower Fall
Mt. Washburn (views)
Tower Fall is the most accessible waterfall in Yellowstone. A short hike will take you to the 132-foot waterfall well worth a quick photo. 
Mt. Washburn is a 10,000 foot peak that towers over the eastern portion of Yellowstone. There are many hikes that go out to and around the mountain. But on this day you'll only have time to pull over and snap a few photos. 
Yellowstone Three Day Itinerary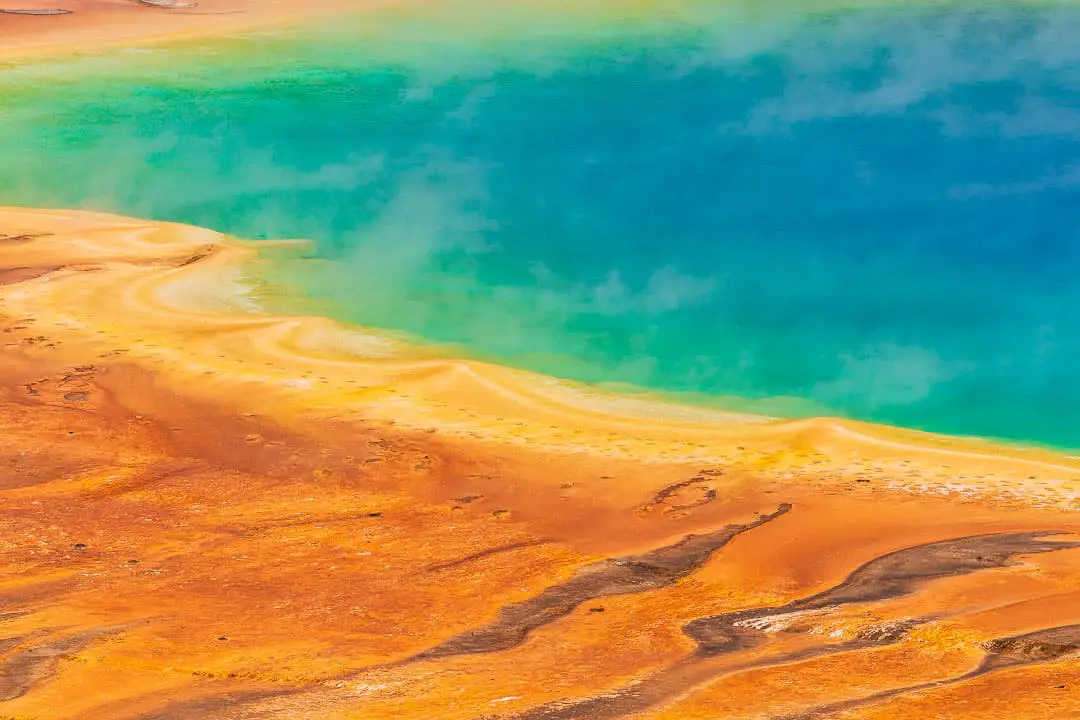 A three-day Yellowstone itinerary will allow you to spend more time exploring the places that you can only skim through in two days.
Consider moving at the following pace:
Day 1: Southwest Yellowstone
Old Faithful, 
Geyser Loop Trail, 
Grand Prismatic Spring (also from above), 
Hike Fairy Falls, 
Firehole Lake Drive, 
Norris Geyser Basin
After (or before) Old Faithful spews, take the time to walk through Geyser Loop Trail to observe nearly a dozen other less-predictable geysers. If you spend 60-90 minutes wandering you may be able to see Old Faithful twice (though honestly, one time was enough for us). 
Observe Grand Prismatic Spring from the busy walkway. However, it's also worth parking at the Fairy Falls Trail parking lot (just south of Grand Prismatic Spring) and then hiking the 1.5-mile trail to observe the springs from a hill above. The colors definitely come out more when you view them from above. 
During summer months you can drive down Firehole Lake Drive, which is located just north of Grand Prismatic Springs. Here you'll find a handful of other geysers and hot springs along a scenic little drive. 
The Norris Geyser Basin is Yellowstone's oldest, hottest and tallest geyser that offers a rainbow-like spectrum of colors. Follow the boardwalk through each of the two sections of the basin that are accessible and safe for visitors: Porcelain Basin and Back Basin. 
PRO TIP: Join this tour and spend 2 days discovering the best of Yellowstone!
Day 2: Northern Yellowstone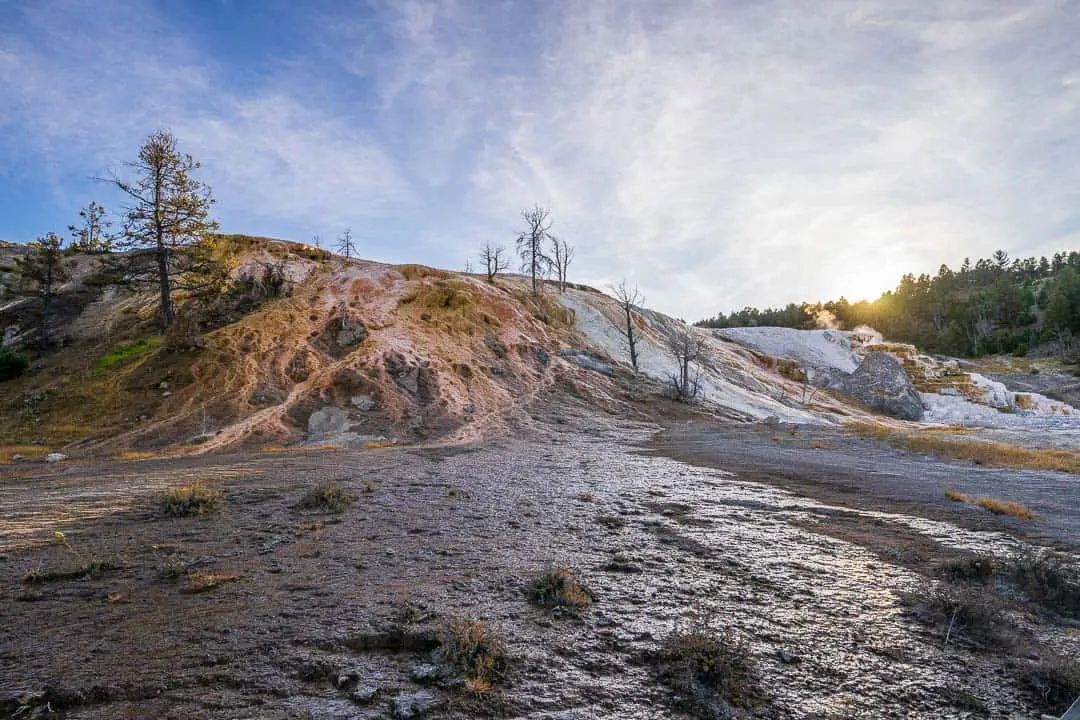 Mammoth Hot Springs, 
Boiling River, 
Tower Fall, 
Mt. Washburn
Spend more time around Mammoth Hot Springs. During the right time of year you may be able to hang out in the shopping area where elk are bold enough to stroll through the parking area.
This is definitely something to see. You may also see more wildlife along the twists and turns in the road. 
There are only two swimming areas in Yellowstone and the best is Boiling River Hot Springs, just north of Mammoth Hot Springs.
Here hot water meets the cold river, creating a confluence of warm water that is popular even in hot summer months. It's worth a stop even if you don't plan to soak in the mineral water. 
As you drive along the easter side of the northern loop you can make stops to see Tower Fall and Mt. Washburn.
There is a great hike you can do to Mt. Washburn but you likely won't have enough time on this day. 
Day 3: Southeastern Yellowstone
Grand Canyon of Yellowstone, 
Hayden Valley** 
Yellowstone Lake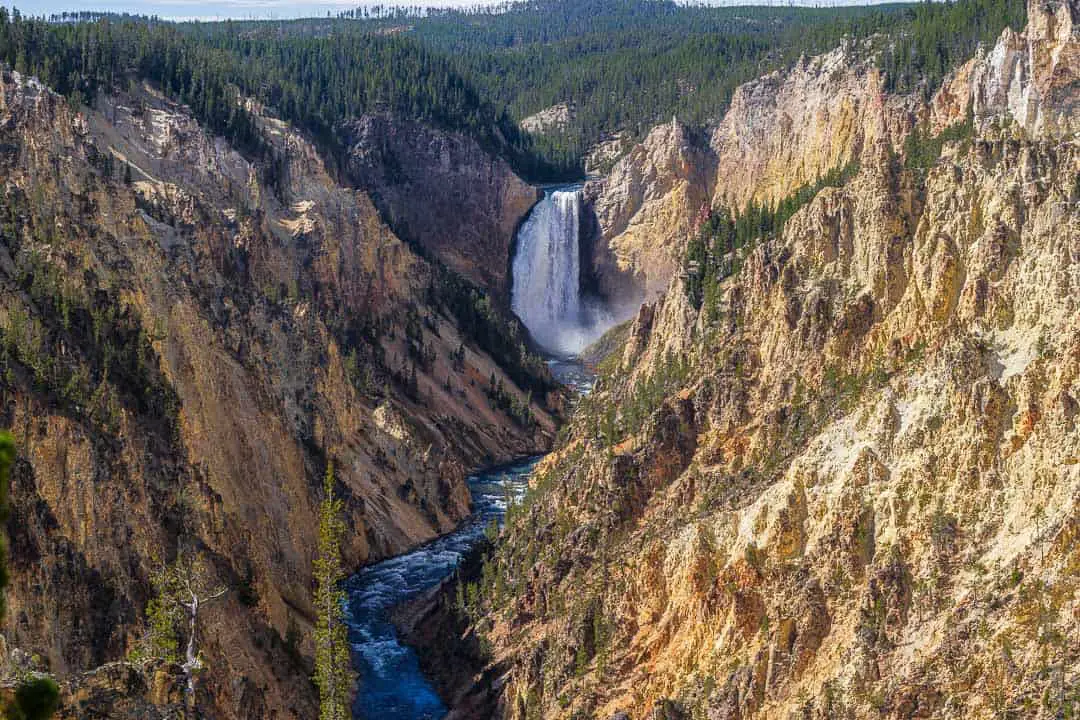 Grand Canyon of the Yellowstone is the 3rd largest canyon in the US and well worth a full day on it's own. However, you can spend as much time as you'd like to check it out from various lookouts along the river.
You will see how Yellowstone earned its name as you look down the yellow walls of the canyon and observe a waterfall in the distance. 
Our favorite place to view the falls was at Lower Falls. But you can get closer at various points. There are several small driving loops and many short hikes you can take for different views. 
Consider checking out Lookout Point, Grand View, Artists Point and Upper Falls View. Or take a short hike to Inspiration Point for a little, well inspiration. 
Plan to spend your late afternoon looking for wildlife in Hayden Valley. If you have camping chairs, pick a turnoff and set up to eat dinner or late afternoon snacks while waiting patiently for the animals to leave the treeline. 
** Depending on where you are staying, we do recommend that you consider spending 1-2 evenings in Hayden Valley. Wildlife in Yellowstone is unpredictable.
But sunsets are not. So to give yourself the best opportunity to view wildlife in Hayden Valley while watching spectacular sunsets, the more evenings you end up here the better.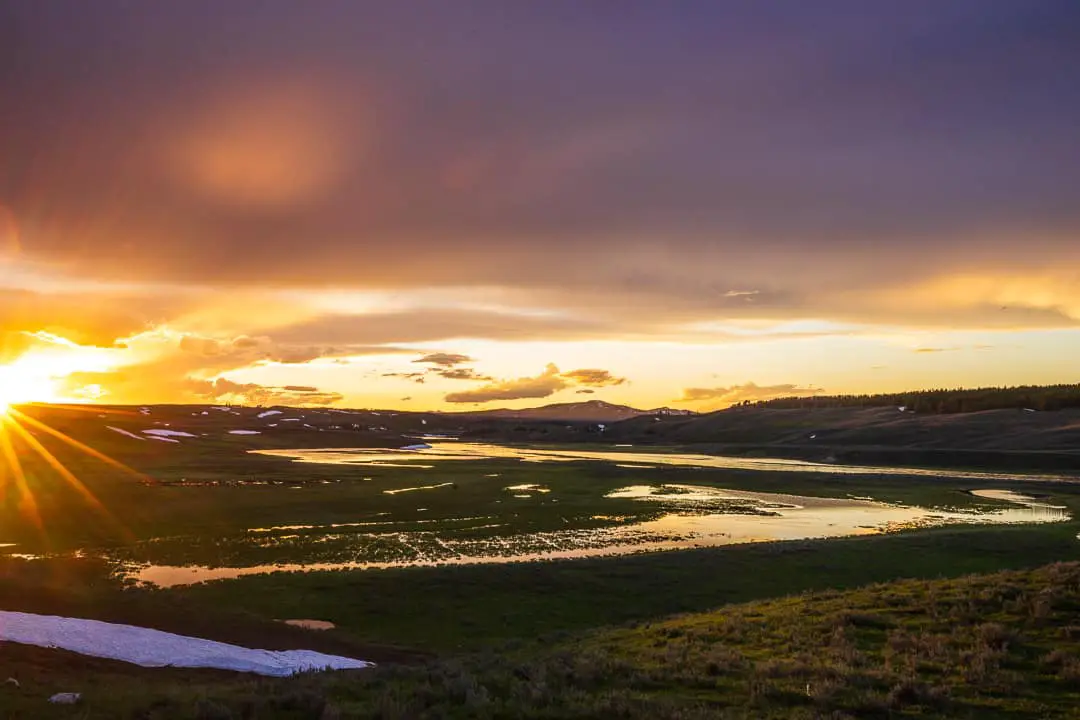 Yellowstone Four Day Itinerary
With a four day Yellowstone itinerary you have the freedom to stop, walk around, picnic or even sit in bison traffic and not be upset. 
We recommend that you divide up your Yellowstone itinerary following the 3-day option. But on the fourth day you can add one of these activities.
Note: You should have bear spray for these activities as they will take you off the beaten path quite a bit. 
Hike Dunraven Pass to Mount Washburn. A 6.8-mile out-and-back trail that will take you up nearly 1,300 feet of elevation and lead to some spectacular views of mountains and the Grand Canyon of Yellowstone. Allow several hours for this hike. 
Hike Mystic Falls, Fairy Creek and Little Firehole Loop Trail. A popular 3.5-mile moderate hike that loops out to a waterfall. Break off of this trail to view Grand Prismatic Springs from above.
Horseback ride. Take a 2-hour horseback ride from either Tower-Roosevelt or Canyon Lodges inside the park. 
Boat Ride on Yellowstone Lake. If you have your own boat, kayak or SUP check in with the ranger station to get a permit for $5 (non-motorized) or $10 (motorized). You could also book a tour that would give you a little more insight into this part of Yellowstone. 
Wrapping Up Your Yellowstone Itinerary
Whether you have one day or four days in Yellowstone you are bound to have an amazing time.
If you do only have one day and you'd like to try and cram the whole park in one fell swoop, be sure to check out our one day Yellowstone itinerary.
We'll take you everywhere we went for one very long, but beautiful day in Yellowstone. 
But with more time you are bound to be able to move slower and spend more quality time enjoying the sights and wildlife in Yellowstone.
You can easily see the park in two days. And with three days you'll see and do everything there is to do in Yellowstone aside from a few special activities. 
Add those activities onto day four and/or day five of your Yellowstone itinerary and you'll have an experience like no other in the nation's oldest national park!
About Author