Last Updated on May 28, 2022 by Chris and Lindsay
Looking for honest firsthand information on the best camping in Thermopolis, Wyoming? We've got all the information you need with this post!
Most people stop to spend a day or two in Thermopolis Wyoming to soak in one of several mineral hot springs in Hot Springs State Park on their way to or from Yellowstone National Park. But there are so many other great things to do in Thermopolis that warrant spending a few extra days enjoying the area.
From spending a day on the Big Horn river experiencing blue-ribbon trout fishing to visiting the Wyoming Dinosaur Center and heading out to the dig to excavate real dinosaur fossils, this is just the start of why you should consider adding a few extra days to your stay.
But whether you're just passing through or plan to spend a little more time in town, you're reading this now because you're looking for the best campgrounds to set up for a night or two. Here's everything you need to know about camping in Thermopolis, Wyoming!
Camping in Thermopolis WY
Relatively speaking, there are no "budget" RV parks in Thermopolis. There are only 3 formal campgrounds in Thermopolis and each one offers camping for around the same $50 per night price.
However, there are definitely reasons why we rank our top RV park as such. And there are, unfortunately, reasons why we rank the lowest quality one as such as well.
After reading this post, you should check recent reviews to confirm your decision. But we think you'll appreciate the information we have to share from multiple first-hand experiences camping at the different RV parks in Thermopolis, WY.
WHAT TO KNOW ABOUT CAMPGROUNDS IN THERMOPOLIS
There are only 3 campgrounds in Thermopolis
There is no unauthorized overnight camping in town or in Hot Springs State Park so if you want to stay in Thermopolis you will need to make reservations at one of the 3 campgrounds
Each of the 3 campgrounds is priced around the same, but one offers far better value than the others
Most campsites in each campground are relatively small as each campground is a boutique park and is not affiliated with any major chain
Only one RV park offers discounts for Good Sam, AAA, AARP, Escapees and Military.
RV Parks in Thermopolis Wyoming
Whether you are looking to find the best camping options for your RV, motorhome, trailer or van or are looking to find a tent park where you can pitch a tent for the night, the following 3 RV parks will accommodate any kind of campsites you need.
However, be advised that one RV park stands out above the rest when it comes to the all-around value and customer service. Although we've stayed at each park for different amounts of time over different years since 2018, there is only one park we ever consider moving forward.
Eagle RV Park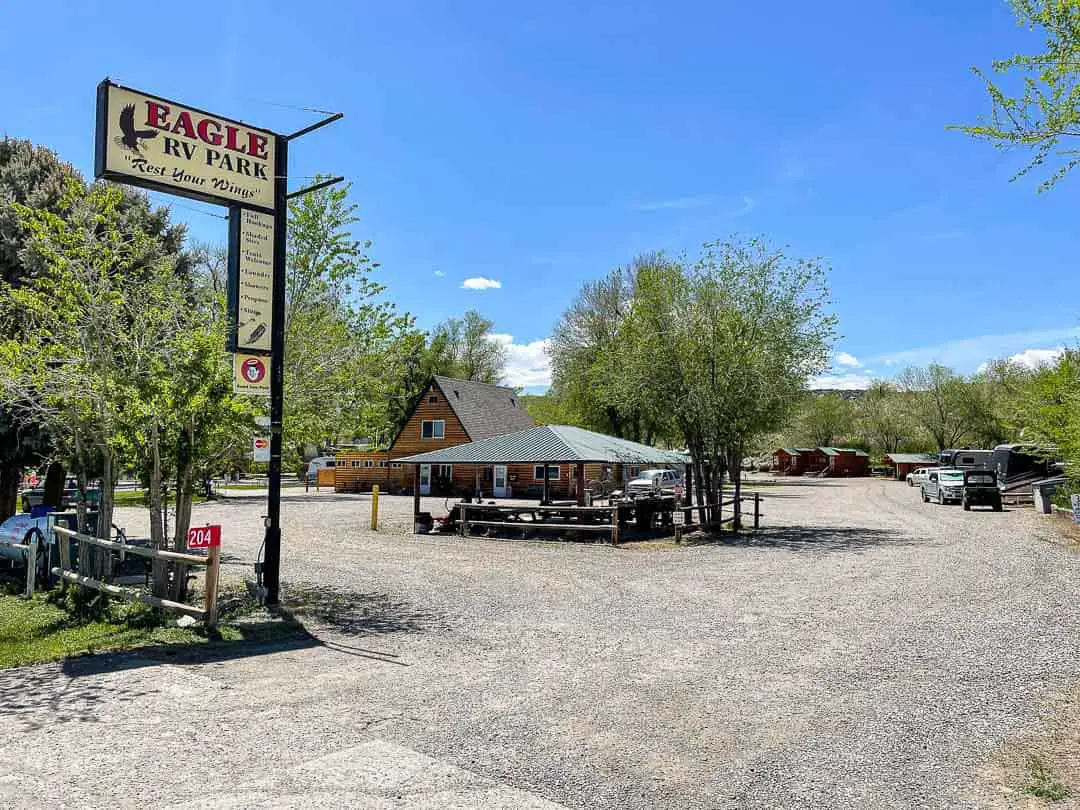 Eagle RV is by far our favorite RV campground in Thermopolis. You'll come across Eagle RV if traveling to Thermopolis from the south. After driving through the spectacular Wind River Canyon you'll pass the Wedding of the Waters as you approach the town. Eagle RV is located on the left side of the road just after the Wind River Canyon Whitewater And Fly Fishing building.
The campground is owned and operated by Dennis and Kristine, who live on-site and are incredibly attentive. Compared to the other 2 campgrounds, the service that Dennis and Kristine offer is by far above and beyond.
The first time we stayed at Eagle RV we were strangers who observed how hard they both worked to take care of guests needs. By the end of the weekend, we ended up becoming friends with them and cooked them a delicious meal to share with their family because it seemed like they were never taking time to themselves.
We later returned to Thermopolis and stayed for a month at the park, helping to manage the landscaping and other duties around the campground.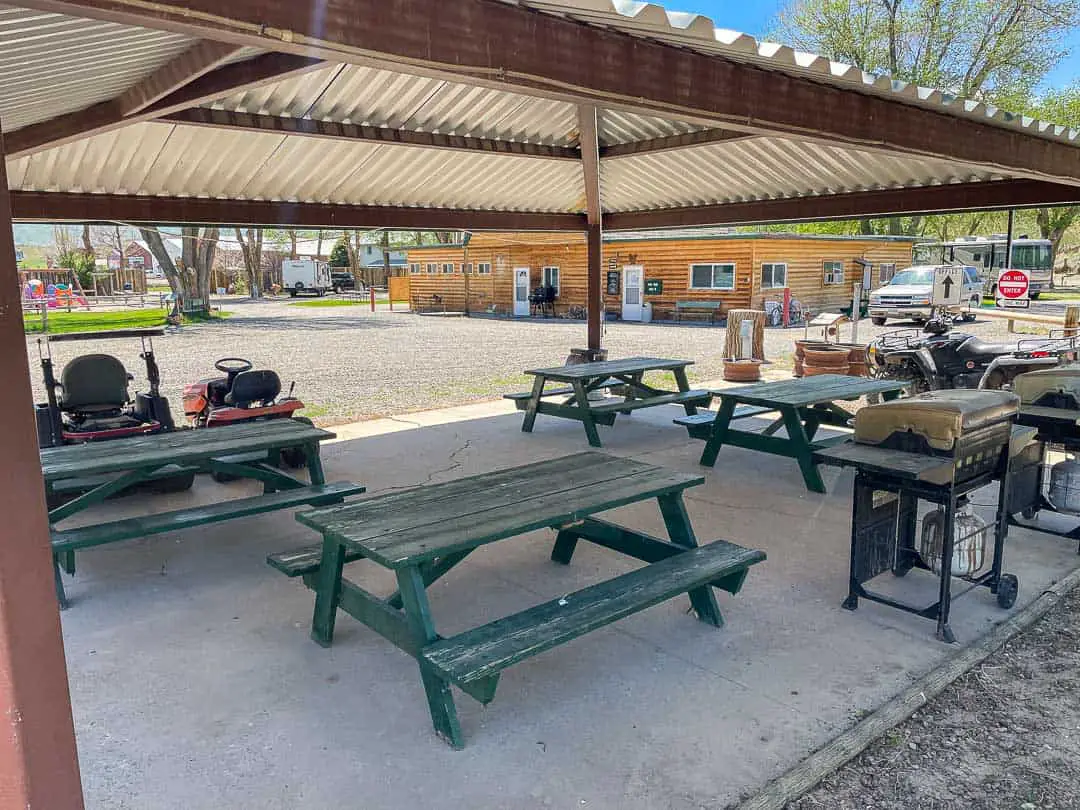 Amenities include:
30/50 Amp Full Hookups at each site
Guest Bathroom (cleaned daily)
Washer/Dryer
Common Area Sink
Playground for children
General store with basic RV supplies and snacks
Grassy common area with horseshoe pit and benches
Covered patio with grills and picnic tables for guest use
Fire pits and firewood (when fires are permissible)
Free Cable TV
Free Wi Fi
Cabins and tent camping available
Expert information about nearby attractions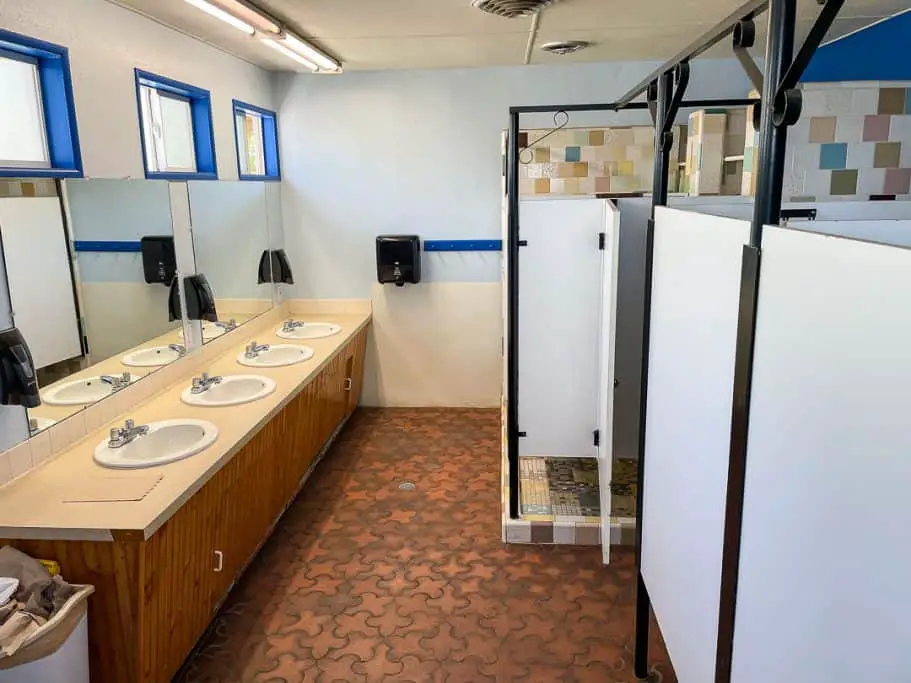 The only downside we have ever experienced with Eagle RV is that it is around 1.5 miles from downtown Thermopolis. So if you do not have a truck or towed vehicle, it is a little bit of a walk or bike ride into town. But there is only one RV campground in town (and it is the last on our list for a reason) so if you plan on camping in Thermopolis expect to be a little bit out of town.
You may also experience road noise from the highway as trucks use their engine breaks where the speed limit drops just before Eagle RV. But this usually dies down during the evening hours.
To book reservations, visit the Eagle RV website and be sure to say hi to Dennis and Kristine for us!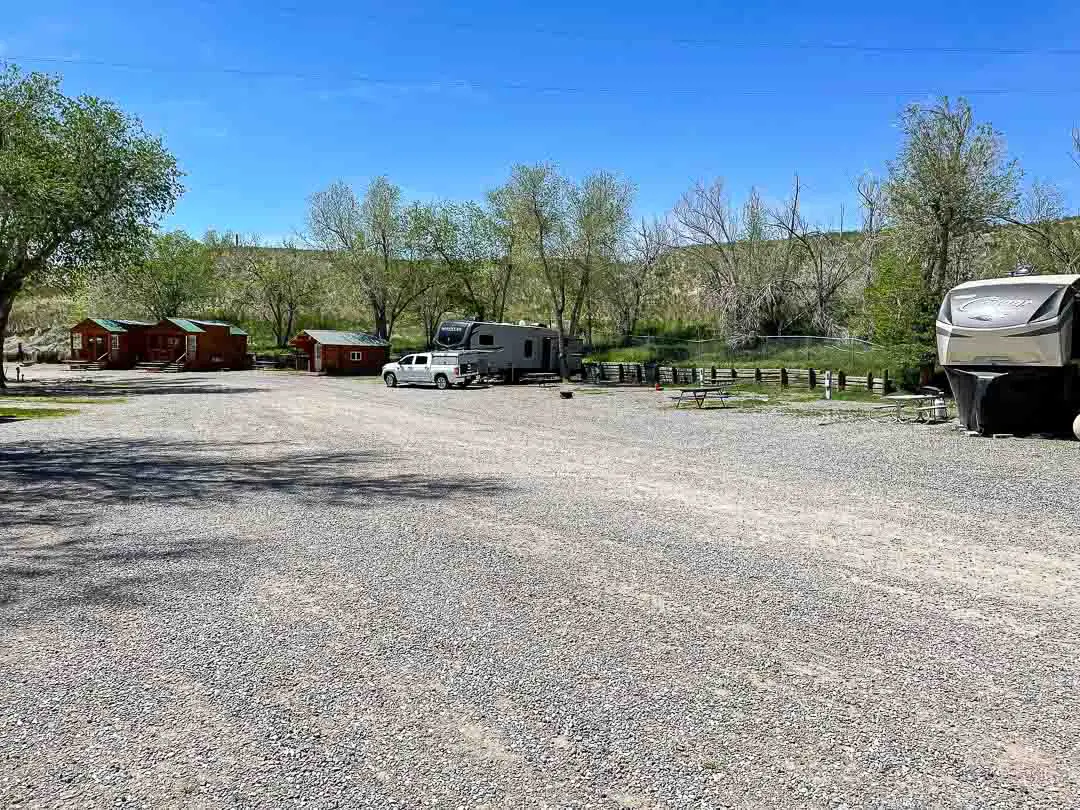 READ NEXT: Learn more about how to save money when camping on a budget!
Fountain of Youth RV Park
The Fountain of Youth Campground is located on nearly the opposite end of town as Eagle RV. When coming from the north on Hwy 20 from Worland you'll approach the Fountain of Youth on the left side before you reach the hill that overlooks Hot Springs State Park.
The campground is well marked so it is not likely that you will miss it. You'll also likely see the mineral hot spring pool for which the campground is known and named after.
RV sites here are generally spaced out a little more than at either alternative option. Tent camping is permitted, although there is little indication that it is offered.
Management at the Fountain of Youth is a little less approachable than at Eagle RV. There are times it may be difficult to get someone on the phone when booking reservations. And if you need assistance in the campground it may be difficult to find someone to assist.
We were not totally impressed at all by our stay. But we have friends who spend their entire summer at this campground and even pick up a little work by helping out other campers during their stay.
The biggest draw to the Fountain of Youth RV campground is the fact that it has one of the only private hot mineral springs in the area on the property. As such, guests are welcome to soak in the pool whenever it is not under maintenance. Day passes are offered, currently at $10/person (though if you are not staying here, your $10 will go much further at the other hot springs in Thermopolis).
Aside from the unique offering of the hot springs, amenities offered here are similar, though not as nice as Eagle RV. But you're going to pay significantly more to stay at Fountain of Youth than at either other RV park in Thermopolis. Rates vary between $45 – $65 and all reservations require minimum stays of 2-3 days.
While we definitely recommend that you consider spending more than one night in the area to enjoy all the great things to do in Thermopolis, we are not big fans of any RV park requiring minimum stays – especially when customer service and amenities may be lacking and you may want to end your stay early.
We're also not big fans of the fact that this RV park is definitely a little more difficult to go to/from town. It is on the north end of a hill that is about 2.5 miles from downtown Thermopolis. We've both hiked and bicycled this hill and unless you have a vehicle or e-bike, it's not very convenient for coming and going.
The only reason to stay at the Fountain of Youth is if you want access to the hot spring on property. But the public hot spring in the State Park is free to visit and the private springs are around $15 for 24 hour access and include slides, diving platforms, saunas and other amenities. Do your math on whether it works out for you financially.
Amenities include:
30/50 Amp Full Hookups at each site
Guest Bathroom
Free access to the on-site hot mineral pool
To make reservations at Fountain of Youth RV Park, see their current rates and contact information on their website.
Wyoming Gardens RV Park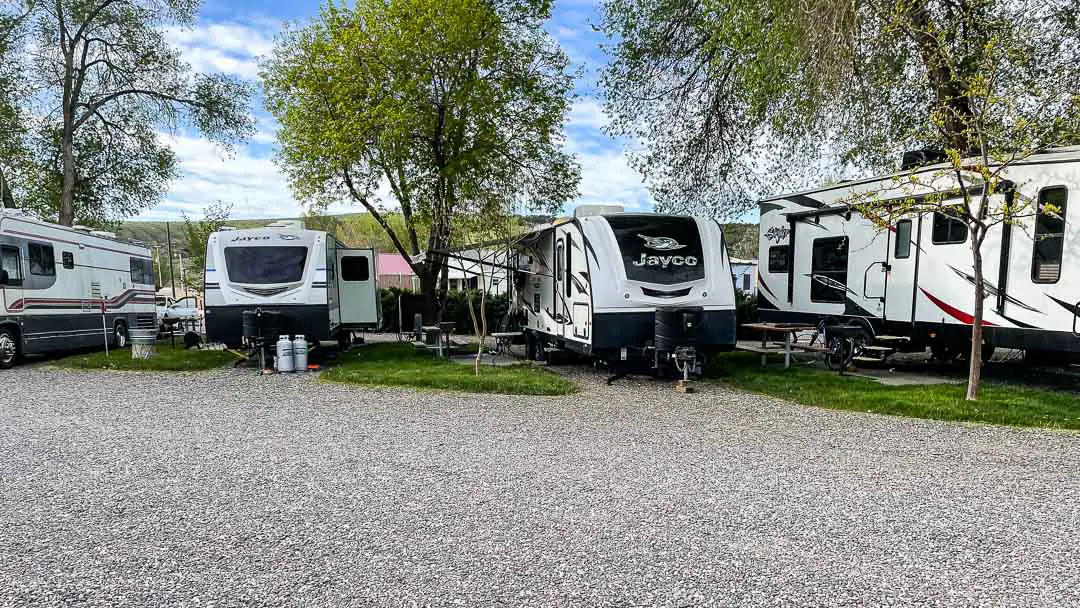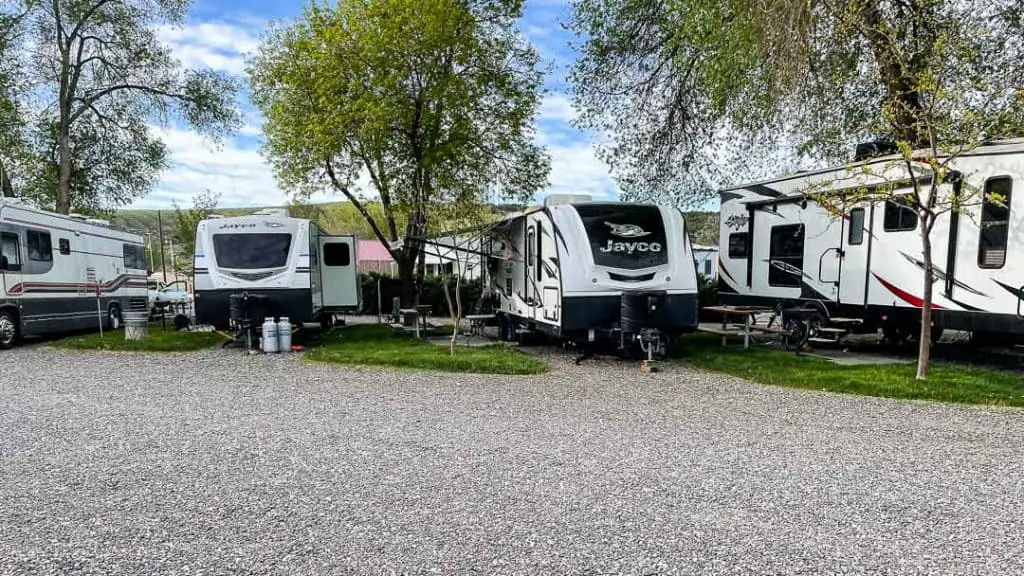 Wyoming Gardens is the last RV park in Thermopolis and the only selling point about it is that it is the ONLY RV park IN Thermopolis. While you have a little bit of a hike/bike from Eagle RV and accessing downtown from the Fountain of Youth RV Park is quite a challenge, Wyoming Gardens is about as centrally located as it can be.
However, from here we have nothing but negative things to say about the park. In fact, from the moment you attempt to make reservations with the owner to the time you arrive and realize that you may not be able to actually fit into any RV sites available you will likely find yourself disappointed.
We attempted to spend a summer in Wyoming Gardens RV park and found that, other than its central location which made it easier for us to walk our dogs to Hot Springs State Park and to bicycle to jobs we had in town, the RV park, and its management, were not nearly what we expected.
There are very limited amenities offered, outside of a mostly level gravel lot, WiFi and a bathroom that may or may not be cleaned during your stay. RV sites are crammed on top of each other to the point we could literally hear our neighbor farting next door (TMI, sorry for the honesty).
In 14 days of staying, the trash was not emptied one time in the bathrooms and there were old leftover pieces of soap and shampoo containers that never moved in the shower stalls, indicating to us how infrequent the cleaning was done.
There is no place to walk your dog, except an empty lot across the street. If you are fortunate, you will have one of 4 sites located on the backside of the campground. However, most sites are located exactly 25 feet from the busy main road leading through town. Expect to hear traffic anytime traffic is passing, which is at most hours of the day and night.
The RV park is NOT big rig friendly. While we have seen one Class A and several larger 5th wheels, we have observed the amount of maneuvering required to get into the small, awkwardly placed sites and would not recommend this for anyone.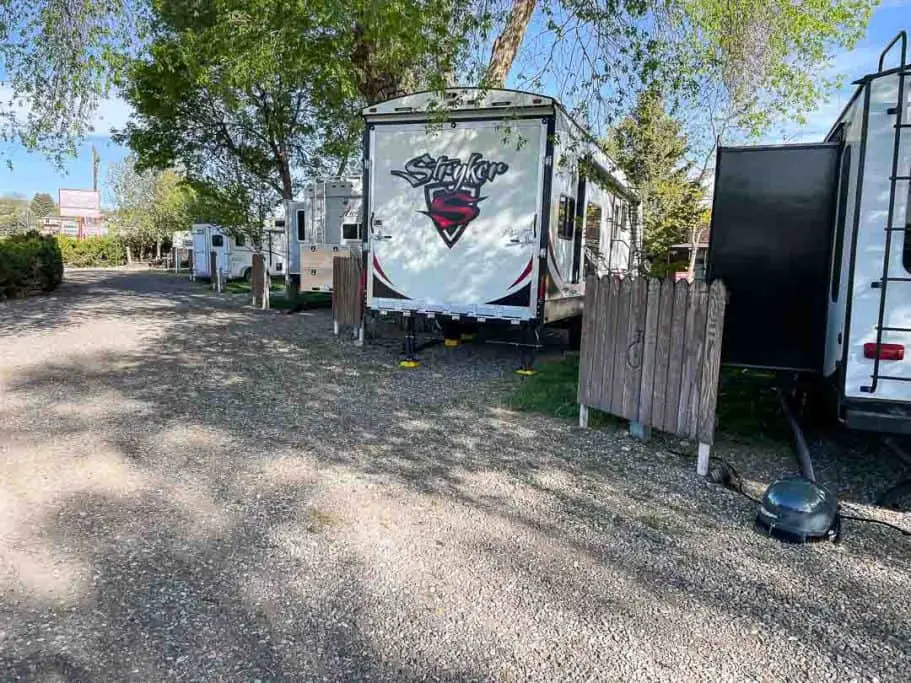 While the Wi-Fi was recently upgraded, there are no other amenities that make it family-friendly for campers. In fact, there is a charge for families with children over 5 years old! Currently, you will have to pay $2 per night for any extra person over the age of 5. (NOTE: In RVing for over 4 years we've NEVER come across this kind of fee.)
There are cabins available. But several of these are simply old travel trailers that have been permanently parked and are usually occupied by long-term residents. And if you need assistance, don't expect anyone on-site to help out. You are pretty much expected to have to call the owners/managers in order to receive any assistance.
Oh, some sites have a picnic table and a small patch of grass (which the owner complained to us about how expensive it is to water it for unappreciative guests).
If it sounds like we're not big fans of Wyoming Gardens, that's an understatement. We would not recommend that you stay here under any circumstance.
Campgrounds Near Thermopolis Wyoming
If you just want to camp near Thermopolis, but not necessarily in town, there are a few options to the south of Thermopolis in and around the Wind River Canyon. Both of the options below will put you on the water – either the Wind River itself or Boysen Reservoir – and within Boysen State Park so if you want a little peace and quiet and are willing to day trip into Thermopolis to explore, these are great places to camp.
Upper / Lower Wind River Campground
Within the Wind River Canyon, in the midst of some of the most spectacular scenery in the country, you can actually camp along the river at one of two campgrounds managed by Wyoming State Parks. Both the Upper and Lower Wind River Campgrounds are located near each other and offer basic dry camping for under $20 per night.
Each campground is pet friendly and while they don't offer a dump station, there are trash bins and water is available if you need it. There's also a playground and it is easy to get down to the river itself.
The biggest drawbacks to camping in the Wind River Canyon are that you will not have cell phone service and there can be quite a bit of road noise coming from the highway. But when the day ends, if you end up with clear skies, you'll have incredible views of the stars!
Reservations are recommended and can be purchased at the Wyoming State Park website.
Boysen Reservoir
If you have a boat and are looking for camping near Thermopolis that caters to water enthusiasts, camping at Boysen Reservoir is what you're after. Wildly popular in spring and summer, the Boysen Reservoir is typically full of cool/cold water that offers spectacular watersports and fishing.
With an on-site boat ramp, you can be on the water in a few short minutes from your campsite. There are nearly 2 dozen different campgrounds inside the park around the reservoir that offer standard dry camping amenities. You should have cell service at most campgrounds and the views of the Owl Creek Mountains in the backdrop of the reservoir are spectacular!
Camping fees vary and can be as much as $30 per night. Check out your options on Campendium and be sure to return to the Wyoming State Park website to book your stay.
Alternative Camping Thermopolis, WY
As mentioned above, there are no formal free camping spots in Thermopolis, Wyoming. Unlike its neighbor Lander, which hosts a beautiful city park that permits up to 3 nights of free camping, Thermopolis does not have anywhere for you to camp for free.
And the streets are patrolled regularly and monitored both by the town police and by the State Park if you are trying to stealth camp inside Hot Springs State Park. But depending on the size of your RV and your budget, there are ways to get around staying at a campground in Thermopolis.
Harvest Hosts
At present we are working with the town of Thermopolis to establish several Harvest Hosts locations inside the town itself. But currently, there are a handful of Harvest Host locations within just 20 miles of town. If you're a member, you can book your stay with the host through the Harvest Host website or mobile app.
If you're not a member of Harvest Hosts, you should consider joining and gaining access to free camping in incredible places such as wineries, farms, ranches, museums, golf courses and so much more! It's a great way to supplement both traditional campgrounds stays with free camping and once you're a member of Harvest Hosts you have access to thousands of options across the North American Continent.
We'll update this post if we're successful in bringing some Harvest Hosts locations within the town limits online. But in the meantime, there are a few great options just outside of town well worth your attention.
SAVE ON YOUR HARVEST HOSTS MEMBERSHIP: You can save 15% off your Harvest Hosts membership by following THIS LINK!
Airbnb/Vrbo
A very alternative approach to camping in Thermopolis, WY is simply to park the RV for a night or two and enjoy the comforts of home in somebody else's home by renting an Airbnb or Vrbo property. Like most of America, the people of Thermopolis have listed a lot of properties to choose from on either platform. So if you are looking for a little more space and a place to park the RV for a bit, there are tons of options on either Airbnb or Vrbo websites.
About Author