Last Updated on December 9, 2021 by Chris and Lindsay
It's hard to say no to a hearty, home-cooked meal. We bank on this truth pretty much everywhere we go. Whether a meal is offered to us, or we offer to cook a meal for others, the invitation to dine is one that evokes communion and friendship. Everybody has to eat, they say. So you might as well eat together.
Food, they also say, is a universal language. Wars have begun and ended over meals. Deals large and small are settled over meals on a regular basis. Weddings, birthdays, holidays and promotions all lend themselves to celebration over a meal.
So when you find out that your offer to cook a meal is the first one presented in over half a decade, it makes you wonder how it's possible.
No Rest for the Weary
Dennis and Kristine are two of the most hardworking people we have known in life. We were fortunate they offered us a last-minute campsite over a busy Memorial Day weekend in the small town of Thermopolis, Wyoming. Having owned the Eagle View RV park for five years, Dennis has seem pretty much everyone come and go.
Thermopolis itself is a nice place to visit, particularly in late spring or early summer. So squeezing into our campsite was a blessing for that time of year. The weather was gorgeous and the neighbors friendly.
That's how we met Dennis and Kristine. We sat outside enjoying the weather as we cooked dinner. Dennis walked by no fewer than five times on his way to take care of this or that. Kristine was the same, but making small talk among the campers as she moved between campsites.
I looked over at Lindsay and asked her when she thought they ate dinner.
"I have no idea," she said.
The sun still cast light well into the evening hours and Dennis and Kristine seemed to show no signs of slowing down. RVs continued to drive into the park well into the night. Dennis greeted each one, well after 9 PM.
"Let's offer to cook them a meal," Lindsay suggested after a while.
I agreed. I knew there was no better way to make friends, or to show appreciation to strangers and then turn them into friends, than to share a meal together.
Avoiding Dinner Time
I'm a bit of an extrovert. I find myself more of one lately since virtually all of our existence on the road relies on us making contact with new people. So I had no problem finding my way into small talk with Dennis the next day.
I picked his brain about Yellowstone National Park, which was just over an hour to the west of Thermopolis. Like most conversations with locals, he became enthusiastic from the start. With passion and enthusiasm he grabbed a map of Yellowstone off the counter and started scribbling notes on it for me.
"Go here," he'd say, "but only between these hours." Or, "Park here and wait for the sun to set and look in this direction." Or, "Skip this place. My absolute favorite place is over here. And to get there you have to do this and this…"
After warming up conversation for twenty minutes or so I finally asked him quite frankly when he and his wife ate dinner.
He laughed.
"Oh, we eat whenever we get a chance. Usually just before bed."
While he joked about his answer I could sense the gravity of the statement.
Kristine was behind the counter and chimed in.
"I usually cook a big meal on Sunday. Pasta is always good because you can cook a bunch of it pretty easy. Then it lasts the whole week."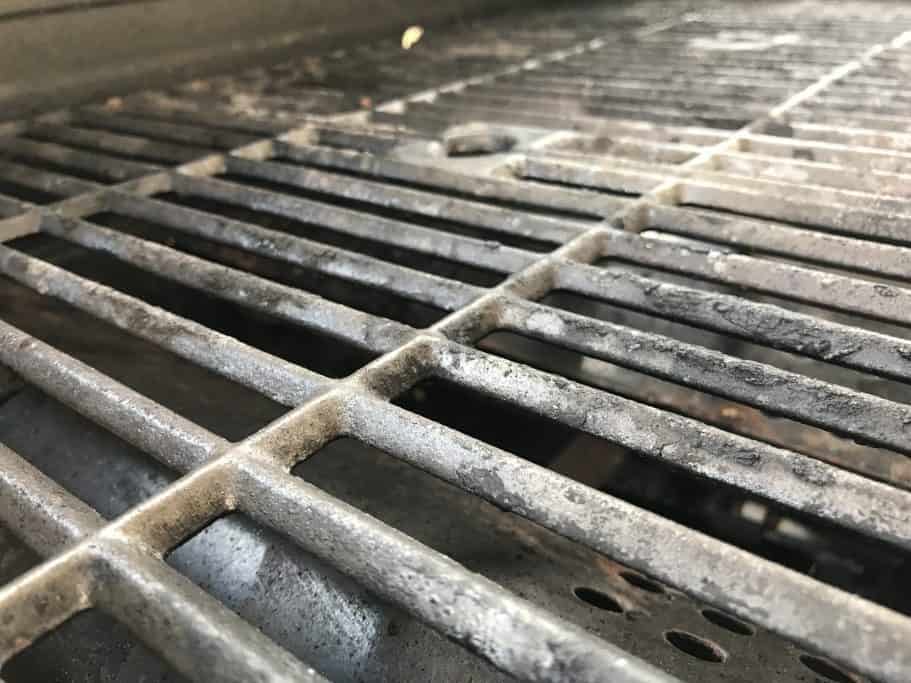 An Offer You Can't Refuse
I shook my head in agreement. Pasta has always been the go-to meal, even before we hit the road.
"How about Lindsay and I cook you guys a meal this weekend," I asked. Apparently I caught them both off guard. It took a minute for them to jointly form a response after looking at each other a moment.
"Yeah, sure. That'd be nice. That's be real nice," Dennis answered in his hospitable tone.
We went about our business in Thermopolis over the next two days. We relaxed a bit in the local state park. And we also met our first bison on the prairie just beyond town. Most importantly, we caught up with old friends we had not seen in over a year.
But for all the fun we had with friends, we still eagerly awaited dinner with Dennis and Kristine.
Serving Dinner to Friends
Our last night in town was a cold and rainy one. Still we fired up the grill under the front patio and started cooking a delicious dinner. Lindsay developed a great turkey patty melt sandwich recipe on the road. So we cooked those on sourdough bread with a delicious "special sauce" we pretty much stole from McDonalds. We also made a vegetable medley grilled in aluminum foil with spices and olive oil and we each had an ear of grilled corn on the cob.
As we cooked I kept an eye out for Dennis and Kristine. It took us a little over and hour and the entire time they bounced from one place in the campground to the next. I joined them in the office at one point just to give an update.
"How about we just come over now, is that OK," Dennis asked eager to pretend like he didn't have to work so hard. Kristine picked up the phone and put it in her pocket and mentioned they could take calls pretty much anywhere.
So we began our fellowship early as the corn slowly cooked on the grill and the sun began to set.
An Unexpected First
Conversation varied, of course. But we came to learn that in over five years of owning the RV park nobody had ever offered to cook a meal, let alone do something else nice for them. We were completely surprised. We cook meals for people all the time. Its a joy to share a meal together and cooking dinner is far more inexpensive than going out to eat.
"Really," I asked in disbelief.
They both confirmed it.
We didn't say it then, but both Lindsay and I brought it up later how simple it was to prepare a meal for strangers-turned-friends. After all, there were around 50 campsites in the campground. On every weekend between spring and fall these were 100% occupied. During the week they might be 1/3 – 1/2 occupied. But no doubt everyone has to eat.
So while Dennis and Kristine ran around the campground from sunrise to sunset each day, everyone in the campground cooked at least one if not two or three meals for their own families.
And not one person in five years offered to share a meal with them?
Always Room For Friends
We're not special. We don't do anything that is above and beyond. In fact, I often like to think I'd be the guy to run into the burning building to save the child, or pet. But in reality, I don't know that I'd be so brave.
We love serving people in simple ways. And our journey thus far, and to the end, will be to find simple ways to continue to serve people in a variety of circumstances. Whether its helping them solve mechanic issues in their vehicles or getting in touch with a tow company or cooking a meal, there are so many ways that we can show kindness to people as we travel.
We love food. There's no way around that. The only line item we go over in our budget every month is food. But that's because we come across people like Dennis and Kristine, who we feel deserve a good, hearty meal and the companionship of new friends.
We'll be back to Thermopolis someday. And when we return it will not be as strangers. Simple acts of kindness, like preparing a meal to share together, bring people together in ways that years of acquaintance cannot. We love the idea that we are welcomed back to the campground at any time of the year. Whether it is full or not, our new friends assured us that they would find a place for us.
That's how life works when you take the time to share a meal together. There's always room for friends.
About Author