Last Updated on May 3, 2022 by Chris and Lindsay
If you're one of the millions of RVers on the road looking for affordable RV camping on a budget, we'll walk you through how we spend less than $10 per day on average camping across the US, Canada and Mexico!
RV camping on a budget means different things to different people. For some campers, spending $50 per night for full hookups and other amenities such as a swimming pool or hot tub may seem like a good deal. But for us, anything over $25 for overnight RV parking is too much.
Although we live on less than $2,000 per month for the past 4 years as full-time RVers, camping costs can add up quickly. But there are still many great ways to find free or cheap RV camping that fits within any budget.
Whether you are looking for cheap RV camping in an RV park or are committed to only free dispersed camping in places like national forest land or Bureau of Land Management land, we have learned nearly all of the tips and tricks for finding the best free camping and cheap camping options in some of the most beautiful places.
Every dollar you save on one expense is another dollar that you can use to extend your adventure. 
In this post, we'll show you how you can go camping on a budget by combining FREE mobile apps with AFFORDABLE RV clubs and memberships so you will spend less than $10 per night in camping fees!
Affiliate Disclaimer: This post may contain links to products we think you'll like. If you purchase any of the products through the links below we'll receive a small commission. As full-time RVers, we know our RV products well and only recommend those that we either own or would consider owning ourselves.
Cheap RV Camping On A Budget
We have found that we are happiest when we combine free camping and cheap camping options. Throughout any given week we may spend 1-2 nights paying for cheap camping with full hookups and 5-6 nights camping totally free.
This balance affords us some comforts, such as hot showers, sewer hookups and a way to fill up our fresh water tank while also letting the RV lifestyle take us off-grid to enjoy camping in the great outdoors.
We combine the following in order to stay under $10 per month:
Boondocking and Dry Camping
RV Clubs and Memberships
"Moochdocking"
Here's how we camp for cheap throughout the month.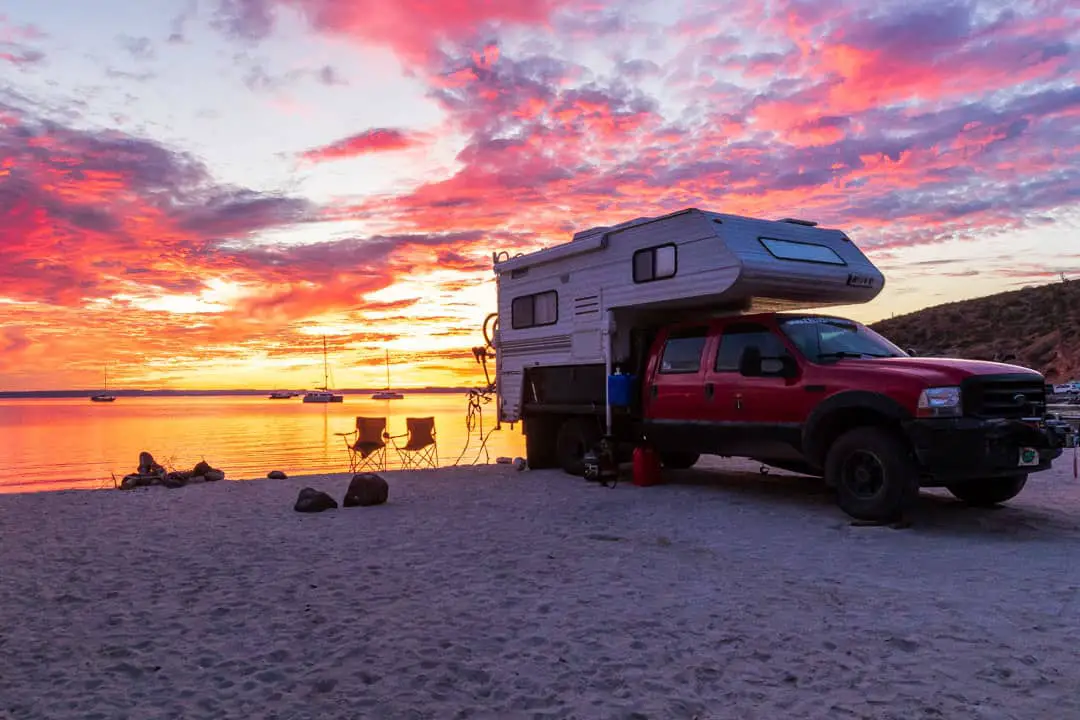 The Power of "Boondocking" and "Dry Camping"
Boondocking is simply camping for free, typically on public land. A related term, "dry camping," implies that you are not technically boondocking near a water source such as a freshwater river, lake or stream. Additionally, you may pay a small fee to dry camp. Whereas boondocking is totally free.
You won't have any hookups. Often time you will travel for miles down bumpy dirt roads. And your closest camping neighbor will likely be deer, coyotes and/or bears. 
But boondocking is a great way to save money when you are camping on a budget.  And it can also be glorious and beautiful – such as the times you will find yourself camping on BLM land in the American West at the edge of national parks or other popular destinations.
But it can also be obnoxious yet practical. Spending the night in a rest stop or pulled over at a trailhead also counts as boondocking. So does overnight parking at Walmart.
When you boondock you are at the mercy of your environment and your own self-contained resources. So whether you are intentionally heading off-grid for a few days or find yourself swinging into the next rest stop, make sure you have plenty of fresh water and room in your tanks! 
We LOVE boondocking. And not just because we're becoming experts at camping on a budget. We love the places we see, the solitude we find and the general peace we experience when we're away from everyone. 
Essential RV Clubs and Memberships
The first way to save money when RV camping on a budget is to join any number of RV clubs and memberships. 
The most well-known clubs include Passport America, Good Sam Club and Harvest Hosts. But there are others as well, such as Boondockers Welcome, Escapees and Thousand Trails, that offer varying degrees of affordable camping options.
The idea of an RV club is similar to that of any club or member-based organization. The goal is to provide resources that benefit the RV traveler. Once you become a member of an RV club you will receive access to the various resources each club offers. All offer some sort of camping discount. 
But some other ancillary benefits as well. These include insurance, roadside assistance and discounted retail purchases at places like Camping World, Gander and Flying J. 
Annual membership in the three major RV clubs will cost you only $172 per year. Add Boondockers Welcome and Escapees for an additional $100 and you are set for all of the free or cheap camping you will want to do in any given year.
If you plan to camp for at least 7-10 days per year then we suggest that you consider investing this amount. We have all of these memberships except Thousand Trails (it's a little more complicated and pricey) and we cannot recommend each one enough!
READ MORE: Check out our post on RV Clubs and Memberships and learn how you can save in camping expenses with each.
Enjoying Friendships While "Moochdocking"
Everybody knows Somebody Somewhere. If you happen to know Everybody and will be driving through Somewhere then there's a decent chance Somebody will let you stay with them for a night or two!
Ok, that may have been a little confusing. In simpler terms, 'Moochdocking' is the affectionate RV term for staying for free in somebody's driveway.
This could be a personal friend or relative. Or maybe it's a friend of a friend. It might even be someone you met while camping in some other part of the country two years ago who happened to hand you a card with an open invitation.
All you need to moochdock is that person willing to let you stay on their property and nice, mostly level RV spaces on which to park. 
We've made it intentional to try and see as many friends and family as we can as we travel. That is one of the joys of life on the road – making time for friends. 
So as we travel we try to spend at least 3-4 nights per month moochdocking. This is a great way to save a few dollars when you are camping on a budget. (Although in many cases it seems the money we saved on camping was spent elsewhere, usually in the form of dinner and/or drinks by the fire).
Either way – moochdocking is a great option if you take the time to stroll through your social media and let people know you're looking for a place to stay! 
Finding RV Campsites for FREE or Cheap
Whether you're looking to save on camping fees with free overnight parking or cheap campgrounds, we're going to outline how to make your dollar stretch further with some of the best camping spots for the budget.
Finding Affordable Campsites
If you're open to spending just a little bit of money every now and then for an RV park or RV resort, there are ways of doing this. When we started RVing in March of 2018, we thought that having a $25 per night budget would be enough to put us up at any RV park we came across.
We didn't realize that we could camp for free outside of RV parks. And we quickly learned that $25 per night is not typically enough to cover the cost of most campgrounds.
Here are some ideas for paying as little as possible for full hookup sites in RV parks, National Parks and state parks and many campgrounds across the continent.
Traditional Cheap Campgrounds
Although the average RV park cost between $30-$50 per night, you would be surprised to know that you can find RV parks with full hookups and get away paying a very low cost for premium amenities such as hot tubs, free Wi-Fi, picnic tables, swimming pools and so forth.
The trick to this is either to comb through many listings in various mobile apps we'll recommend below, searching for the absolute cheapest RV park in the area in which you are traveling. OR you could join one or both of the leading RV park memberships in North America.
Passport America
Passport America is the most affordable, easiest way to find a traditional RV park that is literally half the cost of normal pricing.
With Passport America, a participating campground offers you 50% off their standard camping fees. Not all campgrounds are members of Passport America, however.
But by using their mobile app, as a member you can view, sort and find campgrounds wherever you might be traveling.
Be aware, however, that many campgrounds will have exclusions to when and how long you may stay at the RV park, as well as different pricing for peak season and the off season. However, if you are visiting an area during the off-season you will find incredibly low pricing at most campgrounds.
But for $44 per year, you'll pay for your membership in 2 nights.
HOW WE USE PASSPORT AMERICA: If we have been boondocking for a week or more and really crave continuous hot showers, we will immediately turn to the PA app to search for nearby campgrounds. For under $25 per night we have stayed in a range of cheap campgrounds with electric hookups but only a dump station on site and no attendant on the property to an RV resort with the full spectrum of premium amenities. We would not consider traveling without our PA Membership. Get yours HERE.
Good Sam Club
Good Sam Club is another affordable discount camping membership that provides 10% off nightly camping fees at each participating RV resort or RV park. I
n addition to this reduced fee, you also receive discounts on things like purchases at Camping World, Gander and Overton and fuel from Flying J truck stops.
At $29 per year, we find this slightly lower cost compared to Passport America also pales in comparison to PA benefits.
Most participating Good Sam campgrounds have high camping fees already. And taking 10% off the nightly fee basically repays you for the tax and resort fees attached to most campgrounds.
However, for $29 we also know that the money we save through various perks combined with 10% off campgrounds here and there will more than pay for itself each year.
National Parks, State Parks and Public Lands
An alternative to paying for discounted camping at a traditional RV resort or RV park is booking RV sites inside your favorite national park or state park. The National Park Service offers some of the best real estate, literally, to park overnight at one of their many formal campsites.
Some parks have campgrounds that offer full hookups. But most national park campgrounds require dry camping in camping areas that will likely have easy access to dump stations and water refill stations. You'd be surprised how quickly you'll abandon your desire for full hookups in exchange for the views and access at some of these parks!
But know that getting RV campsites in any national park, let alone one as popular as Yellowstone National Park, will require booking the site months in advance. There may also be limitations on RV length and don't expect to be anywhere near an off-leash dog park. In fact, if you are RVing with dogs, plan on keeping your buddies on a leash and off the trails of most national parks.
But if you can secure a spot in a place like Yellowstone National Park or Yosemite and your RV is set up for dry camping, then you won't find better RV sites than those in virtually any national park. Fees vary but are usually quite reasonable.
Finding Totally Free Camping
If spending even just a little money on camping doesn't work for you, there are plenty of totally free camping options out there. As we mentioned, we spend most of our time at boondocking sites in national forests and Bureau of Land Management RV sites.
But we also spend a fair amount of time finding overnight parking in other nontraditional settings as well.
Let's get into all of the ways you can camp for free across North America.
Camping on Public Lands
By far our favorite way to camp for free is to find land controlled by either the National Forest Service (NFS) or the Bureau of Land Management (BLM). Because the east coast is more densely populated than the west coast, you will find lots and lots of land on which to camp when traveling in the American West.
Most NFS and BLM land also borders the National Parks. So if you can't, or don't want to find camping inside the park, you can usually find it within 5-10 minutes outside of the park.
The National Forests Service maintains the national forests in all 50 US states. As such, campers are permitted to travel down the various networks of national forest service roads.
Typically, but not always, the roads are maintained to some degree. And you will usually find yourself surrounded by whatever nature you may be visiting at the time, whether desert cactus or thick, wooded forests.
On BLM land you may find cattle wandering past your campsite. And it's been known that a cow or two may scratch themselves on your RV!
Although both NFS and BLM offer organized campgrounds, you will most likely be dry camping or boondocking in what is called "dispersed camping." Dispersed camping means that you drive down one of these roads through public land and find a place to pull over to set up camp for the night.
Most of our boondocking is done on public lands.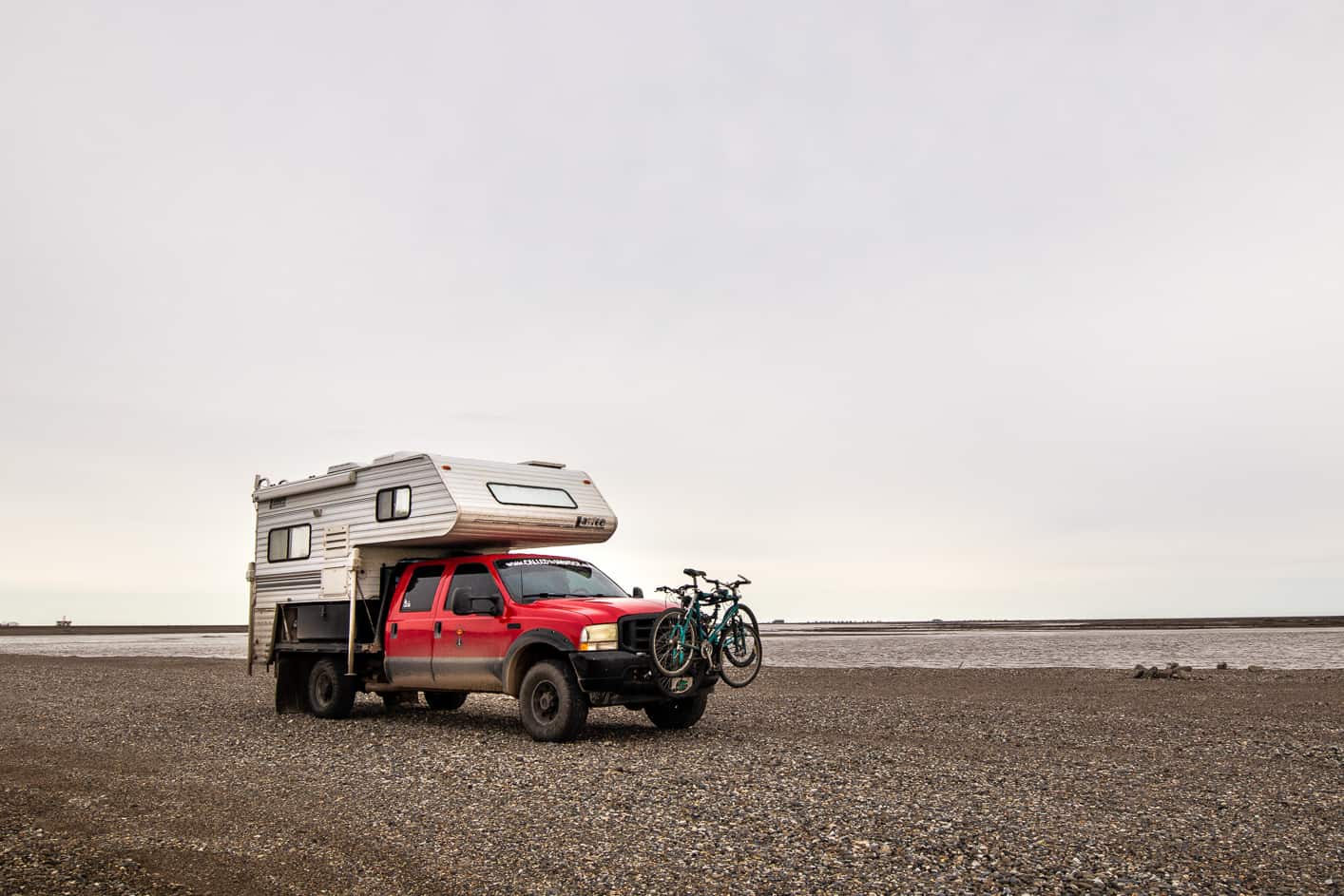 Nontraditional Camping Options
Nontraditional camping options that allow for free overnight stays is another way we stay under budget when we camp. These primarily consist of a few great camping memberships you'll want to join as well as the help from friends on the road.
Harvest Hosts
Harvest Hosts burst onto the scene as a budget camper's hero. A membership with Harvest Hosts provides access to all sorts of nontraditional camping options such as wineries and distilleries, farms and ranches and even golf courses and places of worship.
Strange, you may think, to camp in a church parking lot or in a field of alpaca! But the experiences you gain, people you meet and money you save camping at various Harvest Hosts locations is an absolute RV must-have for any camper!
At $99 per year, this is the most expensive RV membership. However, it will pay for itself after several nights of camping. And you'll have all the memories and experiences that a standard RV park would not provide.
We have lots more to say about how incredible a Harvest Hosts membership is. So if you're on the fence about it, check out our Harvest Hosts review.
READY TO JOIN? If you like saving money you can purchase your membership through THIS LINK and you will save 15% off your membership!
Boondockers Welcome
Boondockers Welcome is an equally creative camping membership that connects you with private hosts who are willing to allow you to camp on their private property for the night. A subsidiary of Harvest Hosts, the camping principle is the same. Your membership provides you access to a directory of thousands of hosts.
Instead of a private business hosting your stay, you'll camp at a person's property. Most hosts own RVs and understand the struggle to find camping in a pinch. And most also have great stories to share and inspiring places to add to your travel bucket list.
At $50 per year for the ability to camp for free in lots of places, you can't pass up this membership. You can purchase your membership HERE.
"Moochdocking"
As we described above, "moochdocking" is a creative, nontraditional camping option that will not only save you money in camping expenses but will also provide you the opportunity to connect, or reconnect, with family, friends and friends-of-friends that you may not have seen in some time.
We often call upon old friends and those we have met while traveling who are eager to host us for a night or two. Usually, we will moochdock in places where finding traditional camping is incredibly difficult, such as metropolitan areas.
Build your relationships and save a few dollars by throwing out a request on your social media to see who responds and extends an invitation!
Camping on Private Property
Another way to save in camp for free is to find participating private businesses that permit overnight camping on their property. The most popular of these, and the one that most people in RV life will attest to having spent at least one night at, is Walmart.
But there are other private businesses that will openly accept you for a one-night stopover:
Cracker Barrel
Cabela's
Bass Pro Shop
With each of these companies, you will need to check with management to ensure that it is OK to spend the night on their property. While their corporate policies support overnight camping, sometimes local ordinances may prohibit overnight parking.
READ NEXT: Be sure to check out this post to learn everything you need to know about camping at Walmart.
Alternative Public RV Parking
Finally, there are a few other options for camping for free that are great backups for all the others on this list. These include:
Sometimes we will intentionally seek these out. But typically they are a fallback if we cannot find camping where we are traveling and/or if we just want to stop, sleep and move on early the next morning.
For instance, when we prepare to enter Baja, Mexico or on the first night we return to the US from Baja, we will typically stay at a rest area off I-10 because it is a quick and easy way for us to stop for the night.
Of course, it's also quite loud so we sleep light in anticipation of waking up early to continue on our journey. We don't advise that you make a habit of staying at truck stops and rest areas. And you do need to verify with each location that overnight parking is in fact allowed.
However, this is by far the most convenient way to find free overnight parking virtually anywhere in the US, Canada or Mexico.
How to Find FREE Overnight Parking
Now that you know what you are looking for when it comes to cheap and free overnight parking, let's help you find the places you are looking for the most!
Use FREE Camping Mobile Apps 
Mobile apps are constantly improving. But these are the ones we turn to on a regular basis. 
We use them in the order presented because we like to start with FREE camping before moving into discounted camping. 
Campendium
iOverlander
AllStays
Harvest Hosts
Passport America
Boondockers Welcome
Campendium
Campendium is our most reliable source of cheap camping options anywhere we travel in the US, Canada or Mexico.
You can filter between types of camping options and users tend to update camping spots fairly regularly.
You'll get an idea of whether there is cellular service or not and images will also help you decide if your RV can make the trek to the ideal campsite for the night.
iOverlander
iOverlander is probably the most used mobile app for anyone living in any sort of vehicle anywhere in the world. Yes, it's that big.
Like Campendium, iOverlander is a wiki where users create points of interest on a map.
This means that you can see a wide range of places to camp and determine whether recent updates verify the camping conditions.
We never rely on iOverlander by itself. Usually, we cross-reference Campendium, iOverlander and AllStays to determine the best place to camp for the night. Download the app HERE.
AllStays
While AllStays does not focus on many of the free places to camp, it will allow you to filter the results to match your RV clubs and memberships.
You can also sort through the results to show you BLM land and Army Corps of Engineers land – both free or very low fees.
A real strength of this app is that it will also help you find more than just camping. We rely on it to help us find propane refills, dump stations and freshwater fill-ups. 
Download the app HERE.
Harvest Hosts, Passport America and Boondockers Welcome
Each of these camping memberships has its own mobile app to help you find cheap camping options anywhere you travel. All offer some benefits in helping you find options, but some of the mobile apps are more useful than others.
We love that the Harvest Hosts app actually connects you with the host through the app to confirm availability. You can even see what days are available or not available just as if you were booking a traditional campground.
With the Passport America app, you can filter campgrounds by state and see results in either list or map format. Click on an individual RV park and read all of the details about when, how much and how long you can stay.
And Boondockers Welcome connects you directly with hosts who are willing and able to set you up for the night. But you need to be mindful that this requires more planning than other options.
---
---
Wrapping Things Up
Camping on a budget is normal and necessary – especially if you live in your RV full-time and want to continue the RV life indefinitely. But even if you are just starting out, or only camp for a few weekends or weeks per year, it's nice to know that you don't have to pay full price for camping. 
If you look at our $25/night budget, to which we committed when we first set out RVing full time, we were essentially planning to pay $750 per month to rent a place to park in various campgrounds.
While it is hard to live in most places in the US and Canada for that amount, I'd still rather spend that on other things – like local food and experiences on the road! 
We're confident that if you combine your RV clubs and memberships with an openness to allowing mobile apps to direct you to some boondocking locations then you'll not only enjoy the places you camp but also save money in the process. 
And take a moment to flip through your social media and give a call out to see who you know who lives in the area you are visiting. Chances are you can always strengthen that relationship and you never know when you'll have another chance to see them again!
Set a goal for yourself in your camping budget. Then try to break it. It is a game to us now, to see how many days we can go without paying for camping. You should never have to pay full price for camping again. And you should now feel confident about your ability to go camping on a budget!
Have ideas on how to go camping on a budget that we didn't mention? Leave a comment as we'd love to hear your ideas so we can share them with others!
About Author