Last Updated on May 3, 2022 by Chris and Lindsay
If you are new to RVing you may be wondering, what is dry camping? Simply put, dry camping is camping without hookups.
This means that you are self contained within your RV and are not in need of fresh water, power or sewer hookups such as what you would find at an RV park or campground. 
What is Dry Camping?
If you have come across the phrase dry camping, it is likely that you have also heard the term "boondocking." So what is the difference between dry camping and boondocking? Essentially these phrases mean the same thing: you are camping at a certain location without hookups.
Keep in mind, the main difference between boondocking and dry camping is simply where you dry camp. 
We like to think of boondocking as dry camping for free, typically in a beautiful place like the desert, forest or beach of Baja.
With RV dry camping, in general, you may actually pay money to camp without hookups in places like National Parks, state parks and even the cheapest spots in an RV campground. 
One way of thinking about it is that you can dry camp (camp without hookups) when you boondock (camp for free in the wilderness) but you don't necessarily boondock when you dry camp. 
Why Would I Want To Dry Camp?
You may be wondering why you would want to pay to dry camp. To be honest, when we first started our RV adventure nearly 3 years ago we were excited to camp anywhere for less than $25 per night.
But when we paid that much (and sometimes more) we were surprised to find that we did not always receive full hookups for that rate.
In fact, in every instance when we have camped in a National Park (including Yellowstone, Grand Tetons, Glacier, Grand Canyon among our favorite!) we have paid good money to dry camp. 
The reason is pretty simple. If you look at the list of national parks I just referenced, the views and exclusive access you receive to some of the most incredible and beautiful places in the country are well worth the cost of dry camping. 
This works out well for the National Parks to not have to include the infrastructure for full hookup campsites. And it is great as a camper to be able to come and go within the park as you please knowing that you have a place to camp.
Another reason you may want to RV dry camp is simply to spend time with friends and family. Maybe you want to stop by and see an old friend on your way across the country. Staying in your RV in their driveway with no hookups qualifies as dry camping!
But the biggest reason why people tend to dry camp is to save money. And when you talk about free camping in some of the most beautiful places in the North American continent it is well worth being prepared to dry camp. 
READ THIS POST ON HOW TO CAMP ON A BUDGET!
Where Can I Dry Camp?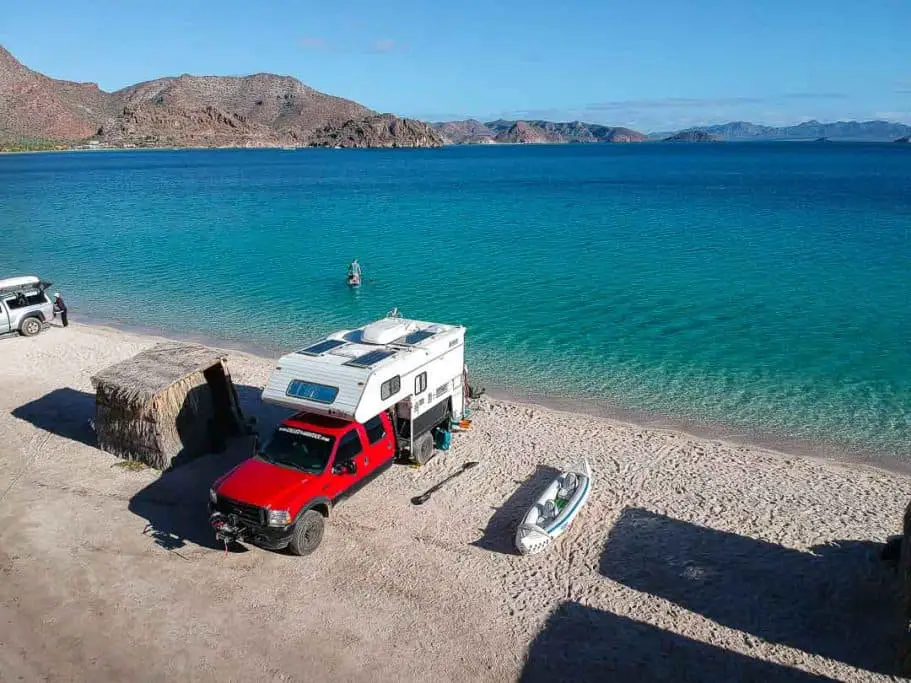 The simple answer is, you can dry camp or boondock pretty much anywhere there is not a "no overnight camping" sign. This includes places like Wal Mart, Cracker Barrel and Cabelas (as long as the sign is not posted.) 
Using apps like iOverlander, Campendium and AllStays are great ways to find places to dry camp or boondock across the US, Canada and Mexico. 
Be sure to read recent reviews of camping spots and keep in mind it is always best to ask for permission if you are trying to boondock at a privately owned business like Wal Mart. 
But our absolute favorite place to RV dry camp is at any participating Harvest Host. If you haven't heard about Harvest Hosts, be sure to read our post on what it is and why it is the best RV membership you can have. 
Essentially when you join Harvest Hosts, you gain access to well over a thousand wineries, farms, distilleries and unique small businesses. These hosts permit you to dry camp on their property for FREE (although it is always best to support their businesses as much as you can)!
CLICK THIS LINK TO SAVE 15% OFF YOUR HARVEST HOST MEMBERSHIP
Dry Camping Tips for Boondocking
Now that you have an idea of what dry camping is, here are our best tips and tricks from nearly 3 years of living on less than $10 per night in camping fees.
What To Do Before Dry Camping
1) Empty your holding tanks.
Be sure that both your grey and black water tanks are completely empty. You're going to want this space for however long you plan to dry camp.
NEVER dump either your grey or black water tanks where you dry camp. Use appropriate dump stations. 
2) Top off your fresh water holding tanks.
Make sure you are carrying as much fresh water as you possibly can. You should know by now that fresh water is your most important commodity in life! And until you have dry camped a few times you may not realize how much you take unlimited fresh water for granted!
3) Fill up any fresh water jerry cans you have.
We ALWAYS carry additional water in jerry cans when we plan to boondock or dry camp. Typically we will have at least 5 extra gallons filled. This water will come in handy for a variety of reasons and has particular importance because when you use it outside you do not fill up your grey or black water tanks. 
4) Refill your propane.
Most major RV appliances run on propane, including those you will want to have for cooking and keeping your food cold. Topping off your propane can give you up to several weeks of dry camping if you want. 
5) Stock up on food.
Make the last stop on your way to your dry camping spot one for groceries. Grab all the things you'll need plus the fun snacks to munch on. If you are able to precook and portion food before your camping trip this will make life easier on you as well. 
Things You'll Want To Have When You Dry Camp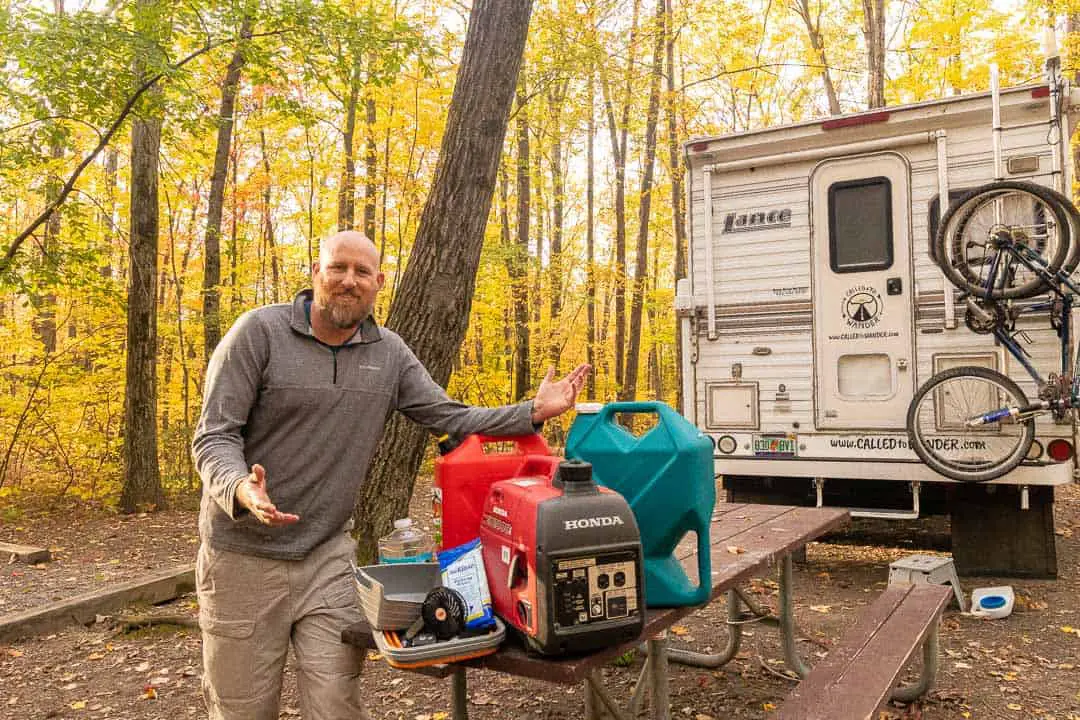 For Power/Water
6) Solar Power
While solar power is not absolutely necessary, it is incredibly convenient and takes all of the worries away about how to replenish your batteries. We have all Renogy solar products and absolutely love how confident we are that they will not let us down when we are boondocking. 
7) Generator
This too is not mandatory. But it certainly takes the worry away when you're up against a few cloudy/rainy days in a row. We've had several instances where we've not seen the sun for two or three days when we were dry camping and our Honda 2000 generator was all we needed to keep our batteries charged.
8) Generator Fuel
Of course if you've packed a generator be sure to have the necessary fuel to keep it running. If you have a propane generator be extra sure you've refilled your propane tanks. If you use gasoline, have an extra 5 gallon jerry can topped off. 
9) Inverter
Chances are you will be running 110 appliances at some point when you camp. Whether recharging camera batteries or running your computer, having an inverter makes this possible.
We have 1000 watts of power thanks to our Renogy inverter and two 100 Ah AGM batteries. Combined with our solar (and backed up with our generator) we NEVER worry about having power. 
10) Battery Monitor
If you worry (like we do) about the state of charge of your batteries you absolutely must add a battery monitor to your electrical system. Having one like this from Renogy is an affordable way to know exactly what is going on with your batteries while you boondock.
If you have a solar power system you can even monitor how much energy is flowing in and see how much is flowing out at any given time. 
11) Cell Booster
You don't need a cell booster. But most places you'll likely consider dry camping or boondocking will be on the fringe of the grid, if not entirely off-grid. We've gone from zero bars to two bars and from one bar to three bars of cellular service with our WeBoost cellular booster.
We recommend having a cellular booster if only for emergencies, as we have had to rely on boosted cell service one time when we broke down in a remote part of Montana. 
12) LED Lights in appliances
If you haven't already done so, go ahead and purchase LED light bulbs and/or new LED light fixtures for all of your lights in your RV (inside and outside). These use a fraction of the energy as incandescent bulbs so you'll make your limited power last even longer when you dry camp. 
13) Jerry Cans for Water
We can't stress enough how important having fresh water is for dry camping. We don't drink out of our 30-gallon holding tank so we keep two 5-gal jerry cans of purified drinking water on hand.
We also usually have 5-7 gallons of tap water in a jerry can outside our RV that we use for outdoor uses (washing dishes, solar shower, dog water). 
14) Solar Shower
Depending on how long you dry camp and if you are near fresh water for a makeshift bath you may want to rinse off from time to time. If your RV has an outdoor shower this is ideal because you can pump in hot water (if you want it) and most importantly the water does not take up space in your grey water tank.
It's always best to use a biodegradable soap for any washing outdoors. And if you don't want to buy a proper solar shower, you can always make do with a gallon jug. 
15) Collapsable Wash Bin
These will allow you to wash dishes inside and collect the water to disperse outside, saving grey tank space. You can also use this collapsable wash bin with your outdoor water setup and by collapsing they save storage space when you aren't dry camping. 
For Convenience
16) Body Wipes
If you must feel clean but don't want to take a shower then have a pack of body wipes can go a long way for cleanliness. We're not huge fans of them as we'd rather dump a gallon of water on ourselves outside and call it done. But sometimes it is too cold to wash outside and body wipes keep you from using water and grey tank space. 
17) Head Lamp
You should always have at least one headlamp anyway because they're great for all sorts of purposes. But particularly when you're trying to save power, flipping off the lights and turning on a headlamp is a great way to do this. 
18) USB Fans
We have an awesome Fantastic Fan roof vent that does a phenomenal job of circulating air in our RV. But it takes up a fair amount of energy, so having these handheld USB fans allows you to put the air circulation where you want it at a fraction of the energy consumption.
Plus you can recharge them using a USB plug and minimal energy. 
Tips For Conserving Water
19) Wash everything you can outdoors.
Using biodegradable soap means all the water you use can either be captured in a washbin and reused to some degree or simply kept out of your grey water holding tank.
20) Use washbin in sink.
If you wash dishes or your hands in your sink, capture the water in a washbin and then dump the water outside to save space in your grey water holding tank. 
21) Minimal shower/rinse.
Make sure any shower is a "military shower." If you can rinse outside do it. And if you only have a gallon container to rinse with, at least you can monitor how much water you use to rinse. 
22) Use body wipes.
If you really want to save water on rinsing then use body wipes instead. We're not a huge fan of these. But we always have a pack around just in case we want/need them. 
23) Wipe dishes with paper towel and lightly clean.
Much of the water consumption in washing dishes is in rinsing the dish. So wipe it down with a paper towel first and then you will reduce how much water is needed to clean the dish. 
24) Use spray bottles of soapy water and clean water.
If you want to be hyper-aware of your water consumption you can make a soapy water spray bottle to spray on dirty dishes to then clean. And you can have a fresh water bottle to rinse the soap away. This is minimalism at its best. 
Tips For Conserving Power
25) Turn everything off you don't need.
This should be common sense when you live in an RV. But sometimes we take bad habits with us from our homes. Turning off switches reduces unnecessary power drains. From water pump switches to power strip surge protectors, even the little lights draw power that you can conserve when you don't need them. 
26) Use headlamps at night.
This will keep you from pulling any power from your batteries, particularly useful when it's been overcast/rainy and you can't top off your batteries. 
27) Use portable USB fans.
These fans use minimal power and you can move them anywhere you want to catch a nice breeze. 
28) Take advantage of the shade.
Whether it's hot outside and you can find a place to park in the shade or you open your awning and sit in a chair beneath the shade, this is a great way to keep cool without turning on a fan. 
29) Take advantage of the sun.
Likewise, if you can park in a spot with full sunshine you can jump-start your solar power recharge. Or keep warm if you're dry camping on a cool day. 
30) Use blinds/curtains.
If you draw the blinds/curtains over your windows on particularly hot days you can reduce the sunlight that generates heat inside your RV. Likewise, open them to allow the sun to help warm you on cool days.
About Author