Last Updated on September 2, 2022 by Chris and Lindsay
Free camping in Baja, Mexico can be done safely in many places. And while we have compiled a great list of places for camping in Baja, during our travel through Baja, we found that some of the best campgrounds are also free ones.
So not only do you get to wake up in some of Baja's most beautiful places but also you get to give your wallet a break! 
In this post, we'll give you the quick layout of our best choices for free camping in Baja. 
Do note that we rely on the iOverlander mobile app to provide us the most recent user experiences for the campgrounds listed.
While we want you to know that in 2019-2022 we have 100% positive experiences in these camping sites, there is always the possibility that one person or another might have a negative experience.
Or, more likely, some of the policies or people associated with these locations may change. We want you to know why we chose these spots, but encourage you to check the most recent iOverlander updates to ensure that it is still possible to camp there. 
Also, note that these recommendations are not for Class A motorhomes. If you're headed to Baja in a Class A you are going to want to plan your trip from one formal RV park to the next. 
However, these campgrounds are ALL suitable for truck campers, vans and Class C motorhomes (our good friends with a Class C towing a Jeep stayed with us at most of these spots).
Note: Know that Baja is a special place. So when you plan to camp in Baja please be mindful to respect the land, the people and the rules and laws in place to protect Baja.
Auto insurance is required in Baja. We shopped around and found that Baja Bound offered the best rates. The longer you travel in Baja, the cheaper it becomes!
Best (SAFE) Free Camping in Baja, Mexico
While it is hard to pick the absolute best free camping in Baja, these are listed with the ones we most preferred at the top. Know that we have stayed at all of these, and will again because we love each one for what it is!
Note that the abbreviations stand for BN = Baja Norte and BCS = Baja California Sur.
1) Playa Tecolote (La Paz, BCS)
Playa Tecolote is typically at the top of the list both for best free camping in Baja and the best beach camping in Baja.
And it would be for us too, except the wind makes Tecolote a hit-or-miss opportunity. 
It is still 100% free, wind or no wind. There is talk about charging for camping. Honestly, it's surprising that there are not already fees for this beach. 
However, at the time of writing, you can get a beachside camping spot with nothing but pelicans as neighbors for absolutely nothing.
There are a few restaurants/bars on the first part of the beach in the event you'd like to do some socializing or don't feel like cooking.
But you won't be overly harassed by beach vendors here. 
Additionally, the views are spectacular from your beachside camping spot. Isla Espirito Santo stands just miles away and the water between the island and shore can be spectacularly clear and inviting.
During calm days you can SUP, kayak, swim, snorkel and fish to your heart's content. 
But the wind. Be mindful of the wind. 
In the event that Tecolote is windy, and is forecast to be so for several days, you can make your escape back to Playa Pichiligue where you will be mostly sheltered from the wind at Tecolote.
Also of option is to enjoy the day at Ballandra, opposite of Tecolote, as they have typically opposite wind patterns.
Note, camping at Ballandra is not permitted. But sometimes you'll be asked to leave and other times you won't.
We don't advise planning to stay the night at Ballandra, as it is a national park and we always try to promote respecting the Mexican law.
But it is a good second spot in the event Tecolote is too windy for comfort. 
Also, know that cell service is intermittent at Tecolote.
At the time of writing, there is no cell service as there is a dispute over the land ownership of the nearby cell tower. This dispute could lend a resolution in either direction and things in Baja are always subject to change.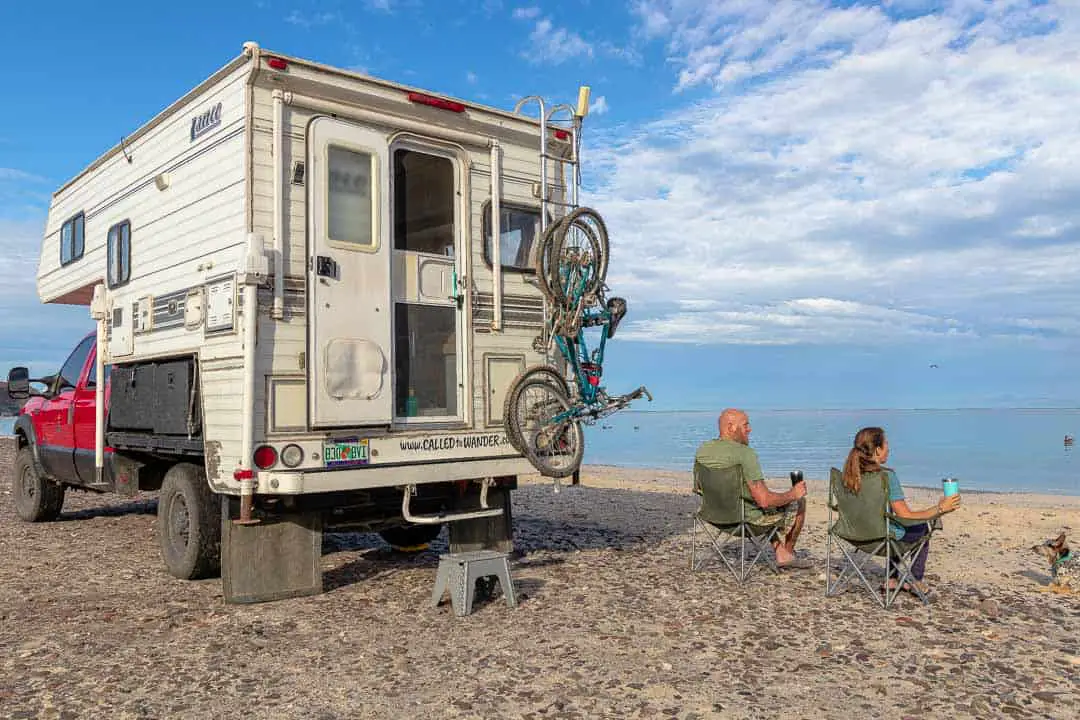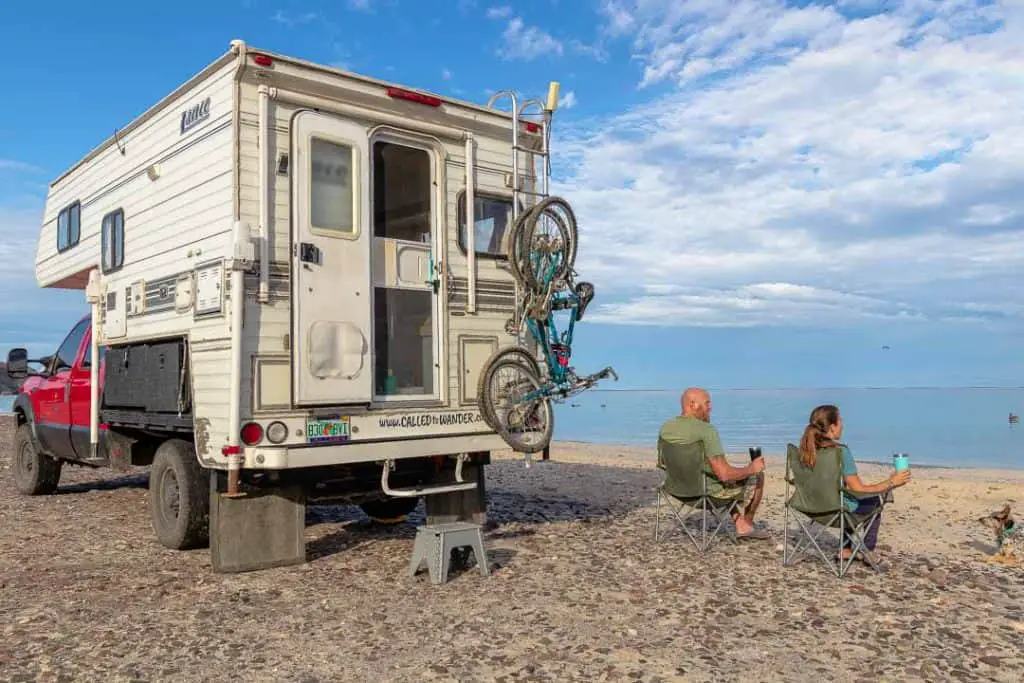 2) La Gringa (Bahia de Los Angeles, BN)
Our first free camping in Baja spot, and the only one in Baja Norte that made our list, La Gringa is at the very end of the bay at Bahia de Los Angeles.
While there are two reasonably affordable camping spots nearby, both were entirely booked when we tried to camp. 
As such we followed iOverlander to a beautiful alternative to camp along the beach at La Gringa.
Technically La Gringa is not a free beach. So we were hesitant to list it. So consider this option as the (cheap) exception to the rule in this post.
But we stayed for free many nights with no sign of anyone official and we are told it is rare that campers are charged.
If they are charged, it is usually under 100 pesos, which is incredibly reasonable considering the spectacular experiences the bay affords. 
We love La Gringa because we can camp on the beach. It is a rocky beach – more like a pebbly beach – so don't expect white sands.
But the beach is firm so there's little worry about getting stuck. And while the tide can rise pretty high, particularly during full and new moons, you can camp without worrying too much about the elements. 
On calm days you can see the many islands throughout the bay and can even SUP or kayak to them as you please.
The fishing is great from shore. And there is a unique feature of the beach in which there are thousands of colorful starfish in just a few feet of water. 
We would have stayed at La Gringa much, much longer were it not for the wind that picked up out of nowhere and did not relent for two days.
This can be the downside of camping at La Gringa. The bay is popular with kiteboarders and windsurfers, and for good reason. 
But like all windy campsites in Baja, this is seasonal, mostly unpredictable and can be countered by moving to the other side of the bay and paying for a camping spot in one of the two campgrounds closer to town. 
Additionally, there is no cell service at La Gringa (or virtually anywhere in BoLA).
So if you are looking to isolate yourself from the worries of the world, this is a great option for you!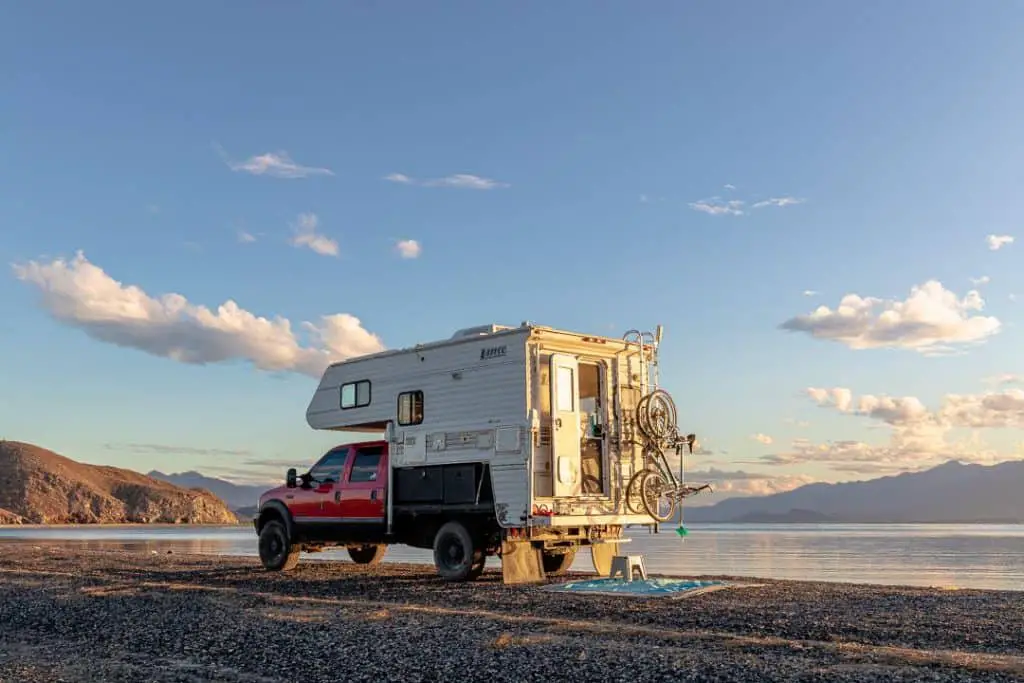 3) Plaza de San Ignacio (San Ignacio, BCS)
The plaza in San Ignacio ranks high on our list of free camping in Baja because it is truly a unique experience.
San Ignacio itself is an oasis. After driving through the desert for hours from either direction you enter a palm-lined road that leads to a lush, colonial village. 
As you approach the heart of town the road becomes lined in cobblestone.
This leads into the plaza where you are permitted (and even encouraged by the municipal police) to camp along the fringe of the plaza. 
San Ignacio is a gem in Baja for its resilience to change over time. While the plaza is the center of town, it's famous 250-year old mission still stands tall at one end of the plaza.
We camped here on several different occasions and had amazing and different experiences each time. 
From playing sports with local kids to entertaining the police with our guitar, the plaza is a great way to infuse yourself into the small town. 
Until/unless the policy changes, camping at the plaza will always be free.
There are several formal campgrounds just outside of town if you need/want amenities.
But when it comes to free camping in Baja there are few more unique and safe opportunities than this to camp in the center of an old and historic town.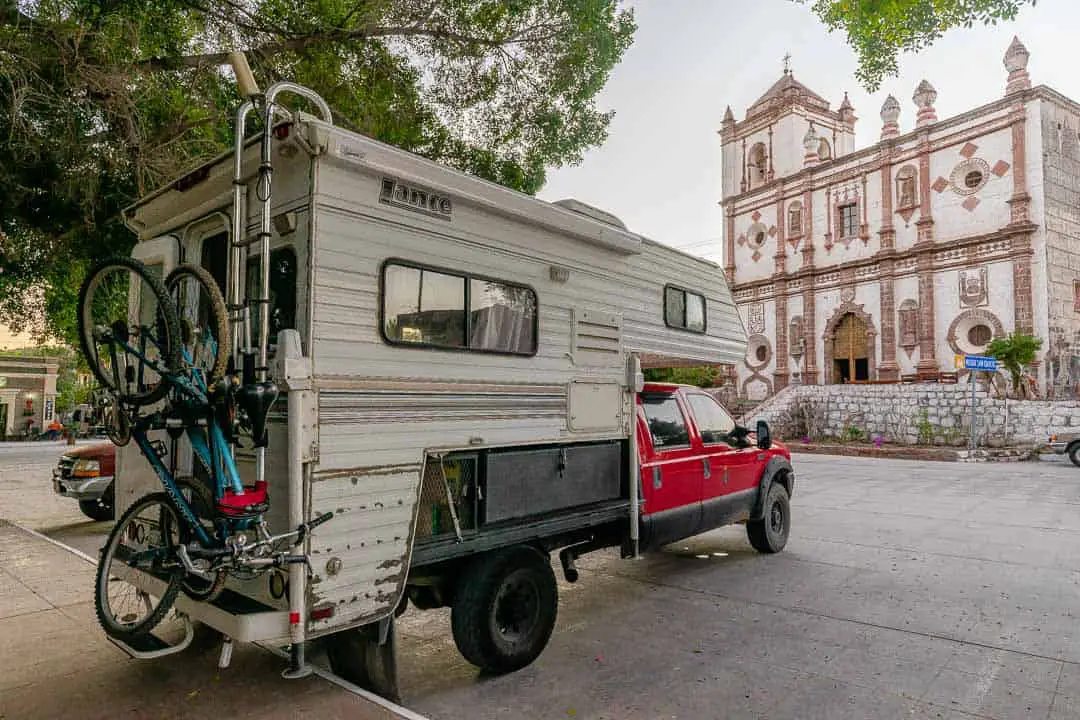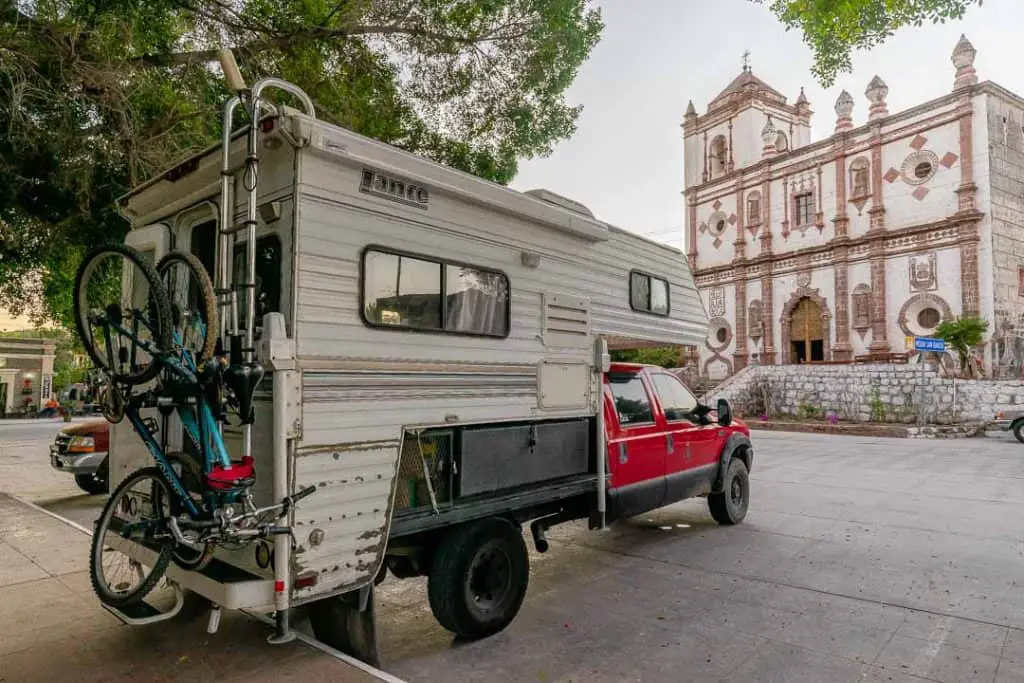 4) La Pastura (Todos Santos, BCS)
We love our beaches. And while we personally enjoy the Sea of Cortez side of Baja to the Pacific coast, La Pastura grabbed our attention as a great free camping in Baja option.
While Todos Santos attracts visitors for many reasons, it is the surf of La Pastura that brings people to this camping spot just 15 minutes north of town.
On the days we were there the surf was spectacular and it was fun to spend our mornings sipping coffee while watching surfers race through the barrels of the waves. 
La Pastura itself is just a big open – ok, let's just call it what it is – "pasture."
But it can accommodate hundreds of campers if necessary without really infringing on personal space.
In the times we camped at La Pastura there were isolated clumps of campers everywhere as the surf was great during our visit.
But we could carve out our own space, run our generator as necessary, and generally feel as though we had a space of our own with the comfort of knowing that people could help us out if needed. 
Which is to say, the only time in 40,000+ miles of living out of our truck camper that we found ourselves stuck in the sand was at La Pastura.
But that was our fault as we arrived at night and did not have the full layout of where the sand was hard-packed and where it was soft.
In walking La Pastura over during the day it is very clear where you should and should not try to drive (unless your vehicle handles soft sand well). But at night we were blind and became stuck.
Still, on New Year's Eve, within seconds we had a dozen fellow campers pitching in to help us out of the sand. 
You'll still have decent cell service at La Pastura and there is a mini-mart, laundry service and a few small restaurants just minutes away if you don't want to go all the way back the excruciating 15 minutes into town.
Additionally, the Tortugueras Las Playitas (turtle rescue) is about halfway between La Pastura and town.
So if that is on your list of things to see and do in Todos Santos then it's a pretty easy check in the box. 
Note that once you know the lay of the land of La Pastura then coming and going at night is safe and reasonably easy.
This is important if you plan to spend the evening in town and/or release the turtles, which happens only after the sun has set.
On nights we arrived back to La Pastura in the dark we were conservative and picked a spot on the hard-packed ground still all to ourselves.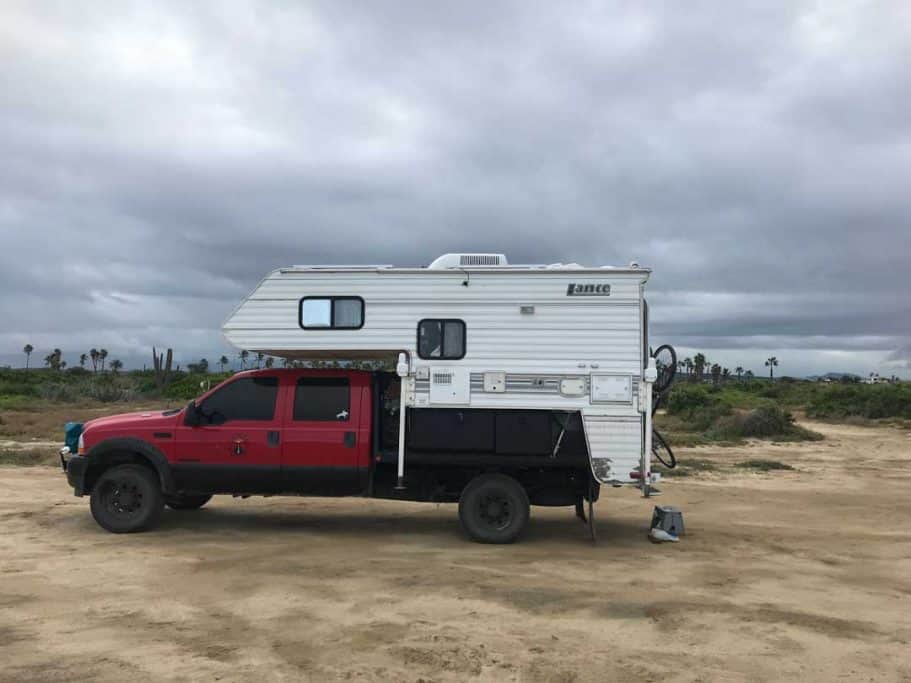 5) Scorpion Bay (San Juanico, BCS)
Scorpion Bay is another Pacific coast camping opportunity that puts you in the heart of great surf.
It is not for the faint of heart, however, as camping on the beach will take you into lots of soft sand that will require 4 wheel drive (or lots of volunteers to push you out!). 
We ended up camping on Scorpion Bay on accident. You might want to make it a destination if you enjoy summer waves. 
While we dropped into San Juanico from the north down a road nearly impassible (and certainly requiring 4 wheel drive), you can drive from the south on a perfectly paved road to reach the small town.
Ironically enough San Juanico has no paved roads in town.
But if you're making your way out to San Juanico you're likely more interested in the surf than the roads. 
6) Street Parking (San Miguel de Comondu, BCS)
The Comandus are a special place, made up of two towns – San Miguel de Comondu and San Jose de Comondu.
And while they are nearly a stone's throw from San Javier, just outside of Loreto, accessing the Comondus is best arranged from the Pacific Coast just outside of San Juanico. 
The Comandus are quiet and take you back in time to post-colonial Baja.
The older, adobe buildings that are washing away year after year are reclaimed for the new buildings.
However, the facade of the old buildings must remain intact while the new buildings are built behind the old ones. 
There are lots of trails to explore in the Comondus along with the culture. Similar to San Ignacio, the town is paved in cobblestone and you are welcome to camp almost anywhere.
There's a bit of a rough road between San Miguel and San Jose.
But spending time in San Jose de Comondu is worth the drive as there is a beautiful, small mission next to the town plaza.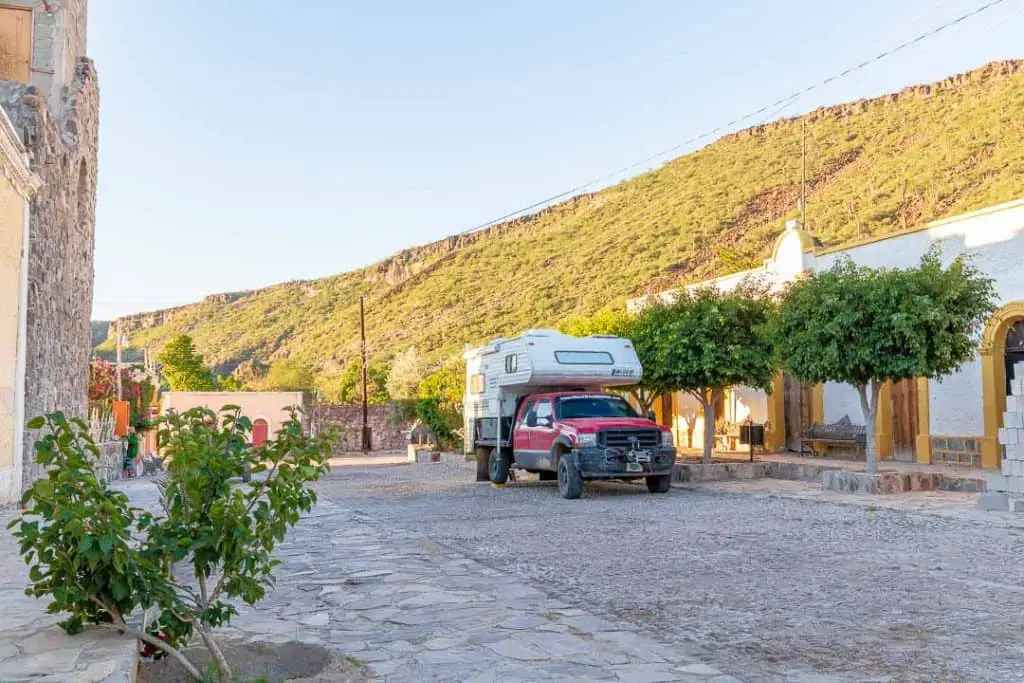 7) Arroyo (Los Barriles, BCS)
If you're looking for free camping in Baja along the East Cape you're going to have to look pretty hard.
Los Barriles, in particular, is a gringo town full of ex-pats. There are several nice RV parks that start around USD$20 for dry camping. 
But if you're reading this post, you're not looking to pay for dry camping.
So head out of town, to the north, to the second arroyo (drive river bed). Here you will pass Playa Norte (the RV park) and turn down a dirt road toward the Sea of Cortez.
There are ample campsites in the arroyo, virtually anywhere you feel comfortable parking. 
There is soft sand, so do mind where you drive.
But for Los Barriles you won't do any better for free camping. It's only a 15-minute walk to town, which you can do either on the sandy beach or along the road. 
The East Cape is seasonally windy and has thus attracted kitesurfers and windsurfers from all over.
As such, you'll find there are semi-permanent campers in the arroyo. This has led to a secondary market for propane, water and dumping where you can figure out which days these services arrive in the arroyo and you too could plan to stay for months if you wanted.
There is also 4G cell service so if you are like us and need to get some work done you can do that here. 
In calm water there are leaping bat rays, migrating whales and you can catch dorado and other great fish right from the shore.
Paddle out in the morning on your SUP and pick up driftwood for a campfire at night.
Although this is listed at #8, it is an amazing place to camp on the East Cape.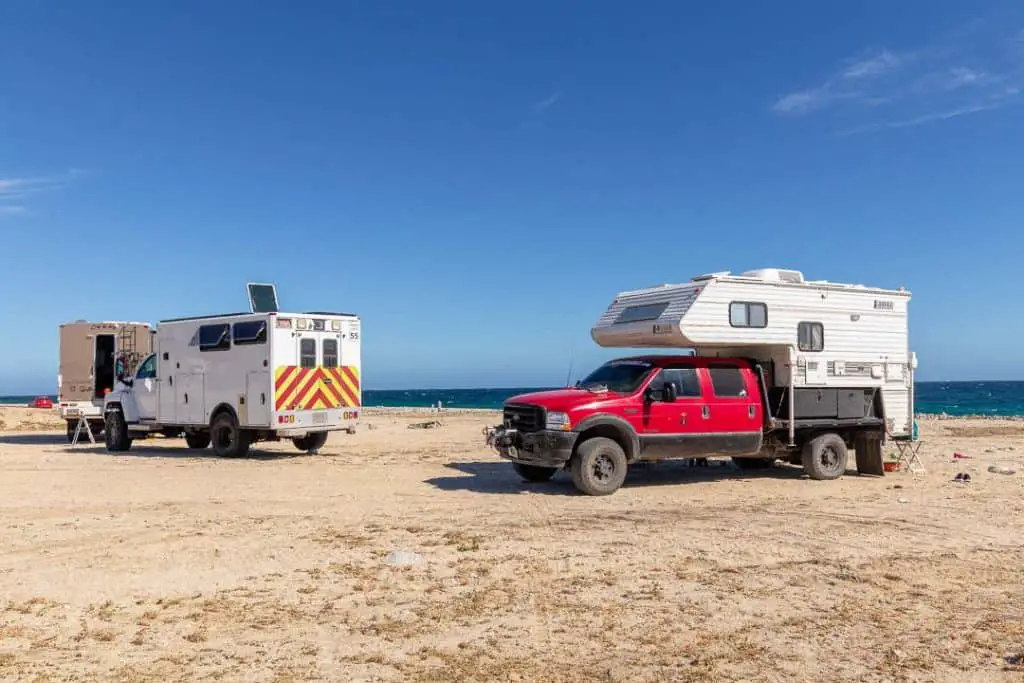 8) Los Frailes (Cabo Pulmo, BCS)
Cabo Pulmo is legendary for its natural beauty. The town itself is tiny and mostly full of tourist shops for snorkeling and diving.
But on either side of town, there are plenty of great places to camp.
In fact, one of our favorite campsites is just to the south of Cabo Pulmo. At 60 pesos per person, it might as well be free. But because there is a charge is cannot make our list. 
Instead, Los Frailes is your best free camping in Baja for Cabo Pulmo.
Like some of the other beach camping, this is a long and wide stretch of beach with many semi-permanent residents camped all throughout the beach. 
Los Frailes tend to be protected from the wind that will rip through the rest of the cape.
As such there are a fair number of fishermen that use the beach for launching their endeavors. But it still remains a relatively quiet beach. 
Don't expect cell service. And the road into Los Frailes is just about as difficult coming from the south at Cabo San Jose as it is from the north.
So be sure you pack in what you'll want to have for a few days. 
But if you are looking for quiet and solitude at the bottom end of the Baja peninsula then this is about as quiet and isolated as it gets. 
9) La Playa (Mulege, BCS)
While we found that we thoroughly enjoyed our basic campground closer to town, camping on the beach in Mulege is both safe and free.
There are a few palapas to offer some protection from the sun, though the wind can often be as brutal here as other beachside camping along the Sea of Cortez. 
If you prefer this free camping in Baja what you save in camping expenses you will lose in time getting back to town.
But if you stock up on supplies in town and want a little privacy then you'll enjoy the beach of Mulege. 
There's a lighthouse that guards where the river meets the sea and a small restaurant where you can grab some food if you'd like.
Otherwise, you may have the company of some locals from time to time. But the beach is safe and the price is right and you'll still have cell service if you need it.
Wrapping Things Up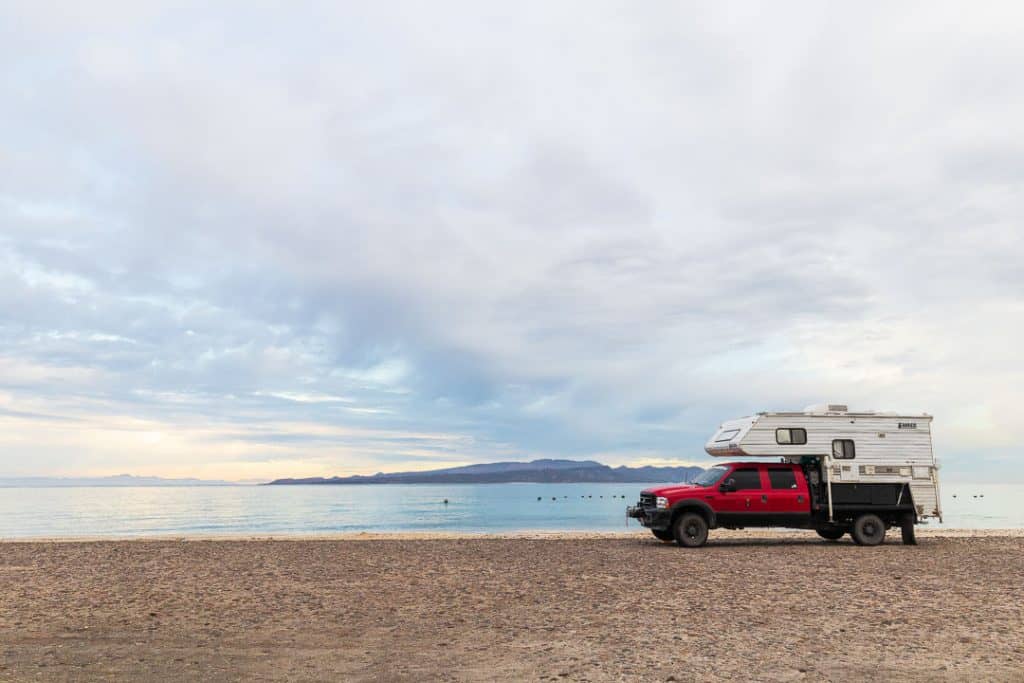 Free camping in Baja is both possible and safe. Don't get us wrong – you can't free camp everywhere you like. And after camping in Wal Mart and Cabela's across the US, we don't advise you to plan the same in Baja.
But there are plenty of great, free places to camp where you'll end up with spectacular views at no cost.
There is always safety in numbers. So if you find yourself the only camper at one of these places we would advise you to find the closest pay campground for the night.
But in general, you will have a great time, a great view and save a few pesos camping at any of these locations.
Please let us know what you think!
About Author