We have set out to track our actual RV travel budget and expenses in order to help you understand the actual costs of RV living. While there are many factors that impact your budget, we found that there are not many realistic examples of RV budgets out there to study.
You can view our actual accounting with each individual expense in this Google Sheet. We update it virtually on a daily basis (as long as we have reliable internet!) so you can literally track our expenses as we incur them!
But if you are not interested in the nuts and bolts of our full-time daily living expenses, we welcome you to read on for a summary about each particular month. In each monthly budget post, we'll provide you not only with the specific line-item expenses but also with any tips and tricks we used to stay within budget!
We break our monthly expenses down into the following items:
$800 "Fixed Expenses" (Standard things like insurance, cell phones, and other "home" expenses)
$1,200 "Travel Expenses" (Roughly $40/day for meals, camping and everything else)
Join along and see how we do each month!
RV Travel Budget – January 2022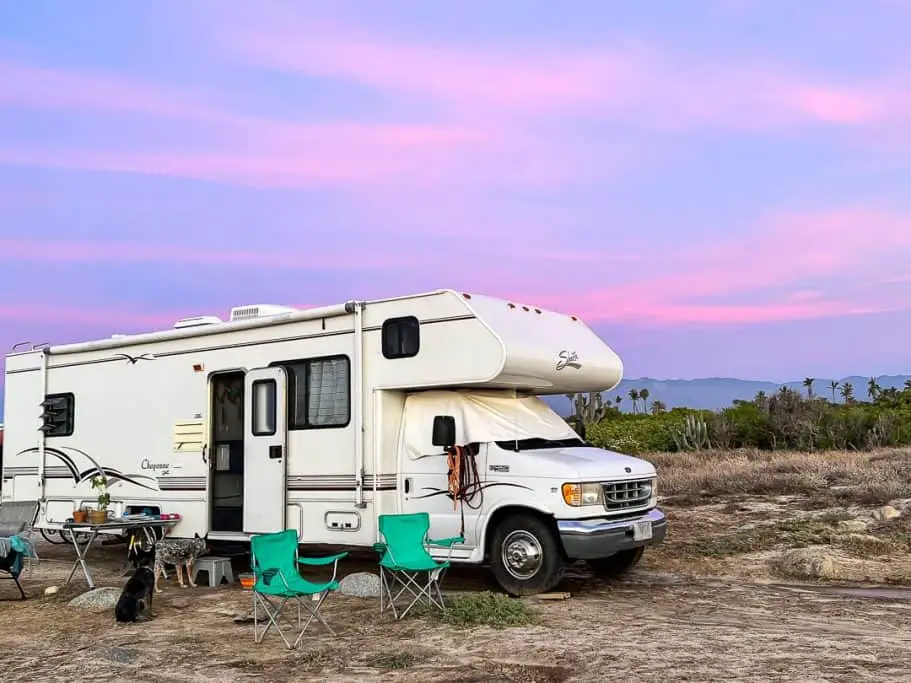 January began in a familiar place for us, the large free camping area of La Pastora on the outskirts of Todos Santos. We celebrated our 8th Anniversary at the beach and woke up on New Year's Day to enjoy our coffee while watching surfers catch waves at one of the best breaks in all of Baja.
We made friends with another couple at the beach and learned about a new campground just south at Pescadero. There was one spot left for the month so we grabbed it, thinking that being stationary would be good for work. It was an expensive campground – but the monthly rate was fair enough and under our overall budget.
Unfortunately, 10 days into our stay we realized that we were out of place. Despite long walks through the desert to the beach each morning and the best WiFi in all of Baja, something just wasn't right. So we decided to head back to our "happy place," which was along the Bay of Concepcion.
We spent a few days enjoying no cell service and the quiet beach before heading back to Mulege to set up camp again at Don Chanos as we waited for our friends Scott and Melissa to join us from Arizona.
There, we settled back into our Mulege routines – paddleboarding and walking in the mornings, working throughout the day and enjoying incredible sunsets along the river. The fishing wasn't as good this time around. But life was good this month!
READ MORE: Find out more about our entire budgeting and spending process in this post!
A Quick Overview of our January 2022 Travel Budget
| | | |
| --- | --- | --- |
| Expense | Amount | Daily |
| Camping | $467.50 | $15.08 |
| Groceries | $363.00 | $11.71 |
| Meals Out | $243.50 | $7.85 |
| Other | $25 | $0.81 |
| | $1,099 | $35.45 |
| Fixed Expenses | $800 | |
| Total Expense | $1,899 | |
| Total Budget | $2,000 | |
| UNDER BUDGET | $101 | |
In all, we were under budget for the month if we don't include the fuel we spent backtracking from La Paz to Mulege. Fuel aside, our January expenses were about the same as our December expenses.
Camping was higher than we'd like because we spent most of the time in campgrounds between Pescadero and Mulege.
And we spent more going out to eat than we did on groceries as we enjoyed the company of new friends in Pescadero.
We didn't have any surprises, however. So aside from having to do some laundry and top off our propane in the RV we had minimal miscellaneous expenses.
Our Fuel Budget
We spent more money in fuel in January than we anticipated strictly because we decided to drive back north from Pescadero/La Paz to return to Mulege. This decision resulted in us purchasing one tank of fuel for $162.50 that we filled up in La Paz prior to the long drive north to Mulege.
We also spent another $190 topping off our tank before we settled down in Mulege for the remainder of the month.
We could have lived on just one tank of fuel this month if we decided to remain in the southern end of the peninsula. So we will need to be conscious of this in February and hope to find a place we stay for long periods of time that will require no driving and thus a greatly reduced fuel expense for the month.
READ MORE: See our exact expenditures summarized above in this Google Sheet where we track day-to-day expenses and leave you notes for what and why we incurred each expense!
A Breakdown Of Our Expenses
Below is a breakdown of the circumstances and situations we found ourselves in that allowed us to remain under budget for the month.
Camping – $467.50 ($15.08/day)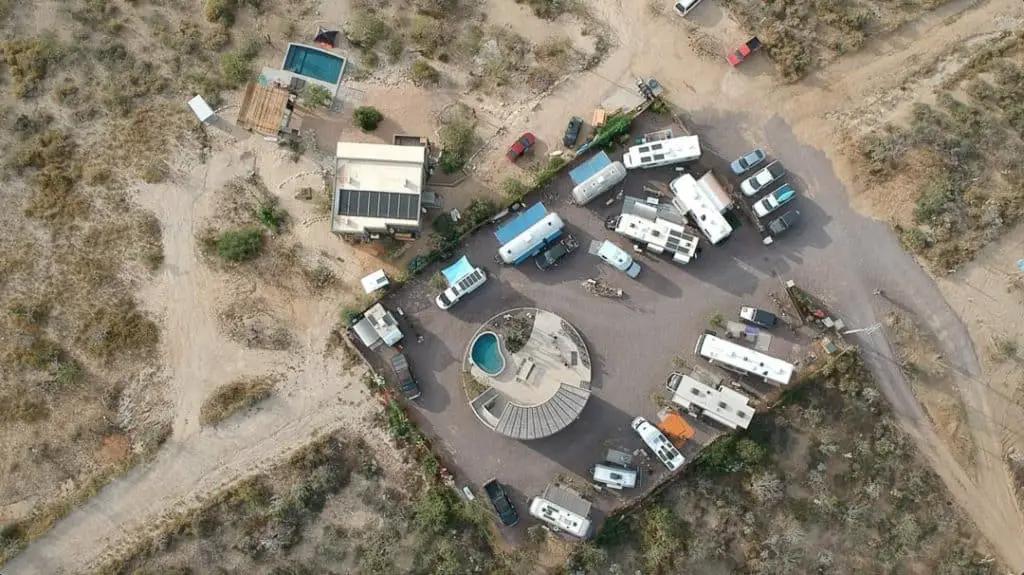 The month started great, with a few free nights of camping at La Pastora, just outside of Todos Santos. From there we spent 10 nights camping at Casa Caravan in Pescadero for $21.25 per night. This was beyond our budget. But with incredibly fast WiFi, a pool and some incredible company, we felt like we could swing the camping expense and make it up elsewhere.
From Pescadero, we traded one campground in for another in returning to Don Chano's in Mulege, where we paid $15 per night for a full hookup. However, rates went up at the first of the month so we were "grandfathered" into our rate, which is now $20 per night moving forward. But at nearly half of the cost of Casa Caravan, this was within our budget for the month because we knew how to live frugally in Mulege.
NOTE: Although our favorite camping membership is Harvest Hosts, we always travel with our Passport America membership. For under $50/year, we usually make our money back within one or two nights. Anytime we decide it is time for a formal campground we always check out Passport America campgrounds first.
Groceries – $363 ($11.71/day)
Our grocery expense was quite low in January. This is partially because we had stocked up well in December. But we also went out to eat more in January than in previous months.
In all, the lower grocery expense helped to offset higher-than-usual camping expenses to keep up within budget for the month. And this did include one big trip to Wal Mart that cost us around $150 in one shot.
Meals Out – $243.50 ($7.85 day)
We spent more than usual going out to eat this month mostly in the first two weeks of the month as we made new friends at the campground in Pescadero and we went out to a relatively expensive place to eat twice ("Shakas").
We did have a lull in meals out as we spent nearly a week camping on Playa Coyote, where there is little option to spend money on going out to eat. But we also returned to Mulege for the last part of the month at had some delicious birria, cinnamon rolls and more carnitas from Danys.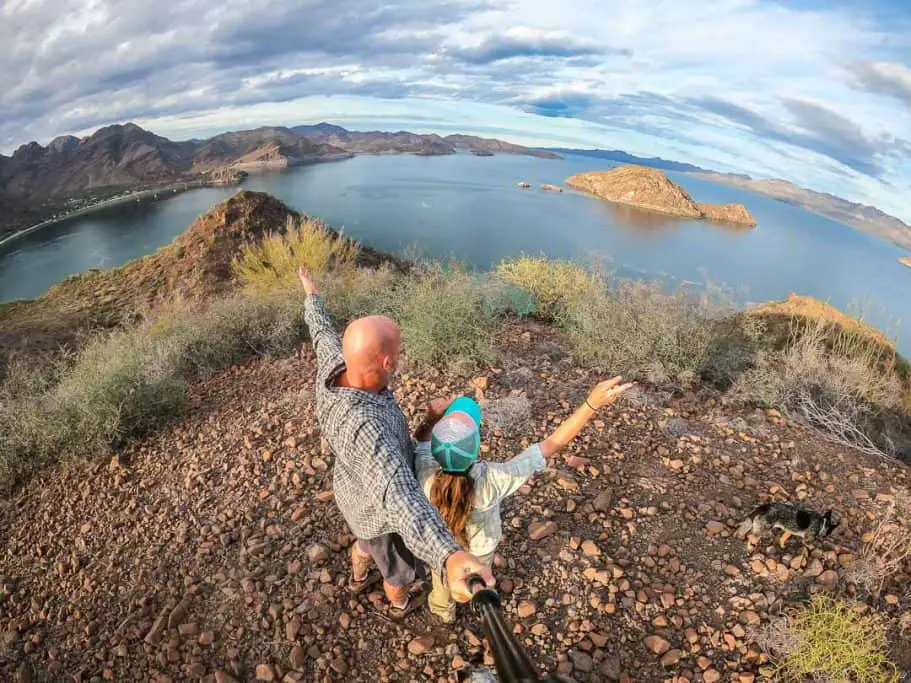 Other Expenses – $25 ($0.81/day)
We didn't have many miscellaneous expenses in January. And there were no surprises – which was nice! We did have to do laundry for $12.50 and we purchased a 55-gallon water container at Playa Coyote to help us last a few extra days on the beach. And we topped off our propane for $5 before returning to Mulege, where propane is difficult to refill in motorhomes.
NOTE: If you plan to visit any number of US National Parks while on the road then do not hesitate to purchase your America The Beautiful pass. This is one of our absolute must-have RVing essentials!
Wrapping Up
In all, January was a great start to the new year from a budgetary standpoint! We had a pretty good life, seeing new places and making new friends while remaining within our budget. Our stand-up paddleboard was a great source of entertainment so we didn't have to go out of our way to spend money on activities.
About Author