Last Updated on September 2, 2022 by Chris and Lindsay
Everything you need to know about RV camping in Todos Santos, Baja Mexico.
Camping in Todos Santos is worth it just to say you did. It is the kind of town that you will either love or hate. 
If you're traveling by RV, there's a decent chance you'll feel like us and be glad you visited and then moved on. 
But you should at least visit Todos Santos while you are in Baja California Sur because it is the kind of town that deserves at least a day of your time. (We gave it 4 days of our time.)
Once made popular by the Hotel California that, incidentally, has no relation to the Eagle's hit song, Todos Santos is now within easy reach of Cabo San Lucas. 
As such it has become quite touristy in recent years (according to locals we met). 
This is great for visiting as a tourist because you can find incredible food, great entertainment and a wide range of arts and culture. 
But if you aren't into the just-got-off-a-cruise-ship-and-rented-a-car scene then you're not going to want to spend more than a day and night in Todos Santos. 
Guide to RV Camping in Todos Santos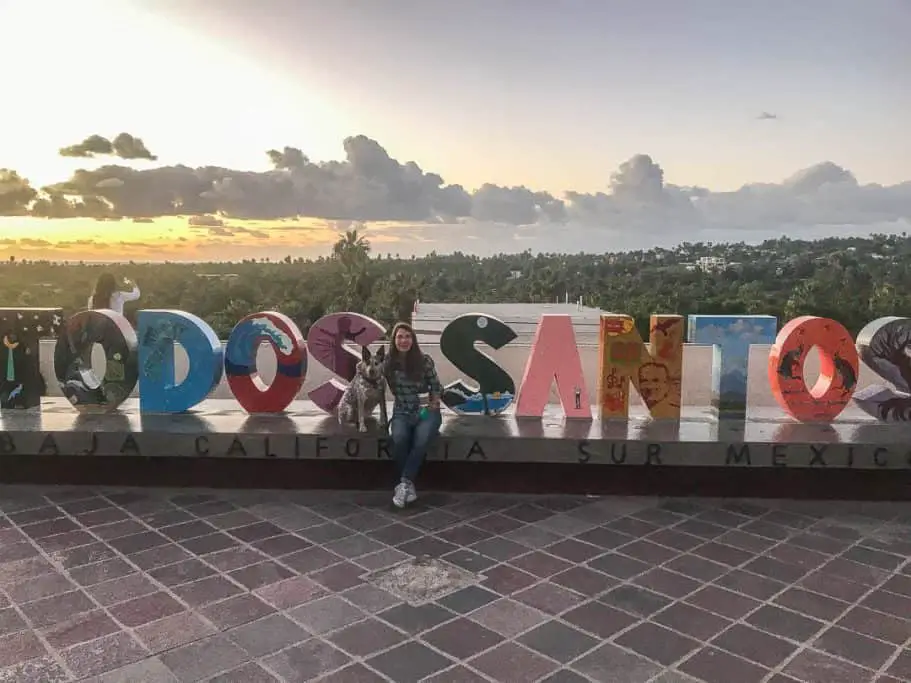 In fact, if you aren't into the touristy thing that is OK because there is only one campground in Todos Santos and you're going to want to pass on staying there (more on that later).
Most streets in Todos Santos are wide enough that you shouldn't have trouble taking your RV through town. Of course, Class A motorhomes will likely need more patience. 
But there are plenty of tourist busses that pass through town so it is doable.
Parking can be tricky and the town is busy. But you can usually find a place to park on one of the side streets when you want to walk around. 
And there are really only two parallel streets that have most everything you want to see and do on them anyway. 
We're going to suggest that you plan to camp just outside of town – you won't be sorry that you did.
Reasons to Visit Todos Santos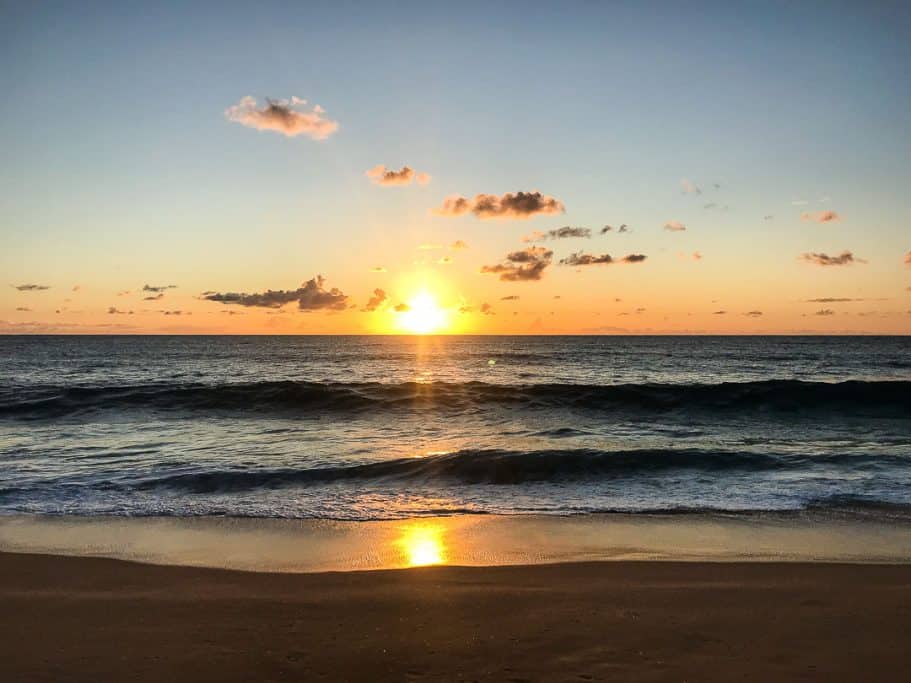 There are plenty of great reasons to visit Todos Santos. For starters, Todos Santos is an artsy town. 
There are lots of studios and galleries through Todos Santos showcasing all sorts of arts and crafts. You can buy pretty much anything you can imagine here. 
There is also a bit of history and culture to the town. Like most major Baja towns, there is a historic mission in the center of Todos Santos. 
It sits on the end of a plaza that can be quite festive at various points throughout the year. 
Many of the streets are cobblestone and offer the romantic feeling of stepping back in time with the decorations that are often draped across the streets. 
During the winter months, you can often see whales breaching just a few hundred yards from the beach. 
And speaking of the beach, Todos Santos offers some of the best surf in Baja just a few miles out of town at La Pastora. 
And if you're looking for a unique way to spend a sunset, you can head down to Playa Tortugas ("Turtle Beach") and take part in the daily turtle release many days of the year (October – March). 
Things to do in Todos Santos
People flock to this part of Baja because there are lots of things to do in Todos Santos. 
Here are a few of the big things you'll want to put on your radar as you plan your trip. 
1) Catch a few waves.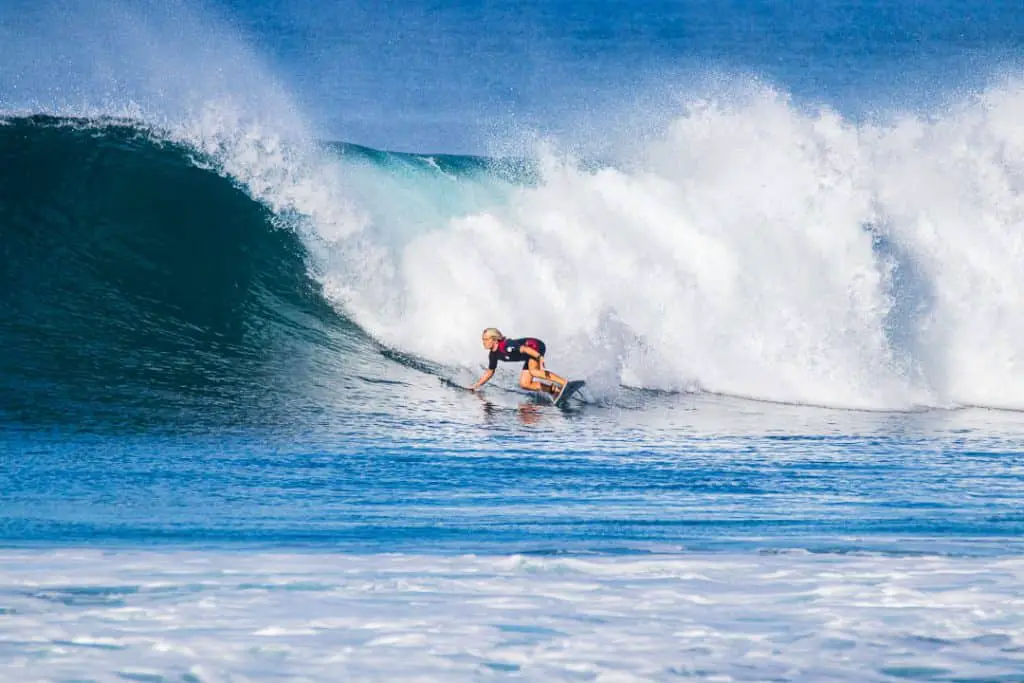 Todos Santos is a top surf spot in Baja, particularly in Baja California Sur. Winter waves can be fickle and summer waves can be massive.
If you aren't into surfing, you can enjoy watching others catch the waves of their lifetime from the shore.   
2) Release a turtle at sunset.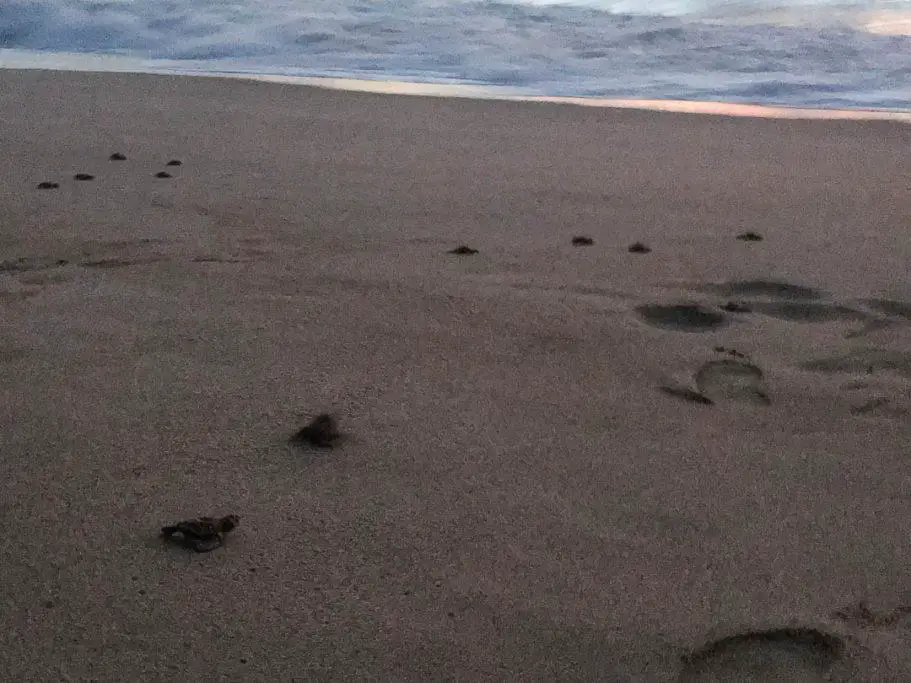 As long as there are turtles hatched during the day, there will be turtles released at sunset at Turtle Beach. You don't have to pay to participate (though donations are greatly encouraged).
And you can even volunteer to be the "biologist of the day" where you can actually help hatch the turtles from the nests throughout the day. 
3) Spy whales and manta rays from the beach.
While most people flock to Turtle Beach to release the baby turtles, during the winter months you can see whales and manta rays breaching the Pacific Ocean right from shore.
Watch the winter waves pound the shore and see whales and rays frolic in the ocean! 
4) Take a photo outside Hotel California.
Again, it is not THE Hotel California and legally they make sure the differentiation is very clear.
But you can't walk past the building without the song coming to mind so you might as well take a photo while standing in front of it. 
5) Shop to your Art's Content.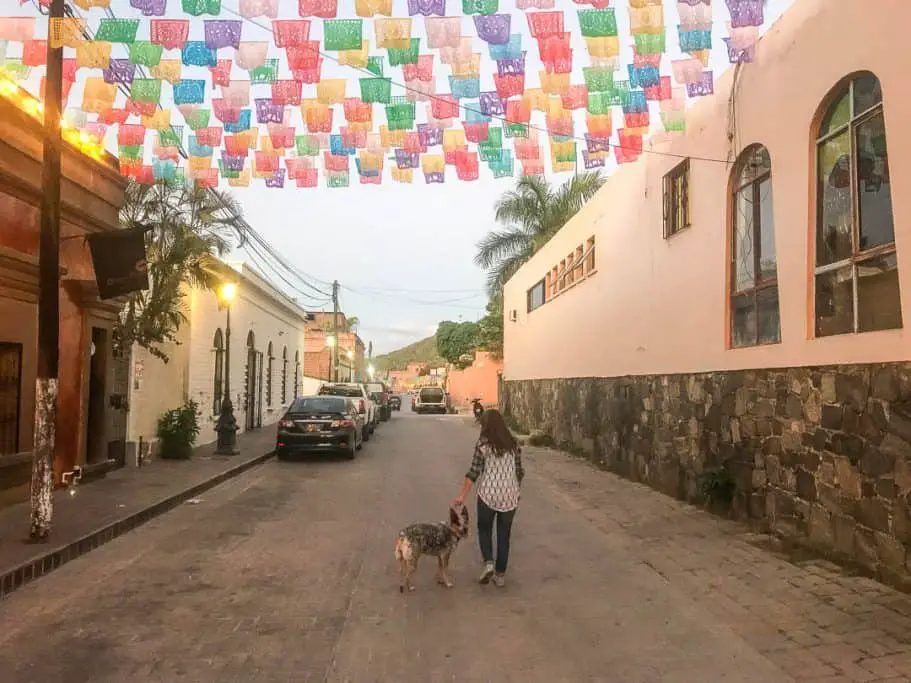 There are plenty of great souvenirs to buy in Todos Santos. And there is actually a decent chance that most of the stuff for sale is actually made by artists in Todos Santos (unlike the other things vendors try peddling in other Baja locations).
Buy something big or small to remind you or your friends and family of your epic trip to Baja. 
Our Experience Camping in Todos Santos
Honestly, we were disappointed by Todos Santos. But part of that has to do with the fact that we were stuck in La Paz trying to fix our truck on the day of our anniversary, which happens to be New Year's Eve. 
We left La Paz later than we wanted and thus we missed booking a hotel we wanted to splurge to celebrate our anniversary and New Year's Eve. 
So we ended up driving out to the free camping at La Pastora and, though we got stuck in the sand for the first time in over 40,000 miles of driving across North America, we absolutely loved our experience there. 
We planned to visit Todos Santos so that we could volunteer with the Turtle Rescue. But as we never heard back from them we at least wanted to go to a turtle release at sunset. 
In doing so we made friends with a longtime volunteer with the program who convinced us that Todos Santos was worth a few more days of our time.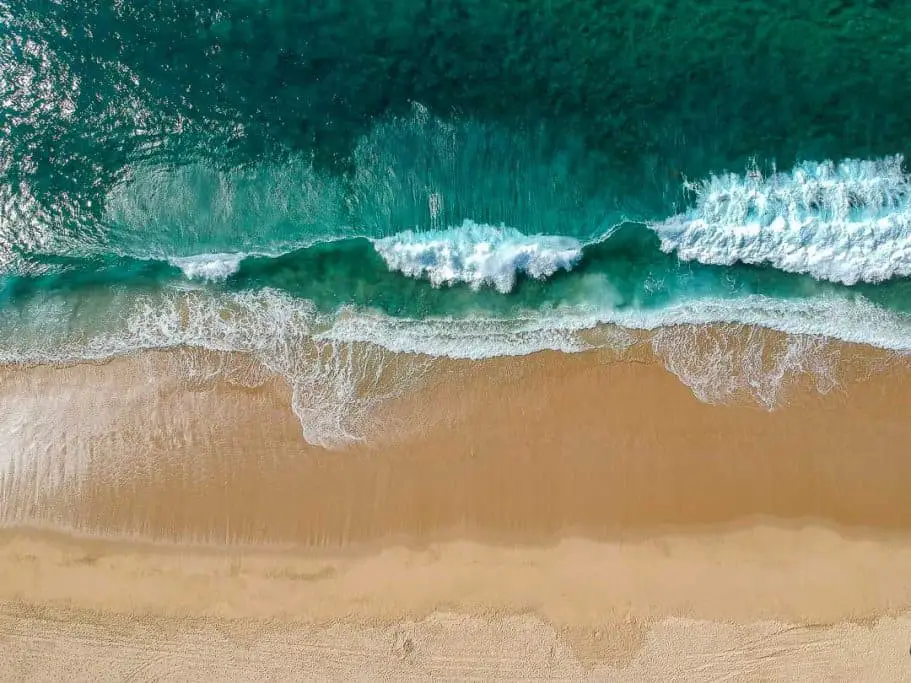 So we camped at La Pastora for several nights. Each morning we'd enjoy our coffee while watching surfers catch massive waves (a swell was in with double overhead waves!). 
Then we'd drive ten minutes to Turtle Beach and hang out for the day before catching the sunset and a turtle release in the evening. 
One night we decided we wanted to camp in Todos Santos so we could stay out late and walk back to our truck camper without having to drive back to La Pastora (which is only 20 minutes down a mostly-paved road). That was a mistake (more on this later). 
But we did get to spend one night hanging out in Todos Santos, spent a few afternoons walking around town, and feel as though we saw enough to enjoy ourselves without feeling like we needed to stay longer. 
We also met Alex who started the Todos Santos recycling program called Ecorrevolucion. We spent a few hours helping to sort recyclable materials that were dropped off at his facility.
Getting There
Todos Santos, like most popular towns in Baja, is located right off the main highway. The same HWY 1 you likely drove most of the way down the Baja peninsula splits just south of La Paz. 
To get to Todos Santos you'll want to head west on HWY 19. Be mindful of the road signs as they BOTH say "Los Cabos." But the one for HWY 19 says Todos Santos and you'll arrive in town in just over an hour from leaving La Paz. 
The highway is in the best condition it has been anywhere in Baja so you don't have to worry much over the road conditions.
There is a southbound exit to head into Todos Santos, so you will need to be aware that you will exit the highway to drive into town. If you miss the exit there is a southern entrance to town a few miles down the road. 
The main road off the exit will dump you right into the heart of Todos Santos where you will be able to decide whether to stay in town or to take the road out of town toward La Pastora. 
Camping In Todos Santos
Camping in Todos Santos can be a nightmare. This is why we'd advise you to consider camping just outside of Todos Santos. 
There is only one established campground in Todos Santos. That is El Litro RV Park. 
If you are hard up for a place to plug in, shower and dump your tanks then this is a decent option. For around 250 pesos you'll get a full hookup. 
But the RV park is not in a nice neighborhood. We had to fend off several street dogs and if it's raining you'll be walking several blocks in mud to get to the heart of town. 
Further, we were given the last campsite which happened to be infested with fleas. We would rather have been told this upfront, in which case we would have returned to La Pastora.
Instead, we found that our poor dog was covered in fleas, as were we, within minutes of getting out of our truck.
Fortunately the next morning we received a full refund which, incidentally, was the same amount it cost for us to get fast-acting flea treatment for our dog. 
The refund didn't cover the cost of doing all of our laundry, since we were quick to fight off a flea infestation in our tiny home. 
This is why it is best to camp just outside Todos Santos rather than to count on camping in Todos Santos.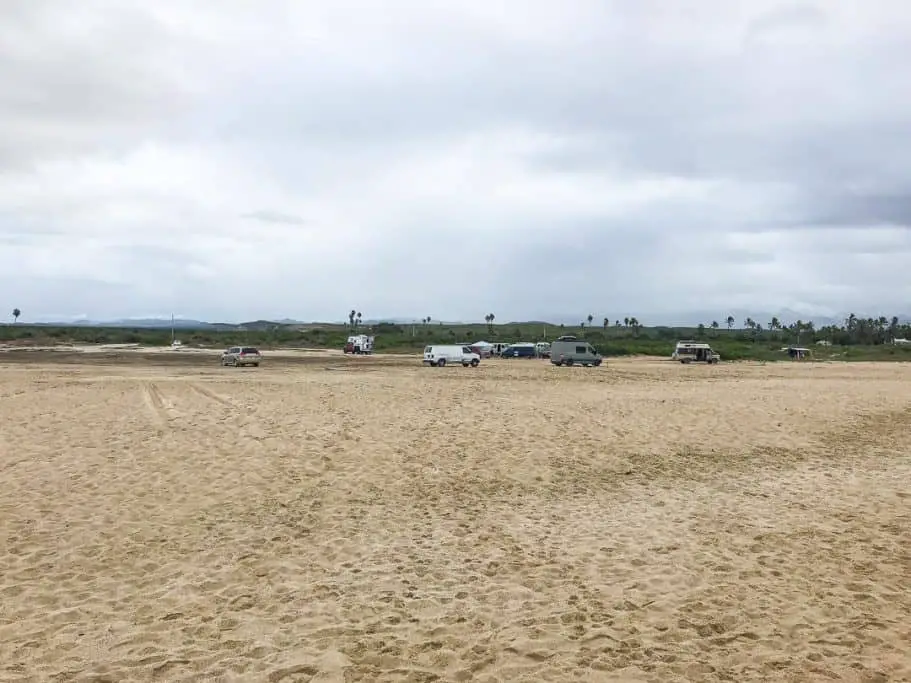 And for that, La Pastora is your best and only bet. Just 20 minutes from the center of town, La Pastora is exactly what its name means: a huge pasture. 
You'll drive a few short miles (though road conditions vary between potholes and washboards) north of town along the coast, passing Turtle Beach along the way. 
When you turn toward the ocean you'll find you have a variety of options and the pasture will be likely wide open. 
Even with several dozen RVs, vans and cars spread out over the property there is still plenty of room. 
We do advise that you arrive during daylight, however, as there is intermittent soft sand that is near impossible to see at night. We did get stuck on our first night. 
Fortunately, a dozen other campers came over to help and we were free in 5 minutes. That's the kind of place La Pastora is. It attracts good people. 
All camping is informal and boondocking. There are several spots tucked away behind cactus and shrubs that offer a bit more privacy. But even if you camp in the wide-open you'll likely not have a neighbor. 
If you're brave and/or trust your 4-wheel drive you can back up to the ocean on the softest of the soft sand. But you'll find most campers spend the night a hundred yards or so away from the shoreline.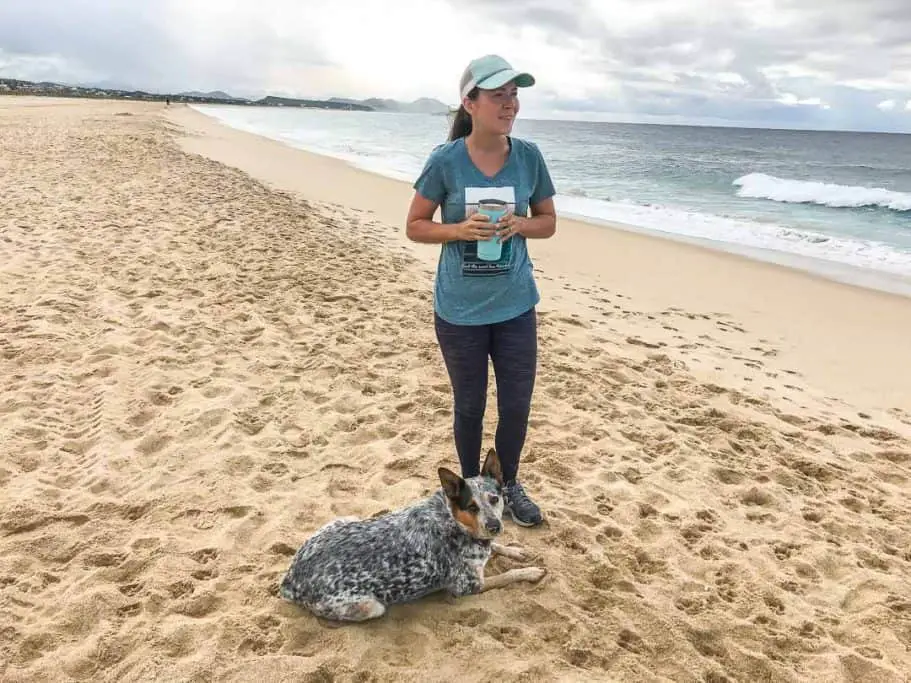 If you are social, at night there are typically fires and music and you can make friends and stay up all night. 
And if you're not a night owl, you'll meet everyone in the morning as almost everyone who camps at La Pastora will either be in the water surfing or sitting on the beach watching. 
Although it was not picturesque, La Pastora was one of our favorite campsites in all of Baja. 
Key Resources for Camping In Baja
As we recommend that you do your camping in Todos Santos at La Pastora just outside of town, this table will help you gauge what you need to do in La Paz (or Cabo San Lucas) prior to arriving in Todos Santos. 
| | | | | | |
| --- | --- | --- | --- | --- | --- |
| | | | | | |
| Fuel | Y | Several stations in town. | WiFi | N | |
| Groceries | Y | Small shops. Bigger buys are best done in La Paz. | Hookups | N | Boondocking.  |
| Propane | N | Stock up at Caligas on HWY 1 on your way out of La Paz | RV Size | All | La Pastora can accommodate any size RV. |
| Water | Y | May not have a hose if you need one.  | Amenities | N | You are boondocking. Bring what you need.  |
| Cell | M | La Pastora has hit or miss service.  | Safety | – | The safety is in numbers. You're likely as safe as everyone around you.  |
About Author