Last Updated on September 2, 2022 by Chris and Lindsay
Everything you need to know about RV camping in Mulege, Baja Mexico.
Camping in Mulege should be at the top of your Baja itinerary. Mulege is a beautiful, quiet oasis town in Baja California Sur with a reputation for remaining mostly "Mexican," despite the recent influx of ex-pats and the proximity to the famous Bay of Concepcion. 
By far, Mulege is near the top of the list of our favorite Baja villages and towns because of the balance between the infrastructure and the old way of doing things. 
You have access to nearly everything you need or want without being overrun with mega markets and chain restaurants.
In fact, as you wander through Mulege you will feel as though you stepped back in time because you can find meat for sale at a carniceria, baked products from bakeries, produce being sold by street vendors and little shops here and there specializing in specific types of items.
Situated on the Mulege River, the town of Mulege itself is a short walk or bike ride from where the river empties into the Sea of Cortez.
The nearby valley is full of fresh produce and many houses in town have fresh fruit such as bananas, papayas and mangos growing in their yards. 
The town is a special place and you definitely don't want to miss out on the opportunity for camping in Mulege.  
Guide to RV Camping in Mulege
If you've read about Mulege in Church's Camping in Baja book, you will find that they too find Muelge to be special. And there is really only one place to consider for camping in Mulege, but we'll cover that shortly. 
Reasons to Visit Mulege
People tend to visit Mulege for a variety of reasons. 
First experience of Baja California Sur. While you will drive through several other towns and villages in BCS before Mulege, this tends to be the first place where people settle down to absorb the BCS vibe that is definitely different from Baja Norte. 
Basecamp for the Bay of Concepcion. With the picturesque beaches starting just 20 minutes from Mulege, the town acts as a jumping-off point for exploring the Bay. It's also close enough that some campers will day trip back to Mulege for supplies as needed. 
Proximity to the Sea of Cortez. Because the town of Mulege rests just a few miles from the shore of the Sea of Cortez you will find people flock here to experience everything you can do on the Sea. From fishing to paddling SUPs and kayaks to simply enjoying a tropical climate, Mulege attracts people looking to enjoy all that the Sea of Cortez has to offer.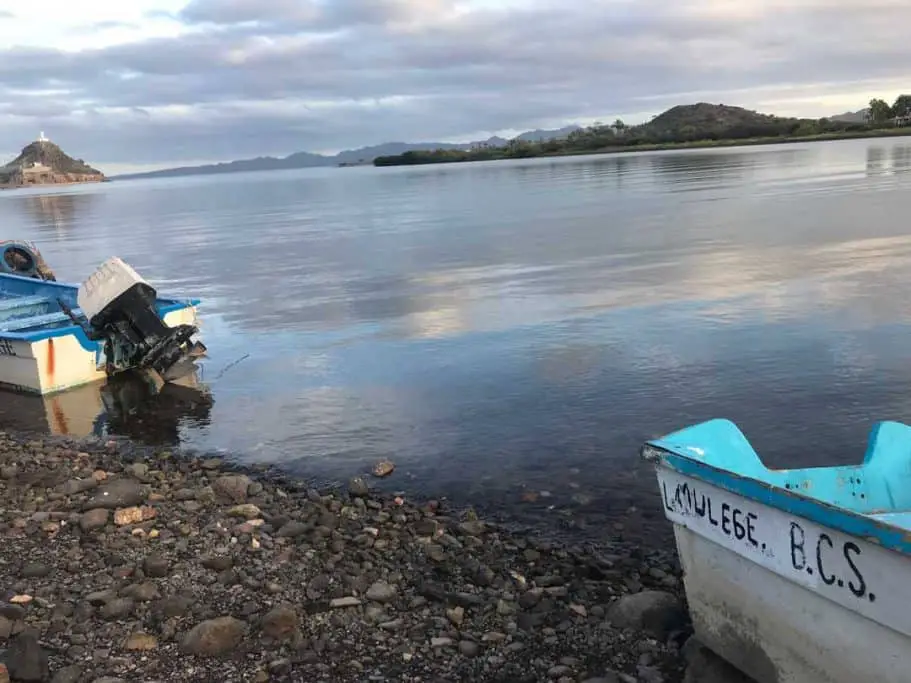 READ MORE: Learn everything you need to know about the best camping in Baja!
Things to do in Mulege
While there are a few reasons why people tend to spend time in Mulege, these are the specific things to do when camping in Mulege. 
Explore town. Enjoy the old town feel by walking or biking through town and stopping for a bite to eat or drink at any number of small restaurants, cafes and bars.
Go fishing. Lots of people come to Mulege to spend a fair amount of time on the water fishing. In fact, as you make your way along the river toward the Sea of Cortez you'll find most people have fishing boats in their yards or tied to small docks. You can even catch triggerfish and snapper right in the river.
Mission Santa Rosalia. Completed in 1705, this mission is one of the older and more beautiful in Baja. It is across the river from town and makes for a beautiful walk through the lush oasis. Views both inside the mission and from the hill on which it stands are awe-inspiring.
Cave paintings. Like many places in Baja, there are cave paintings just a short half-day trip outside of Mulege. These provide historical evidence to the longstanding settlements in the Baja peninsula.
The beaches. By far the most popular thing to do in Mulege is actually just outside of Mulege. The beaches of the Bay of Concepcion are popular among those who day trip from Mulege or who spend weeks, if not months, camping on their shores.
The old hotel. As you head toward the Sea of Cortez you will see an abandoned hotel at the top of a hill. This was once THE hotel and it used to entertain the likes of John Wayne and various members of the Rat Pack who would fly down to go sportfishing in Mulege. Now it's in ruins, but you can still wander the property and imagine what life was like when the sound of martini's clanking and war stories were in abundance.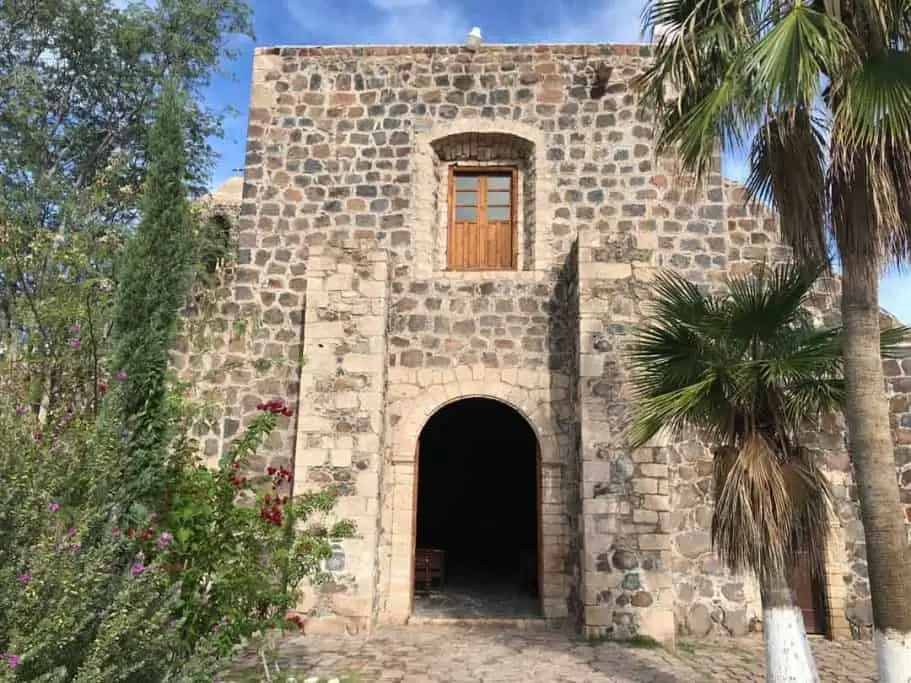 Our Experience Camping in Mulege
We were captivated by Mulege from the moment we turned beneath its arch to enter the town.
Although we were concerned about the height of our truck camper, as a series of flags were strung across the street celebrating a recent holiday, the drive through town to camp at Huerta Don Chano's was definitely worth it. 
In fact that short drive inspired us to spend nearly two weeks hunkered down in Mulege as we felt that peaceful feeling of arriving in a place that has not totally been corrupted by a rush toward the future.
Although the "safer" (in terms of driving through narrow streets with low overhangs) campgrounds are located just outside of town, we wanted to be close enough to be able to walk or ride our bikes into town. 
As such we thoroughly enjoyed our time as we made little routines like grabbing an occasional margarita from Las Casitas (delicious and fresh made!), picking up tacos from Asadero Danny and enjoying our coffee while sitting next to the river each morning. 
We made friends with local vendors and store owners who became accustomed to our passing and felt as though, if only briefly, we were in a place where we belonged. 
If you're looking for a place to slow down and experience a true Baja town, you will love camping in Mulege.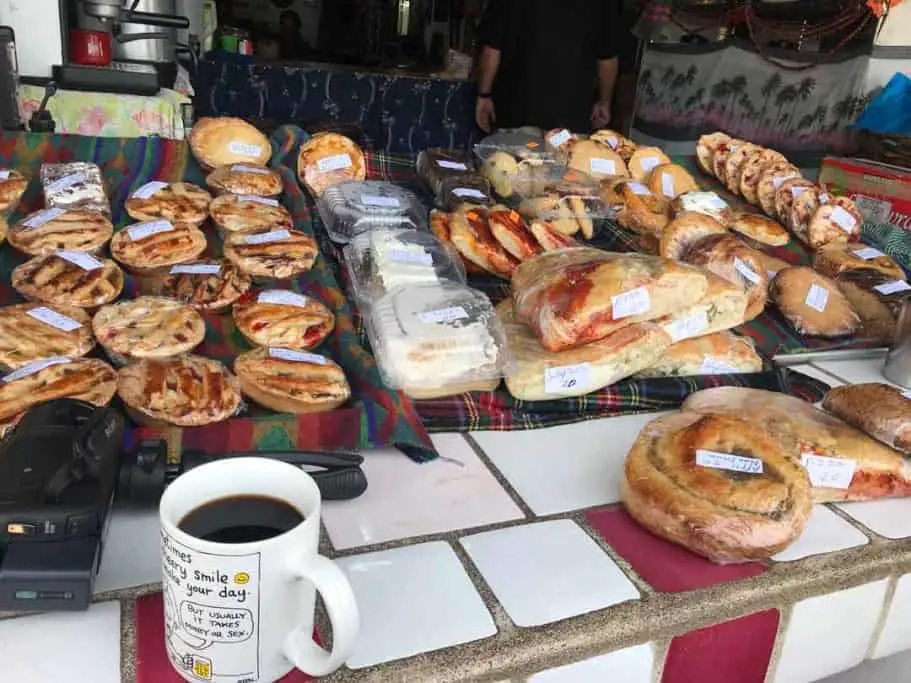 READ MORE: Make sure you know these RV travel tips for Baja!
Getting There
Like most of the bigger towns and villages in Baja, you can't miss Mulege because it is located directly on Hwy 1.
A short 3.5 drive from Guerrero Negro (where Baja California Sur begins), Mulege is literally a turnoff from Hwy 1 before you reach a stretch of inland road heading toward the Bay of Concepcion. 
Traveling from the north, the best way to enter the town is through the main archway, which you cannot miss.
From there the road branches off into a series of curios one-way roads. Just look at which way the cars are parked if you aren't sure which direction to go! 
But if you do happen to miss the archway, there is also an entrance to the town from the south along Hwy 1.
You'll see the huge and colorful  "H. Mulege" sign. Turn and follow the road to where you'll cross the river and enter the backend of town.  
Camping In Mulege
There is a difference between camping IN Mulege verses camping NEAR Mulege. We wanted to camp as close to the town as we could so there was really only one (fantastic) option.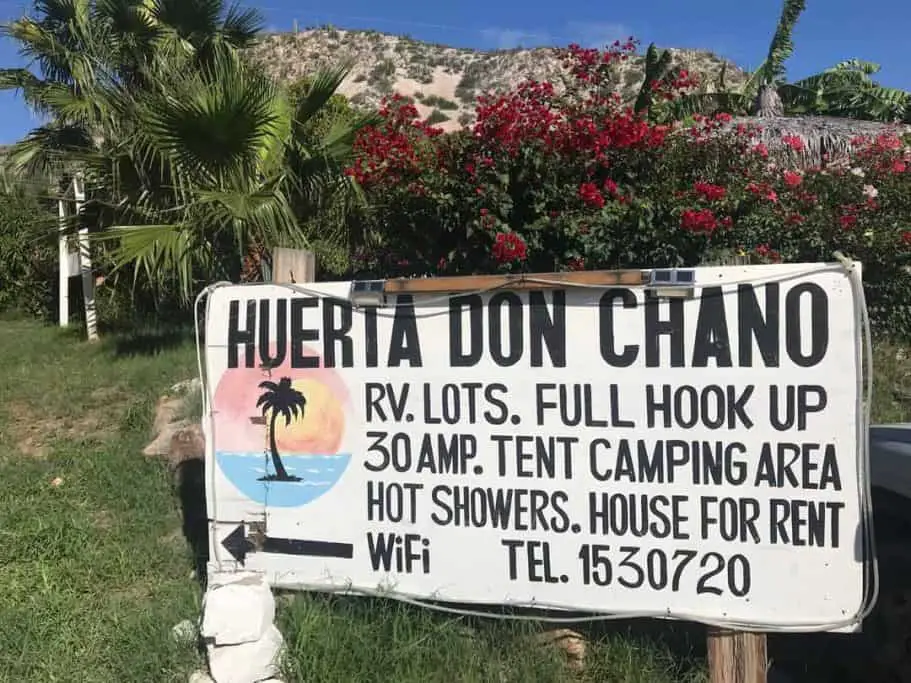 Camping at Don Chano's
By far our favorite (and only) choice for camping in Mulege was at Huerta Don Chano's.
If you have a Class A motorhome it is likely you're not going to make it through town (or fit in the campground). But everything up to larger fifth wheels and Class C motorhomes will have no problem reaching the campground.
While there are several other options for camping near Mulege, Don Chano's is really the only campground in Mulege. (We'll briefly discuss the other options shortly.)
The drive to Don Chano's is quite easy and can be found on most navigation apps and devices. You'll drive through town and see why we found it so charming.
Then you'll reach the river and drive beside it for around a half mile before reaching Don Chano's on the left. 
The campground is pretty decent by Baja standards, offering full hookups for 200 pesos (around USD$11).
And if you stay 7 nights you will get the 8th night free, further increasing the affordability of the campground. 
Each site is tucked away in its own private area surrounded by lush tropical plants. Depending on when you arrive you are welcome to pick fresh fruit directly from the trees!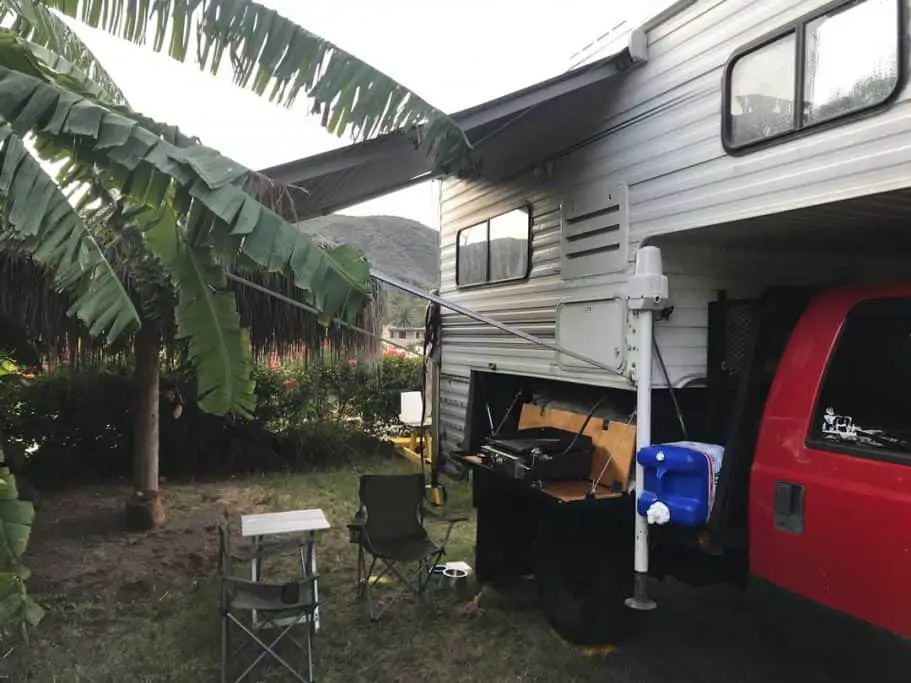 Although several power outlets showed signs of being abused in the past, we definitely tested the power before plugging in. But we found power in Mulege is mostly constant.
You will have full hookups at all sites so you also have access to sewer and water on demand if you would like. 
We were told by longterm ex-pat residents of Mulege that the water was mostly safe to drink in the short term.
But we still replenished our purified drinking water containers and kept to our Baja policy of only used city water for showers and dishes.
From Don Chano's it is a short walk in either direction to pretty spectacular experiences.
Walk to the Sea of Cortez to enjoy the company of the river. Stop in to explore the old hotel. Then spend the evening watching the sunset down the river over town and the valley behind.
Enjoy the Sea and take residence beneath a palapa if you'd like. There's also a small restaurant serving fresh seafood and cocktails. 
In the other direction is the town of Mulege and everything it has to offer.
Either way, it is 15 minutes walking – nearly the perfect distance to be able to enjoy camping in Mulege.
| | | | | | | |
| --- | --- | --- | --- | --- | --- | --- |
| Amenity | | Notes | | Amenity | | Notes |
| Fuel | Y | In town (5 min) | | WiFi | Y | Spotty, but available |
| Groceries | Y | Small grocers in town | | Hookups | Y | Full |
| Propane | Y | Casa Yees refills | | RV Size | – | Up to Class C |
| Water | Y | Next to Pemex or across from Magos  | | Amenities | – | 1 common toilet, shower and patio |
| Cell | Y | 4G Telcel | | Safety | Y | Night security |
| ATM | Y | BB&T in town | | Laundry | Y | In town (5 min) |
READ MORE: Enjoy the best FREE camping in Baja.
Other Options for Camping in Mulege
While Don Chano's was everything we wanted in a campground, you do have several options if you were OK staying a little further outside of town. 
Beach Camping
There are 3 palapas on the beach where the river meets the Sea of Cortez. The ground is mostly firm and depending on the season you might have a calm, flat sea to enjoy mostly to yourself.
This is free camping and, from what we can tell, is fairly safe. Although like most beaches in Baja, expect locals to blast music at some point. It is a 30-minute walk or 10-minute drive back into the town of Mulege.
Villa Maria Isabel RV Park
Located across the river from Mulege, this RV park offers full hookups. The price and quality of amenities seem to be in flux so check out recent reviews on iOverlander for the most current update.
The biggest reason we didn't want to camp here is that you are definitely more isolated from the town of Mulege. 
Hacienda de la Habana
This place gets rave reviews, especially for people traveling with children, as the amenities are top-notch and the campground has a pool. However, it is not IN Mulege and is rather difficult to access.
It is also quite a bit more expensive than other options in Mulege. For these reasons, we have no intention to ever stay there. But you are welcome to if that's what you are looking for!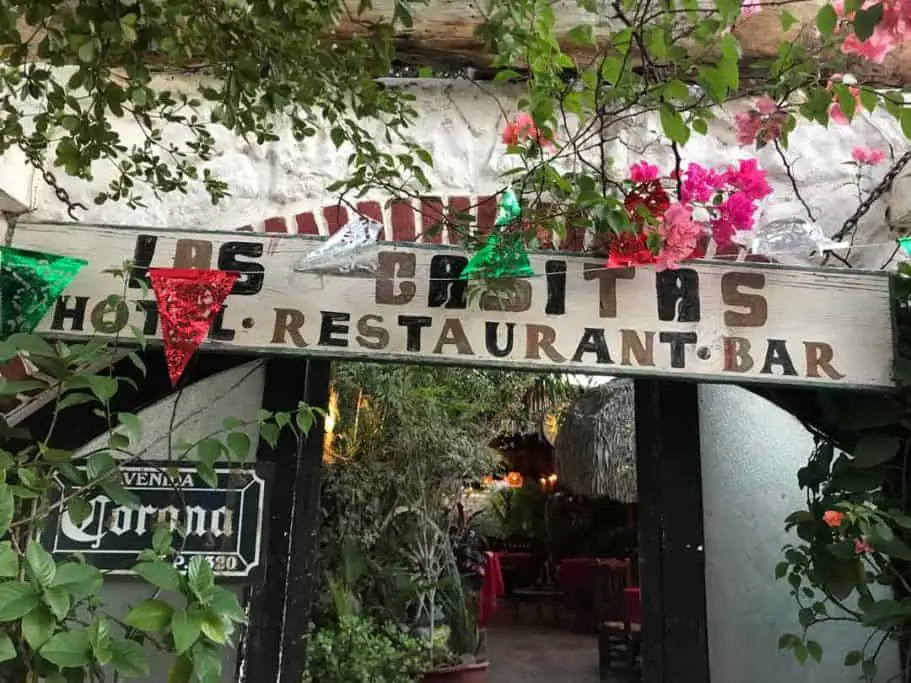 Wrapping Up
We LOVE Mulege and look forward to every opportunity to return. Not only have we formed great connections there for our mission to serve others when we travel, but also it is just the right mix of modern infrastructure with an old-time Mexico feel. 
It is a great place to use as a basecamp for planning your next adventure south to enjoy the famous Bay of Concepcion. 
READ MORE: Don't forget to explore camping in San Felipe!
About Author