Last Updated on September 2, 2022 by Chris and Lindsay
Everything you need to know about RV camping in Loreto, Baja Mexico.
Camping in Loreto is a great option if you are looking to balance adventure and activities with the opportunity to relax and enjoy a mostly quiet seaside Baja town. 
Although Loreto is home to many ex-pats, there is still a great Mexican look and feel to the town. 
From its historic mission to the many bars and restaurants along its Malecon, Loreto has a special charm to it well worth a few days of your time. 
Guide to RV Camping in Loreto
If you are planning on camping in Loreto you have plenty of options. Because Loreto has a great reputation among the RV community, there is no issue finding a place to camp.
What is more, most of the RV camping options are located in the city center so you are right at the heart of Loreto itself.
Of course, if you are looking for more low key camping you'll probably want to pass on Loreto. It is a great town to stock up on water, groceries and propane if you need to.
Plus you can likely pay one of the RV campgrounds to dump your tanks if you are in need.
But since our favorite campground in Loreto is just 200 pesos (USD$11) at the time of writing, you might as well camp in town and enjoy at least one day and night exploring Loreto.
Reasons to Visit Loreto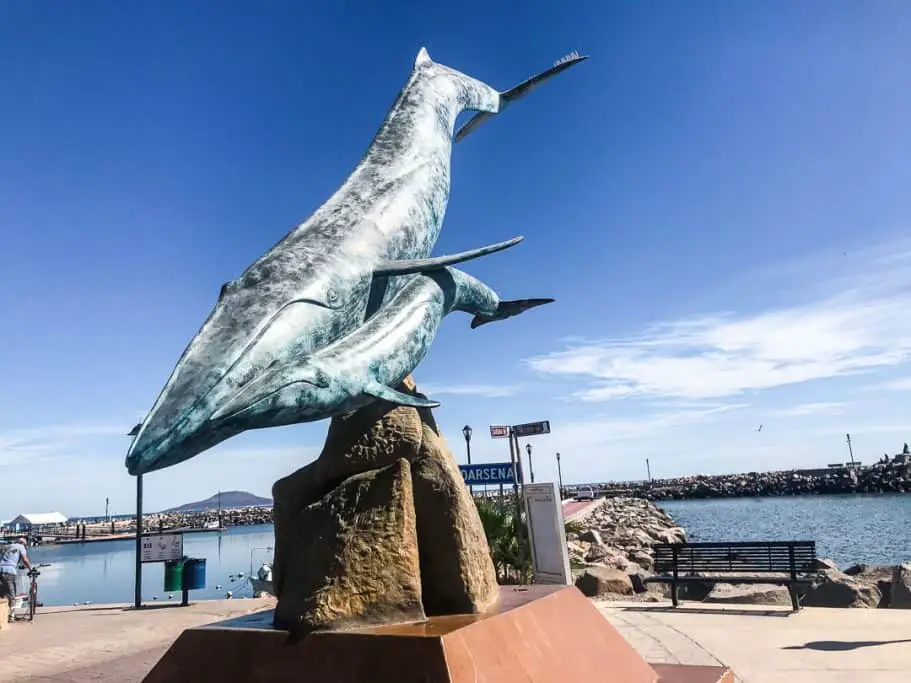 Loreto is known for its vibrant marine life and the fact there are a handful of islands off the coast that make for great day trips.
Blue whales are most common off the coast of Loreto and you can catch any number of boat tours to try and see them.
Warning, blue whales are a bit more elusive than the humpback and grey whales that frequent the Baja coast. So just because you're out on a blue whale tour doesn't ensure you will actually see any.
But you are likely to see a fair share of dolphins and perhaps even sea lions as well. Both species are known to inhabit the waters off the coast of Loreto.
The fishing is also pretty decent in Loreto. Whether you have your own boat or hire out a ponga for the day you likely won't return empty-handed.
There's good bottom fishing and the trolling will turn up all sorts of sports fish.
Also of interest from Loreto is a short half-day trip to San Javier mission. This mission is tucked away in the mountains inland from Loreto about 15 miles or so.
A twisty road will bring you into San Javier where you can feast on all sorts of fresh organic fruits and vegetables harvested in the valley.
Things to do in Loreto
As mentioned, Loreto is a haven for maritime activity. But there is more to do than set out to sea if you have other interests.
These are some of the top things to do in Loreto: 
1) Visit the Mission.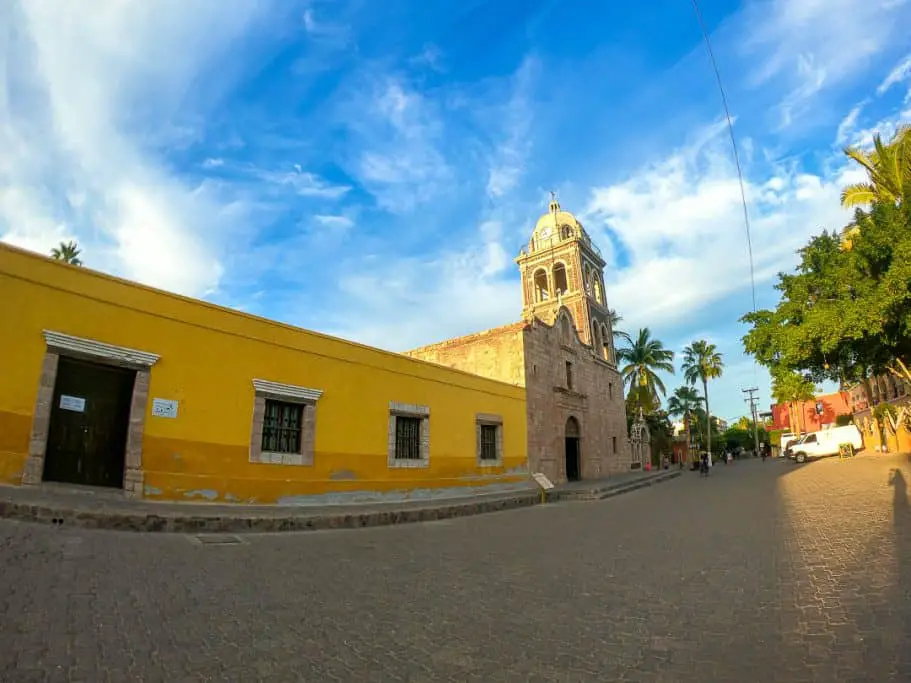 As the oldest mission in the first capital of Baja, Loreto's mission is on par with many others throughout the peninsula.
It was built in 1697 and still holds regular services you are welcome to attend.
2) Walk the Malecon.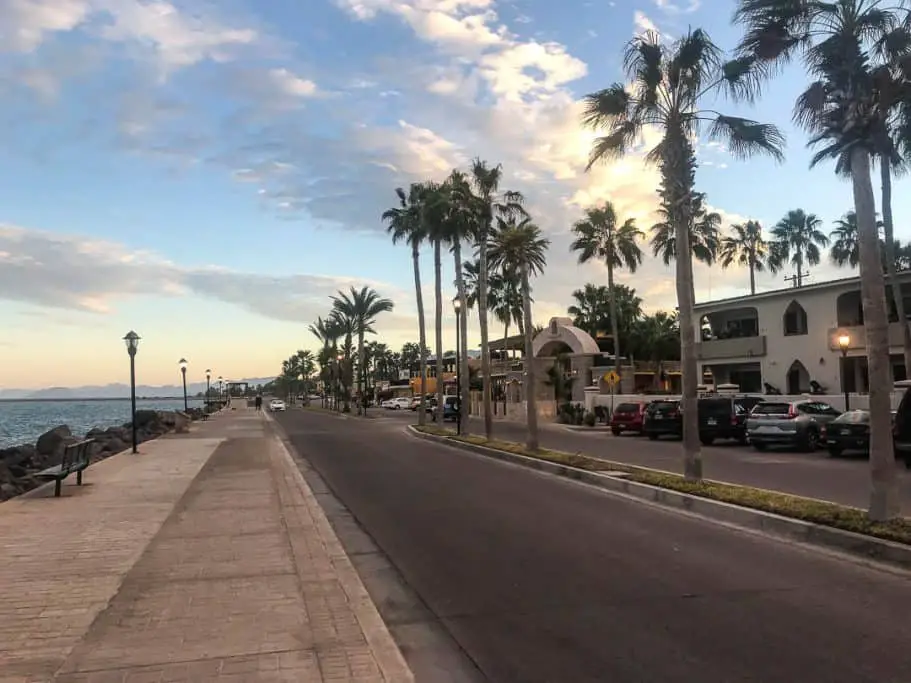 Loreto's Malecon pales in comparison to that of La Paz (most other Malecon in Baja do as well!). But it is nice for the short walk you can take.
Sunsets are spectacular as they light up the islands and surrounding mountains.
There are a few great restaurants and bars opposite the seaside of the Malecon where you can enjoy a bite to eat and some people watching.
3) Hire a Ponga.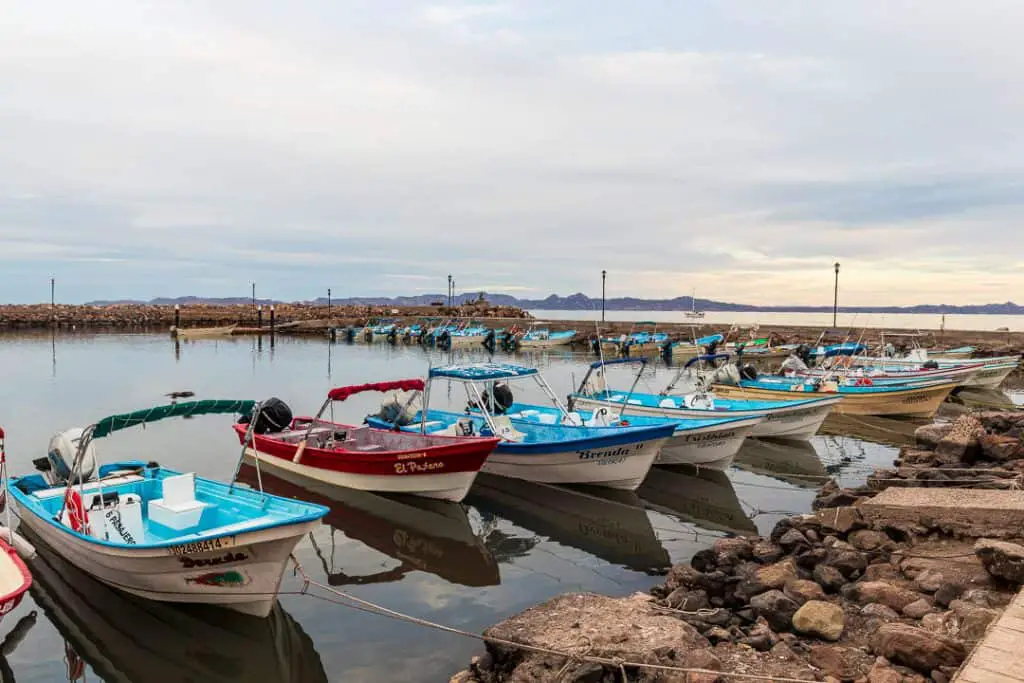 The harbor is full of pongas tied up and waiting to take tourists out for a ride.
Depending on your interests you can find captains right there in the harbor who will take you fishing, whale watching, snorkeling/diving, touring the islands or just hanging out on the water for the day.
4) Go kayaking/SUP.
You can rent kayaks at a number of places in town. And if you have your own, you can put in on the beach next to the lighthouse on the Malecon. 
If the water is calm you'll have an awesome time exploring the bay. Looking for a great SUP to travel with you?
We take our iROCKER inflatable SUP everywhere in our truck camper.
5) Dance (or watch everyone else dance).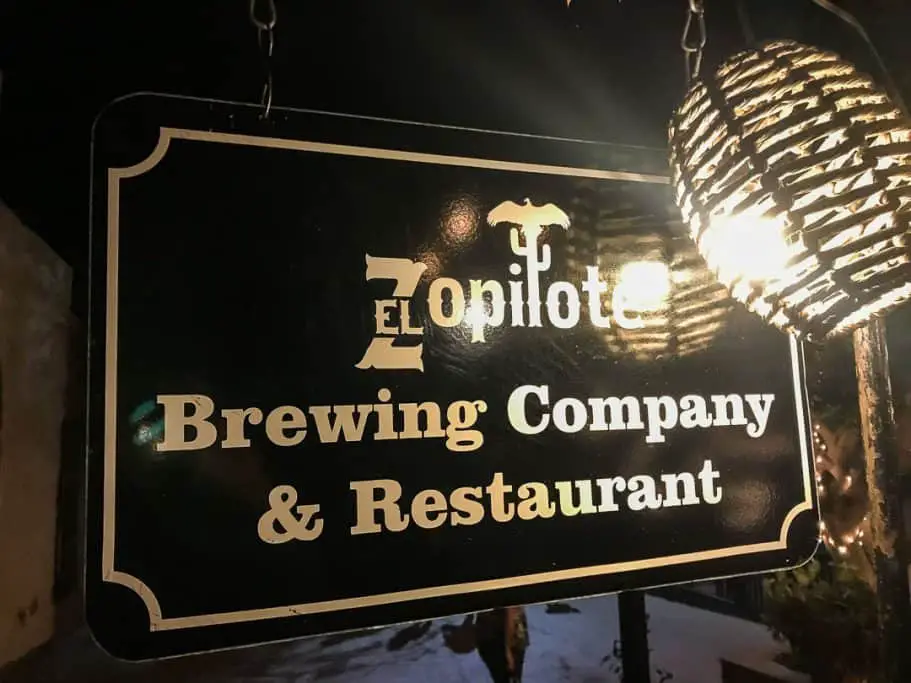 Most nights of the week there is a live band (or bands) at the restaurants in the main plaza in town.
You can grab a tasty beer at El Zopilote Brewing or a pizza from Mezza Luna and then dance to the live music.
If you're not much into dancing, enjoy watching those who are.
Another great place for music and dancing is Giggling Dolphin, which has a great cover band and a small dance floor where they expect that someone is going to dance!
Our Experience Camping in Loreto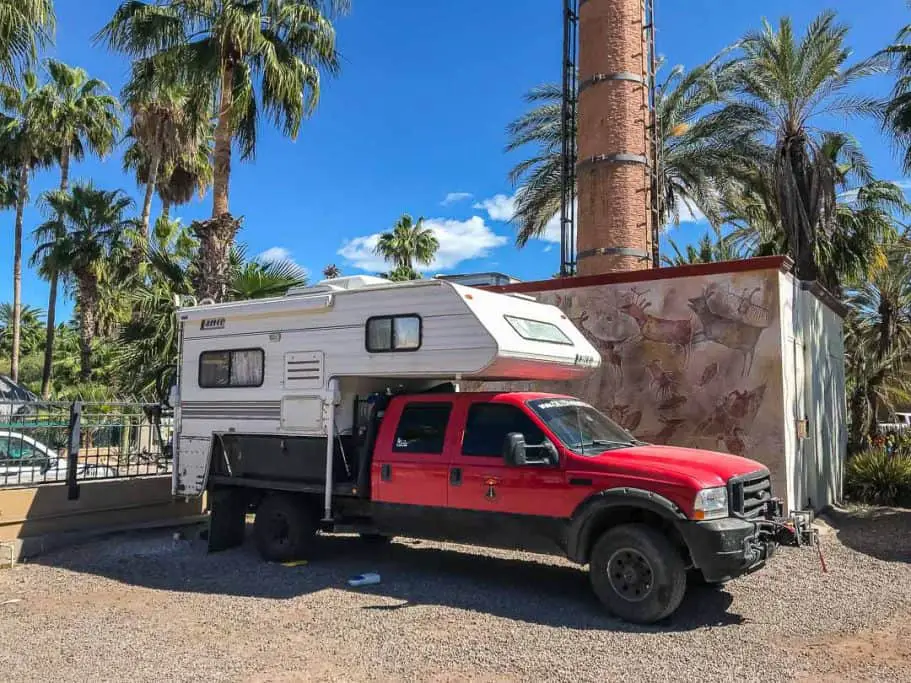 We missed Loreto on our way south as we ended up joining a caravan going off-road through the Pacific coast between Laguna de San Ignacio and San Juanico.
However, we looked forward to stopping in Loreto for a few days on our northward drive from La Paz. 
Having camped in some beautiful, free places for the previous few months we were not eager to pay for camping again.
And some of the campgrounds in Loreto can be pricey. 
But we found El Moro RV and Hotel to be just what we were looking for. A full hookup on gravel (as opposed to dirt) with an incredibly hot shower cost 200 pesos.
What's more, we were 2 blocks from the Malecon and 2 blocks from the main plaza where there was always live music and delicious food in the restaurants along the plaza. 
We planned to only spend 2 nights camping in Loreto but we ended up spending 5 instead.
Our goal was just to see Loreto and prepare for the week or so that we planned to camp on Bahia Concepcion. (Coming from the south Loreto is the best place to stage your camping on Bahia Concepcion.)
But with our campground well within our budget and the town quite charming we were easily captivated by Loreto and decided to spend a few extra days there. 
We didn't do anything special by way of tours or adventure. As we hadn't planned to spend much time in Loreto we didn't budget for any fishing or marine life tours.
As much as we wanted to see the Blue Whales we just didn't want to take a chance that we would not see them.
However, we celebrated a friend's birthday at the brewery one night and enjoyed a delicious meal and some great cover music another night.
A few nights were windy. But one night on the Malecon was absolutely magical. 
For us, Loreto definitely didn't disappoint. 
Getting There
You will reach Loreto from the north approximately 2 hours south of the last beaches along Bahia Concepcion.
This drive is spectacular and beautiful as you will twist and turn through desert mountains most of the time.
There are a few steep grades, however. So do take note if you have a bigger RV. 
If you come from the south it will be after a long day from La Paz (5 hours) or from Ciudad Constitution or Ciudad Insurgentes.
We camped outside of Ciudad Constitution and did a grey whale tour in Adolpho Lopez Mateo before arriving in Loreto.
This was approximately 2 hours from Insurgentes. 
The town of Loreto is full of somewhat narrow streets. Many of the streets are cobblestone and appear more like pedestrian walkways than drivable streets.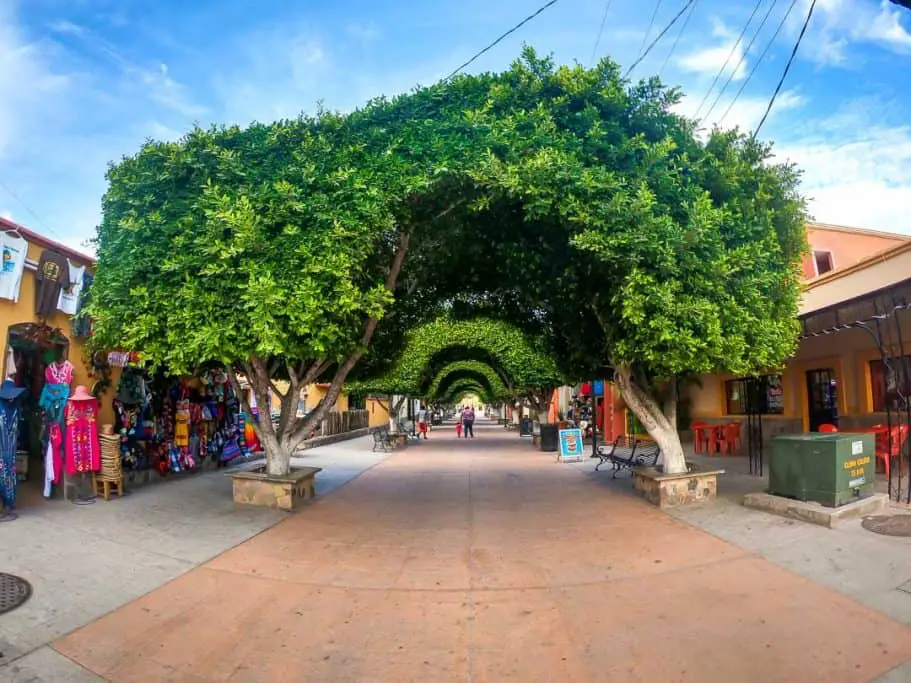 However, you likely won't be the only car on one of these roads so just be careful driving in town.
In fact, one of the RV campgrounds (Romanita RV Park) is actually down a pedestrian road. It is necessary, and 100% legal, to drive down the pedestrian road to get there.
Camping In Loreto
Camping in Loreto is actually more affordable than you would think for a town that boasts so many ex-pats.
There are campgrounds where you can pay a little more to have a more luxurious stay. But either El Moro or Romanita RV Park offers camping in Loreto for 200 pesos (USD$11) or so.
The other option for RV camping in Loreto is Rivera Del Mar RV Park and Campground.
Expect to pay a bit more for this one. How much more is to be determined as people often negotiate rates based on their RV and length of stay.
Loreto Shores is your final camping option in Loreto and is the priciest of all. They do offer a pool and are big rig friendly. 
Key Resources for Camping In Loreto
As there are multiple campgrounds in Loreto this table will outline the general amenities of the town. 
| | | | | | |
| --- | --- | --- | --- | --- | --- |
| | | | | | |
| Fuel | Y | Multiple Pemex | WiFi | Y | Most campgrounds offer WiFi to Baja standards of quality |
| Groceries | Y | Two medium-sized grocers in town | Hookups | F | Most campgrounds at least offer full-hookup option |
| Propane | Y | Gaspasa on the south side of town. | RV Size | – | Smaller RVs at any campground, larger (Class A) should aim for Loreto Shores. |
| Water | Y | Multiple places with purified water | Amenities | – | Most campgrounds offer everything you need.  |
| Cell | Y | Service bounced between 3G & 4G | Safety | – | Loreto is a safe town. Most campgrounds are gated and locked at night.  |
About Author