Last Updated on September 2, 2022 by Chris and Lindsay
Everything you need to know about RV camping in Los Barriles, Baja Mexico.
Camping in Los Barriles gives you access to the best that the East Cape has to offer. Located just over an hour south and east from La Paz, Los Barriles is a top spot for ex-pats and fans of wind sports.
Los Barriles also has a reputation (not such a nice one) for the number of "Gringos" that drive ATVs up and down the beach at all hours of the day and night (and thus disturbing wildlife as much as human life). 
The East Cape is notorious for its winter winds and Los Barilles sits fully exposed to the Sea of Cortez. This means that you can expect to find great fishing when the seas are calm, and windsurfing and kiteboarding when the wind is up. 
There is an active ex-pat community engaged in making the community a better place. And with such a crowd you can also find a lot of the benefits you would expect to find when you are home.
Whether playing a game of pickleball or singing at open mic night, Los Barriles is an interesting mix of Mexican and ex-pat flavors. 
Guide to RV Camping in Los Barriles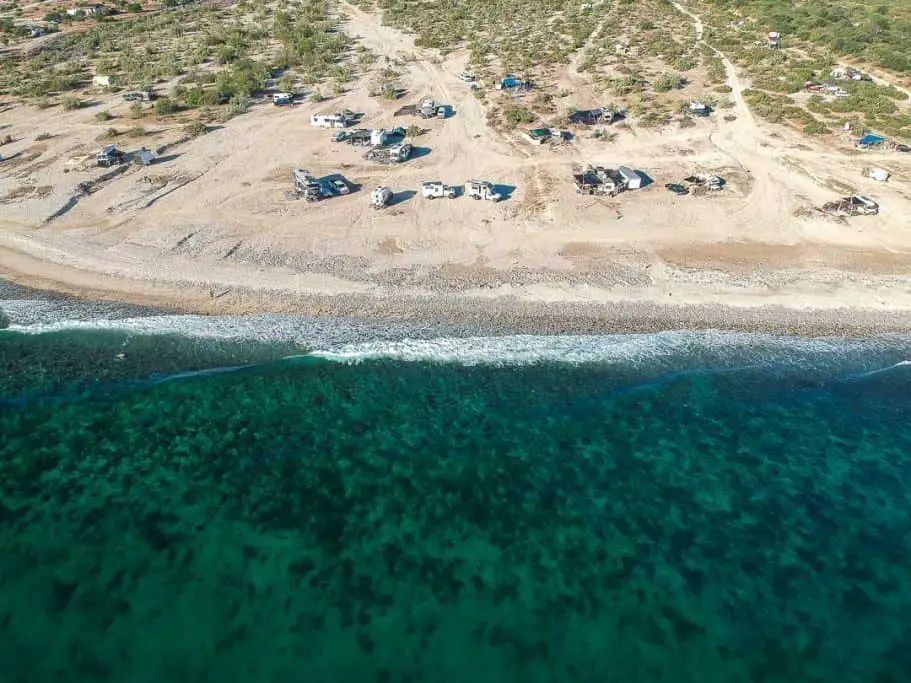 Because Los Barriles is such a popular place with Canadian and American ex-pats it also attracts a substantial crowd of RV campers.
As such there are lots of great options for camping in Los Barriles. Further, the town itself boasts a vibrant calendar of events and activities so you can find yourself entertained for as long as you'd like to be.
Whether you want to be in the heart of town or want to spend a few days, weeks or months camped on the outskirts of town, you can't go wrong adding Los Barriles to your Baja itinerary.
Reasons to Visit Los Barriles
Los Barriles attracts visitors interested primarily in one (or more) of three things: wind sports, fishing and easy living.
On a typical windy winter day, you can expect to easily see a hundred or more kiteboarders and windsurfers enjoying the sea.
If you enjoy wind sports, Los Barriles should be on the top of your list for places to visit in Baja (add La Ventana as well). 
But if you don't enjoy the wind, winter in Los Barriles can offer a few other options as well.
The depth of the Sea of Cortez drops off quite drastically close to the shore. Thus the waters attract all sorts of great sports fish. 
And if you aren't into fishing either, you can spend time helping to collect turtle eggs from nests along the shore or sitting on the beach watching for whales or bat rays to breach just a short way from the shore. 
Los Barriles is also a great place to stage for your time in Cabo Pulmo (or regroup from your time there).
The famous National Park is just over an hour south of Los Barriles and you can get just about anything you'll need for your time in Cabo Pulmo in Los Barriles. 
Things to do in Los Barriles
While Los Barriles tends to be full of people either living seasonally in second homes and RVs or following the wind for adventure sports, it also offers quite a few things to do in itself. 
These are a few of the top things to do in Los Barriles. 
 Go Fishing. Los Barriles is known for world-class sports fishing. Located along the Sea of Cortez, there is deep water rich in nutrients and a variety of fish just minutes offshore. You can even catch dorado from the beach if you are fortunate!
 ATV pretty much anywhere (but the beach, please!). The region around Los Barriles is ripe for exploration by ATV. And the town is full of gringos riding around on them for daily use. You can rent your own at a few shops in town and get out and explore the area. Just be mindful not to ride on the beach as it disrupts sea turtles nesting and hatching.
 Play Pickleball. You won't be alone if you've never heard of pickleball. A mix between ping pong and tennis, it is a past time that has grown in popularity in Los Barriles. Make friends and learn something new as a variety of places offer pickleball matches throughout the week.
 Go horseback riding on the beach. If you've wanted to ride horses on a beach in Baja this is a great place for it. Los Barriles has tons of coast ripe for a sunrise ride.
Release a baby sea turtle. While Todos Santos has a more popular turtle release program, Los Barriles also helps sea turtles hatch and release into the Sea of Cortez. You'll find it just north of town along the beach. But know that the turtles released here are very seasonal and typically only found in early fall before it gets too cold.
Our Experience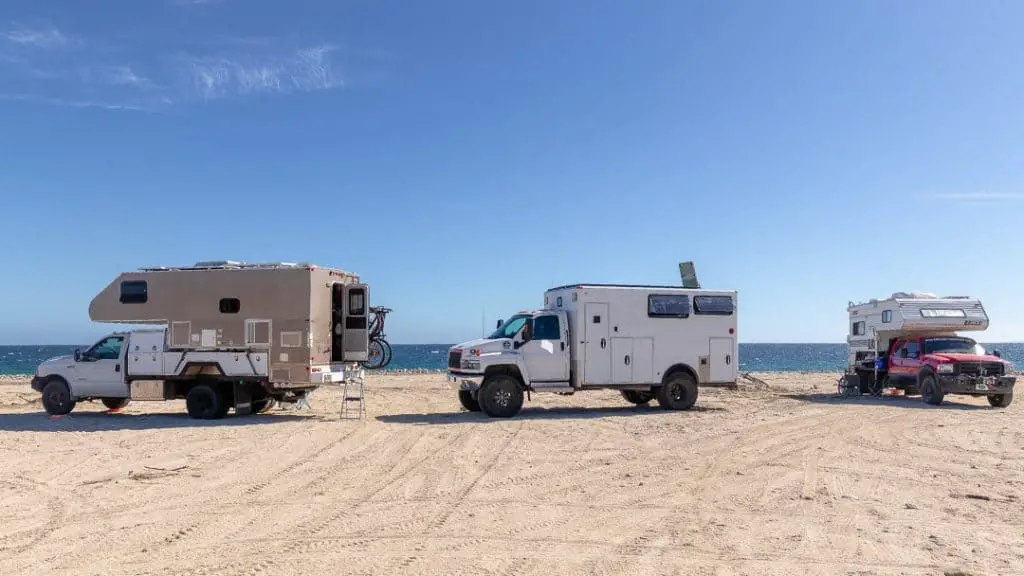 Before we left for Baja we were told by a lot of people that we would love Los Barriles. But nobody ever told us why. So, of course, we added it to our list of places to visit. 
It took us a lot longer to reach Los Barriles than we thought. We got tied up enjoying a lot of places in Baja along the way.
But we had connected with two great organizations with whom we planned to volunteer and we were excited to arrive in Los Barriles. 
However, when we started looking for camping in Los Barriles we were blown away by the expense of the options.
But just before pulling into town we learned about a place to boondock on the northern end of town. 
Like a few other places in Baja, three planned days in Los Barriles turned into over a week.
We were able to meet with friends we had made, volunteer with Cortez Animal Rescue and enjoy a few evenings when the weather was calm and the sunsets were spectacular. 
We left a lot of things unfinished in Los Barriles and we always said that we'd go back. So we will one day – for our friends, for the volunteering options and for a few beautiful days camping on the edge of the Sea of Cortez. 
Getting There
Los Barriles is located on the southeastern corner of the Baja peninsula on what is known as the East Cape.
If you've made it to La Paz then you've been on HWY 1 for most of the time. So you will be familiar with the highway that leads to Los Barriles.
It will take around an hour and a half from La Paz. But the road is well paved and as it crosses a mountain range you will enjoy the scenery along the way.
This route is absolutely spectacular and you should consider stopping in the small towns of El Triumfo and San Antonio if you have the time.
Alternatively, you can reach Los Barriles from San Jose de Cabo (or Cabo Pulmo, if you have rounded the southeastern corner of the peninsula). 
Los Barriles means "the barrels" and as you turn into town you will pass a water fountain made of barrels.
It is a small town so getting around is relatively easy. There are a couple of tight turns so keep an eye out if you are driving a bigger RV.  
RV Camping In Los Barriles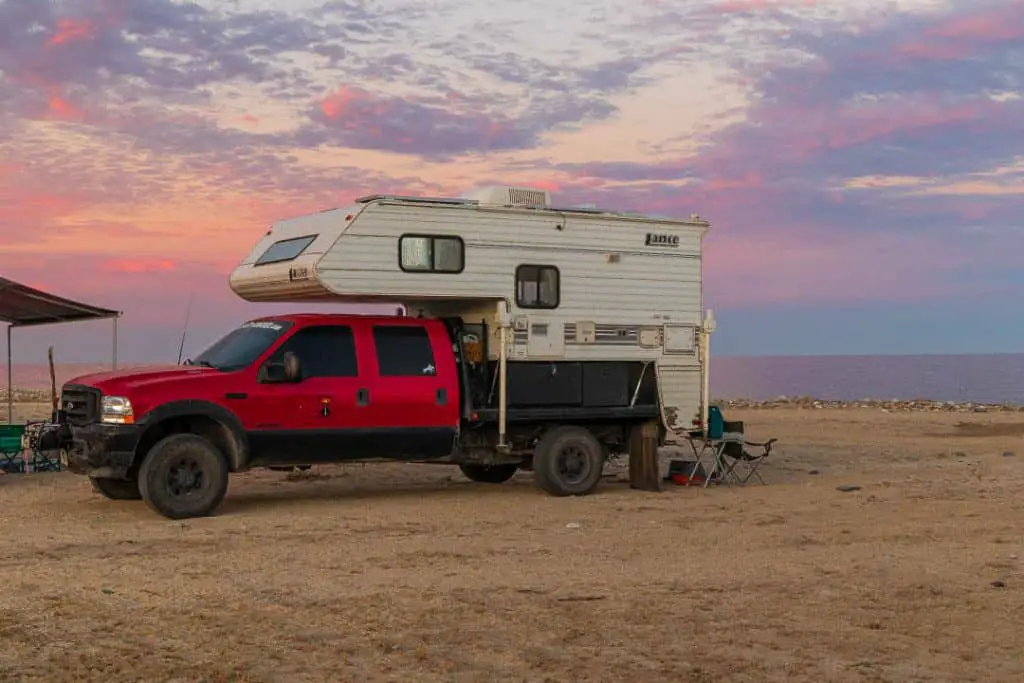 Camping in Los Barriles can take the form of full-hookups, pool and hot tub or of boondocking in a dry riverbed.
We chose the latter both to save in our budget and to give ourselves a little freedom to enjoy the beach. 
The closest you will get to camping on the beach in a campground is at Playa Norte.
But even beachfront campsites are behind a seawall a fair way from the sea. You'll pay around USD$25 per night for full hookups. 
We chose to boondock in the arroyo (dry riverbed) just past Playa Norte.
You can't miss it if you follow the directions to Playa Norte on the north end of town. Several dirt tracks turn toward the sea and you can find ample places to camp anywhere throughout the arroyo.
While you can camp as close to the water as you like, there are active ATV tracks along the shore that create an informal road that would be best to camp behind. 
It is a bit of a hike or bike ride into town from the arroyo.
But if you are looking to save some money in camping expenses and you want to open your door to the sea every morning then this is the best place for camping in Los Barriles.
You'll have to run into town for water. And you can dump your tanks next door at Playa Norte for 100 pesos (USD$6). 
NOTE: Please dump your tanks next door at Playa Norte for 100 pesos and not in the arroyo itself. This arroyo has a bad reputation for campers dumping their tanks wherever they like.
Other Options for Camping in Los Barriles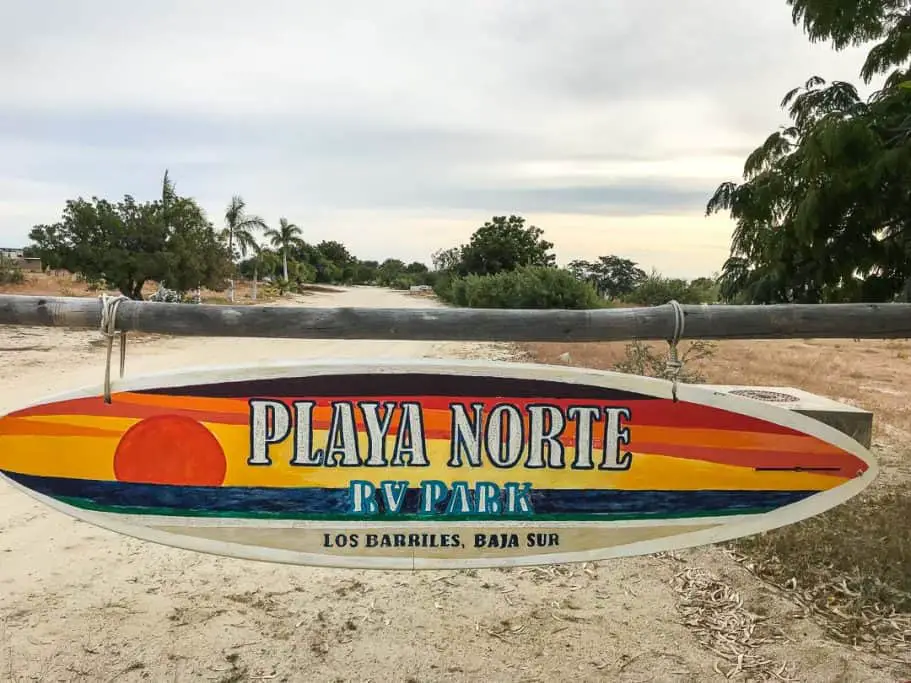 If you're looking to be in town you have two options that will both provide really nice amenities to go along with USD$25 or more nightly fees.
East Cape RV Resort is about as close to the center of Los Barriles as it gets on the northern side of town.
And Martin Verdugo's Beach Resort is equally central on the south side. 
Both of these campgrounds have fantastic amenities, including pools. But they also tend to be busy and RVs are packed in like sardines.
Expect a lot of long-term camping in Los Barriles at both of these places. 
Alternatively, you can stay out of town either to the north or south just a bit. Baja Sunrise RV Park is just to the south and offers full hookups for around USD$25.
Captain Nemo's Landing is to the north of town and offers comparable amenities and prices.  
Key Resources for Camping In Los Barriles
The following table will give you an idea of what to expect when camping in Los Barriles.
We base specific notes on our experience camping in the arroyo north of town.
If you camp at any of the formal campgrounds listed you can expect more amenities and comforts than boondocking in the arroyo.
| | | | | | |
| --- | --- | --- | --- | --- | --- |
| | | | | | |
| Fuel | Y | There are a few gas stations in Los Barriles | WiFi | N | Unless you are staying at a formal campground |
| Groceries | Y | The main grocer is Chapitos on your way into town. | Hookups | N | Boondocking |
| Propane | M | Fill up outside of La Paz or Cabo San Jose. | RV Size | – | Any size RV can handle camping in the arroyo. Although larger Class A would be better in a campground |
| Water | Y | Several places offer purified water | Amenities | – | Only what you bring with you. |
| Cell | Y | Great 4G service even at the arroyo | Safety | – | In numbers. You likely won't be alone and there's safety in numbers in the arroyo |
About Author