Last Updated on March 20, 2023 by Chris and Lindsay
If you've just purchased or are considering purchasing a new or used RV, planning the next steps in your RV camping trip can be intimidating. Find out the top RV tips that would have made life a whole lot easier for us when we were RV newbies.
RVing can be an incredibly rewarding experience, offering the freedom to travel wherever you please with all the comforts of home. But for beginners, it can also be an overwhelming and confusing experience, with so many variables to consider.
From choosing the right RV to navigating unfamiliar roads and finding the perfect campsite, there's a lot to learn. That's why we've put together this post with 10 valuable tips for RVing beginners.
Our tips cover everything from selecting the right RV for your needs to packing efficiently, navigating RV parks and making the most of your RV lifestyle. With our expert advice, you'll be well-equipped to handle the challenges of RVing and create unforgettable memories on the road.
So whether you're planning a weekend getaway or a long-term adventure, our tips will help you get started on the right foot and make the most of your RVing experience
We've broken this post down into our top 10 overall tips as well as 11 other valuable, practical tips that will make your RV camping trip more enjoyable!
Affiliate Disclaimer: This post may contain links to products we think you'll like. If you purchase any of the products through the links below we'll receive a small commission. As full-time RVers, we know our RV products well and only recommend those that we either own or would consider owning ourselves.
Our Top 10 RVing Tips for Beginners
Although we have quite a few RV tips to offer any RV beginner, these are the 10 most important that we've learned from over 5 years on the road.
Tip #1 – Enjoy the RV Lifestyle
Whether you're headed out for your first trip or have decided to jump into full-time RV living, you made the decision to start RVing for a reason. Whether you have a certain mission – such as to visit every US state or every national park – or just want a break from the 9-5 grind, knowing why you started RVing will help you to enjoy the RV lifestyle.
Some days will be incredible. Others will be mundane. And then there are those times when you'll be so frustrated, upset and disheartened that you may find yourself regretting your decision.
But new RV owners should always remember that "RV" stands for "recreational vehicle" and these are meant to help you to enjoy life a little more regardless of the circumstances.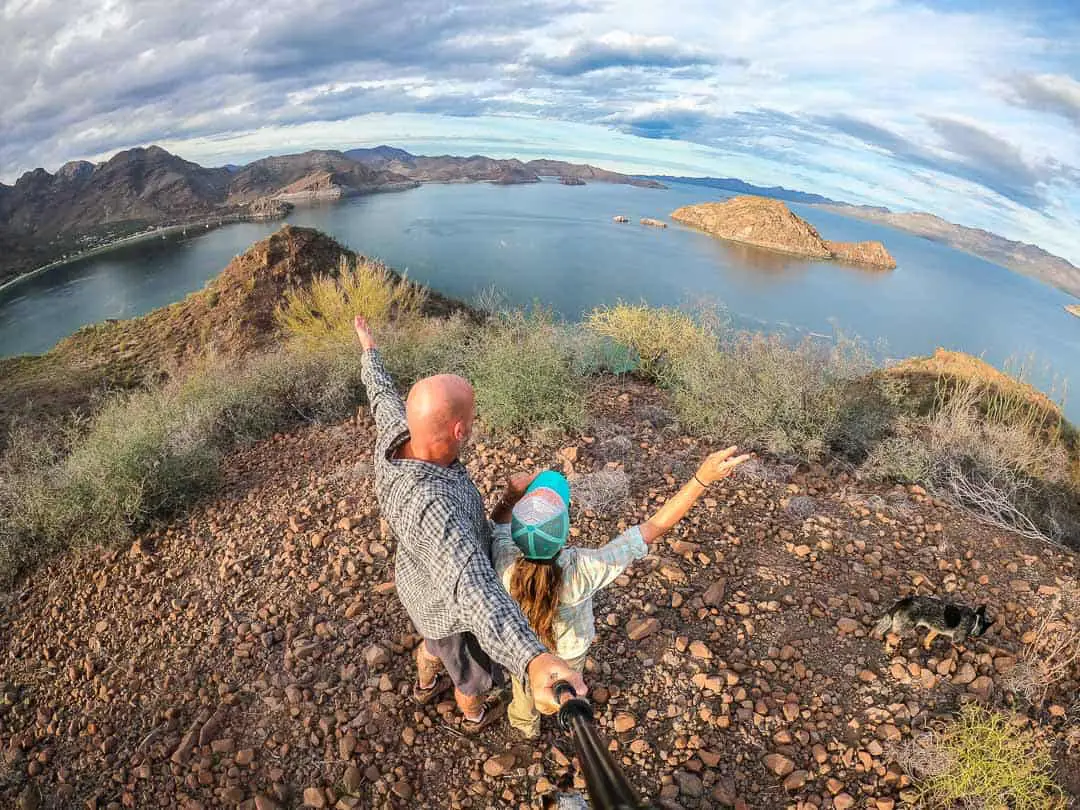 Tip# 2 – Things will break (Have the right tools and mindset)
If you purchased a new rig, whether it is your first RV or a new-to-you RV, the last thing you're likely to think about as you pack for that first camping trip is something breaking on you. But the more you use your RV or trailer, the more likely something will break, especially if you plan to go camping in Baja or make the big Alaska road trip.
Having the right tools – AND mindset – for when things break will help you tremendously. Bring both the basic tools that will cover general repairs – such as screwdrivers, a hammer and wrenches – as well as those you may need for important systems and appliances you'll need on the road. And having a few key spare parts can make the difference between a great camping trip and one you may have to end early.
Unless you plan to go full-time RVing, you won't need to bring tools to fix everything. But being able to make basic repairs will help you to enjoy RV camping more.
READ NEXT: Check out this post to read about the RV tools we recommend you carry with you.
Tip #3 – Invest in "Creature Comforts"
Although storage space in an RV is usually a premium, we think you should definitely consider investing in some "creature comforts" to make the RV feel more like home. Everything you pack needs to have a purpose. But when it comes to comfort, it is OK to throw a few things in your RV to make the road trip a little more comfortable.
Some of our favorite creature comforts we always have are porcelain coffee mugs and a great RV mattress. But you may want to take your favorite coffee maker, electronic devices or on-demand video subscriptions, or other items that may not be considered RV essentials but that give you more comfort on the road.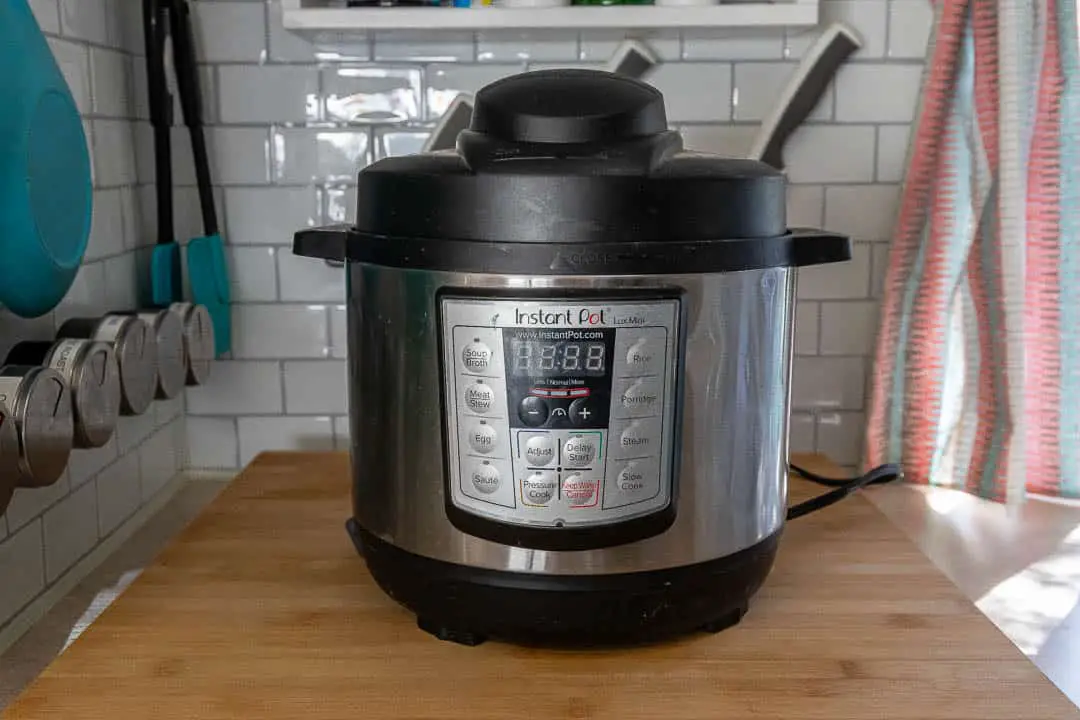 Tip #4 – Don't overpack
Despite sharing that we think you should pack a few things that aren't the typical RV essentials, we also think you should carefully consider other items you want to pack in your storage spaces. The living space in any motorized RVs, fifth-wheel trailers, travel trailers and especially camper vans is incredibly small.
And while there are a few things you definitely need to pack for any occasion, there are also many other items you can pick up on the road as you find that you need them. In our first year on the road, we were constantly swapping out items we thought we needed for those that we found we actually used.
Between big box stores like Wal Mart and Home Depot and camping dealerships, you can find pretty much anything you will need to add to your RV essentials to keep your storage space optimized.
YOU MAY ALSO BE INTERESTED IN… our post on what we consider the most important RV essentials.
Tip #5 – Travel slower, stay longer
No, this doesn't mean driving down the interstate at 30 mph! Rather, we learned that we enjoy RV camping when we're not rushing around trying to see and do everything. The less time you have on your RV camping trip the more valuable the time becomes.
If you only have a long weekend or a few weeks out of the year, you should spend it relaxing and enjoying the RV road trip. Consider visiting a few national parks. But don't try to see them all.
You may want to pick a geographic region, state or even one RV park and plan to spend your time exploring the area around it.
We have fallen in love with RVing and camping in Baja, Mexico. In our first year, we tried to see and do everything. But as we now pick our favorite places or places we always wanted to visit, we will spend a longer amount of time in one particular area exploring it in more detail.
Tip #6 – Invest in RV memberships
One of the best RV tips that we actually knew before we started traveling was to invest in RV memberships. The best RV clubs and memberships are affordable and pay for themselves within a few stays in RV parks and other unique RV camping destinations.
We recommend two primary camping memberships to consider:
HARVEST HOSTS
This membership allows you access to non-traditional RV camping in places like vineyards, farms, museums and golf courses across the US, Canada and even Mexico.
You can stay for a night or sometimes more and there are always great products or services to buy to support the local businesses.
So rather than paying RV park fees you can purchase delicious adult beverages, tour fantastic farms and pack the fridge with fresh groceries.
SAVE ON YOUR HARVEST HOST MEMBERSHIP – Follow this link to save 15% off your Harvest Host Membership!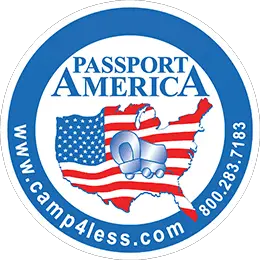 PASSPORT AMERICA
This discount RV camping membership allows you a 50% discount on your camping fees in participating RV parks.
Although not every RV park in the US extends this discount, it is likely you will find a participating RV park in the general area you plan to travel.
We don't always stay in RV parks when we travel. But sometimes we appreciate the amenities a campground offers from time to time – from power, sewer and fresh water hookups to laundry facilities.
RECEIVE 4 MONTHS PASSPORT AMERICA MEMBERSHIP FOR FREE – Follow this link to receive 4 free months (16 months total) in your Passport America Membership for the same low $44 annual fee.
READ NEXT: Check out this post for a review of each RV club and camping membership we recommend!
Tip #7 – Have an itinerary… but be flexible!
We went from having no RVing experience to trying to drive from Alaska to Argentina. Talk about an aggressive itinerary! After we sold everything we owned, we left everything we knew behind in Florida and took a long, meandering route to reach Alaska.
But even this first stage of our journey was riddled with one reason or another for taking a detour in one direction or another. And then at some point, we had a few significant breakdowns that really altered our travel itinerary.
But staying flexible is important. And remembering why we wanted to travel in the first place (Tip #1) got us through some of these forced itinerary changes. You're going meet fellow RVers headed in all sorts of directions and if you're flexible, you'll find that your RV road trip will be one for the ages and so much better than anything you first planned!
Tip #8 – Invest in quality gear (And understand the idea of "value")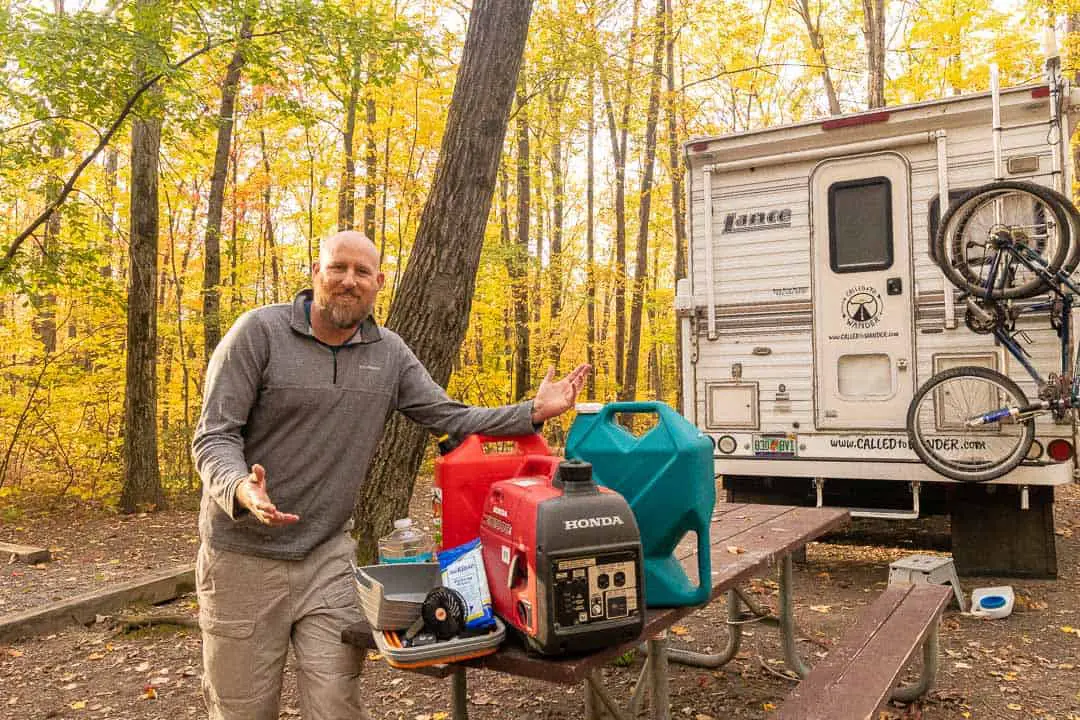 One of the top RV camping tips for beginners in RV life is to do your best to understand the idea of "value" when it comes to purchasing RV essentials.
You don't need to buy everything name-brand. But some of the most essential RV gear should not be purchased based just on price. We've replaced cheaper power inverters, batteries and solar charge controllers that we first purchased for their low cost only to find they broke later.
And having a quality sewer hose can mean the difference between a literal "crappy day" and one that goes off without a hitch. Quality leveling blocks are also necessary equipment. We've shattered every kind of plastic leveling block we've ever owned until we decided to make our own.
But if you're just planning a shorter RV trip you can also hold off on buying the higher-quality items until you decide to take RV camping a little more seriously. But once you start spending more time on the road you'll find that quality products can make or break your experience.
BONUS TIP: Avoid replacing the cheaper solar system and battery components for your electrical system by purchasing from Renogy. Use our coupon code "CALLEDTOWANDER" at checkout to get 10% off your purchase!
Tip #9 – Invest in preventative maintenance on your RV
Preventative maintenance will help any RV trip go as planned. By keeping up with some simple maintenance, such as checking your tire pressure before driving, changing your oil and checking other engine fluids regularly you can avoid the catastrophic nightmare of a high-speed breakdown.
We're big fans of the idea of investing in high-quality tires, the biggest and best that you can reasonably fit and afford. Fifth wheels and travel trailers are notorious for dry rot in their tires if they sit unused for too long. When your entire life is riding on those tires – for a long weekend or indefinitely – investing in tires can be a game changer for your safety and peace of mind while camping.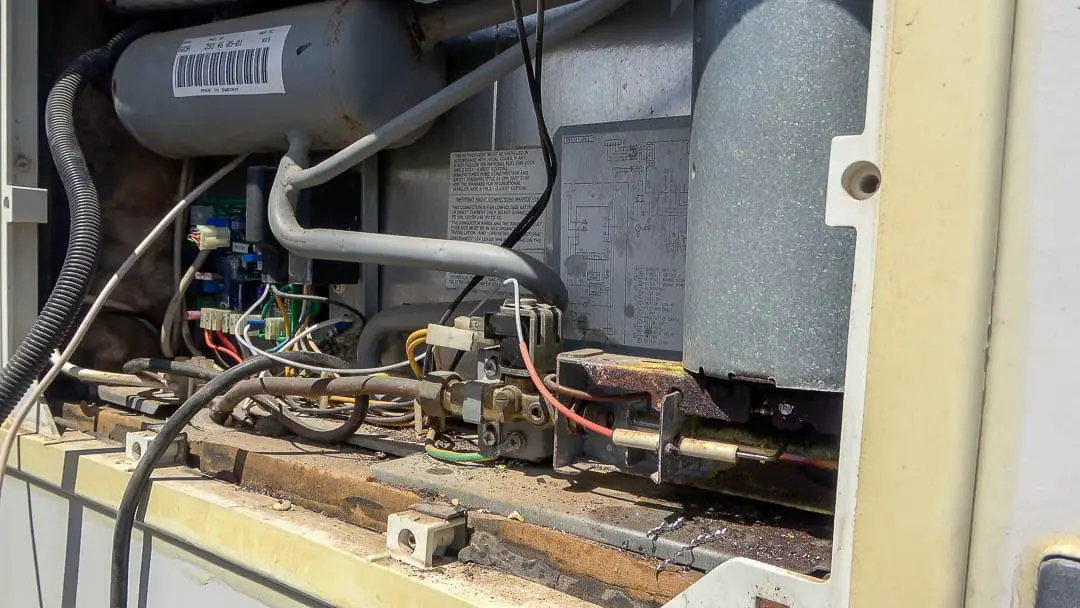 READ NEXT: Check out this post for a list of every preventative maintenance we recommend.
Tip #10 – Have a checklist
Checklists are great, especially for RV newbies. New RV owners may not fully remember every sequence of events required to set up or break down from camp, or how to use certain appliances in different situations.
Having a checklist, or a variety of checklists, to keep you on track will ensure that you are not the camper pulling out of the RV park with the power or sewer hose dragging behind you.
Depending on what kind of RV or trailer you own, you may also have specific actions you need to take in order to travel safely. Slide outs must be returned to the storage position properly and may need to be swept before bringing them in to avoid breaking.
And fifth wheels and travel trailers will also require wheel chocks when parked and those are often overlooked – resulting in danger both during camping (if you don't use them) or when leaving (if you forget to pack them).
The more you travel, the more you will remember and some processes will become second nature. But until you reach that point – especially if you only RV infrequently on weekends or a few weeks a year – it is best to rely on checklists.
YOU MAY BE INTERESTED IN… this post about our RV departure checklist.
Other Practical Tips for RV Beginners
Aside from our Top 10 RV camping tips, these are other great ideas for how you can make the most of your time RVing and worry less about things that may steal the joy of the camping experience.
Tip #11 – Learn the pros and cons of different types of RVs
If you haven't already purchased your RV or trailer, then there are loads of questions to ask yourself and others in trying to determine the best RV for your wants and needs. We recommend that you consider checking out some RV rentals if you aren't sure or confident in which RV is best for you.
We knew, for instance, that when we first started we wanted a small RV that could go off-road and was pulled by a heavy-duty truck. So we settled on a flatbed truck camper when we first started traveling.
Later, we learned that we wanted to travel a little differently and we switched to a great used Class C motorhome that we completely remodeled.
Every RV has pros and cons – so get to know your style of RVing or take a few practice camping trips in a rental RV before purchasing your own.
YOU MAY BE INTERESTED IN… Reading this post on determining which RV is best for you.
Tip #12 – Dry Run Camping In Your Driveway
Although it's not as glamorous as camping at the edge of the Grand Canyon, taking a dry run camping in your driveway will teach you a little more about what you may want or need before taking RV camping a little more seriously.
We only practiced RV camping two weekends in our driveway before we set off on the road. And while those two experiences helped us learn, we definitely recommend a few more trial runs before going all in.
Tip #13 – Understand the basic systems and appliances in your RV
The primary systems you should have a basic understanding of are the RV plumbing, electric and propane systems in your rig. You don't need to know all of the ins and outs of each component in each system. In particular, both the electrical and propane systems can be dangerous and intimidating.
However, having a basic understanding of which appliances run off propane and how to detect leaks or turn the appliances on and off is important. And being able to detect a plumbing leak or at least know where the fuse box is in the event of electrical appliances not working can be an easy way to fix things on your own.
Of course, if you plan to spend substantial amounts of time on the road then the more you know the better. But if this is the case, you're going to learn a lot as you go so look for every opportunity to learn more about your rig.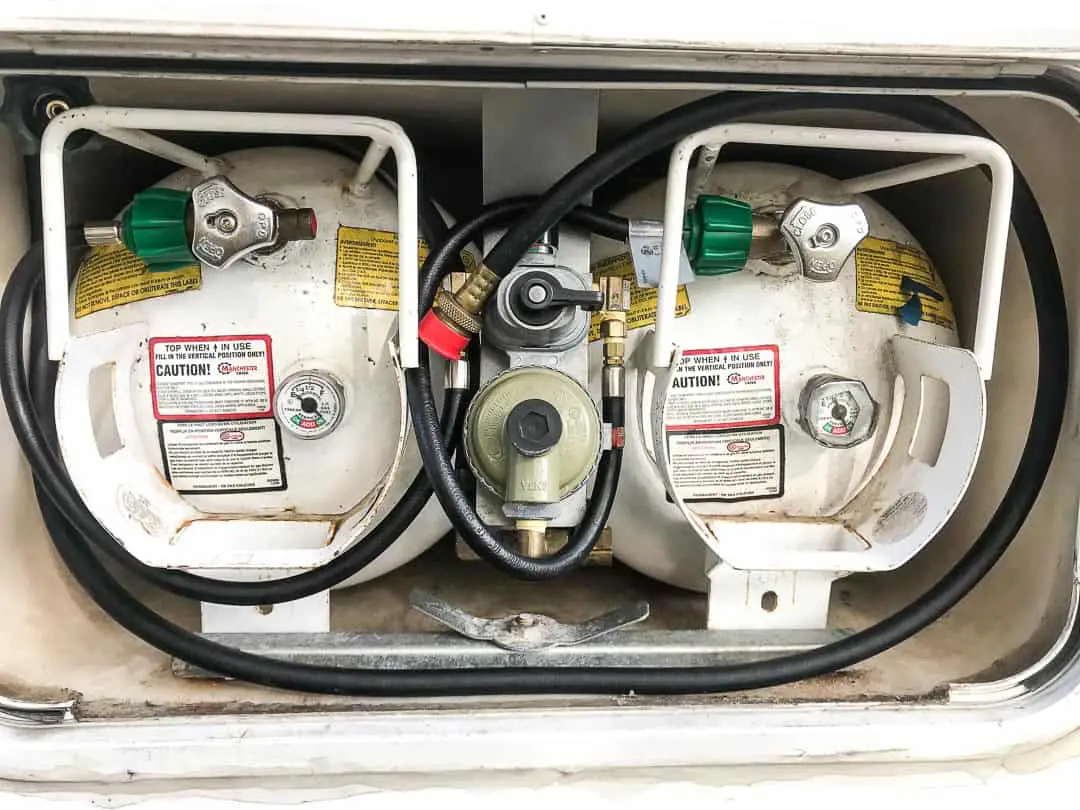 Tip #14 – Have the best mobile RV apps
In today's digital age, there are loads of RV apps that will help you enjoy camping even more. From apps that help you find the most affordable fuel prices to planning your entire RV road trip including a camping spot for each day on the road to finding a place to fill your propane tanks or to empty your holding tanks, there's a mobile app for pretty much every part of RV life.
READ MORE: Be sure to check out this post to learn which RV apps will make your life on the road easier and more enjoyable!
Tip #15 – Map out a realistic RVing budget
We started full-time RVing with less than $50,000 to last us what we thought would be 3 years of driving the Pan American Highway from Alaska to Argentina. In our first year, we spent about a third of that on repairs and nearly the rest on living and traveling expenses as we raced all around North America.
Budgeting became super-important for us and we think it's important for you too. We keep track of and publish all our expenses and help fellow RVers understand the cost of RVing. And we've learned that we can live quite modestly, yet comfortably, on around $2,500 per month.
This may or may not be realistic for you. But having an idea of how much it costs to RV will help you enjoy your RV road trip even more.
Tip #16 – Understand and Maintain your RV Batteries
RV batteries are the heart of your power system. And while we think you should have a basic idea of your RV electrical system, knowing the role and importance that high-quality batteries make to your RV experience is important.
For our first 2 years on the road, we had cheap flooded lead acid batteries that we treated terribly (unknowingly) and had to replace. We upgraded to AGM batteries, thinking that we couldn't afford lithium batteries. But then a year later we upgraded to lithium batteries because they were truly the best kind of RV battery for powering life on the road.
Regardless of what kind of battery you have in your RV, fifth wheel or travel trailer, maintaining them properly will mean a longer time of enjoying your RV camping experience.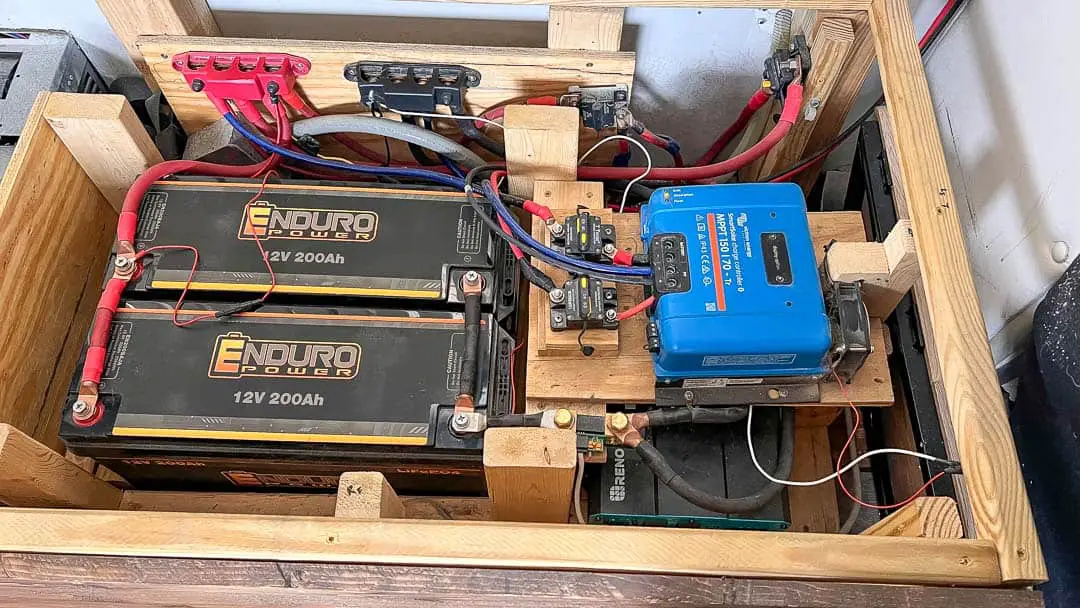 SAVE 5% on your purchase of our favorite lithium Enduro Power Batteries using code "CTW" at checkout!
Tip #17 – Prepare For Different Electrical Outlets
Again, you don't need to be an expert in your RV electrical system. But know that every RV park will offer a variety of different electrical outlets. You'll want to invest in some RV power essentials that will make sure you are able to plug in to shore power regardless of what kind of 110V power is offered.
You will want to know if your RV or trailer has 30 amp or 50 amp power service and then have different adapters to convert anything from 20 amp to 50 amp into usable energy in your RV.
READ MORE: Check out this post for all of our RV power essential recommendations.
Tip #18 – Dump the right way
OK, dumping your tanks is pretty straightforward. But every now and then you'll come across RV beginners that make simple mistakes when emptying their tanks.
For example, you'll want to empty your black tank first before your grey tank as the grey tank will flush the sewage from the black tank. Additionally, close your black tank valve before opening your grey tank.
And if you are staying in an RV park with full hookups, you can leave your grey tank valve open. But always keep your black tank valve closed until you open it to empty the tank every now and then.
Tip #19 – Learn how to RV safely
There are lots of other RV camping tips for beginners that will help you travel more safely. But in general, it is worth investing some time in learning the best practices for remaining safe.
Some of the best safety tips for RVing include:
Take a few practice drives to become used to the size of your rig.
And find a large parking lot where you can practice parking and maneuvering.
Keep up with the air pressure in your tires and know how to power down your electrical system and propane system in the event of leaks.
Also, be sure that all of your alarms and detectors in your RV work (liquid propane gas, smoke, carbon monoxide) and have an updated fire extinguisher with you at all times.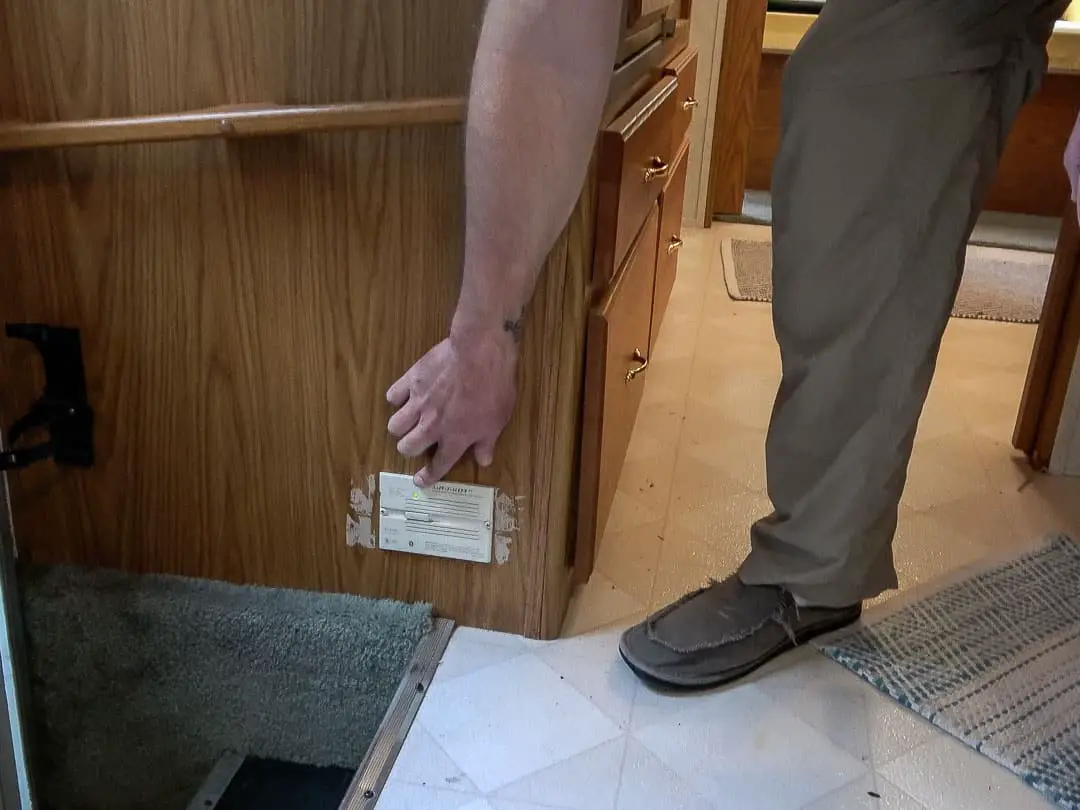 Tip #20 – Know and Track Your Fuel Economy (And know your fuel range)
We track our mileage for every day that we travel in our motorhome. Not only do we know how many miles we drive, but also we keep track of the MPG we get in various conditions and we can thus estimate our fuel range to know when we need to find a gas station.
Although road conditions and speed can cause variations in your fuel mileage, knowing how much you should get will give you an idea as well if something is wrong with your vehicle. And, of course, knowing your fuel range should help you keep from running out of fuel – which is not common in the Lower 48 but is relatively frequent in places like Alaska and Mexico.
Tip #21 – Consider A Tow Vehicle
Depending on what kind of RV or trailer you may have, you may want to invest in having a vehicle that you tow with you. This applies more to motorized RVs than trailers, which would use your truck to tow them in the first place.
While not necessary, we've learned that having a tow vehicle for any of our motorized RVs over the years would have given us much more flexibility and freedom to be able to explore new places in greater detail. Plus it helps with running errands and, in the event of an emergency, you don't have to pack up your entire RV or trailer if you have a secondary vehicle.
Wrapping Up
The number of RVing tips for beginners is truly endless. Depending on what kind of RV you have and the kind of RV camping that you plan to do, there are all sorts of tips and tricks to make life on the road safer, more convenient and more enjoyable.
These are our top recommendations to consider if you are new to RVing. Don't let them overwhelm you. Rather, let them be guidance to help you find the best way for you to make the most of your next RV camping trip.
Did we miss anything? Have any questions we didn't address in this post? Leave us a comment and we'll be sure to address it!
About Author