Last Updated on February 16, 2023 by Chris and Lindsay
Everything you need to know about RV camping in Baja Mexico.
If you want to go camping in Baja you've made a great decision! The Baja Peninsula, like Alaska, is one of the few places in North America that still feels rugged and wild enough that you can make some great adventures.
While at the same time you can also find incredible places to relax and, say, spend the winter. Whether you are into flat water sports such as stand-up paddleboarding and snorkeling or prefer inland activities such as hiking and mountain biking, you'll find that Baja offers all sorts of outdoor adventure!
Who Will This Guide Help:
This guide is intended to provide an overview of all of the information you will need to plan your camping trip in Baja.
However, we will say upfront that our first visit to Baja and the basis for much of this information comes from the perspective of a truck camper as they truly are the best way to experience Baja. But if you have a van, Class C motorhome, 5th wheel trailer, motorcycle or any other means of exploring Baja, we'll point out ways that each recommendation will impact you. 
We're focusing on those places and experiences that are most accessible for anyone with a Class C motorhome or smaller.
So if you have a Class C motorhome, van, jeep, motorcycle, car or even bicycle you should find this information helpful. There are no places in this guide where you cannot pitch a tent, sleep in your car or raise your rooftop tent.
And if you do have a truck camper, you'll really appreciate this guide. We've seen more truck campers while camping in Baja than any other kind of RV. 
Our Limitations:
Unfortunately, we don't feel that we can speak with authority on the ins and outs of camping in Baja with a Class A Motorhome. So if you own a motorhome please feel free to use any of the information we provide as you plan your trip. We have seen Class A motorhomes in nearly all of the major villages, towns and cities in Baja.
So we know it is possible for you to travel the peninsula in your motorhome.
Just be aware that some information, such as the accessibility of gas, propane and maneuverability in some camping locations will be greatly impacted by the size of your RV. While our former truck camper is 4×4 and is more agile than some larger RVs, we did not spend a lot of time getting off the beaten path to camp in more remote places.
If you are in an even more rugged overlanding vehicle (Unimog, Toyota, Jeep, etc.) you'll be able to see a side of Baja we only sampled. There are still plenty of lesser-visited and off-the-beaten-path places to camp in Baja. But don't worry, we're not giving away any "secrets."
We know that will remain so because they are so hard to access. So if that sort of adventure is what you are after, grab a great map of Baja and download iOverlander and pull off on the first dirt road that grabs your imagination! 
Regardless of why you want to camp in Baja, we're glad you've made the choice and hope our information will be helpful as you plan an awesome time.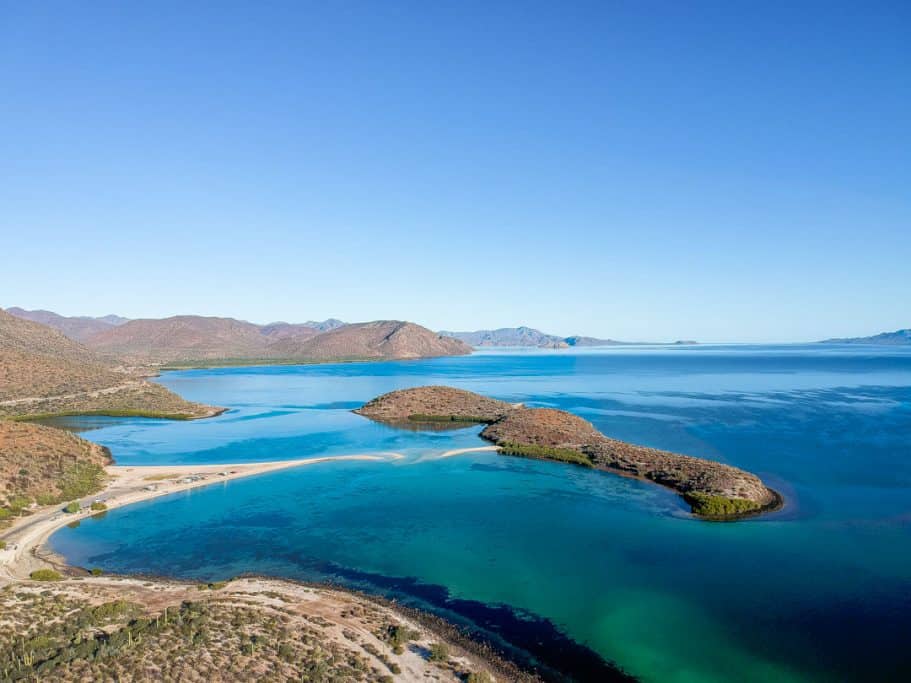 Affiliate Disclaimer: This post may contain links to products we think you'll like. If you purchase any of the products through the links below we'll receive a small commission. As full-time RVers, we know our RV products well and only recommend those that we either own or would consider owning ourselves.
The Ultimate Guide To Camping In Baja
NOTE: The Mexican government requires all drivers to carry at least liability insurance for the duration of your visit. We ALWAYS go with a policy from Baja Bound as we get the exact coverage we need and save plenty of money in our budget for fun things in Mexico… like tacos!
Sustainable Travel in Baja
We love to travel because we love interacting with people and places wherever we go. However, we also know that travel necessarily has an impact on local communities. 
We believe in making a positive difference everywhere we go, and we'd love to help connect you with individuals, organizations and experiences that add value to the communities you visit during your travels. 
But if you want to simply get away and enjoy camping in Baja, we do invite you to consider your time in Baja as borrowed. Unless you plan to move here permanently, you are just passing through and should treat this place with great respect. 
These are a few things we would ask you to consider during your time in Baja: 
Dump/use restroom where appropriate. There are campgrounds with dumping facilities in every major town and city in Baja. Plan accordingly. And if you are camping without a self-contained toilet, remember to go off the beaten path a bit and bury your business. 
Dispose of all waste. Even in some of the more remote places the local government has set up trash bins for waste. Please use them. And if they are not present, be sure to carry out what you carried in.
Be friendly. This applies to fellow travelers as well as locals. If you camp on the Bay of Concepcion, you will have vendors visit you several times throughout the day. Smile and say "no gracias" if you are not interested in what they are selling. And when the camper next to you fires up the generator at 7 am so they can brew their coffee, smile and be kind throughout the day (maybe ask him how his coffee was?).  You will make friends in Baja and that will lead to a far more enriching experience than you will ever plan. 
Be mindful of others. You may want to stay up blaring music until the sun comes up, but your neighbors may not. And you may also want to drive as aggressively as some of the locals. But be mindful that your actions reflect on all of us. Things do change in Baja because of RV visitors. Let's make sure everyone gets the right idea about those of us who choose to camp in Baja.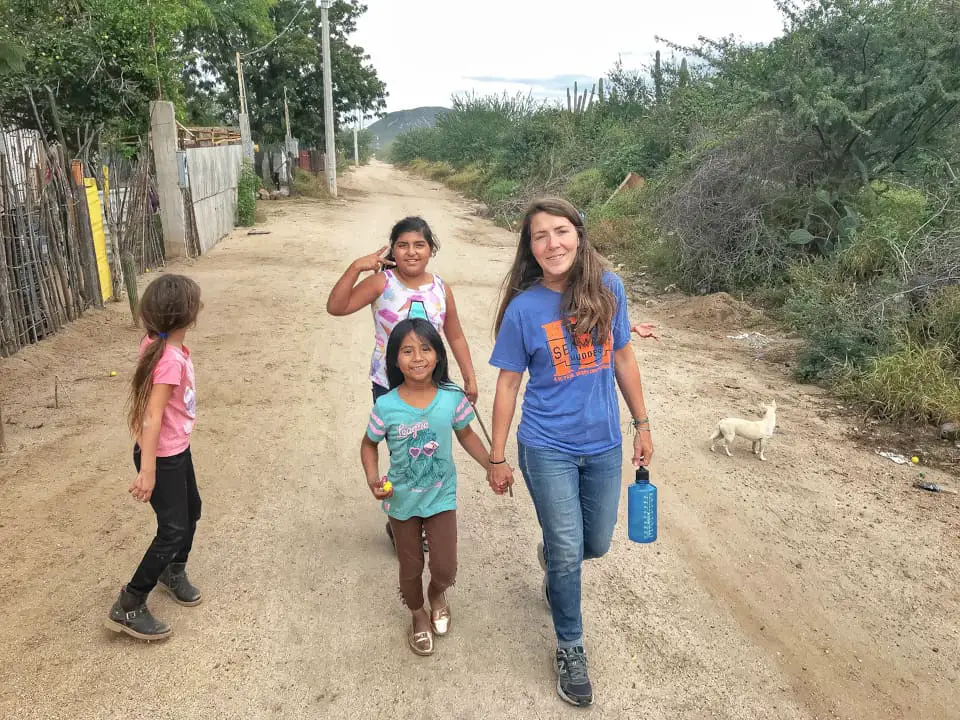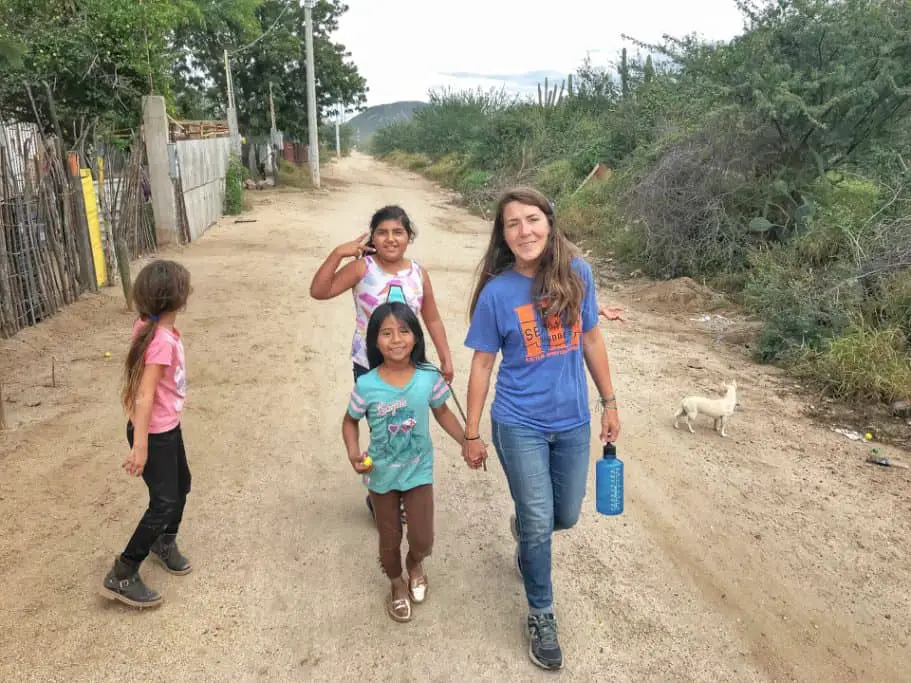 Why Camp in Baja?
We don't really have to tell you why you should camp in Baja. You're reading this now because you know you want to. Maybe you want to escape the cold winter of home.
Or perhaps you're looking for adventure. You could even be traveling from Alaska to Argentina (or vice-versa) and this is just a 1,000 mile stretch of the Pan Am for you. 
Regardless of why you have come, know that all travelers are welcome in Baja. As the roads become more developed (which they are!) and more people visit, Baja will continue to grow.
We encourage you to enjoy your time here, for whatever reasons you have come and know that you are experiencing a beautiful place with beautiful people and your memories of this trip will be amazing.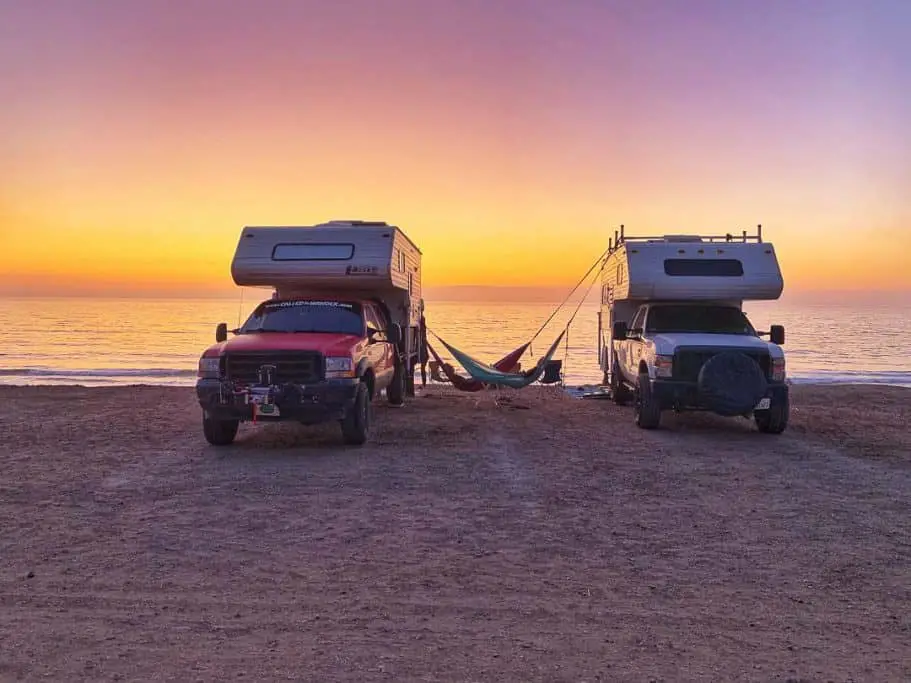 When Is the Best Time to Camp in Baja
There is no "best" time to camp in Baja. But there are certainly better times. The late fall and winter months are by far the most popular for camping in Baja.
This is because the weather is much milder in Baja (though you will find yourself wearing a sweatshirt from time to time) and some of the activities are best enjoyed in winter (whale migration, wind sports and fishing, for instance). 
Winter.
If you come during winter do not expect to be alone. There is a mass migration from the US and Canada between late October and March where many long-term campers escape to their favorite beach to wait out winter.
You'll be surprised at first by the way they have transformed a simple sandy beach site into a second home. But then you'll realize that every beach in Baja has at least one of these half-year residents. 
During this time the temperatures are cooler, of course. But they are nowhere near what they are further north.
You may see temperatures in the 40s (F) in the northern part of Baja. In La Paz and further south, they may drop into the 50s. But rarely will you see anything more drastic. 
These temperatures keep the flies and mosquitoes down, tend to keep the land drier and are a welcome respite from anyone escaping snow.
The water tends to be cooler during this time, though it is pleasant enough in most places to enjoy.
Except for the weeks around Christmas and New Year, local crowds will be limited to just weekend activity for the most part. 
Prices will tend to be higher in places where prices fluctuate (RV parks, for example). But despite the crowds, you will almost always find a place to camp for the night.
It may not be the glorious view of the beach you were hoping for. But because so many people camp in Baja it is likely someone will leave the next morning and make space for you. 
The winter months in Baja truly are remarkable and are certainly the "better" months to camp in Baja. 
Summer.
Baja is beautiful. But it is also hot. So expect virtually the description above but in reverse.
The heat can be unbearable (reaching over 100F in many places) and the bugs can be bad. When school is out and the water is warmer everything is more popular for local Mexicans.
Some prices will drop, as there is not nearly the crowd of people camping in Baja in summer as during winter.
But you'll also miss out on some wildlife interactions. While others, such as finding whale sharks on your own in the Bay of Los Angeles, will open up for you.
Cabo Pulmo, a beautiful national park on the East Cape of southern Baja, has virtually no wind and makes snorkeling and diving ideal. 
Ex-pats like to joke that you earn your badge if you stay through summer in Baja. But also know that the summer swells on the Pacific are usually better and the cooler Pacific water is more inviting during the summer.
If you surf, you'll likely want to visit during summer. 
But do note that Baja is a peninsula and is wide open to catastrophe from hurricanes, particularly during late summer and early fall.
Be mindful if you camp in Baja between June and November that you will want to pay particular attention to the weather. Hurricanes typically do not do damage to northern Baja.
But anyone who has lived in (or visited) Baja for any length of time will tell you stories about how the highway was washed away or the houses were all flooded or the power was out for weeks.
You have an advantage during this time in that you are mobile. So just be mindful that you may need to evacuate.
Otherwise, Spring and Fall can be delightful. We personally enjoy fall more than spring because the water has been warmed up all summer and still retains its heat.
But in spring the wildlife is generally more active. This is when you'll want to plan to swim with whale sharks in La Paz or go grey whale watching on the Pacific. 
But whenever you come to Baja is the best time. Enjoy it!  
How Long Should I Plan to Camp in Baja
How long you camp in Baja is entirely up to you. We have friends who make weekend and multi-week trips down from Southern California and Arizona. And we've met people who straddle winter and set up for 6 months at a time.
However long you have is up to you. But we would suggest that you give yourself at least 4-6 weeks at minimum to truly enjoy Baja. We believe that Baja becomes better the further south you go (OK, but not all the way to Cabo San Lucas.
We're not big fans of that place… and there are NO places for RVs there anyway!).
And while you can drive the length of the peninsula in a few days, there is so much to see and do along the way that you will want to give yourself as much time as possible to enjoy them. 
And the kinds of activities you enjoy will also determine how long you should spend. If you enjoy kiteboarding, the wind in Los Barriles and La Ventana blows strong through most of the winter.
In summer, swells in the Pacific will bring days of amazing surf to places that usually see none. And when the fish are biting, who wants to leave?
We may be bad examples since we are called to wander. We always leave flexibility in our schedule and open ourselves up to the idea we may spend more time in one place we never knew existed and less in another we thought we'd stay for weeks. 
But 4-6 weeks would allow you to comfortably enjoy the best of Baja, if you can carve out that much time in your schedule. 
How Much Should I Budget For Camping In Baja
Baja is Mexico and Mexico is cheap, right? Not necessarily. This is especially true in places where tourism is thriving… or where there are many ex-pats. 
For example, camping in San Felipe averages more per night than places further south. You could easily spend USD$25 or more for hookups (and they actually charge and accept US dollars instead of Mexican pesos!).
Los Barriles has much the same pricing for camping, and some places even higher! 
But then you'll find in central and southern Baja along the Sea of Cortez you can wake up on the beach for less than USD$10 per night. Or you could find yourself camping in a beautiful place for free! 
Food is the same. You could spend as much as you want to eat out at any of the great restaurants in Loreto. Or you could gorge yourself on street tacos in Guerrero Negro.
Grocery prices are relatively consistent. Although when you are in a smaller town like Mulege or San Ignacio your choices will be limited but the prices will generally be lower than more popular and busier places.  
In general, these are the budgeting line items and what you could expect to spend: 
Camping: Low – FREE  Medium – USD$12 High – USD$25
Meals: Low – USD$7-10 Medium – USD$10-15 High – USD$25+
Tours: Typically USD$60 – $100+
Fuel, of course, is non-negotiable. But fuel prices, in general, in Baja are higher than in the US (California aside). Canadians tell us they are comparable to fuel prices in Canada. 
We have budgeted USD$40 per day for two people (and our pup), with one tank of fuel every 2 weeks (~USD$160).
This works out to around USD$1,200 monthly (not including other expenses such as health insurance, auto insurance, and other recurring "home" expenses). 
We have found that in places where we are forced to spend USD$25 in camping we then cook more food ourselves. And when we want to take a tour, we find a place to free camp for a few days. 
Having kept this budget, we would prefer to have the following budget were we able (for 2 people): 
Camping: USD$25 per night. This would ensure we could camp ANYWHERE in Baja and not be over budget.
Meals: USD$30 per day. This would allow us to eat whatever we want at 1 restaurant per day and still stock up on our groceries.
Tours/Activities: USD$500/month. This varies, of course, by where you travel and for how long. But we passed up on activities (diving in Cabo Pulmo, fishing in Loreto, etc) that we would have done if we had budgeted more for tours and activities.
Fuel: USD$100/week. This is not much different than currently and Baja is only 1,000 miles each way. But there are lots of detours and side roads you can take if you wanted to put on miles exploring.
In general, if you had USD$2,500 per month (approximately USD$85/day) in your budget you would find that you did not worry about where you camped (or for how long you enjoyed that campground with the hot tub, pool and bar).
Nor would you be concerned about what you ate and drank (alcohol is relatively cheap here and we don't drink much or budget for that) or whether you should swim with whale sharks or camp for a week on La Isla Espiritu Santo (you could do both). 
However, our USD$1,200/month budget has worked out nicely. And we have met other campers who live on much less and still enjoy their experience tremendously! 
What do I need to do to enter Baja
We have a whole list of tips for traveling to Baja to make your experience better. But in general, you need the following documentation: 
Passport
FMM temporary visitor visa (for stays longer than 7 days and up to 180 days)
Auto insurance (required by law in Mexico)
Pet vaccination record (not strictly enforced until returning to US)
Of course, it is wise to have copies of all of your documents, including your driver's license, credit cards and the above documents. 
We also find that crossing in Tecate is generally the best border crossing experience, particularly for truck campers. 
NOTE: The Mexican government requires all drivers to carry at least liability insurance for the duration of your visit. We ALWAYS go with a policy from Baja Bound as we get the exact coverage we need and save plenty of money in our budget for fun things in Mexico… like tacos!
Is It Safe To Camp In Baja
If you ask your friends and family if traveling to Baja is safe they will tell you no. But we would prefer to travel and camp in Baja over that in Chicago, Los Angeles and New York (can you even camp in these places?!). 
Like most anywhere in the world, Baja is as safe as you believe it to be. There will always be petty crime and vandalism.
But commonsense preventative actions will reduce those (park in lighted areas, camp where there are others around, etc). 
If you are worried about the cartel kidnapping you, don't go around Baja asking where the cartel is.
We've heard there is a cartel presence but we've never asked, nor have we worried, whether we would be prey for the cartel. Generally speaking, they are busy with other activities. 
Then there are rumors about the police asking for bribes. This is a fact, some police will pull you over and ask for a bribe. But you don't have to pay it and have a right to see a judge (or the police chief) and pay the fine in person so this can be mitigated.
And if the military carrying automatic weapons around the shoulders makes you nervous, you'll find this to be true at various military checkpoints on the highway and throughout some cities. Personally, we are grateful for the presence of these Federali's as they are a clear deterrent for more violent crime. 
So is Baja safe? Very much so. Just don't spend your time trying to buy drugs, racing through busy streets and, generally speaking, being a jerk to the locals. 
READ MORE: For more information about safety when traveling in Baja read this post.
How Are The Roads For Driving In Baja
Most of the roads in Baja are decent. Some are better than interstates we've driven in the US. And some should not even be called roads. 
In general, the main highway, HWY 1, is just wide enough for 2 semi-trucks to pass each other without major catastrophe. There is little to no shoulder. And potholes and the ever-dangerous free-range cow are constant threats to safety. 
Generally speaking, the further south you travel the better the roads get. There is more tourism and ex-pat money in the towns in BCS and, for example, the highway from Todos Santos to Cabo is 4 lanes and wonderful. 
In contrast, many roads in towns and villages in Baja are not well maintained. They may even have a main road that is paved, but then every side road is dirt. In some towns, even the main roads are not paved. 
In general road conditions are conducive to anyone who wants to camp in Baja. Like all things, always remain aware and use your common sense when you are unsure.  
Stocking Up RV Supplies In Baja
Now to the practicals. While Baja is still perceived to be rugged and somewhat looked down upon by mainland Mexico, forty years ago it truly was the Wild West.
Roads were not paved. Fuel stations were few and far between. Methods to purify water were not created yet. Medical care was sparse and mostly left to indigenous traditions. 
In 2022, Baja is incredibly more friendly to travelers. Some people like to look down upon this and live in a world where they think they are the only ones who should get to experience the beauty and magic of Baja.
But we think this is a great thing because we advocate for responsible tourism and believe that travel and tourism have the ability to positively change the world. 
As such, you won't have difficulty finding fuel, propane, purified water, groceries or a place to dump your tanks.
But in case you are wondering, here are a few notes on each to help put you at ease about camping in Baja.
Fuel
Fuel is expensive but readily available. There are rumors that some stations skim up to 1/10 of a liter to increase their profits. And there are some shady fuel attendants who will try and scam you (read our tips for Baja to mitigate these).
But finding fuel will be no issue. Generally speaking, the bigger the station the better because truckers will stop at the big stations and they know which stations are of ill repute. 
Propane
Propane is also a common commodity and you will find virtually every home and business runs on propane. So you can find refill stations in, or just outside, of every major town and city in Baja.
Some refill stations are massive and incredibly busy, such as the one just outside La Paz. But if you plan accordingly (never let your tank go fully empty) you will have no problem finding propane in Baja.
Purified Water
In most towns and cities in Baja even local Mexicans don't drink the water in Mexico. As such there are lots of little storefronts that have reverse osmosis machines to create purified water. The "garafon" (5-gallon container) is standard and prices are usually per garafon or per liter.
Be mindful that not all purified water stations offer hoses. So if your RV requires a hose to refill (like ours) you will need to ask if they have a hose ("manguera") or have an alternative way to fill your tank using 5-gallon jugs (we drain ours from the roof to our tank using our own hose)
Groceries
You will not have a problem finding food to eat in Baja. Everyone eats. But if you are going to spend a week camping on the Bay of Concepcion, for instance, it's a good idea to stock up in Mulege or Loreto as you won't find a grocery store in that 30-mile stretch.
There are more "American" stores such as Wal Mart, Costco and Sams in bigger cities (La Paz, Cabo San Lucas, Mexicali) and you will notice regional grocery chains as well. But expect to find at least a small grocer in every town or village that will have at least the basics (and Coca-Cola, even the most remote villages seem to always have Coca-Cola!)
Where Do I Dump My Tanks In Baja
This is a great question and should be answered very clearly: there are plenty of places to dump your tanks (black AND grey) throughout Baja. 
Most bigger towns and villages have RV parks with dump stations. This is your best bet. Even if you do not want to camp for the night, you can typically offer around USD$5 to dump your tanks. 
While there is significant controversy over whether it is legal and OK to dump your tanks in the wild, we do not advocate nor advise such when camping in Baja. 
Plan accordingly. 
We spent one-month camping on our favorite beach just outside of La Paz. But every 7-10 days we ran into town to the closest RV campground and paid to dump our tanks (and take a hot shower!). 
Since we do not camp in the same place long-term like many people you will find on the beaches in Baja we cannot speak to how they handle their tanks. We have been told that some creative Mexicans have started businesses of draining tanks for people in the more popular beach spots (El Coyote, Los Cocos, etc).
But as we want to help you understand the basics of camping in Baja, know that as long as you are on the move to some degree there will always be a legitimate place to dump your tanks. 
What Do I Do About Cell Phone And Data When Camping In Baja
If you have a US cell phone plan then there are good chances that your plan will work in Baja the same as it works in the US (with basic setting adjustments). We have Canadian friends who have told us that this is not true for them and that they have to pay upwards of $12 per day for access to their Canadian cell phone plan.
So first, check with your specific cell service provider on the details of their plan. 
We have an AT&T plan that provides us unlimited talk and text with an additional 15G WiFi hotspot per phone per month. This is extraordinary because, as far as we can tell, AT&T does not throttle our data use. 
Verizon offers a similar plan. However, they provide the same 15G hotspot but doled out in 1/2G daily increments. Thus after you use your 0.5G in one day your data is throttled for the remainder of the day. 
We work remotely and having WiFi is imperative to our ability to live on the road. Thus our AT&T plan is our primary outlet for cell and data service. We have made calls and texts to friends and family throughout the US (including to a friend in Alaska) the same as in the US. And dialing 800 numbers works as well (using 881 instead of 800).
Our 15G of monthly data has allowed us to fulfill our work obligations while camping in Baja. But when it comes to uploading videos (or occasionally splurging on a Netflix binge) this is not nearly enough data to last a month. 
READ MORE: For all the best ways to stay connected, check out our ultimate guide for finding WiFi in Baja.
For this, we have purchased a Mexican TelCel SIM card to put in our phones as needed. We have unlocked iPhones so this was not an issue at all (unlocking an already paid phone with AT&T is easy).
Then we purchased a plan through TelCel, which we found cost us around USD$25 for 8G of data. 
We have since learned that TelCel offers a 2-hr unlimited data plan for just under USD$1 which is accessible if you have a SIM card (USD$1.50 to purchase SIM card alone).
This has been great for us as we have learned to "batch upload" videos to our YouTube channel during this 2-hr window. And we now spend that USD$1 for 2-hours of movie-watching during a date night. 
In short, depending on your cell and data needs your current cell provider might be all that you need.
It is always good to have a backup in all scenarios (like when we crossed into Tecate and didn't have our phone settings correct and couldn't make a call or use our map!) so ensuring you have an unlocked phone and purchasing a TelCel SIM card is a great way to be certain you will have all of the cell and data you need to camp in Baja.
RV Necessities in Baja
There is really nothing specific you need for camping in Baja that you don't need when camping elsewhere. And you will find most of the things you use and eat have comparable products in Baja.
But if you have any specific things you cannot live without, be certain to stock up. For instance, we have mild addictions to Trader Joe's "Everything but the bagel" seasoning. You're not going to find that in Baja.
And we also use a particular almond creamer in our coffee and tea that we've only found in one small store in Los Barriles. Toilet paper and paper towels are of notoriously poor quality. We loaded up on our favorites before we left Arizona. And you won't find paper plates anywhere (Mexicans seem to like their plastics and styrofoam).
Your choice of meats and cheeses will also differ in Baja. You'll find plenty of manchego and goat cheese. But cheeses like Parmesan and mozzarella are virtually impossible to find. 
Additionally, it is obvious that you should plan to bring extra of any medication, supplements and vitamins you might take. We take lots of these. In fact, we have one container that held our entire 6-months supply (plus our extra 7th month) and took up quite a bit of space in our camper. But for us, these are non-negotiable daily needs so we made sure we had plenty. 
Otherwise, you'll find that most things are replaceable. And if you have or choose to purchase a Costco card (around USD$20 on the spot in Cabo San Lucas) you can get a lot of the same products in that Costco as back in the US or Canada (you just have to deal with being in Cabo San Lucas!). 
Other good things to have on hand:
Sewer hose
Water hose
Extra filters (fuel, oil)
Extra fluids (oil, transmission, coolant)
Extra drinking water containers
5-gal Jerry can (gasoline/diesel as needed) 
Can I Find Maintenance/Repair Shop For My RV
Well, the bad news is that you aren't going to find a Camping World in Baja. So anything that is camper-specific is likely not replaceable (or at least easily replaceable).
But the good news is that you are in Mexico, so there is always a way to fix what is broken. 
You might have to be creative or to settle on inferior quality for a replacement. For example, we thought we were having issues with our deep cycle RV batteries and we shopped for some in a busy ex-pat town.
While there was one store with deep cycle batteries suitable for RVs we did not recognize the name and there was little online by way of verifying its quality. These definitely would have been useful just to replace our existing batteries, and then they would have been changed upon our return to the US. 
When it comes to vehicles, as long as you are not driving a one-of-a-kind vehicle you should have little issue with a repair.
We did meet a German couple driving a unique German-built RV. They had a small breakdown that ended up taking 1 month for the parts to arrive from Europe. Otherwise, the mechanical swap out was done in an hour.
We have had work on our suspension as well as an oil change and had no issues with the work. The parts were comparable to prices in the US. But the labor was significantly less. 
We advise carrying extra filters because sometimes the parts do not necessarily fit correctly.
We chose a Ford Dealer for our oil change because we knew the filter and oil would be Motorcraft. In the future, we would carry our own filters and purchase oil at any of the major automotive repair chain stores in Baja (they are numerous) and we could have any shop do the oil change at half what Ford charged us. 
In general, if the vehicle you drive is common in Mexico then it's likely you'll have no issue finding a repair or having routine service completed. But the more unique or custom your vehicle, the greater the chance you need to invest in some spare parts. 
Resources for Camping in Baja
The biggest resource you need for camping in Baja is also the best resource for camping virtually anywhere in the world: iOverlander. Download the app and make sure you have it setup for offline viewing as you will spend a fair amount of time in Baja without cell service.
Church's Camping Book ("Travelers Guide to Camping Mexico's Baja"). Like many people making their first trip to camp in Baja, we were intimidated by the planning experience. Despite numerous friends telling us that we would be ok (count us as one in your life!) we still wanted to hold something in our hands that told us where to go to find camping in Baja.
By far the best hard copy book to achieve this is the Travelers Guide to Camping Mexico's Baja (This is an Amazon affiliate link). But note, we used the book for only the first week. Then it just took up space because we quickly became comfortable camping in Baja on our own with the use of iOverlander and friends that we made everywhere!
Baja map. While digital is where the world is today, it's good to have a hard copy map on hand as well. If you decide to go with Churches Camping then you'll have basic maps. Plus iOverlander will give you an overview map even if you're offline.
We also carry the National Geographic Adventure Map as a backup. Though we've never really HAD to use it, Chris is more a map nerd and loves taking it out from time to time to look at new places to explore!
Where are the best places to camp in Baja
We have separate posts for each of these topics. And each one is based on our personal experience and does not reveal any "secret" spot that has not yet been found or exploited. 
In fact, before you go camping in Baja you should be sure to download the mobile app iOverlander. We have used this app exclusively to find and share travel resources throughout the peninsula. 
But in case you want to know more about what we found to be the best camping in Baja, here is a brief overview. 
Best Camping in Baja
The best overall camping in Baja is in the southern state, Baja California Sur (BCS). Everything is more laid back in BCS and the beaches are spectacular. You'll find more information about these places in our post on the best camping in Baja.
But no doubt you will enjoy camping along the plazas in both San Ignacio and San Miguel de Comondu, the Bahia de Concepcion beaches of Playa Coyote and Playa Requeson, a horse ranch in San Felipe and Tecolote outside of La Paz.  
Best Beach Camping in Baja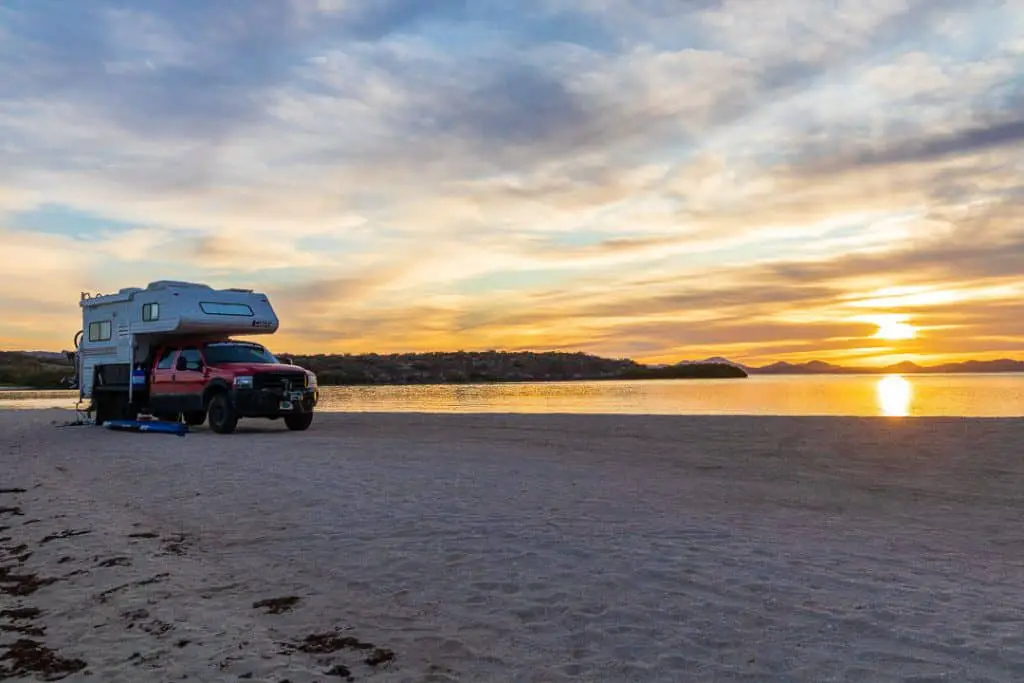 The best beach camping in Baja includes many of the above places, since beaches are a big draw and one of the top reasons to camp in Baja. But it will also include La Gringa (Bay of Los Angeles), La Pastora (Todos Santos), Los Abrolitos (Cabo Pulmo) and the arroyo in Los Barriles. 
Best Free Camping in Baja
Much of the camping we have done in Baja has been free. And if you use the iOverlander app you will find most places indicated on the map are free. However, not all places on iOverlander are safe nor are they recommended for the average RV. For example, we do not believe in "stealth camping" where we park in a neighborhood and pretend to be a resident.
Mostly we respect people's privacy and property and do not want to infringe on their lives. But also we don't really fit in as a stealth camper.
We also don't believe that pulling off on the side of the highway and driving behind a clump of cactus or a big rock justifies camping. You'll find a fair number of these on iOverlander.
Finally, we are not adventurous to drive to some of the most remote places in Baja where there is nobody around to even collect a fee let alone establish a campsite. These too are abundant on iOverlander and you are welcome to them if that suits your taste.
But for us, these were a few common, safe and free places we recommend if you are looking to save a little cash in your budget: Punta Final (Gonzaga Bay), Cocos Corner (HWY 5 and HWY 1), Mulege Lighthouse, Plazas of both San Ignacio and San Jose de Comondu, Scorpion Bay beach (San Juanico), Playa Pichilingue and Playa Tecolote (La Paz), La Pastora (Todos Santos) and the arroyo in Los Barriles. 
READ MORE: Check out our guide to the best FREE CAMPING in Baja.
The Best Camping in Baja, Mexico?
Now that we've traveled the length of the peninsula over a period of 6 months camping in Baja we want to share the best camping spots that we've found so you can begin to plan your trip to this beautiful and friendly place!
Our goal in this post is to share with you the best Baja camping spots – particularly those that are budget-friendly and safe. We'll also share how to get there, the various amenities offered and let you know what to expect during your stay at each Baja campsite.
While this post is tailored to RV camping in Baja, Mexico we will point out that there is NO REASON why any of these recommendations cannot safely and reasonably accommodate those of you traveling by van, car, motorcycle or bicycle. 
Read below to find the best places to camp in Baja that fit your taste and budget!
| | | | |
| --- | --- | --- | --- |
| Campsite | Location  | Cost | Amenities / Notes |
| K58 Alisitos | Alisitos (BN) | 200 pesos (USD$10) | Dry camping, outdoor shower, bathroom, great cell service |
| Valle RV Campground | Valle de Guadalupe (BN) | 500 pesos (USD$25) | Power, Water, dump station, bathroom/shower, limited cell service |
| Centro Equestre Caballerizas Paraiso | San Felipe (BN) | 200 – 300 pesos (USD$10 – 15) | Dry camping, option to pay for use of  bathroom/shower, WiFi and cell service |
| Victor's RV Park | San Felipe (BN) | 200 – 500 pesos (USD$10 – $25) | Options from dry camping to full hookups on the beach, bathroom/ shower, WiFi and cell service |
| Camp Beluga | Gonzaga Bay (BN) | 500 pesos (USD$25) | Dry camping, pit toilet and private palapa, no cell service |
| Playa La Gringa | Bahia de Los Angeles (BN) | FREE | Boondocking, no cell service |
| San Ignacio Plaza | San Ignacio (BCS) | FREE | Boondocking, limited cell service |
| Antonio's Eco Tours | Laguna de San Ignacio (BCS) | 300-500 pesos (USD$15 – $25) | Dry camping, shower and toilet available, no cell service |
| Huerta Don Chano's | Mulege (BCS) | 300 – 400 pesos (USD$15 – $20) | Full hookups, shower and toilet, WiFi and cell service |
| Playa Coyote  | Bay of Concepcion (BCS) | 200 pesos (USD$10) | Dry camping, pit toilets, no cell service |
| Campestre Maranatha | La Paz (BCS) | 300 – 500 pesos(USD$15 – $25) | Dry camping to full hookups, bathroom/shower, pool, WiFi and cell service  |
| Playa Tecolote | La Paz beaches (BCS) | FREE | Boondocking, no cell service |
| La Pastura | Todos Santos (BCS) | FREE | Boondocking, limited cell service |
| Playa Norte Arroyo | Los Barriles (BCS) | FREE | Boondocking, great cell service |
| Los Arbolitos | Cabo Pulmo (BCS) | 60 pesos/person (USD$3/person) | Dry camping, bathroom/shower, limited cell service |
| Street Parking | San Miguel de Comondu  | FREE | Boondocking, no cell service |
| | (BN = Baja Norte, BCS = Baja California Sur) | | |
We can't lie – we love the atmosphere, people and beauty of Baja California Sur (BCS) more than we do of Baja Norte (BN). It's not that the people in Baja Norte are worse in any measurable way. Nor is there any less beauty in Baja Norte. 
But we found that as we traveled south we definitely felt more relaxed and at peace about camping in Baja.
As such, we can't hide from the fact that there is a clear disparity between our recommendations for Baja camping in the northern state versus that of the southern state. However, we think you'll enjoy both the same as we have and want to make sure that you have the best information so that you can plan your trip to this amazing part of Mexico!
K58 Campground – Alisitos (Baja Norte)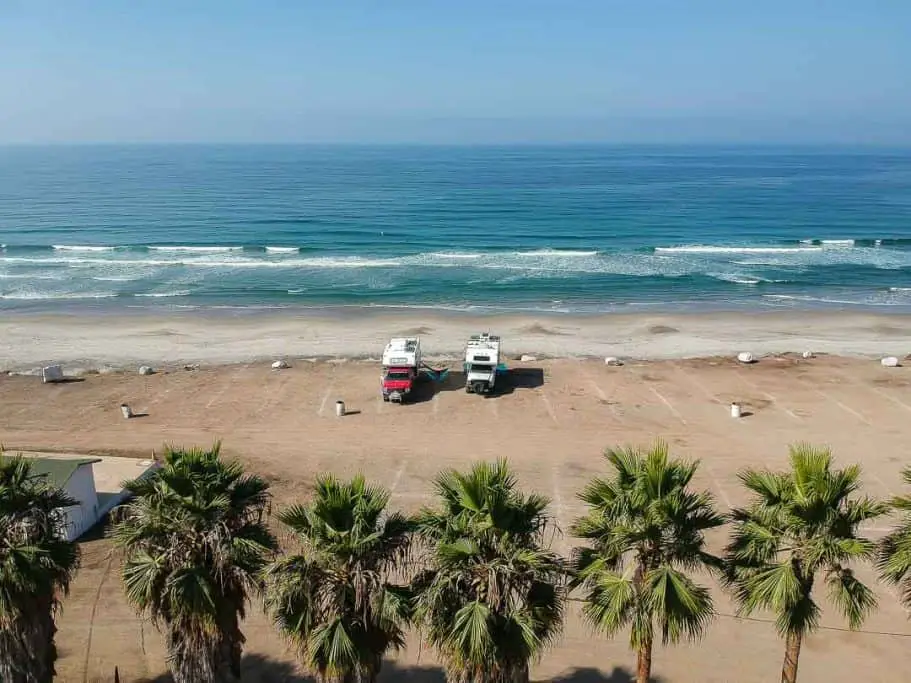 This campsite is a great first stop if you are traveling down the Pacific side of the peninsula from San Diego. At KM 58, it is literally 58 kilometers (~38 miles) from the US border along the high-speed toll road HWY 1. 
Although prices are always negotiable, expect to pay approximately 200 pesos (a little over $10) for dry camping on a dirt lot. However, the views are worth every peso as you camp on the edge of a cliff overlooking the Pacific Ocean. 
Basic amenities include toilets, an outdoor shower and changing rooms. There is a small convenience store at the front of the campground and a handful of restaurants along the waterfront next to the campground. 
This Baja campground is popular among surfers as there is a decent break in front of the cliffs and it is a short and inexpensive trip from Southern California. 
Cost: ~USD$11 (200 pesos)
Location: KM 58 (on the free road)
Valle RV Campground – Valle de Guadalupe (Baja Norte)
The Valle de Guadalupe is the fertile valley in the middle of Baja Norte where most of the wine grapes are harvested in Baja. As such, this region attracts a higher-end traveler and often prices reflect this. 
Valle RV Campground is owned by a woman named Pherla who is incredibly friendly and can communicate very well in English. Sites are approximately USD$25. But they come with electric and water hookups at the site and a common dump station. There are two washrooms with mostly warm water.
And if you are interested in taking a break from RV living, you can rent a casita that is built in the shape of a wine cask.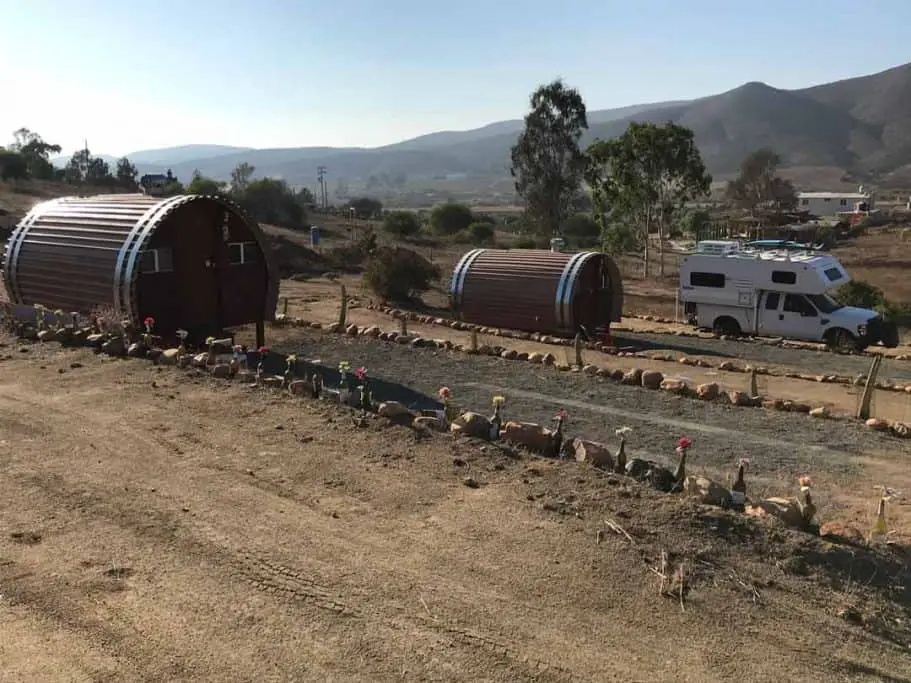 San Felipe – Centro Equestre Caballerizas Paraiso (Baja Norte)
San Felipe is an excellent and common first stop for those travelers coming from the Mexicali crossing and who are typically eager to experience the eastern Sea of Cortez side of the Baja peninsula.
Approximately 2 hours south of Mexicali, via a paved 4-lane HWY 5, there are lots of places to camp in San Felipe. And while this is the first, and often the last, stop for "snowbirds" from the US and Canada, there are also great options for anyone looking to acclimate to Baja. 
We camped at Centro Equestre Caballerizas Paraiso (the Horse Ranch), which until our arrival was not a formal campground. It still isn't, by all technical means. However, Lynn, the owner of the ranch has opened up her property to all travelers as a way to inform them of the therapeutic horseback riding program she does with disabled children.
Lynn asks for a donation if you wish to use water (all sites in Dorado Ranch are off-grid and water must be shipped in at expensive rates). And all camping donations are applied directly to fund the therapeutic riding program. This is a great way both to camp in the San Felipe area as well as to contribute to a great cause.
And if you happen to camp on a Monday night you are always welcome to participate as a volunteer on Tuesday mornings in assisting the children with their therapeutic riding!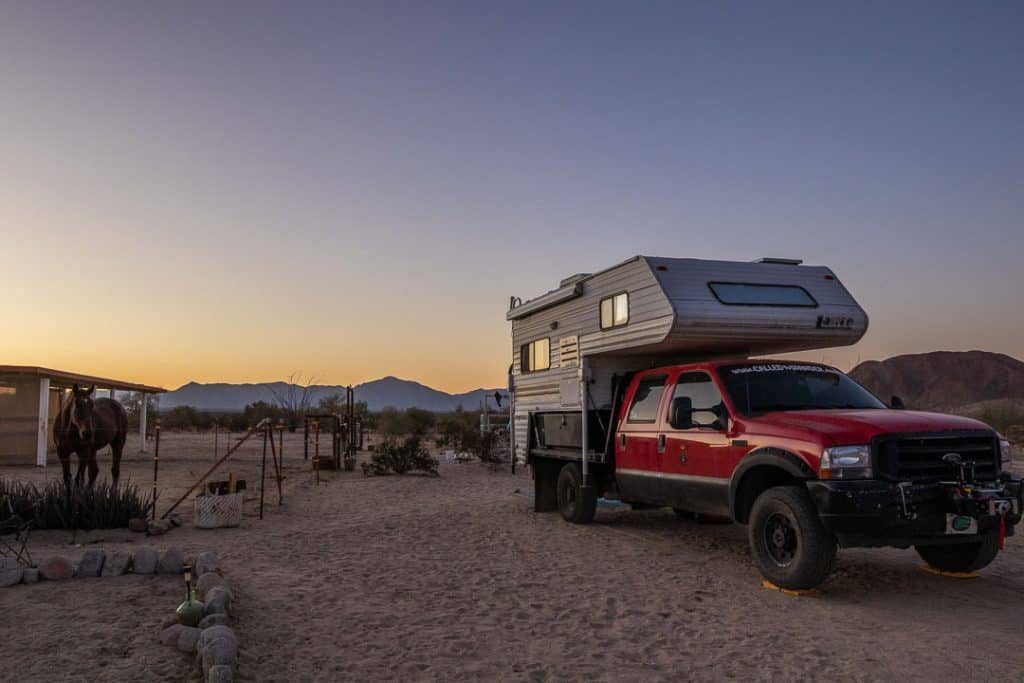 Victors RV Park – San Felipe (Baja Norte)
If you're looking to be closer to the Sea of Cortez in San Felipe, and/or closer to town, then Victor's is a great spot to camp. With sites that range in price from $10 – $20 – $30 you can choose which suits your budget. All sites provide access to the beach – just a few steps from any place in the campground.
The lower-end sites are 100% dry camping with access to a shared bathroom and shower. The mid-range sites offer full hookups but are off the water one row. And the higher-end sites provide full hookups on the beach, typically with your own palapa. 
Lilly, one of the owners, is known for her hospitality and kindness and speaks English very well. You can walk to the Malecon in approximately 10 minutes (either on the street or on the beach) and there you have access to enjoying the local way of life, as well as to any items or services you may need.
Cost: USD$10 – $20 – $30
Address: Av. Mar de Cortes Sur 10
Contact: +52 686 577 2817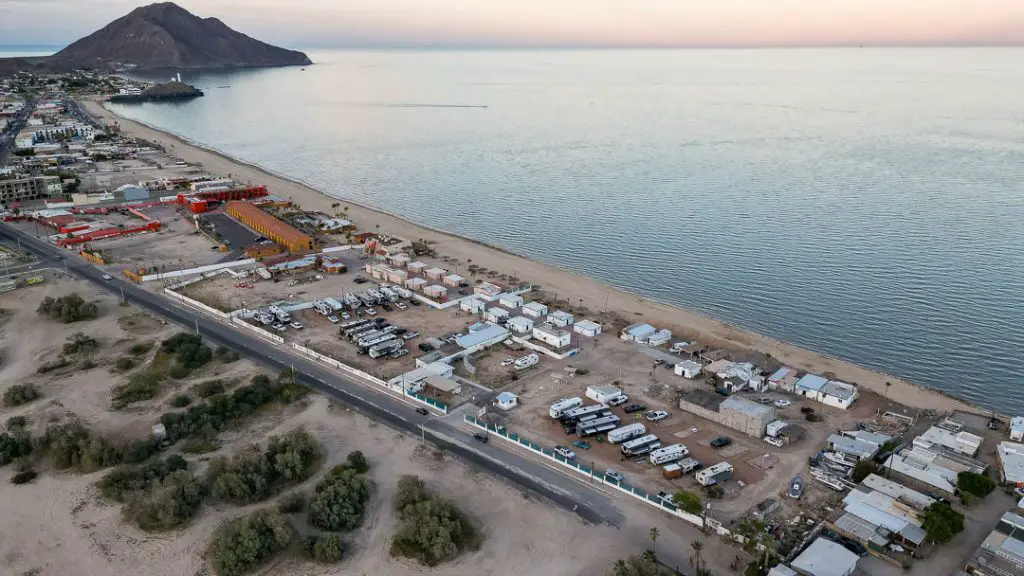 Camp Beluga – Gonzaga Bay (Baja Norte)
Gonzaga Bay is a short drive south from San Felipe along Hwy 5. One of the more popular options for camping in this part of Baja is Camp Beluga. Situated right on the bay, Camp Beluga offers spacious palapas that can accommodate more than one overland vehicle.
In fact, it is quite common for campers to share palapas. In this case, the cost can be shared at the full rate for the palapa plus $5 per camper. 
We camped here as part of a 4-vehicle caravan and paired up into two palapas with two vehicles each. Each site had a place to build a fire pit from stones from the beach and we were able to SUP and fish right from the shore.
You will be dry camping, with the only amenity offered to be a few pit toilets (mind you, they are cleaned daily). But the palapas are sturdy enough to hang a hammock if you'd like. 
This is on the pricey end of Baja camping, particularly this far south in Baja Norte. But for the view, you can't go wrong.
Cost: USD$25 (+ $5/person if more than one vehicle)
Location: Signs to the left (east) off Hwy 5
Contact: +52 664 416 9965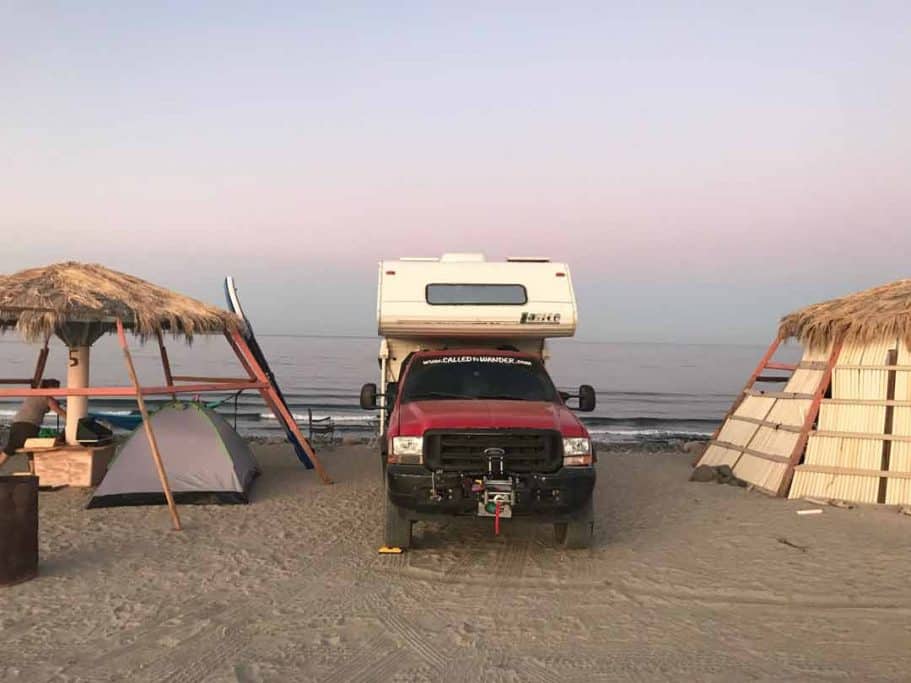 Playa La Gringa – Bahía de Los Ángeles (Baja Norte)
La Gringa is the best and most popular mostly FREE camping in the beautiful Bay of LA.
While there are 2 camps closer to town (though still out a way), La Gringa is on the fringe of the bay in a National Park. 
You will follow a road out of town and then feel as though you've made a wrong turn as you hit gravel, dirt and then ruts for the last few miles. However, clearing through this part of the desert opens up to a wide and welcoming rocky beach with plenty of space to camp. 
While La Gringa is considered relatively safe, it is advisable not to camp alone. Rumors throughout the peninsula claim shady business (drugs) used to be carried out on the beach and campers were warned to leave.
However these days the beach is quite popular and thus there is safety in numbers. It is possible to SUP, kayak, fish and swim from the beach just feet from your camper or tent.
Whale sharks are also known to migrate this far north in the Sea of Cortez, although it's unlikely you'll reach them from the shore of La Gringa. However, there are plenty of great opportunities to book tours from in town.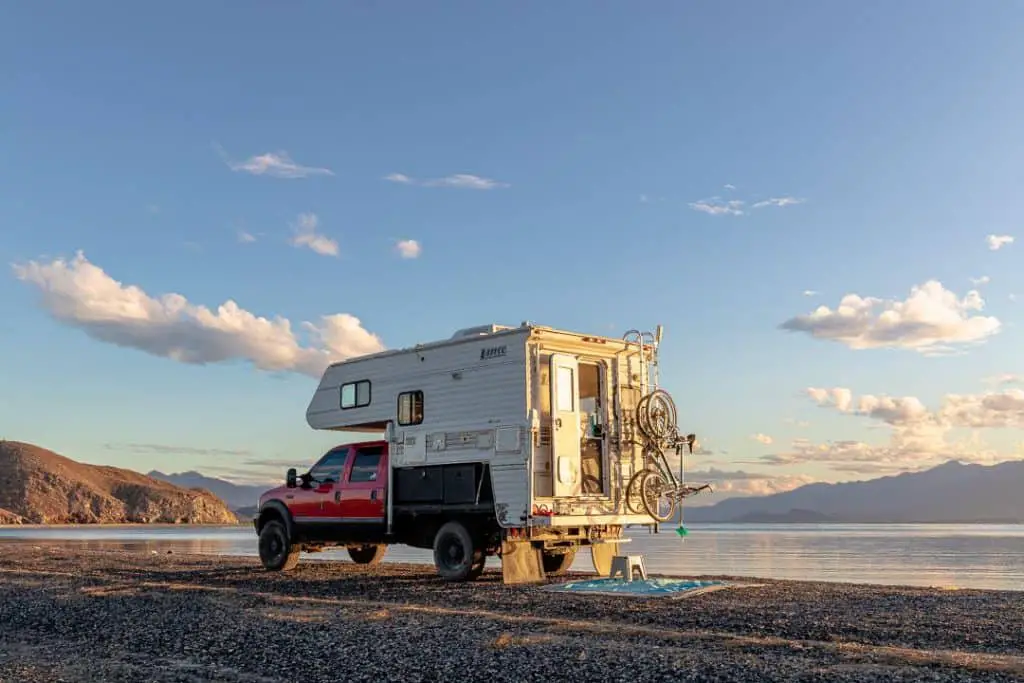 Plaza – San Ignacio (Baja California Sur)
Breaking up the long drive between Bahia de Los Angeles and Mulege, the oasis town of San Ignacio is known for its hospitality toward campers. While there are several RV parks on the outskirts of town, the best place to camp in your RV is actually right on the plaza in the center of town. 
The plaza is safe and welcoming and it doesn't get much more culturally unique than camping at the foot of a 250-year-old mission.
There are plenty of places to eat around the plaza and police are almost always standing watch 24/7. We stayed in the plaza on two separate occasions. We made friends with the locals both times.
On the first, it was with a dozen kids with whom we played soccer and football in the plaza. On the second it was with the police who came over to listen to us play a very rusty version of Hotel California on our guitar. 
Cost: FREE
Location: Center of town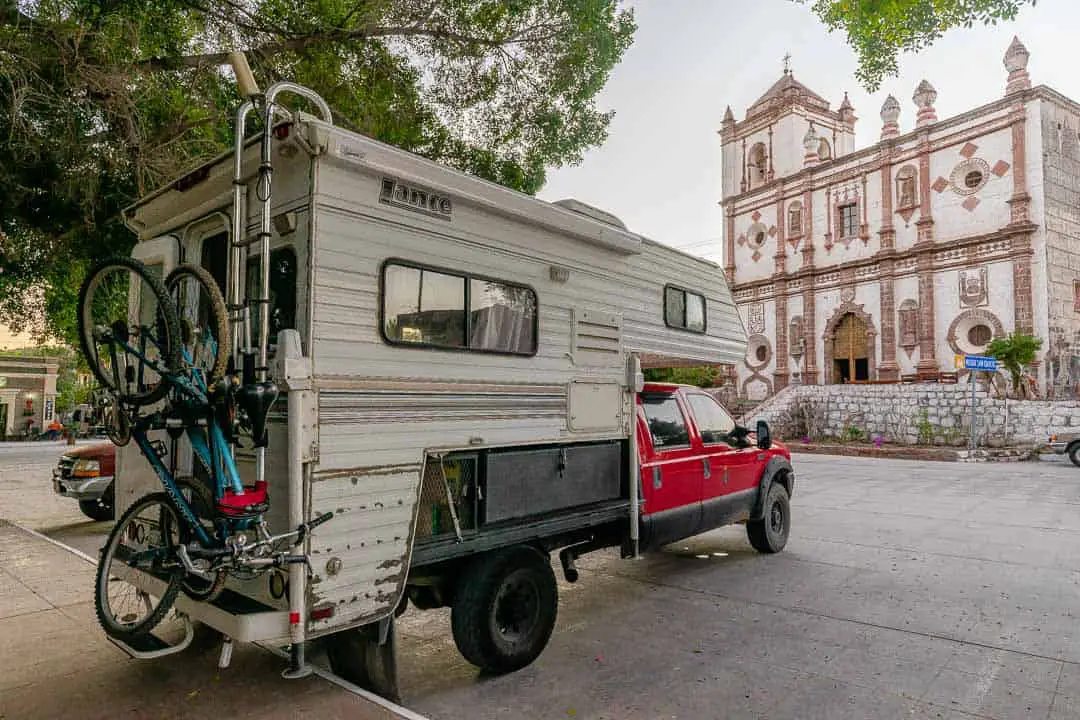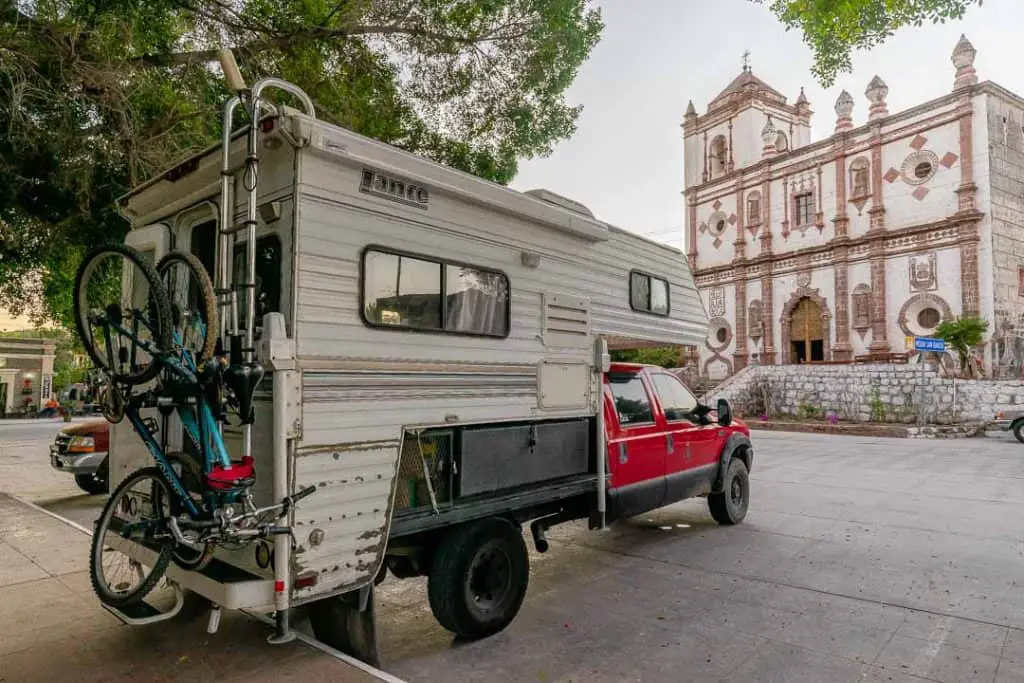 Antonio's Eco Tours – Laguna de San Ignacio (Baja California Sur)
If you drive 45 minutes to the Laguna de San Ignacio you will come across around a dozen companies offering whale watching tours. Most of these are closed during the offseason. However, Antonio, of Antonio's Eco Tours, is a fisherman who relies on the Laguna every day of the year.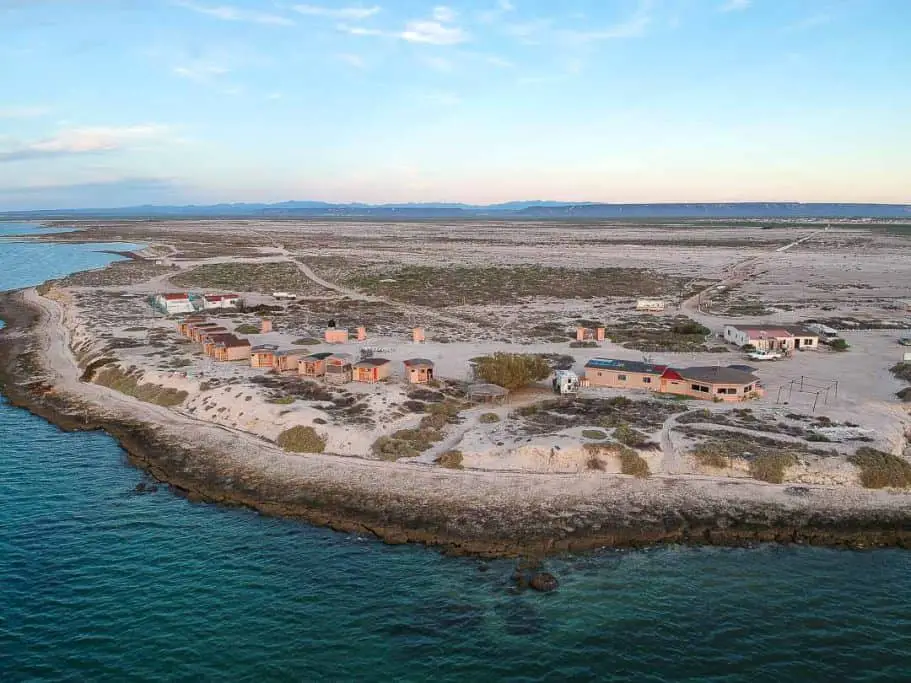 As such you can make arrangements to camp at Antonio's any time of the year. During the busy season (January – March) it might be tough to get a spot, depending on how busy the camp is.
However, the family is incredibly welcoming and will likely find room for you anytime you arrive. If you happen to come during the offseason you will pretty much have the entire camp to yourself.
You can fish from the banks, hang a hammock beneath the palapa and simply enjoy the beauty of a sunset and a star-filled sky. This is an excellent place to see Grey Whales so be sure to book a tour in advance of your stay if you plan to go during whale-watching season. 
Cost: Usually around USD$10 for dry/tent camping
Location: La Freidera, 23929 (Latitude: N 26° 49.78434, Longitude: W 113° 10.08636)
Contact: antoniosecotours@gmail.com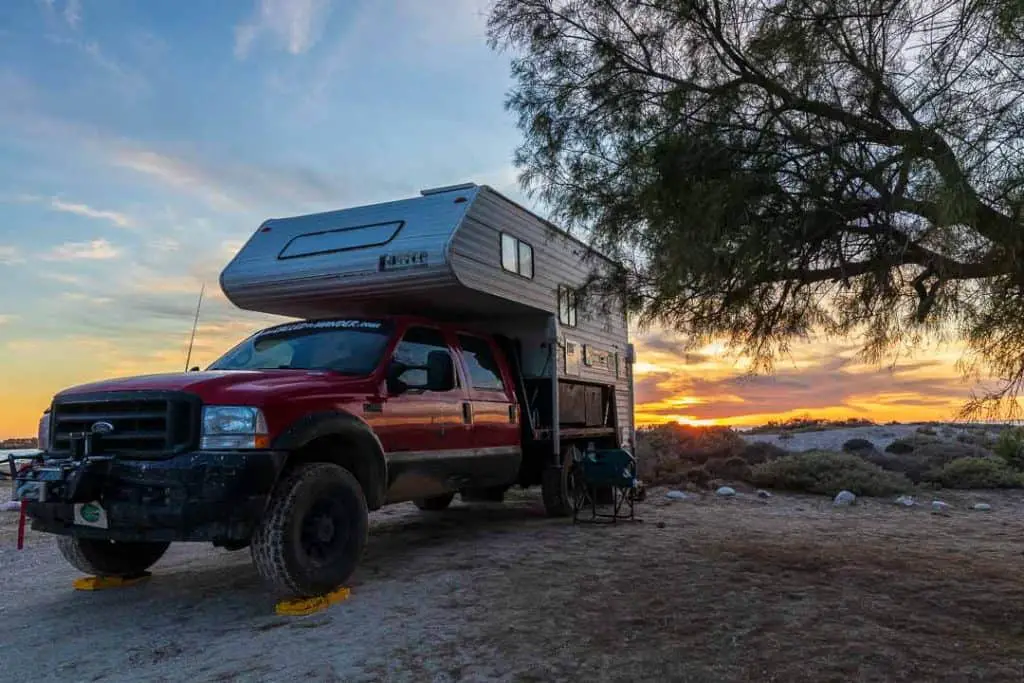 Huerta Don Chanos – Mulege (Baja California Sur)
Mulege is a special place. Popular with gringos, yet not entirely overrun like places such as Loreto, Todos Santos and Los Barriles, the town has a quaint, colonial feel to it. Although it will certainly be intimidating for bigger rigs, the drive-through town to reach Huerta Don Chano's is not entirely difficult.
Enter Mulege through the archway on Hwy 1 and take the first right up and over the hill. This road will drop down through a stop sign and continue past the fire station and into a plaza.
Continue down this road and out of town around 2 miles and you'll find Don Chano's situated on the left across the street from the river. If you haven't noticed yet, the Baja Peninsula is a dry desert.
So when you arrive at Don Chano's and see lush grass, banana and other fruit trees and the occasional rain cloud you will feel like you've left Baja for a moment. 
We love Don Chano's because it is a short walk (or bike ride) into town. And it is about equally as far to walk out to the beach along the Sea of Cortez to check out the sunset from the lighthouse.
Don Chano's offers full hookups – though it is advisable to check the voltage upon arrival and notice whether or not someone has already fried the 20 amp outlets.
(Spotty) WiFi is available throughout the park (the closer to the office the better) and there are 3 showers and 3 toilet shared. And there is even a full restaurant so you don't have to leave for food if you don't want to.
If you want to be close to town, but still feel far enough away from the commotion, this is one of our favorite places for camping in Baja. You can even rent a casita if you'd like and the longer you stay the better your bargaining power. 
Cost: 200 pesos (~USD$11) plus pay for 7 nights and get your 8th night free
Location: Playa, Loma Azul
Contact: +52 615 153 0720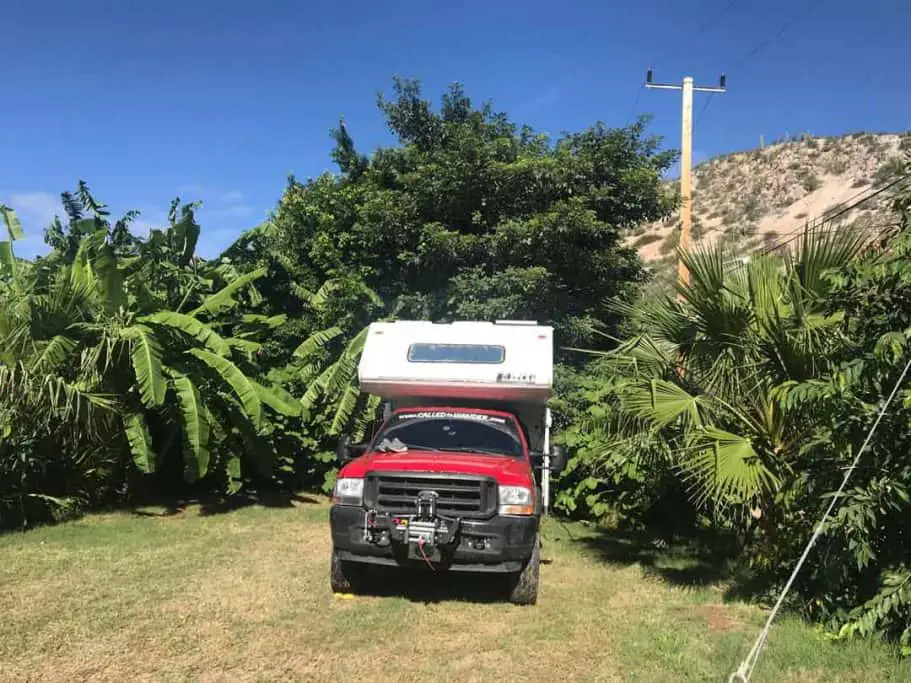 Coyote Beach – Bay of Concepcion (Baja California Sur)
You've been looking for the best camping in Baja and now you've found the famous Bay of Concepcion. This is where Baja camping becomes more laid back and the scenery cannot be beaten in all of the peninsula. 
Although there are around a dozen different beaches on which you can camp (all costing around the same amount), Playa Coyote is our favorite. It has long been popular with travelers over the last few decades. But in recent years there is a semi-permanent collection of Canadian and US ex-patriots who inhabit the far southern end of the beach.
Don't worry – they're incredibly friendly and helpful if you have any questions. 
Coyote Beach is your picturesque Baja beach campground. You'll be dry-docking with few amenities (sketchy pit toilet and scattered waste bins and private palapas at most sites). Every morning and throughout the day various vendors will come along and sell everything from empanadas to fresh seafood.
If you stick around long enough or check-in with the semi-permanent campers, you can figure out the schedule where vendors will bring non-potable water, propane and even offer to empty your black and gray tanks for you on a weekly basis. 
You could quite literally camp on Playa Coyote and never have to leave!
Which, when you see the views of the bay and all of the wildlife beneath the clear blue water you'll likely lose all ambition to move on anyway! 
This is a perfect place to SUP, kayak, fish and swim from shore just feet from your campsite. Views are amazing throughout the day and if you happen to have a hummingbird feeder you can expect the little guests throughout the morning and evening hours. 
Cost: 200 pesos (~USD$10) and long term rates are available 
Location: About midway down the Bay of Concepcion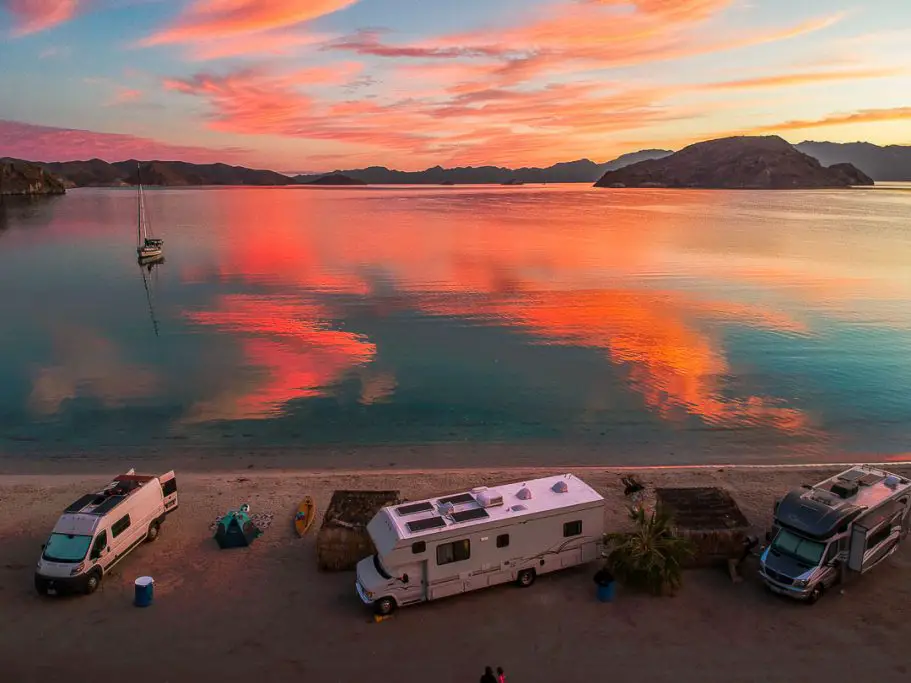 Campestre Maranatha – La Paz (Baja California Sur)
After leaving the Bay of Concepcion it is kind of hard to settle on a campground on the fringe of a large city. But Campestre Maranatha is about as good as it gets for a formal campground in Baja.
Located around 10 minutes to the north of La Paz, the campground is a little far away to be a basecamp for walking/biking into the city. But its distance from the city is an advantage as it is a great refuge for a weary traveler. 
You can opt to dry camp or have full hookups. Both options give you access to some of the best (hot water!) showers in all of Baja. You'll also be able to use the pool and there is WiFi throughout the campground. 
If you're just passing through – as we have on several occasions – you can also simply pay 100 pesos to empty your tanks (another 50 pesos for water). Whether you're looking to camp in a nice Baja campground for a long period of time or simply want to "splurge" on a great place for a night or two as you get your bearings for La Paz, Campestre Maranatha is a great basecamp for exploring the area.
Cost: 300 pesos (dry camping), 500 pesos full hookups
Location: Carretera Transpeninsular Km 11 Chametla, 23205 
Contact: +52 612 124 627
La Playa Tecolote – La Paz (Baja California Sur)
Tecolote is perhaps La Paz's most famous beach for camping in Baja. This is with good reason because Tecolote can be beautiful at times. But there are also times when Tecolote is so windy that it is not only not pleasant for a day trip but also it becomes no fun to camp. 
With views of Isla Espirito Santo and crystal clear water, on calm days it is hard to beat camping at Tecolote.
The price is always right (FREE) and the views are amazing. For this reason, Tecolote, like Coyote Beach, has a steady stream of semi-permanent residents camped out in some of the more beautiful parts of the beach.
But there is plenty of room to find your own space. With several restaurants nearby, some offering WiFi, and vendors that periodically come by to sell almost anything there is little reason to leave Tecolote unless the wind picks up or the mosquitos start biting. 
This is by far one of the best places to boondock in Baja. 
Cost: FREE
Location: the end of the road on Hwy 11 outside of La Paz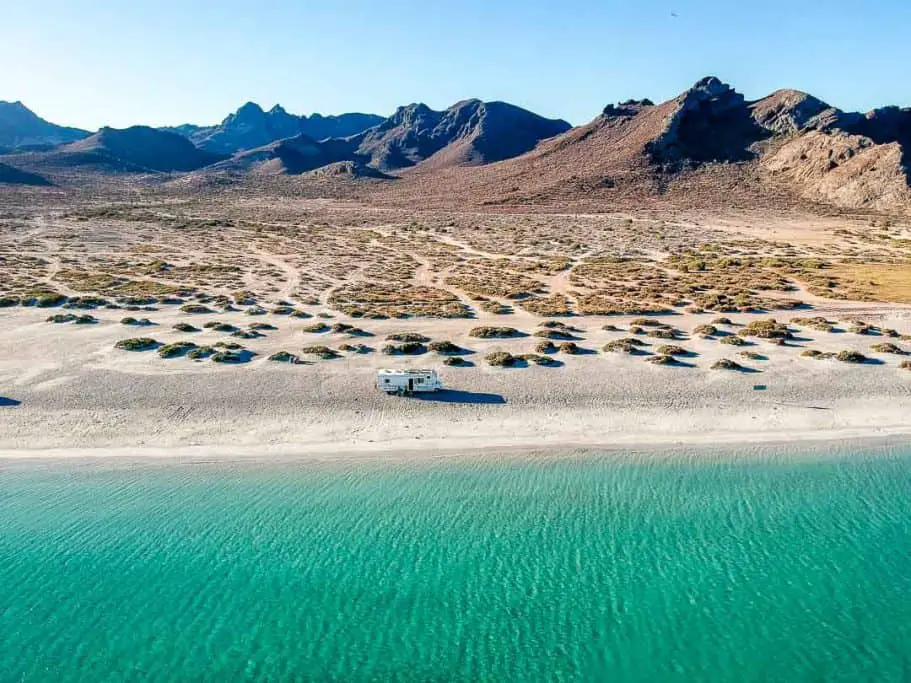 Todos Santos  – La Pastura (Baja California Sur)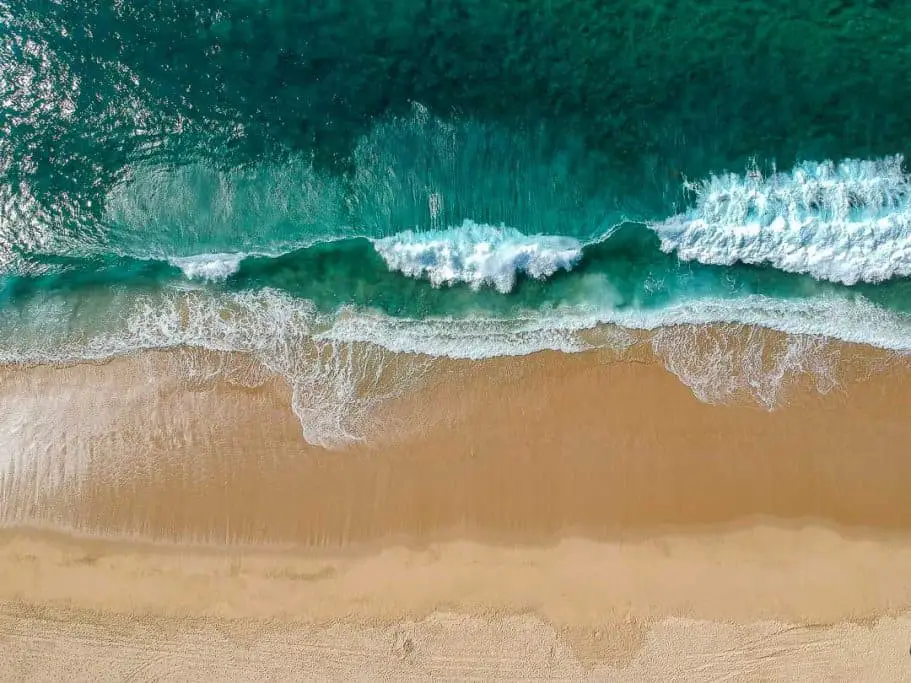 Todos Santos is most definitely a tourist town, with a lot of traffic heading north from Cabo San Lucas. However, if you want to visit Todos Santos for the art culture, the surf or the turtle release, there is no reason you should not plan to camp nearby. 
We highly recommend La Pastura, just to the north of town around 15 minutes. It is near the turtle release program, within 45 minutes walking on the beach, and far enough out of town that you can escape the day crowds.
But it is close enough that you can be in town quickly for any errands or desires you have to explore. Do beware that there is soft sand in places, so arrive during the day. The only time in nearly 40,000 miles of traveling that we were stuck in the sand was when we arrived at La Pastura at night! 
Camping is wide open and you won't be alone here. It is a top surf spot so you'll likely see loads of day traffic coming out, especially if the waves are good. 
NOTE: We wanted to be closer to town one night and so we stayed at El Litro RV Park (the only RV park in town). This was a mistake as there was a flea infestation in and around our campsite. The owner was good and returned our money, which was the equivalent in what we paid a veterinarian for flea treatment for our dog.
Cost: FREE 
Location: 15 minutes north of Todos Santos on Calle Buena Vida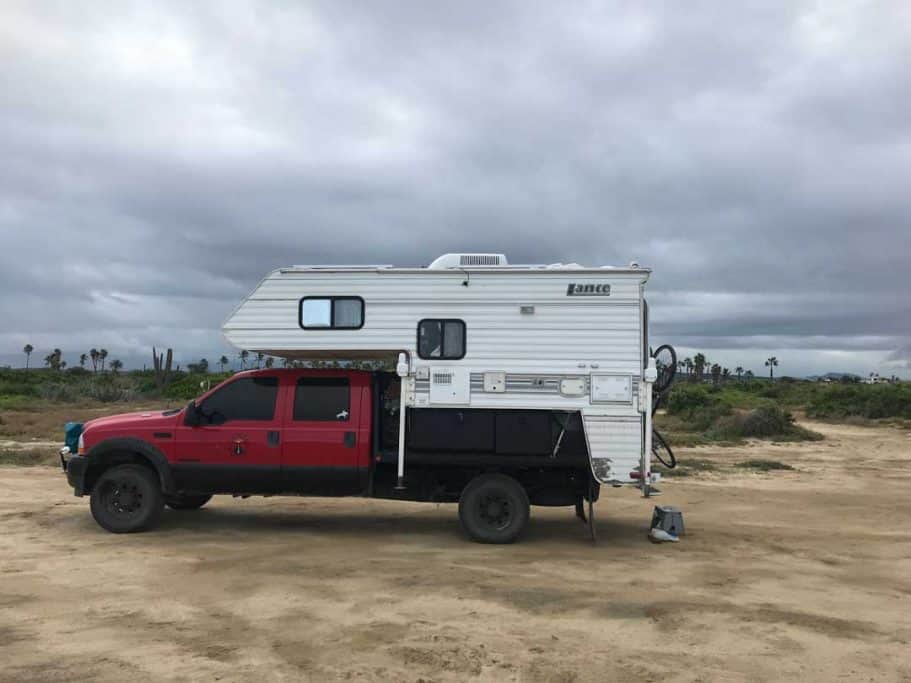 Cabo Pulmo  – Los Arbolitos (Baja California Sur)
Cabo Pulmo, the National Park, is spectacular in every regard. The town itself is quite small and there are all sorts of boondocking sites along the very bumpy road around the East Cape. You can either reach this area from the south in Cabo San Lucas or from the north in Los Barriles. 
While there are a few popular and free beach sites for camping in Baja in Cabo Pulmo National Park, we chose to pay a small fee for the opportunity to camp with great snorkeling and paddling right off the beach.
Arbolitos is a small campsite that has a bucket-flush toilet and shower. But the draw is, of course, the beautiful bay that is open to you just feet from your campsite. 
You will be dry camping on mostly soft sand. So be sure to check out where it is hard-packed, which will vary by time of year. Expect to hear dogs and roosters throughout the night and early morning. And perhaps wake up with a curious, yet friendly burro outside your front door. 
But the true gem of Arbolitos is that the reef starts two feet into the sea in front of you. You can paddle a SUP or kayak in any direction and either snorkel from the beach or wherever your curiosity takes you.
There are also great hikes along the coastline that you can hike to different beaches to snorkel as well. But note that Cabo Pulmo, like all of the East Cape, is subject to some intense winds particularly during the winter and early spring months.
At this point, it may not be fun to camp anywhere on the East Cape (unless you are into wind sports).
Cost: 60 pesos/person 
Location: South of Cabo Pulmo around 8 km: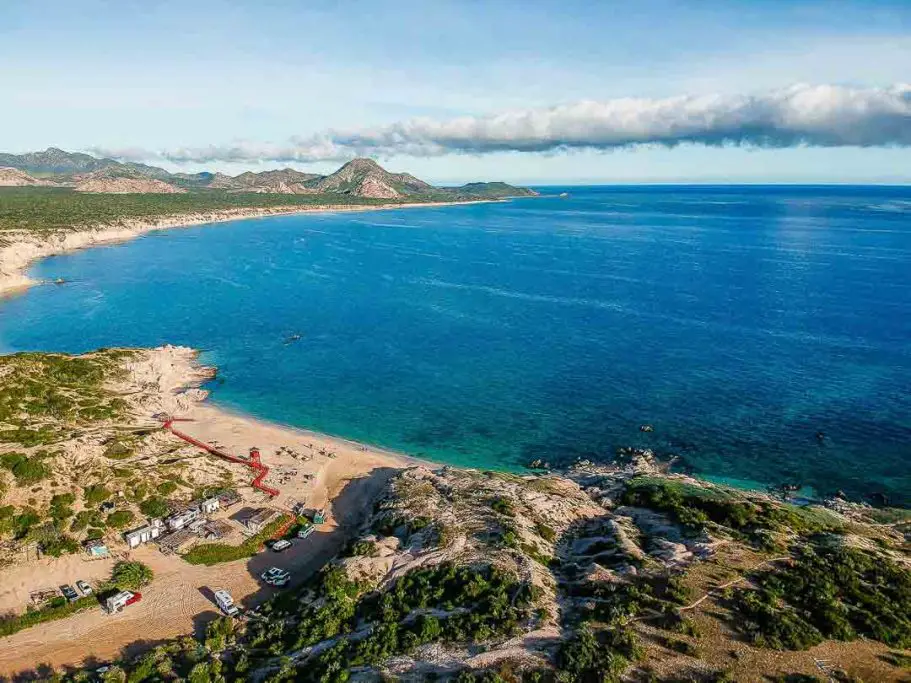 Los Barriles – Arroyo Past Playa Norte (Baja California Sur)
We were told that we would love Los Barriles and, for the most part, it is easy to love. There are LOTS of gringos, so if comfort and familiarity are what you are looking for you will enjoy Los Barriles.
But expect higher prices for pretty much everything – including camping. But camping in Baja is still at it's prime in Los Barriles if you travel north past the community of Buenos Aires and boondock in the arroyo just past the Playa Norte campground.
You are welcome to pay USD$25-$30 to camp in Playa Norte with little chance of a sea view and neighbors to your right and left. Or you can free camp on the beach just feet away with relatively distant neighbors and enjoy the peace and quiet to yourself. 
Los Barriles is on the East Cape and as such is prone to high winds (20+ mph). There are days in winter when you may not be inclined to leave your camper or tent (unless you are there for wind sports!).
In the summer it is near the opposite and Los Barriles can get quite hot. But in either case, the water is right in front of you here, the cell service is fantastic (if you want to be connected) and you can walk or bike into town in just a few minutes.
There is also a turtle sanctuary on the beach about a 10-minute walk toward town. And if you enjoy fishing, people have caught dorado and roosterfish from the shore. 
Cost: FREE
Location: Past Playa Norte on dirt track leading toward the sea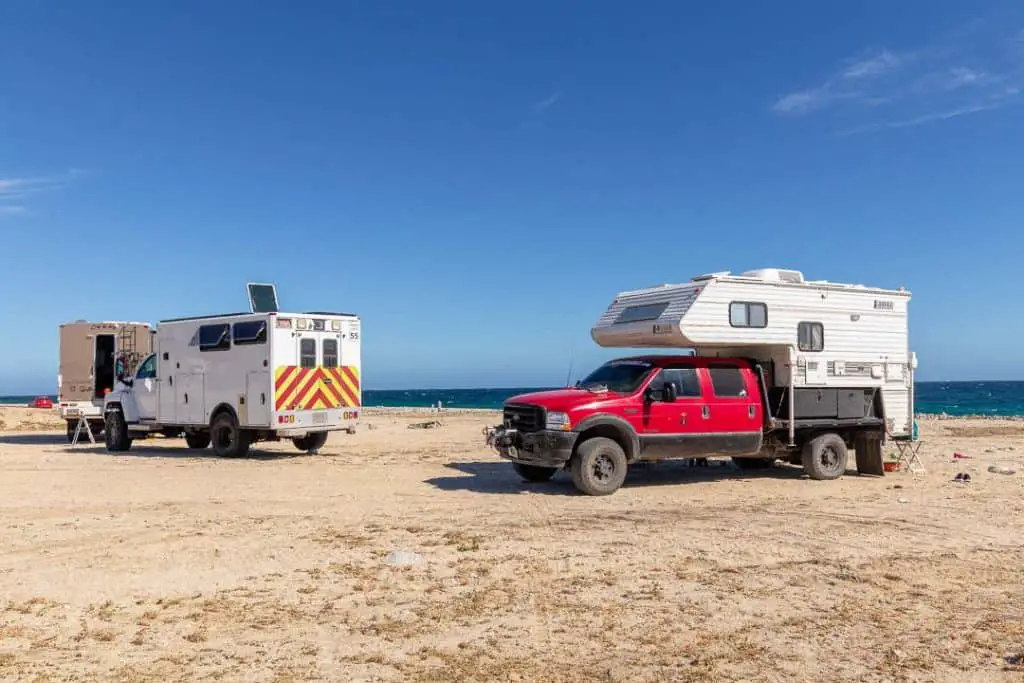 Street Parking – San Miguel de Comondu (Baja California Sur)
The "Comondus" as they are called are a cute collection of two neighboring towns in the central part of Baja California Sur. Although they are at the center of the revival of traditional wine-making, San Miguel de Comondu and San Jose de Comondu are far enough off the beaten path that they are quite less frequently visited.
Note, however, that the road is paved (at least into San Miguel de Comondu)!Each town has its own colonial feeling. Old buildings are not permitted to be torn down to build new ones. So the new building is done behind the facade of older buildings.
The history and culture are ripe in the Comondus and the town is so welcoming that you can boondock in the cobblestone streets of town pretty much anywhere. There is plenty of exploring to be done in the surrounding area and there are a handful of stores and restaurants that will meet your dietary needs.
In all this is a great place to slow down from your travels and enjoy the road less traveled. 
Cost: FREE
Location: Anywhere in San Miguel de Comondu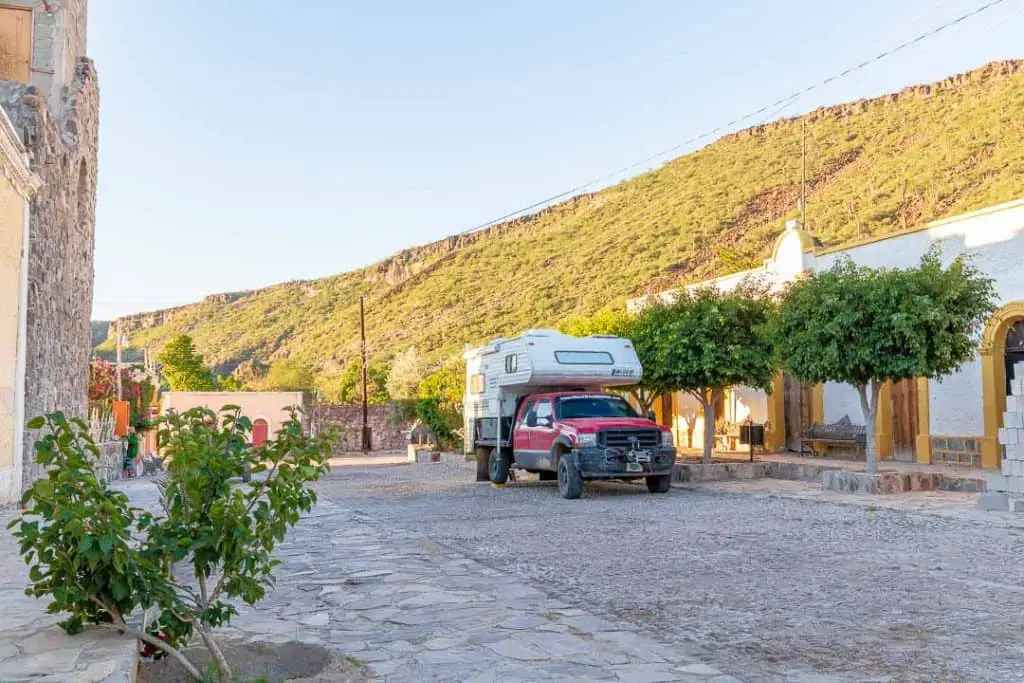 A Note About Budgeting for RV Camping In Baja
We began our travels in Baja with the expectation that USD$10 would be a very reasonable amount to budget for camping each night. And while we have definitely met some notable places of exception, on average we can attest that this is definitely within range.
However, we did bump our budget to USD$12 as this is approximately 200 pesos, which seemed to be a pretty common price for most camping throughout the peninsula. 
An ideal budget for camping in Baja would be USD$25 per night. With this set aside you will have more than enough funds for any size RV in even the most popular destinations in Baja.
Then you would have additional savings when you chose to free camp in places or to camp where the standard was 200 pesos or less, as in the Bay of Concepcion. 
We do not advocate for free camping unless we are confident that the place we camp can be reasonably expected to be safe and to not interfere with the private lives of Mexicans, their property and their business.
For this reason, all of our recommended free campsites above are based on feeling 100% safe and with the company of a handful of other campers.
(We have, for instance, camped outside our friend's hotel in La Paz. But we are not including that location in this post because we do not want to mislead you into thinking that you can safely park on any side street in La Paz and be safe and/or not interfere with the private lives of those who live there.) 
As such, we do refer you to use the iOverlander mobile app to see the most recent updates on places we share with you in this post.
However, this post will serve as a baseline to provide you with reasonable expectations for the best camping in Baja – from camping in Baja Norte to Baja California camping.
About Author