Last Updated on September 2, 2022 by Chris and Lindsay
If you are considering an RV trip through the Baja peninsula then at some point recently you've likely asked yourself is it safe to RV in Baja, Mexico? 
If you didn't ask that, one of your family members or friends likely did. Or they just told you – Don't go because it's dangerous and you're going to die!
While you may in fact die while RVing in Baja (or anywhere for that matter), the honest answer is that Baja is a safe place to RV. 
We're here to answer this question in more detail and share insight into 13 other questions you may or may not have thought to ask before driving to Baja. 
1) Is it safe to RV in Baja, Mexico?
As mentioned above, the simple answer to this question is yes. But like traveling anywhere, there are always exceptions.
At the time of writing (and most times in recent history), the US Department of State lists the entire Baja Peninsula as "Exercise Increased Caution."
There are more details about what exactly the State Department considers increased caution. But we like to call it common sense. 
Don't flaunt your wealth (or lack thereof).
Don't drive at night (more protection from cows than holdups).
Keep an eye on your surroundings (duh).
And generally speaking, don't be the only one anywhere. 
If you like to camp off the beaten path of everyone else, you likely don't need to read this as you qualify for more advanced reading material.
However, for the rest of us who want to enjoy our time RVing through Baja know that the best plan for safety is always in numbers.
If you arrive at a boondocking site and nobody else is there you may want to consider moving somewhere else. 
There are no secret camping spots in Baja. We almost all use iOverlander these days. If you don't, be sure to get it now. 
So arriving to find yourself alone doesn't mean you just discovered the last undiscovered part of Baja. It means you're more inclined (though NOT guaranteed) to be a target. 
But generally speaking, you are going to be safer with your RV in Baja than in Chicago (sorry, if you're from Chicago). 
2) How (easy is it) to cross the Mexican border, and where is best? 
If you put your foot on the gas and floor it then you can make it through most borders in a matter of seconds.
But crossing the border properly will take a little more time – albeit the crossing is straightforward and simple. 
Which border to cross will make all of the difference. We're not fans of anything Tijuana.
And while it seems most of Southern California flocks to Baja Norte on long weekends, jamming up the crossing procedures, if you cross into Baja further east you'll generally have a better time. 
We're big fans of Tecate. It was a ghost town when we crossed and we'll likely make it our favored port of entry for every return trip.
But Mexicali is also a great border crossing as well. 
Of course, make sure you have all of your paperwork in line and it will speed up the process. 
3) What paperwork do I need in order to drive an RV into Baja, Mexico? 
Baja is a magical place where you can bring your RV into the country and it is like it doesn't exist.
That is, you do not have to temporarily import your RV (vehicle + RV or RV) into Baja like you do the mainland (with a TIP). 
But you do need to be sure that you have insured your vehicle/RV. We purchased our 365-day policy through BajaBound and were pleased with both the coverage and the cost.
A full year was just a little more than a half-year policy. And even a 6-month policy was only a little more than a few months. In other words, buy your insurance in bulk. 
Yes, we're affiliates for Baja Bound. So if you purchase your insurance through this link then we'll get a tiny commission for referring you. But we only represent products and services we love and use ourselves so you'll appreciate the experience!
4) What are road conditions like in Baja, Mexico? 
In general, road conditions in Baja are better than in Arizona. OK, we love Arizona. But driving the northern roads around Page prepared us for Baja roads. 
You will find that there are 2 main highways in Baja that run vertically through the peninsula.
Hwy 5 runs down the east coast of Baja from Mexicali along the Sea of Cortez.
Hwy 1 starts in Tijuana and runs the length of Baja all the way to Cabo San Lucas. Hwy 5 meets Hwy 1 in what is (now!) a wonderfully paved road. 
So unless you have a craving to sip margaritas at the Southern California cost along the northern Pacific Coast of Baja, most people seem to be entering Baja in Mexicali and taking Hwy 5 to where it connects with Hwy 1 and then continue south. 
Hwy 5 is much more forgiving, in general than Hwy 1 (until you reach near La Paz heading toward Todos Santos).
Both are 2 very narrow lanes with little to no shoulder.
The drop off is steep (4-5+ feet) and semi-trucks are notorious for coming within inches of oncoming RVs. Semi-trucks that pass you might inch even closer. 
All the same, the road conditions themselves are pretty good. A great piece of advice is to tuck behind a semi-truck and follow them.
They know where the potholes, topes, dips and animals are likely to be and are great blockers for your run up and down the peninsula. 
Also, the bigger your RV the more "fun" you're going to have white-knuckling the roads.
Can you drive a Class A motorhome from the US to Cabo San Lucas? Yep.
But at times you're going to have some close calls. Driving a van at this point is pretty ideal. But we also fair well with our custom-built truck camper. 
5) What do I do if I get pulled over while driving in Baja, Mexico?
Every driver's greatest fear is getting pulled over by a shady Mexican police officer.
In fact, your greatest fear should be colliding with a cow that is crossing the highway where there is no shoulder and an 8-foot dropoff. 
But getting pulled over can be pretty scary as well. So here's the deal. Don't pay a bribe. 
Or better yet, don't get pulled over. 
Obey the laws as though you wrote them and know that everyone is looking at you to obey them.
Because the bigger your RV, the more of a target you will be. 
The biggest reason people in RVs get pulled over in Baja, Mexico is that they don't come to a full and complete stop at a stop sign.
Half the time the stop signs are so well-hidden you can't tell whether you're supposed to stop or not. 
Stop. 
A good rule of thumb is stop, count to 5, look to your left (or right) and watch 2 other cars proceed ahead of you and then crawl through the intersection. 
So far we've not been stopped and I credit much of this to our overly conservative approach to driving in Baja. 
But if you are pulled over, here's the deal: DON'T PAY THE BRIBE!
This is bad for everyone because it doesn't have to happen. Don't be confrontational. Simply tell the police officer (in English) that you're happy to pay the fine at the police station.
If they are legit, they'll escort you there and you can render unto Caesar. 
If they aren't legit, they'll try to reduce your bribe to something more palatable before finally giving up. 
Know that Municipal Police are more likely to attempt this than Federal or State police. Also know that they are incredibly underpaid and in a tough position, so know that doesn't justify their actions but it also explains why you should treat them like human beings even when they're trying to shake you down. 
If you do pay the bribe know that it makes things worse for the rest of us coming behind you because now they know it works to shake us down.
Don't pay the bribe. 
6) What kind of RVs are best for camping in Baja, Mexico?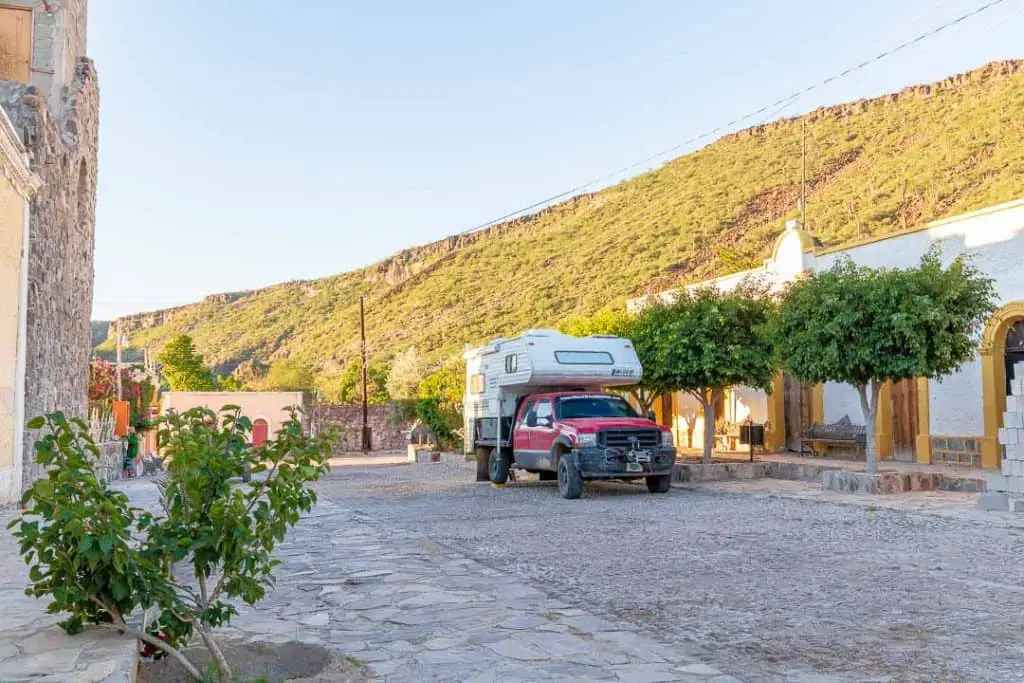 We favor truck campers because of their self-contained versatility. We also have a pretty sweet setup in case you're looking to build your own flatbed truck camper. 
But really any kind of RV can drive and camp in Baja, Mexico. If you have a Class A Motorhome you're going to want to stick to established campgrounds.
These exist in towns and villages all the way through the peninsula (except in the Cabos). 
I wouldn't plan to visit Cabo Pulmo or half of the fishing towns on the Pacific side in a Class A motorhome.
But you can definitely drive your RV in Baja.
For the rest of us, it's doable for sure. We have great friends who have a Class C motorhome and another set of friends with a large 5th Wheel.
Both offer advantages and neither have had to cut their trip short because of their RV type.
Again, we like our truck camper and think they are perfect for Baja because we can get offroad fairly easily and we fit in a lot of different places where larger rigs won't fit.
We're not into stealth camping, but with a van or overland vehicle, there are lots more options because you'll fit in even more. 
And yes, even Unimogs are common in Baja… begrudgingly (sorry if you have a Unimog, especially if you are from Chicago). 
7) Where can I camp in Baja, Mexico?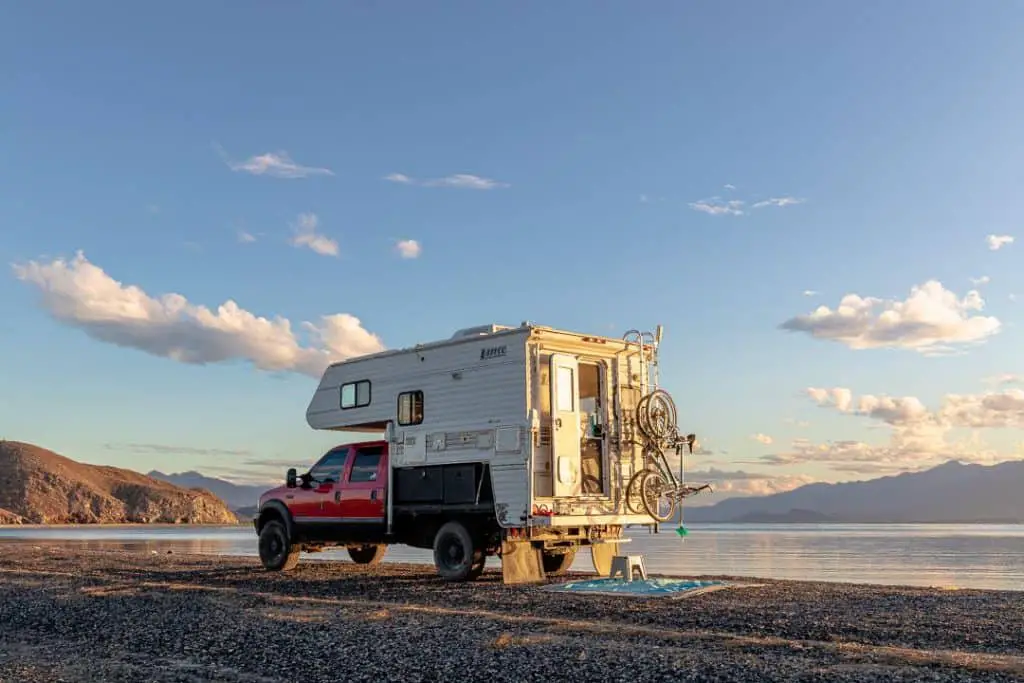 There are LOTS of places to camp in Baja, Mexico. We've put together a nice list (with details) on our favorite places to camp in Baja. 
But if you want to spend all your time in 1-2 places in an established RV park there are plenty of those throughout the peninsula. There are also lots of places you camp for free on the beach.
We have a list of those places as well. 
BUT we do NOT encourage stealth camping – in Baja or anywhere else. We don't appreciate people camping on residential side streets and then posting in iOverlander how great it is. 
Not only can we not speak to the safety of these places, but also we can't speak to the legality and quality either.
Our rule of thumb is camp where there is camping to be done. Even in the peak season of winter, we have never had an issue finding a place to camp (for free or otherwise). 
Of course, with a Class A Motorhome, you're looking at established RV parks rather than beachside boondocking sites. 
And with your sweet truck camper, you're bound to find some great spots all over! 
8) Can you boondock in Baja, Mexico? 
Yes. There are lots of places on iOverlander that share where you can boondock in Baja, Mexico.
Remember, there is safety in numbers so I wouldn't advise you to be the only one in a place. And be sure to check the most recent updates.
Even if you've been coming down here for 30 years things change and spots get closed, become dangerous or wash away. 
iOverlander is your best bet for finding great boondocking sites in Baja, Mexico. Here are our favorite places to camp for free in Baja.
9) How much does RV camping cost in Baja, Mexico? 
The cost for RV camping in Baja, Mexico ranges. But we have not found any place to cost more than 500 pesos (currently approximately USD$27).
And these higher-end campgrounds will typically (but not always) include full hookups. 
The going rate for campgrounds through most of the southern state of Baja California Sur has been around 200 pesos per night (USD$11).
This includes the wonderful beaches of Bahia Concepcion and many of the towns like Mulege, Loreto and beyond. 
Campsites are pricier where there are more gringos (yes, we're gringos and we don't dodge that fact!).
So expect to pay more in places like Todos Santos, Los Barriles and San Felipe. 
Generally speaking most campgrounds in Baja Norte are more expensive too.
We found in our short time we were looking at 500 pesos per night on average. 
(Just one of the many reasons we love BCS!)
10) What should I bring with my RV when camping in Baja, Mexico? 
Common sense would say bring anything with you in Baja that you would bring with you in Canada or the US, except a firearm. 
Otherwise, we'd recommend that you stock up on any of your absolute favorites – and pickles (they aren't our favorite, but apparently you can't find them anywhere in Baja). 
On a practical side, having a voltmeter is important for testing the electric outlets in campgrounds.
And on that note, having a surge protector would be nice.
We have found most campgrounds had 120V electricity, though all are subject to surge and we've been fortunate since we currently do not have a surge protector (we didn't think we would be able to plug in ANYWHERE in Baja… silly us). 
We don't advise that you drink the hose water at campgrounds either. So pack some filters just because and maybe plan to treat your water if you must.
We always fill up with purified water, which is mostly available throughout the peninsula. 
Be prepared to get out of the sand at some point. Whether you have traction pads, a winch or other methods it is likely you'll find soft sand at some point.
And having a great energy system is important too. There is LOTS of sun in Baja so having solar is a must if you want to truly enjoy your time here. 
A few other things we miss:
Everything But The Bagel Seasoning (from Trader Joes)
Quality paper towels (and paper plates for that matter)
Lunchmeat that is not overly processed
11) Will I be able to find fuel in Baja, Mexico? 
Yes. There are very few stretches where fuel is not available. Sometimes (rarely) there are shortages.
So, for instance, we recommend having fuel if you head out to Bahia de Los Angeles. 
Fuel is not cheap in Baja, despite the relative affordability of other commodities. But it is abundant. 
12) Will I be able to find propane in Baja, Mexico? 
Yes. Most of Baja runs on propane. It too is not cheap. But it is abundant. iOverlander will help you find most places with propane.
There are only a few places where you have to get creative or plan in advance.
And for some reason, propane vendors seem to always try to make a little extra off of us no matter where we fill up. So keep an eye on the meter.
13) Will I be able to find purified water in Baja, Mexico? 
Yes. Even most Mexicans drink purified (reverse osmosis) water. You will find vendors in small storefronts all over the peninsula and iOverlander is your best resource for locating them. 
Not all of these will have hoses, however.
So if you need to fill up your tank directly you will need to have, or ask for, a "manguera" (hose).
Most places will do their best to accommodate. 
14) Will I be able to find dump stations in Baja, Mexico?  
Yes. Most formal campgrounds will have dump stations for you to use. And even if you spend time boondocking, you can usually pull into a campground and ask to pay only to dump your tanks.
We haven't met a Mexican business owner yet who did not want to accept a handful of pesos – even in exchange for a place to dump our poop. 
About Author