Last Updated on March 30, 2022 by Chris and Lindsay
Our RV bedroom remodel offers 10 things you can do yourself to completely transform the room without spending a lot of money!
As we took on the huge task of doing a Class C RV remodel from top to bottom, the bedroom remodel was one of the simpler rooms to address. Structurally, there was little we could change about the room. 
But aesthetically we decided to make our RV bedroom look nothing like what you would expect to see in the average camper bedroom. We wanted to add just enough color, contrast and functionality to the little space to turn it into a cozy oasis at the rear of our home on wheels. 
Since we live in our RV full time it was important to us to make the bedroom as personalized as possible. And depending on the size of your RV, motorhome or trailer you may have more or less space in your bedroom to work with. 
But wherever you start with your RV bedroom makeover, know that it does not have to cost you a lot of money to turn a cozy small space into a haven and small changes can make a huge difference in the look and feel in the room! 
Let's get into 16 RV bedroom remodel ideas that you can do yourself with little experience, time or money! 
| | | | |
| --- | --- | --- | --- |
| BEDROOM PROJECT | | BEDROOM PROJECT | |
| Barn Door | $122.07 | Flooring | $31.84 |
| Bed | $19.20 | Painting | $148.87 |
| Closet | $42.58 | Lighting | $7.43 |
| Dog Step/Bed | $45.44 | Curtains | $142.81 |
| Laundry Chute | $15.16 | OPTIONAL Mattress | $242.34 |
| Wall Shelves | $11.98 | OPTIONAL Vent Fan | $168.99 |
| | | TOTAL | $998.71 |
Affiliate Disclaimer: This post may contain links to products we think you'll like. If you purchase any of the products through the links below we'll receive a small commission. As full-time RVers, we know our RV products well and only recommend those that we either own or would consider owning ourselves.
Affordable RV Bedroom Remodel Ideas
Everything we did to renovate our RV, from remodeling the bathroom to resealing our roof, we did on a very strict budget. So we were always looking at ways to make the most of what we could do with very little. 
And as we were less concerned about time than money, many of these are DIY projects that you can do to cut down the cost of comparable items elsewhere!
Here's our list of ideas to provide inspiration for your RV bedroom makeover!
1) Paint the Walls (~$150)
The first thing we did was one we committed to doing throughout the entire RV renovation – that is, to paint each of the walls in the RV. We have a post on that process, which you can read HERE if you are interested. 
Essentially we removed everything attached to the walls – including valences, curtains, switches and outlet covers – and taped the ceilings and covered the windows with plastic. 
Then we sanded the RV walls with liquid sandpaper to save time and reduce the irritation caused by dust and debris. We then sprayed two coats of Kilz primer to cover up the tan/marbled wall color. And then we added a coat of a light grey over the primer to finish off the walls. 
Although we stuck with a lighter wall color to keep the room feeling open you could immediately tell that the room was different. 
READ MORE: Read this post and learn about how to paint your RV walls!
2) Add vinyl plank flooring (~$32)
Our camper had a mixture of linoleum tiles and carpet throughout. So we knew immediately one of the first things we'd do was to replace it with vinyl plank flooring. While this extended throughout the entire RV, it really set the tone for the camper bedroom now that the walls were painted. 
We even extended the flooring up the sides of two of the outside storage bays that protruded into the bedroom to tie the whole bedroom together. 
READ MORE: Check out this post to find out everything you need to know about how to install vinyl plank flooring in your RV.
3) Build a Hidden Laundry Chute ($15)
Dirty laundry is often hard to stow away and hide. We used to hang it in a mesh bag in our truck camper bathroom and had to push it to the side every time we needed to use the restroom. 
But with the extra space in our Class C motorhome, we installed a hidden laundry chute beside our bed that opens up to one of the outside storage bays. This was a simple task that only involved a little cutting, a few hinges and a little paint. 
But it was definitely a great idea and something we'd look to do in any future RV we may own.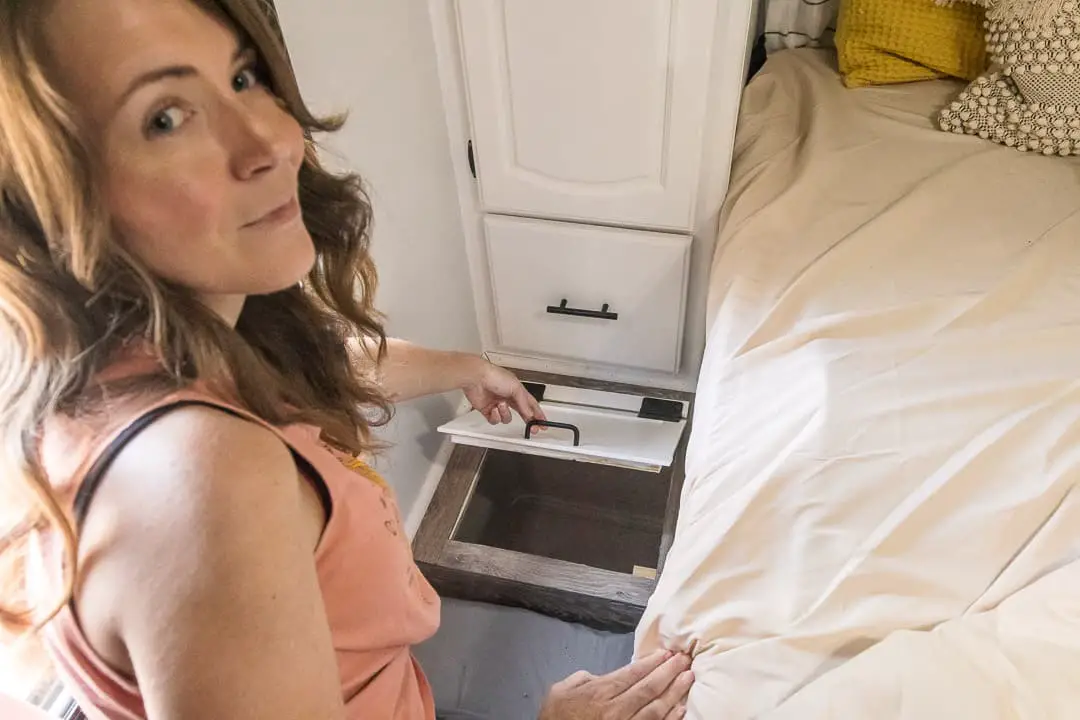 WATCH how we built our hidden laundry chute!
4) Decorate and Paint Barn Doors (~$125)
Barn doors are a treat in an RV – especially when you have the idea to design the interior to reflect a farmhouse/boho theme. Most RVs have some way to separate the rooms. 
But this is usually an accordion-style door or cheap pocket door, rather than a sliding barn door. So when we saw the barn doors separating the RV bedroom from the bathroom we had the idea to transform them into gorgeous and functional doors. 
Using thin slats of wood, we created a simple matching design that lined up when the doors would slide together. Then we painted them the same teal blue as other accents throughout the RV. We also built custom handles to match the rustic look of the doors.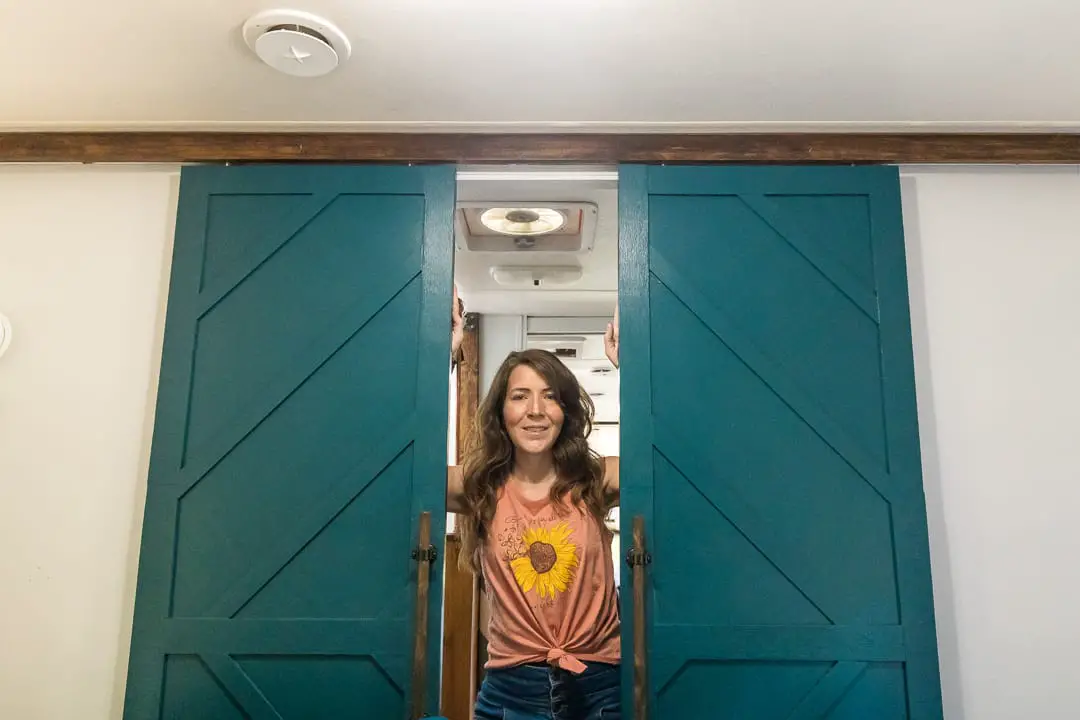 WATCH how we decorated and painted our bedroom barn doors!
5) Blackout Window Treatments (~$145)
Sleep is important to us. So we wanted to make sure that our RV bedroom makeover reflected comfort throughout the night. 
While we added decorative window treatments that looked great from the inside out, we put blackout material behind the curtains to ensure a night dark night of sleep regardless of where we camped.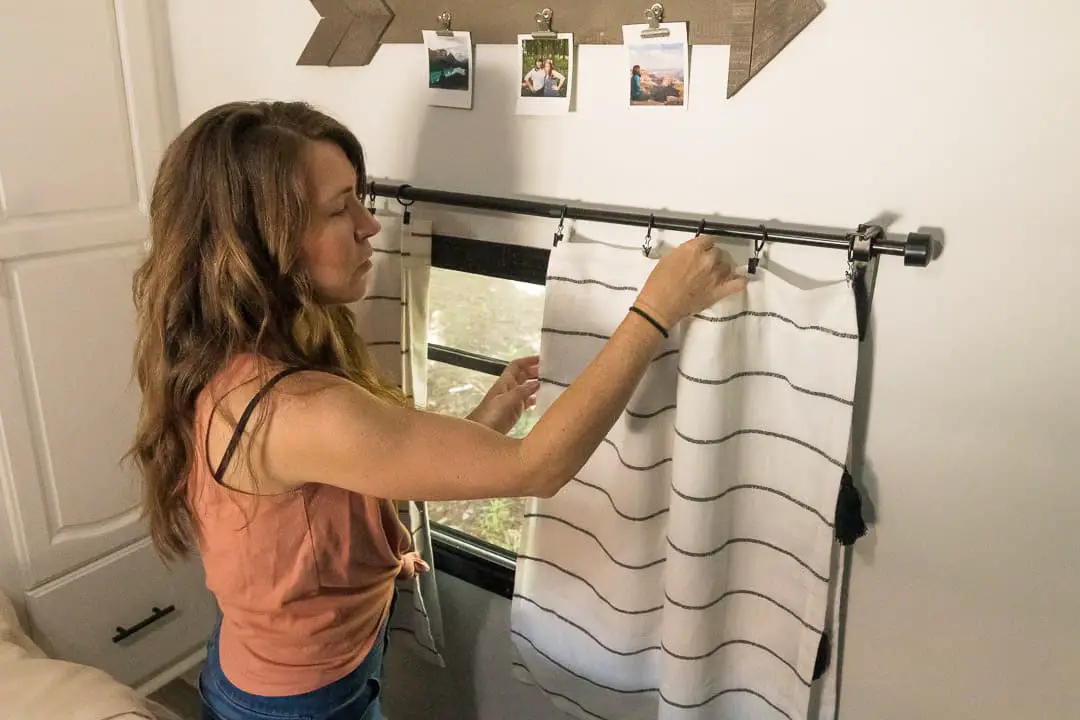 6) (OPTIONAL) Install Fan-Tastic Fan Vent Fan (~$175)
No RV bedroom remodel is complete without thinking about how you can keep the bedroom comfortable in any kind of climate. Airflow is particularly important if you plan to spend any amount of time boondocking. 
And the Fan-Tastic vent fan is our favorite for its multi-speed and multi-directional airflow. Most nights we sleep with the fan pulling cooler air from outside and pushing it down on us. If you don't have a vent fan as one of your RV bedroom ideas, consider adding it to your list. 
READ MORE: Check out this post to learn how to replace or install a roof vent fan!
7) (OPTIONAL) Upgrade Mattress & RV Bedding (~$250)
Adding a mattress to your RV bedroom makeover is pretty much necessary. We don't like to think about all that a used mattress may or may not have gone through in its lifetime. So we start any RV bedroom remodel with a budget line item for a new mattress. 
There are lots of options out there designed specifically for RVs. Our current RV only has space for a short queen, so we picked up this one from Zinus, a standard among RVers. We didn't lump RV bedding into the cost of this project as you can spend as much or as little as you want on bedding. 
But quality bedding will add both a look and feel that makes you wake up some mornings forgetting that you are lying in an RV!
8) Add Throw Pillows (Varies)
Chris calls throw pillows "Throw Away Pillows" because of the space they take up and the fact that he doesn't quite understand how important aesthetics are to an RV bedroom makeover! 
Whether you add new ones as part of a complete set of throw pillows, or mix and match the ones you may have with new pillow covers, these pillows are a great touch when you finish making the bed.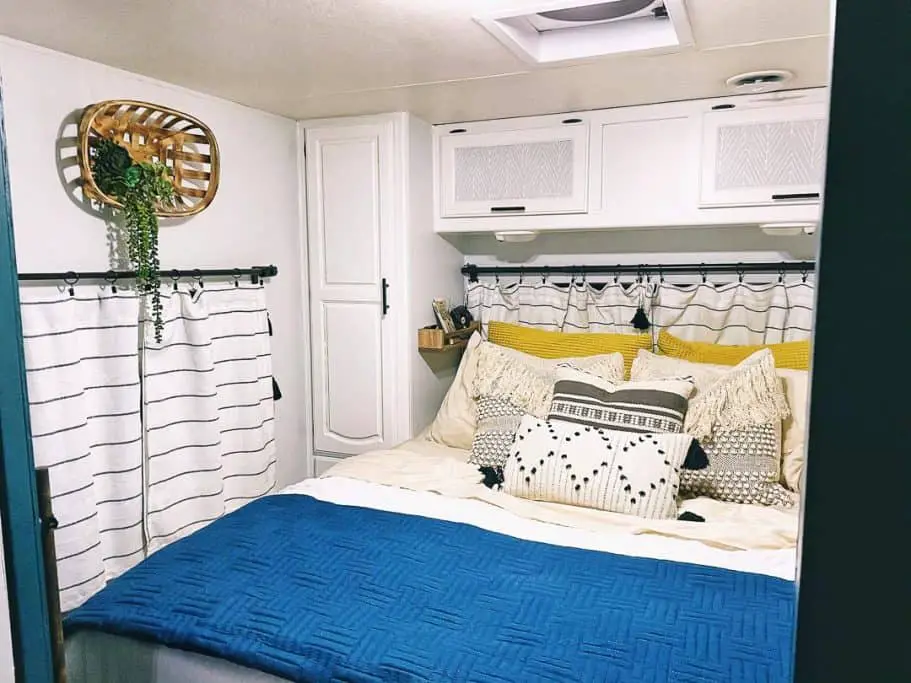 9) Replace Cabinet Pulls (~ $15)
Most RV bedrooms have cabinets and/or drawers of some sort in them. We had a total of 4 cabinets between 2 over the bed and two closet cabinets. 
And as we were replacing the handles for all of the drawers and cabinets throughout our entire RV remodel, this was a quick and easy way to add a small but impactful new look to the bedroom. 
10) Creative Bed Frame Decor (under $10)
The bed frame in our RV bedroom was a simple box that raised the bed approximately 20 inches from the floor. This box houses our water tank, a small inside storage area and also allowed for an external storage area in the back of the RV. 
It was drab and boring and even with a fresh coat of paint, there was nothing special about it. So we nailed a few wood slats to the front of the bed in a similar fashion as the barn doors and just a small touch like this made a huge difference when you look at the bed from the living room. 
11) Dog Step/Bed & Storage Area (~$50)
This was another of our unique ideas for how to make the most of the little space we had in the bedroom. Our dogs mean the world to us. And while they usually sleep in bed with us, we wanted to give them their own space as well as to allow them a step between the floor and a rather elevated bed top. 
So we used several pieces of 2×4 wood to build a platform next to the bed. We recycled old mattress foam to create a soft bed for the dogs. And added a few hinges and a little door to allow for additional shoe storage beneath the bed. 
12) Ikea Wall Shelves/Spice Racks ($12)
Ikea is world-famous for providing knick-knacks that make the most of small spaces. The walls in our RV bedroom were bare, especially near the bed where we often want to store books, pictures or our phones while we sleep. 
So these spice racks, with a light stain added to them, gave them all the bedside storage we needed without taking up unnecessary space.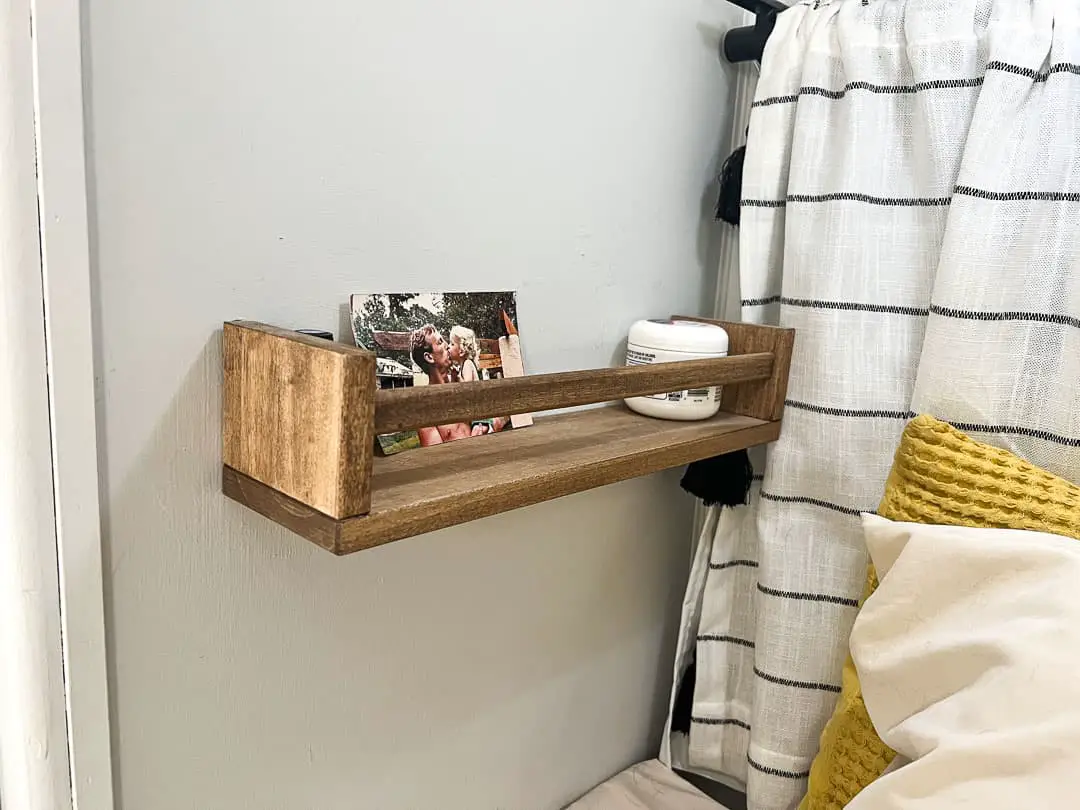 13) DIY Closet Shelves (~$45)
We have 2 relatively large closet spaces next to our bed that are impractical for doing anything other than hanging clothes. And while we kept the rod in each closet for the few clothes we do hang, we also built our own shelves in the closets. 
This was simple, requiring only a few pilaster strips and a wood board. We made the shelves adjustable so we could be creative with how we stored our clothes in our closets.  
14) Switch to LED Lights (under $10)
This is a simple task that you should do throughout your entire RV. Not only can LED lights increase the brightness in your RV bedroom, but also they will reduce your energy consumption so you can wake in the morning not worrying about your battery bank. 
15) Add/Update Smoke and Carbon Monoxide Alarm ($25)
Many people will overlook an operational combination of smoke and CO alarm in their bedroom. But checking whether you have functional Smoke/CO alarms is one of the first safety precautions you should take. Even in such a small space as an RV, we have one in our kitchen area and one in the bedroom. 
16) Paint the AC and Heating Vent Covers (under $10)
We have ducted air and heating in our RV bedroom. Over time the vent covers for each became yellowed. As our RV bedroom makeover was refreshing every aspect of the bedroom, removing these covers along with the power outlet covers in the room and painting them was an easy task that tied the room together. 
17) Add Wall Decor (Varies)
Any RV bedroom remodel should include some kind of decor for the walls. You'll want to add personal touches to the RV walls that bring home the look and feel of your bedroom in a brick and mortar house. 
We added a few of our personal favorites that have been a part of most of our homes throughout the years and attached them using command strips.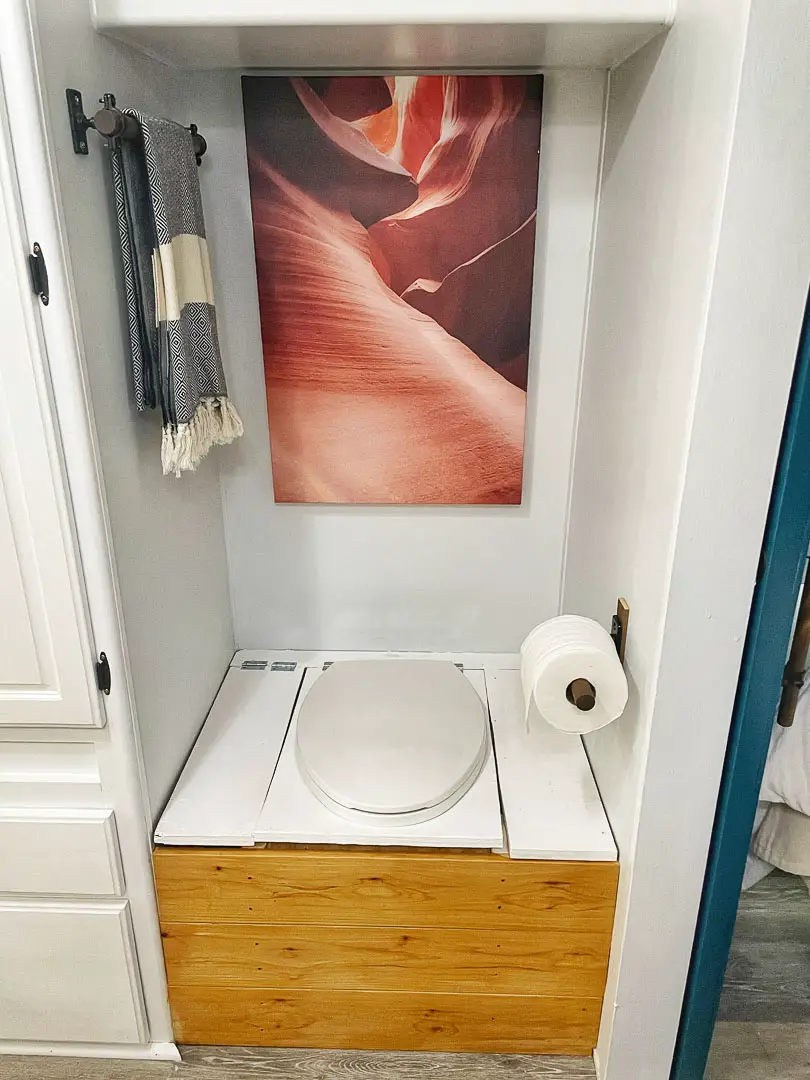 18) Other Ideas: Wood Accent Wall (Varies)
The back wall of our RV bedroom was actually one very large window. So we did not have the space to add a wood accent wall as part of your makeover. 
But we've seen some great examples of how other RVers have used an accent wall to add another gorgeous layer of texture to their RV bedroom. 
19) Other Ideas: Custom Headboard (Varies)
We didn't have the room for a headboard in our RV bedroom makeover. But adding a headboard is another way to customize your bedroom. 
Whether you repurpose one from your home or build it out of materials, such as driftwood, that you find along your travels a headboard can really bring home the feeling of being at home in your RV bedroom.
20) Other Ideas: Wallpaper (Varies)
A bare wall in any room in your RV can lead the room to feel quite dull and boring. While we opted to keep our walls the same color as the rest of the RV, you could add wallpaper anywhere in the room you wanted to change the look and feel. 
Mix and match wallpaper, or just use slivers of it as accents throughout the room. 
Wrapping Up Your RV Bedroom Remodel
These 20 ideas are just the tip of the iceberg for what is possible with any RV bedroom remodel. Whether you have a small trailer, Class A motorhome or something in between, taking any steps to refresh your RV bedroom will make living in your RV that much more comfortable. 
Let us know which of these ideas if your favorite and if you have any recommendations for other great tips or inspirational ideas we may have left out!