Last Updated on February 9, 2022 by Chris and Lindsay
So you've made the decision to buy a new RV. And after looking around at RV dealers and scouring the online marketplace you've decided that buying a used RV is your best option.
Trust us, you can find some great deals out there on used RVs. But you probably also know that finding the best option for you that fits your budget and is also in good condition narrows down your purchase options.
The process of finding a great deal can be even more challenging if this is the first time you are shopping for a recreational vehicle.
In over 3 years of living full time in our RV we have shopped hundreds of different used RVs and have developed a checklist and process we follow to ensure that we make the best decision when purchasing a used RV.
We're here to share this list with you to give you the confidence and courage to find your new class C motorhome, travel trailer or campervan.
Regardless of what type of used RV you are shopping for, we think our tips for buying a used RV will help you find a great deal that will save you time and money in the long run on maintenance, insurance and repairs along the way.
Tips for Buying a Used RV
Before we get into the nuts and bolts of what to look for when buying used RVs and travel trailers we want to run through our best tips that will help you stay within budget and buy the RV that offers the best value to save you time, money and frustration down the road.
RV travel is incredibly rewarding and addictive and ensuring that you are comfortable with your buying decision is important to us!
Follow the inspection checklist below
We are providing an incredibly detailed checklist to help you pay for the used RV that offers you the best value you can find. So whether you have done a lot of previous research or are nearly ready to start shopping for used RVs or travel trailers, be sure to read through our inspection checklist.
We spend anywhere between 2-3 hours physically inspecting every RV before buying one. We always have a very tight budget and can only afford to pay for an RV that fits very specific criteria for what we want and what we know we can repair ourselves or are willing to pay someone else to fix.
1) Take it for a test drive
Once you walk through our used RV checklist and feel like the price is right inside your budget and you know what you may or may not want to repair and/or upgrade, you'll want to take the RV for a test drive.
We recommend that you ask the seller to take the RV out first with you in the passenger seat. Watch how they drive and if there are any things they do or don't do before you get behind the wheel.
For instance, if the RV was previously in an accident it may be out of alignment and pull one way or another. Or the owner may ride the brakes hard or give clues to other things you may want to go back and inspect again.
Of course, if the seller is reluctant to offer this test drive to you then we'd advise that you walk away. There is likely something they don't want you to know.
2) Do your due diligence and research beforehand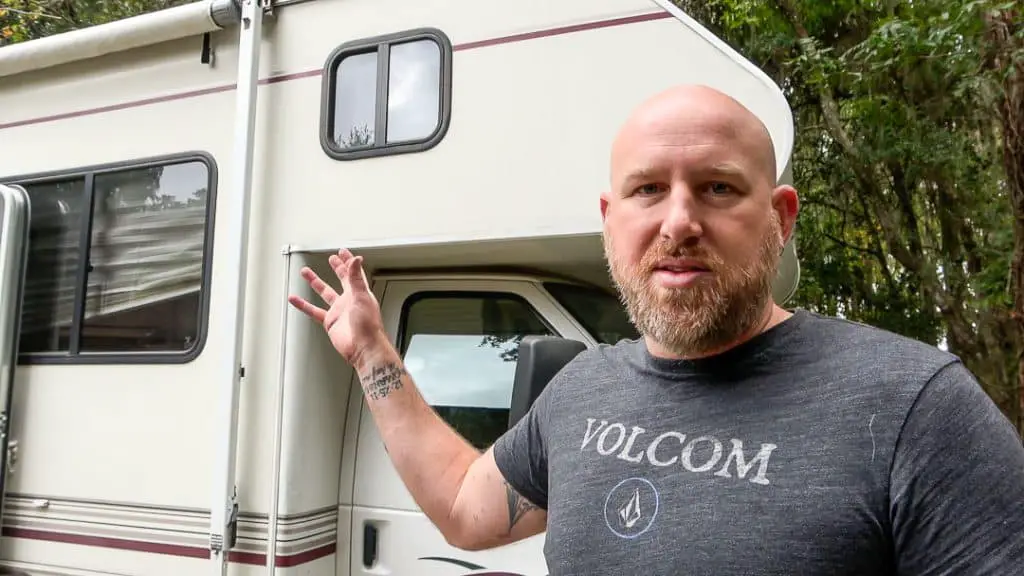 We always do a lot of research before we go look at any used RV. We typically narrow down the make, model and brand and often have a year range for what we think will fit in our budget and preferences.
Because we put so much effort into the research ahead of time we are able to quickly inspect the RV to give us an idea of whether we looking at a fair deal.
Nobody wants to buy a lemon. Yet lemons get sold all the time. So do your due diligence beforehand. Good news, if you're reading this you are well into this research!
3) Don't impulse buy
In a hot market like today, it is hard to walk away from a good deal. But we've found that whether you are shopping with a dealer at a dealership or through a private seller if you feel pressured to buy the used RV on the spot then there's a good chance it isn't the right used RV for you.
We always ask if we can sleep on the decision. Once we were told no. Another time we were told yes and then the RV was sold out from underneath us!
In those cases, we were OK with the circumstances because we didn't want to feel trapped in our decision. Some dealers offer warranties if you aren't happy with your purchase.
But most used RVs are sold by private sellers who are simply eager to sell to the first person who can put money in their hands. Feel comfortable with your decision. Take the time to feel good about the decision!
4) Ask for a repairs and maintenance list
Depending on the age of the used RV and how many previous owners it has had you may have little to no information provided to you about the repairs and maintenance that has been done to it.
But before buying the RV you will want to try and piece together this information. If you are interested you can ask the seller for the VIN number in advance and run a formal report.
But in many cases, you'll find RV owners have all the original paperwork and most repairs and maintenance receipts in a notebook they are more than willing to provide.
5) Don't be afraid to negotiate
Everything we are sharing in this post is designed to help you make the best decision when buying a used RV. One of our top tips is to keep track of everything you come across when you inspect the RV so that you can work up a fair price you are willing to pay.
Remember that sellers may be interested in overpricing the RV beyond NADA values knowing that it is likely you will want to negotiate.
But as you find things such as bad tires, broken appliances and the dreaded water damage you may want to negotiate down an equivalent amount of what it will cost to repair the RV. Note that not all issues you find are going to be reasonably negotiable.
Squeaky cabinets, ugly decor and normal wear and tear won't budge the price. But the NADA is certainly not accurate and often if you point out the bigger, more noticeable issues with the RV they are more than willing to find a fair price.
6) Know what you can and can't do yourself
We love DIY. In fact, because we were specifically searching for an old Class C RV to remodel the last time we shopped for RVs we were not afraid of many of the things we found to be issues when following through our checklist.
We also knew that we planned to change a lot of the RV around in terms of removing the couch and dinette, adding vinyl plank flooring and installing butcher block counters with new sinks and faucets so we were not too afraid when we found that the issues with our RV options were those we planned to deal with on our own in our remodel.
But if you come across things you do not feel comfortable handling yourself, have an estimate of the kind of cost these projects might entail and whether they are necessary or cosmetic.
Necessary modifications/repairs are essential and should be negotiated with the seller. But cosmetic changes are not.
READ MORE: Check out our post on everything we did to remodel our 1999 Shasta Cheyenne Class C Motorhome!
7) Pay the right price
Beginning in late spring 2020 used RV prices began to skyrocket. Like most items in a capitalist economy, the price for a used RV is dependent mainly upon supply and demand. As the demand is so great, prices have been almost exorbitantly high.
We are often asked about whether X amount is a good price for Y RV. To that we provide a generic, yet valid answer: what does the market say in your area?
A used RV is only worth what someone else is willing to pay for it. So if the owner is asking too much, it will likely remain on the market for some time.
And if it is priced too low, someone may purchase the RV without nearly the time inspecting it that we recommend in this post.
So finding the used RV deal that is "just right" can be a challenge. Which is why reading this post and working through what to look for in shopping for your next RV will help you make a quicker, more informed decision about the purchase without buyer's remorse.
So you'll read the principles below that help you understand what to negotiate in or out of your deal with the seller as you work to pay the right price.
Buying A Used RV Checklist
Whether you are shopping online or in-person at a dealership there are certain things you want to look for before you make your purchase.
We believe that buying used is a better way to find a good deal than buying brand new RVs. But whether you buy from a private seller or RV dealership the things you need to look for are the same.
The Most Important Considerations When Buying a Used RV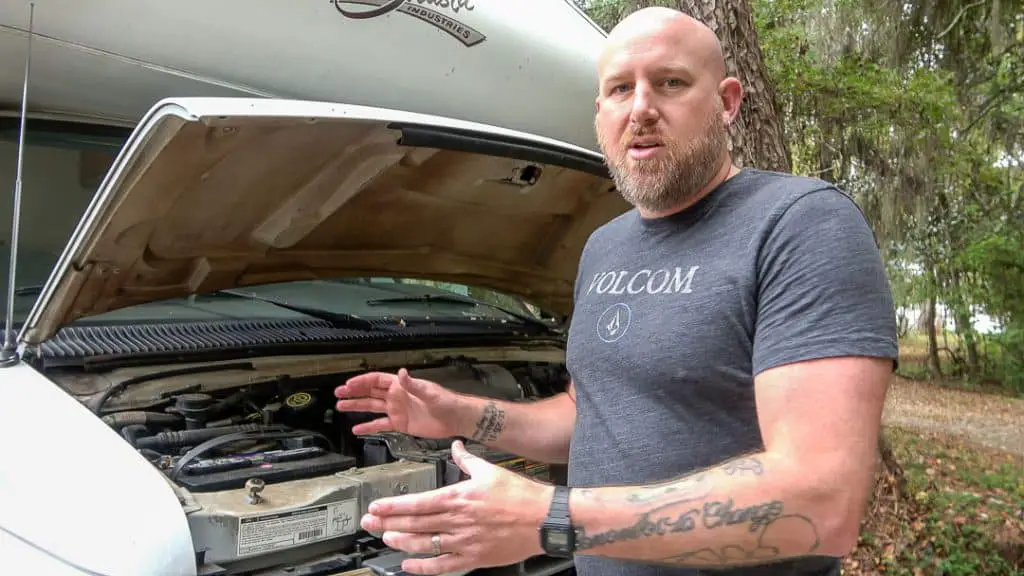 We have 2 non-negotiables when we perform our own inspection of any used RV we are considering purchasing.
The first is evaluating the vehicle engine performance and wear and tear. The second is inspecting for signs of water damage both on the roof and throughout the camper.
1) Vehicle Inspection
Unless you are a mechanic and/or willing to tow your new (to you) used RV the most important thing to consider before purchasing a used RV is inspecting the vehicle itself.
NOTE: If you are interested in purchasing a travel trailer or truck camper then you can skip this step and move further down our used RV checklist.
But if you are shopping for a class C or Class A motorhome or a campervan where the living space is built into the vehicle, then making sure it runs is absolutely essential.
Mileage and Starting
Depending on the age of the RV, you may or may not have a difficult time when you inspect the vehicle. Since most RVs are used recreationally, many have incredibly low mileage for their age.
This can be both a good thing and a bad thing. Low mileage is great when it comes to standard wear and tear. But any vehicle that sits for long periods of time could also develop issues over time.
So the first thing you should do is very simple: open the hood and fire up the vehicle.
If there are any major issues you will likely notice them right away. Things like knocking and squeaking sounds might warrant further inspection, but altogether are not disqualifying factors.
Repair and Maintenance History
Be sure to ask the owner about any repair and maintenance history on the RV. If the owner is reluctant to share this information then it should be a red flag.
Most private owners are likely to share this history and it can give you insight into what was done and when you may need to look into addressing other issues.
Visual Inspection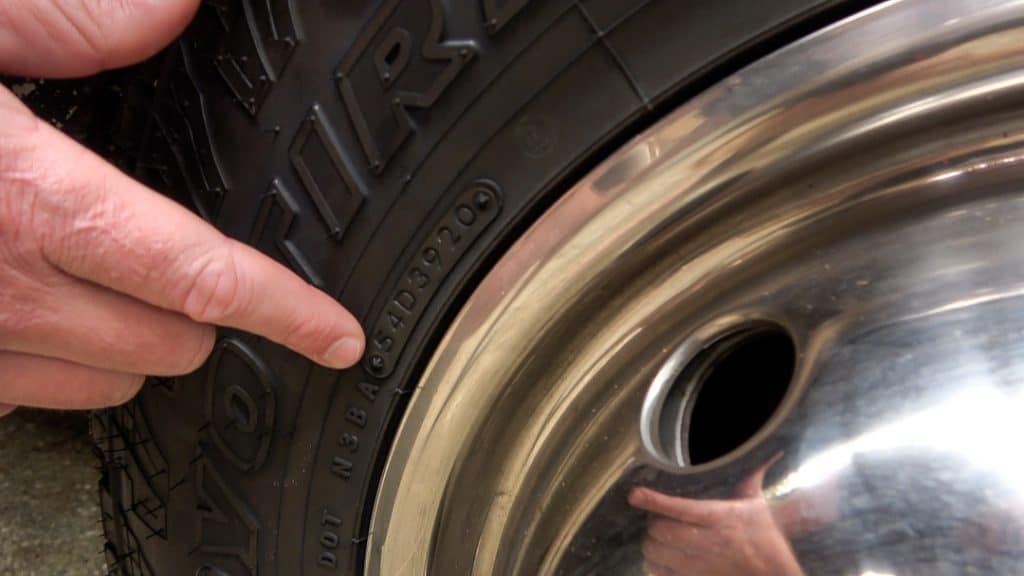 Once you've looked over the engine it is time to take a visual inspection of the rest of the vehicle. For this, you will want to look at features like the RV's tires, leaks beneath the RV and any other signs of unusual wear and tear.
We recommend that you check for brittle hose lines, look for rust beneath the RV and ensure that the owner shares as much information about the safety features of the rig.
If the engine runs well and the rest of the vehicle inspection seems fine, you do want to know about things like brake service and the age of the tires before you consider buying a used RV from the seller.
The last thing you want is to pull away from the deal and find yourself broken down just a few miles down the road. Trust us, this almost happened to us when we purchased our latest used RV!
We were two hours into a return trip home when the RV's tires started vibrating horribly. As soon as we reached the nearest town we went to a tire store and found out that while we thought we had done a great inspection of the tires, it turns out they were nearly 7 years old and full of dry rot! We had to replace them immediately after purchasing our new RV!
Professional Inspection
If you have done due diligence with your own inspection you can ask the owner to allow you to hire a professional inspector to look over the RV. This is definitely a step we would suggest that you save for after you've done other things on this checklist.
But do know that you don't have to be alone in the process of inspecting the RV. These will likely run you a few hundred dollars and the seller should be happy to accommodate.
2) Water Damage
Once you have completed your inspection of the vehicle you will want to spend a lot of time checking for signs of water damage. When you buy used this is perhaps the biggest issue you will find.
And no amount of online research of the vehicle can truly show you where there could be signs of water damage like looking for yourself.
Like engine maintenance and repairs, water damage does not have to be a deal-breaker when buying a used RV. But you want to be aware of any signs of water damage in the event you must address it yourself, or you can ask the owner if they would repair the damage before you purchase the used RV.
Check the Roof for Water Damage
The most obvious place to have water damage and leaks when buying a used RV is on the roof. Depending on the type of RV or travel trailer, the roof is likely covered in either EPDM or TPO rubber.
These materials are perfect for RVs, which is why they are most common. But they also stretch and wear out over time. Clearly, if the rubber forms holes or is in any way punctured then it will not be able to keep water from leaking into the camper.
We recommend that you literally walk and/or crawl every square inch of the RV roof to look for unusual wear and tear and obvious signs of water damage. Depending on the age of the RV and where it has been used and stored over time, some signs may be more obvious than others.
Take your time and search the edges of the roof, particularly where the seams come together in the front corners of the cabover. Also, look at any running lights that may be accessible from the roof as the ones in the front of used RVs are prone to leaking.
Lastly, if possible, run your fingers around any vents and covers on the roof and feel around for any soft wood that may result when water leaks through the sealant around roof fixtures.
Check the Sides of the RV for Water Damage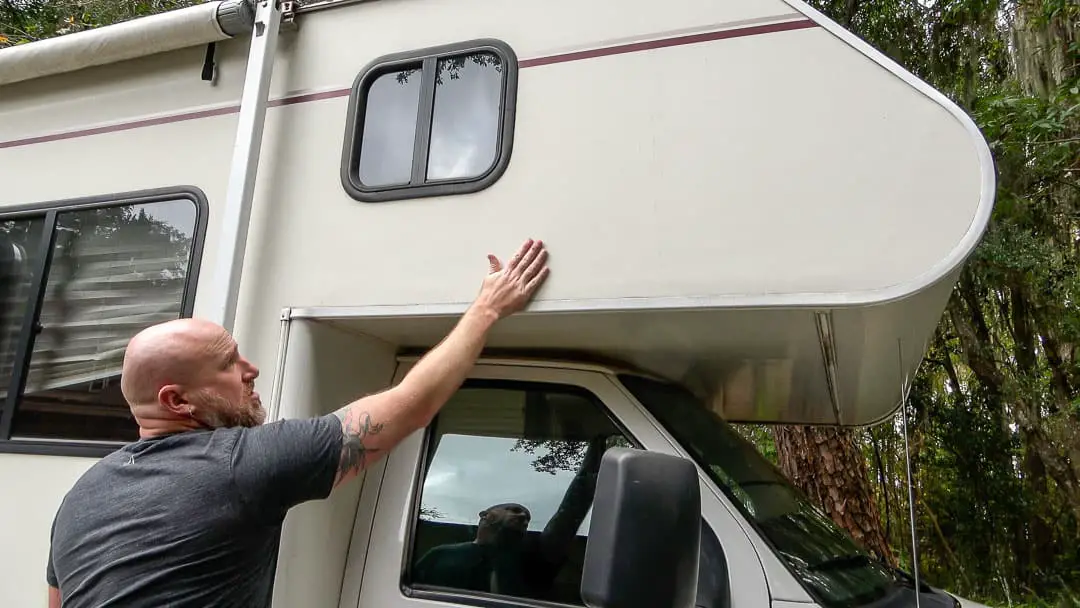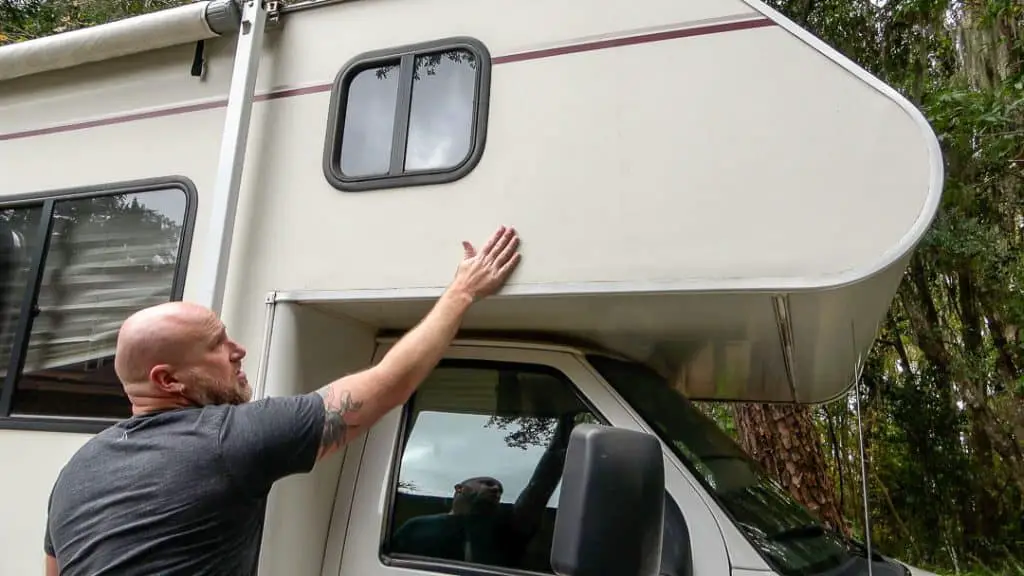 One of our top tips for buying a used RV is also one of the most overlooked in inspecting for water damage. Make a visual inspection of the sides of the RV for any signs of what is called delamination.
Delamination occurs when water finds its way between the frame of the RV (typically wood) and the siding (which may be aluminum or fiberglass). When water gets in this area the glue that holds the siding in place will fail and you will start to see waves in the side of the RV.
When you inspect the roof you may not see this delamination from the top. So look from the ground and push gently against any delamination to see if or how warped and rotted the wood beneath the siding may be.
Just because there is some delamination does not mean that the camper is not in good condition. But it is definitely something you will want to pay attention to before you decide to purchase the used RV.
Check Inside the RV for Water Damage
After you inspect the roof for water damage you'll want to move inside the RV and inspect the camper for any possible repair you may need to do from water damage inside.
To do this, first inspect the ceiling of the RV, particularly around any appliances such as fans, vents and air conditioning units as these are prone to water leaks over time. If you notice any rust stains on the ceiling, rusty screws or soft spots around these then it warrants closer inspection.
You will also want to open up all drawers and cabinets and take a flashlight to inspect places that may have unseen leaks. Depending on the type of RV you want to purchase, plumbing lines can also be a source of water damage from the inside of the RV.
This is a great time to ask the owner if they have ever had any issues with the plumbing in their RV. Just because an RV is only a few years old does not mean that there may not be hidden water damage from plumbing leaks, particularly if the owner did not properly winterize the RV's plumbing prior to freezing temperatures.
We had this issue with our recently purchased used RV. The owners were honest enough to tell us that all of the faucets and showers leaked. So during our inspection, we could not test the plumbing.
But we did make sure to look around where each of these appliances may have leaks because we felt confident that we could repair the plumbing ourselves as part of our massive RV remodel.
Other Features to Consider Before You Buy a New or Used RV
Just because the used RV you are interested in purchasing isn't twenty-two years old, like the one we recently bought, doesn't mean that there aren't other maintenance and repair issues that aren't so obvious.
We have several friends who purchased a brand new RV they thought was in good condition only to find several hundred miles down the road something shook loose, broke or was otherwise in need of repair.
We've already covered the biggest features to consider before you buy a used RV. But used RVs come in all shapes and forms and this means whether you are shopping for travel trailers or Class C motorhomes, there is a lot of research and inspection that goes into the process to decide whether you are buying your new RV for a fair cost.
Appliances
Depending on the type of RV you want to purchase you will find that each comes with a wide range of appliances inside.
From those standard appliances you would normally find in your home – such as refrigerators, stoves and ovens – to those that are relatively unique to RV travel – such as rooftop air conditioning, furnace heaters and RV water pumps – you will want to check to make sure that each of these is in good working order before you decide to purchase the used RV.
Repairs and replacements for any of these appliances can cost quite a bit of money and turn a good deal into a bad value. For each of these appliances, you should ask the owner to show you how each one works, especially if this is your first time buying used.
These are the most common appliances to inspect:
Refrigerator
Depending on the type of RV you are buying, you are likely to have a least a dual-powered refrigerator that runs both on propane and 120-volt electricity (shore power). Some refrigerators may also be 3-way by adding an option to allow your 12-volt battery bank to power it.
Having done many repairs to our various refrigerators over time we can't stress enough the importance of testing the refrigerator on every power setting it offers.
In two of our used RVs, we had refrigerator malfunctions that not only cost us money and time in repairs but also led to many days of frustration on the road.
Stove/Oven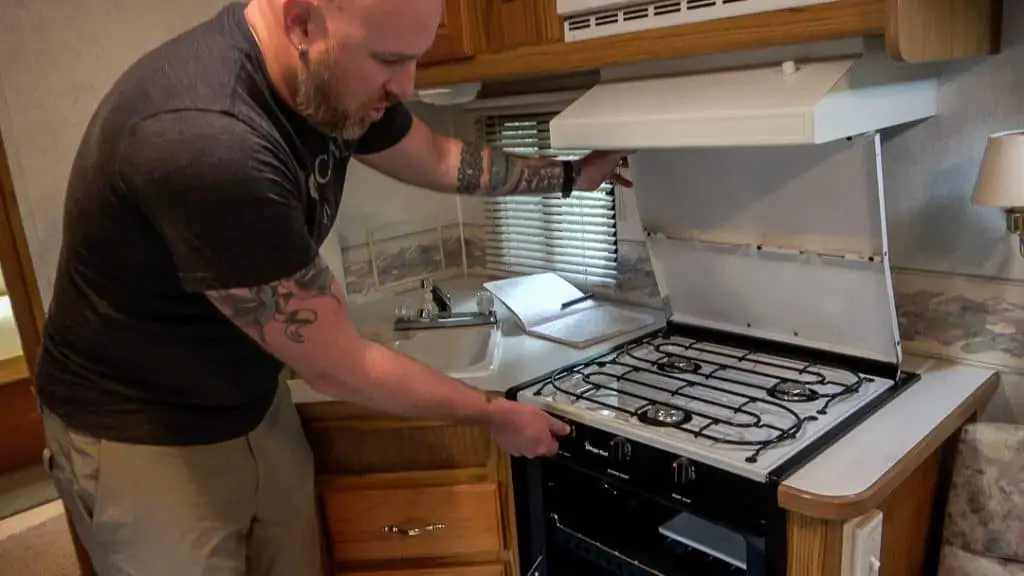 Unlike your refrigerator, the stove and oven will operate only on propane. Some stoves will have ignitor buttons and others you will need to ignite with a lighter manually.
Be sure that the stove and oven operates as it should as camping without a stove will not be fun and the cost in repairs to this appliance can add up.
Hot Water Heater
Your typical house water heater is powered by 120-volt electricity. An RV water heater may operate on either 120-volt and/or 12-volt electricity. Be sure that you test the hot water heater in both settings if you have them.
Most hot water heaters warm between 4-6 gallons of water so it should only take a few minutes before you can run the faucets and test the hot water.
As a bonus, check outside where the hot water sticks out of the side of the RV. Look for any signs of rust or leaking water that may need to have attention.
Air Conditioner (if applicable)
Not all RVs have built-in air conditioners. But if you are trying to find good value in a used RV then you definitely don't want to buy an RV with a broken air conditioner as these can cost a lot of money to replace.
Depending on whether the air conditioner is ducted (pushes cold air through ducts to vents throughout the RV) or forced air (pushes air directly from the unit into the RV) repairs can be costly.
Remember these run almost exclusively on 120-volt electricity either from shore power or generator and so they can be damaged relatively easily if the previous owners did not operate it correctly.
You may or may not have a thermostat to control the AC so be sure the owner shows you how to operate the AC before you purchase it.
Furnace
Most used RVs have propane-powered furnaces that force air through a series of ducts that run throughout the RV. Some of these are tied to the thermostat that powers the air conditioner as well.
Be sure you understand how the furnace turns on at the thermostat and be sure to let it run for a few minutes to ensure that it works properly before buying the RV.
Generator (if applicable)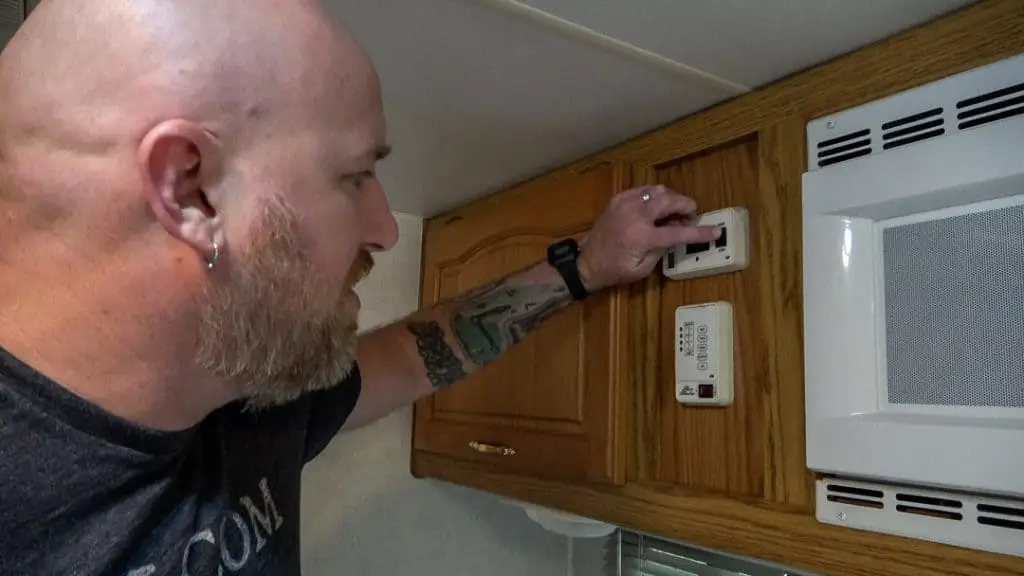 On-board generators are more common in larger RVs, such as Class C and Class A RVs. But you may also find some used RVs like truck campers and campervans that have built-in generators as well.
Or the owner may have another generator that they include in the price of the used RV. Be sure you understand not only how these operate, but also the general maintenance that has been done to them.
Because generators are small engines they require things like oil and filter changes on a regular schedule so the more information you know about the maintenance and any repairs that were done to the generated the better the value you will have in the process of researching your potential new RV.
Safety Features and Alarms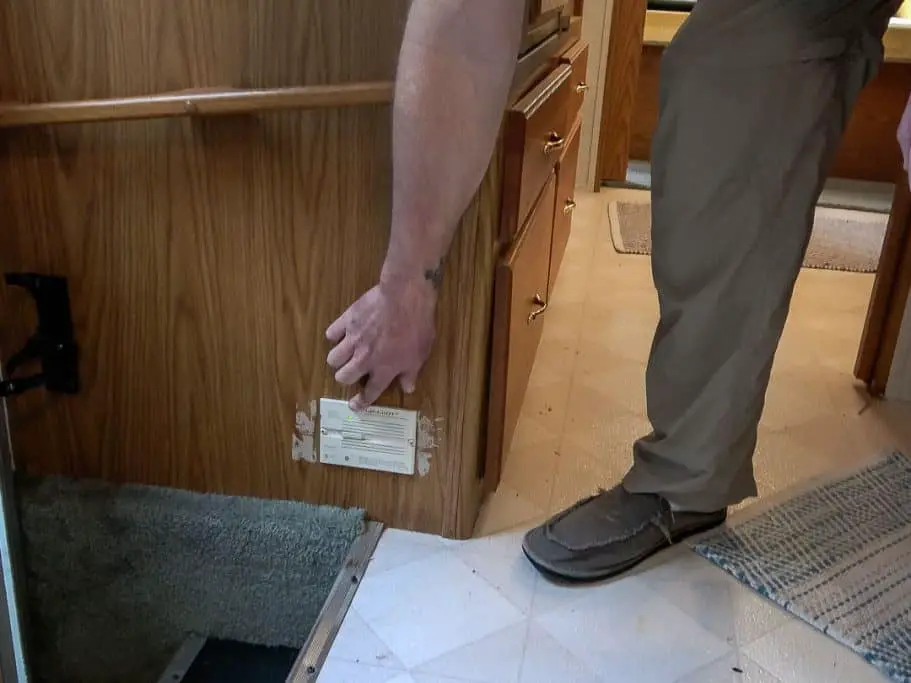 One of the most important features of any RV is the safety features and alarms that should be in working order and regularly tested throughout the RV. The three that you need to have are Carbon Monoxide (CO), Smoke and Liquid Propane (LP).
Each of these alarms should be in good working order before camping in the RV. But just because they may not work when you inspect the used RV does not mean you should not purchase the RV. These alarms, in addition to fire extinguishers, are mandatory in any RV.
But they are also relatively inexpensive and simple to install. But you should be aware of where they are located and if they work or whether you will need to buy a new unit before camping.
Power
RV travel is not possible without power to the camper. While there are some complexities to RV power and electricity, simply put you need to have a battery bank to power the inside of your camper if/when the vehicle is not running.
Most RV battery banks store and provide 12-volt power through a variety of different types of deep cycle batteries. But the batteries are just the beginning. You also have 120-volt alternating current (AC) shore power that meets up with the 12-volt direct current (DC) in the power distribution center of the RV.
In addition to generally testing the appliances in the above section, you will also want to everything that runs on either AC or DC power before you buy a used RV.
Checking AC Power
Take a simple charger, such as a phone charger, that you can plug into each 120-volt outlet. Be sure the camper is either plugged into shore power or the generator is running and test each outlet.
If you do not have power at one outlet it may not be a big deal. Check the breaker to see if it is tripped for some reason. But if you do not have power at more than one outlet and there are no switched breakers then you may be looking at repairs that will cost much more than you want to pay.
Checking DC Power
The first thing you want to check is the type and condition of the battery bank. RV batteries can be expensive. And while we think it is a great idea to buy and install new batteries to save you time and stress in the long run when camping, you may or may not want to commit to extra expense.
Depending on the type of battery, each one may last between 3-5 years for standard flooded lead-acid up to 20-30 years for lithium batteries. But if the batteries are installed incorrectly, have not received proper maintenance (if necessary) or otherwise show signs of wear and tear you will want to take note of this.
Additionally, check to see if the used RV comes with an inverter that will transform DC power to AC power. If so, check the inverter with your phone charger to make sure it works properly.
Another thing to note is that your fans, lights and water pump will all work off of DC power. So be sure to turn on each of these and assess whether these work.
Solar
If you are buying used RVs that are older than 20 years old you likely will not have solar panels installed, unless a previous owner has installed them.
If the rig does have solar power then you will want to ask the owner to show you how the solar panels work and gather any information you can about them including when they were installed, how many watts of power they provide and any service that may have been done to them.
Solar panels are a great value to RV owners who like camping off-grid (dry camping or boondocking) and so if you want to do this then you will want to research the solar panels, charge controller and any other components that are part of the solar system.
If there is no solar then we would highly consider that you consider adding it to your budget as we think they are virtually essential to the 21st-century camper.
SAVE 10% MORE when you shop directly at Renogy.com and use our coupon code "CALLEDTOWANDER" at checkout! Note: Discount does not apply to sale items or batteries.
Hinges and Hardware
Hinges and hardware are a simple, but often overlooked, feature of any used RV. Cabinets that don't slide properly along their tracks and doors that don't remain closed or that have squeaky hinges are more of an annoyance and inconvenience than a dealbreaker when buying a used RV.
Buy knowing what you are getting into before buying used will help you determine your budget both for buying the used RV and for doing any repairs and upgrades you may want to do.
Tanks and Gauges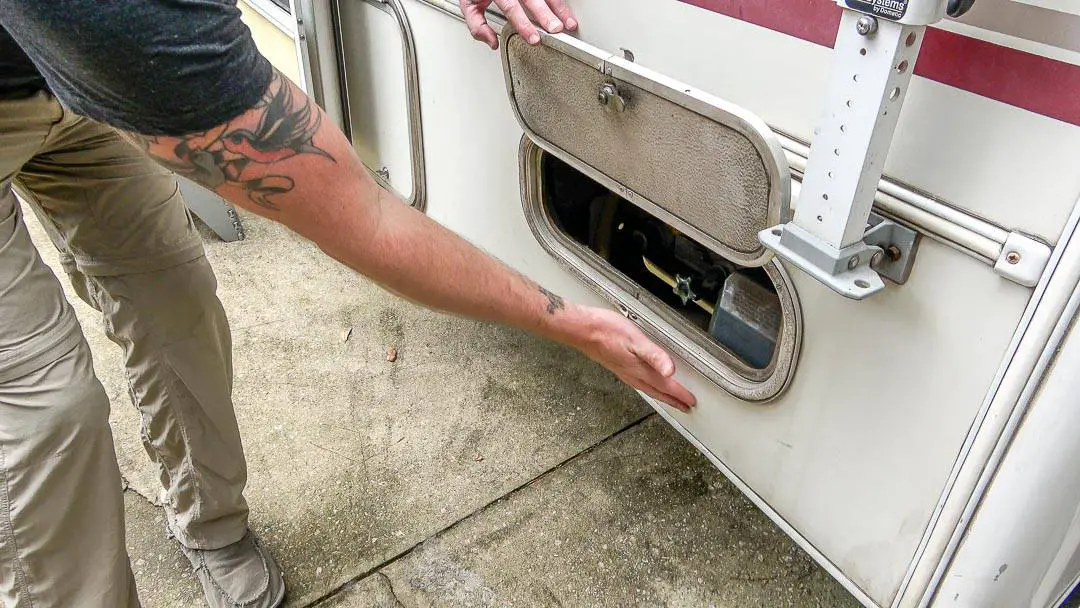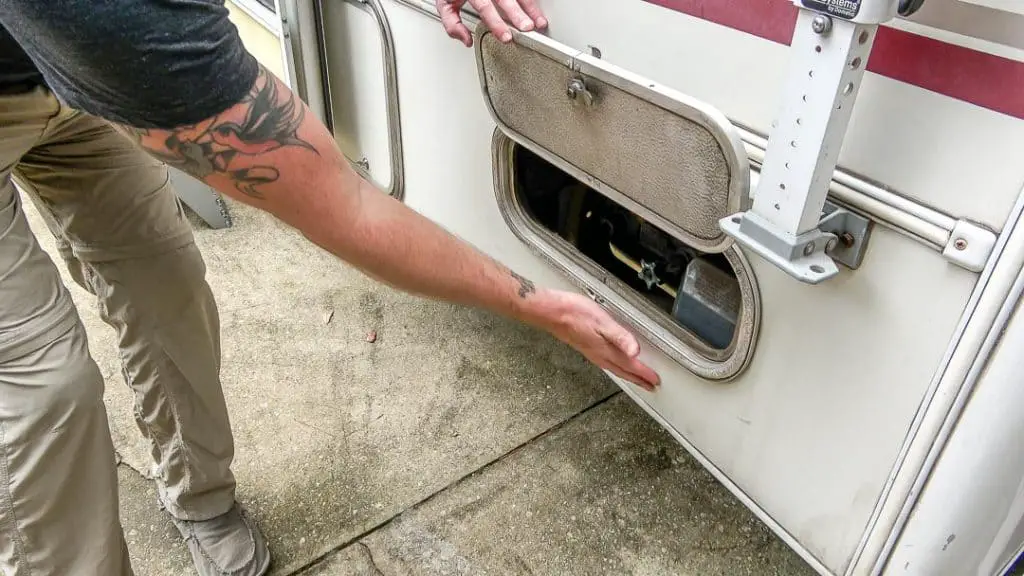 Inspecting your tanks can be a difficult process. But if you are able to at least determine whether the gauges are accurate you will find that RV travel and camping is much more enjoyable.
Depending on the type of RV you research, you may have a freshwater tank, grey tank and black tank.
The freshwater tank holds fresh water and ranges from typically 20 gallons upwards of 100 gallons.
Your grey tank holds water from your sink and/or shower. And the black tank holds your sewage from the toilet.
Knowing the size of the tanks is important as well as whether the gauges are accurate (though when you are camping you will learn their limits!). You likely will not test emptying the tanks.
But at least knowing their capacity and the gauge's functionality is important because these are just one more thing that can cost money if they are damaged.
Wrapping Up
We are excited that you have chosen to shop for a used RV! We believe they offer the best value because they tend to have low mileage and usage, are usually only a fraction of the cost of a new RV and they can be spruced up and remodeled to be exactly what you want in an RV.
But purchasing an RV can be challenging and a bit overwhelming as they can be quite pricey. Plus nobody wants to buy a lemon.
So hopefully we have been able to provide you the information you need to have confidence when shopping for your next home on the road!
Please let us know if we missed any important things to consider when buying a used RV!
About Author