Last Updated on December 9, 2021 by Chris and Lindsay
Whether fishing for halibut out of Anchor Point or Homer Spit, cheering on the salmon swimming upstream at Russian River Falls, or watching wildlife in Seward there are plenty of things to do in the Kenai Peninsula, Alaska!
Having your truck camper or RV will only make the possibilities more endless and enjoyable!
The Kenai Peninsula is a vast peninsula jutting into the Gulf of Alaska just south of Anchorage. It is surrounded by Cook Inlet on one side and the Prince William Sound on the other side.
With so much salt water nearby there are lots of outdoor activities to enjoy.
Top Things To Do on the Kenai Peninsula
The Kenai Peninsula is one of the more popular places in Alaska to visit in an RV because roads connect most of the major points of interest.
What is more, unlike more rustic roads such as the Dalton Highway, the roads connecting towns and villages throughout the Kenai Peninsula are well maintained and RV-friendly.
As with much of Alaska, camping in your RV on the Kenai Peninsula is safe, affordable (often free!) and abundant.
We suggest an itinerary that includes Anchor Point, Homer, Cooper Landing and Seward.
However, there are plenty of amazing places to visit on the Kenai Peninsula and you could spend several days or weeks visiting many of them.
Here is a list of our favorite things to do in the Kenai Peninsula, Alaska.
1) Hang With Bald Eagles At Low Tide At Anchor Point, Alaska
Anchor Point is a great place to explore in your RV. Only fifteen miles to Homer, the area is a nice, quiet alternative to the busier Homer Spit.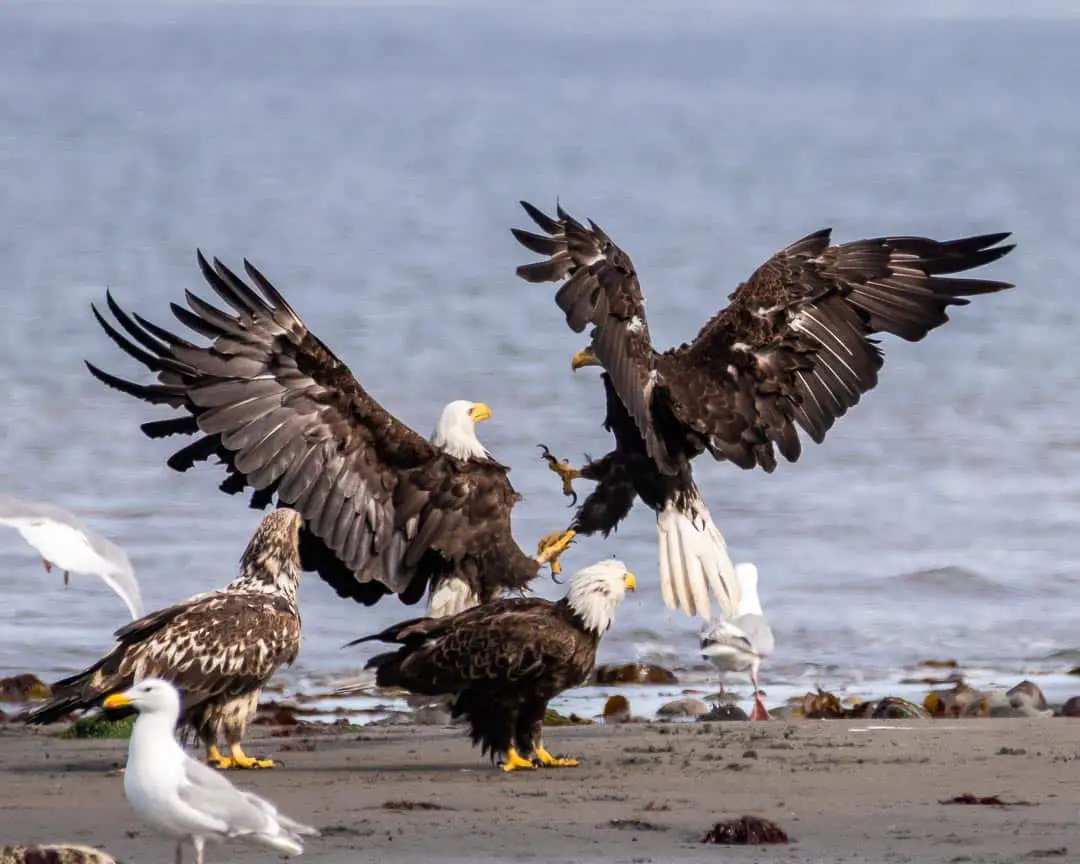 Located on the western side of the Kenai Peninsula along Cook Inlet, the Anchor Point community consists of several side roads and a few stores and businesses.
However most people visit Anchor Point, Alaska to spend time enjoying maritime activities such as clamming or fishing.
Explore Low Tide
Extreme tides affect Cook Inlet and create a spectacular opportunity to explore Anchor Point.
During low tide you can walk several hundred yards to the water's edge and look out over the Inlet at the mountains across the Inlet.
There are small tidal pools formed among the rocks that collect marine life and set the scene for a feast among the many seagulls in the area.
If you catch the outgoing tide you will watch tractors haul fishing boats down the beach to launch in a rather unusual way.
Wait for the tide to come back in and you will be amazed at how quickly it rises.
Other Things To Do In Anchor Point, Alaska
Anchor Point is an excellent place to spend several days enjoying the Kenai Peninsula. There are several places where you can camp for little to no cost. And there is no shortage of low-key things to do in Anchor Point.
Photograph Bald Eagles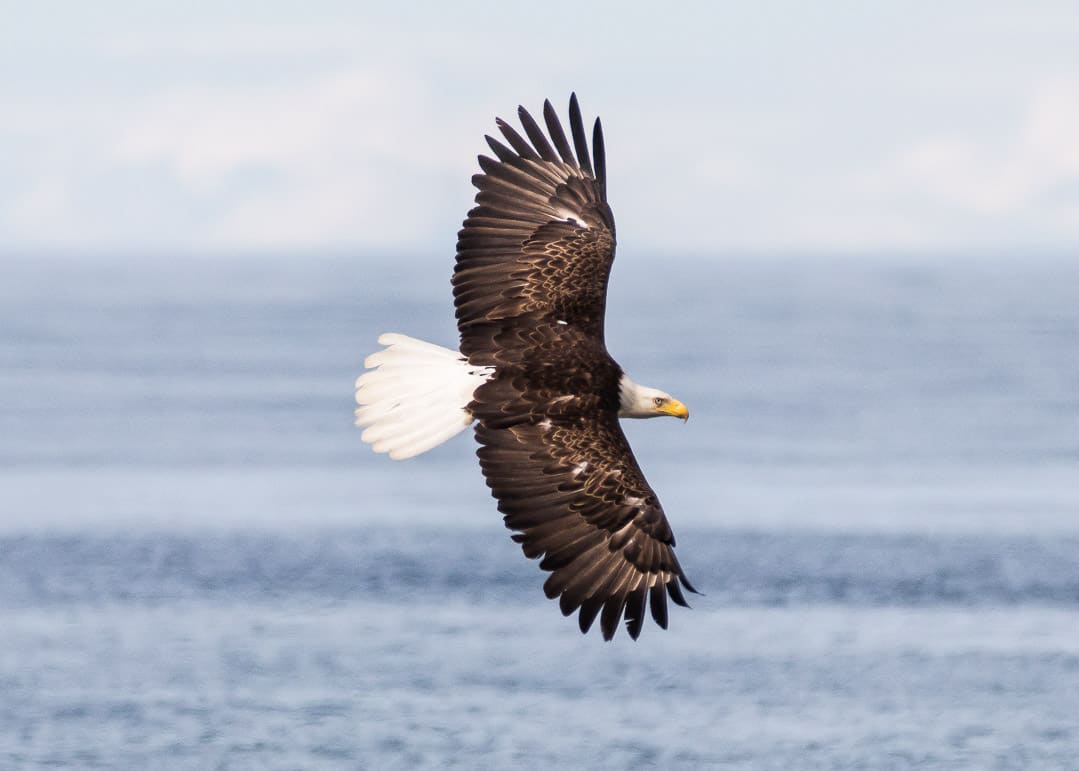 Bald Eagles can be found all over Alaska. However Anchor Point is one of the few places where they congregate in such large numbers that you are sure to see them.
If capturing an iconic photo of a bald eagle in flight is on your bucket list, then Anchor Point will provide you a great opportunity for this.
To be sure you will see bald eagles of various ages and colors hanging out on the beach at low tide. This is one of our favorite things to do in Anchor Point, Alaska!
Dig For Clams
A lot of activity happens when the tide goes out at Anchor Point. One of the most popular activities for locals and visitors alike is to collect clams at low tide.
You are permitted to harvest dozens of little neck, butter and razor clams using rakes, shovels or by digging for them by hand.
However, note that you must have an active sport fishing license to go digging for clams.
RV Camping in Anchor Point, Alaska
There are several Anchor Point RV campgrounds from which to choose. Like all campgrounds in Alaska, availability is often dependent upon seasonality. Summer, of course, is busy season.
In order to access Cook Inlet at Anchor Point you will turn off Sterling Highway onto Old Sterling Highway. As you head south you will a RIGHT onto Anchor Point Rd. Follow this road toward the end to come across one of 5 RV campgrounds.
Note: 4 of the 5 campgrounds are part of the State Recreational Area and have similar amenities and cost (currently $15 for 2019 season).
Anchor River State Recreation Area Campground
This is the first campground you will reach on your way toward Cook Inlet. It is a large campground with 75 sites and is only open May – September. There are pit toilets and the park is pet-friendly, but don't expect much else.
Kyllonen's RV Park is the only private RV campground in Anchor Point. As such it is more expensive (starting at $44+) but also offers more amenities. The campground is open May – September and includes 25 full hookups with 30 amp service. There is a 40 foot maximum RV length limit. And you will have access to picnic tables, grills, water, toilets, shower, laundry, firewood and internet.  The park is also pet-friendly.
Another State Recreational campground with 30 sites that is open year-round. You will find basic amenities such as picnic tables, grill, water and pit toilets.
Coho Campground is the third State Recreational campground in Anchor point and is relatively small at only 36 sites. It is open all year and each site will have picnic tables, grill and water access. Pit toilets are available and the park is pet-friendly.
The smallest, but most desirable of the State Recreational campgrounds, Halibut Campground boast 21 sites just a short walk from Cook Inlet. It is open all year but does have a 45 foot max RV length. Like the other parks, expect picnic tables, grill, water and pit toilets.
Because of our late arrival, we stayed at Slidehole Campground. We wanted to be as close to Cook Inlet as possible. But unfortunately both Halibut and Coho campgrounds were already booked.
However we did enjoy a quiet, private campsite in Slidehole with a lush and gorgeous landscape as our backyard!
Driving To Anchor Point, Alaska
Like most places in Alaska, getting to Anchor Point is hard to screw up. Once leaving Anchorage you will stay on the Seward Highway (1) all the way to Homer.
Anchor Point is 15 miles north of Homer. To find the campgrounds, turn RIGHT on School Street just before the Anchor River Inn.
Make the immediate LEFT onto Old Sterling Highway and then a RIGHT on Anchor Point Rd shortly after crossing over the Anchor River.
2) Camp On The Beach On Homer Spit, Alaska
Homer is a small town that sits on the Kachemak Bay on the southern end of the Kenai Peninsula. At the edge of town, literally jutting into the bay, lies Homer Spit – a narrow stretch of land lined with tourist attractions and tours, campgrounds and restaurants.
Known as the halibut fishing capital of the world, Homer attracts visitors mostly interested in either catching and/or eating the delicious fish.
But our favorite thing to do in Homer was to camp on the beach with the Kachemak Bay as our own private backyard!
Enjoy Beachside Activities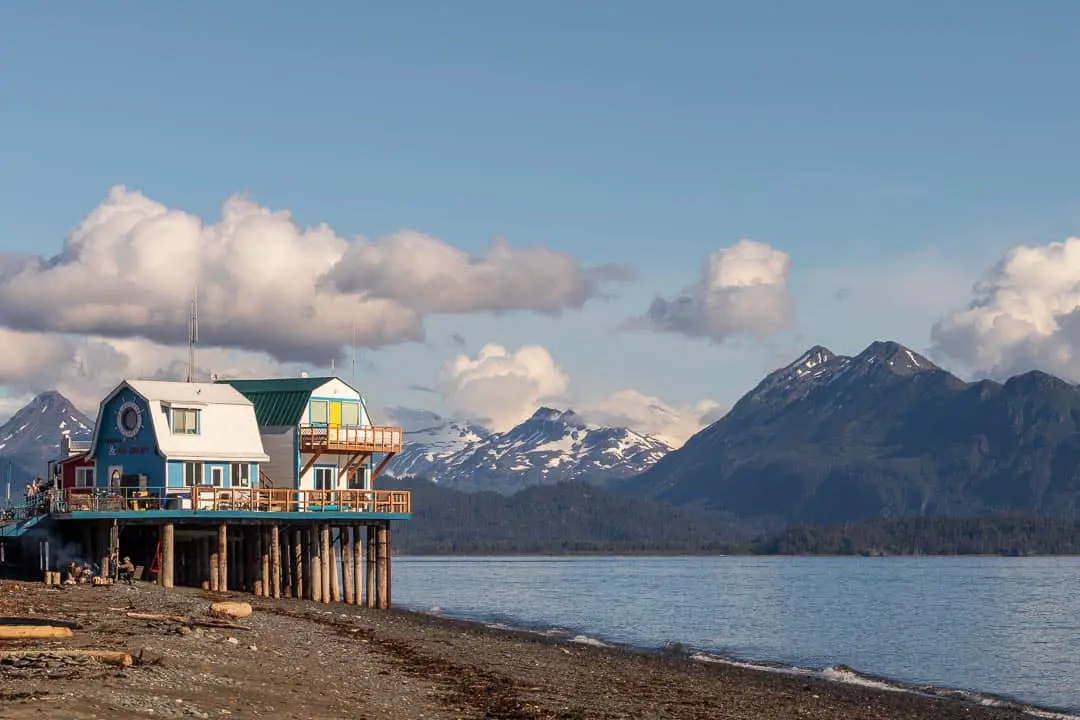 There are several places where you can camp with the beach as your backyard. As such, you can enjoy many beachside activities.
Build your own fire pit and enjoy a campside fire. Or take long walks along the pebbly beach. If you have the patience, wait for the summer sun to set very late and very spectacularly in the evening.
If you have your fishing license you can also fish from the shore. But be careful not to catch any of the many sea otters that frequent the bay!
Other Things to do in Homer Spit, Alaska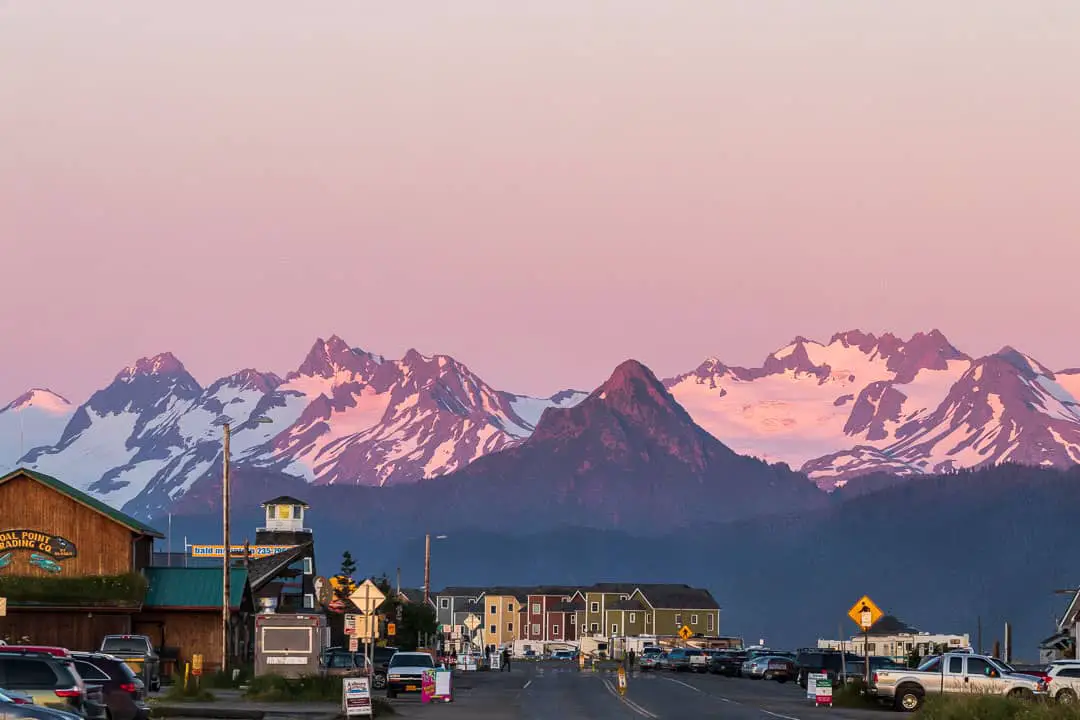 Walk Around The Entire Spit
Once you settle on a campground you can literally walk around the entire spit in less than an hour. There are plenty of things to see as you walk.
Homer Spit is full of small shops, restaurants and bars that cater to tourists. You can find pretty much any souvenir of Alaska or tasty seafood delicacy you could want.
Or explore the many fishing boats in the harbor. While walking along the floating docks be sure to keep an eye out for sea lions and bald eagles!
Go Halibut Fishing (or just eat a fresh halibut meal!)
As the halibut fishing capital of the world, you can expect plenty of opportunities to charter a boat for the day. But don't expect to spend the day fishing without putting a dent in your wallet.
Halibut charters start around $200 for half day trips and get much more pricey from there. However, you are almost certain to catch your prized halibut on one of these charters.
You can have the fish processed at the dock and even shipped back to the Lower 48.
However if you, like us, don't have that kind of money set aside in your budget for a fishing trip, you can always pick up a freshly caught filet at any of the many restaurants in the spit.
Or make friends with a local fisherman and buy a filet to cook over your beachside fire!
READ MORE: Check out our guide on the top things to do in Homer in this post.
RV in Camping Homer, Alaska
Because camping on the beach was one of our top 4 highlights of the Kenai Peninsula we have to start with our favorite camping spot on Homer Spit.
Because our truck camper was right at the 20-foot maximum length, we were able to fit at the tent campground at Mile Marker 2.7. This campground is simply a single dirt road on the right side of Homer Spit Road almost directly across from Freight Dock Road.
If you drive a truck camper, van or plan to tent camp, this spot is an ideal location. You can park however you like so that you can enjoy the view of Kachemak Bay.
We backed into our spot (beware of soft sand and stones) such that our camper door opened right up to the bay!
Other camping options include:
This campground is located in the first few miles of the spit. At $24 per night it is basic dry camping. There are 40 sites with a shared pit toilet.
The campground is open May-September and is big rig friendly.
Located near the end of the spit, this is a pricey RV park at $72+ tax/night. But there are more amenities here than other RV camping options on the spit.
The campground is open May-October and offers full hookup with 20/30/50 amp electrical options. Standard amenities include picnic tables, grill, water, toilet, shower, dump, laundry, firewood, internet, cable tv and is pet friendly.
Also located near the end of the spit and a little more affordable than Heritage, this campground is $45+ tax/night and is open May – September. There are nearly 100 electric-only sites offering 20/30 amp connections.
Other amenities include picnic tables, water, toilets, showers, dump station, laundry, firewood and internet.
Driving To Homer, Alaska
Once again, after you head south out of Anchorage on the Seward Highway you can't miss Homer.
3) Cheer On The Salmon Swimming Upstream In The Russian River, Alaska
If you've ever considered RVing to Alaska during the summer then salmon have likely been on your mind.
With 5 different types of salmon native to Alaska, it is easy to see why salmon, and salmon fishing, are a big part of the Alaskan experience.
Depending on the time of year (and even down to the very week) that you visit, you might have the opportunity to witness any number of three types of salmon swimming upstream in the Russian River.
And if you want to capture that iconic photograph of a grizzly bear swatting at a salmon swimming upstream, the Russian River provides your best opportunity.
Watch Salmon Fulfill Their Destiny By Swimming Upstream
Salmon spawn in freshwater lakes. When the fry hatch they take the easy route downstream out to the ocean.
Depending on the species, these salmon will spend several years maturing in the sea.  
At some point the salmon instinctively knows to return to the same freshwater lake of its birth. At this point the great migration begins.
The lazy river that once led them to the ocean now becomes a raging battle pushing against them. Yet in many rivers in Alaska, such as the Russian River, the salmon prove successful over time.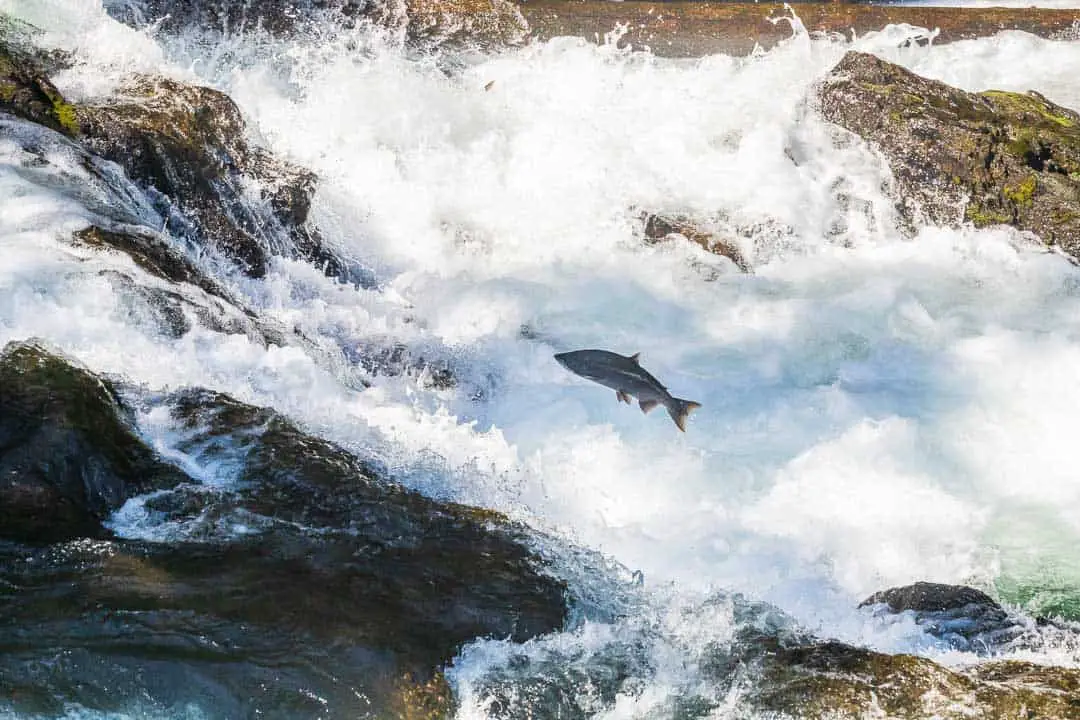 Other Things To Do At The Russian River, Alaska
Fish For Salmon In The Russian River
Sure you might enjoy a comfortable hike to the river to watch the salmon jump upstream. Maybe you even capture a nice photo of a grizzly catching it's salmon breakfast.
But salmon fishing along the Russian River is considered top notch.
Depending on the time of your trip and your experience with fly fishing (interesting rule states regardless of what type of rod you use, all tackle must be fly), you could have a great day fishing for salmon on the Russian River.
Salmon don't schedule their arrival. So there is a chance you may be a week too early or too late.
But when the salmon are running, locals literally drop everything in their lives and race out to the Russian River.
That said, you won't be alone in this endeavor. But if you have the inclination to catch some delicious salmon, fishing the Russian River is a great bet while RVing on the Kenai Peninsula.
Here's a great resource to help you plan the details of that experience.
Hike To Russian River Falls And The Surrounding Area
To visit the famous Russian River salmon will necessarily include a short 2.3 mile hike along the Russian River Falls Trail.
This is by far the most popular (thus busy) hikes in the area.
However, if you are interested in more outdoor exploration there are miles of other trails that take you through the lush interior of the Kenai Peninsula at the Russian River.
Cooper Landing makes for an excellent basecamp to explore the area by hiking/biking. Some of the most popular trails (moderate intensity and distance) in the area include the Slaughter Gulch via Juneau Trail and the Bear Creek Trail.
NOTE: This area, like much of Alaska, is bear country. Make sure that you are "bear aware" and follow basic guidelines for staying safe when hiking this area. Simple precautions include hiking with bear bells and bear spray and simply being aware of the surroundings.
RV Camping In Russian River, Alaska
While much of Alaska is pretty open to simply pulling off the road to camp, there are very few places to do this along the Sterling Highway.
Also, depending on the time of year (and whether the salmon are running) campgrounds can be incredibly busy and you might have to plan to camp elsewhere and make day trips into the region.
We only stopped for the day on our way to Seward and even then parking at the Russian River Campground was incredibly difficult.
The best options of RV camping in the Russian River area include:
Russian River Campground
This campground is the most popular and accessible while also proving the starting point to hike the Russian River Trail to Russian River Falls.
Located at Mile 52 on the Sterling Highway.
Kenai Riverside Campground and RV Park
With 18 sites offering 20/30 amp electrical hookup and 6 dry sites the Kenai Riverside Campground in a modest alternative to the Russian River Campground. The campground welcomes RVs up to 40 feet in length – so keep that in mind before booking.
Amenities include water and dump station access, pay showers ($5) and complimentary coffee. The best part is that the campground puts you right on the banks of the Kenai River.
Located at Mile 49.7 on the Sterling Highway, the campground puts you within easy access to everything you'd want to do in the Cooper Landing area.
Kenai Princess Lodge and RV Park
As the name suggests, expect a little royal treatment at the Kenai Princess Lodge.
With rates around $50 per night, you are paying to enjoy amenities such as full hookups, WiFi, showers and laundry. Big rigs are welcome as well – making this one of the few options in the area if you have a larger RV.
But if you are willing to take a chance and book in advance of the salmon run, you will likely enjoy the comfort the RV park offers.
Driving To Russian River, Alaska
Cooper Landing is hard to miss. It is about the same distance and time (around 2-2.5 hrs) from Anchorage as it is from Homer. And from Cooper Landing it is just over an hour drive to Seward.
We made the drive from Homer as part of our "loop" through the Kenai Peninsula. So we traveled from Homer to Seward and stopped for the day to explore the Russian River.
However, if you are making this a destination in itself, there are several options. It's literally in the way of wherever you go on the Kenai Peninsula, so you can't miss it.
From Anchorage: Follow the Seward Highway past the turnoff to Seward. Keep heading toward Homer approximately 15 miles from the Seward Highway turnoff.
From Homer: Follow the Sterling Highway north toward Anchorage for approximately 120 miles. The last town you will pass before Cooper Landing will be Sterling. From Sterling it is around 30 miles to the Russian River area.
4) Go Halibut Fishing In Seward, Alaska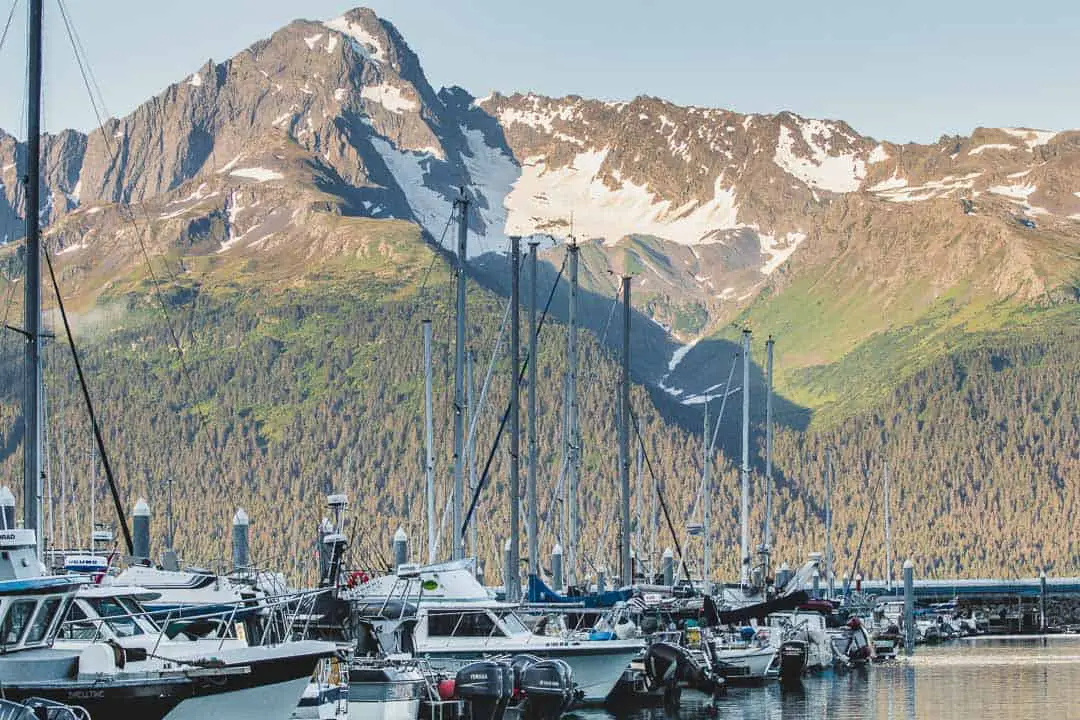 Seward is situated on Resurrection Bay along the eastern coast of the Kenai Peninsula. Because of its location there are plenty of things to do in Seward, Alaska.
Most notably it is the best access point for Kenai Fjords National Park. However, the original Iditarod Trail began in Seward and it is the southernmost stop for the Alaska Railroad.
In the summer Seward thrives on tourism. So visiting Seward with your RV is a great idea. The city turns the local bayside parks into makeshift RV campgrounds and the town comes alive with people from all over the world.
The town is small enough to walk or bike quite easily. On the northern end is the harbor and what we have come to call "tourist town."
Here you can book any number of charters – from fishing to aerial glacier trips to kayaking the fjords. You will also find some of the more popular restaurants and bars.
If you stroll down into the harbor it's likely you'll see sea otters playing in the turquoise water.
Further to the south is what we call "old town." This is a quieter scene boasting additional restaurants and bars.
Regardless of when and why you are in town, there is no shortage of things to do in Seward, Alaska!  
Fish For Halibut In Resurrection Bay
While Homer is known as the halibut capital of the world, Seward boasts its fair share of halibut charters. In fact the commercial fishing industry accounts for a substantial portion of the town's economic impact.
As such, there is a large boat harbor full of charter boats with captains waiting to take you on a mission to catch halibut.
Although we did not splurge on a fishing trip ourselves, we made friends with our neighbors at the campground and shared a delicious halibut meal from fresh fish they caught on their charter.
Each person is entitled to keep two halibut. And with each halibut having the potential to weigh 100 pounds or more, there is a lot of fish to catch, eat and share!
Other Things To Do In Seward, Alaska
Watch The Fishing Boats Return With Their Catch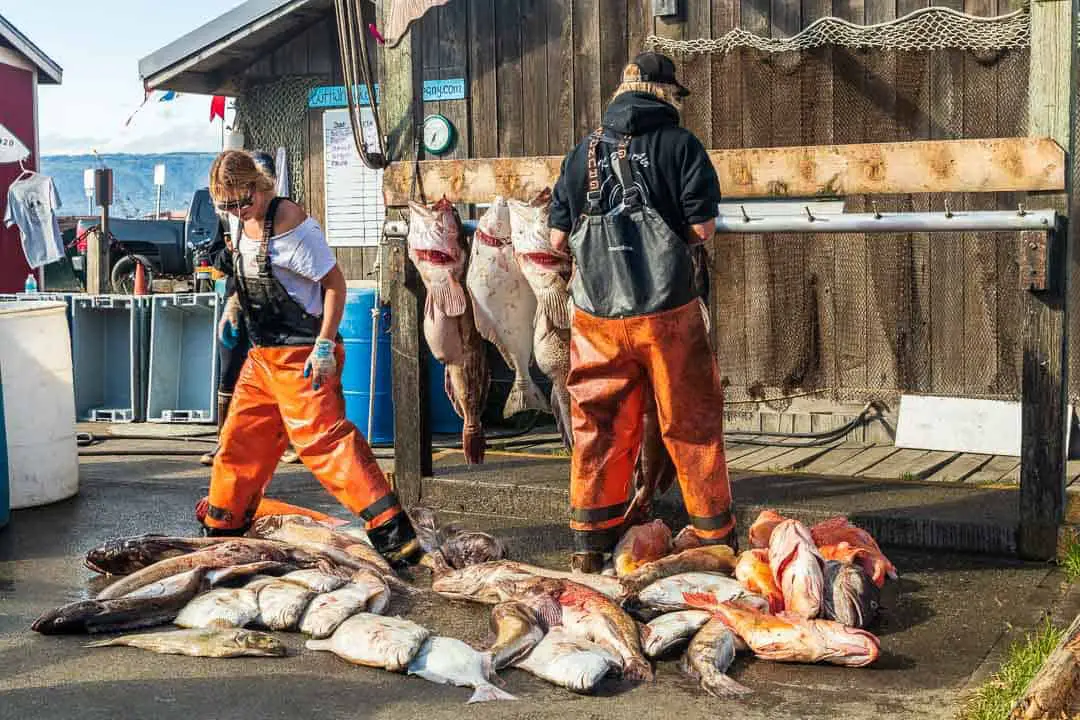 If you're not willing or able to go on a fishing charter you can still enjoy the experience by watching the fishing boats returning to the harbor.
Almost all boats will be full of fish and the excited fishermen who caught them!
At this point the harbor turns into a frenzy of showing off the catch and then immediately processing the filets.
If you've never seen a halibut before, it is truly a sight to see. The flat fish boasts a brown speckled side with the purpose of blending in to the seafloor.
Beyond halibut you will also see other delicious fish, such as salmon, lingcod and rockfish.
If you're outgoing enough, try asking one of the fishermen if he or she would be willing to share a portion of their catch. If you can find a fresh filet of halibut it will make for a delicious meal down by the bay!
See The Famous "Exit Glacier" In Kenai Fjords National Park
Nearly all of Kenai Fjords National Park is inaccessible by vehicle. To see the park you will have to book a tour and either fly or boat into various portions of the park.
However Exit Glacier is only a 15 minute drive outside of Seward and offers you the chance to experience a massive glacier without spending the day and a bunch of dollars on the experience.
After driving into the park (no National Park entrance fee required) it is only a short 20-30 minute hike/walk to view Exit Glacier.
The walk is not challenging and, despite the fact that bears are all over Alaska, you can expect other pedestrian traffic to make it a safe trip.
Along the way you will see markers of where the glacier has receded over recent history. You will also be amazed at the lush vegetation leading up to the glacier.
READ MORE: Check out this post for our guide to all of the best things to do in Seward!
RV In Camping In Seward, Alaska
RV camping in Seward, Alaska is ample in the summertime. Several miles of city park along Resurrection Bay are converted into RV camping sites.
For $20 per night you can find a place right along the bay and have a private piece of the beach and a nice fire pit all to yourself.
Of course summer in Alaska is the busy season. And if the salmon are running nearby you can expect even more RVs in the area.
But in our three days in Seward we never had an issue finding a campsite and we always saw sites available.
As with any open camping, the earlier in the day you arrive the better. Once you pay for your site at a local kiosk you can hold the site with chairs or other personal belongings.
Not surprisingly, people will respect your space so that you can spend the day driving around exploring Seward and it's surrounding area.
There are other RV camping options outside of Seward. But there is really no reason to camp anywhere but along Resurrection Bay in one of the city park campsites.
Driving to Seward, Alaska
Seward is located on the easternmost part of the Kenai Peninsula. Getting there is a simple matter of an "out and back" drive along the Seward Highway.
From Anchorage: Follow the Seward Highway south toward the Kenai Peninsula. Follow the highway east toward Moose Pass/Seward. From this interchange Seward is approximately an hour and a half drive.
From Homer:  Drive north along the Sterling Highway. Just past Cooper Landing turn east onto the Seward Highway toward Moose Pass. From this interchange Seward is approximately an hour and a half drive.
READ MORE: CHECK OUT OUR RV GUIDE to DRIVING THE DALTON HIGHWAY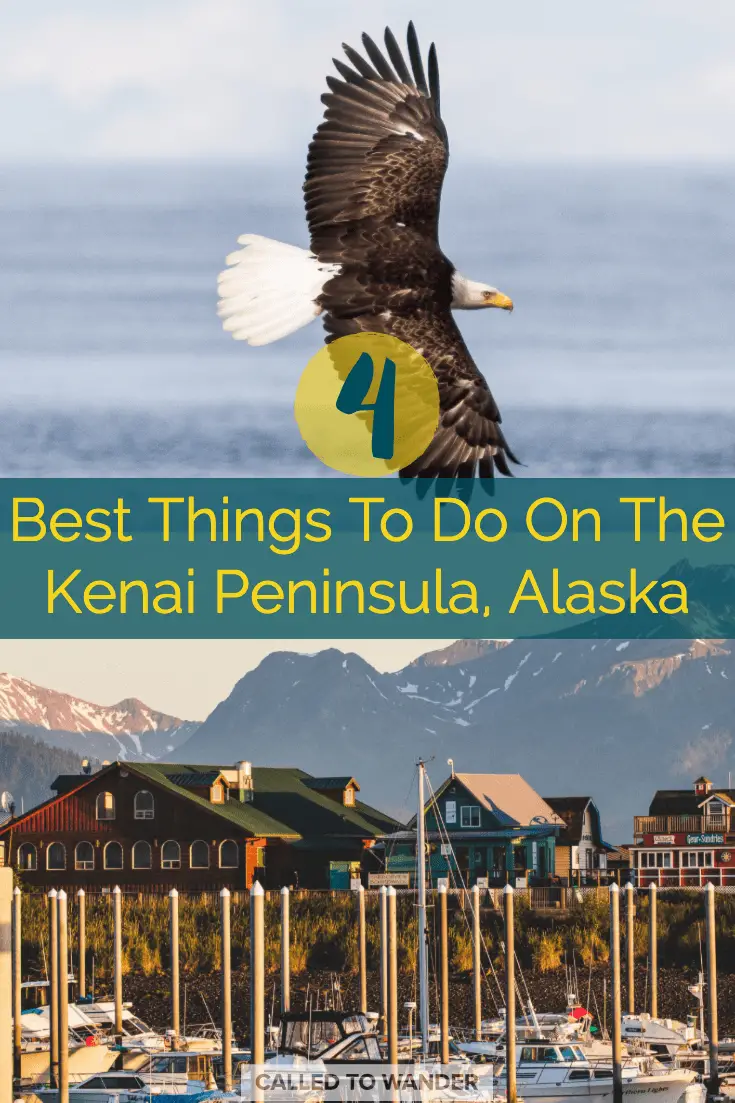 About Author