Last Updated on December 12, 2021 by Chris and Lindsay
Homer is considered to be the "halibut fishing capital" of the world. But there are plenty of other things to do in Homer, Alaska than just fishing!
The town of Homer is located just over 200 miles from Anchorage. Because it is at the southernmost tip of the Kenai Peninsula it is also known as the "end of the road" by native Alaskans.
Homer, like many Alaskan towns, is dependent upon the commercial fishing industry as well as on tourism.
Its most famous contemporary resident is the musician Jewel who was raised in the town and got her start performing with her father.
Although there are plenty of things to do in Homer, one of the town's biggest attractions is the Homer Spit. The spit is a narrow stretch of land that extends, quite literally, into Kachemak Bay.
The short drive along the 4.5 mile highway will take you to the end of Homer Spit and place you halfway into Kachemak Bay. For this reason the fishing is a mainstay for those who live on or near Homer Spit.
Whether you have come to fish or to simply take in the view from the end of the road, there is no shortage of things to do in Homer, Alaska.
13 Things To Do In Homer, Alaska
1) Walk Around Homer Spit (FREE)
Homer Spit stretches nearly 5 miles into Kachemak Bay at the edge of the town of Homer, AK. A short and scenic drive from Homer will take you along a two-lane road to the end of Homer Spit.
Most of the shops, buildings and parking are located in the last third of the spit. There is plenty of parking as you reach the end.
Once you have parked there are plenty of places to explore on foot. Visit any number of tourist shops to pick up the perfect souvenir. Or head down to the Homer boat harbor and walk among the hundreds of commercial and private fishing vessels tied up to the docks.
Listen for bald eagles chirping from above and keep an eye out for harbor seals and sea otters playing in the water.  
Depending on the time of day you might even have the opportunity to watch fishermen clean their catch at the edge of the harbor.
After spending some time walking around the harbor boardwalk make sure to cross the street to the pebble beach that overlooks Kachemak Bay. Take your shoes off and let the cool water keep you awake. Or stop to skip stones into the bay.
In just walking around there are lots of great things to do in Homer Spit.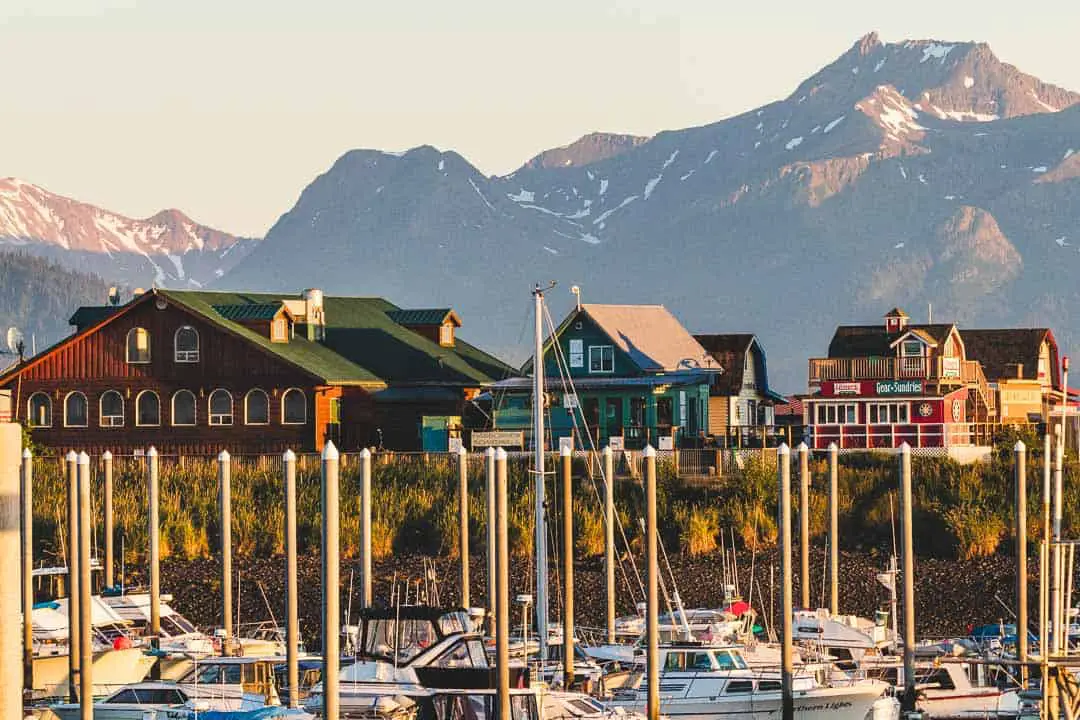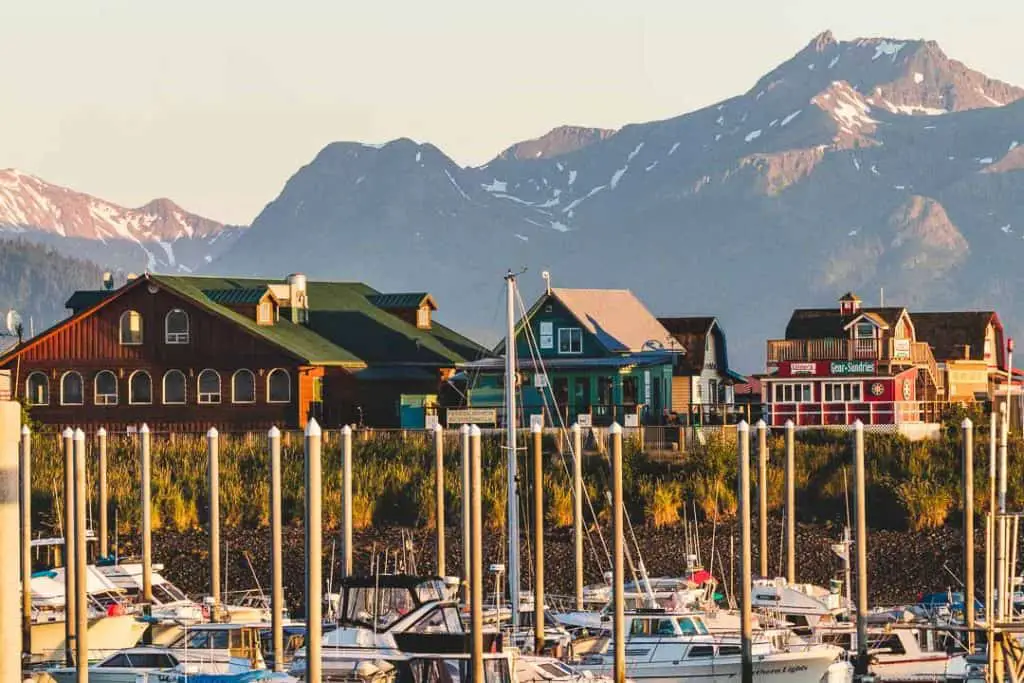 2) Day Trip To Kachemak Bay State Park
Homer is surrounded by Kachemak Bay. And, as part of the nearly 90% of the Alaska protected as public lands, Kachemak Bay State Park and State Wilderness Park are examples of the raw wilderness for which Alaska is known.
In fact, Kachemak Bay State Park is Alaska's first state park.
With over 80 miles of hiking trails, rustic campsites and public use cabins the park offers a great way to truly experience the ruggedness of the Kenai Peninsula.
There's a catch, however. As the Kachemak Bay State Park is located across the Kachemak Bay from Homer it is only accessible by boat or airplane.
But if you are looking to explore the backcountry while visiting Homer, AK then it is not too difficult or expensive to book an air charter or water taxi service from Homer.
Roundtrip water taxi services start around $50 and range up to around $150 or so if you combine a full-day guided tour.
If you are brave (and experienced) you can rent your own boat to explore the park at your leisure. There is an 80-foot long floating dock with public access.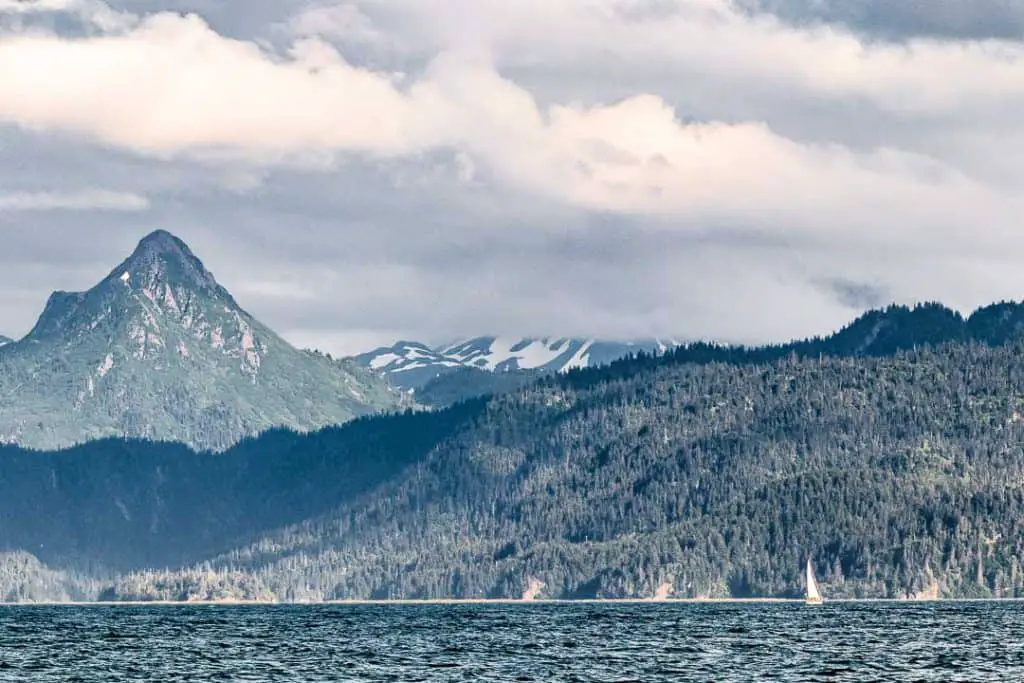 3) Pin a Dollar Up at the Salty Dawg Saloon (FREE)
The Salty Dawg Saloon is a staple for visitors and a historical landmark for the state. The present building was first erected as a simple cabin built in 1897 when the region was first being explored.
In the 1940s the cabin became an office for the Standard Oil Company. But in 1957 it opened its doors for the first time as a saloon.
Since then the Salty Dawg Saloon has been forced to move and has had several additions made. The most notable addition is the lighthouse tower which is now the symbol and landmark of the saloon itself.
Tradition leads guests not only to enjoy a tasty adult beverage of their choice. But also to write their name on a dollar bill and staple it somewhere on the interior walls of the saloon.
If you'd rather put your cash to other uses at the Salty Dawg Saloon then you can buy a few munchies or merchandise such as shirts and hats.
Cash is key, however. Make sure you bring cash as the Salty Dawg Saloon only accepts cash payments.
But in exchange for this tiny inconvenience, the saloon remains open well into the night and closes most nights around 4 am.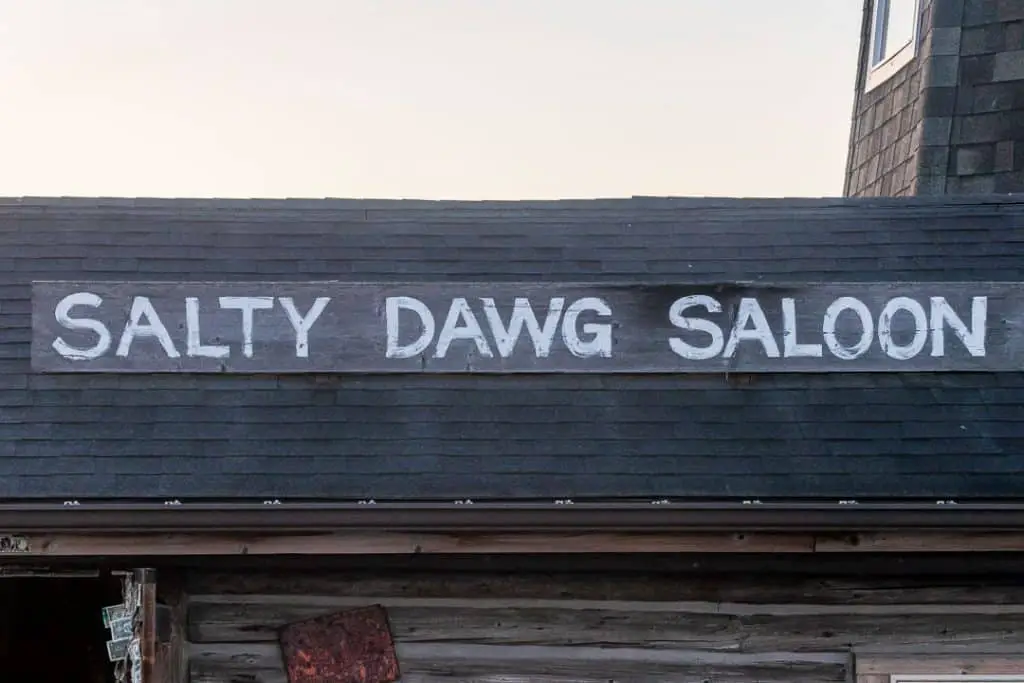 4)   Take The Creatures of the Dock Tour Through the Center for Alaskan Coastal Studies
The Center for Alaskan Coastal Studies is located in the town of Homer approximately 1 mile from the start of Homer Spit.
As an educational non-profit the Center connects visitors with firsthand experiences with nature in and around Homer, AK. Offering guided walks, overnight stays, tours, educational programs and more, the Center serves over 12,000 students and visitors each year.
While you can book extended day and overnight nature trips to Peterson Bay, one of the more popular tours is the Creatures of the Dock tour.
A guide will take you for a walk along Home Spit and introduce you to the many animals and marine life that frequent Kachemak Bay.
While you can see many of the animals on your own by simply walking around Homer Spit, you will learn far more from this experience with a passionate and knowledgeable guide.
Price: Adults and children are $8 each (or $25 for a family of 3 or more)
Address:708 Smokey Bay Way, Homer, Alaska 99603
Phone: (907) 235-6667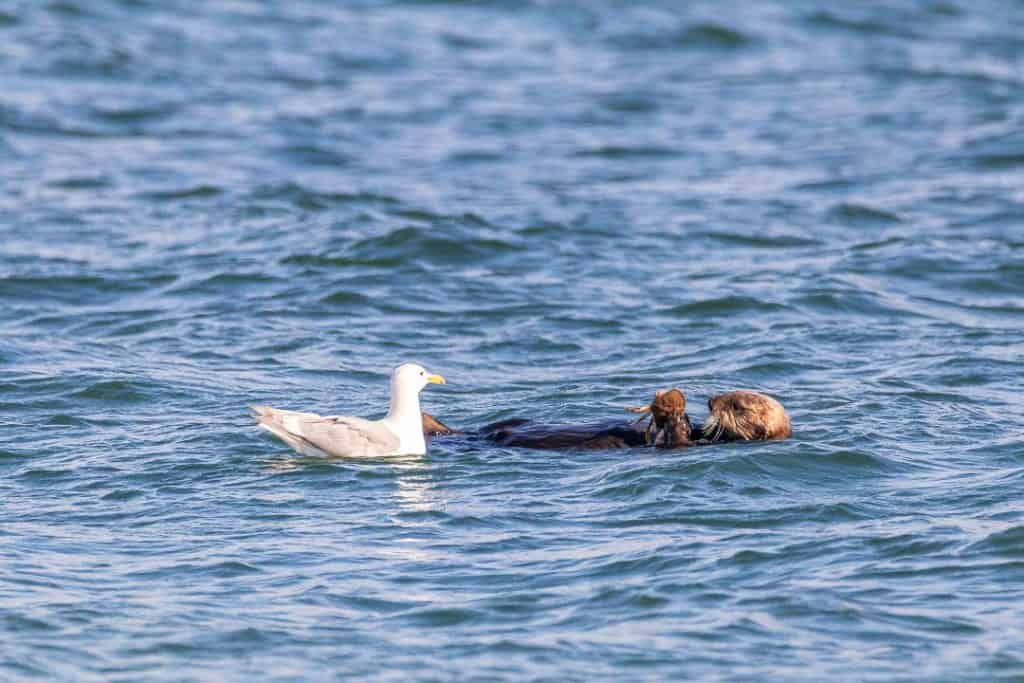 5) Visit The Homer Alaska Islands Ocean Visitor Center (FREE)
The Alaska Islands Ocean Visitor Center is located at the very end of the Kenai Peninsula where the town of Homer extends into Kachemak Bay at Homer Spit.
As a partnership with the Alaska Maritime National Wildlife Refuge and the Kachemak Bay Research Reserve the Visitor Center is a great introduction to the wildlife in and around Homer.
Admission is free and you will spend your time walking through various exhibits and interpretive trails throughout the 60-acre site.
As the name suggests, the visitor center is a great place to start. Orient yourself to the region and then head back out and find yourself enjoying any number of things to do in Homer, AK.
Price: FREE
Address: 95 Sterling Hwy, Homer, AK 99603
Phone: (907) 235-6546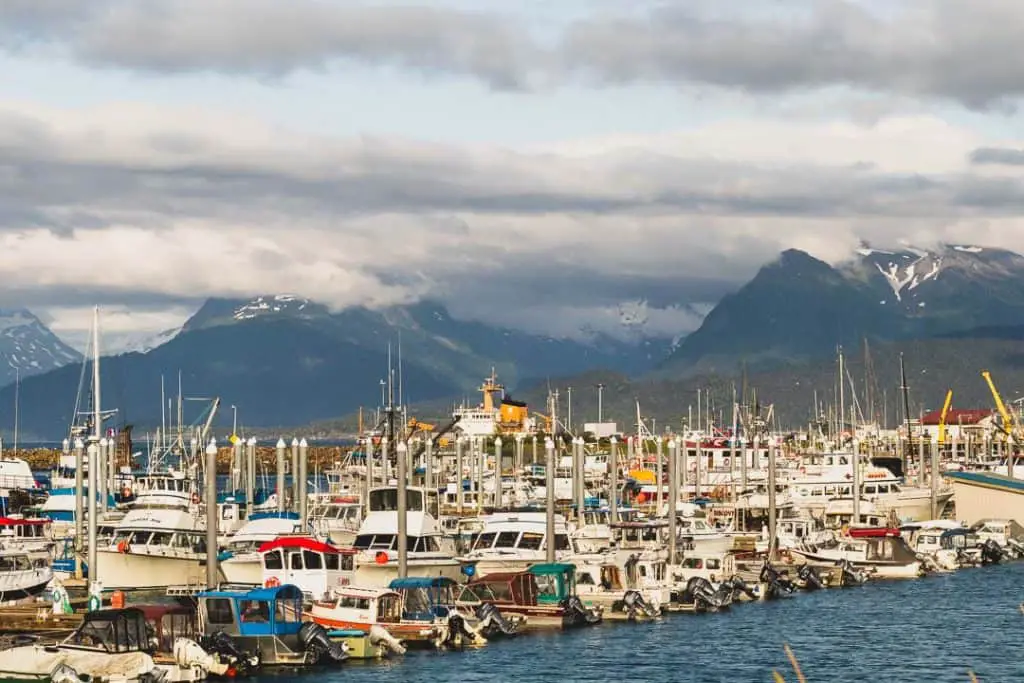 6) Ride The Ferry to Seldovia
Seldovia is a small community of primarily Native Alaskans located southwest of Homer across the Kachemak Bay. It is adjacent to the Kachemak Bay State Park and thus only accessible by ferry or plane.
With a population of just over 200 residents, Seldovia is a picturesque Alaskan village worth the day trip from Homer.
Spend the day exploring the small boat harbor, boardwalk, city dock and visitor center.
Or book an extended tour to head further into the Alaskan bush to fish, hunt, hike or simply enjoy the solitude of such a remote location.
Of course, the ferry ride across Kachemak Bay is in itself a fantastic experience. Expect to see all sorts of marine life.
And, if you are fortunate, you may see orcas or other whale species as they frequent the bay at various times throughout the year.   
7) Take a Tour Of The Kilcher Homestead Living Museum
The Kilcher Family have become famous recently as featured in the hit Discovery Channel television series Alaska: The Last Frontier.
After the patriarch of the family, Yule, first came to Alaska in the 1940s. He homesteaded on 160 acres just north of Homer.
From that time forward Yule and his wife Ruth raised 8 children in very primitive conditions. Over time the conditions became more comfortable for the Kilcher family.
However, they still seek to live off the land in a very simplistic fashion.
Today you can visit the Kilcher Homestead living museum and observe the Kilcher family in full swing as they continue to farm, fish and herd cattle.
One of the cabins has been turned into a basic museum where one of the Kilcher siblings hosts a periodic tour.
Depending on the time, season and circumstances you may also get to participate in various hands-on workshops that include picking mushrooms, making jam, or going birding.
The Kilcher family is also known for their artistic tendencies, particularly in music. One of Yule's granddaughters is more commonly known for her first name as the famous singer/songwriter Jewel.
Call to arrange a tour as they are typically only available upon appointment: (907) 235-8713.
8) Get Hooked On Halibut
As the halibut fishing capital of the world, you can expect plenty of opportunities to charter a boat for the day. But don't expect to spend the day fishing without putting a dent in your wallet.
Halibut fishing charters start around $200 for half day trips and get much more pricey from there. However, you are almost certain to catch your prized halibut on one of these charters.
You can have the fish processed at the dock and even shipped back to the Lower 48.
However if you, like us, don't have that kind of money set aside in your budget for a fishing trip, you can always pick up a freshly caught filet at any of the many restaurants on the spit.
Or make friends with a local fisherman and buy a filet to cook over your beachside fire!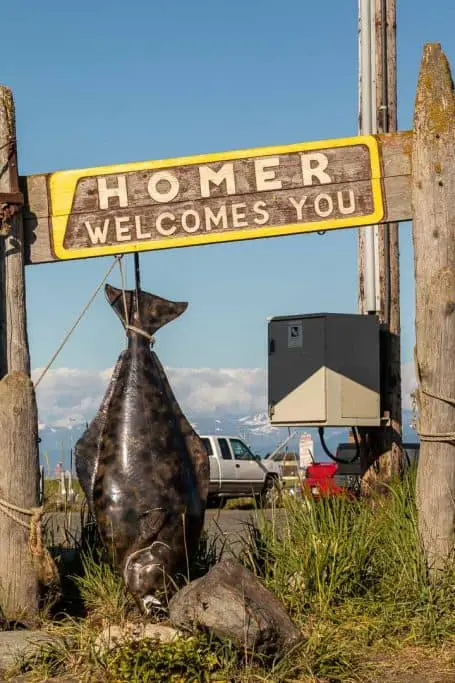 9) Watch Buttwhackers Bring in Their Catch of the Day (FREE)
With an unforgettable name, Buttwhackers is an all-inclusive fishing charter and fish processing center on Homer Spit.
Given its name as a result of the process of "whacking" (filleting) the prized halibut (nicknamed "butts" for short), Buttwhackers offers a unique perspective for fishermen and tourists alike.
Whether you choose to go on a fishing charter with the company or not, it is still exciting to watch the crew haul the catch of the day from the boats.
Watch gigantic halibut, salmon, lingcod and rockfish make their final rounds before being hoisted up on the display boards for photos and bragging rights.
From there the fish are filleted, bagged and turned over to the hands that caught them. Buttwhackers will even help you vacuum pack and freeze your catch if you'd like to send it back home.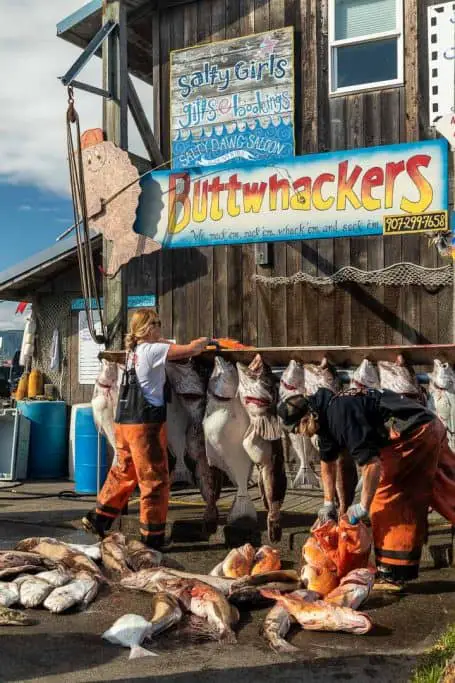 10) Sample The Finest Alaskan Wines At Bear Creek Winery (FREE)
Yes, you read that right. There is a fantastic winery in Homer, Alaska!
Blending grapes with a variety of fruit from Alaska, Bear Creek Winery boasts a tasting opportunity of 15 varietals of wine.
From Alaskan Chardonnay (with rhubarb) to Blueberry Mirlo (blueberries and Merlot), a tasting experience at the Bear Creek Winery will open your eyes to the endless possibilities that Alaska presents.
If you'd like to take a break from roughing it in campgrounds, you can even book the Bed and Breakfast suite with views overlooking Kachemak Bay. Expect to be spoiled with luxury amenities in addition to the views.
Address: 60203 Bear Creek Drive, Homer, Alaska 99603
Hours: Tasting Room: Daily 10AM – 6PM (Tours: Monday, Wednesday, Friday and Saturday at 11AM)
Phone: (907) 235-8484
11) Hike The Diamond Creek Trail To Kachemak Bay (FREE)
Although Homer, Alaska is not known for its hiking trails, the Diamond Creek Trail provides a great opportunity to get outdoors and explore Kachemak Bay.
With the trailhead just 4 miles outside of downtown Homer, the hike will take you through lush forest and tall grass before leading you to the shore of Kachemak Bay.
The hike is approximately 2 miles and is considered easy to moderate, depending on whether you are hiking after rain. If this is the case, expect places where there will be slick mud to make the hike more difficult.
Try to time your hike to coincide with low tide. Once you reach the Kachemak Bay shore expect to be amazed at the life found in the tidal pools.
You will see all sorts of sea stars, anemones, octopus, crab and small fish trapped in the tidal pools formed in the rocks.
Be on the lookout for other marine animals such as whales, sea lions, sea otters, and bald eagles that will frequent the area.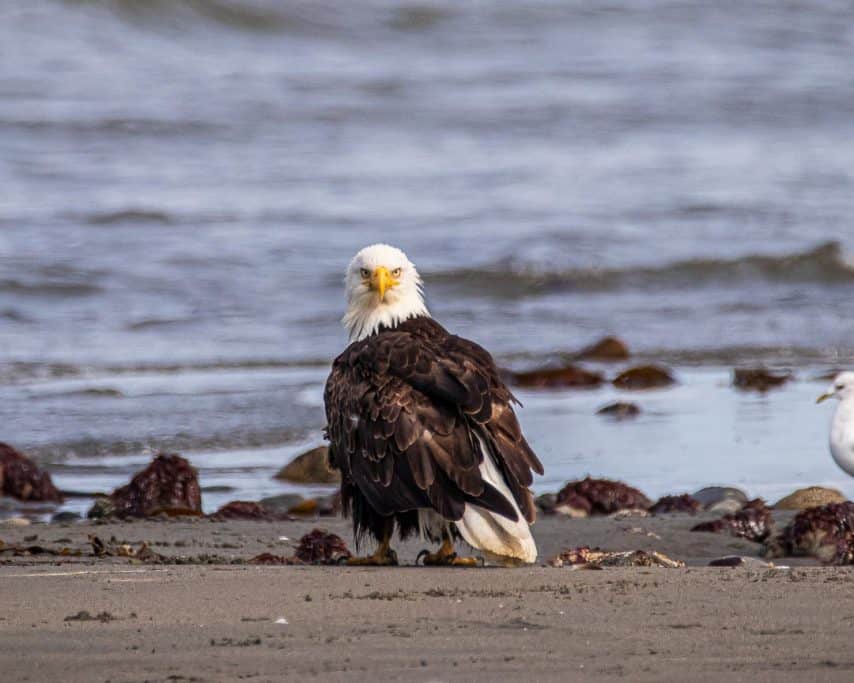 12) Spend Some Time At The Pratt Museum
The Pratt Museum is a natural history museum that aims to preserve the history and culture of Homer and its surrounding areas.
Located in the heart of Homer, the Pratt Museum takes the unique approach to tell the stories of the people, places and ways of life for the Kachemak Bay area.
The museum boasts exhibits such as a homesteader's cabin, several videos and even a live stream of area bird species.
It won't take all day to absorb all of the information and exhibits in the small museum.
But to get a better understanding of who settled the area, what they experienced and how they overcame the challenges of settling in Alaska this museum is great.
Pratt Museum
Price: $10 adults, $5 youth ages 6-18
Address: 3779 Bartlett St, Homer, AK 99603
Hours: Daily 10AM – 6PM
13) Watch The Sun Set (Sort Of) From Homer Spit (FREE)
Homer Spit is nearly 5 miles of beach on both sides of the road. As such there are plenty of opportunities to settle down and enjoy beach life… Alaska style.
One of the unique features of Alaska in the summertime is that the sun will set very late in the evening. As such, the colors of sunset stay suspended in the sky for what seems like an indefinite time.
If you are staying on Homer Spit, you will have plenty of time to take in this gorgeous spectacle.
Build a fire out of pebbles on the beach and purchase a bundle of wood at one of the local shops on the spit or in town.
Crack open a bottle of Bear Creek Wine (or your favorite adult beverage) and sit on a piece of driftwood and enjoy the winding down of a great day in Homer, Alaska!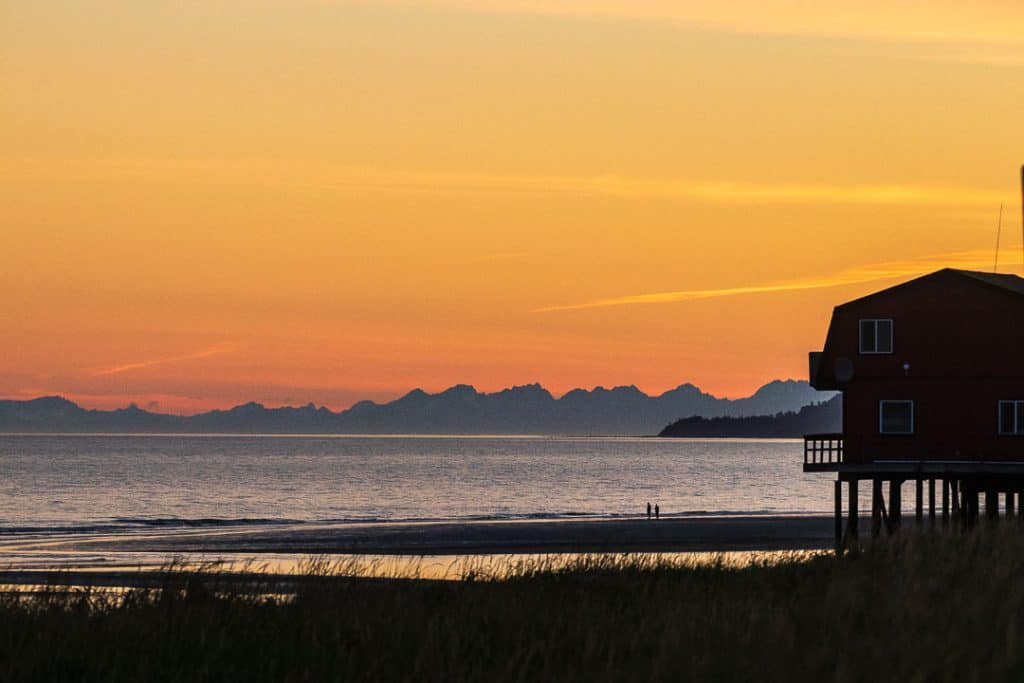 READ MORE: 14 OF THE BEST THINGS TO DO IN SEWARD ALASKA!
RV Campgrounds In Homer Spit, Alaska
Because camping on the beach was one of our top highlights of visiting Homer, we have to start with our favorite campground in Homer Spit.
Although our truck camper was right at the 20-foot maximum length, we were able to fit at the tent campground at Mile Marker 2.7.
This campground is simply a single dirt road on the right side of Homer Spit Road almost directly across from Freight Dock Road.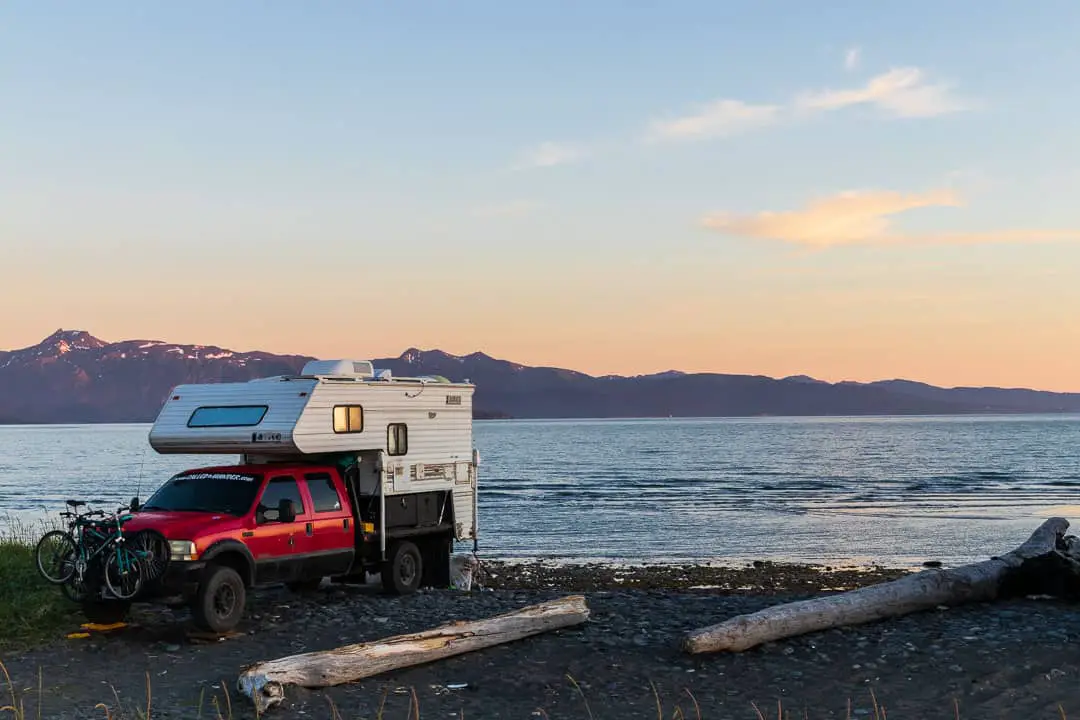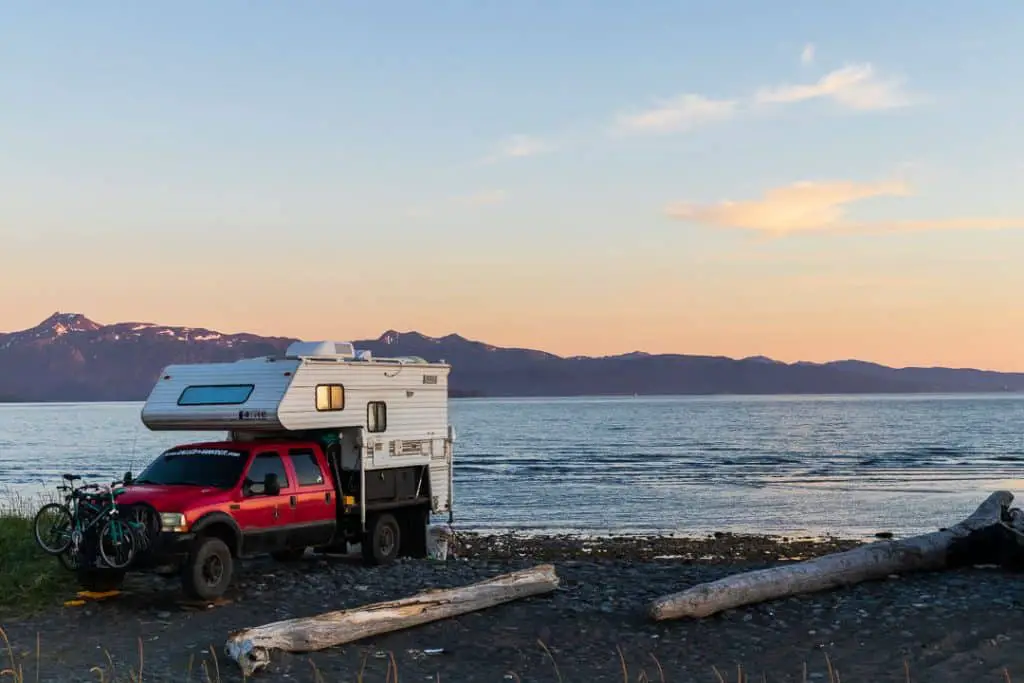 If you drive a truck camper, van or plan to tent camp, this spot is an ideal location. You can park however you like so that you can enjoy the view of Kachemak Bay.
We backed into our spot (beware of soft sand and stones) such that our camper door opened right up to the bay!
Other campgrounds on Homer Spit:
This campground is located in the first few miles of the spit. At $24 per night it is basic dry camping. There are 40 sites with a shared pit toilet.
The campground is open May-September and is big rig friendly.
Located near the end of the spit, this is a pricey RV park at $72+ tax/night. But there are more amenities here than other RV camping options on the spit.
The campground is open May-October and offers full hookup with 20/30/50 amp electrical options. Standard amenities include picnic tables, grill, water, toilet, shower, dump, laundry, firewood, internet, cable tv and is pet friendly.
Also located near the end of the spit and a little more affordable than Heritage, this campground is $45+ tax/night and is open May – September. There are nearly 100 electric-only sites offering 20/30 amp connections.
Other amenities include picnic tables, water, toilets, showers, dump station, laundry, firewood and internet.
Campgrounds In Homer, Alaska
A Fisherman's Resort Campground
(1302 Ocean Drive, Homer, AK 99603). A smaller campground with rates starting at $45/night, A Fisherman's Resort Campground offers basic amenities by Alaskan standards. Sites offer 30/50 amp electric service, tables, grill, toilets, showers, laundry, WiFi and cable TV.
Driftwood Inn and RV Park
(135 West Bunnell Ave, Homer, AK 99603) With sites ranging from $55-$95/night the Driftwood Inn and RV park offers premium amenities and a view of Bishops Beach near downtown Homer. Sites offer 20/30/50 amp electric service. Other amenities include tables, grill, water, toilets, showers, dump, laundry, WiFi and cable TV.
Ocean Shores RV Park
(455 Sterling Highway, Homer, AK 99603). A large campground currently undergoing construction and remodeling. Offers full hookups with 20/30/50 amp electric. Tables, water, showers, dump, laundry facilities and WiFi. This is a great location to explore the town of Homer.
Best Restaurants In Homer, Alaska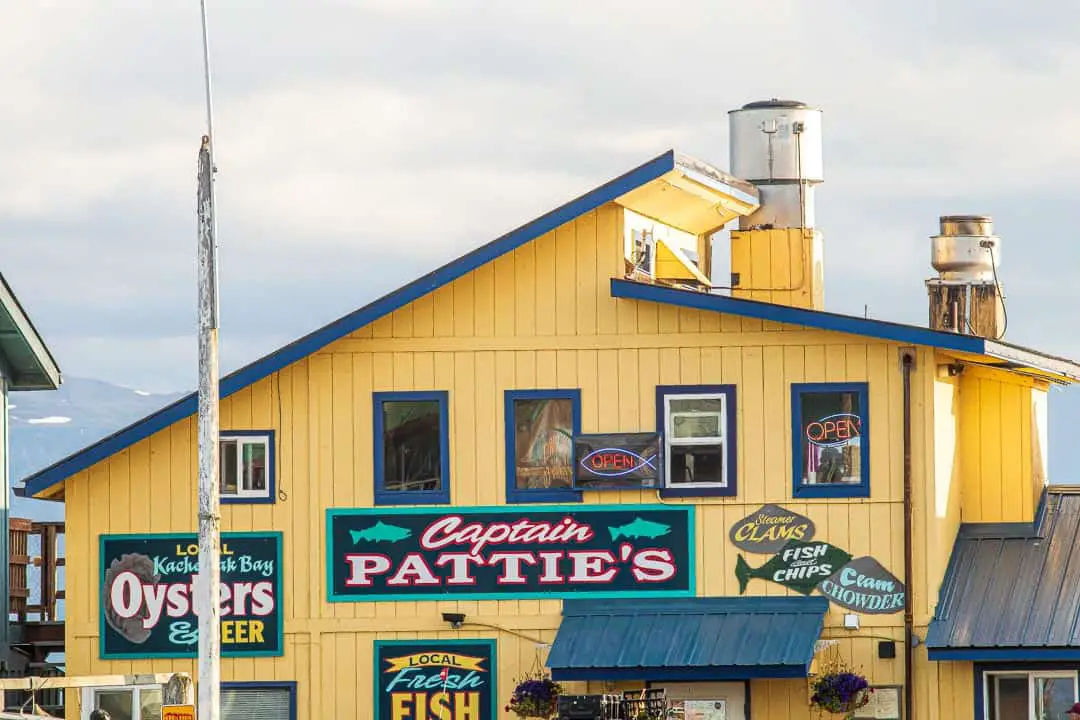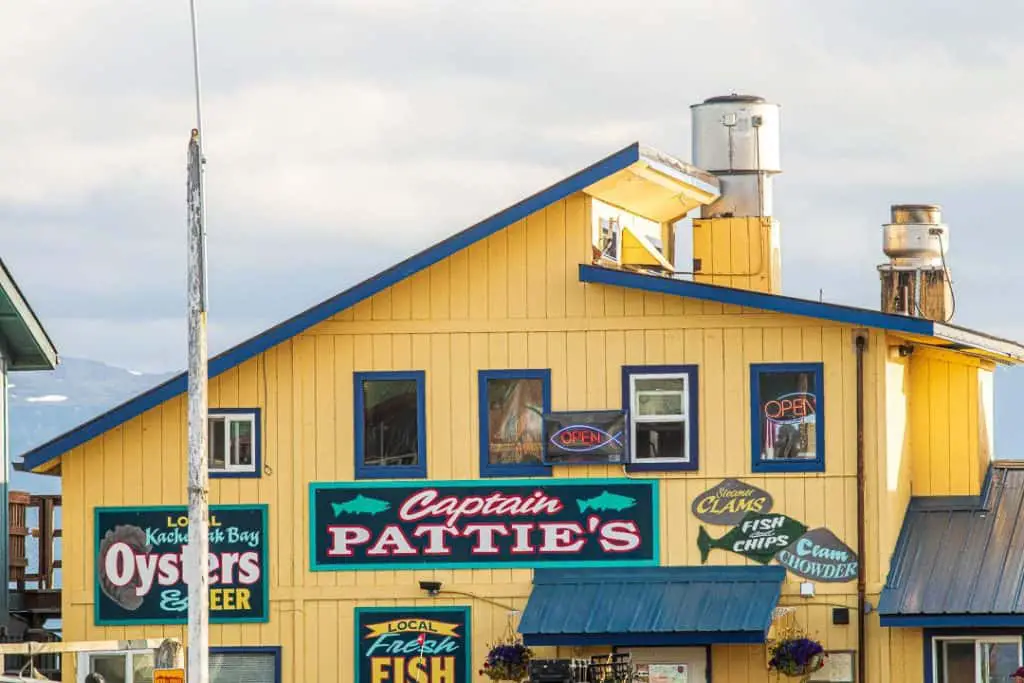 Two Sisters Bakery offers the best in light cuisine. From savory bagels, soups and sandwiches to sweet cupcakes and pastries you will certainly be glad you stopped at the Two Sisters Bakery.
With a focus on local seafood and steaks, casual and fine dining does not get much better in Homer than at Cafe Cups. Stop in for lunch or dinner and be sure to grab a dessert either way on your way back out to explore the town.
Little Mermaid on Homer Spit offers some of the most delicious tapas, sandwiches and salads in the area. And if you're looking for a slice of pizza or two you can build any kind of pizza you can imagine.
Get your fill of halibut and other Kachemak Bay seafood at Captain Patties Fish House on Homer Spit. The only thing better than the view of the bay is the fried fish and chips or the halibut tacos.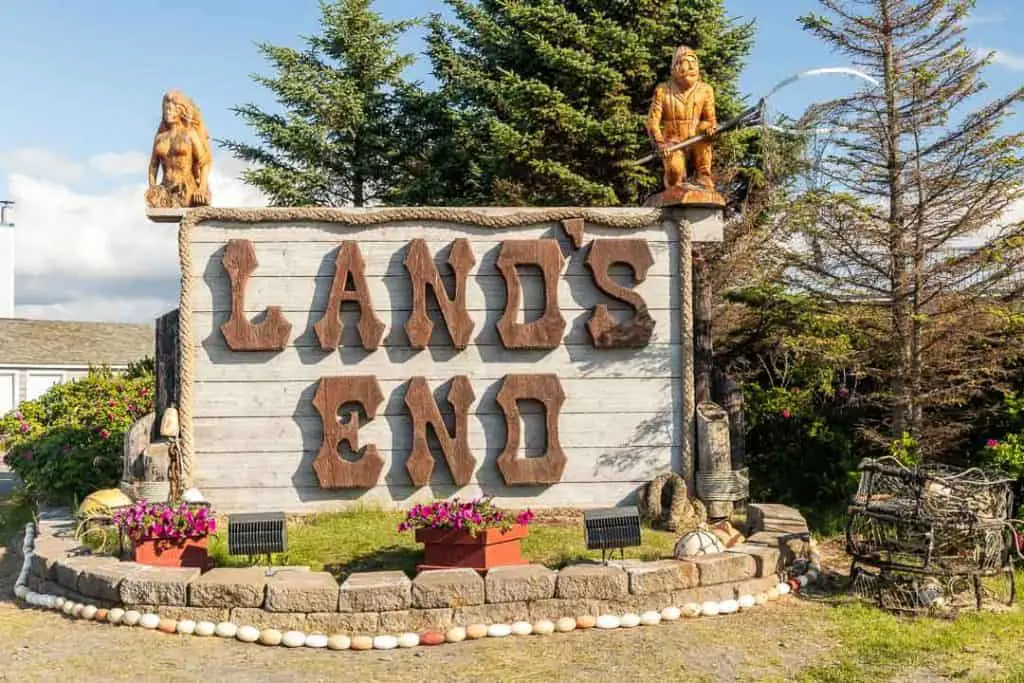 Getting To Homer Spit, Alaska
Known as the "end of the road," Homer is a delightful 4 hour drive through the Kenai Peninsula from Anchorage. After you head south out of Anchorage on the Seward Highway you can't miss Homer.
In fact, if you just keep driving along the Seward Highway you will dead end on Homer Spit! Stick to the split in the highway at Tern Lake onto the Sterling Highway and follow it to Homer.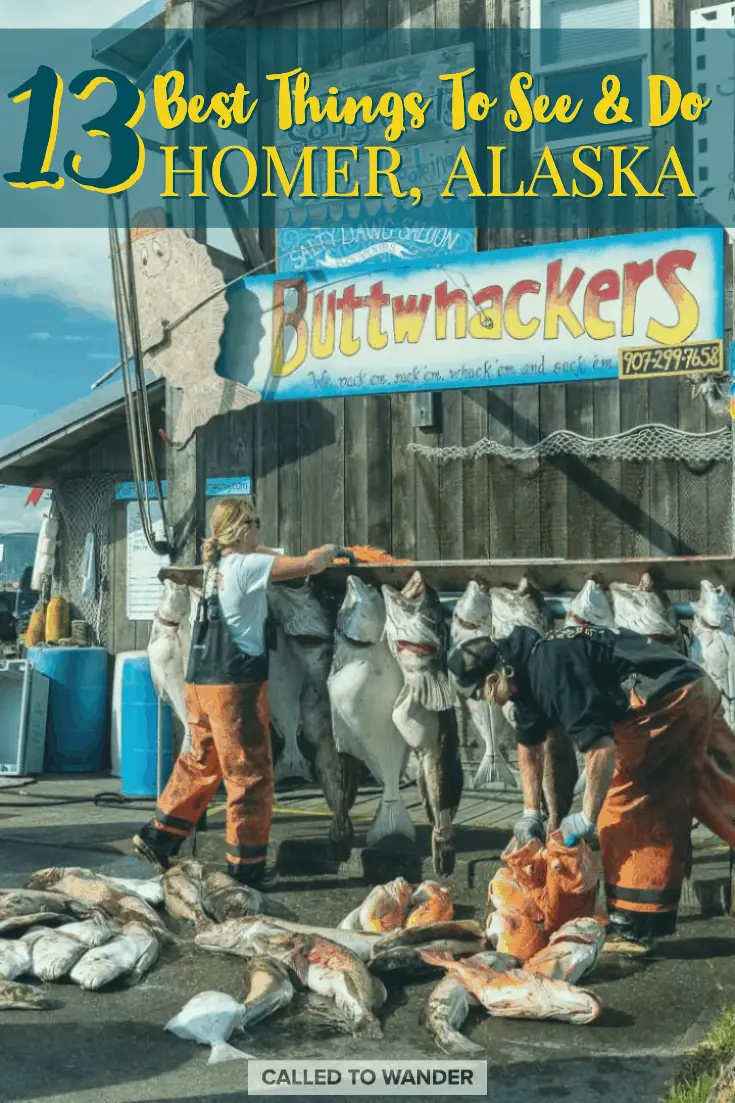 About Author