Last Updated on December 9, 2021 by Chris and Lindsay
Camping in Alaska is an adventure in itself. The Last Frontier is full of beautiful campsites that will leave their mark on your memory – not necessarily on your wallet. 
We budgeted $35 per night for each of the 42 nights we planned to spend in Alaska. Our normal budget for camping in the US and Canada is $25 per night. 
But we had heard that Alaska was more expensive for all categories of expense, so we cushioned our budget for our time in Alaska. We also read that there are very limited opportunities to use your RV clubs and memberships when camping in Alaska.
However, with the information we'll share below, in those 42 nights we spent a total of $293.16. That is less than $7.50 per night! And well under our budget! 
While not all campsites were glamorous. And while some campsites were not really campsites at all! We did manage to have the trip of a lifetime and learned so much about camping on a budget.
Leaving Alaska was truly revolutionary for our RV experience because we learned that you really shouldn't ever pay full price for camping again!  
Budget Camping In Alaska
During our 7 week drive to Alaska we spent just under $300 total for camping in Alaska. 
While this might seem remarkable – since Alaska is generally known for being expensive – it is truly reasonable. 
Unlike much of the Lower 48, Alaska is one of the rare states where camping on the side of the road is normal.
Of course, you don't have to camp on the side of the road unless you absolutely want to. 
But it's important to know that you don't have to feel awkward or particularly unsafe if you drive up to any number of highway pull-offs and set up camp for the night. 
Yes, we've even seen people break out chairs and grilling equipment in a pull-off on the side of the road. 
Plus there are plenty of places where you can pull off into a quiet area and have the land all to yourself. 
So how did we do it? 
How To Camp In Alaska For Next To Nothing!
There aren't any real secrets to camping in Alaska on a budget. But you also won't find a lot of resources out there to prepare you for such a long drive. 
Unless you are planning every stop for every night of your journey to Alaska, you're likely going to necessarily leave room in your schedule for a few free stays here and there. 
If you travel like us – or, shall we say, wander – then finding a place to camp each night becomes an adventure.
And while we live out of our truck camper, we have seen Class A motorhomes camping near us in virtually every place except the Dalton Highway.
Here are a few things we learned while camping in Alaska that are bound to save you LOTS of money during your trip. 
Acquire the Alaskan Camper's Frame of Mind 
The biggest key to camping in Alaska for next to nothing is telling yourself that it is OK to not stay in campgrounds.
In fact, during the summer months campgrounds are often booked months in advance. 
This fact shouldn't deter you, however. Formal campgrounds in Alaska can cost a minimum of $40. In some nicer parts of the state you might pay twice that amount during peak season. 
We found that most people who drive to Alaska do not plan to spend very much on camping.
There are far more awesome activities on which to spend your money! 
So don't feel alone if you plan to spend more of your time camping in Alaska for free rather than staying in formal campgrounds. 
Download Mobile Apps for Camping
We can't speak highly enough about the various mobile apps we use to help us find free and affordable campsites throughout North America. 
iOverlander and Campendium will become your two favorites during your travels in Alaska. 
Both will offer you the ability to sort and filter results for any place you plan to visit.
Use them together to cross check possible campsites and read reviews about potential places to stay.
iOverland is a wiki that relies on users to provide information. This means that sites are sometimes subjective. And, occasionally, a campsite on iOverlander is outdated. 
Be sure to check the dates and read the reviews.
For instance, one person camped in someone's backyard (illegally!) and put a pin on iOverlander. It didn't take long before the owner made sure other campers knew that the land was not available for camping! 
Campendium is a little more formal and likely won't send you to camp in someone's backyard!
But you can use it in the same way to find cheap or free camping virtually anywhere throughout Alaska. 
Find Your Own Place To Camp
While mobile apps will help you find places that have been established by other campers, you should know that Alaska is big – like really big!
As such there are tons of places you can camp for free that nobody has yet put on a map. 
One of our favorite campsites turned out to be a beautiful mistake.
We could not find the GPS coordinates from the iOverlander app for the site so we turned near where we thought the site would be.
After driving down a dirt road for half a mile we came to a beautiful open piece of land at the top of a cliff. Our only neighbors that night were moose and a bald eagle!
Even pulling over on the side of the road is completely legal in Alaska. These parking lots are not typically beautiful – although some have views you'd pay a fortune for in the Lower 48!
But they are incredibly practical and 100% legal (and mostly safe). 
Expect noise of passing traffic. And even if you are the only camper in the lot when you fall asleep, expect to wake up to a handful more RVs and vans in the area.
You may even find that you leap frog with these campers as you make your way up and down throughout Alaska!
We actually ended up becoming great friends with 2 couples that we always saw camping nearby! 
Pay For Camping In The Places That Matter
If you've always wanted to visit Denali National Park or to camp along the beach in Homer, don't be so frugal that you pass up this opportunity. 
If you want to camp in Denali, book well in advance and be happy that you did.
This was never on our bucket list so we didn't cry over missing the opportunity. 
But we did pay to camp along the beach in Homer and in Seward and do not regret a dollar of what we spent to do so.
We also booked a few nights in campgrounds when we knew we needed a break from the road and more than a gallon worth of hot water for our showers! 
There are places and times when it is 100% worth spending the money to camp.
But don't let your holding tanks or fresh water tank be a reason to pay for a full hookup!
There Are Plenty Of Places To 'Take A Dump' In Alaska
Alaska caters to the wild spirit of those who desire to travel through the state.
As such you will find ample places in which you can dump your holding tanks and refill your potable water. 
You shouldn't let a perceived need to have a full hookup dictate when and whether you should pay full price for camping in Alaska. 
Of course it is nice to have full hookups and amenities from time to time.
But if you have solar panels installed and/or a generator to ensure you have power, then you can expect to always be able to find fresh water and dump stations throughout Alaska. 
Most dump stations will set you back around $5. Many of these ask simply for donations. 
If you do the math on that, what you pay for a dump every 5 – 7 days puts you at less than $1 per night. 
Our Favorite Places To Camp Throughout Alaska
When people ask us where we traveled in Alaska we tell them "anywhere you could drive."
Because we had our dog and limited time and money we didn't fly out to remote places to explore. 
As such, every night we had to find a place to camp.
Below are a few of our favorite overnight stops while camping in Alaska. 
Alaska Highway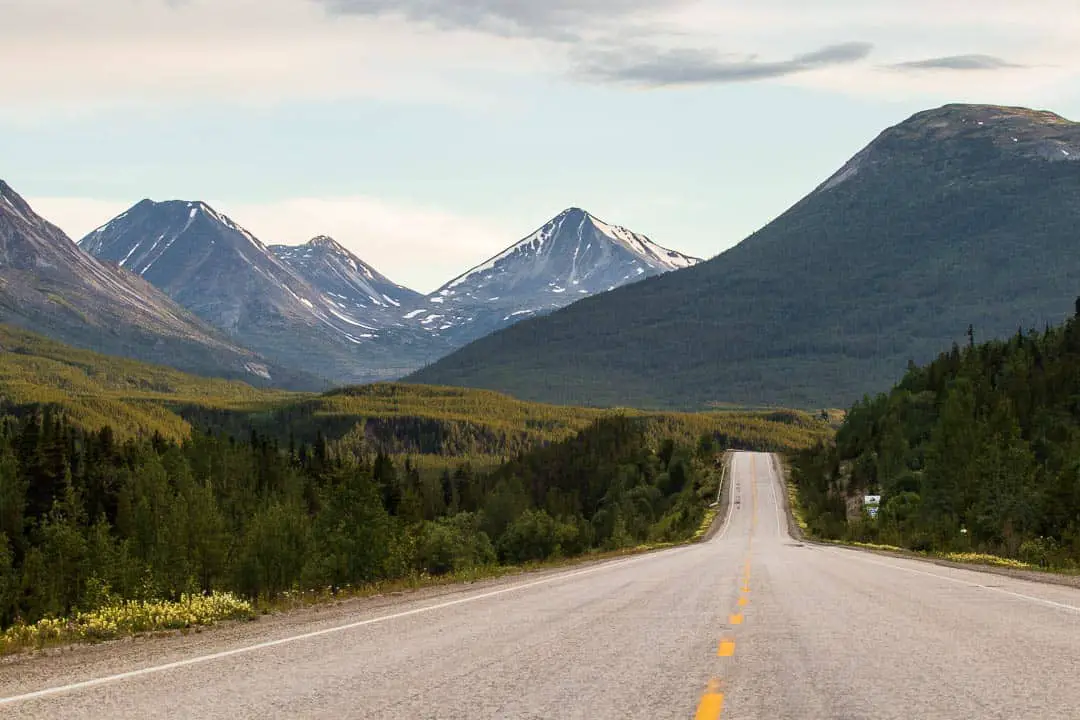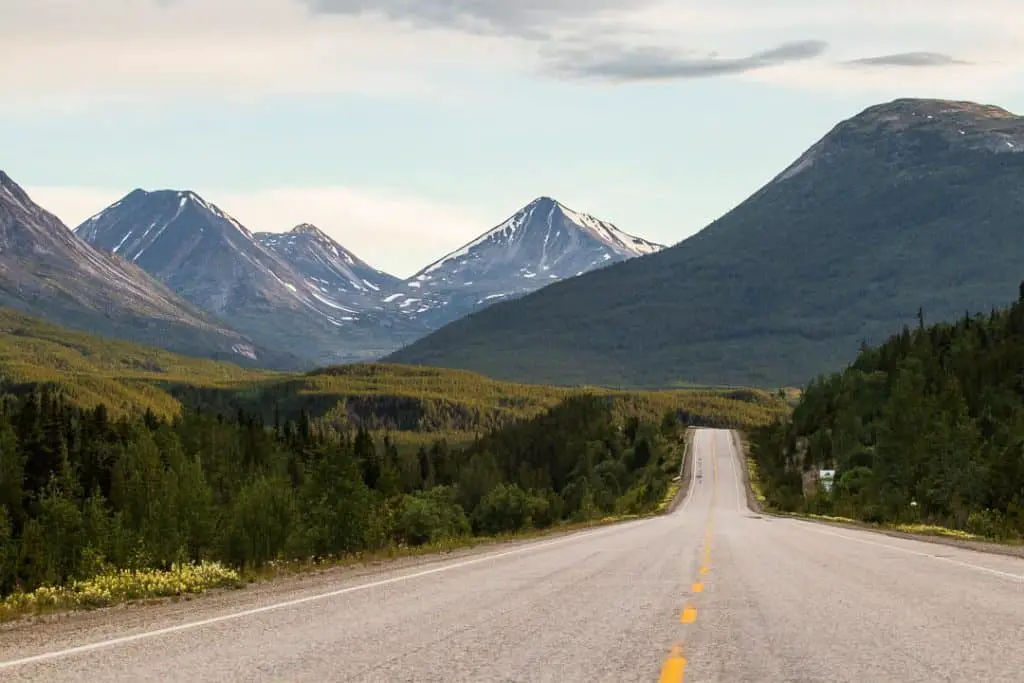 The Alaska Highway is 1,390 miles from Dawson Creek to Fairbanks. As such there are plenty of formal and informal camping spots along the way.
We chose to boondock each night of our journey and recommend the following places to consider. 
Dawson Creek Wal Mart. It's not sexy. But as the Alaska Highway begins just a few miles from the parking lot, this is where most people camp prior to making the drive up the Alaska Highway. 
Outside Liard River Hot Springs. (59.41766, -126.09414). You can camp inside Liard River Host Springs park but that cost money.
Just a short distance before the park there are several places on iOverlander from which to choose.
We tried camping on the river beneath the bridge but the mosquitos were awful and we had a difficult time navigating the rough terrain.
This spot puts you a minute away from a relaxing soak in the hot springs!
Next to Smart River (59.93323, -131.75584). This quiet spot was located next to a nice, flowing river.
We thought we'd be away from the mosquitos because the river was moving but the mosquitos were the only downside to this pull off on the side of the road.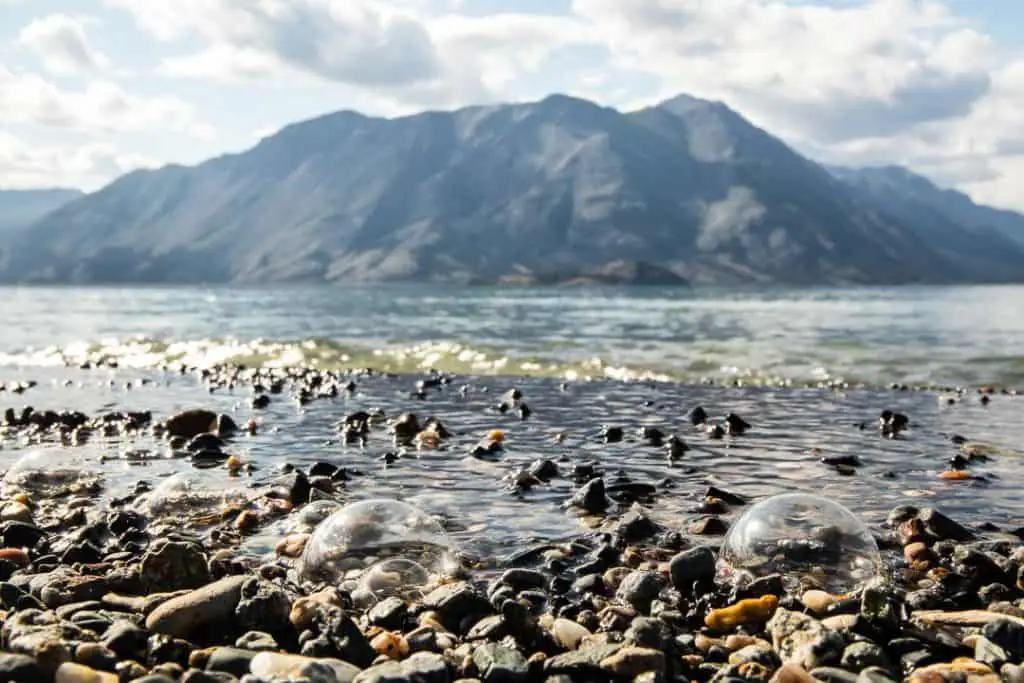 ** Kluane Lake. (61.00719, -138.43755). This pull off by the side of Kluane Lake is a gem. It can be a little buggy. But a breeze keeps the mosquitos at bay.
Great place to camp, take a break from driving or catch a nice bath after days of boondocking!
** Lakeview Campground, Alaska (62.96436, -141.64136) This was our first night actually camping in Alaska and it was a perfect place!
We pulled up next to a site on the lake and watched the sun set sometime after midnight. 
Fairbanks
Wal Mart. Upon arrival in Fairbanks we made our way to the sure place to catch a quick night sleep before driving the Dalton Highway. We weren't alone.
There were no fewer than 50 other RVs in the parking lot. Some ran their generators all night. At the time this Wal Mart had a one-night only policy for camping overnight. 
Dalton Highway
The Dalton Highway is wild and beautiful. It is 415 miles from where it begins, nearly 80 miles outside Fairbanks, to where it ends in Deadhorse, Alaska.
There are numerous places to camp on the side of the road. We refer you to iOverlander to help you determine where you want to camp if you choose to drive the Dalton Highway. 
** Deadhorse (70.19530, -148.42683). Because we chose to drive the entire length of the Dalton Highway in one straight shot (15 hours up) we did not camp until we reached Deadhorse.
There is a nice, rocky and level parking area next to the river where you are welcome to camp. Cell service is great here too! 
We also failed to stop to camp anywhere along the Dalton Highway on our way back to Fairbanks.
In leaving Deadhorse we had a flat tire that set us to worrying and so our entire journey to Deadhorse and back took less than 48 hours! (We don't recommend you go at this pace!)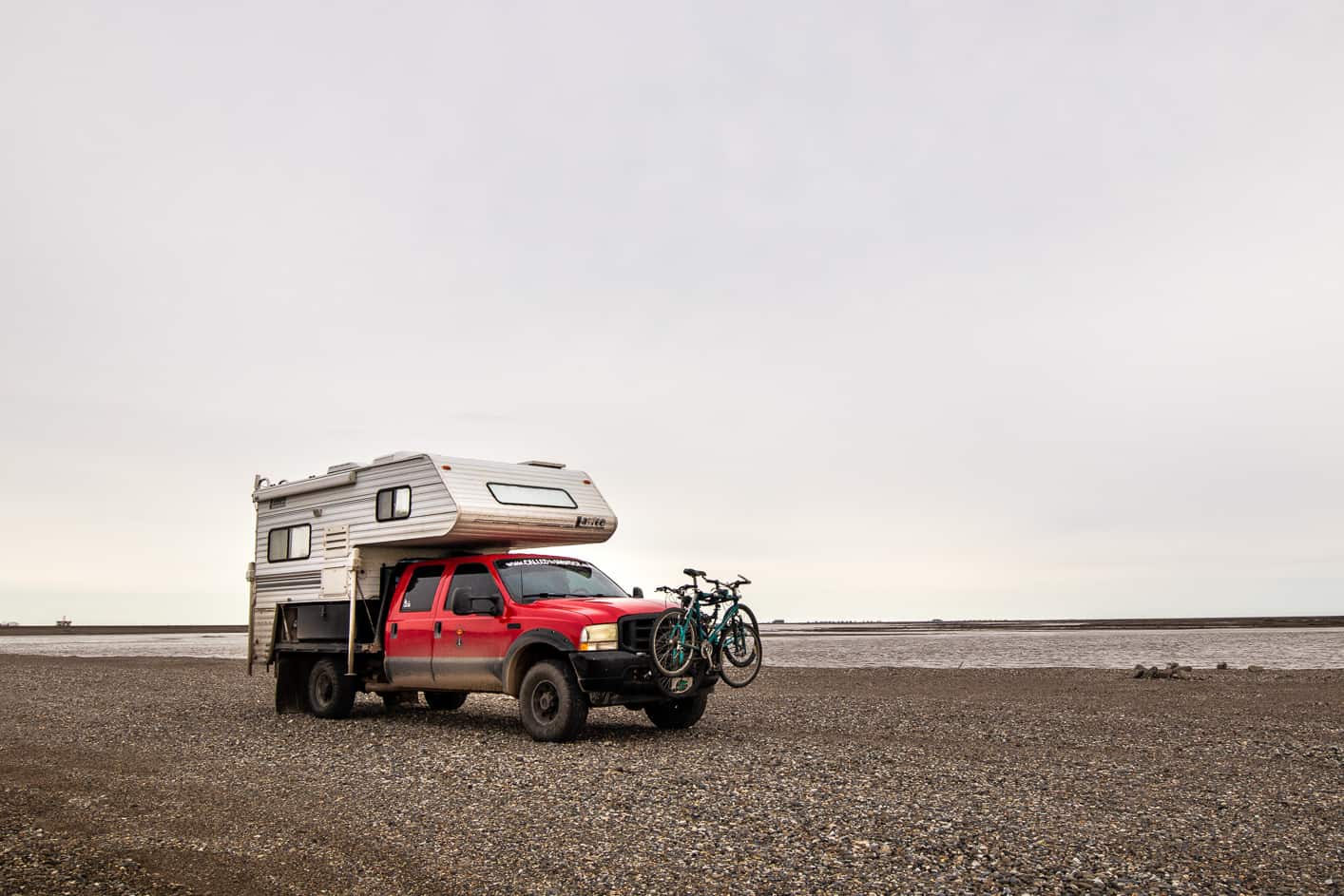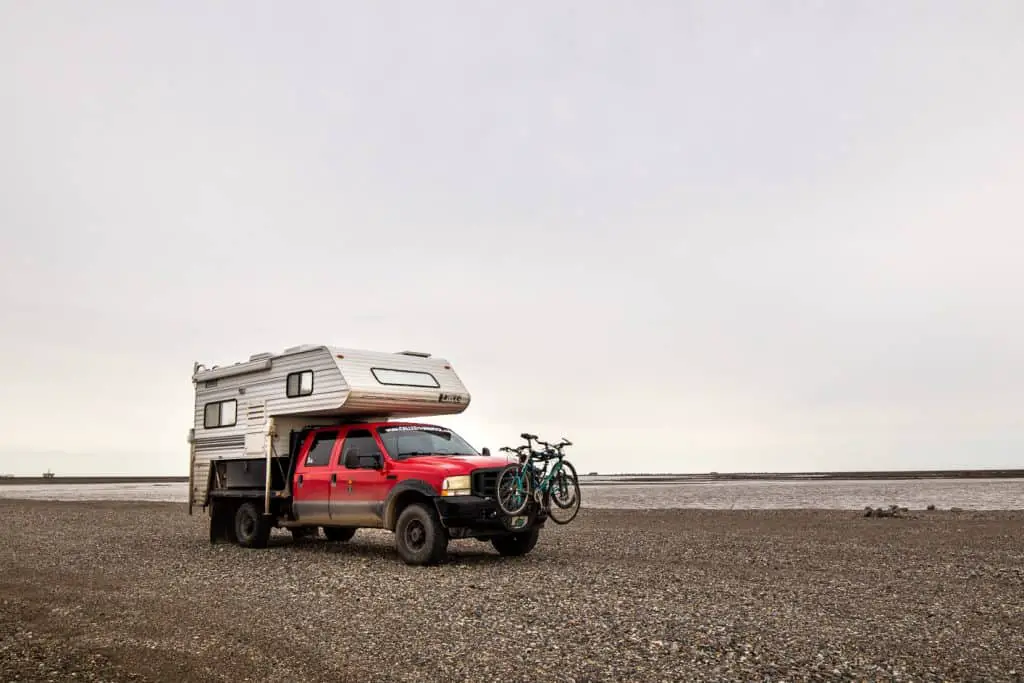 Denali National Park
We did not choose to camp inside Denali National Park. Reservations for summer camping inside the park are available in the fall of the year prior.
As such, they sell out quickly. If you are interested in camping inside Denali this is the best place to go for information and reservations. 
Talkeetna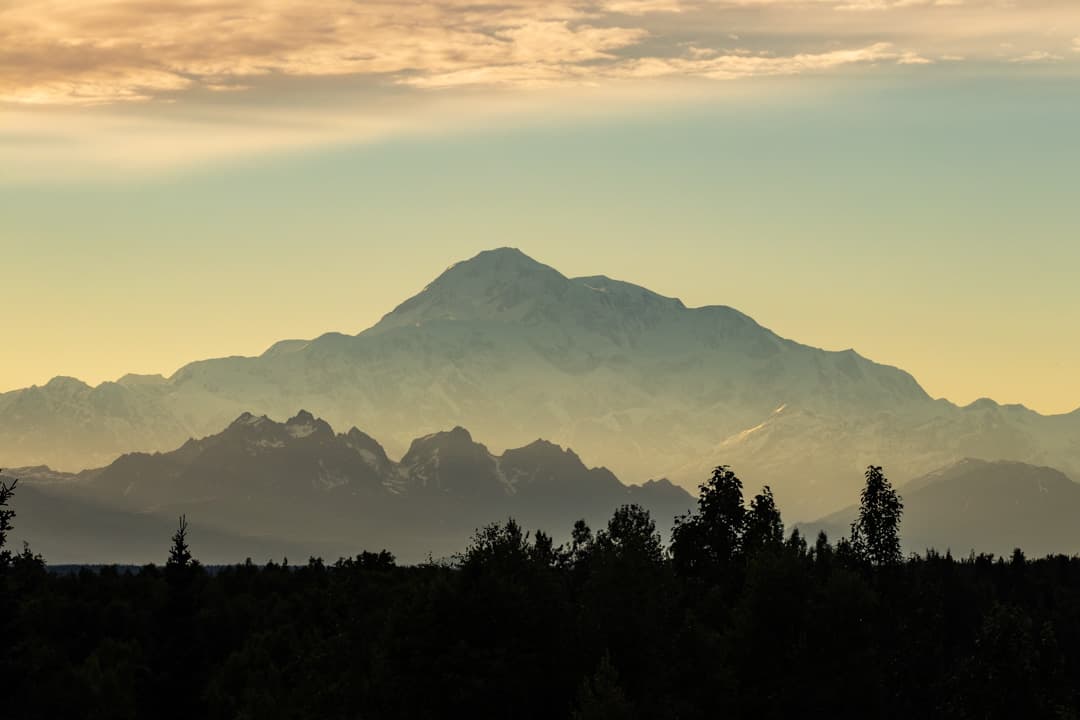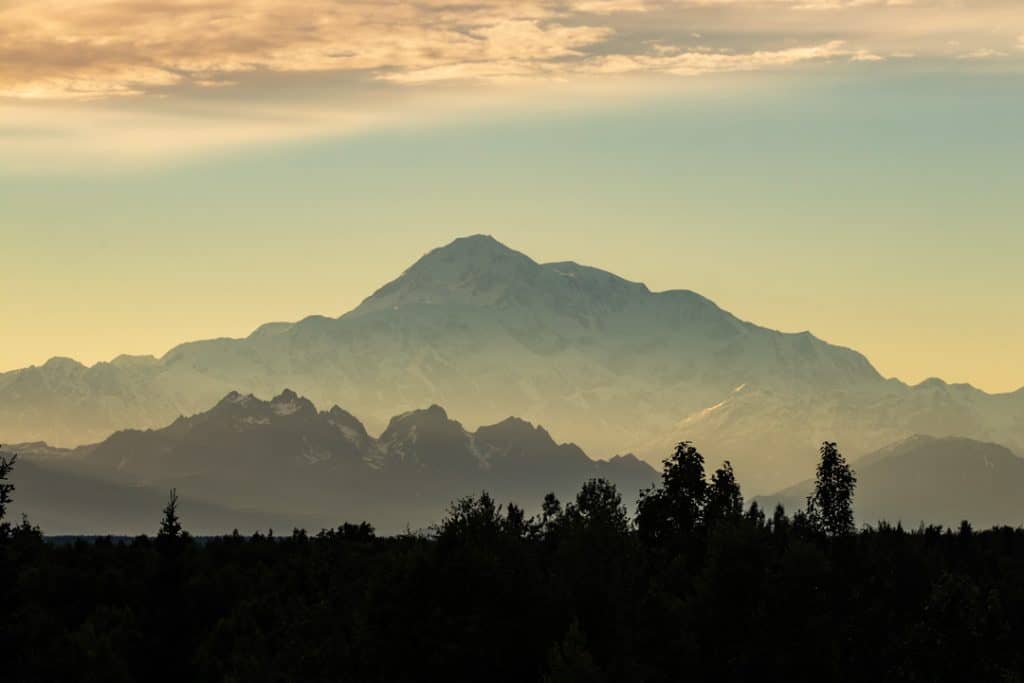 Talkeetna is a cute, hippie-ish town between Fairbanks and Anchorage. Driving into town has one of the best views of Mt. Denali you can see (if you can see it).
There are plenty of places to camp, even during the busy summer season. As you near town you will see a handful of handmade signs on the side of the road advertising camping.
These are all typically $30+ and limited amenities.
We chose instead to boondock with a handful of other people just outside the town, with a great view of Mt. Denali at sunset (63.30143, -150.09091).
Anchorage
Cabelas. We only camped for one night in Anchorage because we had to. As a city, it has very little to offer the RV camper.
But Cabelas has a policy to permit you to camp in the parking lot to the side of the building. For the cost (FREE) it certainly gets the job done. 
Kenai Peninsula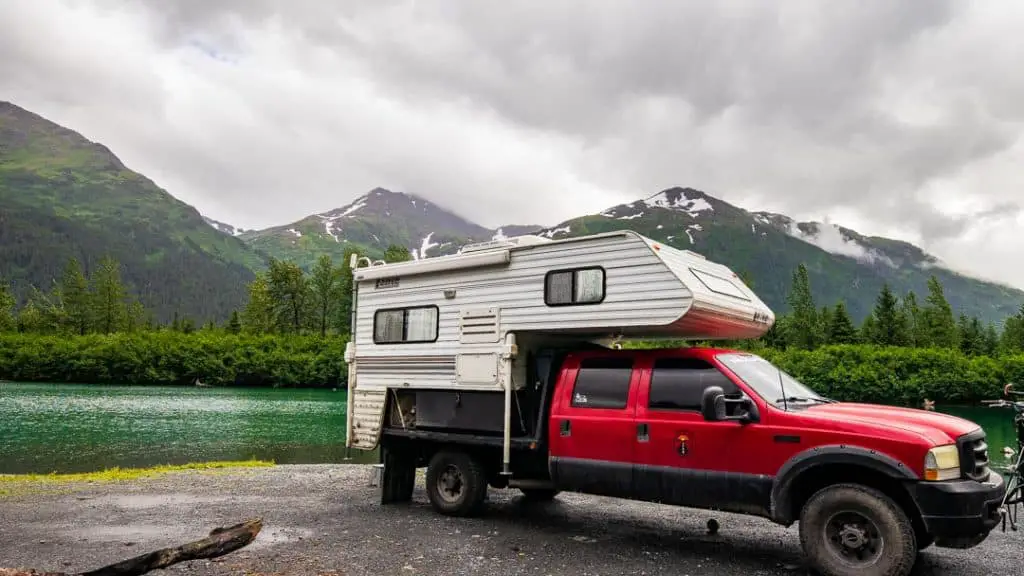 Portage Glacier (60.79279, -148.90068). As you drive past Turnagain Arm and make your way toward Whittier there are several pull-offs on the left side of the road.
You can pick any and each has a great view of Portage Glacier and a small lake/riverfront. Sites here are private and you will hardly hear any traffic. 
Anchor Point. The state has 4 campgrounds in Anchor Point, each with a minimal $15 cost. Because of our late arrival, we stayed at Slidehole Campground.
We wanted to be as close to Cook Inlet as possible. But unfortunately both Halibut and Coho campgrounds were already booked.
However we did enjoy a quiet, private campsite in Slidehole with a lush and gorgeous landscape as our backyard!
Note: This was the first time we paid for camping in nearly 2 weeks in Alaska!
Homer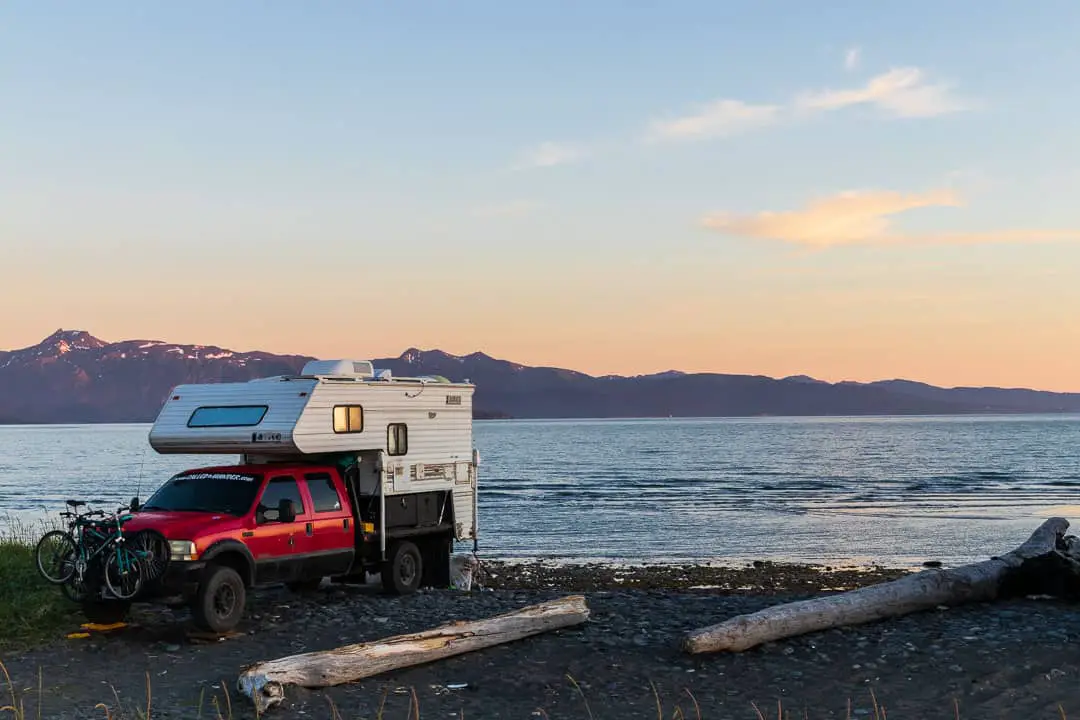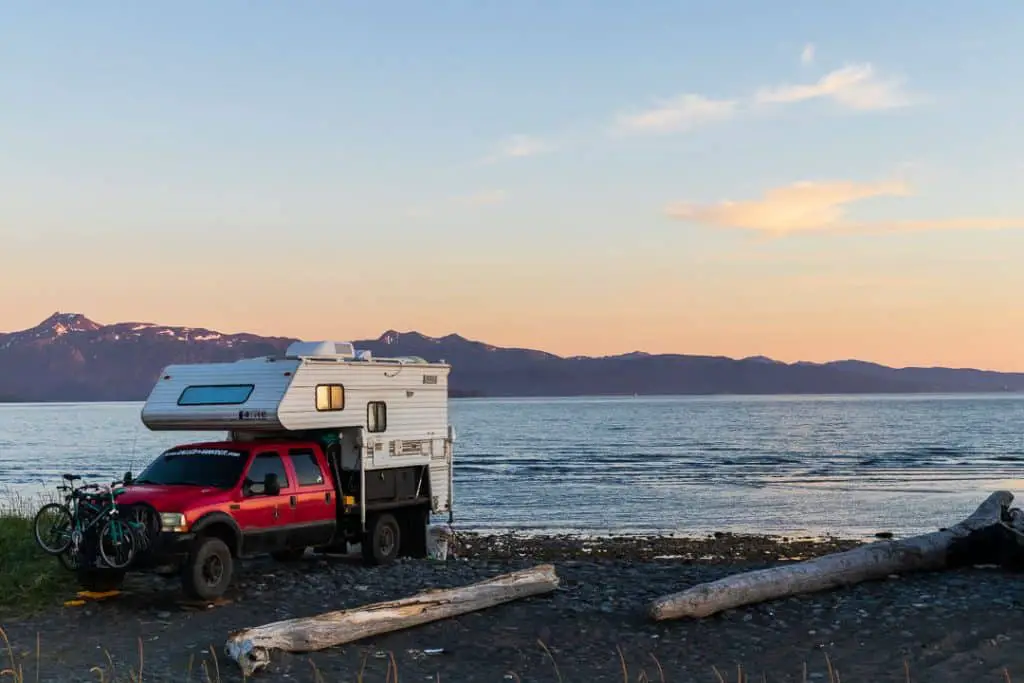 ** Beachside Homer Spit (59.60592, -151.43384). Head down Homer Spit to Mile Marker 2.7. There is a small dirt road that leads along the beach with single sites.
If you are small enough (25 feet or less) you can have the most amazing views of Kachemak Bay right outside your front door! For $24/night you cannot beat the views (or the cost).
Private campgrounds on the spit run around $60+ per night.
If there are no spots at this beachside campsite or your rig is too big there is another public campground at the beginning of the spit near the town of Homer. 
Seward
** Beachside Seward (60.11079, -149.43608). During the summer the city of Seward turns its waterfront parks into a massive RV campground.
Even on the busiest of days you are likely to find a place to camp.
All sites were $20 and each was first come, first serve. But once you purchase a ticket from a kiosk and post it on your site then you are free to come and go.
Again, this is one not to be passed up for the views of Resurrection Bay outside your front door!
Valdez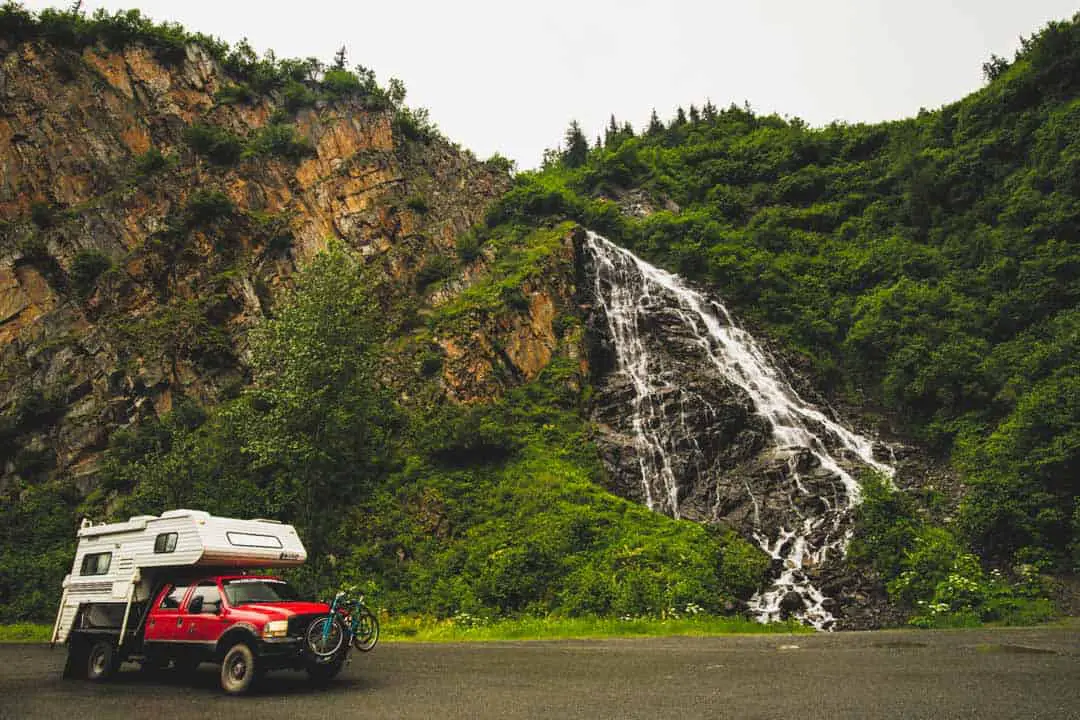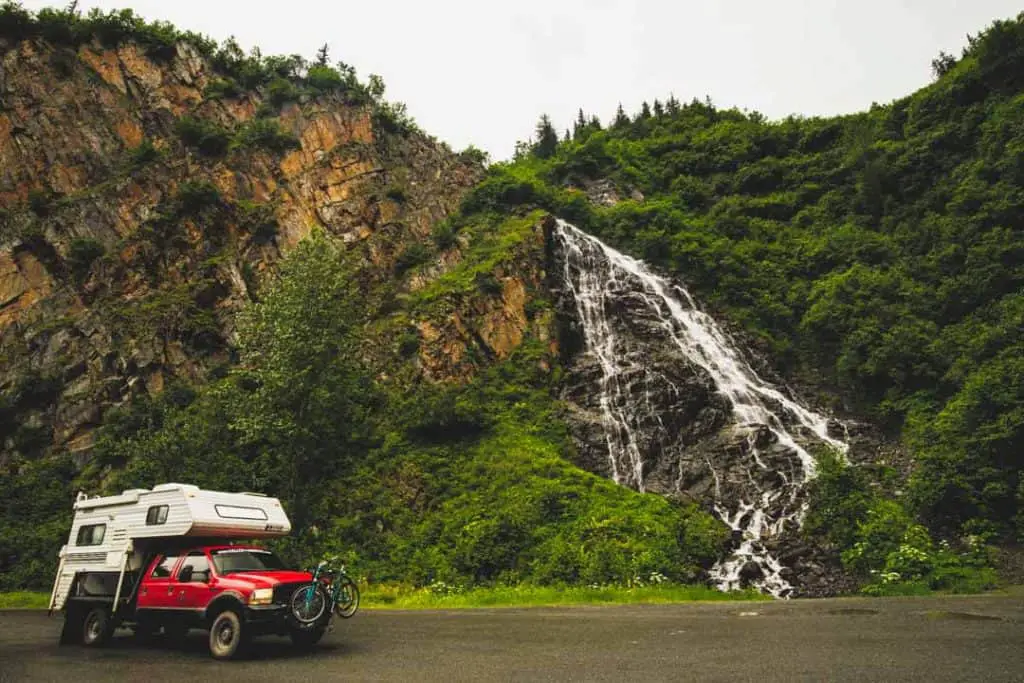 Outside Glennallen (62.08161, -145.43486). The distance from Seward to Valdez is just over 400 miles and 8 hrs of driving.
There are too many places to stop in between, so we broke our drive into two days.
Our campsite just outside Glennallen is the accidental site we found with moose and eagle neighbors. 
** Valdez Glacier (61.14574, -146.18021). Like most other small towns in Alaska, Valdez has a lot of nearby places to camp for free.
One of the more popular ones is next to the Valdez Glacier. We camped here for two nights and enjoyed the views and sound of the glacier calving at night. 
Haines
The distance between Valdez and Haines is also great. So we split this drive into two parts.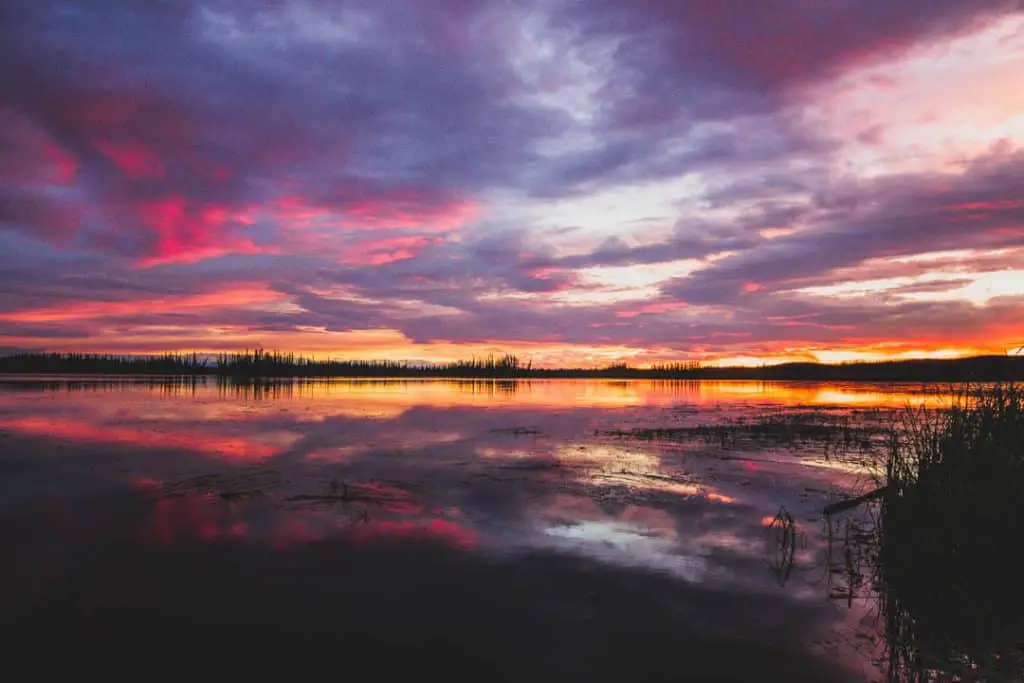 Lakeview Campground, Alaska (62.96436, -141.64136) We had such an emotional connection to this campground that we decided to return here on our way out of Alaska.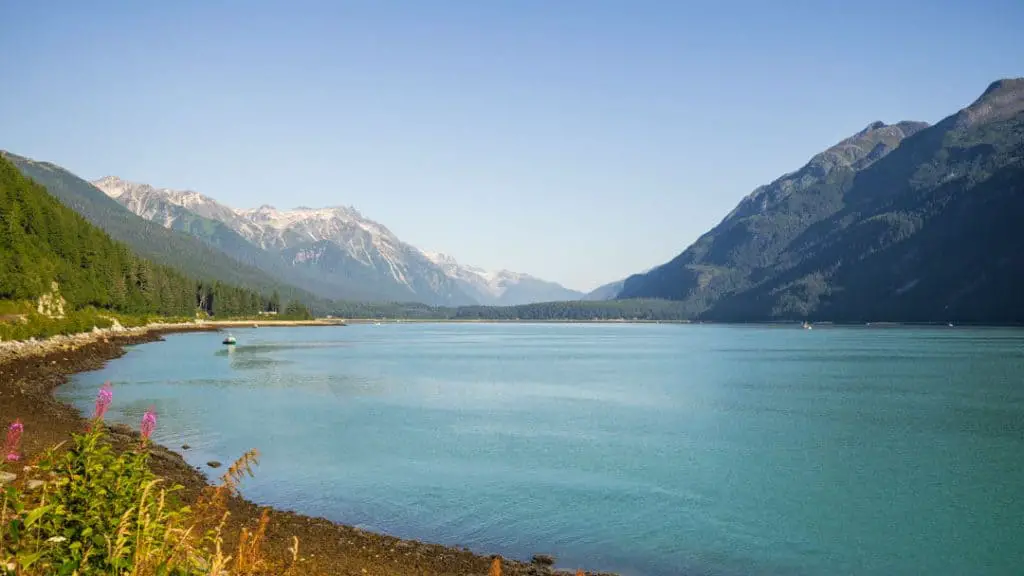 Haines (59.29099, -135.49435). Drive along Lutak Road toward Chilkoot Lake and you will see plenty of opportunities to pull over for the night along the Chilkoot Inlet. V
Wake up the next morning and drive down to the Lake to look for Speedy and other grizzly bears that frequent the area. 
Hyder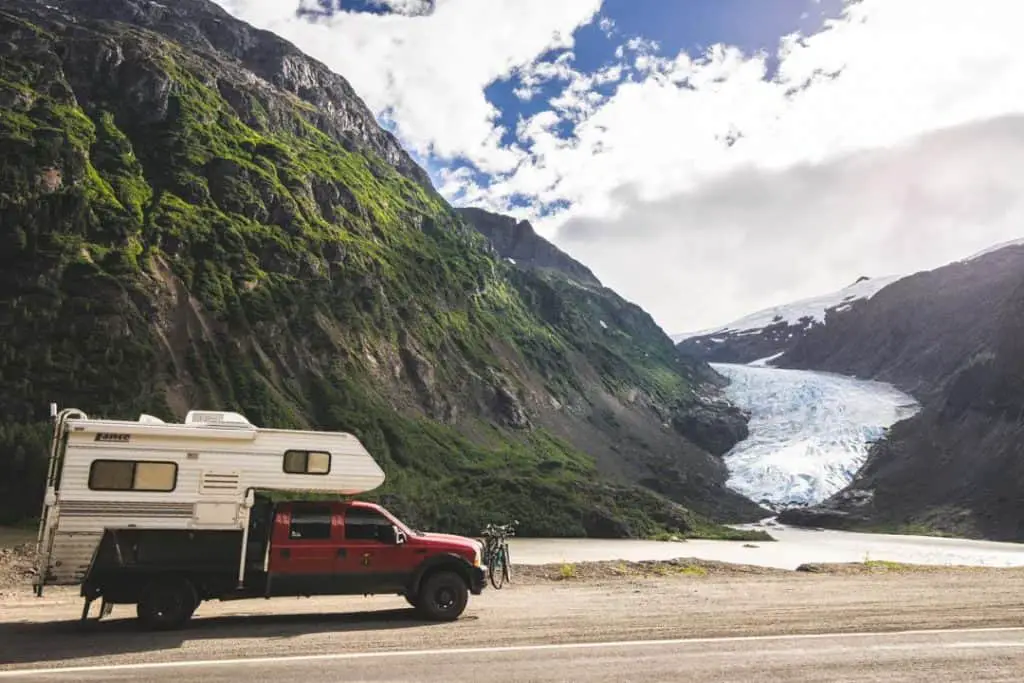 The distance between Haines and Hyder also requires you to break up the drive. We opted to take the Cassiar Highway back toward the Lower 48 and had two nice camping experiences along the way. 
** Good Hope Lake, Cassiar Highway (59.28094, -129.31964). The Cassiar is quiet and less traveled than the Alaska Highway and there are plenty of little places to duck into on the side of the road.
We chose Good Hope Lake because we wanted to swim in its turquoise waters before leaving the next morning!
Hyder, along the river (55.92358, -130.03481). Hyder is a small "ghost town" and as such there are very few places you can't camp.
We spent one night camping in the only campground in town because we spent the day fishing for halibut and needed to be able to clean up in a decent shower!
But the other nights we spent in Hyder we camped in a quiet pull-off by the side of the river heading out of town toward Salmon Glacier. 
The Bottom Line
Camping in Alaska does not have to cost you a fortune.
In fact, when we added up all of our receipts we spent as much on three tanks of gas as we did in camping for 7 weeks! 
If you are willing to be creative in your camping options and rely on mobile apps to help find great places to camp then you could actually spend a whole summer in Alaska without spending a single dollar on camping!
But don't feel like you have to miss out on camping in beautiful or unique places just to save a few dollars.
A road trip to Alaska is a trip of a lifetime and certainly worth a few extra dollars spent here and there!
About Author