Last Updated on February 26, 2022 by Chris and Lindsay
Camping on Lake Powell does not get much better than camping at Lone Rock Beach Campground on the edge of Wahweap Bay. We absolutely LOVE this part of the country and look forward to every chance we have to visit so we can hike the slot canyons of Utah and paddle the pristine Colorado River.
Located just 12 miles north of Page, Arizona in Utah, the Lone Rock Beach primitive camping area is the perfect place to rest, relax and use as your basecamp for exploring this beautiful part of the Southwest.
Lone Rock Beach is popular among campers of all types. And while camping is dispersed and primitive, it can accommodate all sorts of campers from tent camping to Class A motorhomes.
There are definitely some limitations for camping at Lone Rock Beach, so keep these in mind as we share more on how and why you'll want to add this spectacular place to your itinerary.
We stumbled upon Lone Rock Beach campground and spent over a week enjoying the most amazing scenery, making friends with our neighbors and splashing around the crystal clear waters of Lake Powell.
This is a unique place to camp in the region because you can park literally feet from the lake and enjoy the sights, sounds and activities just outside your RV or tent.
Enjoy a campfire with old and new friends, explore the lake on your SUP or kayak or simply give yourself some time to unwind and relax along the sandy shores of the lake.
Camping at Lone Rock Beach Campground
Lake Powell offers camping options courtesy of the Glen Canyon National Recreational Area of which 196 miles of the Colorado River fill up nearly 100 canyons and offer nearly 2,000 miles of coastland.
The water is pristine, typically cool from the depths at which it sits and flows slowly through the reservoir system.
As such, the entrance and maintenance of the Lone Rock campground are managed by the National Recreational Area. There are a handful of other primitive campgrounds in the National Recreational Area but Lone Rock Beach is by far our favorite and top-recommended.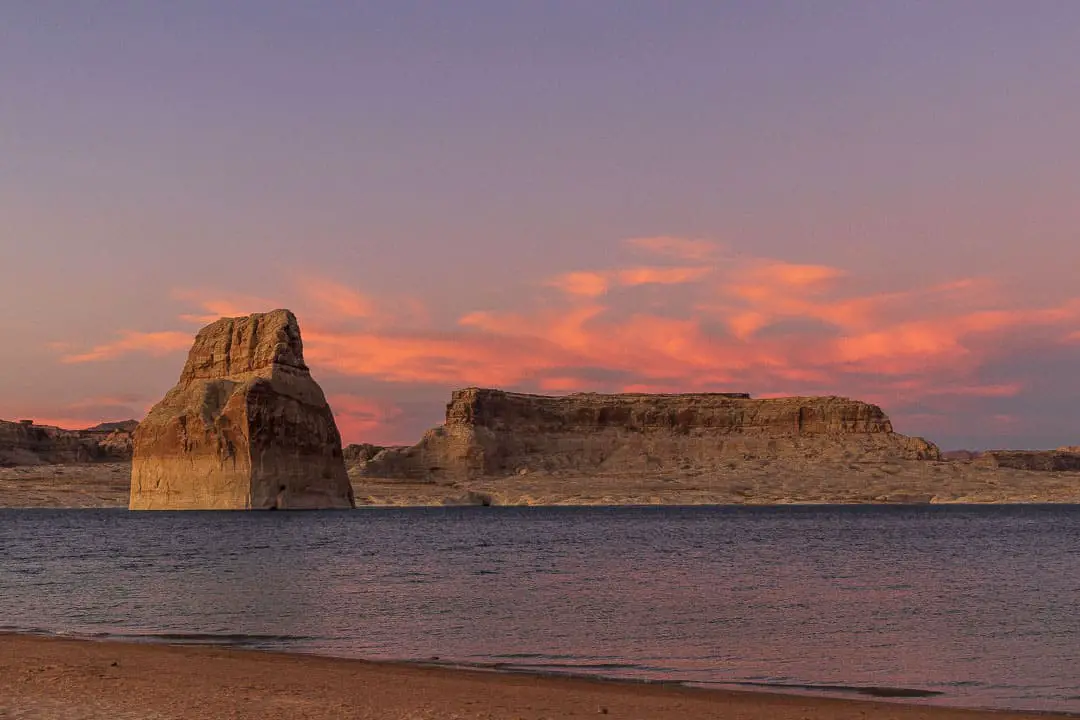 Lone Rock Beach Campground Details
Here are the quick details you need to know about camping at Lone Rock Beach:
$14/night + Entrance Fee ($30USD for 7 days, waived with Annual NPS Pass)
No reservations or reserved campsites. All camping is open on a first-come, first-serve basis.
Limited facilities (closed during winter)
Pets and fires allowed
RV Dump station located on-premises
If you have your annual America The Beautiful National Park pass you'll skip the entrance fee and making a stay here incredibly reasonable. Discounted stays of 50% are also offered to Senior Passholders.
While there is a 14 consecutive day limit (30 days per calendar year), many RVers will choose to camp here for extended periods of time particularly during the fall, winter and spring months.
You can run into Page and spend the night at Wal Mart to reset your two-week stay if you plan to visit that long. Chances are you'll make friends willing to hold down your campsite for the night if you do.
WHAT YOU NEED TO KNOW ABOUT CAMPING AT LONE ROCK BEACH CAMPGROUND
While the Wal Mart in Page is famous for hosting massive numbers of campers, Lone Rock Beach Campground is a cheap, convenient and overall amazing option for an incredibly reasonable camping fee.
While we were only planning to be in the area for 1 night to prepare to kayak to Antelope Canyon, we spent the night camping at Wal Mart before we realized that such an incredible camping spot existed just a short drive up the road.
Lone Rock Beach Campground is the perfect place to set off to explore Horseshoe Bend (20 mins), Antelope Canyon (30 mins) or the town of Page (15 mins). It's also conveniently located within 2 hours of Zion National Park and even closer to the dozen or so slot canyons between Page and Kanab.
If you enjoy water sports, camping at Lone Rock Beach is a must. You can back your boat or jet ski trailer into the water at your campsite. And there's nothing that beats paddling your SUP or kayak just feet from where you roll out of bed in the morning.
While we did not own a SUP the first time we visited Lone Rock, we made friends with neighbors who allowed us to borrow their iROCKER SUP to paddle out and around Lone Rock.
We also inflated our kayak and paddled throughout the bay exploring the canyons into which you can paddle through and see wildlife such as bighorn sheep.
By the end of our stay, we had shared several evenings of campfires and were even invited to explore Wahweap Bay on our neighbor's jet ski.
SAFETY NOTE: When approaching the camping area you will look down from the road and see many branching paths toward Lake Powell. There is soft sand throughout these paths. Weather and traffic patterns change over time and cause some paths to be better than others. We advise you to stop and take a few minutes to study which way the bigger RVs go before setting out on your own. You may get stuck in the sand otherwise!
About Author