Last Updated on February 26, 2022 by Chris and Lindsay
Want to kayak Antelope Canyon from Lake Powell? Wonder if it is even possible to bypass the crowds and SUP to Antelope Canyon? 
Well, it IS possible and highly recommended that you join us and many others who have made the decision to add a little adventure into their visit to Antelope Canyon. 
February 2022 UPDATE: Please note that water levels in Lake Powell are INCREDIBLY low – to the point that the boat ramp at Antelope Point is completely exposed. This will have an impact on your experience. To date we are not aware of any closures to this opportunity but do be aware and check with local authorities on whether there are any restrictions in place during your planned time of visit. As always, keep the water and the canyons clean by leaving nothing behind.
Antelope Canyon is perhaps the most popular slot canyon in all of the Southwestern US.
Today you must pay quite a bit of money and join a formal tour if you want to see the upper canyon.
This means that you're crammed into tours in which you don't have the time or ability to take the iconic photos of Antelope Canyon that probably inspired your interest now. 
But if you are up for a little adventure, you can kayak or SUP Antelope Canyon for free (well, if you have your America the Beautiful National Park Pass, which you should have if you spend any amount of time traveling through the American West). 
Plus you can take all the time in the world to explore the magnificent canyon. And if you end up on a day like we had, you can have the whole canyon to yourself!
Here's how.
Kayak Antelope Canyon From Lake Powell
Your Antelope Canyon kayak or SUP adventure begins in Page, Arizona.
If you are like us, you will have used Page as a staging area for all sorts of great adventures in the area – including camping at Lone Rock Beach on the fringe of the Utah border.
Check out this post to learn why you should make Lone Rock Beach Campground your headquarters for exploring the Lake Powell region and all the details you need to know on how to camp there!
We love exploring the great slot canyons of Utah and Arizona and so we've spent a fair amount of time in this part of the country.
Page has everything you need to set up for camping in the area.
Or simply to make quick day trip excursions like the one to kayak Antelope Canyon.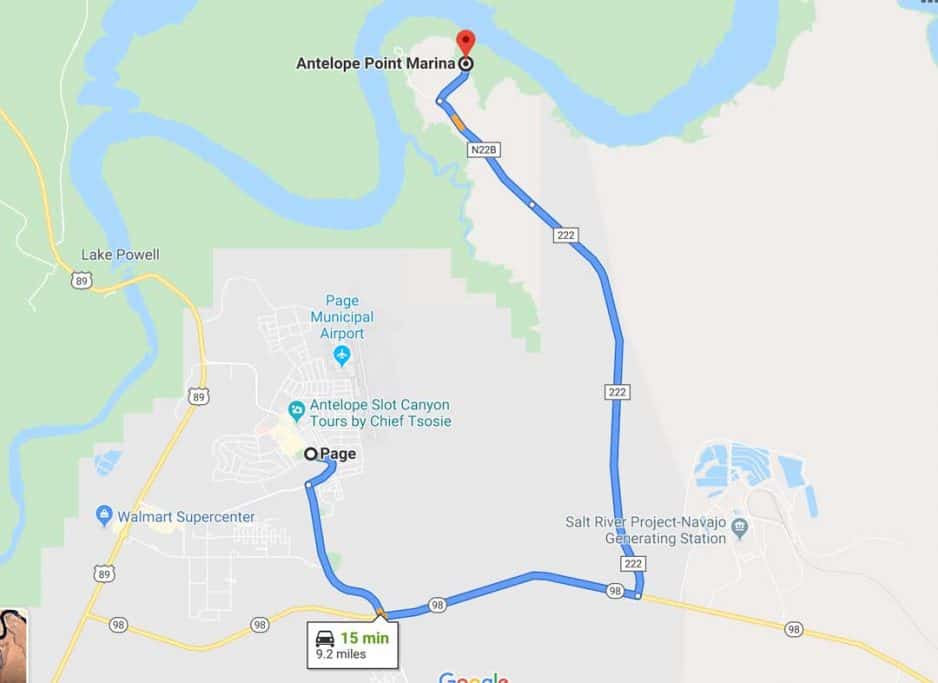 Getting There
From Page, you will head toward Antelope Point Marina, a short 15-minute drive from the center of town. Continue straight past the Navajo National Park Entrance (where you'll flash your National Park Pass) and continue straight.
After a short distance, you'll find that the road turns into a massive sloped boat ramp.
Feel free to head down to drop your gear off, if you're confident that you can make the climb back out! 
We pulled into the parking lot at the top of the hill, where you will ultimately park once you drop your gear at the boat ramp, and set up for the trip.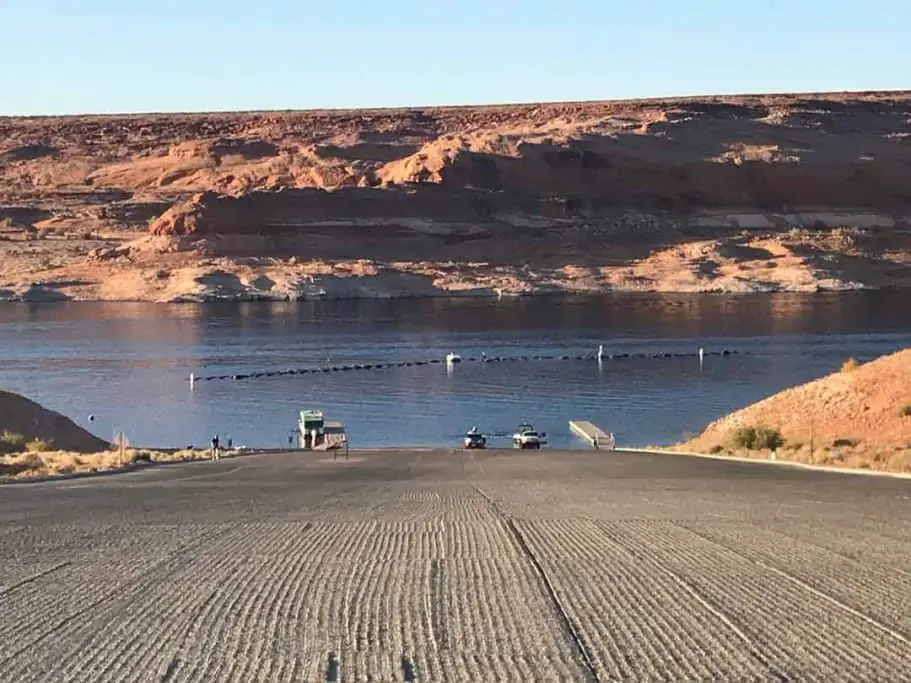 Paddling to Antelope Canyon
At the time we visited we only our awesome 2.5-seat inflatable kayak.
The ½ seat is because while the kayak is rated for 3 people, it's really barely big enough for us and our sweet pup Everest who rides in the middle. 
Now we have our iROCKER inflatable SUP. And if we did this trip over, we would have taken both our iROCKER SUP and our kayak to have the best of both worlds. 
It is possible, and possibly even preferable, to SUP to Antelope Canyon on Lake Powell.
And if you don't have your own water toys, it's possible to rent kayaks or SUPs from a handful of companies in the area. 
1 Mile From The Boat Ramp
Once you launch your kayak or SUP at the boat ramp you are a brief 1-mile paddle from the entrance to Antelope Canyon.
You will head left (southwest) from the ramp and follow the left side of the lake. 
The water is clear and there are a handful of nice beach areas where you can stop and have a quiet picnic to yourself if you'd like.
Or you can press on to kayak Antelope Canyon – because that is where the scenery becomes quite spectacular. 
Almost one mile exactly into the paddle you will reach the entrance to Antelope Canyon on the left side of the lake.
The area is quite easily visible and is marked with a small buoy in the middle of the canyon channel. It's likely you won't be alone at this point in your paddle. 
Head into the canyon and enjoy the next two miles as you kayak or SUP Antelope Canyon's magnificently carved walls.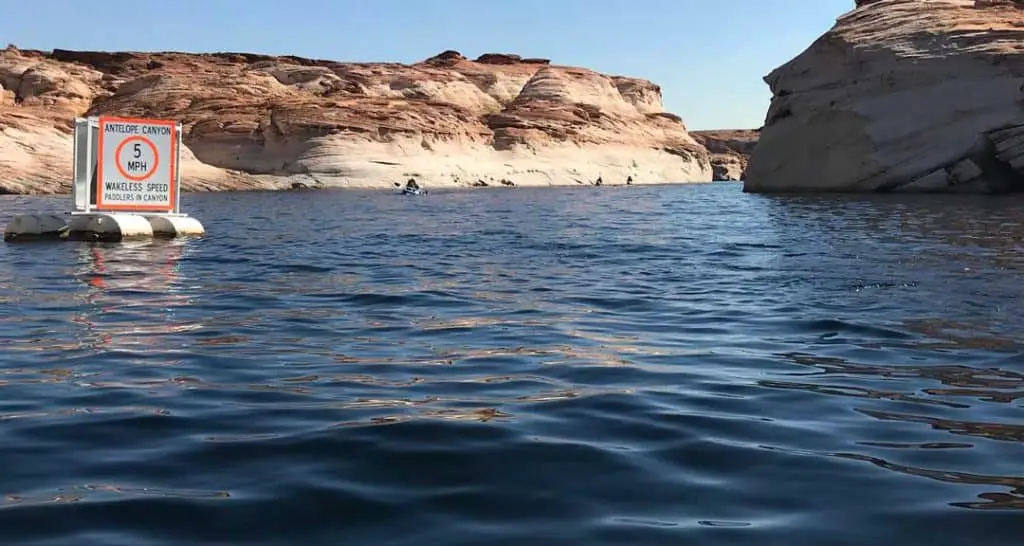 2 Miles of Paddling
From the lake entrance, you will have approximately 2 miles to kayak Antelope Canyon to reach the dry end of the canyon.
It will likely surprise you that people will be in boats and jet skis through most of this point of the canyon.
There are no wake signs posted. And hopefully, your company minds these signs. Even the big tour boats will make their way well into the canyon. 
But as you paddle you will notice that the canyon changes and becomes narrower with time. You'll start to find yourself in more shade.
You'll be able to hear echoes off the canyon walls.
And if you are like us, you'll begin to get more and more excited about taking your kayak or SUP all the way into Antelope Canyon.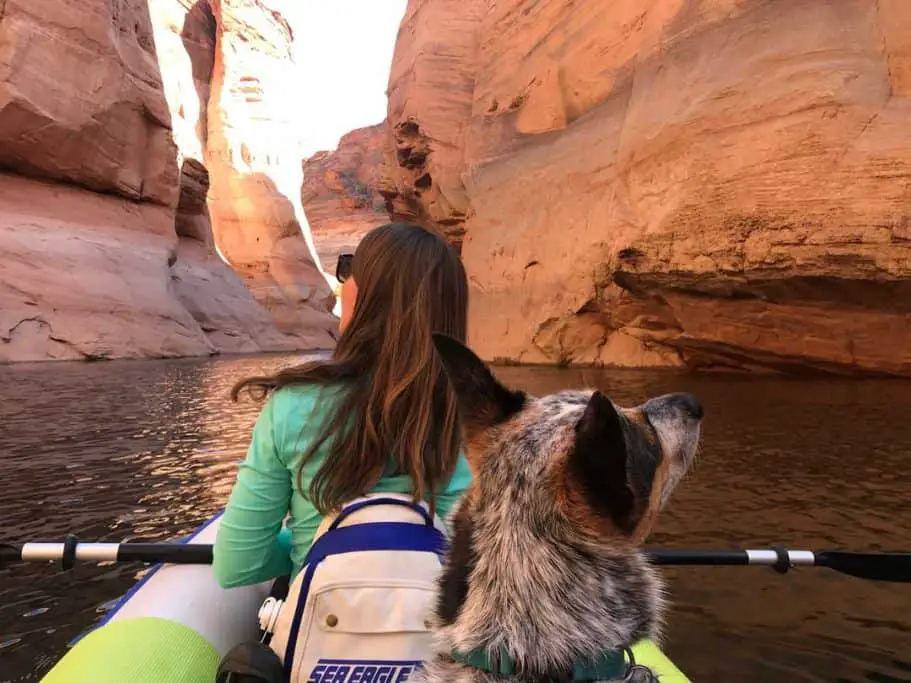 Hiking Antelope Canyon
Depending on the time of year and the rainfall that will change the takeout point, you will reach the end of your paddle and will pull your kayak or SUP securely to shore.
From here an entirely new adventure begins – one in which seemingly few people begin. We love hiking the Utah slot canyons and have always wanted to hike Antelope Canyon.
So once you beach your kayak or SUP you are ready for the next portion of the adventure.
Your gear is quite safe among like-minded adventurers, so head off up the canyon by foot.
Like the river portion of Antelope Canyon, this part starts out wide and then quickly narrows the further back you go. 
We were able to walk several miles into the canyon, just shy of where the tourist section of the canyon begins.
And while we saw clear signs that people had been this far in their own adventures, there were no markers or signs telling us how far we could or could not go.
Essentially we hiked through the canyon until we reached the point where we had to do a little climbing of boulders. 
We decided that was far enough. Plus the sun was starting to set.
So with several miles to hike and the 3 additional miles to paddle, we decided it was best to turn around and head back toward our kayak. 
Don't have time to kayak Antelope Canyon? Catch this day trip from Las Vegas to explore Antelope Canyon and Horseshoe Bend!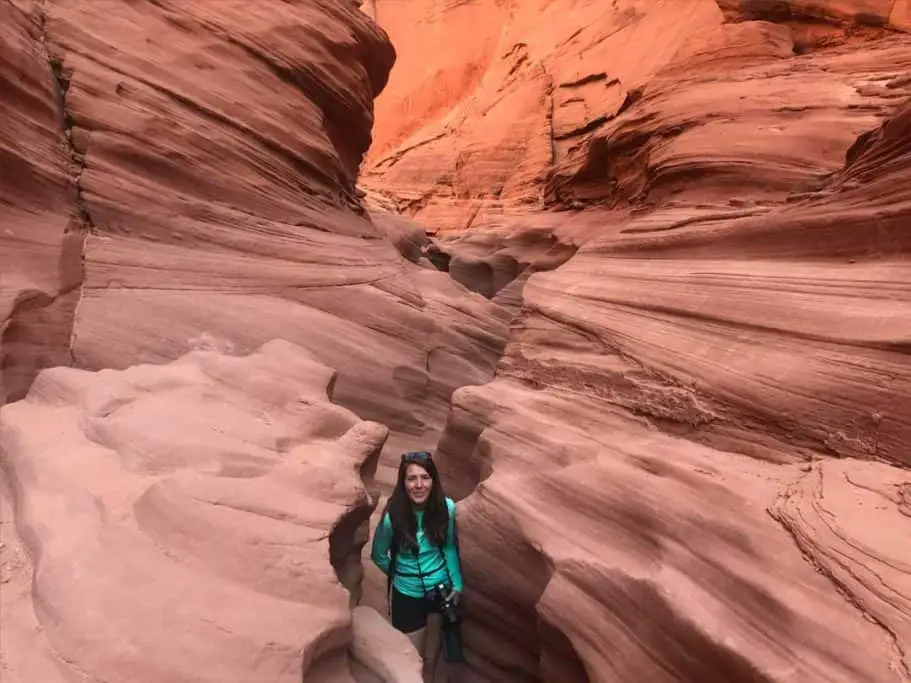 SUP Antelope Canyon
While we only had our kayak at the time of our first visit, the next time we return we will be eager to SUP Antelope Canyon as well.
Our iROCKER SUP has a kayak seat modification that allows us to convert the SUP into a kayak if we found we needed a little more comfort along the way. 
But as the paddle is only 3 miles each way, we found that taking a SUP to Antelope Canyon would be a great way to journey. 
Whether you kayak or SUP Antelope Canyon, be sure to have your GoPro and a handful of snacks and water.
You can paddle the entire trip in a few short hours. But if you are like us, you're going to want to wander a bit as you make your way further up the canyon. 
We do advise you to plan this trip as soon as possible.
It is becoming more popular and, although sharing this information with you only increases the exposure of the paddling adventure, we think this world is spectacular and deserves to be explored!
Respect The Canyon (And Fellow Adventurers)
Please mind basic sustainable travel principles when you kayak Antelope Canyon.
Pack out whatever you pack in – trash, toilet paper, etc. You will find not so pretty places where human waste and toilet paper are left in crevices in the canyon.
If nature calls, try and carry the trash out, or at least bury the waste and biodegradable paper. 
Also, don't disturb the landscape. This means staying on the beaten path (which is pretty remarkable in itself) and not adding graffiti to the canyon walls.
They have survived millions of years without us marking them up. So please respect the beauty of nature and leave it as it is. 
Aside from that, if you do happen to travel by boat or jet ski please mind the no-wake zone of the canyon.
Not only does this respect those of us who choose to SUP or kayak Antelope Canyon that are subject to your wake, but also it slows down the unnatural wear and erosion on the canyon itself.
It is also safer for everyone on the water in Antelope Canyon if boat traffic minds slower speeds. 
Beyond that, enjoy the exploration of Antelope Canyon.
You will see a part of the country that few people see and it will be well worth your time to wander this amazing and beautiful slot canyon.
About Author