Last Updated on February 16, 2023 by Chris and Lindsay
Keep your food and drinks cold with the best and most affordable portable refrigerator freezer on the market. Find out why we love our BougeRV portable refrigerator and think you will too!
A portable 12-volt refrigerator is a perfect way to ensure that life on the road is everything you want it to be when it comes to keeping things cold.
We've lived and traveled in several RVs since March 2018 and we've had all sorts of issues with standard RV gas absorption fridges. An upright fridge in an RV or van seems like a great idea… until something breaks.
After spending nearly $1,000 repairing our 23-year-old RV fridge we decided it was time to add a portable fridge to our RV kitchen. Of all of the choices on the market, we ultimately decided on the BougeRV 30-Quart model and we've never been happier with the decision.
In this post, we'll break down what we like (and don't like) about the BougeRV portable refrigerators and share with you why we think they are great alternatives to the much higher-priced Dometic CFX Fridge and ARB fridge freezers.
Affiliate Disclaimer: This post may contain links to products we think you'll like. If you purchase any of the products through the links below we'll receive a small commission. As full-time RVers, we know our RV products well and only recommend those that we either own or would consider owning ourselves.
The Takeaway: BougeRV 30-Qt Portable Fridge

Great value – less than 1/3 the cost of comparable brand models
Rapid cooling – From ambient temperatures to sub-freezing in around 15 minutes
Energy Efficient – Uses only between 45W-60W per hour (3.5-5 amps/hr)
Temperature Consistency – Keeps food within a few degrees of set range at all times
Compact – At 23x13x16 inches it fits snugly and securely in our RV

USE COUPON CODES: WANDER12 for 12% off Sitewide at BougeRV.com
OTHER GREAT MODELS AND OPTIONS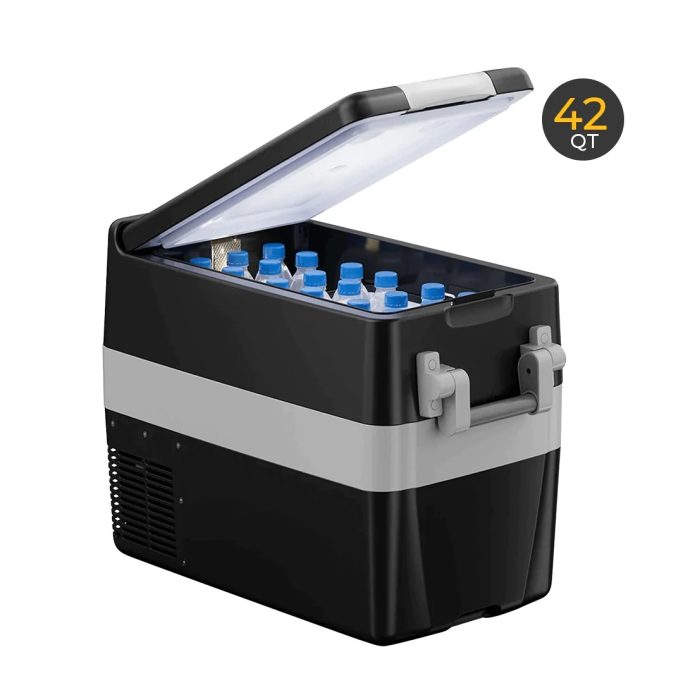 30/42/53 Quart Portable Fridge/Freezer
---
Can be used either as a fridge OR freezer
45-60W Max Power Draw
Fast cooling (15 min to sub-zero)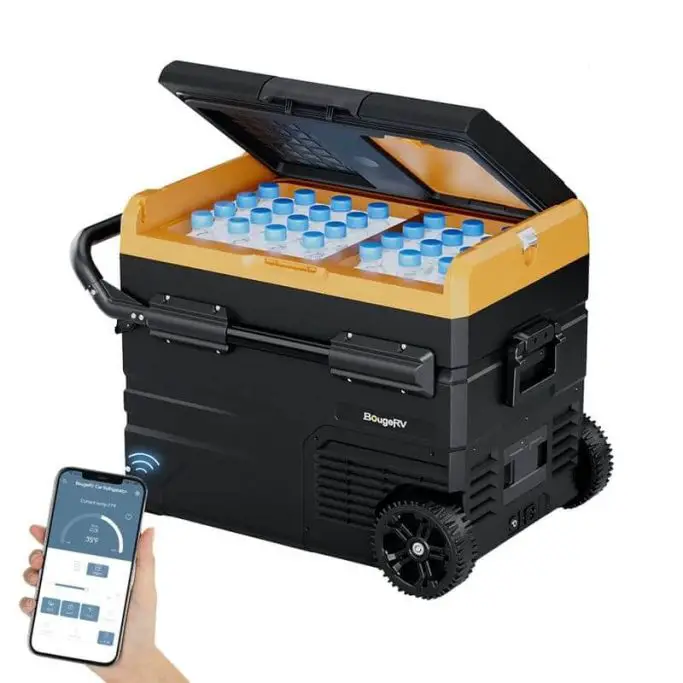 37/48/59 Quart Dual Zone Fridge/Freezer
---
Dual Zone: Use as a fridge AND freezer
Fast cooling (15 min to sub-zero)
Bluetooth temp controls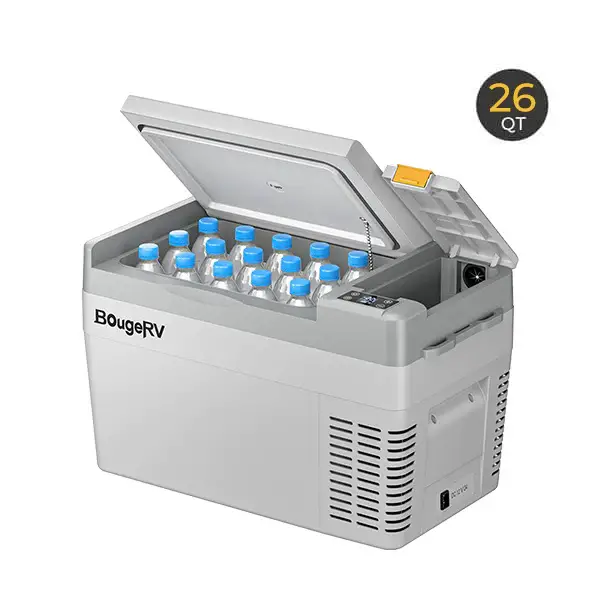 21/26/30 Quart Portable Car Fridge
---
Lighter weight
Lower power draw (36-45W)
Built-in storage box for power bank
Tie-strap handles
Why Choose a Portable Refrigerator For your RV, Trailer or Van?
If you're RV, trailer or van is already equipped with one of the more common absorption fridges, then why would you consider a portable refrigerator freezer?
Until our RV upright fridge broke, we had not considered adding a portable refrigerator to our RV. Space is always a premium in any RV. And while most RV fridges are big enough for most purposes, we realized that we did want something more.
So our 4 primary reasons for adding the BougeRV portable fridge to our RV were:
Redundancy – Because we are traveling in a fully remodeled 23+year-old motorhome, and because our refrigerator already broke once, we wanted to add some redundancy to our kitchen. We have a robust electrical system, so in the event our fridge ever breaks again, we know that there is nothing preventing us from keeping food cold with our portable fridge.
More Storage Space – We spend nearly half the year camping in Baja, Mexico and over the years we have found that there are certain food items that are hard to find to fit our healthy diet. So adding a portable refrigerator to our camper allows us to bring additional items (such as frozen meats and non-dairy cheeses) with us to last during our stay.
Affordable – Adding a portable refrigerator or portable freezer to your RV, trailer or van does not have to set you back nearly a thousand dollars or more. There are great options out there offered by BougeRV that make the redundancy and additional food storage space affordable.
Highly Efficient Power Usage – Many RV refrigerators are either 2-way or 3-way fridges, meaning that they can operate on propane, 110V AC power or 12V DC power. However, they are not energy efficient when operating on 12V DC power and can drain your battery bank in a hurry. A portable 12-volt refrigerator freezer is much more energy efficient and thus can be a great asset, particularly if you have a robust solar system and spend any amount of time off-grid.
Of course, if you are building out a van or are considering replacing your RV fridge entirely with a chest fridge, then there are even more reasons to consider adding a portable refrigerator freezer.
In your case, this may be the ONLY way to keep things cold. In this case, we definitely encourage you to consider what we've learned about our BougeRV portable refrigerator before you make your purchase.
About BougeRV Fridge – What To Expect With Various Portable Refrigerator Models
BougeRV is not the only portable fridge freezer company on the market. In fact, the leading brands – ARB and Dometic – have been at it for years. But with these companies, you pay as much for the brand name as for any particular features. And, to be honest, the specs on comparable portable refrigerators do not vary all that much.
In this section, we'll cover everything you need to know about the BougeRV portable refrigerator freezer options and share what we like and don't like about our 30-Quart model.
What You Get Out Of The Box
The first thing you will notice when your 12-volt refrigerator arrives is that it comes with everything you need to power and operate it.
Fridge/Freezer
12/24V DC Power Cord
110/240V AC Power Cord
User Manual
Depending on how your electrical system is set up and whether you want to operate the portable refrigerator on 12V DC power or 120V AC power, there are two different power cords you can use.
Because we live full-time in our RV, we have a great 2000-watt Renogy Inverter and an automatic transfer switch that allows us to easily and efficiently power our AC power outlets from our battery bank. We plug our portable fridge into one of our power outlets and let it do its thing.
However, if you have a cigarette lighter outlet you can plug your 12-volt refrigerator into it directly with the power cords provided.
Features
| | | | | | | |
| --- | --- | --- | --- | --- | --- | --- |
| | 30-Qt | 42-Qt-Dual Zone | 53-Qt Dual Zone | 37-Qt Dual Zone (Bluetooth) | 48-Qt Dual Zone (Bluetooth) | 59-Qt Dual Zone (Bluetooth) |
| Dual Zone | X | YES | YES | YES | YES | YES |
| Bluetooth Connectivity | X | X | X | YES | YES | YES |
| Digital Display | YES | YES | YES | YES | YES | YES |
| Rapid Cooling | YES | YES | YES | YES | YES | YES |
| Eco Mode | YES | YES | YES | YES | YES | YES |
| Shock-Proof Design | YES | YES | YES | YES | YES | YES |
| 12V DC/120V AC Power Source | YES | YES | YES | YES | YES | YES |
| Battery Protection | YES | YES | YES | YES | YES | YES |
| Removable Basket | X | YES | YES | YES | YES | YES |
| Removeable Lid | X | X | X | YES | YES | YES |
| 2-Year Warranty | YES | YES | YES | YES | YES | YES |
Upon delivery, you'll want to let the refrigerator freezer sit upright in the event it was shipped on end. There's a sticker to remind you to do this prior to plugging it in. From there, it's a matter of getting to know the different features and settings of your particular portable fridge.
Digital Display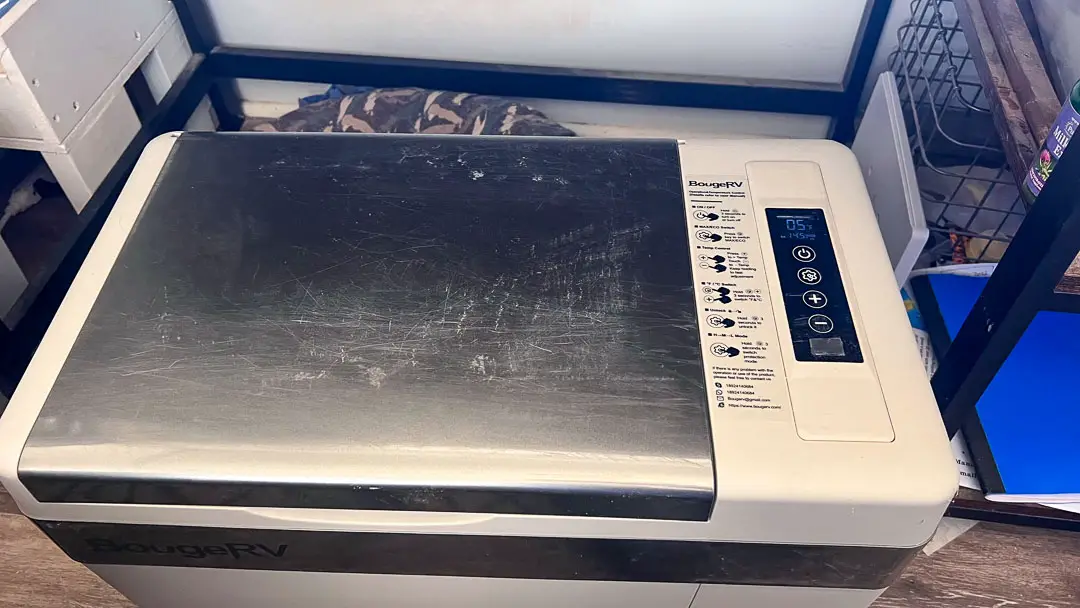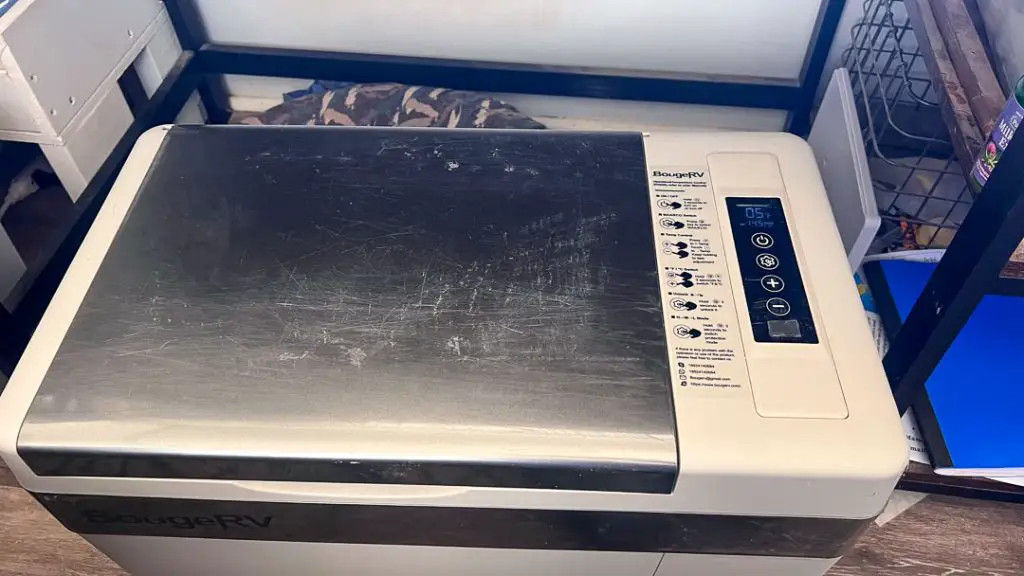 One of the first things you will likely notice is the digital controls. Depending on which model you select, this may be more or less easy to read. We like being able to easily switch between Eco and Max energy efficiency modes and to change the set the temperature by pushing a button.
Many RV refrigerators have inefficient thermistors and thermostats that leave the fridge in a constant state of temperature flux. With the digital display on the BougeRV portable fridge, you can easily set the temperature and monitor it within a few degrees using the digital display.
Rapid Cooling
We decided to use our BougeRV 12-volt electric cooler as a freezer. The 30-quart model is the base model that fits our RV space perfectly compared to other larger models. As such, it is not a dual-zone portable fridge with both a fridge compartment and a freezer compartment. Instead, it acts as either a fridge or a freezer.
When we set the freezer temperature on eco mode to 5 degrees Fahrenheit we were pleasantly surprised to see that the freezer compartment reached this setting from ambient temperature in around 15-16 minutes.
The rapid cooling of BougeRV portable fridge models gives confidence to users not only in setting up the fridge freezer for the first time but also in the event the fridge unexpectedly loses power and you need to bring it down to the proper temperature immediately.
Energy-Saving Eco Mode
BougeRV portable refrigerators come with an energy-saving eco mode that allows you to operate the unit in such a way that you can conserve power consumption. In Max mode, our portable fridge draws 60W of power (around 5 amps per hour). This is quite substantial when you must always watch how much power you use in your RV.
However, in eco mode, this power consumption drops to 45W or around 3.5 amps per hour. Although this may seem minimal, every little bit of power usage saved can be redirected toward other appliances and uses in your RV.
Rugged Construction & Shock-proof Design (30-degree tilt)
You will also notice that the BougeRV 12-volt refrigerator has a rugged construction and shock-proof design. While we didn't test this out by dropping it intentionally, we have had to slam the brakes a few times sending the unit sliding across our RV floor.
It is also rated to be able to handle 30-degree tilts, which is highly unlikely in RV life. But it's great to know that these portable refrigerators can take a beating. If you have a truck to tow your camper or to use as a towed vehicle and like to take day trips, it's also good to know that BougeRV chest freezers can take a beating if you want or need to throw them into the bed of the truck while driving.
12/24V DC Power AND 110/240V AC Power Source
As referenced, having 2 different power sources is important in RV and van life. Depending on how your RV is wired, you may find it more convenient to use a 12-volt cigarette outlet as the power source in the vehicle when driving or if you have one on your RV wall.
Or, like us, you may find it more convenient to use the 110-volt power cord plugged into your power inverter is the best power source. Having options is important in RV and van life, where things most certainly will break and go wrong at some point in your travels!
Low Voltage Shutoff for Battery Protection
Having a low voltage shutoff is particularly important if you plan to use the portable fridge freezer plugged into your vehicle directly as opposed to your house batteries, or if you have a small leisure battery bank.
With 3-stage charging, there are varying levels of battery protection to ensure that operating the BougeRV portable fridge will not deplete and/or damage your batteries if the battery voltage drops below safe range.
This means that you can use your portable fridge worry-free knowing that the battery protection feature will not allow you to draw more battery power than what you have available.
Removable Partition
Our particular unit, the BougeRV 30-quart portable fridge, is not a dual-zone fridge freezer. You have to choose to make it either a fridge compartment or a freezer compartment.
However, the unit does include a removable partition that allows you to create separate compartments to divide your cold food items within the fridge. So you could have fresh food such as produce separated like a crisper drawer on one side of the fridge with other items on the other side.
Magnetic Lid with Rubber Sealing Ring
One of the big advantages of chest fridges and freezers is how they operate to keep your food cold. Aside from the technical components of the compressor, cool air remains inside the chest every time you lift the lid compared to the ambient temperature because cooler air tends to sink while warmer air rises.
With an upright fridge, every time the refrigerator opens outward cool air escapes the fridge and the temperature inside rises. This requires the refrigerator to cycle back on more often and leads to less consistency in keeping your food cold.
With a portable refrigerator, when you open the top lid to access your food items the cold air remains inside the fridge. However, if the lid is not sealed tight then over time cold air can warm and escape the fridge causing the compressor to run more frequently.
All BougeRV 12-volt refrigerators come with a great magnetic and insulated cover with firm rubber gaskets that trap cold air inside the fridge and leave the ambient temperature outside.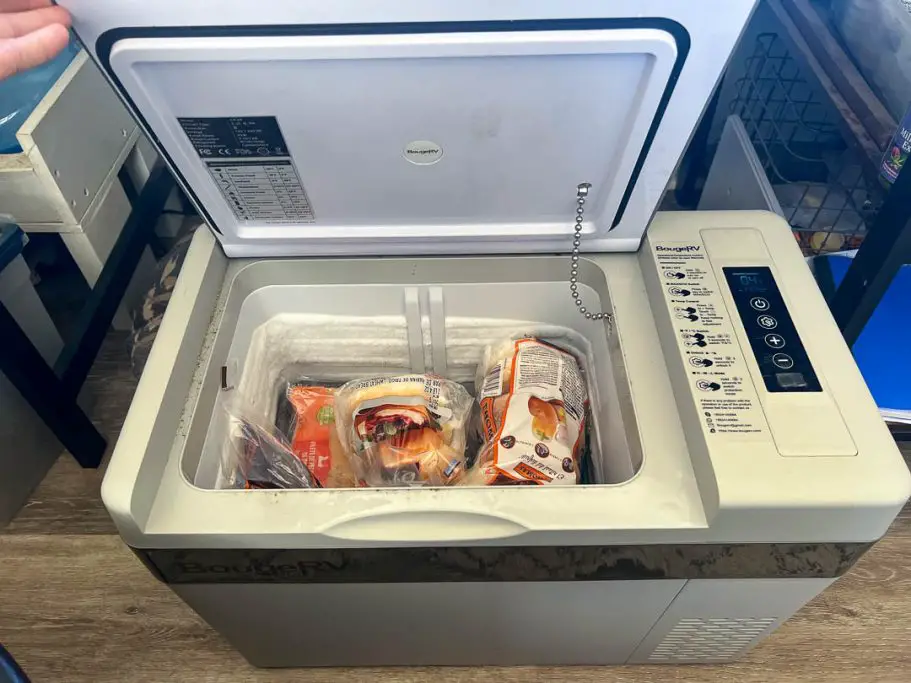 2-Year Warranty & 24/7 Customer Service
Of course, when making any purchase it is important to understand what you can do if your item breaks or needs serving. BougeRV has great 24/7 customer service to assist you in understanding how your portable refrigerator works and what, if anything, you can do in the event it experiences a malfunction.
Plus each of their products comes with a 2-year warranty so you can rest easy knowing that your purchase is insured through their quality customer service.
NOT INCLUDED:
NOTE: We've included this section specific to the BougeRV 30-Quart Portable Refrigerator that we have. Most of these features are included with larger models and we recommend that you consider how important they are and the trade-offs you may have to make for a different model.
For us, the most important characteristic of any electric cooler was its size. So we opted for a smaller model that could be used as both a refrigerator OR a portable freezer but not both.
If you are interested in these features not included in the 30-quart base model, consider upgrading.
Removable Basket
The 30-quart model is not large enough to warrant having a removable wire basket. But if you upgrade to either the 42-quart or 53-quart models or any of the dual-zone refrigerator freezer models you'll get a nifty removable wire basket to help organize food.
This is not a deal-breaker for us. But it is nice to have in the larger models where you may want to organize the refrigerator compartments a little.
Built-in LED Interior Lighting
Once again, the base model is not large enough to require an interior led light as some of the larger models have. We are able to forage through our frozen foods without much issue. But with larger 12-volt refrigerators, having the included interior lighting is a nice bonus.
Removable lid
Removable lids are a convenience if you're packing large items or if you want to give your portable fridge a thorough deep cleaning. They're also great if the lids are reversible so you can position the chest to open more conveniently one way or the other depending on how it is stored.
However, on our 30-quart model, there is once again no need for the bells and whistles such as a removable lid. But if this is something that appeals to you, be sure to look at any of the dual-temperature models. They even come with a built-in cutting board stored in the lid so you can multitask for any meal.
Bluetooth Connectivity Via Mobile Devices
A really great feature of any 12-volt appliance in 2023 is Bluetooth capability. Once again, the 30-quart base model does not support this feature. However, all of the dual-zone models are designed to operate with mobile devices that communicate with the portable fridge via Bluetooth.
This is super-handy because you can set separate temperatures or switch into eco mode all on your phone without having to tinker with the digital controls. A standard cooler definitely lacks this awesome feature that makes ownership of any of the BougeRV dual-zone fridge freezer models worth every dollar.
No Dual Zone Fridge Freezer Capability
One final reference to the base model BougeRV 12-volt refrigerator, the 30-quart model we own, is that it is not dual zone. We did not see the need to have both a fridge and freezer compartment because we wanted to use the appliance more as a portable freezer than a refrigerator.
As space was also an issue, this smaller model gave us the ability to have a portable freezer without all of the bells and whistles of a dual-zone fridge freezer.
However, if you want the versatility of having a 12-volt portable refrigerator that offers the dual-zone capabilities of both a fridge and freezer compartment along with the interior led light, accessory USB port and ability to access the control panel remotely using mobile devices, then consider upgrading to any of the dual-zone models offered by BougeRV.
Specifications and Dimensions
Our #1 criterion in any 12-volt refrigerator was ensuring that the exterior dimensions allowed for the fridge freezer to fit where we wanted it to fit inside our RV. We are also always cognizant of the weight and power draw of every appliance we use, so we put together this chart for quick reference.
| | | | |
| --- | --- | --- | --- |
| | 30 Quart Fridge | 42 Quart Fridge | 53 Quart Fridge |
| Capacity | 30 Quarts | 42 Quarts | 53 Quarts |
| Dimensions | 23 x 13 x 16 in | 23 x 14 x 18 in | 23 x 14 x 20 in |
| Temperature Range | -7 to 50 degrees F | -4 to 68 degrees F | -4 to 68 degrees F |
| Weight | 22.8 lbs | 30.5 lbs | 45.9 lbs |
| Power Draw | 45W (eco) – 60W | 45W (eco) – 60W | 45W (eco) – 60W |
Other Sizes and Models
Although we decided to go with the smaller 30-quart portable fridge model, BougeRV offers several other options so you can find the 12-volt refrigerator that suits your wants and needs. Before highlighting the differences, we want to point out that the following are standard on all BougeRV 12-volt refrigerators.
Digital Display
Rapid Cooling
Eco Mode
Shock Proof Design
Battery Protection
24/7 Customer Service
2-Year Warranty
Now here is where the product differs:
| | | | | | | |
| --- | --- | --- | --- | --- | --- | --- |
| | Dual Zone | Bluetooth Connectivity | Removeable Lid/Cutting Board | Removable Basket | Internal LED | Extra Storage Area |
| 30-Qt | X | X | X | X | X | X |
| 42-Qt-Dual Zone | YES | X | X | YES | YES | X |
| 53-Qt Dual Zone | YES | X | X | YES | YES | X |
| 37-Qt Dual Zone (Bluetooth) | YES | YES | YES | YES | YES | X |
| 48-Qt Dual Zone (Bluetooth) | YES | YES | YES | YES | YES | X |
| 59-Qt Dual Zone (Bluetooth) | YES | YES | YES | YES | YES | X |
| 21-Qt Car Fridge | X | X | X | X | YES | YES |
| 26-Qt Car Fridge | X | X | X | X | YES | YES |
| 30-Qt Car Fridge | X | X | X | X | YES | YES |
BougeRV Portable Refrigerator Performance – What We Like and Don't Like About Our BougeRV Portable Freezer
Overall we are very pleased to have made the decision to add the 30-quart BougeRV portable freezer to our RV. Things we really like:
Compact – This portable freezer fits exactly where we wanted it to and does not take up more space than we hoped it would.
Highly Efficient – Although its power draw is a concern (see below), the portable fridge freezer is highly efficient compared to our gas-absorption RV fridge. It requires less than 25% of the DC power of the RV fridge and keeps
Great Temperature Consistency – While our RV fridge fluctuates quite a bit, our BougeRV portable fridge does not vary in temperature more than a few degrees. While this does cause the compressor to cycle more frequently (see below), it means that we can always expect our cold food to remain well below ambient temperatures.
Concerns that we have to include:
High Power Draw – When using the fridge as a portable freezer, we've seen more than 45W-60W being drawn at any given time. At times, we have noticed between 5-6 amps per hour (60W-75W) so we wonder how long this will keep up before the compressor dies.
Constant Cycling of the Compressor – Also, a side effect of using the unit as a portable freezer is the fact that the compressor cycles on more frequently to keep the inside temperature as low as we want it.
Noise – Although the portable freezer is rated at 45 decibels, we can definitely tell when the compressor is cycling on and off. It is not enough to keep us awake at night or to wake us up in the middle of the night. But as we are wary of any kind of new sound in our RV, it took us some time to recognize the compressor kicking on and off.
Internal Storage Size – Although we chose the smallest model to fit our RV, looking back we may have opted for a larger dual-zone model with more bells and whistles. We do have the additional capacity to store food by using the fridge freezer in freezer mode. But the size of the compressor and fridge itself is quite large compared to how much storage capacity we have and it might have been worth getting a larger dual-zone fridge instead.
The Takeaway
Comparable portable 12-volt refrigerators by companies like ARB and Dometic will cost at lest 2-3 times as much as those offered by BougeRV. We are value shoppers impressed more by function than brand name and spend a lot of time shopping for the best value products to meet our wants and needs.
This 30-quart portable freezer by BougeRV meets, if not entirely exceeds, our expectations for what we wanted in an electric cooler. It has great energy efficiency and an easy-to-use digital control panel with a good compressor that keeps our food frozen at safe temperatures.
Over the course of time, we may upgrade to a larger dual-zone model where we can use our mobile devices to set temperature and other features remotely. However, for now, the 30-quart model does everything we ask it to do and we think you'd be pleased with the value that any BougeRV 12-volt portable fridge freezer offers.
About Author