Last Updated on December 11, 2020 by Chris and Lindsay
RV kitchen accessories you will want, need and might consider as a luxury as you prepare to live out of your RV!
Kitchen accessories for your RV are not much different from those you might have in your home.
Except, of course, that your space is much more limited in an RV.
So every item you keep in your kitchen must have one, if not more, purposes.
You also have to use each item on a regular basis to justify the space and expense of the item.
Note that we are participants in the Amazon Services LLC Associates Program, an affiliate advertising program designed to provide a means for sites to earn advertising fees by advertising and linking to Amazon.com. Links on this page may be affiliate links. But we only recommend our favorite products!
In nearly two years of full-time living in our truck camper, we have come to find nearly the perfect place for every essential RV kitchen accessory.
We'd like to make sure that you are equipped with ideas, items and inspiration for how to transform your RV kitchen into what it needs to be.
Whether you plan to full-time RV or only want to head out on the weekends, these are our recommendations for the best kitchen accessories.
What Kitchen Accessories Do I Need?
It is said that necessity is the mother of all invention. So consider the need to be as comfortable and equipped as possible in your RV kitchen.
Before we go any further, let's do a quick experiment.
Grab a piece of paper and pen and get ready to make a list off the top of your head.
Take a moment to ask yourself what kind of meals you like to prepare in your brick and mortar home…
Did you list all of your favorites?
What about the items you routinely prepare?
What about those meals that cater to special diets, allergies or other medical concerns?
Now make a quick list of kitchen accessories required to make the above meals.
Are you listing things like pots and pans, measuring cups and spoons? What about stove burners, toasters, microwave ovens, mixers and coffee makers?
By now you should have a pretty long list of items required to make all of the meals that you are accustomed to making in your home.
Now, if you are an overachiever, go step inside your RV kitchen and take a look around.
Do you really have enough room for all of these items?
If the answer is yes, then maybe you don't need to read through our recommended lists and tips for accessorizing your RV kitchen.
But if you just had a moment of panic, don't worry — we'll make sure you get your coffee maker in your RV somehow!
Innovative RV Kitchen Accessories
Now that you know what you are up against, let's start to look at the most innovative RV kitchen accessories that will
The key to putting together the perfect RV kitchen is to remember two things:
Kitchen accessories should be used relatively frequently to justify taking up precious space in your RV kitchen.
Kitchen accessories should serve more than one purpose, if possible, or be able to be creatively applied to different circumstances.
That said, the following items are our most highly recommended RV kitchen accessories due to their innovative nature that achieves those two points.
1) Instapot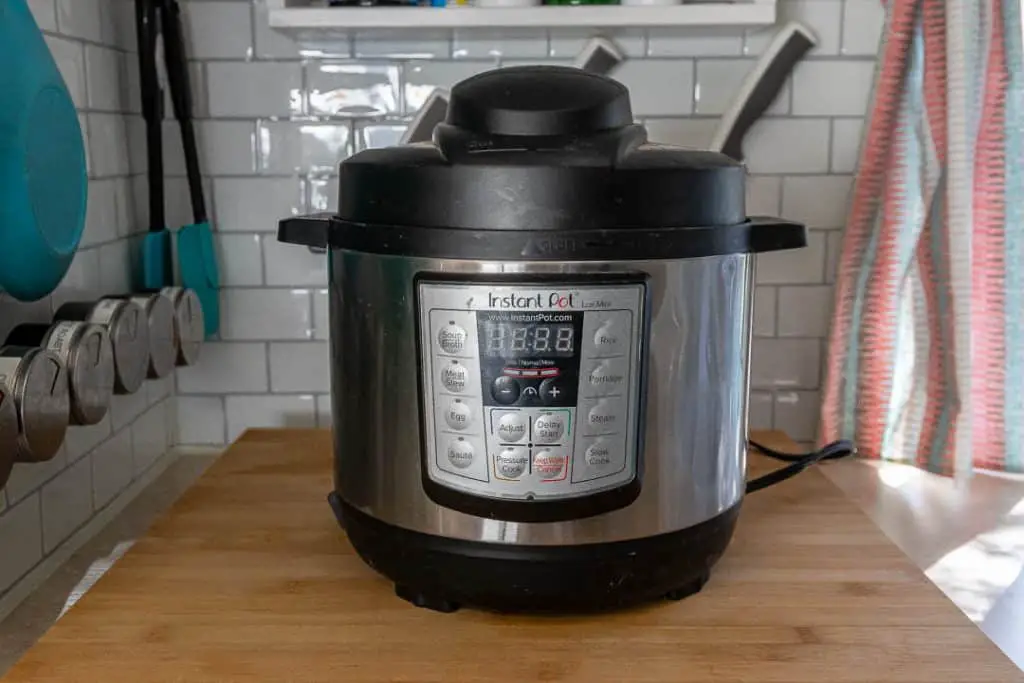 By far the Instapot is our favorite kitchen appliance in our RV! We like the fact that there were several sizes to choose from.
Because of its simplicity to use and clean, and because there are only two of us for most meals, we purchased the 3-quart version.
But you can determine the size you would want based on your needs and, of course, space.
We use our Instapot to cook everything from taco chicken and fish to oatmeal.
The Instapot is great for making meals that combine ingredients that might normally be cooked separately.
Simply add the ingredients, set the timer and then go enjoy the evening while your meal cooks.
The Instapot not only cooks entire meals easily but also accelerates the meal preparation time.
Meals that would normally take two or three dishes the course of an hour or so can be prepared in a fraction of the time in one pot.
Of course, we're not the only people who say great things about the Instapot. It is one of the most highly recommended appliances for any kitchen.
But in your RV you can develop your own recipes or follow some great ones prepared by other travelers.
Note: Due to the energy consumption of the Instapot you will either need to have your RV plugged into "shore power," plug into a 20V outlet outside or alternatively power it using a generator.
Why buy the Instapot: It is small, serves multiple functions and can be used on a daily basis to justify its inclusion in your RV kitchen!
2) Aeropress Coffee Maker
It has been said that the most important part of the day is making the bed.
But if you have lived in an RV for any amount of time, you know that making the bed just isn't that big of a priority.
We know the most important part of the day is coffee!!
As such, we put our Aeropress coffee maker at a tie with our Instapot for the most important and innovative RV kitchen accessory.
The Aeropress works as a combination of a pour-over and a French press.
It is small, super lightweight and made of durable plastic that can both handle the heat and being dropped.
Place a filter and a few scoops of ground coffee at the bottom of the Aeropress and then pour your hot water over the coffee grinds.
If you are in no hurry you can let gravity do its thing and the water will eventually filter through the grinds and drip into your cup below.
But if you would like to accelerate the process you can use the plunger to apply pressure to the water and force it to filter through the grinds.
We can usually get two tall cups of coffee out of one batch.
But some mornings we need to make two batches.
This is not an issue, however, because the Aeropress is simple to clean.
Simply pour out the filter and grinds and use a damp paper towel to wipe out the Aeropress parts.
Why buy the Aeropress Coffee Maker: There are many reasons to purchase the Aeropress, but among the most important are its small size, durable build and ease of cleaning.
3) Electric Griddle
An electric griddle is in the grey area when it comes to being an innovative necessity or a luxury.
We consider it a must-have RV kitchen accessory because it is relatively small, is used on a relatively frequent basis (usually once per week) and can be used to prepare a variety of meals.
Of course, the griddle is great for preparing breakfast.
Once you know what you are doing you can cook your eggs, bacon, sausage and hash browns all on the same griddle at the same time.
But the griddle is also great for toasting bread/buns, grilling patty melts or hamburgers or sautéing vegetables and fried rice.
In addition to its other benefits, it is also relatively easy to clean with a few paper towels.
Note: Due to the energy consumption of the electric griddle you will either need to have your RV plugged into "shore power," plug into a 20V outlet outside or alternatively power it using a generator.
Why buy the electric griddle: It is relatively small, can be used to cook a wide range of meals and is easy to clean and maintain.
4) Water Kettle(s) (Electric, Gas)
Water kettles are pretty much mandatory if you plan to drink coffee or tea or want to jump-start a meal by using instant oatmeal, potatoes or other items.
Unless you plan on camping exclusively in RV parks or using your generators on a regular basis, you will want to have 2 different water kettles.
An electric water kettle will come in handy when you have access to a 120V power source. Although they consume a lot of power, they also heat water quickly. Most electric kettles are too powerful for most RV inverters, which creates a limiting factor when 120V power is not accessible.
A stovetop water kettle is a great complementary RV kitchen accessory to the electric water kettle. When 120V power is not accessible, these heat nearly as efficiently on your stovetop. So when you are dry camping or boondocking you can still count on hot water for your coffee maker.
We recommend collapsible water kettles whenever possible.
You can buy both a collapsible electric kettle (which we have) and collapsible stovetop kettle (which we don't have) to save even more space.
Why buy the electric and stovetop water kettles: Both types of kettles heat water quickly and efficiently, depending on the energy source. Collapsible kettles take up less space and can be counted on being used on a daily basis.
5) Magnetic Knife Rack
A magnetic knife rack is a great, simple upgrade to your RV that will allow you to accessorize your kitchen in a variety of ways.
We had one rack when we first began living full time in our RV. However, we quickly realized that having a second one would be a great addition to our kitchen.
Because they are magnetic, they serve multiple purposes.
Not only can you hang your knives for quick and safe storage, but also you can store virtually anything with a metal surface.
We keep multi-tools, magnetic spice containers and various metal kitchen utensils.
Why buy the magnetic knife rack: Among many great features, you'll want to add a magnetic knife rack or two to your RV kitchen to save storage space elsewhere and keep your favorite metallic tools accessible. They are affordable take up little space and actually create a visually appealing kitchen space.
6) Magnetic Spice Containers
If you take our advice on adding a magnetic knife rack or two to your RV kitchen then you're going to appreciate having a collection of magnetic spice containers.
Unless you are a college student content with the flavor seasoning packets for your ramen noodles you are going to want to keep spices on hand as you cook.
While these magnetic spice containers are relatively small, they take up little space in our kitchen, are easily accessible and prevent spills from falling or broken containers.
We have around a dozen magnetic spice containers ensuring that we are using any number of them virtually every day.
Why buy the magnetic spice containers: The magnetic nature of these containers allows them to be stored on any metal surface (such as on oven or refrigerator) and makes them virtually indestructible when combined with the magnetic knife rack. They are small, easily accessible and used on a very frequent basis.
7) Collapsible Strainer
We consider anything collapsible an innovative solution to your RV kitchen needs.
A collapsible strainer is among those items that help you achieve your cooking while taking up little space. 
They also come in handy for multiple purposes, thus making them a great addition to your RV kitchen.
In addition to the typical use for straining pasta and other foods, you can also wash fresh fruits and vegetables or any other items you might want to strain.
Why buy the collapsible strainer: It takes up less room than a traditional strainer, will be used quite regularly as pasta meals will tend to be an RV staple and can be used for multiple purposes in your RV kitchen.
8) Collapsible Bowls
Collapsible bowls join our other collapsible favorites for the obvious reasons: they take up less space and can be used for many purposes.
We use our collapsible bowls for almost any meal that requires a bowl – from cereal or oatmeal in the morning to soup or pasta in the evening.
You can also use them for any other purposes that would require a bowl – from giving drinking water to your pet to holding freshly prepared ingredients while you're preparing your meals.
Why buy the collapsible bowls: Collapsible anything empowers you to save space, have multiple uses and are typically easy to clean. Plus you will use a collapsible bowl on almost a daily basis.
9) Collapsible/Foldable Dish Rack
Ok, so we can't say it enough. You are doing yourself a favor anytime you can add a durable collapsible accessory to your RV kitchen collection.
While dish racks are not necessary, they certainly are convenient.
Having a collapsible dish rack will allow you to air dry your clean dishes overnight and then fold it up and put it out of the way during the day.
Why buy the collapsible/foldable dish rack: Unless you spend time hand drying your clean dishes, a collapsible dish rack will come in handy to serve its purpose and will take up minimal space in your RV kitchen.
10) Reusable Plastic Ice cubes
If you spend any amount of time in your RV longer than a weekend getaway you are likely going to want ice from time to time.
If you're just heading out for a long weekend you can likely get away with throwing a bag of ice or two into a cooler.
But for those other times, having ice becomes a bit of a luxury.
We like to keep a handful of reusable plastic ice cubes in our freezer for the times when it is nice to have ice.
Sure they don't melt in your nightcap to create a tasty adult beverage.
But they will cool any drink on a hot day.
They also don't take up much space in the freezer and are easy to clean and reuse.
Why buy the reusable ice cubes: Sometimes it's nice to have ice without the bulk and expense of buying a bag. These are small, easy to clean and serve their primary purpose of cooling your drink with little difficulty.
11) Pantry Roller Shelf
Storage space is an important part of accessorizing any RV kitchen.
One thing we have found that helps us maximize our storage space is our pantry roller shelf.
While all RV pantries vary in size and location, this one fits most standard spaces and gives you access to the "way back" part of your pantry.
You will lose some space in the process.
But being able to quickly reach items that would otherwise have to be unstacked from piles in the pantry is worth this sacrifice.
Why buy the pantry roller shelf: The pantry roller shelf is an affordable space saver for your RV kitchen. Depending on the space you have and the shelf you purchase you can likely store many of your RV kitchen accessories or pantry items that would otherwise create a mess somewhere else.
12) Magic Bullet Blender
You don't have to be a health freak to enjoy a smoothie from time to time.
The Magic Bullet is an affordable option for blending anything you might normally put in a blender.
So it serves multiple purposes – from blending smoothies and shakes to sauces and coffee beans.
A compact and lightweight blender, the Magic Bullet doesn't take up much space.
Plus this model consumes little energy and thus can be used on a decent inverter when you do not have access to 120V power.
Due to its size, the Magic Bullet is also relatively easy to clean and maintain.
It also stores almost anywhere and its containers can double for drinking cups and bowls if you like.
Why buy the Magic Bullet: This blender provides a lot of power relative to its power consumption, allows you to use it for many purposes and takes up very little space.
RV Kitchen Necessities
While we truly appreciate the innovative nature of the previous RV kitchen accessories, there are some things that you simply need to have in your kitchen.
We won't go into detail for each of these items. Instead, consider this more of a checklist for items you don't want to forget before heading out on the road.
Just know, they are also quite common and you can find some of these in convenience stores and truck stops if you happen to forget them!
We will, however, put a few notes next to items that have special value or purpose to us.
If you are interested in how we use these items, or in the brands or styles that we have, please be sure to send us a note!
RV Kitchen Accessory Checklist
| | |
| --- | --- |
| Pots | We tried to have as few as possible. But we do have a larger pot for pasta and larger meals and a smaller pot for cooking sauces and soups. |
| Pans | Everyone has their favorite "non-stick" pan. We haven't found ours yet. But we have several sized pans that vary between ceramic, Teflon and copper. |
| Cookie Sheet | We've never made cookies, but often toast bread or bake tater tots, fries or a variety of vegetables. |
| Cutting Board | We like our bamboo cutting board because it serves as a stovetop cover and a serving tray! |
| Knives | You know what you like and need. Be sure to add the magnetic knife rack to save space and make them safer and more accessible. |
| Wooden Utensils | We prefer these to metal utensils because they are lightweight and do not scrape our pots and pans. |
| Plates/Bowls/Cups | Melamine plates, bowls and cups are great because they are durable and easy to clean. |
| Silverware | Just grab a handful from your home set and don't think twice about it! |
| Measuring spoons | Depending on your cooking experience, you can likely use a standard spoon to measure. But having a multi-spoon tool is nice. |
| Measuring cup | This is not always necessary but nice to have when it comes to measuring food items that require specific mixtures. It can double as a drinking cup if you want! |
Optional RV Kitchen Accessories
We have the following items in our RV kitchen. But we consider them optional because, while they are innovative and/or a luxury, they certainly do not apply to everyone's kitchen.
1) Cast Iron Skillet
If you grew up eating meals that were cooked on one it is likely you also have one in your home kitchen.
These are clearly heavy and can take up a bit of space. But you know that you can cook almost anything in them and don't need to constantly clean them.
So only you will know whether you absolutely must have one in your RV kitchen accessory collection or not!
2) Collapsible Wash Bin
Remember, collapsible is key. We have a collapsible wash bin that we use to hold bigger collections of dirty dishes, wash clothes and use to carry virtually anything we need.
It stows away nicely and is easily accessible when we need it.
3) Sink Dish Bins
We found the perfect size bins to fit in our sink. We'll collect dirty dishes in one and then fill the other with dish soap and water when washing dishes.
4) Coffee Cups With Lids
If you are a purist in saving space you will find drinking cups that double as coffee cups.
But we drink our fair share of coffee and tea and are almost always on the go with these. So having a decent coffee cup with a lid is a must.
We don't splurge on Yeti anything. But you are welcome too!
Tips For Accessorizing Your RV Kitchen
Everything we have recommended above has resulted from several principles that we have learned from living full time in our RV.
We have purchased each of these items because they solve problems that we have come to face by being constantly on the move.
Here are our 4 most important philosophical tips for you to consider when choosing which RV kitchen accessories to include in your collection:
1) No glass accessories
You will find that anything you own in an RV can and will break if you spend enough time moving around.
That is, of course, unless it was manufactured not to break. For this reason, we do not have a SINGLE glass item in our RV kitchen.
Everything is made from durable plastic or metals that can withstand the constant bumps that come with traveling full time in our RV.
2) Pack only what you need.
This is a loaded statement and deserves it's own RV tips post. But when it comes to your RV kitchen accessories, only pack what you need.
You may have hosted lavish dinner parties at home. But once you are on the road – whether for a weekend or a lifetime – you won't need to be as formal in hosting dinner parties.
First, you won't have the space to entertain quite as you did before.
And second, almost everyone you will want to entertain will likely be in the same camp as you – literally!
There is no shame in telling other RVers that you only have enough silverware for you and your family. We all have our own we can bring over!
So we are two people with 3 sets of everything (because Chris is likely to break or lose one of everything!)
3) Multi-purpose whenever possible.
If an RV kitchen accessory is going to take up space, then it should serve more than one purpose whenever possible.
Can you be creative in how you prepare meals using fewer pots and pans (because you will HAVE to with enough time on the road!)?
Can you turn one kitchen gadget into another kind of gizmo?
The more things you can do with fewer items the better off you will be!
4) Every nook and cranny serves as storage space.
When it comes to your RV kitchen accessories, expect to store them in all sorts of places in your RV.
Two of the more popular places to store kitchen accessories are in the oven and microwave.
(Note: Remember that you are storing things there before turning them on!)
In the past we have stored cutting board beneath our sofa, our Instapot next to our bed and various pots and pans in the outside storage of our flatbed truck camper!
Wrapping Up
In wrapping up, you might find that you may or may not have to make many purchases as you attempt to convert your home kitchen into your RV kitchen.
RV kitchen accessories are just as useful in your home kitchen.
So whether you full-time RV like us, or only head out in your RV from time to time, having a nice collection of the items we described will serve you in both circumstances.
None of the items we recommend cost a fortune.
We live very frugally and find that we can only afford the items that meet our 4 philosophical tips.
If we can build up a nice collection of kitchen accessories in our RV and find the space to store them then so can you!
Do you have any favorite RV kitchen accessories that we didn't mention? Please be sure to let us know what they are and how you use them!