Learn some simple, affordable RV upgrades that will turn your camper into your home!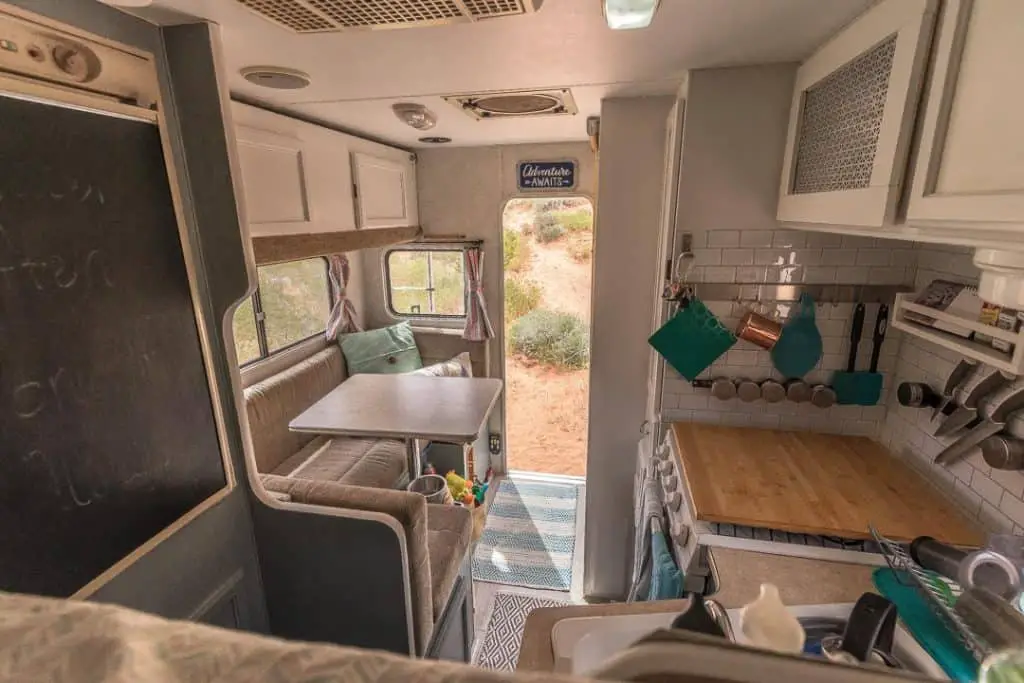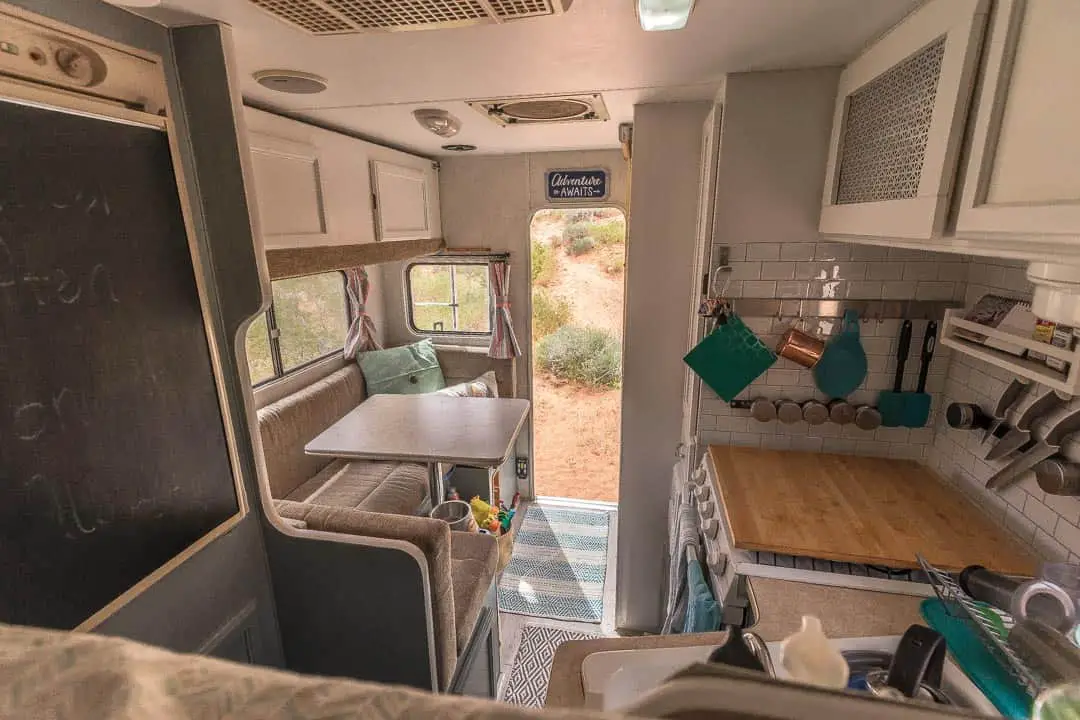 Unless you buy a brand new out-of-the-factory, custom-built RV it is likely you will want to make some RV modifications and upgrades to your camper.
When we purchased our 15 year old truck camper we were not exactly sure what we had purchased. We were ambitious in our desire to drive from Alaska to Argentina.
But we had never been camping before – never mind owning an RV!
However, in our first year on the road, we learned many things that taught us how to RV.
Among those things, we realized that as we were full-time RVing our camper truly was our home.
We knew that. But we settled on some aspects of our camper that made it feel more like a moving hotel room than a home.
There were many parts of our camper that were still factory-issued. Simple things – bland vinyl wallpaper, a screechy stovetop, awkwardly shaped storage compartments.
Everything in the camper was certainly habitable. But it didn't feel like home.
So at the end of our first year, we made the following upgrades and modifications to our camper and want to share how simple and affordable they are for you to do as well!
Links on this page may be affiliate links, meaning we will receive a small commission for referring you. We only recommend our favorite products!
RV Upgrades For The Kitchen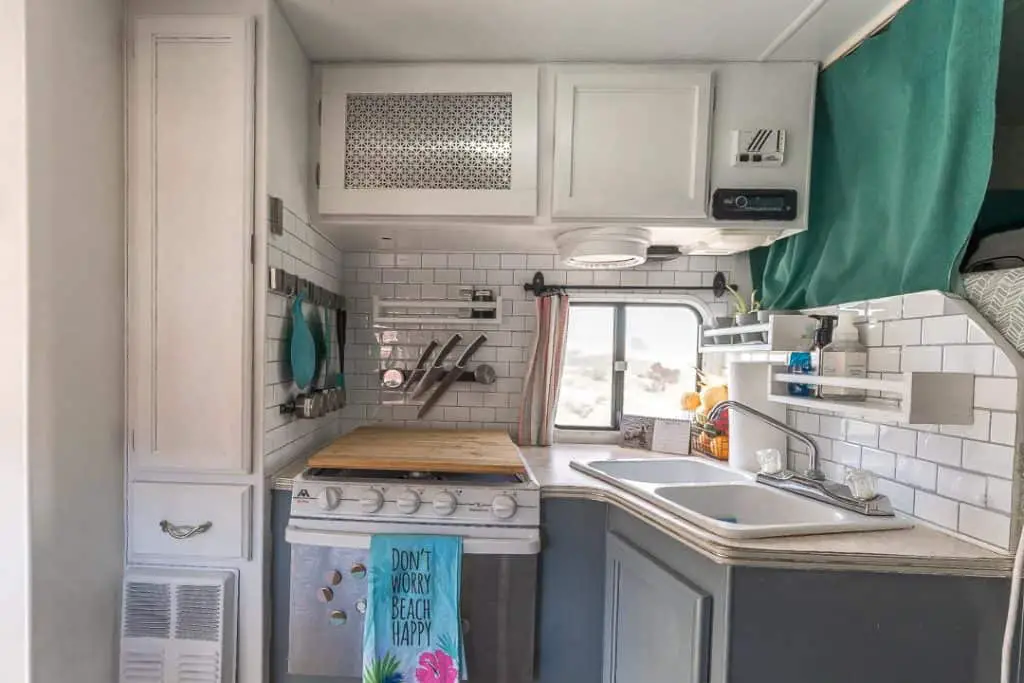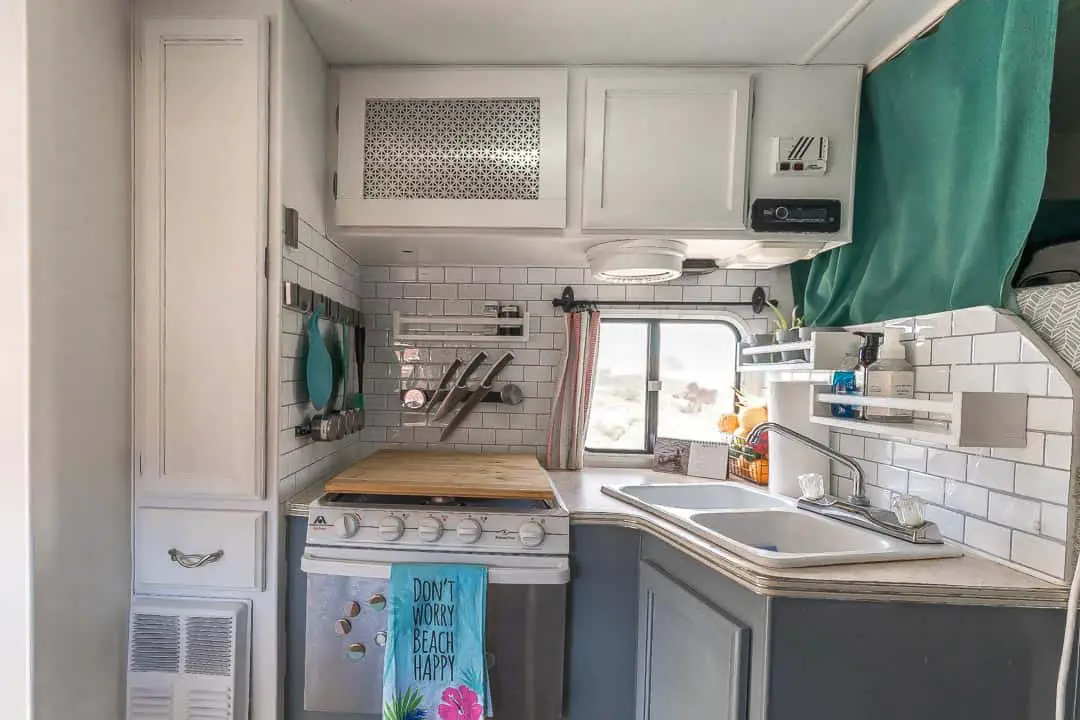 When you live in your camper full-time you realize how small your living space actually is.
Whether you have a Class A motorhome or a van it seems like you never have enough space. Everything becomes cluttered quite easily.
For us the kitchen was the focal point and most-used space in our camper. By upgrading our kitchen first we knew we'd immediately get that sense of home that we were seeking.
With that sense of home also came a functionality that optimized the space we had. We could do more with the same amount of space.
Here are our RV upgrades for the kitchen that helped us achieve that look and feel of home.
Kitchen Backsplash (Tic-Tac Tiles)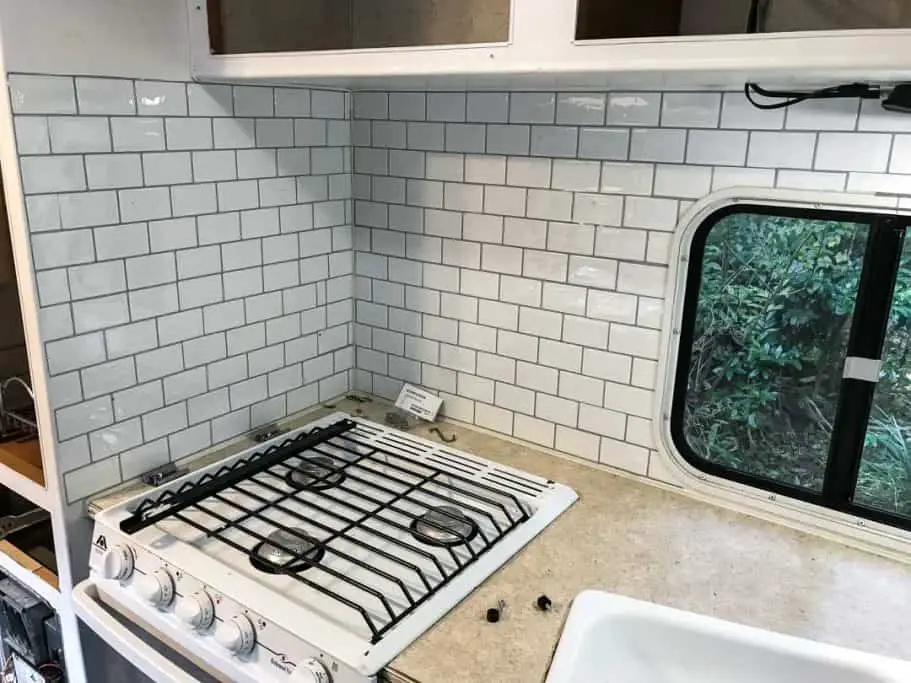 RVs are notorious for standard vinyl interior walls. Most are neutral colors and, because most people purchase RVs for limited use throughout the year, the quality and color of the walls is bland at best.
By adding a backsplash throughout the kitchen wall space we are immediately able to liven up the room.
The Tic Tac Tiles are a common, affordable and easy way to add a backsplash to your RV kitchen.
The tiles come in a variety of patterns. Most are standardized to 12" x 12" squares which you can then cut to fit as necessary.
If you are modifying your kitchen you might want to make this the first thing you do.
That way if/when you mount things to the wall you will not have to cut around those items.
Cutting Board Stove Top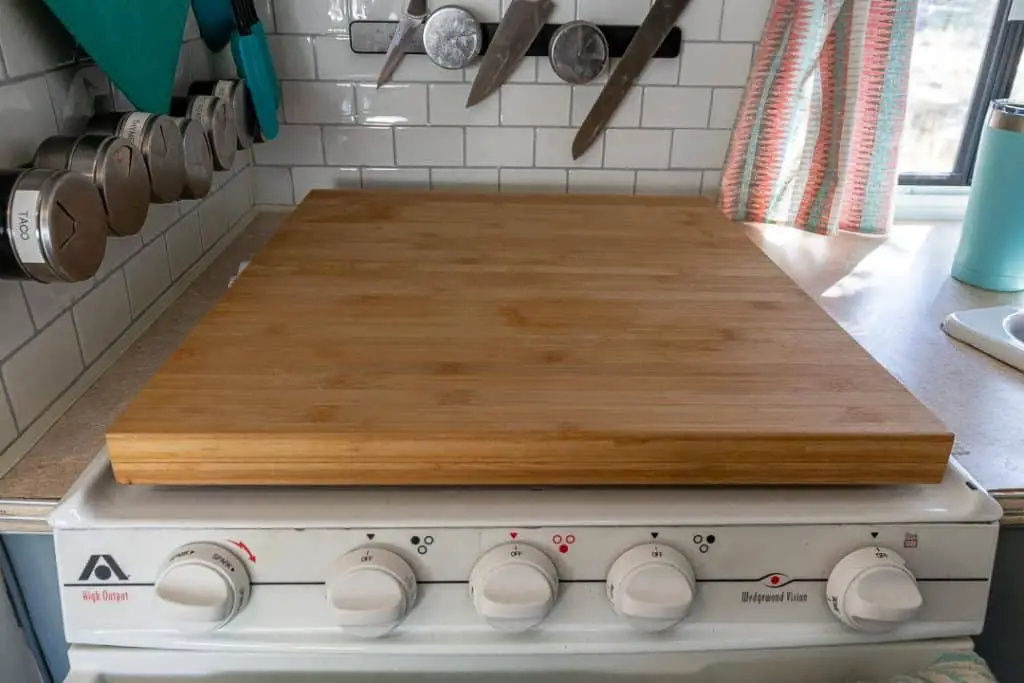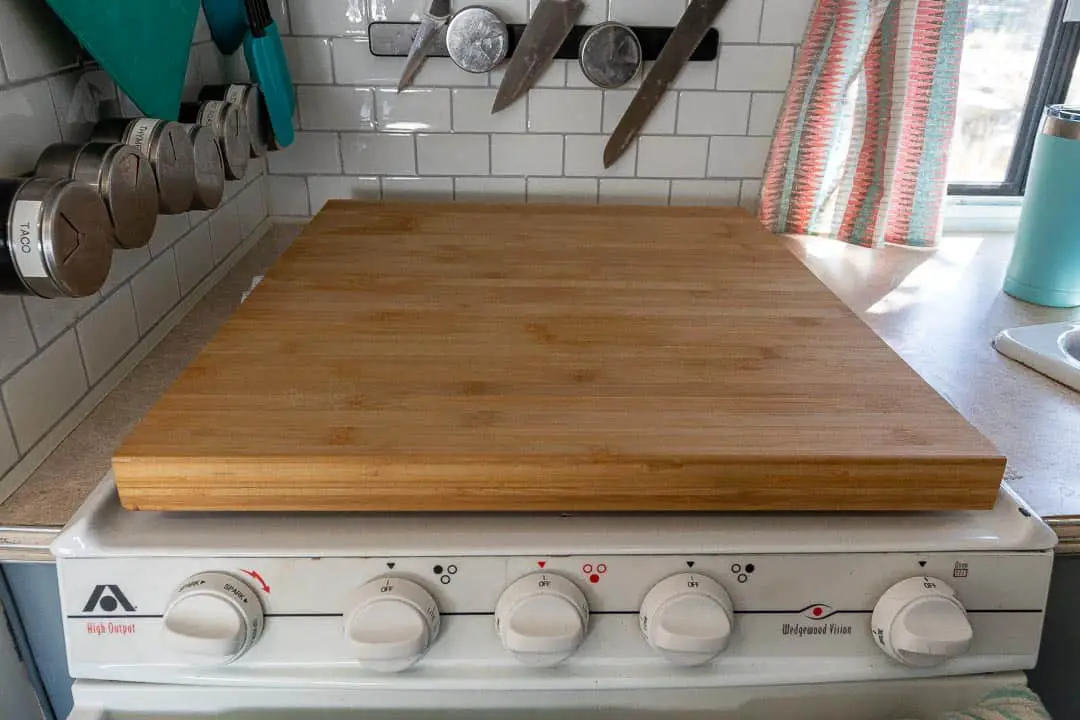 One of the biggest space wasters in our RV kitchen was our factory-issued stovetop.
Not only did it sit 3 inches above the stove, but it also was difficult for us to fold out of the way when we were cooking on the stovetop.
Removing the stovetop cover was one of the first things we did when we decided to upgrade our RV kitchen.
We also removed the vent/fan above the stove because it too took up too much space. In fact, our fan did not work.
And like many things you figure out when living full time in your RV, we learned we could open a few windows and turn on our Fantastic Vent to achieve the same result.
While we gained around 6 inches from above the stove and another 3 from the stovetop itself it felt like we tore down a wall in the kitchen!
We had so much more space in the kitchen which we could strategically fill with the items below that made our kitchen feel like home.
Ikea is known for creating incredibly affordable furniture solutions for small spaces and we were fortunate enough to have an Ikea nearby in which to shop.
We solved three needs by purchasing an Ikea bamboo cutting board:
First, we had a great cutting board on which to prepare meals.
Second, the cutting board worked as a great serving tray for when we wanted to move the meal outside.
Lastly, the cutting board still covered the stove when the stove was not in use (in other words, it gave us another surface on which to stack stuff!).
Note: A bamboo cutting board will not want to remain in place on the metal stovetop when you are moving. (Yes, we learned this the hard way!).
So you will want to put shelf __ on top of the stove prior to setting the cutting board over it.
Also note, you will want to wait until the stove is cool before doing this!
Simple Shelving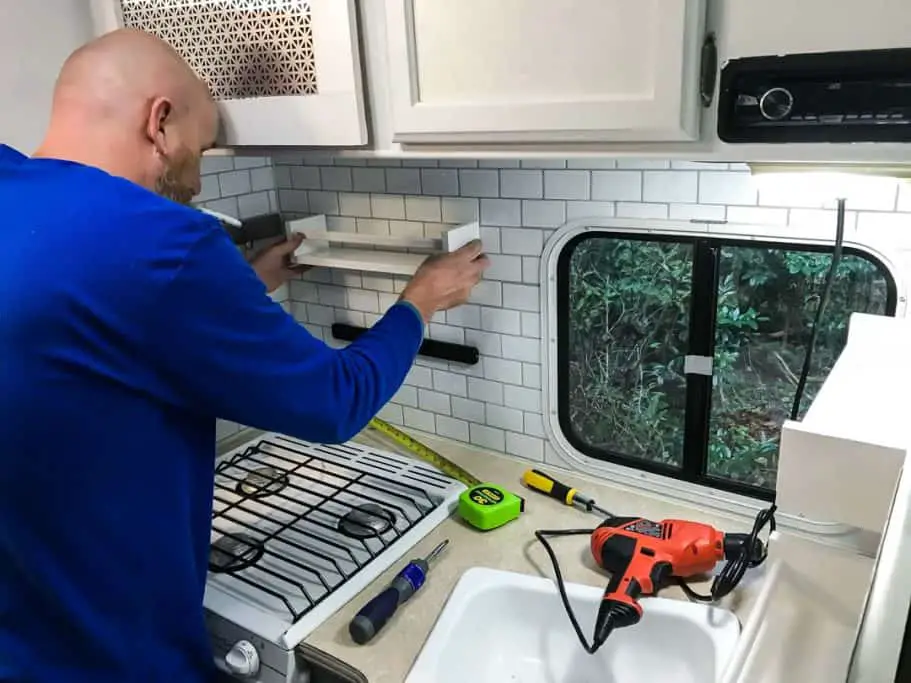 RV storage space is valuable. One of the best ways to create more storage is to utilize wall space.
After we finished the Tic Tac Tile backsplash in the kitchen we assembled several basic Ikea shelves.
The Ikea shelving we purchased took 5 minutes to assemble. Before mounting them, we painted them white to create a warm, open sense in the kitchen.
If you don't have an Ikea nearby, you can pick up simple shelving in most home repair stores. We opted for several small storage shelves. But if you can't find one you like, try this one from Ikea.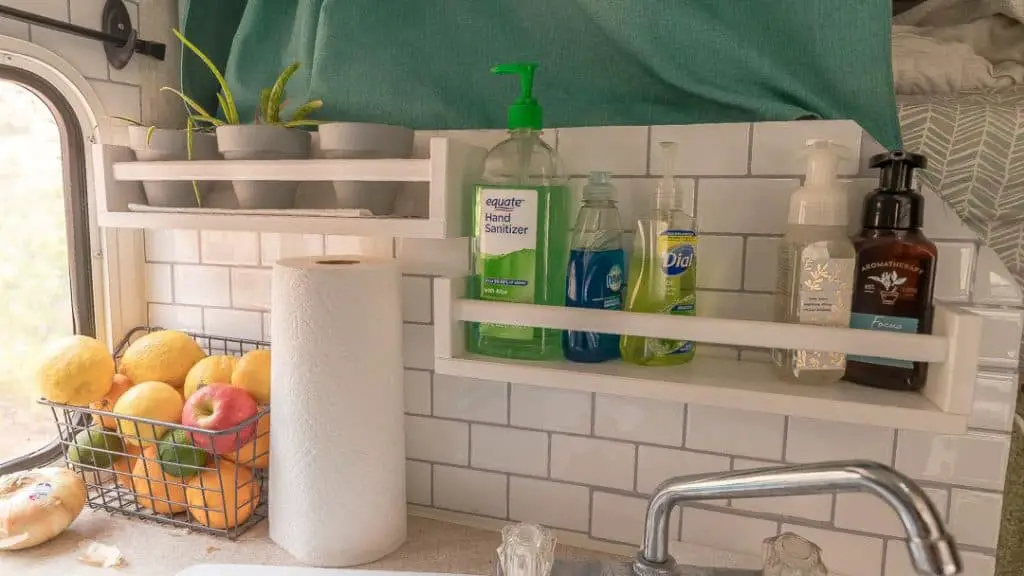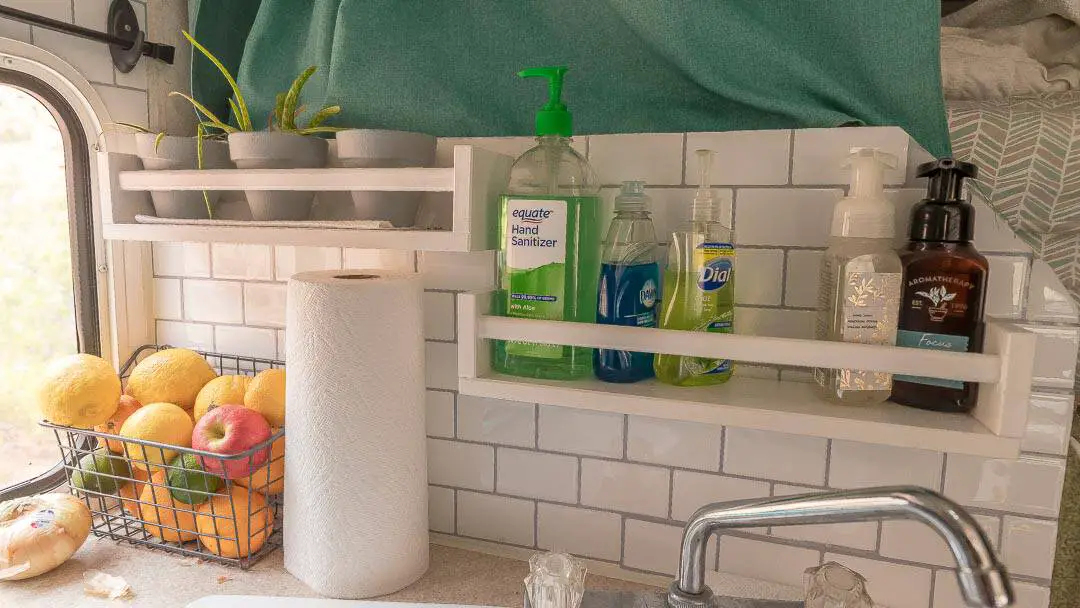 Note: Because we all know that everything in a camper moves it was important for us to have shelving that enclosed the front so that we could keep things in their place when we were on the move!
Magnetic Bar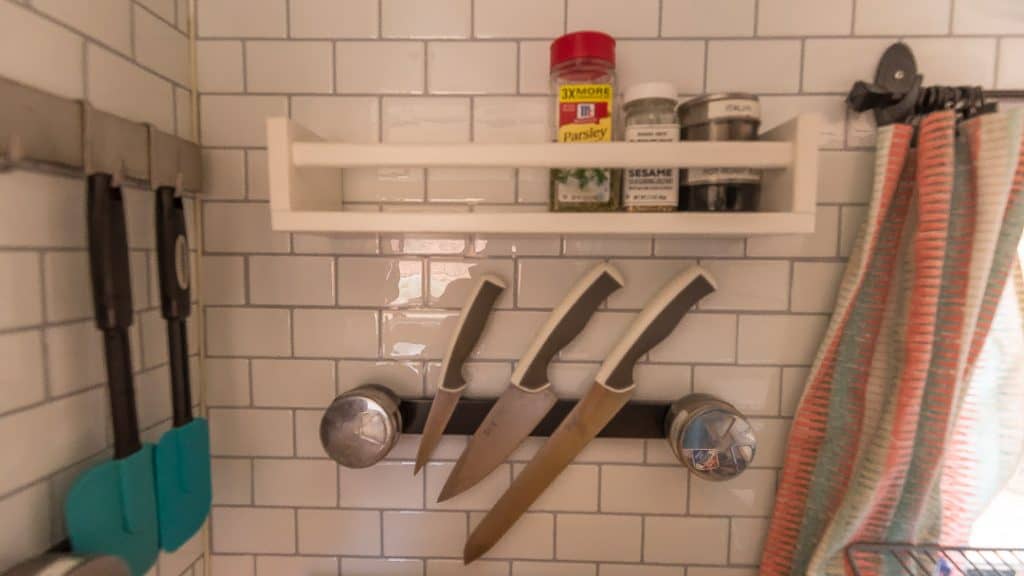 RV upgrades for the kitchen don't get much simpler than this! You can optimize wall space again by adding one or two magnetic bars on which to mount metal objects.
We have two stainless steel magnetic bars in our kitchen. One is for our knives and other cutlery. The other is for our magnetic spice containers.
By mounting our knives on the wall we save drawer space. Plus it is quick and easy to grab a knife from the wall when needed.
Spice Magnets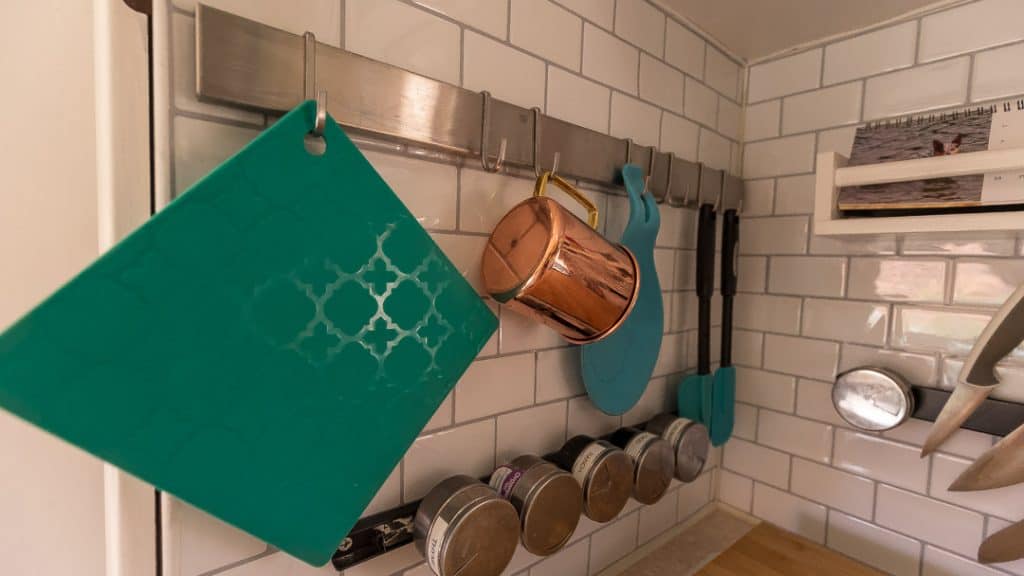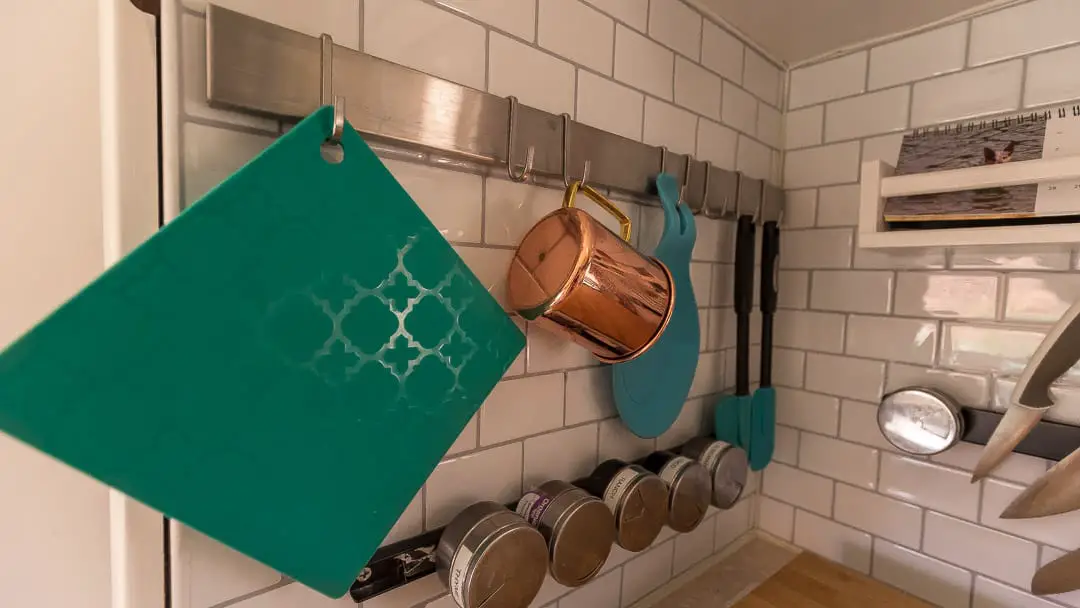 Although we live in a small space, cooking meals continues to be a very important thing for us – particularly when it comes to our budget!
We cook 5-6 days per week. So having a great selection of spices on hand is important.
However storing those spices, among the many other things to try and store in an RV, can be a challenge.
We purchased these stainless steel magnetic spice containers certain they would make cooking convenient and not take up cabinet storage space.
The spice containers mount easily on our two magnetic racks. If you have other metallic surfaces, such as a refrigerator, you might also mount yours there.
While the containers are convenient, they are not necessarily large enough to hold an entire container of spice.
And since we like to mix our own spices (taco seasoning is our favorite!), we still have lots of containers of spices floating around.
However because we do not need to access these containers often, we simply store them in our long term storage on our flatbed and grab them when we need to refill the magnetic spice containers.
Wall-Mounted Hanging Utensil Rack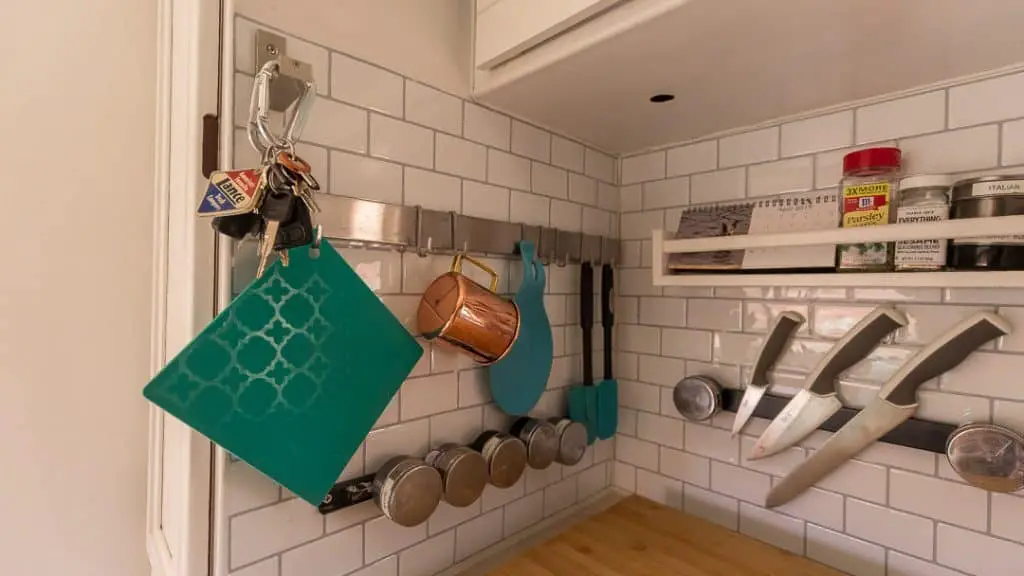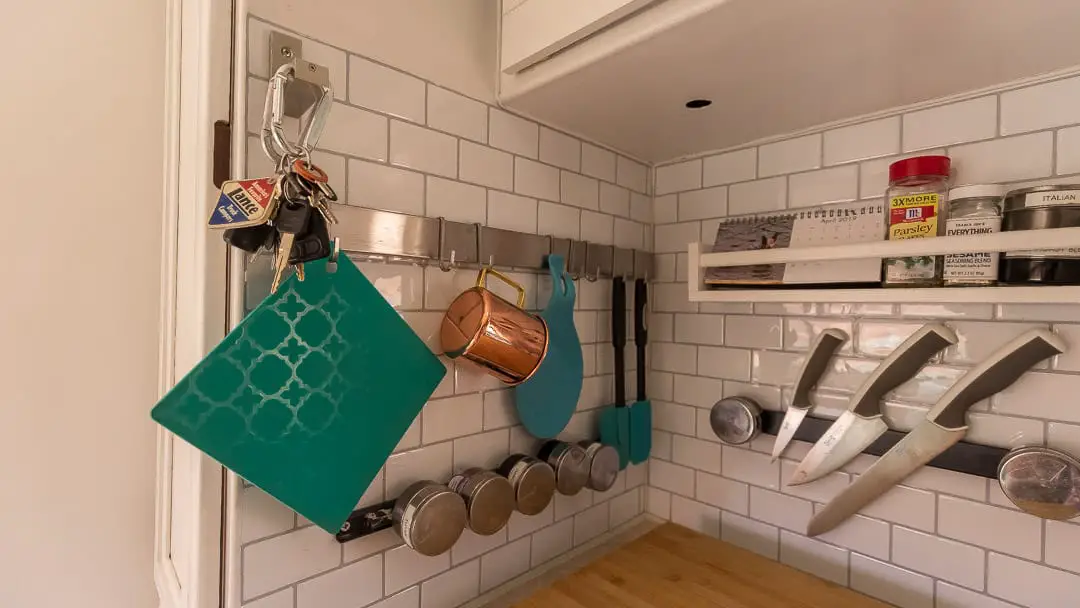 Another great idea for maximizing RV kitchen space is a wall-mounted utensil rack.
Not only does it save more drawer space. But it also makes cooking more convenient.
This is not a new idea for most modern kitchens. But finding a functional utensil rack for your RV will take some thought.
After nearly a year with one we took from our old kitchen, we realized we needed to make an upgrade.
Our former utensil rack was a simple bar that bent at the corners and left approximately two inches of space off the wall.
We thought this would be great as we could hang pretty much any kind of hook to it.
We also thought we'd be able to latch things like carabiners to create additional latching opportunities.
However, we quickly found that as we drive (particularly dirt or Alaskan roads) everything shifts around.
Nearly every time we stopped we found half of our utensils and their corresponding hooks on the floor of our camper.
Additionally, the longer we went like this the more we found the rack itself was bouncing up and down and eventually working the screws right out of their mount in the plywood.
At this point, we discovered a flush-mounted utensil rack that took all (most) of the shaking and sliding out of the way.
By restricting the movement of the utensils hanging from the wall we minimize both the amount of time we spend picking them up off the floor and the gradual damage to our kitchen wall.
Whether hanging kitchen utensils, keys, headlamps or anything else you might want to access relatively easily, these utensil racks are an RV kitchen modification!
Foldout Hooks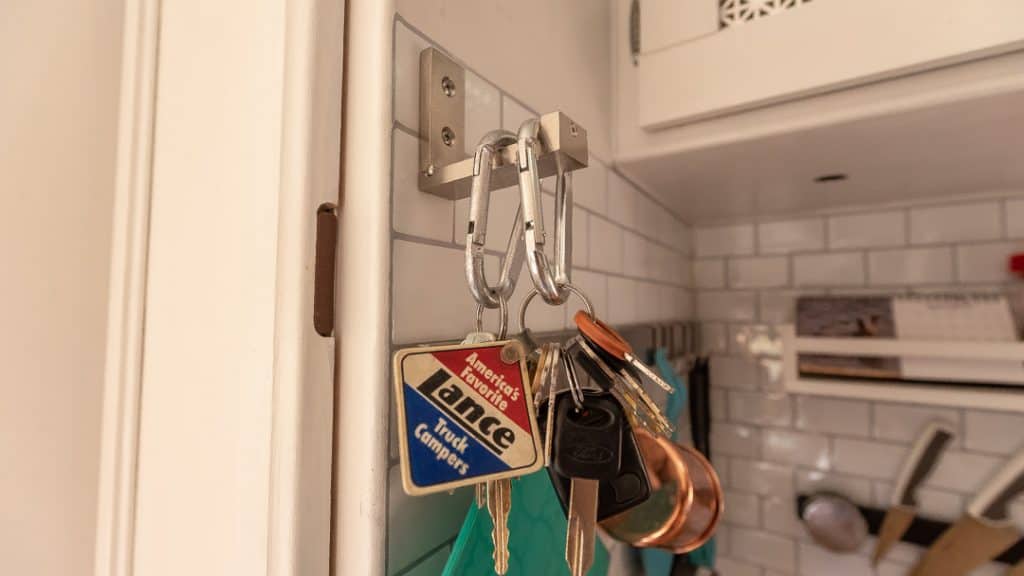 One of our favorite and simplest RV upgrades for our kitchen is the addition of folding hooks.
Again we wanted to optimize on the wall space in our kitchen.
So adding these hooks created an opportunity to add utility and functionality to a space that would otherwise be void.
Ikea provided us the best option yet again.
The hooks fold-out just over 3 inches off the wall. This is minimal and keeps them from reaching too far out into the kitchen!
Plus it is just enough room for us to be able to hang a few sets of keys and headlamps.
We also keep a foldout hook by our door to be able to hang hats and a small flashlight for quick access.
RV Upgrades For The Bathroom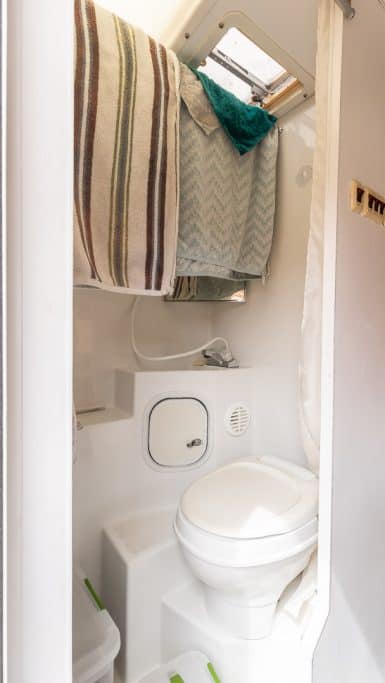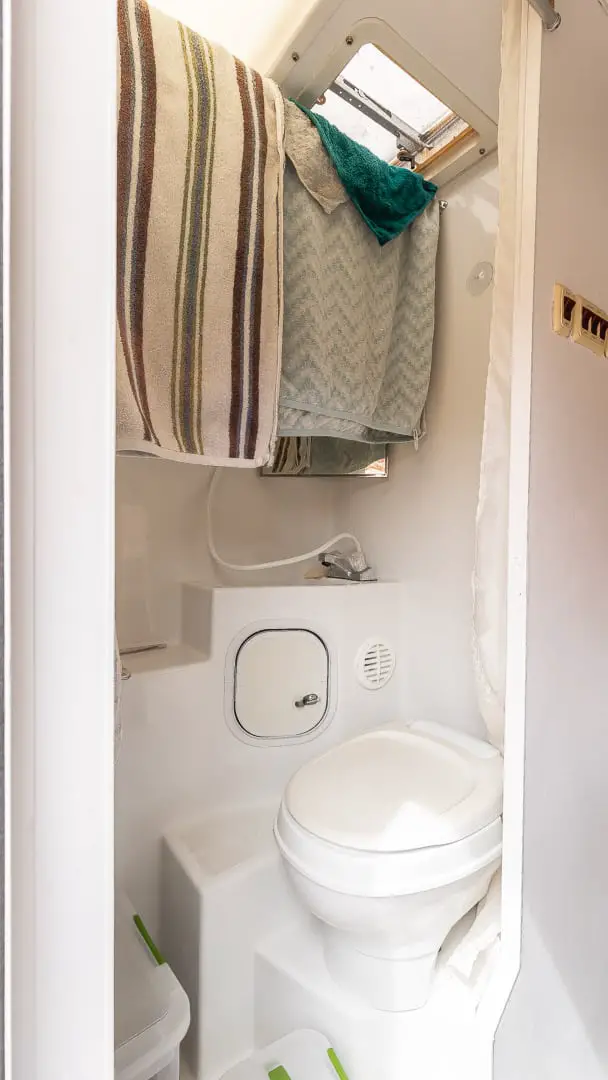 RV bathrooms are pretty straightforward. As such, there is little room for improvement.
Actually, there is little room at all! (That's an RV joke, in case you've never found yourself crammed inside a tiny camper bathroom!)
But we found that several small upgrades in our bathroom have made all of the difference both in the functionality of the space as well as in making our camper feel more like home.
Shower Head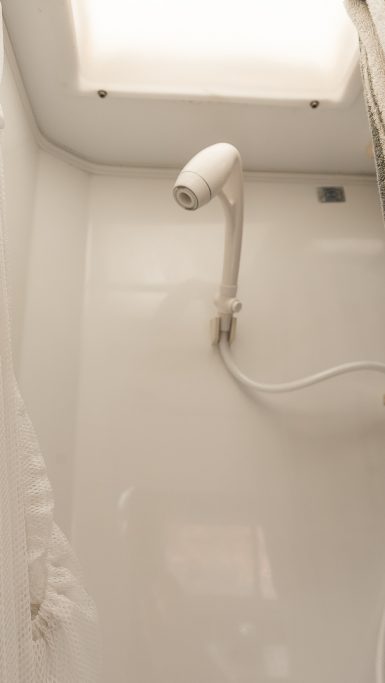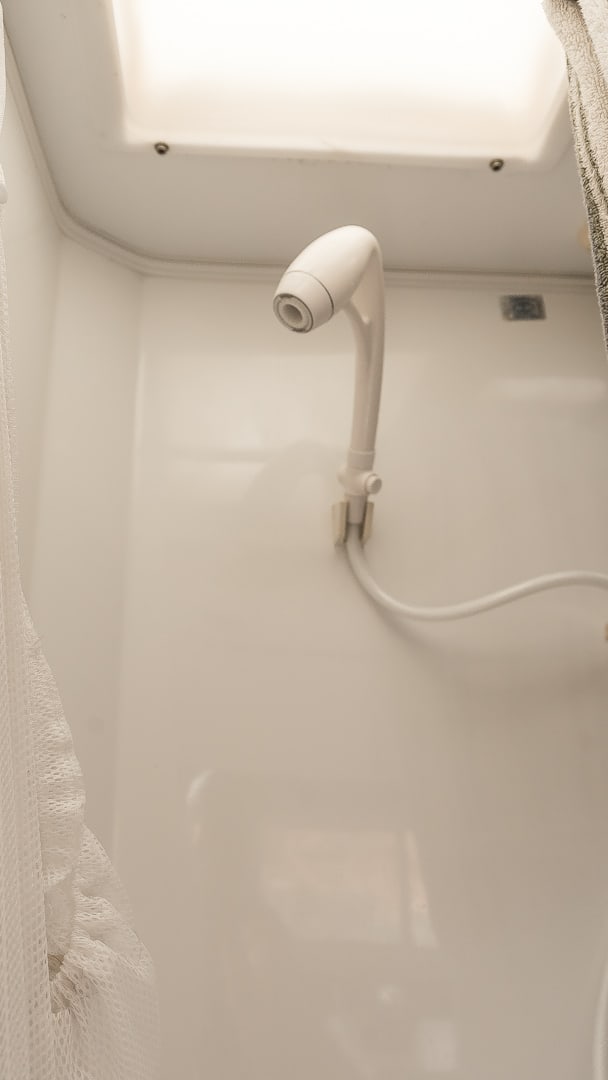 Water is a precious commodity. In fact in our camper, where we have 300 watts of solar power and 4500 watts in generators, freshwater is our limiting factor.
As such we wanted to be sure that we did not waste any freshwater.
The standard showerhead in our Lance 845 camper was not very efficient.
You had to turn either/or/both the cold and hot water knobs on the sink and then use the water as it came out of the showerhead.
Since military showers are a must (rinse, lather, wash, repeat), being able to quickly turn the water on and off was important to conserving water.
Our factory-installed camper wasted a lot of water because you had to turn the knobs each time you wanted the water on or off.
Our new Oxygenics showerhead has a simple button that you click to turn the flow of water on or off.
So whether you want to military shower or take your time, the showerhead is quick and easy to use and will save your most precious commodity!
Hanging Towel Bar/Rod
Some campers will include a hanging rod by factory standards. Many won't.
If you're looking for a simple way to add options to your camper storage conundrum then this is a simple way to maximize a space that typically receives little use.
We like our rod in our bathroom because it allows us to use the space to store things we need out of the way, yet accessible.
And because we don't crowd the bathroom space we are still able to use it for what it was intended!
By hanging a few coats, our dirty laundry bag and a shoe rack we are able to push these things out of the way when we need to use the toilet.
And when it comes time to shower we can grab the items and move them with relative ease.
It seems like too simple of a concept. But it works great for increasing our storage while not infringing on our daily lives.
Roller Blind Door
Our factory-installed camper bathroom was a traditional hinged door.
This meant that every time one of us wanted to use the restroom or shower we would either have to cram ourselves into the tiny space or we would leave the door open to some degree.
An open door meant that there was even less space for the other one of us when the bathroom was in use.
Additionally, the weight and size of the door was more cumbersome than helpful.
So we removed our bathroom door and replaced it with a lightweight cordless roller blind.
The blind takes up a small fraction of the space of the door and it functions in exactly the same way. When we would like privacy or want to quarantine off the bathroom (in the event of having guests) we simply roll the blind down.
Most of the time the blind is up, however, which opens up our living space to have more of that "feels like home" feel to it.
The Bottom Line About RV Upgrades
Not all RVs are created equal. And regardless of how much you shop around or custom build a new RV, there are always going to be things that you want to change.
If you are like us, living out of your RV full time, then the longer you spend in your RV the more you see how simple, subtle changes can have a big impact on your quality of life.
RV kitchen upgrades are affordable and relatively easy to do. Adding color, space and organization to your RV kitchen can give it the kind of "feels like home" feeling that makes your camper more relaxing.
Bathroom upgrades, though fewer, can also add a level of functionality and appearance that also brings out that home-away-from-home feeling.
Whether you live full time in your RV or only take it out in limited occasions, there are always simple things that you can do to make your RV feel more like home!
Have an RV kitchen or bathroom upgrade we didn't mention? Let us know so we can give it a try!