Last Updated on July 22, 2022 by Chris and Lindsay
If you are interested in exploring some less-visited slot canyons in Utah, then plan to hike Zebra Slot Canyon in Escalante, Utah. 
Many people visit Utah to enjoy one or all of its 5 US National Parks. However, not everyone is interested in the adventure of hiking to and wandering through extremely narrow slot canyon walls. 
Slot canyons are, by definition, narrow. Further, the story of Aron Ralston portrayed in the book/movie "127 Hours" cast a dark shadow over the joy and adventure of slot canyons. 
Whether you are interested in hiking and/or photography, visiting Zebra Slot Canyon offers the best of both.
We really enjoyed our time and think you will too for the following reasons:
Less crowded than other places nearby (like Antelope Canyon and the National Parks)
Dog-friendly (but bring plenty of water for your pup!)
Relatively easy hike (but have GPS/hiking apps with you)
Fun, safe exploration of the canyon (but always hike with a buddy)
Hiking Zebra Slot Canyon

: What You Need to Know

Zebra Slot Canyon is one of many slot canyons in Utah carved out by wind and water over time. As a slot canyon, there are points where it is narrower than your outstretched arms.

This makes exploring the canyon quite a fun adventure.

The canyon itself is only around 300 feet long and is mostly only wide enough for one or two people at a time.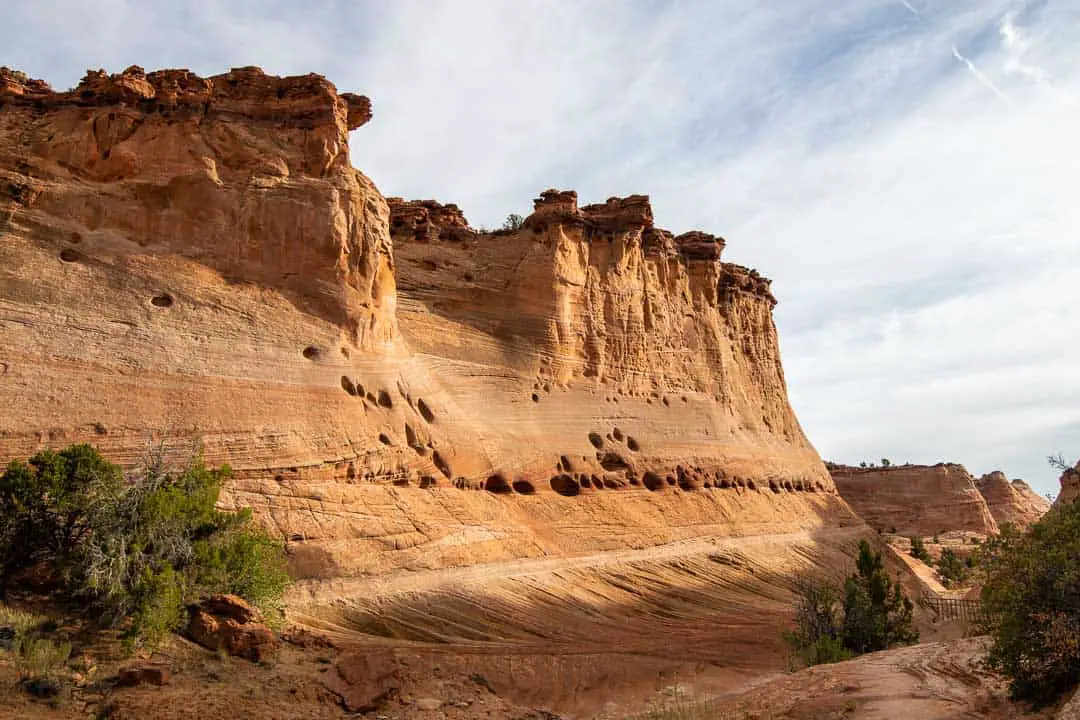 Other notable features about the trail:
Terrain: Mostly sand and dirt (can be hot or muddy at times)
Type of Trail: Out and Back (approximately 2.6 miles each way)
Difficulty: Easy to Moderate
What to Bring: Water, sunscreen, water shoes, camera.
Getting To Zebra Slot Canyon: 
Like many great hiking/photography locations, visiting Zebra Slot Canyon requires a bit of "off the beaten path" navigation.
In other words, you're going to need to drive down dirt roads!
Driving to the Trailhead
To reach the trailhead you will need to start in the town of Escalante, Utah.
Follow highway UT-12 East for approximately 5 miles from the center of town. Look for "Hole In The Rock Road" to your RIGHT.
At this point the drive becomes a bit more challenging. Depending on recent rain and road maintenance, the road will be a mixture of smooth, hard-packed dirt and washboard gravel.
Follow Hole In The Rock Road for approximately 8  miles.
You will pass a cattle guard in the road and a fence. The parking area will be on the right with the trailhead leading off on the left side of the road.
See the MAP HERE.
NOTE: You do NOT always need a 4×4 vehicle to access this trailhead. However, expect a bumpy, dirty drive down "Hole In The Rock Road." Additionally, if it is or has rained very recently you may not be able to access the trailhead unless you have 4 x 4 as the dirt roads will become muddy. 
Hiking to Zebra Slot Canyon, Escalante
The hike to Zebra Slot Canyon is beautiful. It is approximately 5 miles roundtrip through mostly level terrain with little shade.
Most of the hike is through well-marked trails.
This makes visiting Zebra Slot Canyon in the Grand Staircase Escalante National Monument an easy to moderate hike.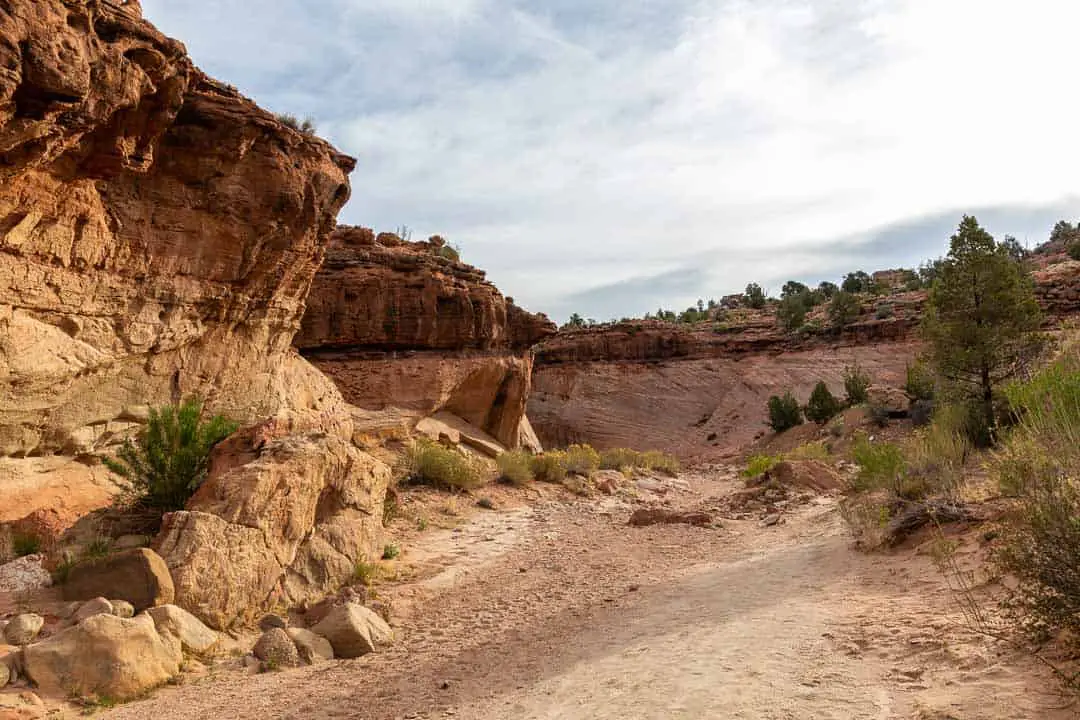 We do advise that you use normal hiking shoes or closed-toe tennis shoes. You will spend a great deal of hiking through sand on this trek.
In addition to gritty sand rubbing against your feet, the sand will become hot as the day wears on.
And while we did see several other hikers in Teva and Keene water shoes, we can't imagine they did not experience some discomfort and/or injury as a result of their choice in footwear.
It is crucial to choose the right pair of water shoes for hiking, to make sure you have an awesome hike with happy feet.   
Most of the hike is through wide-open terrain. You will see the beautiful landscapes at every step. However, there are a few places where we'd recommend you consult technology to assist.
Hiking Tips Using Technology
We advise that you use a combination of 3 mobile apps when planning any hike. Here are the Apps and how we recommend using them:
Use this App both before and during your hike. You can read details about the hike as well as recent reviews by other hikers.
AllTrails will also show you a pretty detailed map of the hike so you know what you are getting into. It is also possible to download the map if you pay for the premium version.
We have a few ways around that. First, you can pull up the trail map and take a screenshot. That way you have an offline guide to help you generally navigate.
2. iOverlander
iOverlander is great for finding places to camp, refuel and dump/fill up tanks. However, it is also great at working offline using your mobile device's GPS.
We found that we could load the region on iOverlander and refer to it throughout the hike. The map is by no means as detailed as AllTrails.
However, it does provide a pretty solid way to see where you are in real time in relation to the trail.
3. Gaia GPS
Gaia GPS is our favorite offline hiking app.
Sometimes we rely on it's great topographic descriptions (though visiting Zebra Slot Canyon does not involve much change in elevation).
But we mostly use Gaia GPS to track our hike. This is singlehandedly our number one way to prevent ourselves from getting lost on hikes.
Use the "Record" feature when you leave the trailhead and the app will follow you every step of the way.
Combining this app with the others will not only help you find Zebra Canyon. But also it will make sure you follow your bread crumbs back to the parking lot!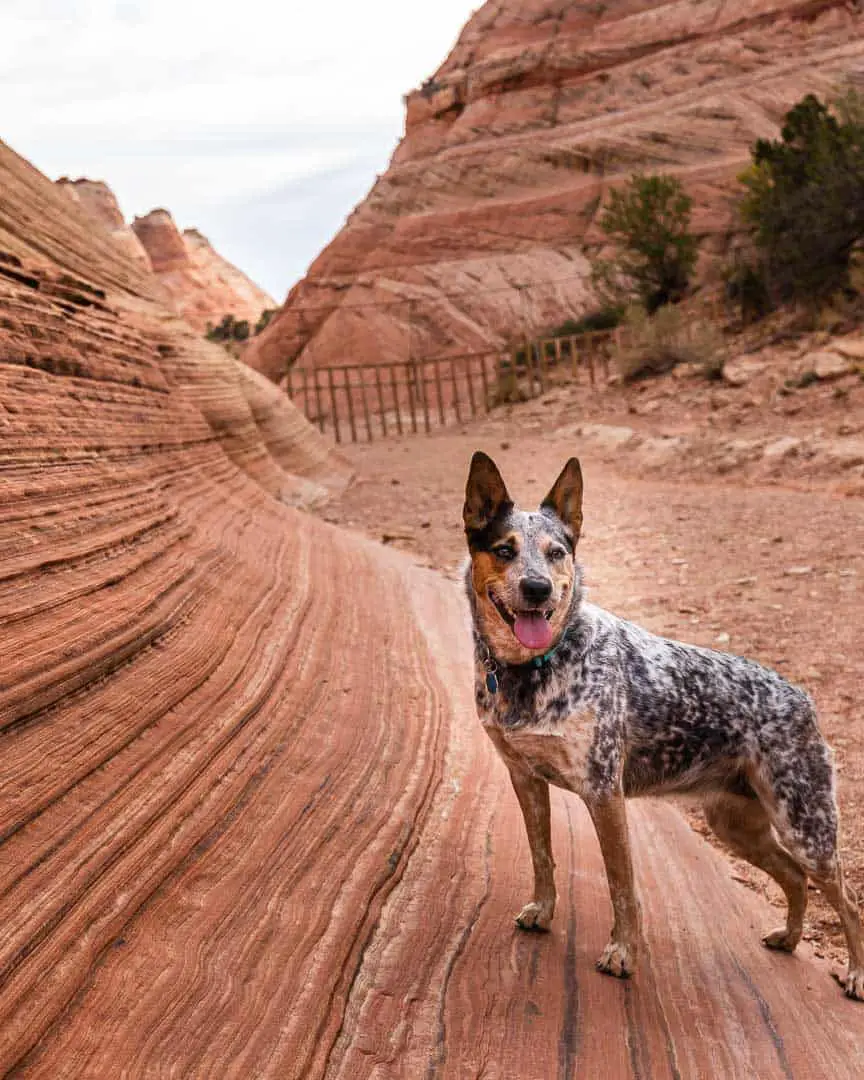 NOTE: When you reach the hanging cattle gate, be sure to continue through it. Many people become confused and turn around at this point and thus never visit Zebra Slot Canyon in Grand Staircase Escalante! 
Entering Zebra Slot Canyon
The entrance to Zebra Slot Canyon does not stand out very much against the other scenery. However, you will recognize the narrowing of the canyon walls as you hike closer.
You will also notice many other people have made the journey from the town of Escalante to visit the slot canyons as well!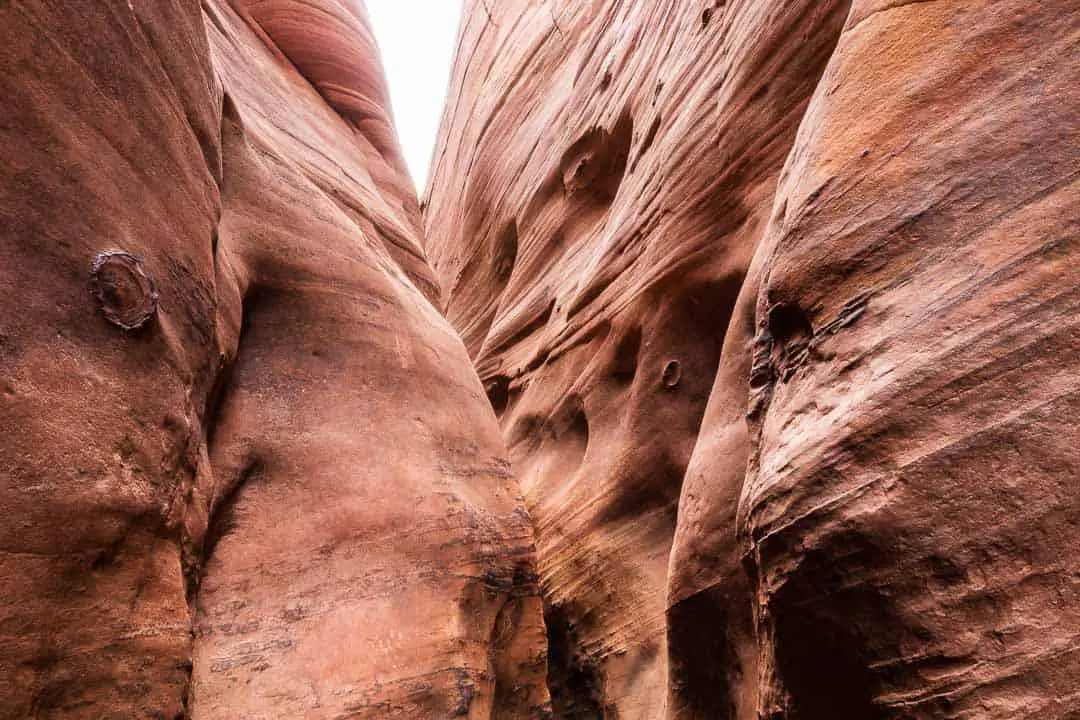 If you happen to arrive when other hikers are there, please be patient and kind to them.
There are very few places in the actual slot canyon that are wide enough for multiple people.
PRO TIP: If you see gear laying on the ground at the entrance to the slot canyon, there is someone(s) already inside exploring. You are welcome to explore the front of the canyon while you wait to go back further. But do know that if you go too far back you will only create/add to the congestion inside the canyon.
For this reason we advise that you try to go as early as possible as the hike will become crowded throughout the day!
Tips For Enjoying Zebra Slot Canyon
We advise the following as you plan and prepare to hike to Zebra Slot Canyon.
Camp nearby. We camped in one of the numerous BLM Land campsites on "Hole In The Rock Road" in the Grand Staircase Escalante National Monument. This way we were the first hikers to reach the trailhead and canyon. SEE GPS COORDINATES HERE! 
Bring plenty of water (for you and any dogs you might have).
Start early. Regardless of the time of year, the temperature rises quickly (and dangerously in late spring/summer).
Expect to cross standing water. Check with the local BLM office on most recent rainfall conditions and to make sure there will be no flash floods! We carried Keene sandals in addition to the hiking boots we wore.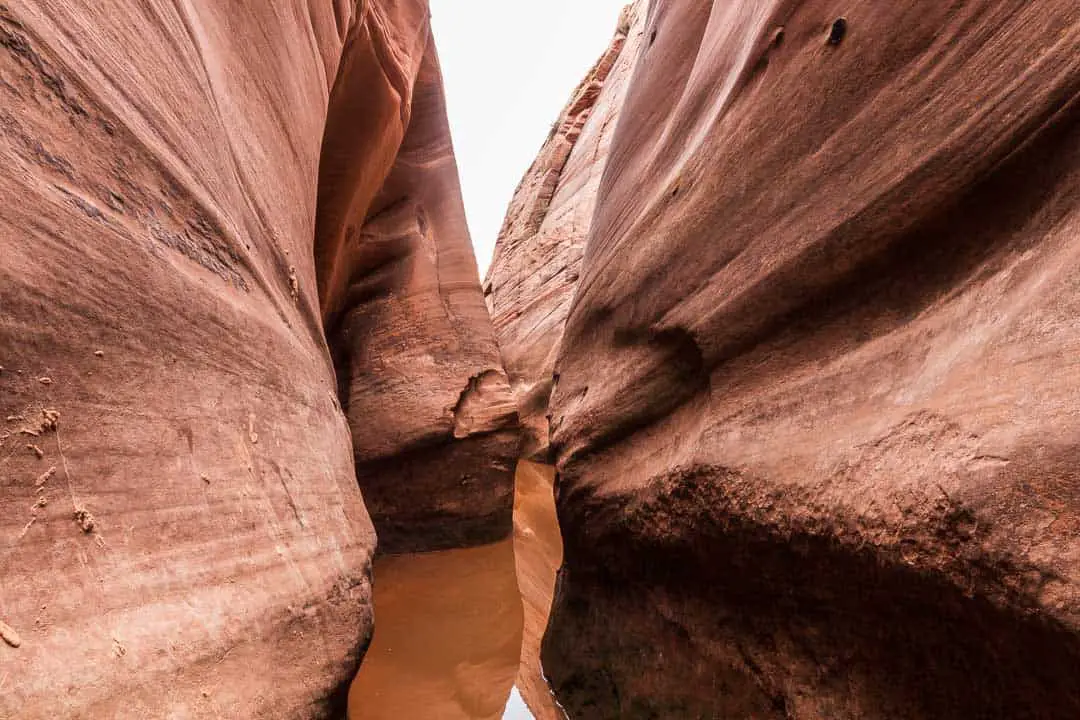 Take only what you need. If you plan to explore the slot canyon then anything that is not attached close to your body will be a hindrance. Items like cameras, backpacks and other gear will make it harder to navigate the narrow section of the slot canyon.
Dog-Friendly Advice
If you are traveling with dogs you can have a great time exploring the slot canyons of southern Utah. Most of the hikes surrounding Escalante, Utah are very much dog-friendly. However, know that not all dogs can make the hike.
This is especially true if you plan to hike during late Spring and throughout Summer.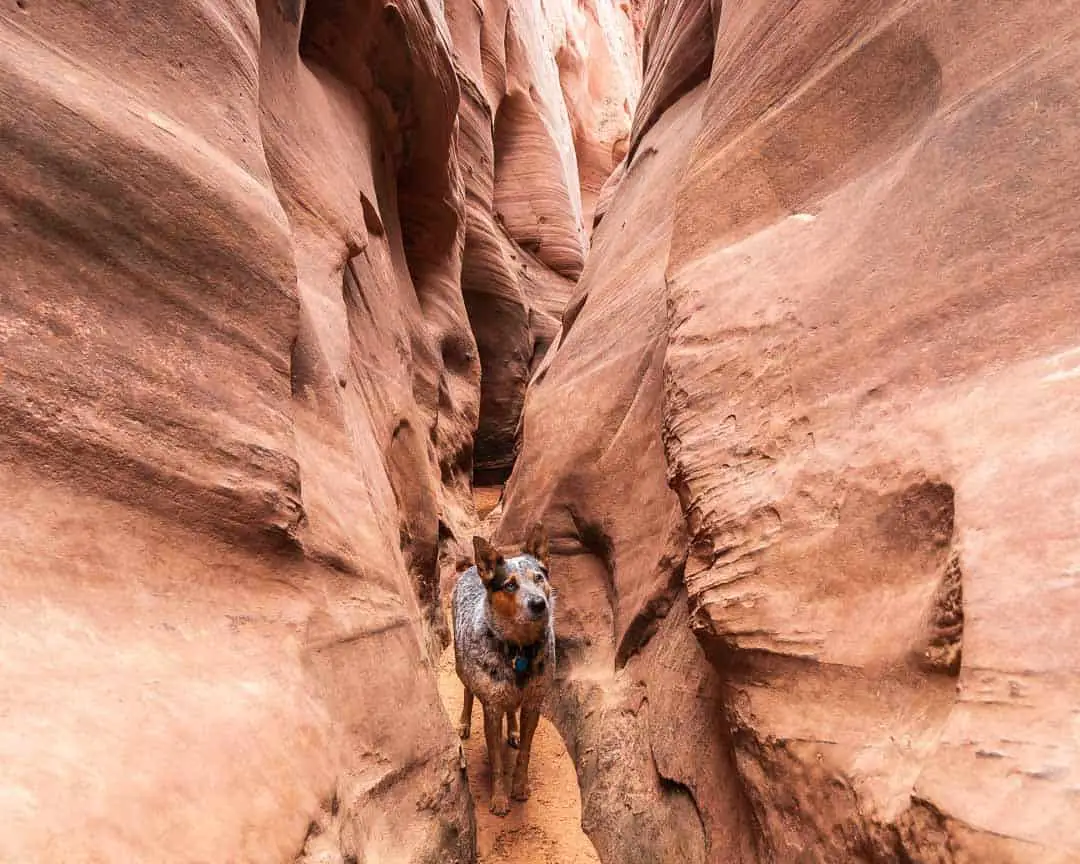 We hiked in May and started our hike at 7 AM. After making the hike to Zebra Slot Canyon and then spending several hours exploring the canyon, our return hike at 11 AM was already very hot.
Our pup, Everest, would run from one shady tree to another. At many points we picked her up and carried her.
Even though we started early and had plenty of water for our dog, we still took extra precautions to make sure she would be OK.
However, as we reached our truck around 11:30 AM we were upset to see several couples just beginning their hike with the dogs!
Please make sure to respect your animals!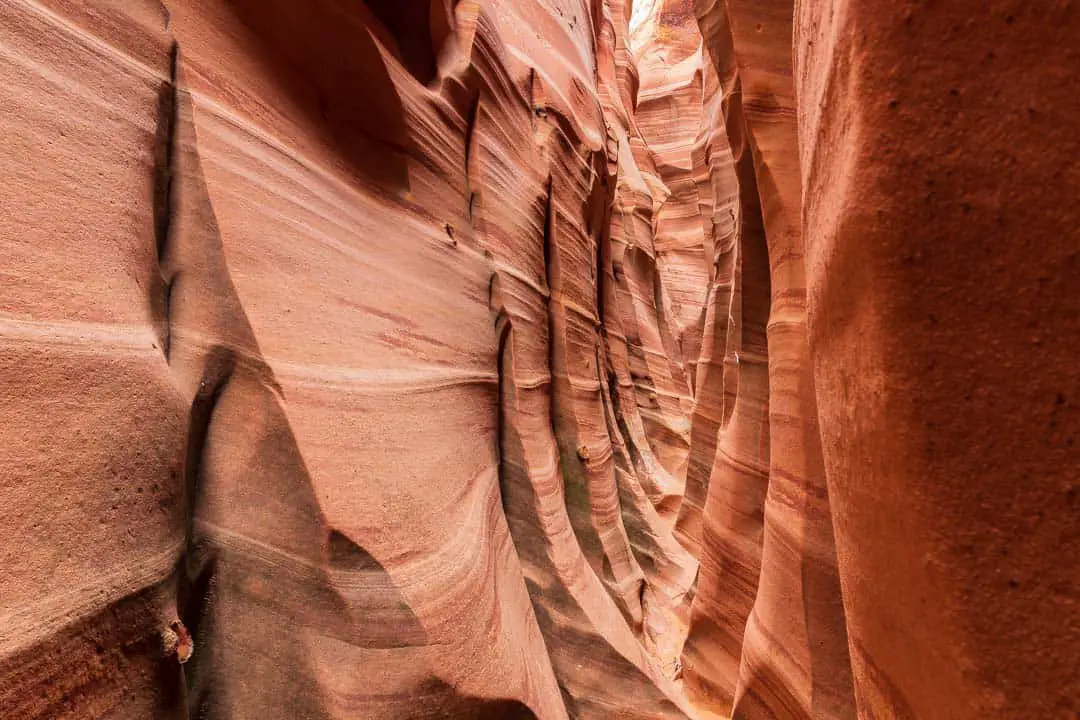 What To Bring
If you are into hiking already you'll want to have your standard hiking gear. But just a reminder of the kind of things that you'll want to make sure you have with you: 
Final Thoughts
While we explored much of Utah and visited all 5 of its National Parks, visiting Zebra Slot Canyon was by far at the top of our list of things we enjoyed.
Not only did we have the experience and adventure of hiking where many fewer people visit each year.
But also we were able to do it at our leisure without feeling crowded and pushed through.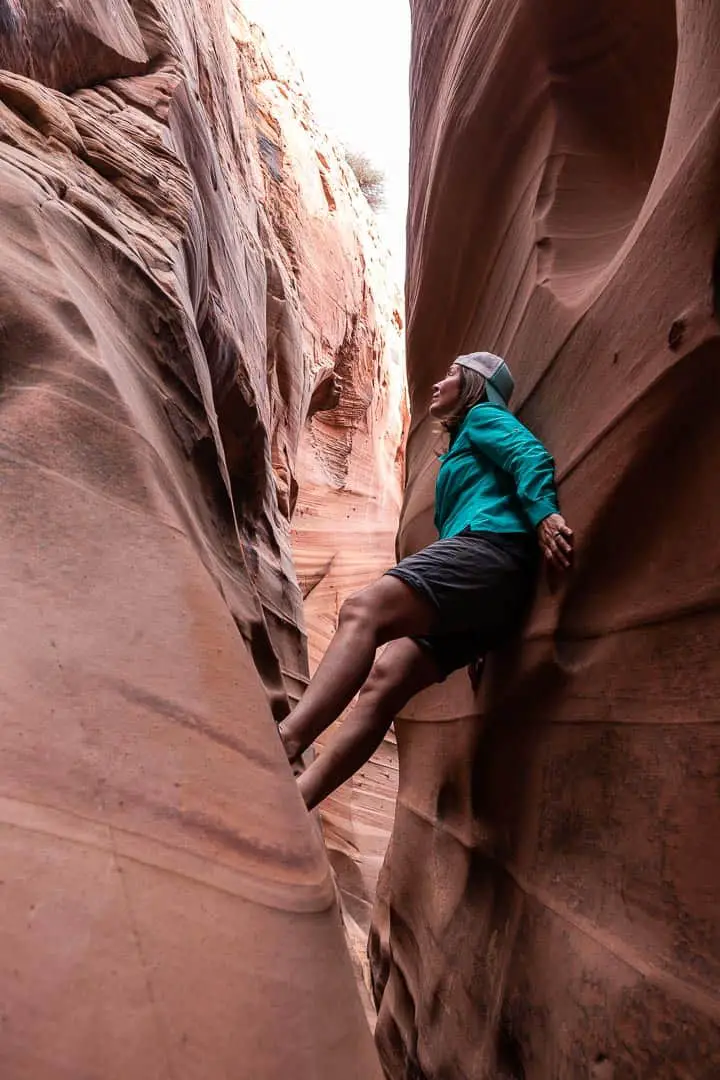 We took photos when we wanted. And we rested when we needed.
We spent plenty of time exploring Zebra Slot Canyon.
At the end of the day we were exhausted. But we felt as though we had an entirely unique experience!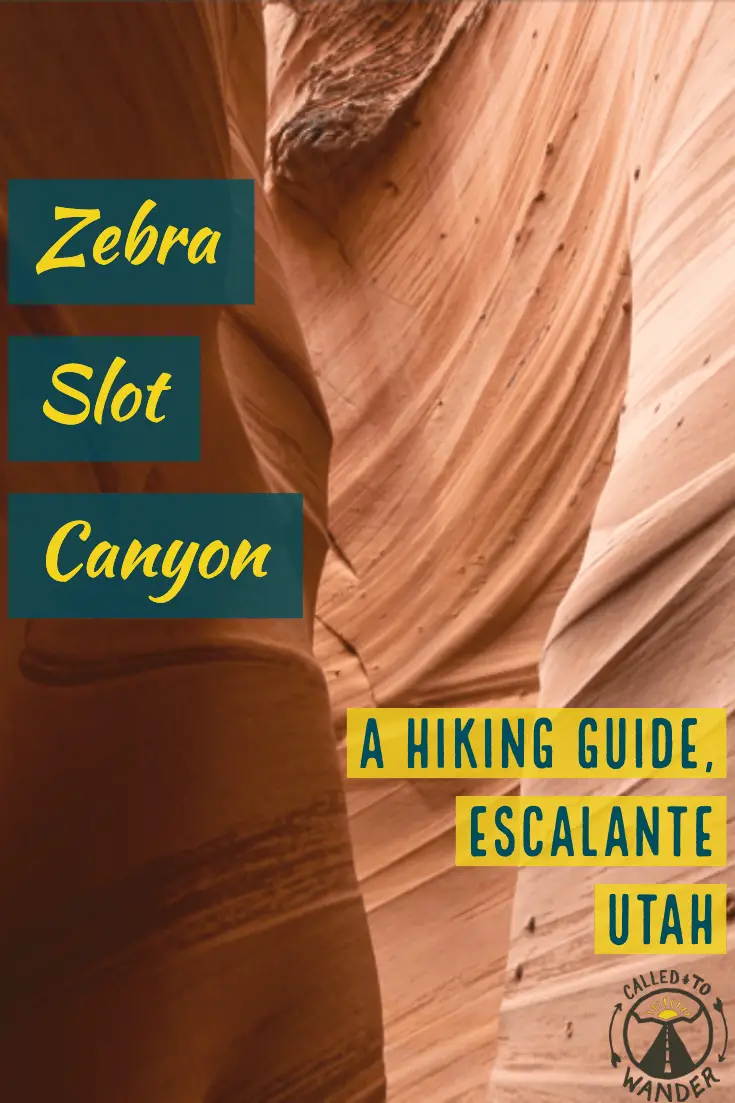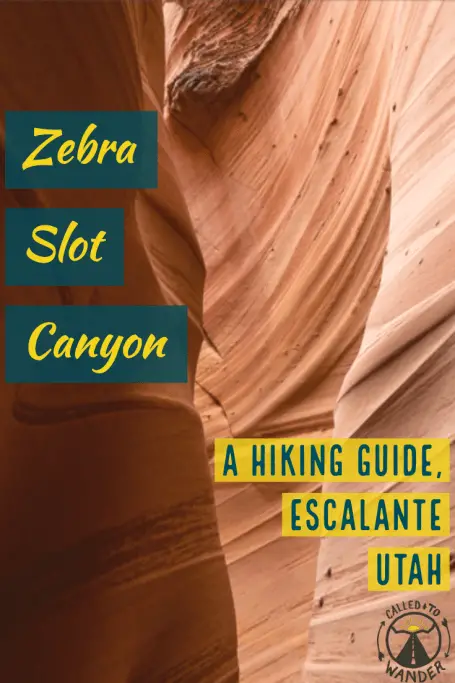 About Author