Last Updated on December 13, 2022 by Chris and Lindsay
Can I RV with dogs? Yes! Yes! A thousand times yes! 
If you are like us and you love your dog(s) with all of your heart then there is no way you can see yourself separating yourself from your sweet pup. But you're probably also not willing to sacrifice your love of the great outdoors and the RV life for your dog. 
So the question then arises: What do I need to know about RVing with dogs that will make our experience amazing?
Read on to find out our tips from over two years of full-time RVing with our dog as well as our essential packing list for your pup!
RV Dog Tips for Living on the Road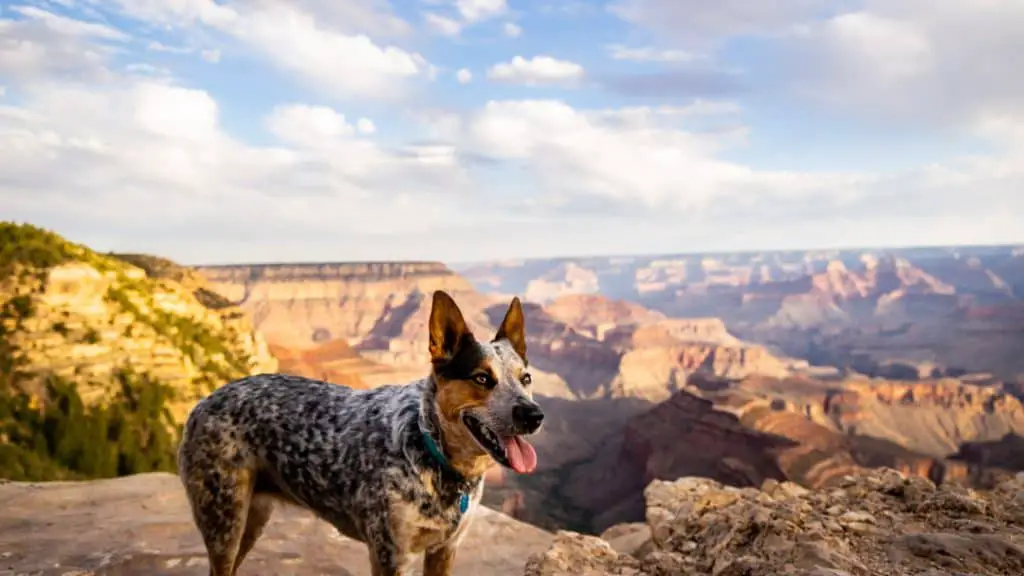 1. Be mindful of your dog's needs. 
They can't make decisions so you have to decide for them. When you decided to set out in your RV your dog didn't have the choice. It sounds basic.
But do be mindful that when you RV with dogs you will need to cut them a little extra slack when it comes to their attitudes and behaviors.  
Pro TIP: Let your dog be boss in your RV. If they show signs they are anxious and/or look like they could use a break, take a break. 
2. Train your dog to have new habits. 
If you're trying to raise and train a puppy in an RV that will be challenging as everything is new to them. But if you've already trained your dog and have basic routines in place then you're going to have to teach them new tricks.
Things like letting you know when they need to use the restroom, how to behave inside the vehicle/RV and where they are and are not permitted to go are among the little things that require adjustments when you RV with your dog. You might also adjust how and when you feed and water them. 
Pro TIP: We have an awesome portable water bowl and allow our dog to drink from it as needed as we travel.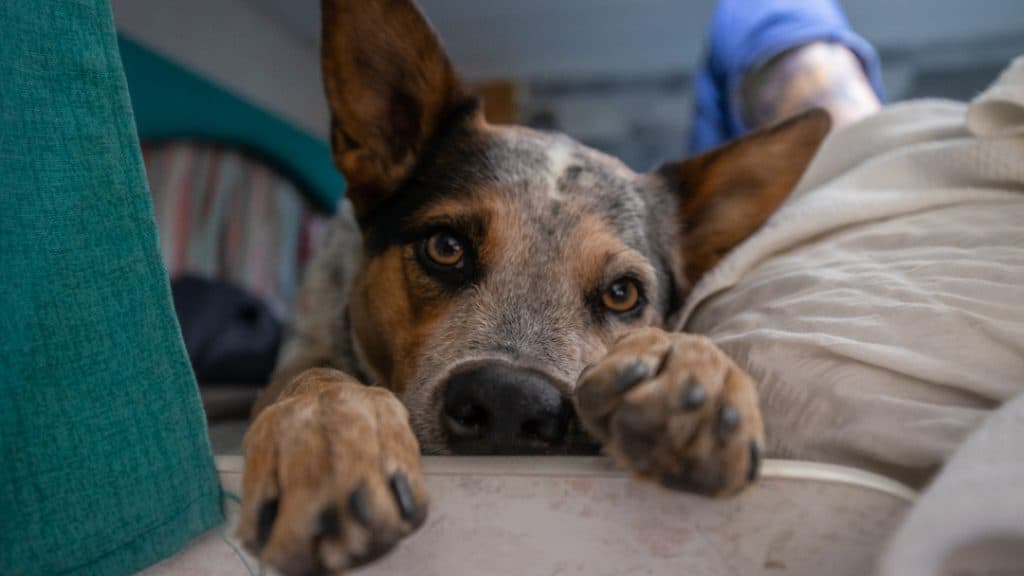 3. Establish routine the best you can.
As you will have to train your dog to have new habits, be sure to be mindful of new routines as well.
Build in exercise to your daily routine. Whether you are traveling or staying put for the day your dog will need exercise.
Also don't overlook your dog's desire to have a routine, particularly when it comes to their meal schedule. Be sure to be as consistent as possible when it comes to feeding times. 
Pro TIP: Sometimes our dog gets anxious if we pack around breakfast time or if we are still traveling during dinner time. So we try to not stress her out on travel days by letting her eat breakfast a little early and we may often pull over and give her ample time to eat dinner.
4. Travel slowly and be prepared to stop.
This ties together the previous 3 tips. While your idea of a good day on the road might include covering many miles, stopping for incredible views and activities and chowing down on delicious local plates these mean very little to your dog.
When RVing with your dog be prepared to stop as often as your dog requires. Use stops as a time for both you and your dog to stretch, exercise or simply take in the views wherever you are. 
Pro TIP: On long travel days it does everybody good to aim to stop once per hour. This is great for your dog, for you (and your kids) as well as for your RV.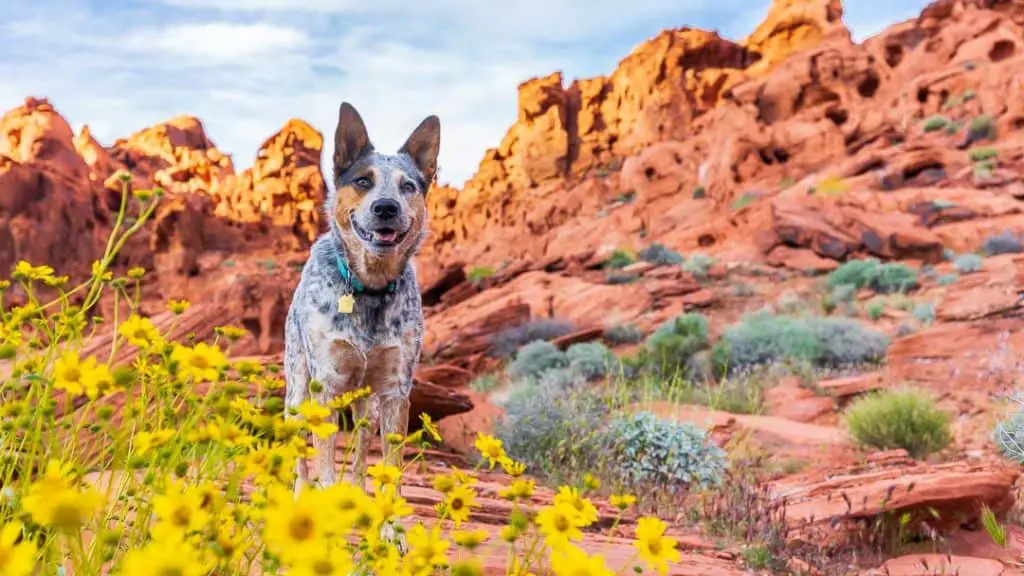 5. Be aware of restrictions and rules when it comes to where you go. 
You love your dog. But not everybody does. Don't assume that you can take your dog everywhere you go.
For example, nearly every US National Park prohibits dogs from walking on any unpaved surfaces. Kiss trail hiking goodbye here.
Also, be sure to check with any RV parks you are considering to be certain they permit dogs. Most do. Some charge additional fees or require you to camp in certain areas.
A few even have great dog parks and dog walks built into their parks. Just know that when you RV with dogs the things that once seemed commonplace are not necessarily common on the road. 
Pro TIP: Most National Parks have equally beautiful state parks or National Forest surrounding them which are much more lenient on dog policies. So if you absolutely must hike a famous National Park trail, plan accordingly for your dog. But if you want to enjoy the beauty with your dog then you can likely find a nearby place to explore with your dog.
6. Be mindful of the weather. 
This is a simple idea, but one that is easy to forget. Depending on where you travel, the sun can be brutal.
Be mindful of the temperatures wherever you go and for however long you plan to go. Parking in the shade as much as possible helps.
As does cracking the windows and/or having fans specifically for cooling your dog. Of course be sure to leave plenty of water out for your pup. 
Pro TIP: You can purchase a remote thermometer that connects to your phone and will tell you the temperature inside your RV. We like this one from Nimble that alerts you when the temperature falls below or rises above your set limits.  
7. Stay up to date on your dogs health
RVing with dogs is awesome most of the time. But with the uncertainty of the road comes the need to remember and seek out appropriate veterinary attention for your dog.
Depending on how long you are RVing and where you plan to stay you can often have items shipped to where you will camp. But finding a veterinarian and booking an appointment when RVing can be challenging and require planning in advance.
Most vets are understanding of your transient nature and will often work to schedule you in on short notice.
But you might have to plan a few weeks in advance when to be where for your appointment.
Also don't let the days slip past you. If you give your dog regularly scheduled medicine such as heartworm and flea/tick medication on a monthly basis, set reminders. 
Finding food on the road can be a challenge.
Pro TIP: Consider where you are going and what additional medical treatments may be necessary. For example, we had our dog rattlesnake trained for extensive time in the southwest and Baja and take extra precautions for lyme disease when traveling in the northeast. 
8. Keep your dog's paperwork handy. 
You're going to need to have all paperwork handy if you plan to cross borders when RVing with your dog.
Whether crossing to/from Canada and/or Mexico and the United States you will be required to show updated vaccinations (rabies in particular) and recent health certificates in some cases.
Our home veterinarian provides us a pet ID card with both a picture of our dog as well as reminders of when recent medical activities took places and are due in the future.
We also have our dog microchipped because we can't imagine our life if she ever got lost. 
Pro Tip: Petsmart and Amazon both have great customizable dog tags for your dog to wear. And you can get a customizable ID card from TagsForHope that basically looks like your driver's license for your pup.
9. Invest in pet gear that makes life together on the road safer and more enjoyable. 
You probably know to have the basics. But here is our comprehensive list of all of the RV dog gear that we keep and recommend you consider for your journey. 
The Basics
Leash – Our favorite leashes that we use are the rope style kind. They are very durable and easy to hold in your hand.
Collar – We generally buy what's on sale. But different types of collars fit different lifestyles and types of dogs. A regular metal buckle style collar will breakaway better than a plastic or metal clip collar if your dog gets caught on something. There are also martingale collars that are very popular and great for dogs that easily escape/slip out of regular collars.
Toys – Everest loves squeaky toys, Kong brand toys and anything made for heavy chewers. Her Wubba is her absolute favorite. It's durable, floats in water and it squeaks! She also loves chewing on the deer antler nyla bones.
Bedding – If we had the room to carry one we would buy a dog cot. But for now we just have a typical dog bed and we put a towel or blanket down on the couch to keep the fur off.
Water / Food bowls – We like stainless steel bowls for food. They don't harbor bacteria like plastic bowls do. If you do use a plastic bowl, just make sure to thoroughly clean every couple of days.
Medication – Number 1 are Flea and heartworm control! We use heartgard plus for heartworms and recently started using the Seresto collar for fleas and ticks and like it so far!
Treats – Everest isn't picky! But we like to buy Zuke's brand treats, bully sticks and enzyme coated dental chews.
Clean-up Bags – Self explanatory. Clean up after your dog!
Nail Clippers & Grooming Brush – We love the Furminator shedding brush. It's expensive but worth it!
Other Things to Consider
No-spill water bowl – Our favorite is the Waterboy Bowl. We take it everywhere!
LED lighted harness/Collar/Tag – Great for making your dog visible at night.
RV Dog Safety Temperature Sensor – There are different types that use cell service (you have to pay for a monthly plan) or WiFi. Nimble is highly recommended or Temp Stick.
Car seatbelt – Use with caution. Great for dogs that can't sit still when in a vehicle. Or you can travel with the dog in their crate.
Travel crate – We have a basic folding metal crate. It fits in the truck and camper if/when we need it and folds down and out of the way when we don't.
Harness (hiking / watersports) – We use a harness with a handle when we take Everest out on our paddleboard.
Hiking Pack/Harness – For dogs that need a job! Having them wear a pack while hiking will give them a sense of purpose.
Flotation device/lifejacket – Great for beginner swimmers, dogs that need a little help when swimming and for safety when on a boat.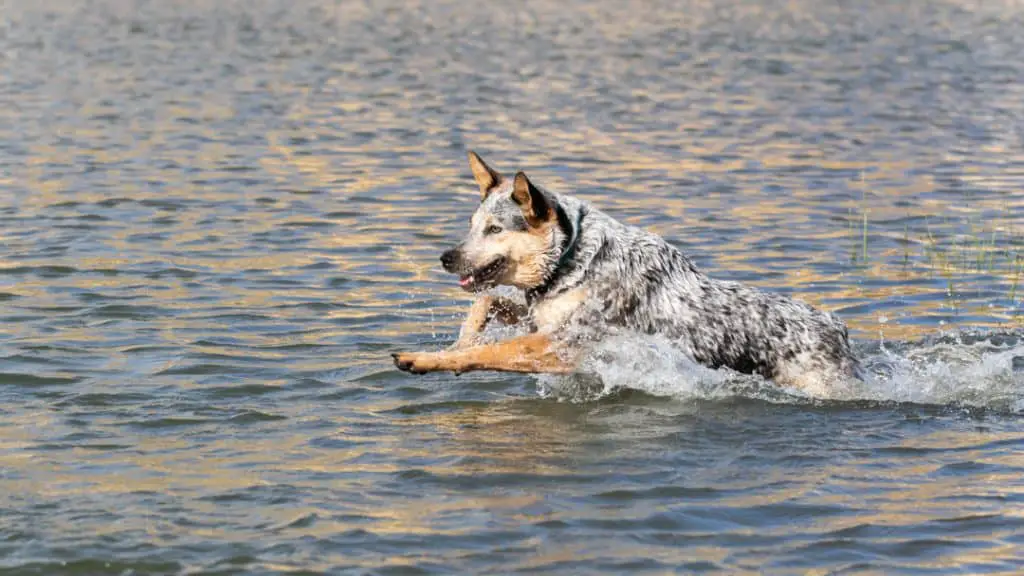 Other Tips for RVing with your Dog:
Keep a crate, if possible. Dogs usually recognize the crate as their own personal space and these can be very handy for giving your dog it's own "home away from home." You may also want one if your dog is not so good at being left alone when you run errands. 
Temperature sensor. We already mentioned this as a good idea. But if you worry about your dog while you run errands or go on quick hikes or activities then this investment will pay dividends in peace of mind. 
Check with RV parks on pet rules. Most parks are OK with dogs but some have restrictions, especially on breeds. Be mindful of the rules before you arrive and don't be argumentative if they do not permit your dog/breed. 
Buckle up/Secure crate accordingly. If you have a harness to buckle up your dog it's a great idea. Or be sure to secure the crate in which your dog rests while you drive. If they are enough a part of your family to RV with you then they're worth protecting in the event of an accident. 
READ NEXT: You should also check out THIS POST on other great tips for RVing with Pets from dozens of other RVers!
RV Dog Etiquette
These are the most important things that come to mind about etiquette when RVing with your dog. Most of these ideas should seem like common sense.
But we encourage responsible pet ownership everywhere, so we want to remind you of how to be a good neighbor. 
Note, most of the restrictions now in place on RVing with dogs are because other travelers did not mind this etiquette in the first place.
If we don't look after each other and our dogs as we travel then we can expect more restrictions on where we can go and what we can do with our dogs in the future. 
1. Pick up after your dog. 
Shouldn't have to be said but we're saying it. Many parks now provide free disposable bags. Colorado was our favorite as most parks had environmentally friendly bags available.
We always keep a bag or two tied to our leash
2. Throw away your dog poop bag. 
If we had $1 for every bag of poop we saw on trails across North America we wouldn't be running ads on our website! Just because you pick your pup's poop up in a bag when it happens doesn't mean the job is done.
Be sure to carry it out of the trail/park to properly dispose of it. 
3. Use designated areas. 
Whether you're at a rest stop on the side of a highway, a campground or city/state/national park, be mindful of designated pet areas. These are intended to provide space for your dog to do its business (or roll in the grass).
But they are also to limit where one may find a pile of poop their owner was not responsible enough to pick up after. 
4. Use a leash at all times. 
No, we don't always have our dog on a leash. In fact we always look for opportunities to let our dog off leash. But we don't do this in areas clearly marked to have dogs on a leash.
There are many trails you can let your dog off leash (assuming they respond to you 100% of the time). But most city parks are going to require you to keep your dog on a leash. Please do so. 
5. If off-leash, practice recall with your dog.
Even though you may be in an area that permits off-leash activities, be sure that your dog is well-trained and will respond to your voice commands 100% of the time.
This is particularly important if your dog is like ours and loves to go first on the trail and is inclined to encounter approaching hikers before we do.
Respect everyone by recalling your dog 100% of the time. 
6. Be aware that not everyone loves dogs. 
This is sad, but true. Not everyone loves dogs. So don't expect them to be thrilled if your dog runs up to them and/or jumps on them.
In fact, many people are terrified if a dog runs at them and/or jumps on them. So don't take it personally.
In fact, be super-mindful of past negative experiences that others might have had to make them so nervous. If you have the time and patience you can offer to help them overcome their fear by gradually warming them up to your dog.
But don't assume everyone will appreciate your dog as much as you! 
Benefits of RVing with Dogs
We're not actually going to talk about the benefits of RVing with dogs. You know the benefits! They are part of your family and you enjoy them like your own family members (maybe even moreso!).
And while a dog might limit your ability to experience some activities (like long hikes through national parks), they will also give you new opportunities to experience things you may not have thought of before.
Be responsible, both with your dog and with those people and places with whom you interact when you RV with your dog. 
But enjoy the journey! 
About Author