Last Updated on December 9, 2021 by Chris and Lindsay
If you're considering truck camper camping then we want to give you a digital pat on the back for making a great choice! Truck camper living is some of the best that there is! We should know as we spent the better part of 3 years exploring the North American continent in our DIY custom-built flatbed truck camper. 
As full-time truck campers, we left everything familiar to us in our home state of Florida and traveled extensively through the US and Canada on our way to and from Alaska. Then we spent four months camping in Baja, where truck camper life was the best we've had.
Now we want to encourage you to pursue your dreams of adventure while truck camper camping by offering some insight into the best parts of truck camper life while pointing you in the direction for other great resources that will help you start your truck camper adventure!
Affiliate Disclaimer: This post does include some affiliate links to some of the best products and services that we use and recommend. If you choose to make purchases through our links we will receive a small commission at no cost to you. We only recommend the products and services we love for truck camper living!
Frequently Asked Questions About Truck Camper Camping
With such a unique RV, we often get asked similar questions regardless of where we travel. 
To help you acclimate to deciding on your truck camper, we thought it would be good to cover a few of our most asked questions about truck camper camping. 
Why did you choose a truck camper? 
In 2017 we had the vision to drive from Alaska to Argentina. We had no idea if or how it was possible, especially since we were fostering 8 children at the time and even going grocery shopping seemed far-fetched!
But as we researched the journey we realized that most people who were driving the Pan American Highway seemed to be doing so in either a van or a truck camper. 
Our first thought was to buy an old Sprinter and try to outfit it for the trip. Then we realized that we didn't really know anything about outfitting a van. And around the same time we toured our first truck camper. 
It was amazing! Not only could I (Chris) stand upright in the camper at 6'4" tall, but also the camper contained everything you could possibly need to make a 2-3 year journey between the two American continents. 
We wanted something rugged that could handle the rough conditions (and fuel) we anticipated along the way. And we wanted something entirely self-contained. As Lindsay has Crohn's Disease, having our own private toilet was essential – and not just a 5-gallon bucket we have to empty every day! 
We studied truck camper and found that they were the perfect combination of self-contained space and ruggedness that would allow us to do some bumping and grinding on our way south from the top to the bottom of the world. 
So now I'm preaching to the choir. You know truck campers intrigue you.
But if you need us to tip you over the edge, check out this post on the pros and cons of truck campers.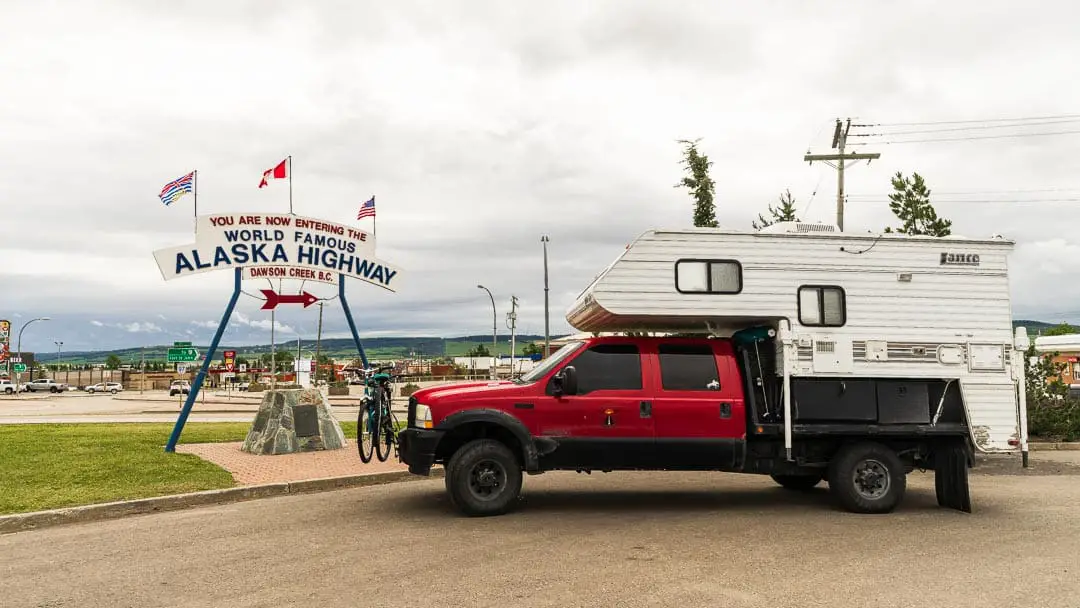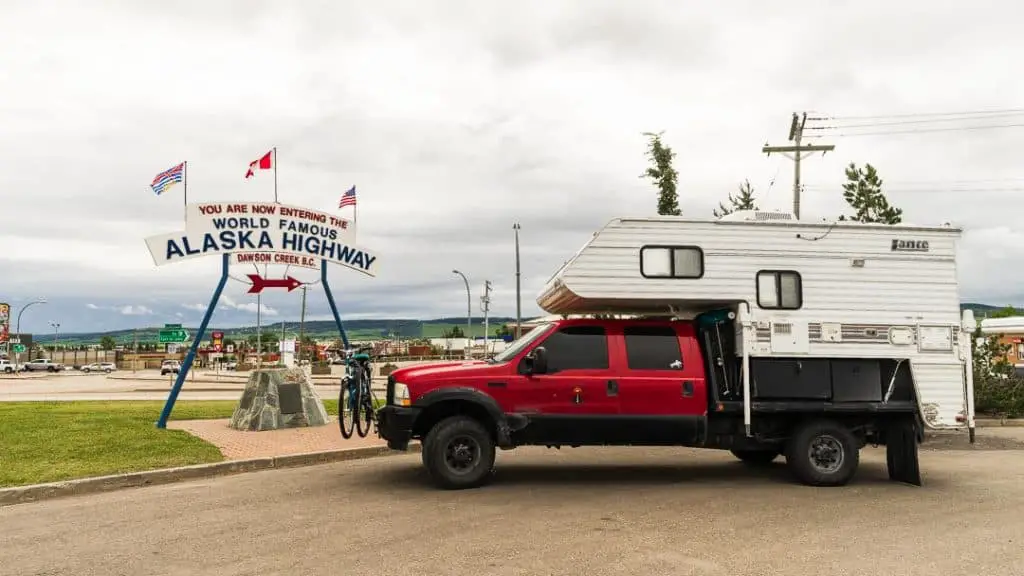 Where are the best places to camp in a truck camper? 
Honestly, listing our least favorite places in North America to camp in our truck camper is easier than answering this question!
We did not enjoy the Seattle or Portland areas, Washington DC, Las Vegas or the windy panhandle of Oklahoma and Texas (although camping in Palo Duro State Park was a highlight of our first months on the road!)  
The reality is that truck campers are built to be able to camp in places most other RVs are not as numerous. To this end, our 2 absolute most favorite places to camp in our truck camper was Alaska and Baja.
Refer back to the pros and cons of truck campers as to why these two places are perfect for truck camper camping. 
Within the continental US we really enjoy the western states over the eastern ones. Our favorite places out west include Utah, Wyoming and Montana (although Idaho is a gem that will likely get me in trouble with them for even mentioning!). 
When it comes to where to camp, physically, we can camp virtually anywhere. As truck campers are self-contained you can camp in traditional campgrounds with any level of hookups.
But we love to dry camp and boondock (particularly with Harvest Hosts) so this is why we love the west. 
There are tons of free (or really cheap) places to camp in some of the most beautiful places. We love hiking the slot canyons of Utah and Arizona and there are numerous places to enjoy the wilderness there while not spending a dime. 
Of course, there is always the option to camp at Wal Mart. Read this post to learn everything you need to know about where you can and cannot camp with Wal Mart.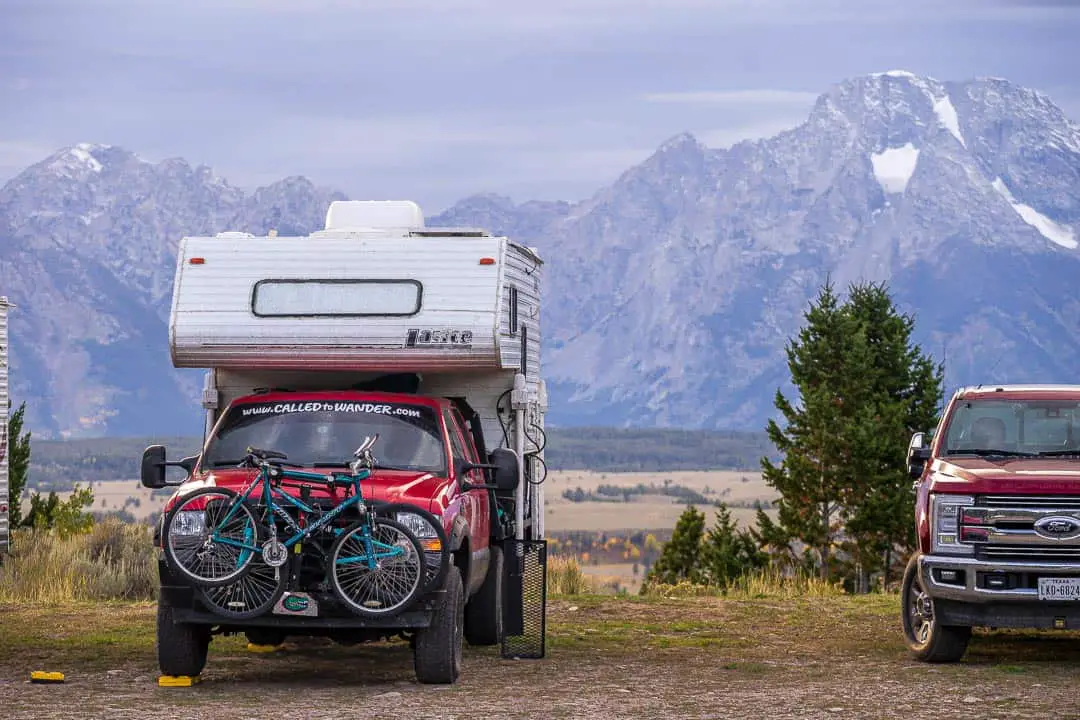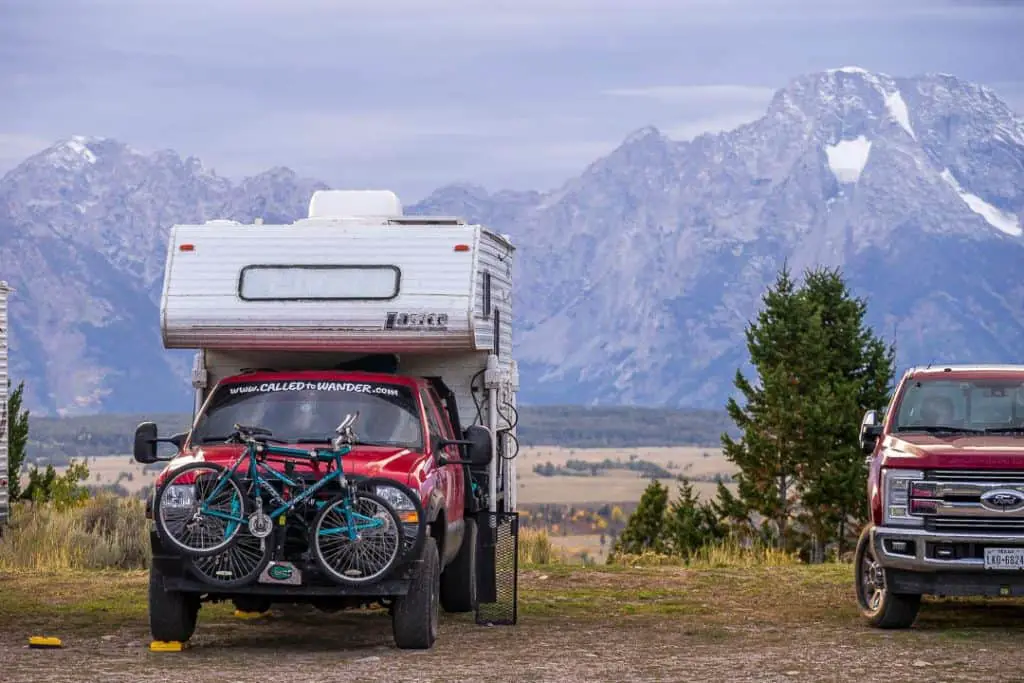 Can you dry camp and/or boondock in a truck camper? 
Yes. Yes. A thousand times yes! Well, actually it depends on your setup. Again we built our flatbed truck camper to be able to boondock our way from Alaska to Argentina. As such we have equipped it with everything necessary to be entirely self-contained. 
Here are some things you'll want to consider when determining if and/or for how long you can dry camp or boondock in a truck camper:
Power.
Solar power is pretty inexpensive, easy to install and maintain and generates power for you by the mere fact of daylight shining upon your truck camper. But having a generator could also help you overcome the need to recharge your batteries.
Some truck campers like to say you don't need either solar power or a generator and that you can instead recharge your batteries using the alternator in your truck. But with our diesel truck, we found that after the alternator charged all of the engine components to keep the truck running there was little power left to send to the batteries.
So if you aren't going to go with a solar or generator solution to your power needs, be sure to know the power output of your alternator to your house batteries. 
Water.
How much freshwater can you carry and/or store? We always topped off before boondocking so we had 33 gallons in the holding tank plus we carried an additional 10-12 gallons of water in jerry cans.
You can boondock longer when you have plenty of water. And trust me, when you end up in beautiful places like Pichilingue Beach in Baja, Mexico you will want to stay as long as you can! 
Fuel.
This applies to fuel for your vehicle as well as your generator (if applicable), your liquid propane containers and your body. Top off everything so that you are ready and able to enjoy being as far off-grid as you would like to be.
After all, getting off the beaten path is one of the best reasons to buy a truck camper! 
For all of our tips on dry camping and boondocking be sure to check out this post so you are completely prepared for how awesome truck camper camping can be off-grid!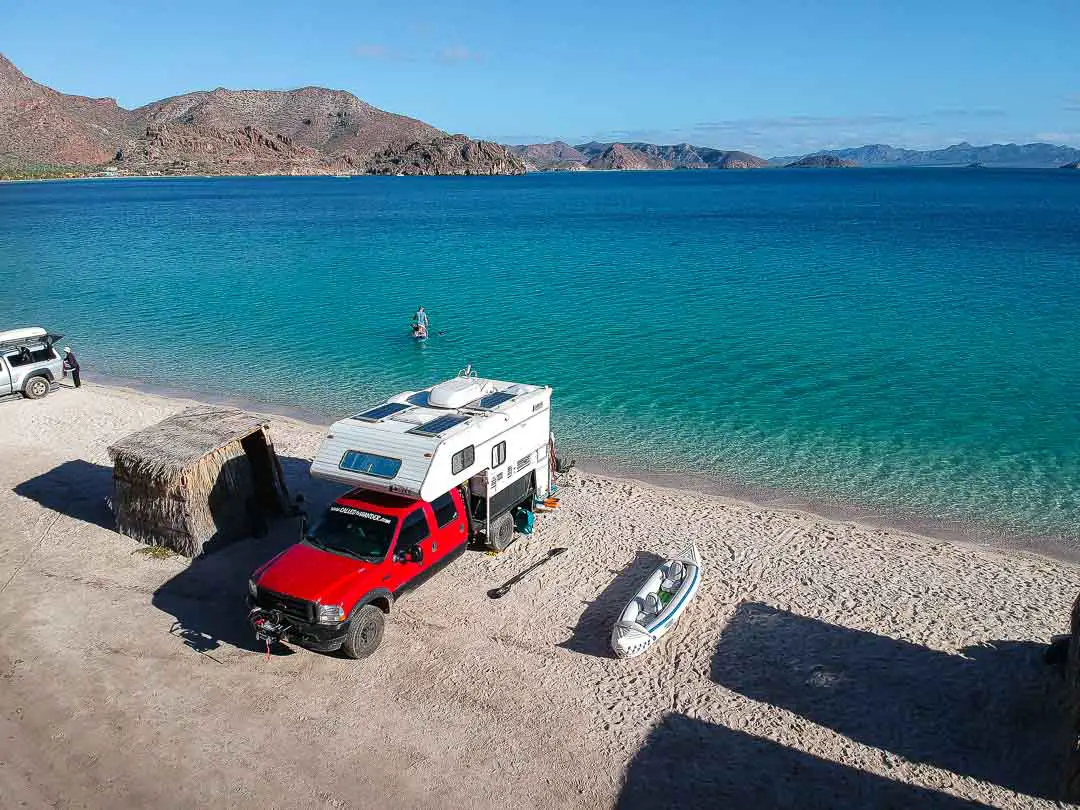 What are your best tips for setting up camp?
We avoid campgrounds at all cost – literally. As we run a pretty tight ship as far as budgeting is concerned, camping in a campground is a premium experience for us when we can use unlimited hot water and a little shore power. 
But whether you are camping in a campground or in the desert outside of Joshua Tree National Park, these are some simple tips for setting up camp:
Look for a level spot. If you're in a campground and your site is not level consider returning to the office to ask for a different site. If you're in the middle of a field, find the most level place you can.
Being level is important for keeping your ammonia refrigerator operational (assuming you have one of the most common types of fridges). But it also makes life more comfortable the more level you are. If anything has to be unlevel, try to keep the front of the truck camper slightly more elevated than the rear. 
Locate hookups (if available). Being level is great. But if you have to run power cords and hoses 50 feet across the site then it defeats the purpose.
Once you know where the hookups are you can determine how you want to park at the site. Obviously, if there are no hookups you can skip to tip #3. 
Decide how you want to orient for camp. Because our camper door was on the back and we had a huge window in the camper on the passenger side we would always try to orient the back of our camper to open up to the best view.
We'd also try to make sure that we could sit inside the camper and look out over the best views through the window. Clearly if you can't park based on the view, make sure you are parking safely first and practically second.
We've camped along cliffs and high water marks on beaches where this was more important than the views!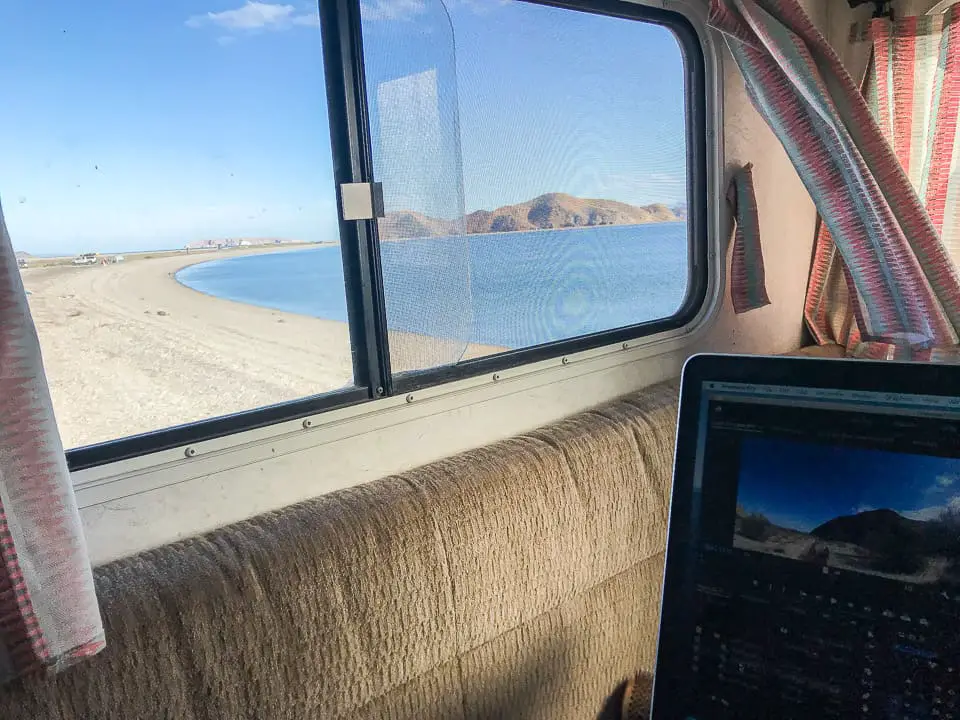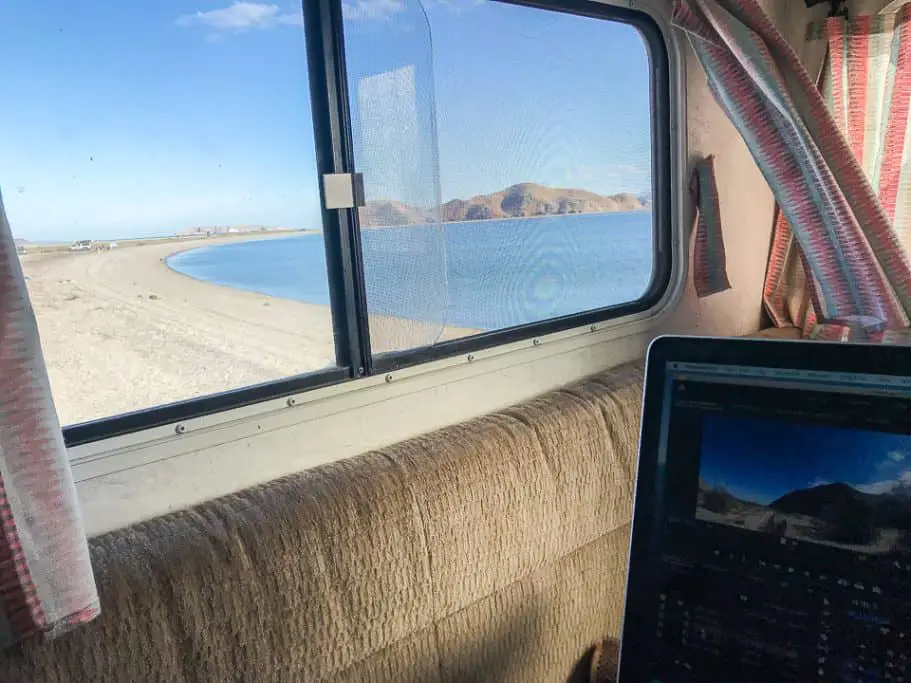 Level out the truck. If the site is not level by default be sure to level out as necessary. We have bubble levels on the back that indicate a left/right equilibrium and one on the passenger side of our camper that indicates an up/down equilibrium.
Our goal was to never be more than one tick mark off of level. We used wooden blocks and the standard RV leveling blocks to accomplish this. Sometimes we had to be really creative getting level. But this is an important step!
Hookup (if applicable). Be sure your camper is powered off to electrical devices. And you may want to check the power levels with a voltmeter if you are in a place where electricity may be shady. (We did this EVERY time we plugged into power in Baja.)
Be sure the power breaker switches are turned off before you plug in your camper. And, of course, know whether you can plug your 30 amp directly into the power source or if you need to run a 15 amp power cord or use a 15 to 30 amp power adapter.
Connect your water and sewer accordingly too, if you prefer. You can keep the grey tank valve open if you want. But keep the black tank valve closed unless you want to inundate your truck camper with the smell of the sewer!
If using city water connections you will not need to use your water pump. But you will want to make sure you have a water regulator on your hose to slow the force of the water from the source. 
Turn on your LP. While legally you are supposed to not travel with your refrigerator fired up on LP, chances are you'll forget at some point. Still it is best practice to turn off all gas appliances while traveling.
So now is the time to crank the LP back on and head back in your truck camper to turn on whatever appliances might be needed at this point. 
The remaining steps are pretty self-explanatory for anyone who has ever camped anywhere. It is all about comfort at this point. So move things around as necessary to make yourself feel at home.
Many times we were in a place only for one night (especially if we were camping at a Wal-Mart or Cracker Barrel in passing through an area) so we wouldn't move too much.
But other times we camped for weeks on end on beautiful beaches in Baja. In this case, we had the following things to set up around camp: 
Sandless mat
Foldout table
Awning
Outside water for washing hands and feet
Of course when it is time to leave be sure to follow these tips in reverse. You definitely don't want to be the truck camper who drives through the campground trailing their sewer pipe or electrical connection! 
Check out our post for a great RV Departure checklist.
Can you live out of your camper when it is not on the truck? 
This is a common question and the answer is yes! We have lived out of our camper in Wyoming for months while our truck was being repaired. And we have dropped our camper in a campground for a few days so that we could drive our truck around without the additional weight (and often, worry) of the camper. 
We have a great post and video on how to load and unload your camper from your pickup truck. We recommend that you practice a few times before you set out on your adventure so you are more comfortable doing this in the event that you HAVE to even if you don't want to.
We've had issues with mechanical work and breakdowns that merited dropping the camper for only a few hours or days for repairs to be made. 
And yes, you can sleep in the cabover even though the camper is off the truck. Just be sure you have raised all jacks and lowered the camper so that it is stable.
I imagine most truck camper manufacturers have worked out mathematical scenarios where it is just about impossible to flip your camper. But we'd rather not find out on our own! 
What are the most important truck camper essentials?
This is a very important question and one that really peeves us when we look at what other publishers have posted for "truck camper essentials." You do not need customizable drink coozies and matching visors. But you do need an adequately sized bottle jack and an air compressor in the event of a flat tire. 
We put together a fantastic post on THE essentials that we recommend you buy before you roll out of the driveway on day 1 of your truck camper adventure. 
We do not travel without the items in this post and we give you a great explanation for why we consider them the most essential items for your truck camper. 
Of course, if you want to know what we recommend to make life a little more comfortable on the road or to help transform your truck camper into a home we have great resources on that. 
Be sure to invest in your safety and comfort with these truck camper essentials.
How much does it cost to live in a truck camper?
The answer to this question is as varied as eye color and preference for sauce flavor at your favorite wing restaurant. But in short, it costs us less to live in our truck camper full-time than it would for us to live in a brick and mortar home. 
We've put together this post on budgeting for full-time life on the road. It outlines some of the things we've done to keep costs low. On our east coast road trip, we lived on less than $40 per day (not counting our fixed expenses like health and auto insurance and fuel).
But if you're interested in more information about the costs of truck camping be sure to check out these resources as well:
What memberships or passes should I have?
We consider 4 memberships essential for safe, fun and affordable RV travel throughout the USA, Canada and Mexico. 
We hope that you have enjoyed this post and are excited for your truck camper adventure! You are making/have made a great decision and we're confident that you're going to enjoy life on the road.
Whether you are striking out for long weekends or vacation weeks or are semi or permanently retired and looking for a more permanent change of scenery, you cannot go wrong in traveling in a truck camper! 
Be sure to reach out and let us know if you have any other questions we haven't answered for you! And to get a more intimate look at truck camper living be sure to check out our YouTube channel for 4 seasons of exploring the North American continent! 
About Author