Last Updated on February 26, 2022 by Chris and Lindsay
One day in Joshua Tree National Park is just enough time to capture the beauty of the rugged desert. We definitely recommend adding it to your list of things to do in California, whether you plan to visit for one day or longer!
Depending on the time of year that you visit Joshua Tree, you might be amazed at the colorful desert blooms or in seeing the landscape powdered in snow.
Take your photo at Skull Rock, observe a range of cactus at Cholla Cactus Garden and watch rock climbers scale massive rock outcroppings at the Hidden Valley Campground area.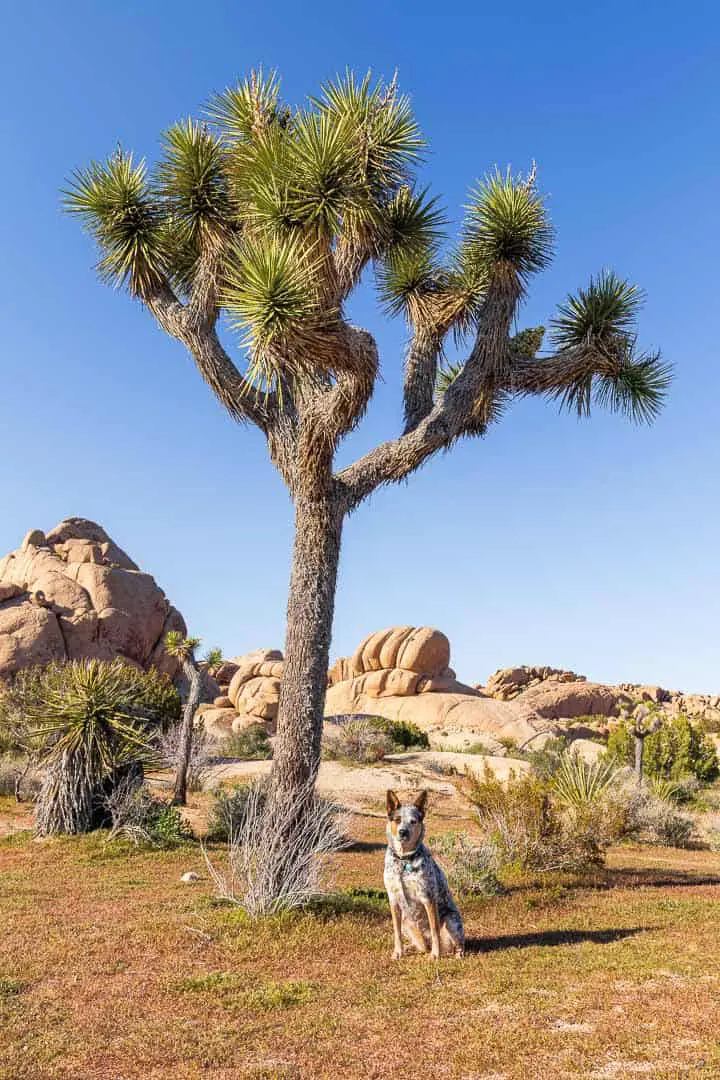 Of course, the Joshua Trees themselves are something to behold. As are a variety of other plant species that sprinkle the landscape.
You will also find a mix of mostly small animals throughout the day. Many of the park's native animals will be more active in the evening hours and during the night if you make a very long one-day itinerary of Joshua Tree. 
Hiking can be great throughout Joshua Tree. And if you are into rock climbing, the park boasts some of the best and most challenging climbs.  
Like all US National Parks, Joshua Tree is truly spectacular and could easily occupy several days of your time – particularly if you enjoy observing the clear night skies. 
However, if you only have one day in Joshua Tree, here is a quick itinerary to give you an idea of what to see and do in Joshua Tree National Park.
One Day In Joshua Tree Itinerary
Like most US National Parks, there is more than one entrance/exit to the park. Thus if you only have one day in Joshua Tree you can plan a route that covers a lot of ground and includes no backtracking. 
This itinerary starts from the southern entrance off of Interstate 10 approximately 30 minutes east of Indio.
There are more places to stay in Palm Springs and the BLM camping outside the southern entrance is phenomenal. 
But you could easily flip this Joshua Tree itinerary around and travel from either of the 2 north entrances to exit to the south. 
Entering Joshua Tree National Park
When you enter Joshua Tree National Park from the south along Cottonwood Springs Road you will be amazed at the changing landscape almost immediately.
You will actually enter the park and travel several miles before reaching the first ranger station at the Cottonwood Visitor Center. 
You can pay your entrance fee here, or flash your America The Beautiful annual pass. Be sure to pick up a park map as well. 
If you want to jump right into a hike you can turn down Cottonwood Oasis road and head to Cottonwood Spring.
Mastodon Peak Loop Trail is an easy 2.5-mile hike. Alternatively, you could take another easy 1.2-mile hike along Moorten's Mill Trail.  
Drive to Cholla Cactus Garden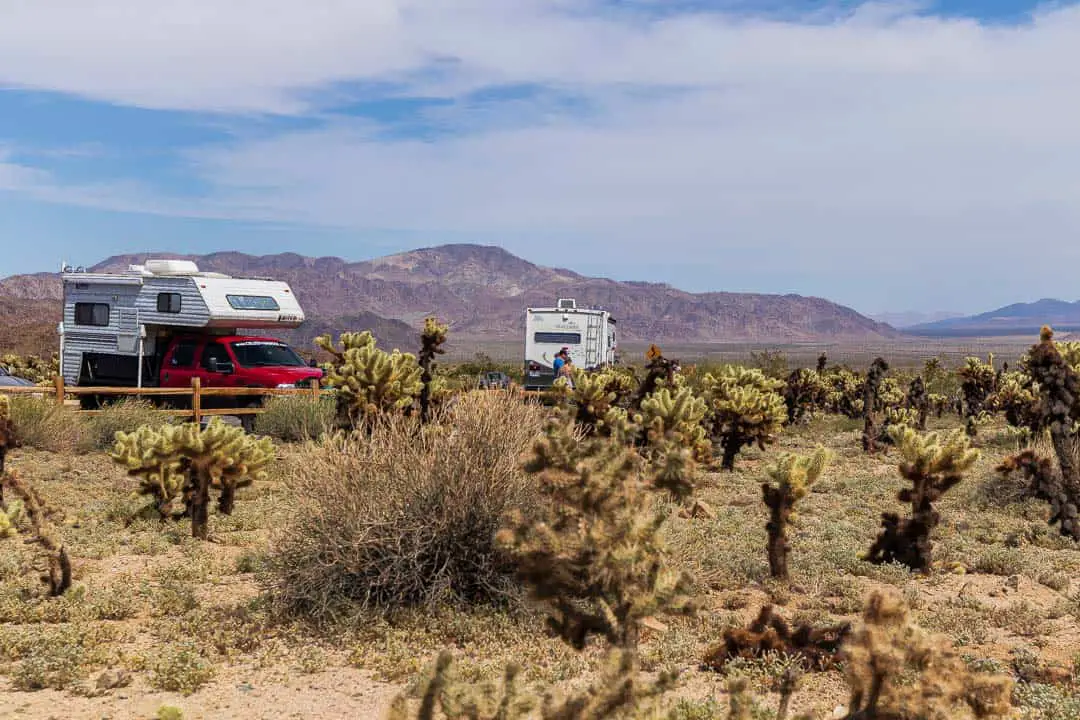 Hop back in your vehicle and continue north through the park. If your one day in Joshua Tree happens to be in spring there is a good chance the landscape has come alive with blossoming desert flowers and cactus.
You certainly won't be alone as this is the most popular time to visit the park.
However, you can pull over in many designated pull-offs and take pictures of a variety of colorful plant species. Some people will visit Joshua Tree just for this one experience. 
The next stop of notable importance will be at the Cholla Cactus Garden. These species are remarkable, especially if you catch them in bloom.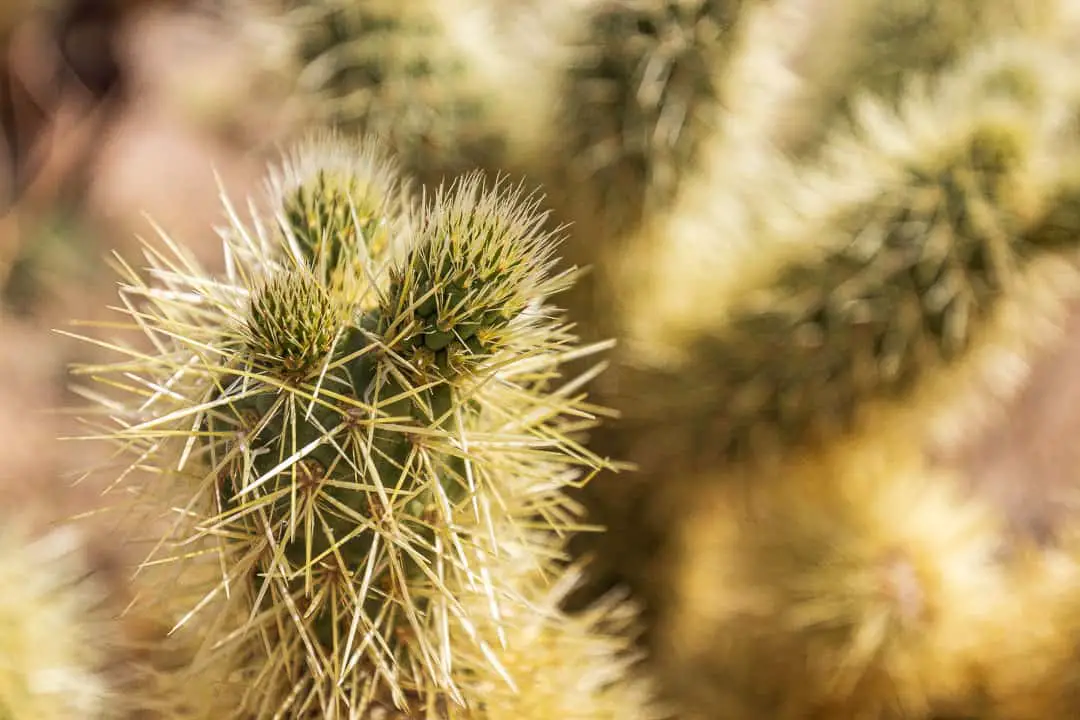 There are several small trails you can wander to stretch your legs. Or if you're feeling like some true exercise the 4.2-mile Golden Bee Mine Trail is considered difficult.
For this reason, there will be fewer people to share the spectacular views.
But the hike will take a few hours roundtrip and will eat into your one-day Joshua Tree itinerary.   
Stop at Skull Rock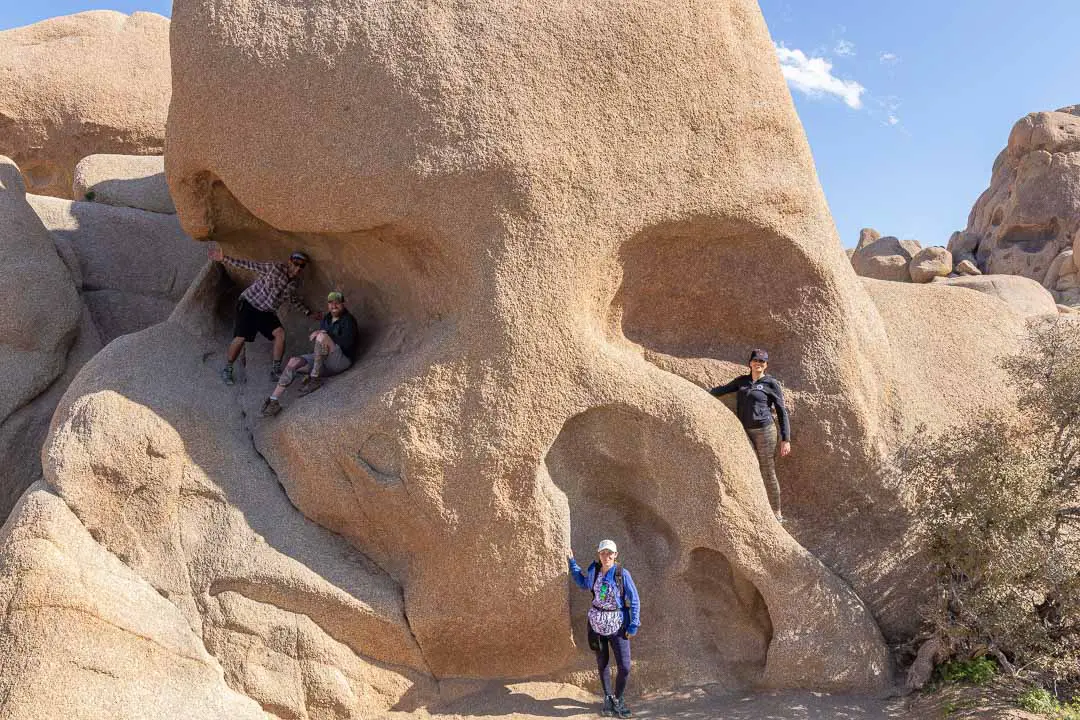 Continue a few more miles north and you'll have to make a decision on whether to turn left and continue toward the town of Joshua Tree or to carry on toward Twentynine Palms.
There is far more to see if you continue toward Joshua Tree, so we'd recommend that you take the turn toward the town of Joshua Tree and stop for a photo at Skull Rock.
You can meander a short distance to see the uniquely skull-shaped rock outcropping. Or enjoy the more popular 1.7-mile Skull Rock Nature Trail loop.
This is a popular part of the park and you'll want to get your picture taken at the iconic structure. 
Short Hikes and Scenic Drives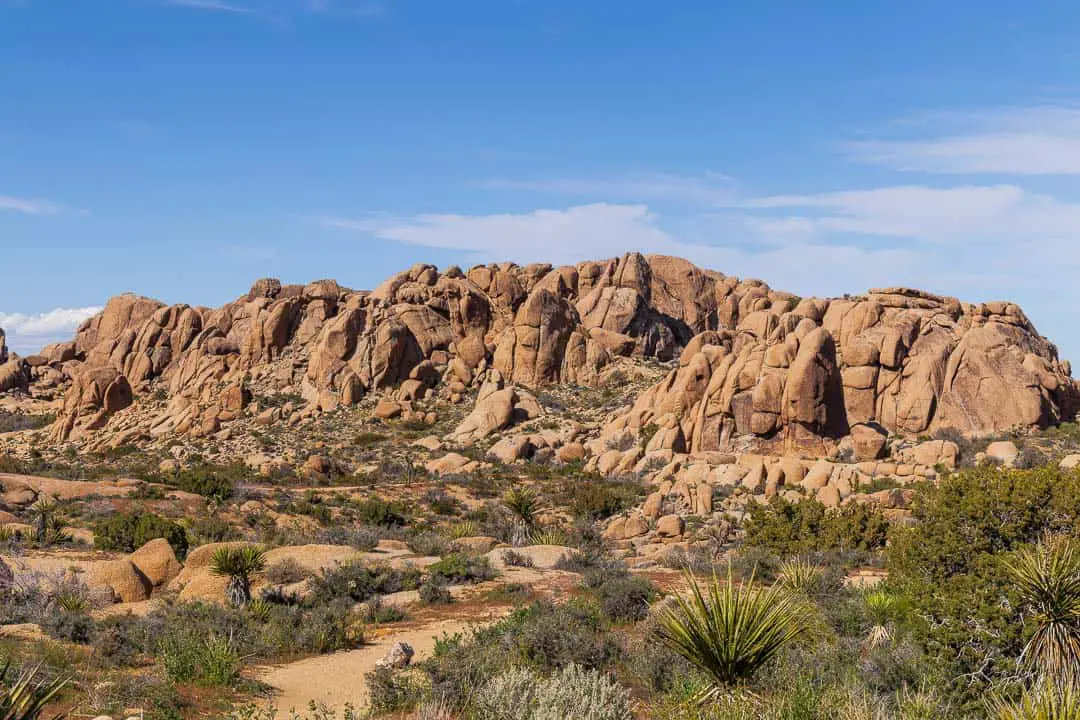 Hop back in your vehicle and continue driving north. You'll be climbing in elevation and the vegetation and landscape will change as you continue through the park.
There are a few more great places to stop and hike if you are interested in adding a little more activity to your one day in Joshua Tree. 
Ryan Mountain Trail is a heavily trafficked 3-mile roundtrip hike that will take you to the summit of a 5,200-foot mountain overlook. This is considered a more moderate hike compared to the others mentioned in this guide. 
When you are in this area, be sure to check out Lost Horse Mine Trail, which is just shy of 7 miles roundtrip. Or also consider Hidden Valley Nature Trail, a shorter 1-mile loop that takes you through some pretty awesome boulders!
Other short and easy hikes along the route include Hall of Horrors, Cap Rock and Gram Parsons Nature Trail, and Negropolis Trail.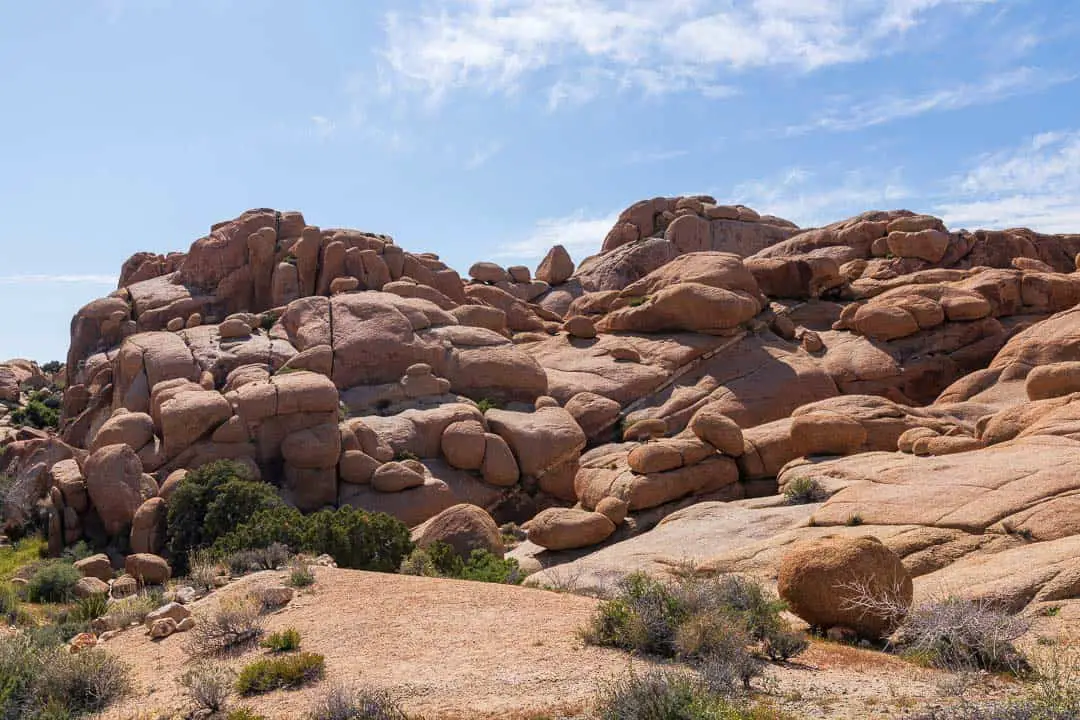 These are each on the way north as you are exiting the park to the town of Joshua Tree. 
If you are into climbing you likely already know about the Outback Bouldering Area. But if you aren't into climbing and want to observe others scaling massive rock faces, park near the Hidden Valley Campground and wander the area.
The Blob and the Old Woman are two faces right there.
Of course, this campground is a great place to camp if you are fortunate enough to find a campsite, as it is first-come-first-serve. 
Read More: Looking for other great one-day itineraries for your bucket list? Check out One day in the Grand Tetons itinerary here!
Sunset Exit
But if you are already tapped out on time and need to make your exit from the park, the scenery along the way toward the town of Joshua Tree is spectacular.
You can pull over most anywhere it is safe to take your photos or stretch your legs. 
If you are in an RV of any sort you should consider spending as much time as possible in the park during daylight.
You'll be able to find camping on BLM land just outside any of the park entrances and there is sure to be plenty of space.
So if you get caught up taking photos or want to catch a sunset in the park, you should not feel rushed. 
Summarizing Your One Day in Joshua Tree Itinerary
There is plenty to see in Joshua Tree National Park. And most can be accomplished with a basic one-day itinerary.
Of course, this means that you're going to have to pick and choose which activities you want to do.
You could treat this one day in Joshua Tree like a roller coaster at a theme park. Simply hop in your vehicle and drive from one end of the park to the other (and back, if you'd like!).
And even if you do not want to take on any of the easy to moderate hikes in this guide, there will be plenty of places to stop for pictures or to stretch your legs. 
RV Camping Guide: Joshua Tree National Park
Now that you have an idea about what to see and do in Joshua Tree National Park, here are some resources to help you figure out where to camp and find other camping necessities in the area. 
How To Get to Joshua Tree
Joshua Tree National Park is located between the Colorado and Mojave deserts in southeastern California. There are 3 entrances to the National park so the park is quite easy to access. 
The 2 northern entrances are along Hwy 62 just north of Palm Springs, California. You can enter the park through either entrance outside of the towns of Joshua Tree or Twentynine Palms. 
If you're traveling along Interstate 10 from either east or west, the southern entrance to Joshua Tree National Park is approximately 26 miles east of Indio. 
Be sure to have your America The Beautiful annual park pass as the entrance will be free.
Otherwise, the fee to enter the park is $30 per vehicle. This will give you access to the park whether you want to spend one day in Joshua Tree or up to seven days. 
Where to Camp in Joshua Tree National Park
There are eight formal campgrounds within the park. Four of these accept reservations – which is a good idea for spring and fall weekends or any holiday.
You can book these for a reasonable $20 per night. The other 4 are first-come, first-serve and are $15 per night.
However, we enjoy boondocking on BLM land and there are several great places to do this just outside of the park.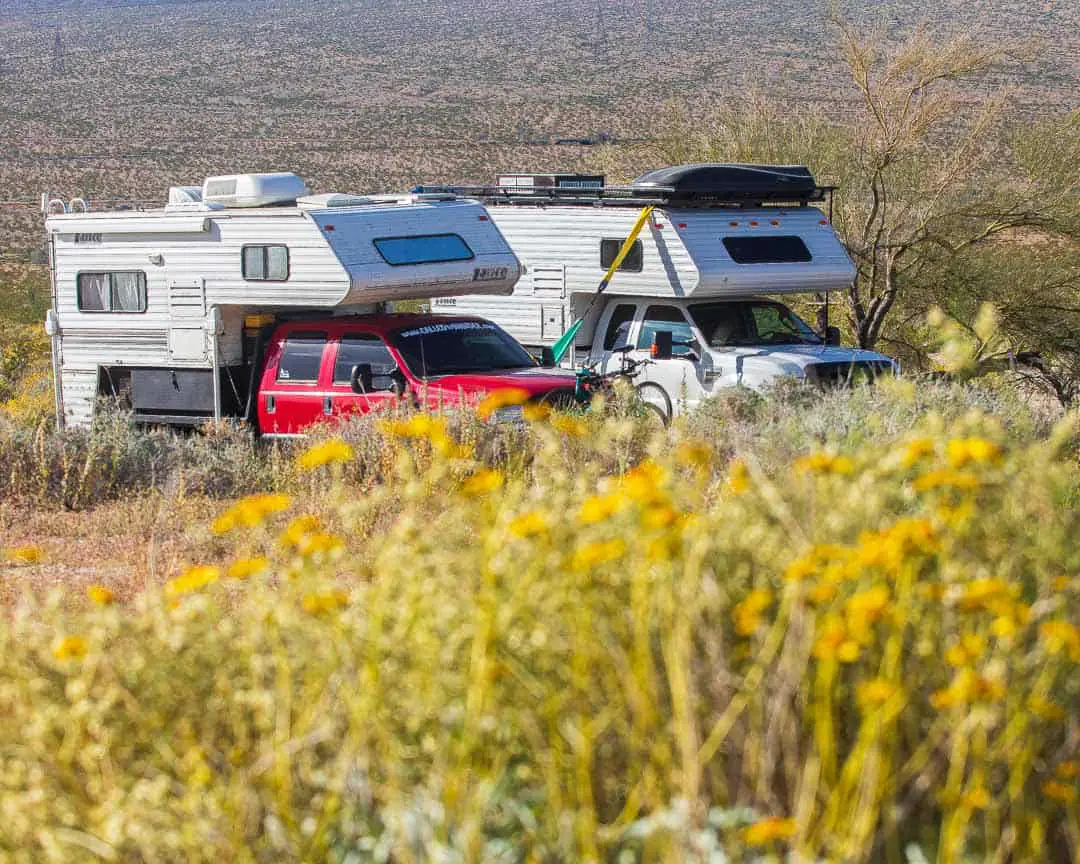 The park actually advises BLM camping if you are unable to find a site within the park. 
On the southern entrance, along Cottonwood Springs Road there are several dirt roads that lead perpendicular to the park entrance.
You will likely see numerous other RVs scattered about the land. Some pull off spots are more formal than others with fire rings and level ground.
This is a perfect place to camp if you're planning one day in Joshua Tree National Park.
Alternatively, there are free camping sites on the northern entrance to the park from Twentynine Palms. 
Nearby Camping Amenities
Regardless of how much time you have for your Joshua Tree itinerary, you can expect to be able to take care of your camping business with reasonable effort. 
Food
The closest places to stock up on food will be in Indio/Palm Springs if you are at the southern end of Joshua Tree.
There are more options in the smaller towns to the north of Joshua Tree along Hwy 62. Twentynine Palms, Joshua Tree and Yucca will all have options for you to grab most, if not all, of what you're looking for.
If you're looking to skip a night of cooking, grab a quick bite to eat at Natural Sisters Cafe. Just get there before they close at 7 pm for some delicious and healthy eats.
Or check out Crossroads Cafe for some more traditional hearty breakfast meals like huevos rancheros or polenta and eggs.
Or grab a tasty burger or Reuben sandwich. Both restaurants are located where Joshua Tree National Park exits into the town of Joshua Tree. 
Water
On the southern end of Joshua Tree National Park you can fill up at the Chevron station on I-10 just east of the Cottonwood Springs Road entrance to the park.
Alternatively, there is a water station in Indio about a half an hour from the Cottonwood Springs Road entrance.
To the north of the park, there you can fill up on potable water at the ranger's station outside Yucca or at the visitor center near Twentynine Palms.
Dump
There is a $5 self-paid dump station inside Joshua Tree National Park at the Cottonwood Springs visitor's center.
Take the side road down Cottonwood Springs and you'll see the dump station.
Alternatively, there is a free dump station in Indio at the Valley Sanitation District Water Reclamation Facility.
Propane
There are several places to refill your propane near Joshua Tree National Park.
There's a U-Haul location just east of the Cottonwood Springs Road entrance to the park from the south. Further west on I-10 in Palm Springs you also have a propane option with another U-Haul center.
To the north in Yucca, you can find propane at G&K Propane just west of town on Hwy 62.
About Author