Last Updated on November 30, 2022 by Chris and Lindsay
Thinking about how to spend one day in the Grand Canyon? Even if you've never been to the Grand Canyon before and don't truly understand how incredibly "grand" it is, the thought of putting together a one-day Grand Canyon itinerary can be overwhelming. 
But if you're willing to get up early and perhaps stay out a little late, it is possible to have a pretty awesome day at the Grand Canyon.
From catching the sunrise at Grand Canyon Village to watching the sunset at Desert View Watchtower and a dozen incredible hikes in between, there are so many great ways to spend one day in Grand Canyon National Park.
Of course, like most other US national parks, you could spend weeks exploring the Grand Canyon at a much slower pace. But if you've only got one day to see and do everything you can, then we'll help you make the most of it!
Everyone should see the Grand Canyon at some point in their life. And there are plenty of great things to see and do nearby, so incorporating a visit as part of a Southwest USA road trip is easy and well worth your time!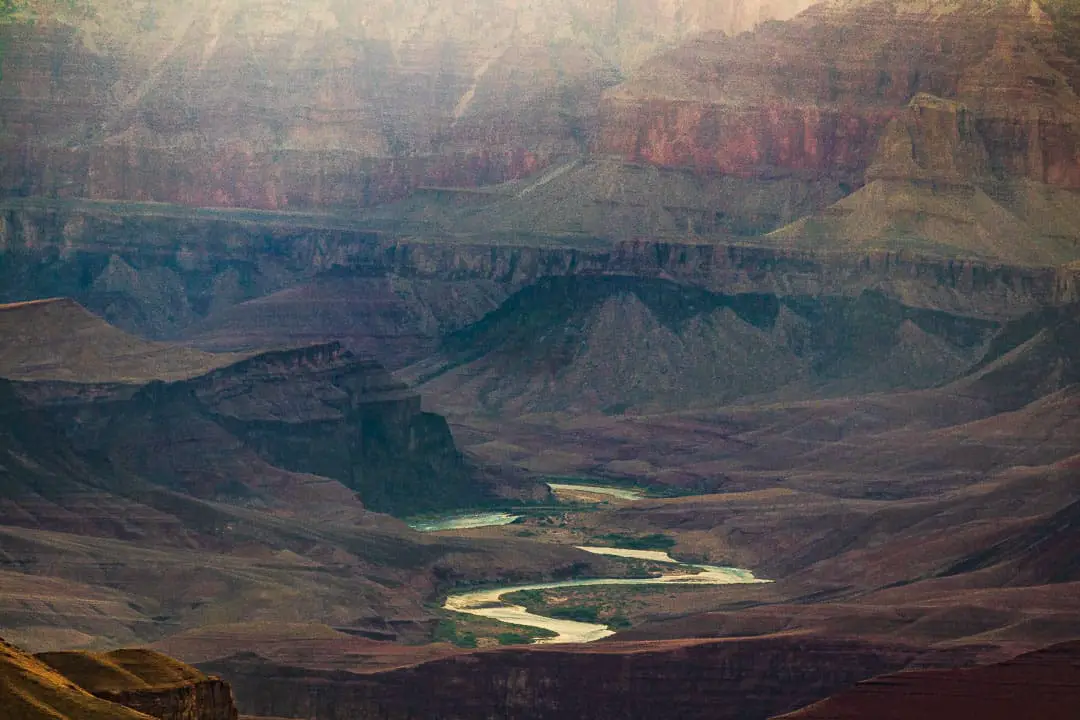 It will truly amaze you and stretch your imagination about the beauty of the world. And while we've included some of our favorite photos throughout this guide to try and inspire you on your trip to the Grand Canyon, even we know that pictures do not do justice for the landscape you will see. 
We have traveled through the Grand Canyon's south rim on two separate occasions and we have broken this post down into the best one-day Grand Canyon itinerary you could put together. 
One Day In Grand Canyon Itinerary
You can easily spend one day in Grand Canyon because the route through the park can be done in a circular fashion.
Additionally, depending on whether you're traveling from Flagstaff/Williams to the south or Page to the north you can do this one-day Grand Canyon itinerary in reverse. 
Unless you're camping inside or just outside Grand Canyon National Park, you're likely going to begin your day either in Flagstaff or Williams.
In either case, you are within an hour and fifteen minutes of the park entrance. 
An Overview: One Day in Grand Canyon Itinerary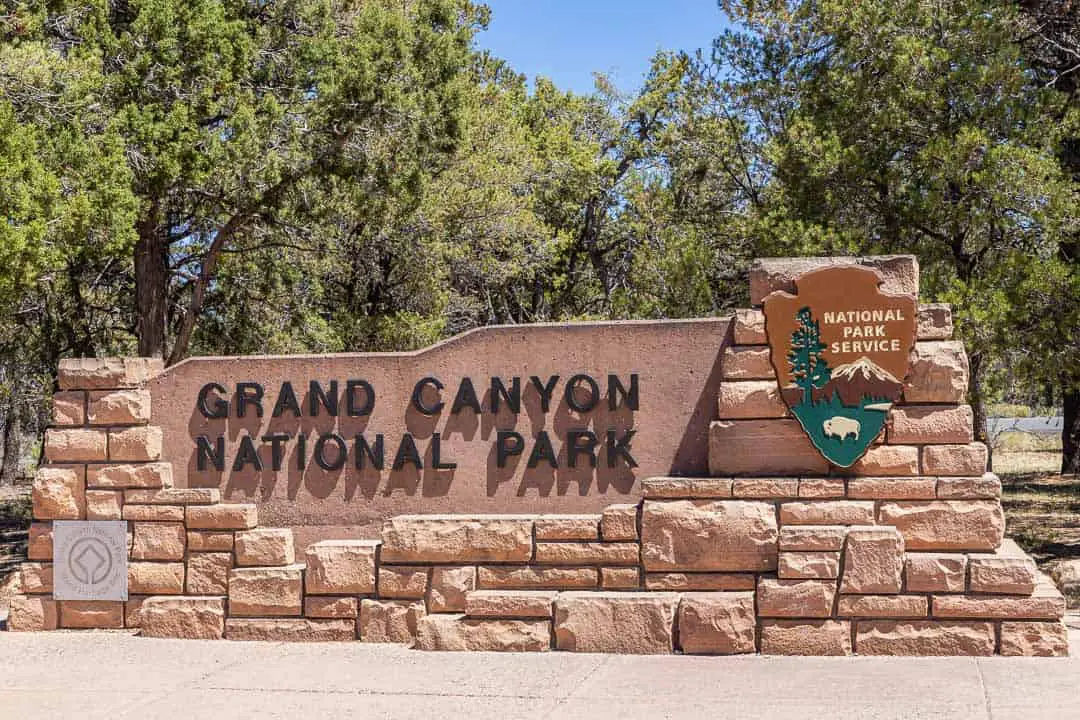 There truly is nothing that compares to catching both a sunrise and a sunset in Grand Canyon.
If you can spend one night in the Grand Canyon then this will give you the best chance to see both a sunrise and sunset.
But if you are unable to do so, then it is worth saving your energy for one very long day in Grand Canyon National Park. 
With one day in the Grand Canyon, this is how we would spend our time: 
Sunrise from Grand Canyon Village (save the hike for later)
Hike 3-4 miles of South Kaibab Trail to enjoy views looking both up and down at the canyon
Head out to Shoshone Point to enjoy lunch
Stop by Navajo Point to catch a late-afternoon snapshot of the canyon
Catch the sunset at Desert View Watchtower (stay later to view the stars)
While this is our ideal one-day itinerary for the Grand Canyon, we also offer a couple of great alternative stops that give you the ability to pack your day as much as you would like!
Read on for details on this incredible one-day itinerary!
Entering Grand Canyon South Rim
Plan to wake up early. Your first view of the Grand Canyon should be as close to sunrise as you can possibly make it.
The route into the park from Williams/Flagstaff will bring you to the South Entrance Station after passing through the small touristy town of Tusayan. 
Flash your America The Beautiful annual pass to the ranger and be sure to pick up your handy park map.
If you don't have an annual pass, which is purchasable at the gate for $80, then the entrance fee is $35 per vehicle and is good for up to 7 days.
But if you only have one day in Grand Canyon National Park then this is a pretty steep fee. And we can recommend lots of other national parks to visit that will pay for your annual pass in 2 to 3 visits. 
Sunrise Over the Grand Canyon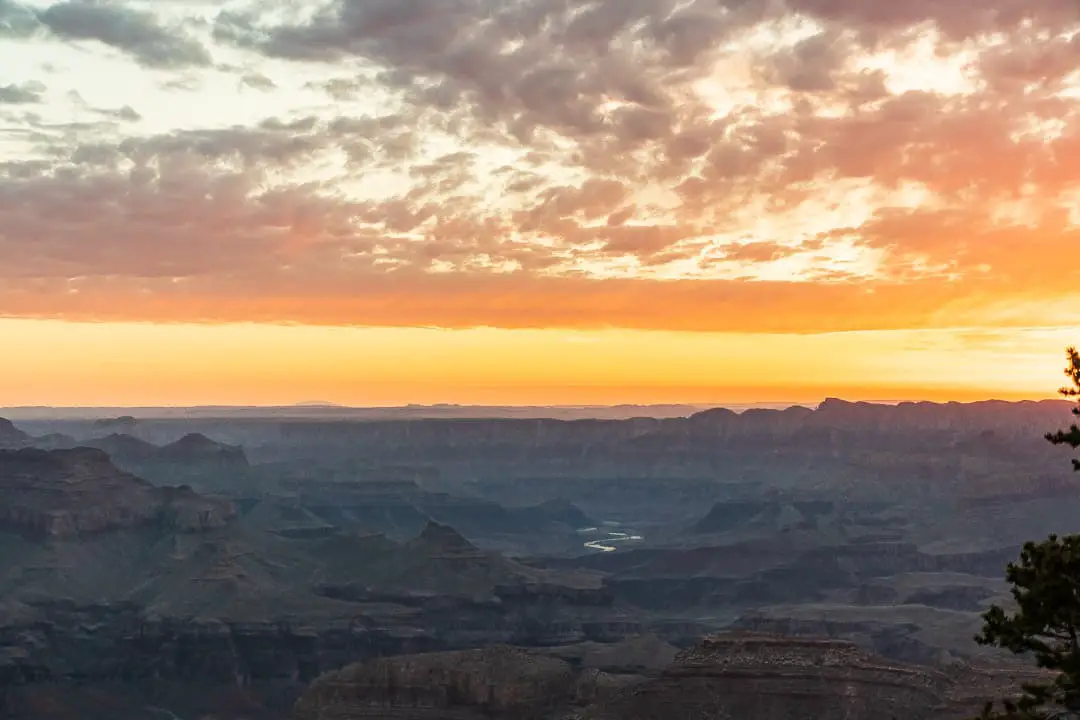 Your first stop inside the park will be to the Grand Canyon Village. If you've made it into the park before sunrise, then you're going to really appreciate the views of the canyon as the light illuminates the canyon.
Take in the heights and depths of the canyon from the top of the rim.
Or if you'd like to get a nice bit of exercise to start the day, then take the 1.5-mile Resthouse trail via Bright Angel Trail.
A moderate 3-mile out and back hike, you'll get your first glimpse of how grand the Grand Canyon truly is. Expect to spend 2-3 hours on this hike that will take you down into the canyon. 
For an easier, but longer hike you can hike the 5.4-mile out and back Grand Canyon Rim Trail. This will take you approximately 2 ½ – 3 hours and offers spectacular views as you walk along the rim of the Grand Canyon between Grand Canyon Village and Mather Point.
The trail is considered easy and is paved and level the entire way.   
Stop at the South Kaibab Trailhead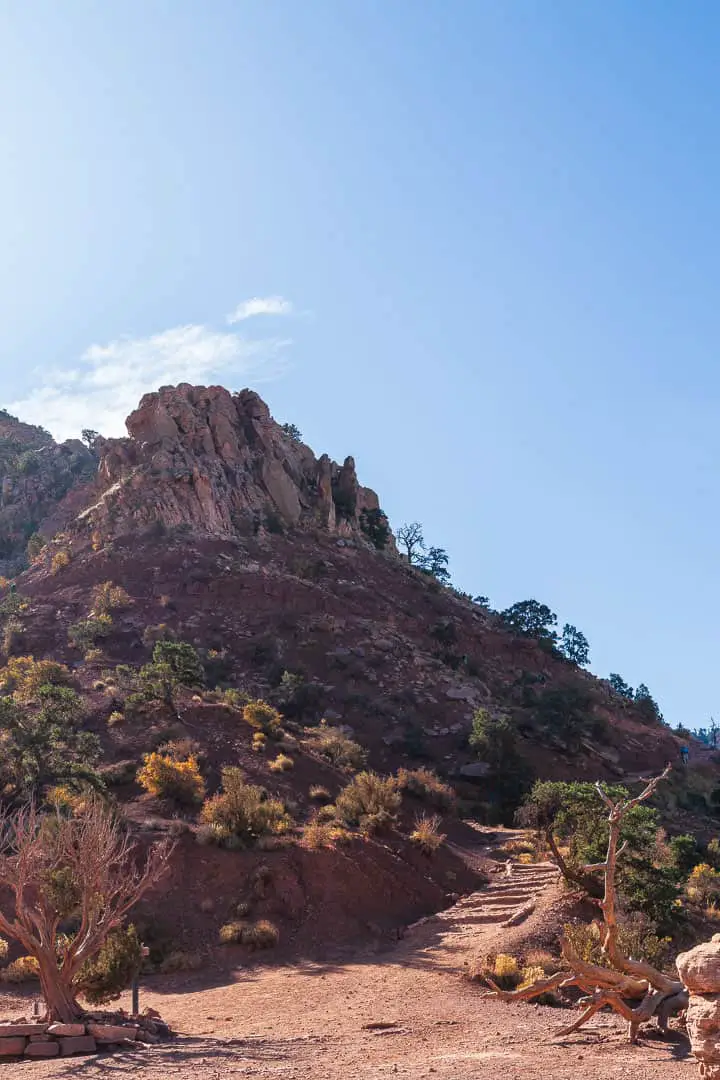 After stopping for views (and a quick hike) at Grand Canyon Village, your Grand Canyon one-day itinerary continues as you hop in your vehicle and continue to drive through the park.
If you opted not to hike the Grand Canyon Rim Trail, you can still stop at Mather Point for new views of the Grand Canyon.
But if you did complete this hike then keep driving and pull into the South Kaibab Trailhead. 
If you passed on a hike earlier, put your hiking boots on and grab a water bottle because you're going to want to start down the South Kaibab trail for a spectacular out-and-back hike toward the bottom of the canyon.
While this is a popular trail for multi-day hikes, it is also heavily trafficked by those wanting a small glimpse at the Grand Canyon looking up. 
The South Kaibab trail is the quickest descent into the canyon and within a few minutes of hiking down the trail you will marvel at the sheer size of the Grand Canyon.
While you are welcome to hike as far out as you feel comfortable, note that the trail is mostly downhill on the way out, which makes it uphill on the way back.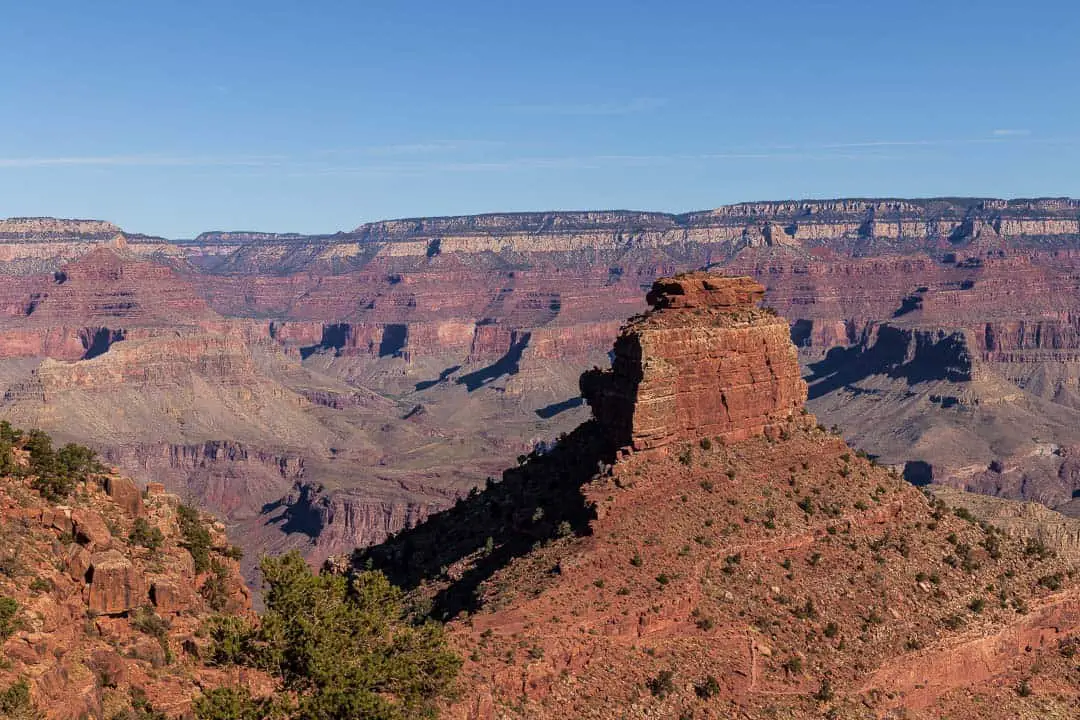 A popular turnaround point is Cedar Ridge, approximately 1.5 miles down the trail. There are restrooms here and some pretty awesome views looking both down toward the Colorado River and back up toward the rim of the canyon. 
With just one day in Grand Canyon National Park, this is probably your best and most scenic hike.
Lunch On The Rim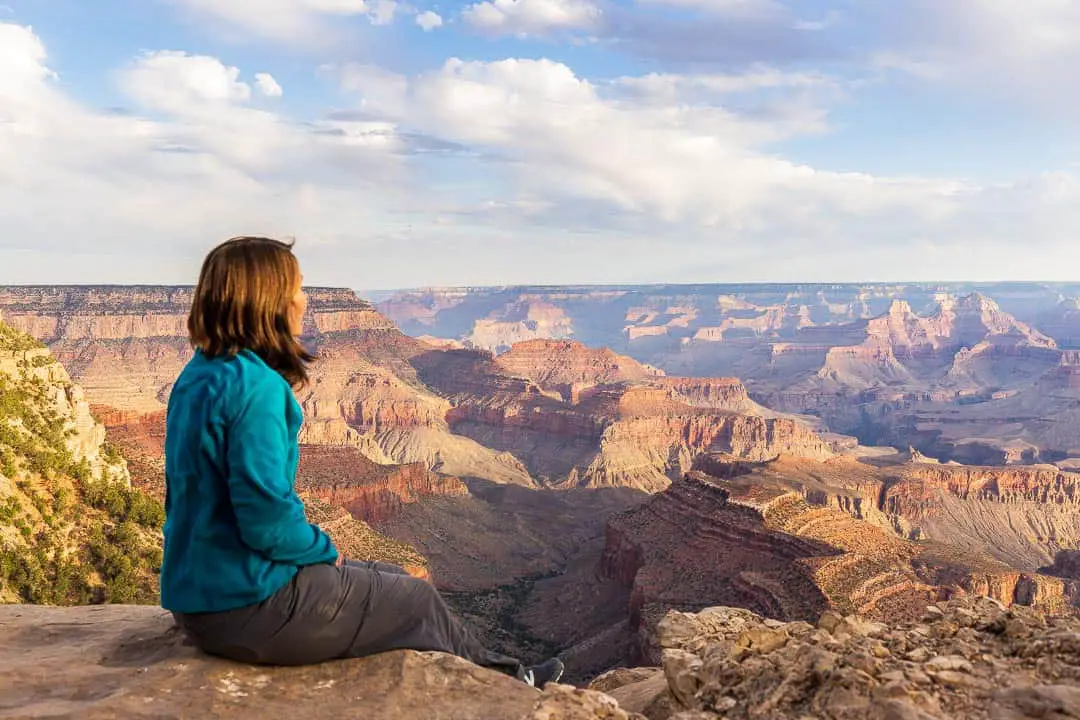 Once you get back to your vehicle you'll want to continue driving east along Desert View Trail. Pullover at any number of lookouts and enjoy your lunch or afternoon snacks. 
Shoshone Point offers a great view. But if you're already hiked a bit earlier then you may not be interested in another 2-mile roundtrip hike.
But if you've been saving your energy, this is an easy, scenic trail that leads to yet another spectacular view.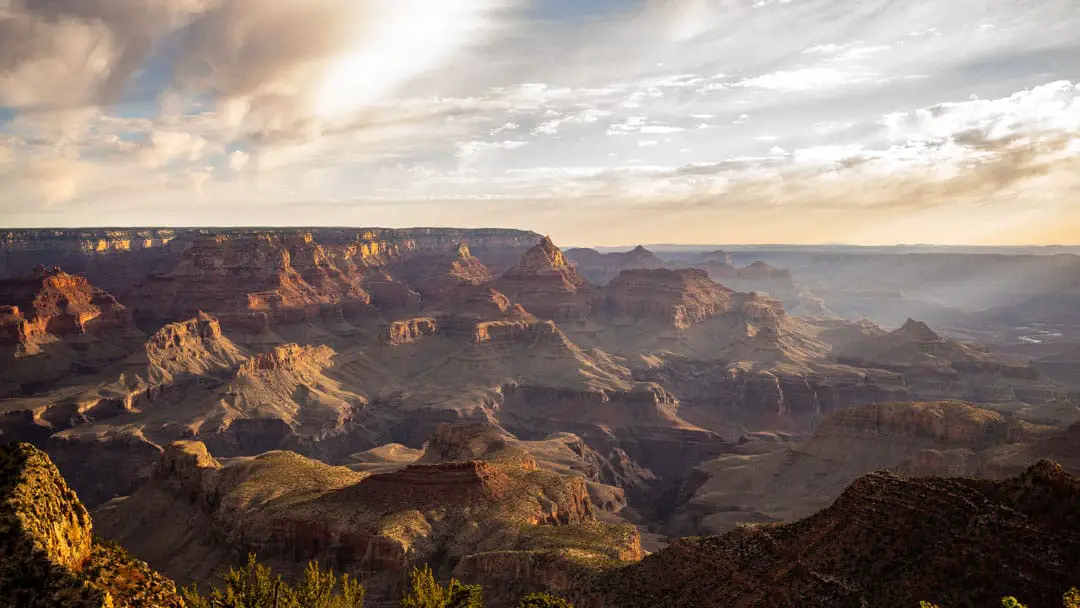 Grandview Point is another incredibly popular viewpoint with a large parking lot. You won't need to hike to enjoy great views while snacking.
If you've been saving your time and energy there is a moderate 4-hour hike from Grand View to Horsehoe Mesa. But if you hiked the South Kaibab trail then you're probably tapped out on time and energy and had a host of incredible views. 
Moran View is another great place to stop for a view without having to hike any more than you already have. It's also a good spot to set up for the sunset if the day is getting late. 
Sunset at Navajo Point or Desert View Watchtower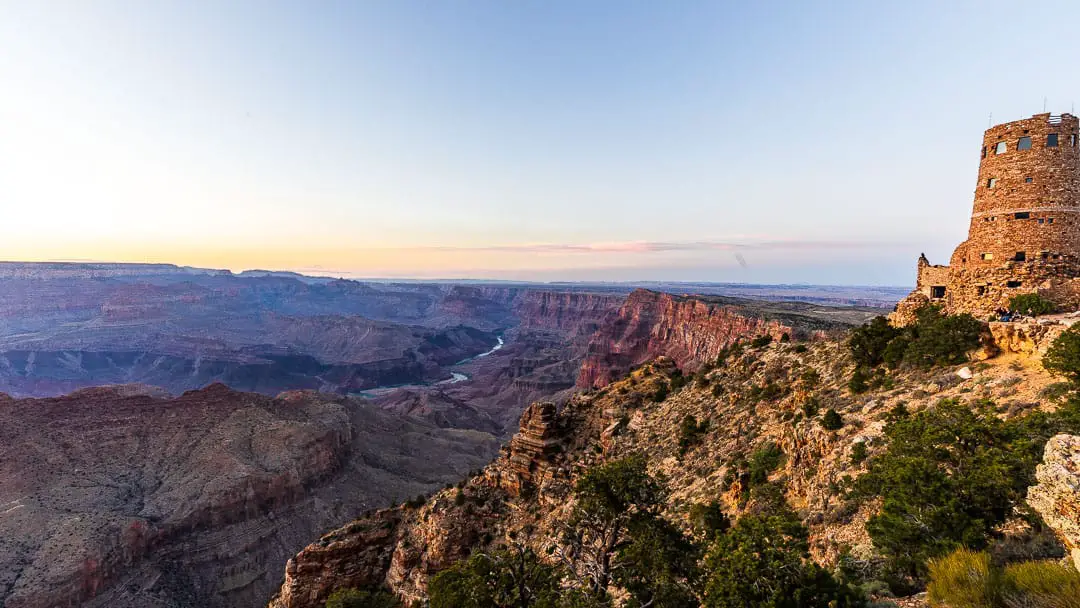 Both Navajo Point and Desert View Watchtower are excellent westward-facing viewpoints to watch the sunset.
If you can set up early enough at Navajo Point you'll have a front-row view of what will easily be one of the most beautiful sunsets in your life. 
Equally brilliant, although the size of the parking lot will indicate how crowded it will be, is the Desert View Watchtower.
You can't miss the tower itself. And while there are plenty of paved paths that lead along the rim of the canyon, there are also plenty of spots to tuck away from the crowds to enjoy your own view of the sunset. 
If you don't mind a little night driving back to where you're spending the night, then stay out at Desert View Watchtower until the sun sets and darkness settles in over the Grand Canyon.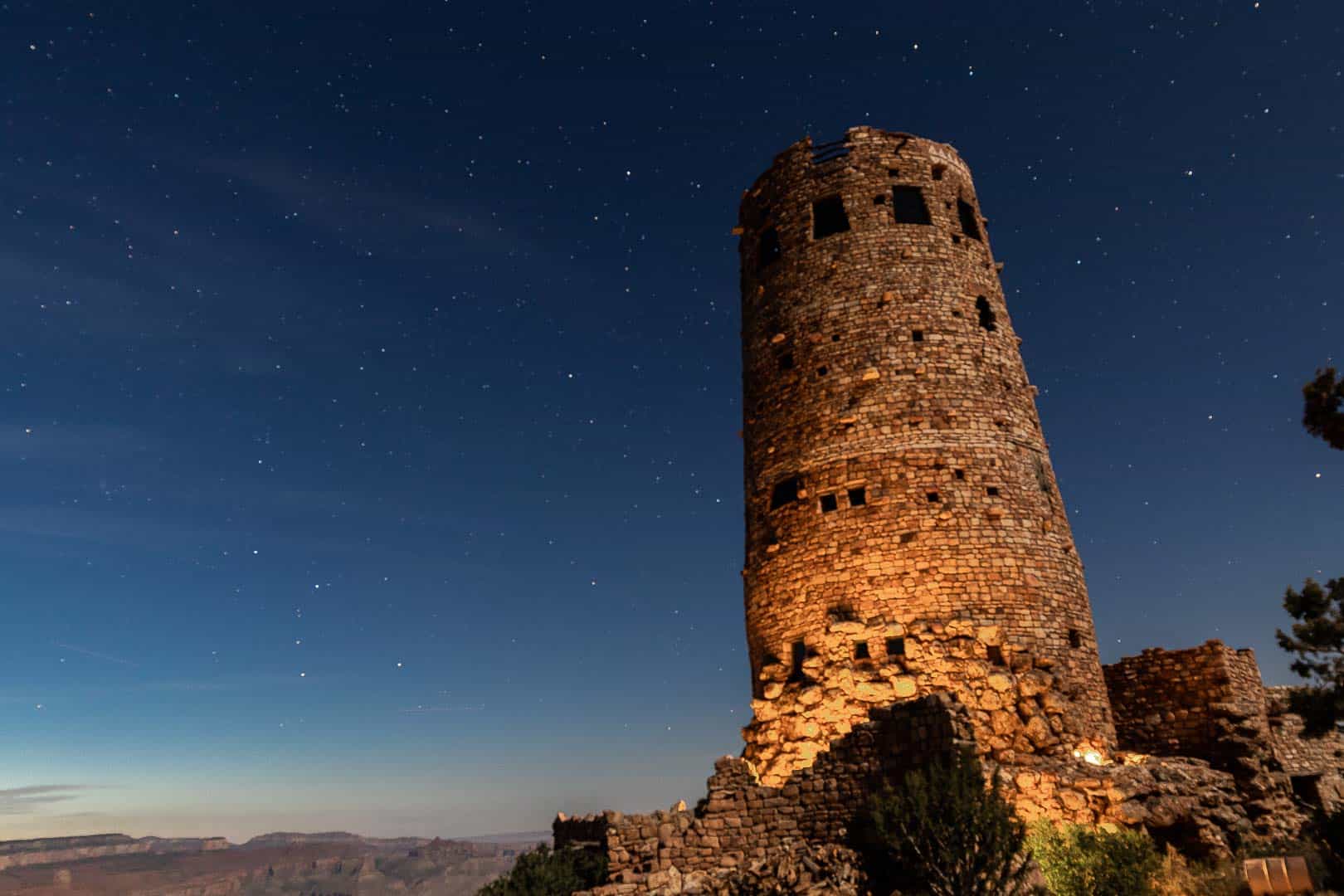 With no ambient light within 75 miles, a clear night will offer some of the best stargazing in the northern hemisphere.
Depending on the time of year you may even be able to capture a shot of the Milky Way Galaxy as it makes its way across the night sky. 
Unless you are staying in or camping just outside of the park you'll have an hour and a half drive back to Flagstaff/Williams. 
RV Camping Guide: Grand Canyon National Park
Now that you have an idea about what to see and do with one day in Grand Canyon National Park, here are some resources to help you figure out where to camp and find other camping necessities in the area. 
How To Get to Grand Canyon
From Flagstaff/Williams
The South Rim of the Grand Canyon is accessible via a route from either Flagstaff or Williams. The route is approximately 1 hour from Williams, which is typically the most direct route to the park. 
Depending on the time of year (whether the roads are closed to weather) you can do this entire itinerary in reverse by driving north on Hwy 89 and entering the park through the East Entrance. 
From Page
If you're coming from Page you will take Hwy 89 south and necessarily do this itinerary in reverse because the quickest way into the park will be via the East Entrance. 
Where to Camp in Grand Canyon National Park
Like other US National Parks, Grand Canyon National Park offers great camping options within the park.
However, as you can imagine, these campsites are popular at almost any time of year. 
You can make reservations for Mather Campground for $18 per night. But RVs over 30 feet are not permitted.
During the winter no reservations are required but there are also no rangers in the event of trouble. You also won't have RV hookups at Mather. 
If you want hookups you'll want to reserve a site at Trailer Village. About as beautiful as the name suggests, you're paying to camp in the park not to have the most glamourous views. 
However, our favorite campground within Grand Canyon National Park is Desert View Campground (which also closes for winter).
This is first-come-first-serve camping and the rangers advise that the campground is typically full by noon each day. If you're planning to camp here we'd recommend arriving in the campground by 8-9 am to scout out spots that open up.
Then you can pay the incredibly reasonable $12 per night fee and reserve your site while you spend the rest of the day exploring the park. 
Although this is dry camping, there are morning and afternoon generator hours and you have access to potable water. There is also a restroom, but no shower. 
Our favorite part of camping at Desert View Campground is that it is a short dog-friendly walk to the watchtower viewpoint.
We spent a few nights camping here and each night we would head down to the viewpoint for sunset and then Milky Way photos.
Where to Camp (for FREE) Outside of Grand Canyon National Park
While camping inside Grand Canyon National Park is ideal for having the best access to the park, there is great FREE camping in Kaibab National Forest between Tusayan and the South Entrance Station.
Check out iOverlander for a variety of options and know that pretty much any dirt road that offshoots from the road into the park will lead you to free camping. 
We have spent several nights camping in the National Forest, where we were able to collect our own firewood and enjoy the solitude and night sky.
Then we had a short drive into the park to enjoy hiking the next day. 
Nearby Camping Amenities
If you are in desperate need of dumping your tanks and refilling your water there are full hookups in Trailer Village. There is also a free dump station in Mather Campground.
For water, you can access potable water at any of the campgrounds. You may have to rig your own hose and/or haul water in containers. But you do have access to water within the park. 
Food is available either as a concession in Tusayan or Grand Canyon Village. But expect to pay hefty prices for anything purchased here.
Your best options for stocking up on food before you enter the park will be in Williams or Flagstaff from the south or Page from the north. 
You can also find propane in Flagstaff and Page. So if you are low on this be sure to refuel prior to making the trip into the Grand Canyon.
About Author