Last Updated on February 26, 2022 by Chris and Lindsay
Finding RV overnight parking should never be difficult. With the right tools, knowledge and expectations there are very few places in America where you'll be hard-pressed to find RV camping.
Depending on where you travel and your comfort level, the options for RV parking locations across the US, Canada and Mexico are virtually endless. And most of the time you can find overnight parking on little to no notice.
Whether you plan to just pass through an area or want to hunker down for a few days of exploration, knowing where you can park overnight is key to enjoying your RV trip.
But if you're trying to find free RV parking that is a different story. Free overnight RV parking always varies depending on where you travel and what sort of rules are in place.
Most of the time you can only count on one-night stays and sometimes you will end up in loud or otherwise obnoxious locations.
In this post, we'll take you through some of the top places that allow overnight RV parking, provide a list of key apps and camping memberships that will aid in finding overnight RV parking and share some tips on finding the best places to camp on a budget.
Affiliate Disclaimer: This post may contain links to products we think you'll like. If you purchase any of the products through the links below we'll receive a small commission. As full-time RVers, we know our RV products well and only recommend those that we either own or would consider owning ourselves.
Tips for Finding Free Overnight RV Parking
We're pretty good at finding free or virtually free places to camp. When we first left Florida to travel to Alaska in 2018 we had a budget of $25 per night. When we spent $23 on our first night we were excited.
But a few nights later we camped for free and our minds were blown by the fact that you could find free overnight parking and feel 100% safe and comfortable in the process.
We made a game of trying to spend as little as possible in camping fees as we traveled to Alaska and averaged less than $10 per night during that 8-week stretch.
Upon our return to the Lower 48, we decided we would never again pay full-price for RV camping. In the three years since that decision, we've traveled through some of the easiest and most difficult places to park your RV overnight.
Still, anytime we looked for free RV parking we were able to do so using the tips and advice we're sharing below. We look forward to helping you have a more pleasant and cost-effective RV adventure.
Whether you're a full-timer or just looking to save a few dollars on a short RV trip, these tips should help you find a place to park your RV any night on the road.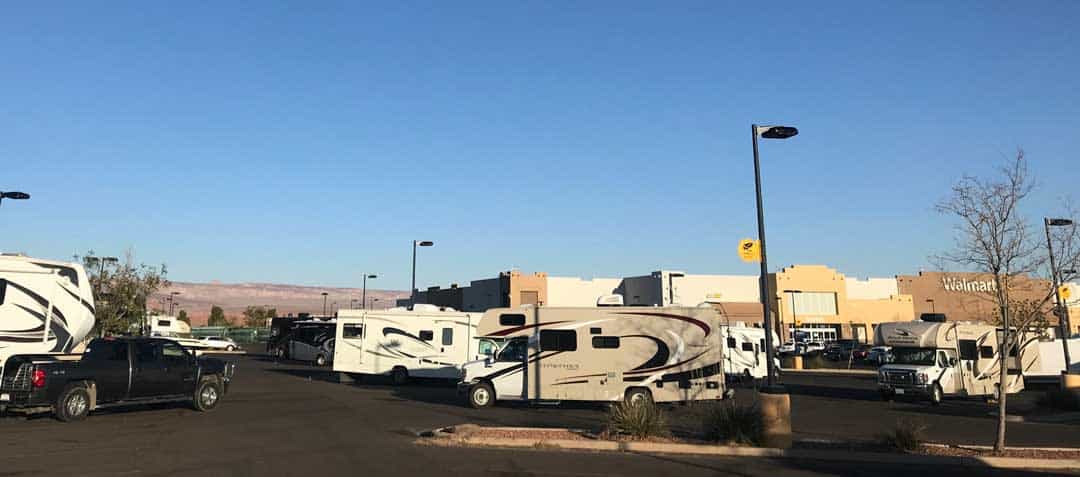 1) Know What Places Allow Free Overnight Camping
Sure you've heard that it's possible to stay in Walmart parking lots overnight. But did you know that an increasing number of Wal Marts are discontinuing this policy?
Whether through local ordinances prohibiting overnight parking or due to negative experiences with campers, many Wal-Mart stores are starting to nix the option for free camping in their parking lots.
But that doesn't mean that you won't be able to find a place to park your RV when passing through Anytown, USA. You just need to be sure that you are aware of where you can and cannot park overnight and be willing to stay in a formal campground from time to time.
What Places Allow Free Overnight RV Parking?
So you already know that Walmart is the gold standard for most free RV camping. But now you know that you can't always depend on a Walmart parking lot to make your free RV camping dreams come true.
So here are a few more to keep in mind as you pass through towns.
Cracker Barrel
Cracker Barrel is our favorite #2 go-to when trying to find free overnight parking. Most Cracker Barrel locations offer free one-night camping in their parking lot. In fact, many (if not all?) have parking spots designated just for RVs.
As when planning to park overnight in any private business, it is always good to call ahead to confirm whether the particular store will allow you to park. We have never had an issue finding a Cracker Barrel that was willing and able to allow us to stay on short notice.
Just remember that you're likely not alone. And if designated spaces are limited then you'll want to arrive as early as possible (and head into the restaurant to support the business when you can).
Cabela's + Bass Pro + Other private businesses
Cabela's, Bass Pro and Camping World are typically very welcoming to free camping in their parking lots. As businesses that sell to and depend upon the RV lifestyle, most permit you to park in a designated area.
Usually, you will not be alone in doing so. But as with parking in any private business, be sure to support the business as often as you are able. Even if you don't spend as much in gear as you would for camping fees in a campground, supporting these businesses continues their willingness to permit overnight parking.
Of course keep quiet, clean and respectful in all regards during your stay. Do check with the business in advance as you do not want to receive a knock on the door or a ticket in the windshield.
Other popular private businesses with varying rules on overnight parking include Home Depot and Lowes, Costco and Sam's Club, 24-hour fitness centers and casinos. Use our app section below to help confirm which of these may be options as you travel.
Rest Areas
Rest areas and truck stops are almost guaranteed to permit you to park overnight. Rest areas are more likely to restrict overnight parking than truck stops, which cater to an ever-moving clientele.
When arriving at a rest stop make sure to read all signage. Some rest stops will not permit overnight camping at all. Others will allow it. Still, some may even put restrictions on the number of hours you may rest in the parking lot.
We've taken advantage of all three situations and have found ourselves driving through the night and sleeping in a rest stop during the day just to make sure that we were following the rules.
Truck Stops
Truck stops are different entirely. Larger national gas chains such as Flying J, Loves and TA Travel Centers will be full of trucks at nearly any hour of the day. But it is usually not advisable to park amongst the trucks, unless perhaps you own a Class A Motorhome.
Often there are designated RV spots in truck stops. Make sure to park here unless otherwise designated. Depending on where you are traveling you may also find various RV amenities in truck stops.
We once had the option to purchase power, dump our tanks and fill up on propane all in one spot.
Any Given Neighborhood – NOT A GOOD IDEA!
No! It is not a good idea to pull over and park in any given neighborhood. This is called "stealth camping" and #vanlife is known for this as vans tend to be more discreet than standard RVs.
However, we do not promote or in any way encourage you to park in any given neighborhood – unless you are visiting friends and family who invite you to do so. It's likely you've looked out the window at some point and noticed someone parked in your neighborhood who didn't belong.
Don't be that person for others. With so many other options for free camping overnight, you should NEVER count on this option.
2) Join RV Clubs and Memberships
We are advocates of joining several key RV clubs and memberships. Whether you full-time RV or are part-time, membership in the organizations below will cost you around $100 per year and will pay for themselves in the first week on the road.
Some will offer free camping while others will greatly reduce the campsite fees.
Harvest Hosts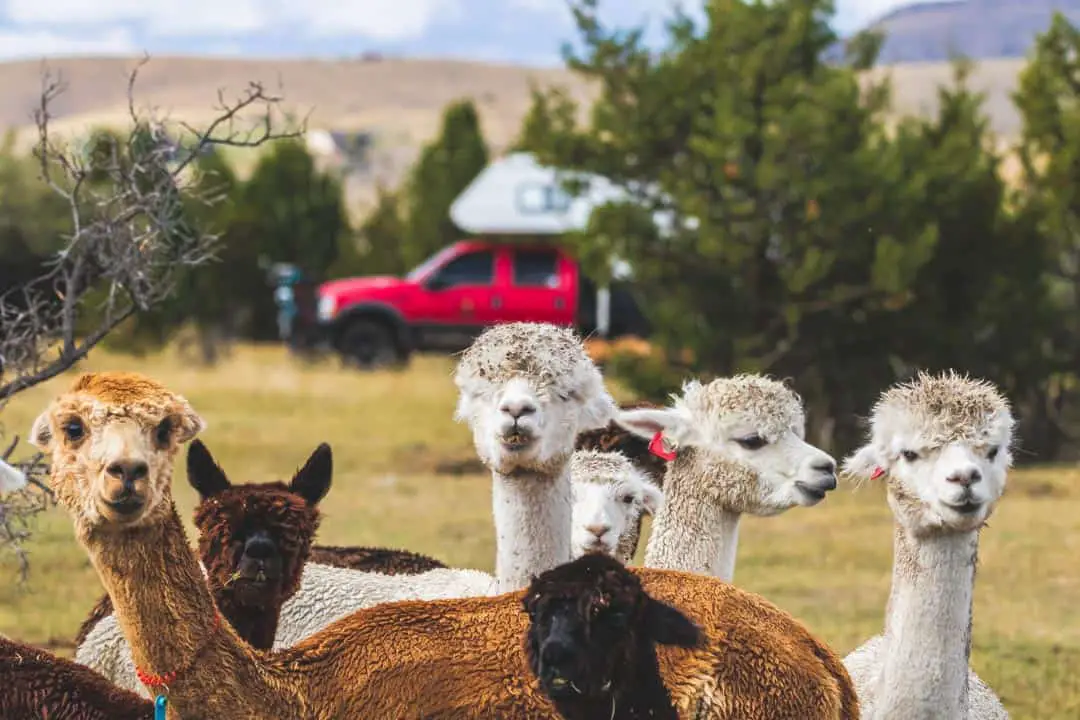 Harvest Hosts is by far our favorite and top recommended camping membership. You'll pay upfront to join the membership but then gain access to over 1,000 private locations to spend the night.
Use their mobile app to find farms, vineyards and other small businesses all over North America. You should consider spending a little money supporting the small business hosts.
But you usually buy things you need anyway and it turns out to be a fraction of the cost of campsites.
Purchase your membership through this link and receive 15% off!
Passport America
Passport America membership will get you 50% off camping fees in participating independent campgrounds across the US. While this is not free camping, these are great breaks from dry camping.
Use a night or two in a formal campground to do laundry, dump your tanks, grab a hot shower and recharge your batteries for the next few days at Walmart and the likes.
Check out this post for other great RV camping memberships and clubs that are essential to RV life.
3) Download the Right RV Camping Apps
Mobile apps make the world of difference when it comes to a variety of RV needs. Camping, in particular, relies heavily on the use of mobile apps. These are a few must-have apps to help you find free or inexpensive overnight RV parking.
iOverlander
iOverlander is the gold standard when you need to find free RV parking. Use it to find a mixture of non-traditional overnight parking options. From some of the above-mentioned private businesses to free public land, iOverlander users generate a wide range of mostly free overnight parking. Plus you can use the app to find other RV essentials such as propane, water and dump stations.
AllStays Camping
The AllStays Camping will confirm some RV overnight parking places on iOverlander for you but will also list a wide range of other ones. This app is particularly helpful with rest areas and truck stops and you can use filters and sorting features to find specific types of campsites.
Campendium
Campendium is the next best mobile application to fill in the gaps that you may have from iOverlander and AllStays. Verify user input from either of the other programs or find low-cost camping on public lands and parks. Often you can find information on popular overnight RV parking for under $10 with amenities and extended stays of up to 14 days.
4) Head West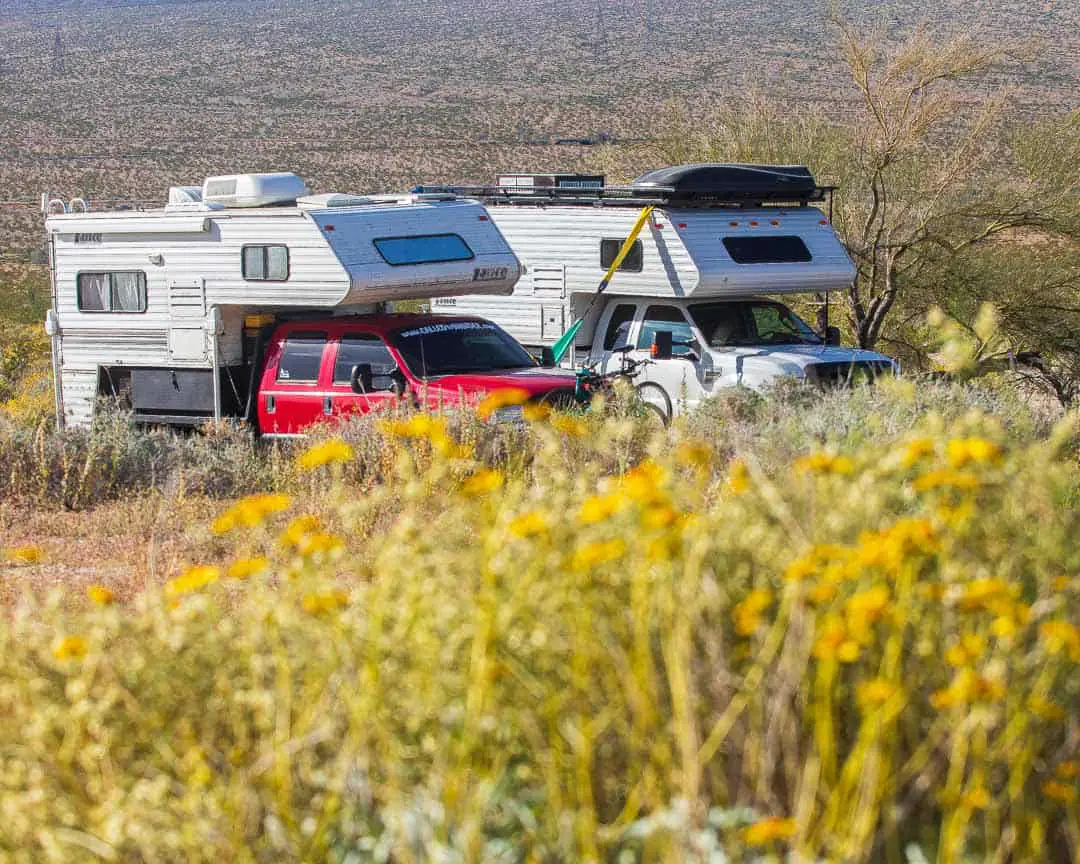 Traveling throughout the east coast of the United States is difficult for RVs. Not only do all of the cities and towns feel more compact and on top of each other, but also the free camping options are quite limited.
You can still make your way up and down the east coast staying at places mentioned in this post. But it becomes challenging to plan your way through more densely populated areas when the west coast is full of wide-open spaces and plenty of public lands.
Our favorite part of traveling west is finding dispersed camping opportunities on BLM land. Sometimes you might have to pay a few dollars for dry camping in popular locations like Moab, Utah.
But for the most part dispersed camping on BLM land is in beautiful places and cost very little to nothing. We've camped just outside some of the most incredible places to visit – Grand Teton, Yellowstone, Grand Canyon and Joshua Tree National Parks, to name a few – and paid nothing for ample overnight RV parking.
Then each morning we've been able to use our national park pass to enter and explore the park just as easily as if we had paid to camp inside the park.
5) Plan Your RV Park Stays
RV parks aren't terrible things. But if you've read this far is't likely that you are like us and you're not planning your RV trip to go from one RV park to the next.
We find RV parks are perfect ways to break up a few days of boondocking. We top off our water, dump our grey and black tanks, recharge our batteries and grab some longer-than-usual hot showers when we stay at RV parks.
But we don't get used to these luxuries as we prefer to free camp as often as possible. Still, this is a great tip for using your Passport America membership to make your stay in a formal campsite very affordable.
We hope that you have learned some great ideas about how to find overnight RV parking as you travel. Whether you're on the prowl for free RV parking or are willing to shell out a few dollars, this post should have given you some great ideas on how to make the most of finding affordable camping options. Let us know which tips helped you out, or if there are any ideas we left off!
About Author