Last Updated on September 2, 2022 by Chris and Lindsay
Everything you need to know about RV camping in San Felipe, Baja Mexico.
San Felipe, in the northeast corner of Baja, Mexico is an easy first stop for many people making their way down the Baja peninsula. 
Because it is only a 2-hour drive from the US border at Mexicali, San Felipe is a comfortable introduction to Mexico for many people traveling by RV.
As such, there are many great reasons to visit San Felipe. Likewise, there is also some advice and information we will give throughout this post to help you enjoy your time in San Felipe. 
Whether you are passing through on your way further south – or simply want to winter somewhere warmer than where you're from – when you visit San Felipe in your RV you are bound to have a great time.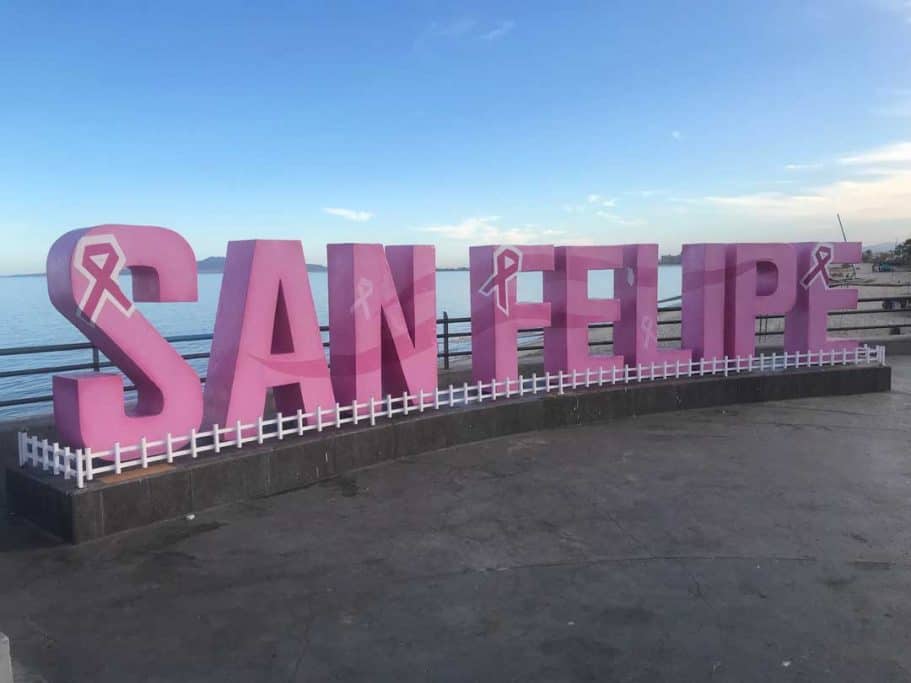 Guide to RV Camping in San Felipe
Maybe you are planning your first trip to Baja in your RV. You aren't certain if it is safe (it is!) or whether you are going to be able to figure out how to get around (you will!). 
This guide will help you take the first steps in planning your trip to San Felipe with the goal that you will fall in love with the Baja peninsula and spend your time enjoying this beautiful and friendly part of the world!
Please note, with all of our advice and information about camping in San Felipe we simply ask in return that you respect the local people, the environment and mind the laws as you camp throughout Baja.
This is a special place and we want to encourage you to visit Baja. But we'd like you to leave it a better place than when you arrived!
READ MORE: Learn everything you need to know about camping in Baja!
Reasons to Visit San Felipe
There are many reasons to visit San Felipe. And there is no shortage of things to do in San Felipe.
Here are a few reasons why people tend to visit the gateway to the Sea of Cortez.
It's proximity to the US border. At only 2 hours from the border, many people in San Felipe will still head north to do their grocery shopping at Sams or Costco. 
The relative comfort it offers. Great infrastructure in the town means your transition to life in Baja is gradual. You can expect reliable power, water, cell service and other utilities and other modern comforts of home.
Affordability. San Felipe is instantaneously more affordable than the US. Some people spend half the year in San Felipe just to save a few bucks.
Access to the Sea of Cortez. San Felipe is on the northern end of the Sea of Cortez and as such is considered the gateway to the sea. Enjoy everything the Sea of Cortez has to offer!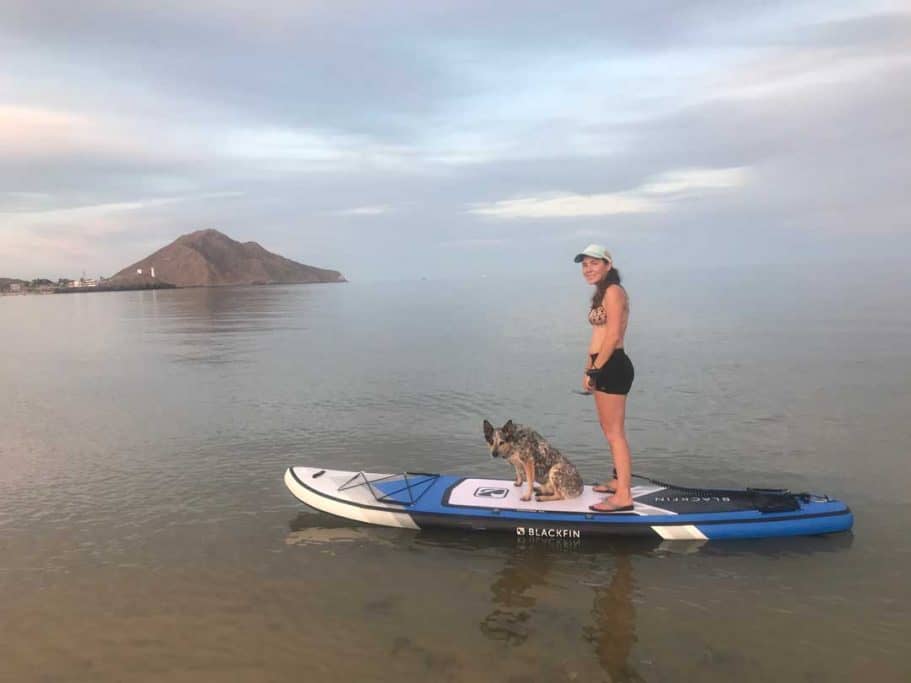 Top Things to do in San Felipe, Baja Mexico
Although the entirety of Baja is contained less than 1,000 miles to the south of San Felipe, there are plenty of great things to do in San Felipe that will keep you entertained during your stay. 
Wander the Malecon. The waterfront walkway is full of restaurants, bars, shops and all sorts of entertainment (particularly on a Friday night). Watch the fishermen bring their boats in and out of the Sea of Cortez on low tide.
Sit on the beach. The best beach is slightly south of the Malecon. But you're welcome to sit and enjoy almost any beach you find in San Felipe.
SUP or kayak. The typically calm waters of the Sea of Cortez and surreal sunsets make for some extraordinary paddling experiences. 
Go fishing. While the Sea of Cortez has generally been overfished, there are still plenty of opportunities to go sports fishing on a number of charters in the area. 
Head offroad. If you own or want to rent an ATV there are plenty of established offroad tracks to explore the desert. Please don't make your own trails. Enjoy the ones that are there!  
Explore the desert on horseback. Take a tour of the desert and explore a beautiful part of the peninsula wedged between the mountains and the sea. 
Experience your first authentic Mexican taco. We prefer fish tacos. But you can have all sorts here in San Felipe!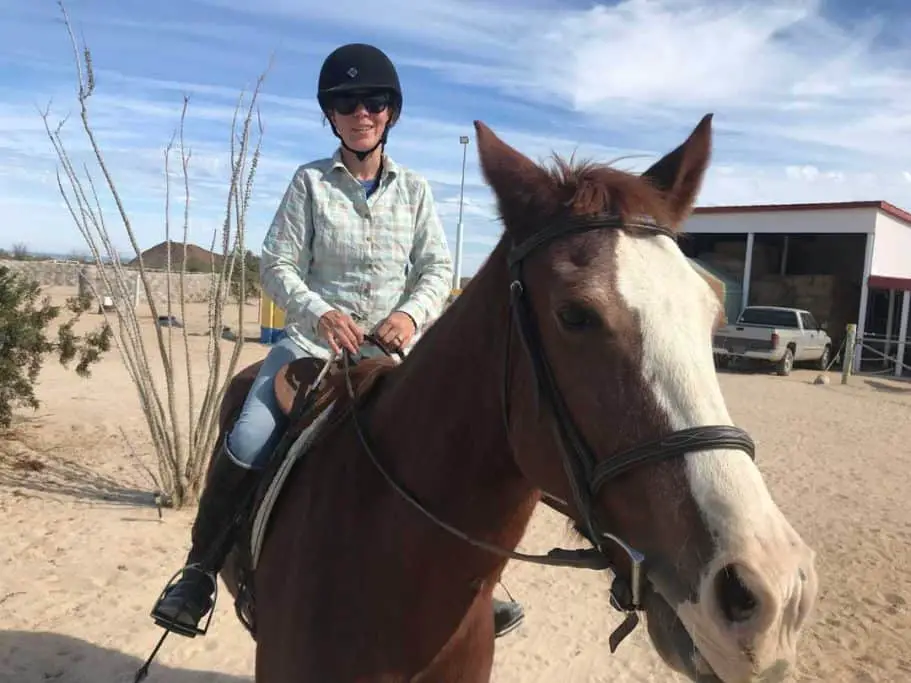 Our Experience
Although we spent our first few days in Baja enjoying sunset views over the Pacific Ocean, camping in San Felipe was a special experience for us.
Not only was it the first place where we were able to connect with individuals and organizations to serve while we were there, but also we got to see two really unique sides of the town.
We spent the first week camped at a desert ranch where we were able to assist in the therapeutic riding offered to children with physical disabilities.
As an unintended reward, we also had a chance to go on several horseback rides through the desert to see parts of Baja less explored. 
However, we also spent a week in town, camping ten minutes from the Malecon.
This gave us the opportunity to explore the Malecon and feel like we were a part of the wonderful Baja culture found in San Felipe.
On Friday night we headed down to the Malecon with the rest of the people in town to enjoy street tacos and churros, traditional music and a parade of cars packed with families enjoying the night. 
It was a wonderful introduction to Baja and we hope you enjoy the same experience (or better!) that we had! 
READ MORE: Be sure to know these tips about RV travel in Baja.
Getting There
San Felipe is a 2-hour straight shot on Hwy 5 from Mexicali. So if you are heading into Baja from Arizona this is the fastest and most convenient way to get to San Felipe. 
We read about how friendly crossing the Tecate border was for RVs so we crossed there and made our way to the Pacific coast to meet with friends for a few days. 
Then we drove south to Ensenada and took Hwy 3 across the northern state to arrive in San Felipe in just under 3 hours.
That drive was gorgeous as we cross mountains through the desert and traveled from "sea (OK, ocean) to shining sea."  
Do note that whichever way you take to get to San Felipe you will come across a military checkpoint just north of the town.
As long as you aren't up to no good this will be a very simple process of checking in, telling the officer that you're headed to San Felipe and waving farewell as you head toward town.
But also note that in a week of driving on this part of Hwy 5 we noticed several municipal police with radar guns pulling people over as they raced from Mexicali to San Felipe.
As in all cases, drive safely and obey the speed limit and you'll not have any issues!
Camping In San Felipe
Camping in San Felipe leaves you with many options. You can think of San Felipe as divided into two main sections. 
First, there is the northern fringe of town where a few ex-pat communities have been established and operate much like their own little community. 
Second, there is the downtown part of San Felipe which is much more local and gives you a better feeling of camping in Mexico.
As mentioned, we camped in both parts of town and are sharing the highlights and details of our experience so you can decide for yourself which is best for you.
READ MORE: Best FREE camping in Baja.
Camping at Pete's Place
We arrived late in the afternoon and knew that the next morning we were relocating to El Dorado Ranch.
So we camped at Pete's Place and were not impressed with our experience.
There was no stated rate. But we paid USD$18 to dry camp on the beach with our own palapa.
We were told that we would have WiFi but that did not extend to the beach.
Prices in the restaurant and bar were higher than we thought they should be for Mexico and upon pulling into the campground we realized it was more of a "gringo community" than a campground.
It did meet our needs and give us our first chance to walk along the Sea of Cortez.
But we would not recommend this place to the average RV traveler.
We've been told it can get loud as it is a party place for many US and Canadian residents who head down to San Felipe to escape the winter cold.
Instead, if you are looking to camp on the north end of town we recommend the Centro Ecuestre Caballerizas Paraiso.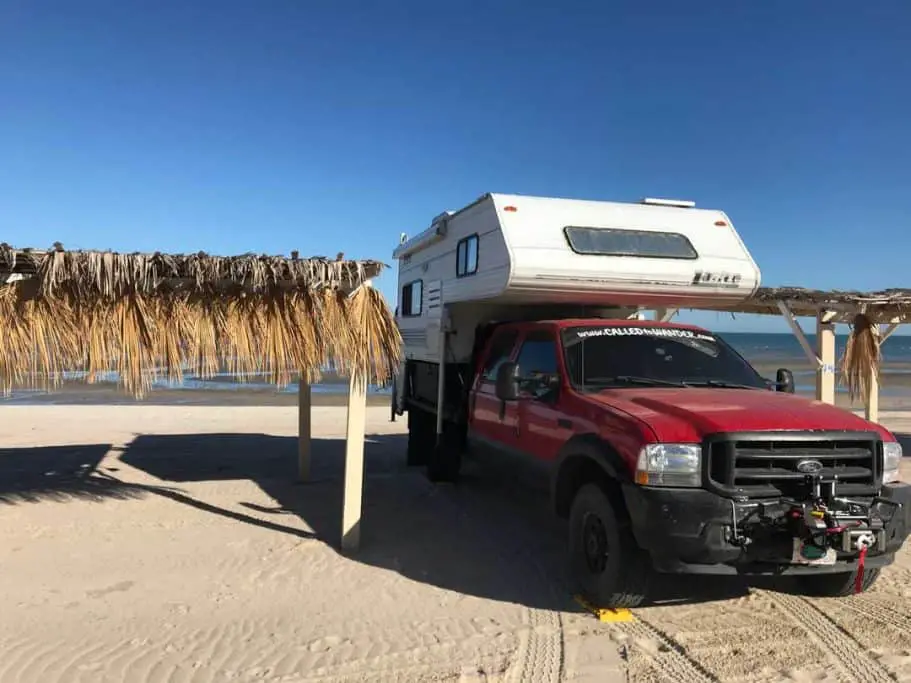 Camping at Centro Ecuestre Caballerizas Paraiso (El Dorado Ranch)
The Centro Ecuestre Caballerizas Paraiso ("the horse ranch" for short) is an informal place to camp inside the El Dorado Ranch community.
As such, you have to contact Lynn (the founder and owner) directly to set up your camping arrangements. 
Because we connected with Lynn so that we could serve kids through her therapeutic riding program offered through the ranch we opened the door for other travelers to be able to camp there as well. 
Lynn opens up the ranch for travelers with anything from a tent to a Class C RV (not enough room for Class A).
You will be dry camping next to several stalls with some really awesome horses.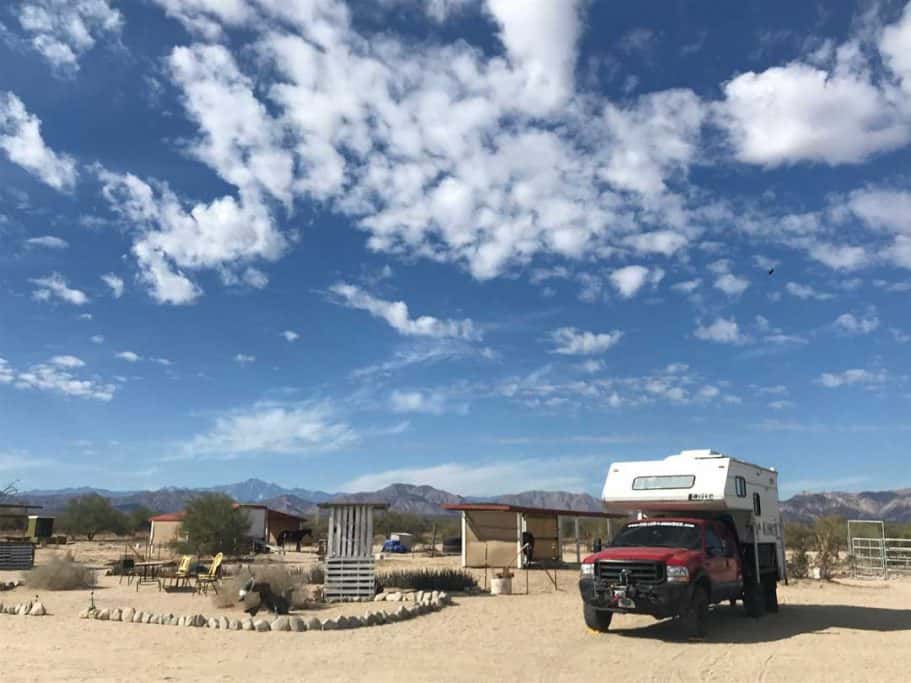 The 360-degree views of the sunset are phenomenal. 
Plus your camping fees (USD$10) go directly to support the therapeutic riding program.
Lynn offers water access for a few extra dollars (USD$5) in a donation in addition to providing free access to an outdoor kitchen and WiFi throughout the property. 
You can also arrange with Lynn to go horseback riding through the desert. Again, all donations go to supporting the therapeutic riding program. 
If you are looking for a unique place to camp in San Felipe and/or really enjoy horses, this is definitely the place for you. 
If you are looking for a place closer to the center of San Felipe, Victor's RV Park is for you.
| | | | | | | |
| --- | --- | --- | --- | --- | --- | --- |
| Amenity | | Notes | | Amenity | | Notes |
| Fuel | N | Nearby (10 min) | | WiFi | Y | |
| Groceries | N | Nearby (10 min) | | Hookups | N | |
| Propane | N | Nearby (15 min) | | RV Size | – | Anything but Class A |
| Water | Y | For extra donation | | Amenities | – | Dry camping |
| Cell | Y | | | Safety | Y | You are camping in a gated community |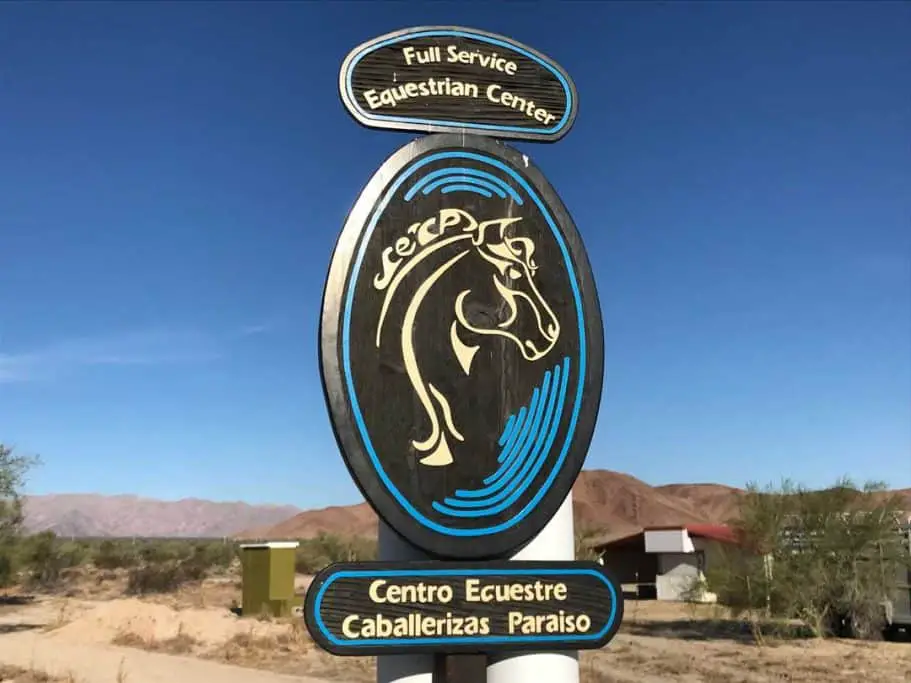 Camping at Victor's RV Park (in San Felipe) 
When we left the Centro Ecuestre Caballerizas Paraiso we wanted to camp in San Felipe to experience a bit of the town.
Victor's RV Park was priced right and located just ten minutes' walk from the Malecon. 
We read about how friendly and hospitable Lilly and Victor are, and Lilly did not disappoint.
It was not very busy when we arrived so Lilly let us have a little upgrade in our camping spot. 
Victor's typically offers dry camping for USD$10, full hookups away from the sea for USD$20 and full hookups on the sea with your private palapa for USD$30.
The RV park is right on the Sea of Cortez and has its own private beach. So whether you pay to camp on the beach or settle for dry camping you still have access to the Sea.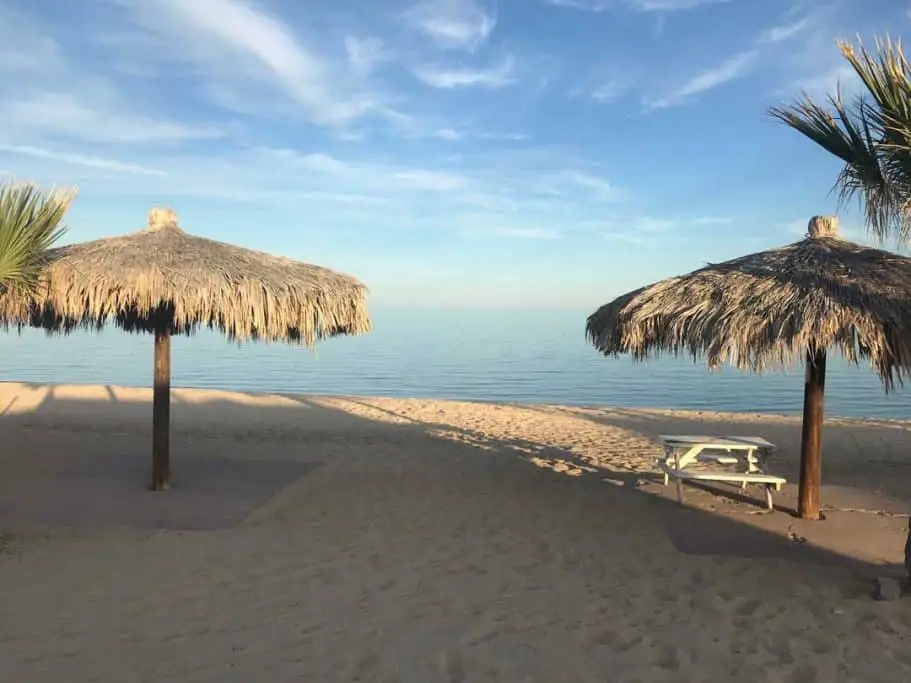 When we were there each night was more beautiful than the last. The water was calm and we took our SUP out every night to take advantage of the beauty. 
After sunset (and also during morning walks with our pup Everest) we would walk 10 minutes to the Malecon to get caught up in whatever activity was taking place.
You can either walk in the sand along the beach or along a relatively low-trafficked road. 
If you are looking to be close to town, camping at Victor's RV Park is a great choice! 
| | | | | | | |
| --- | --- | --- | --- | --- | --- | --- |
| Amenity | | Notes | | Amenity | | Notes |
| Fuel | N | Nearby (5 min) | | WiFi | Y | Y (spotty) |
| Groceries | N | Nearby (walking distance) | | Hookups | Y | Full |
| Propane | N | Nearby (15 min) | | RV Size | – | Can accommodate up to Class A |
| Water | Y | Full Hookups available | | Amenities | – | Shower, restroom, restaurant |
| Cell | Y | | | Safety | Y | Nightguard and fence |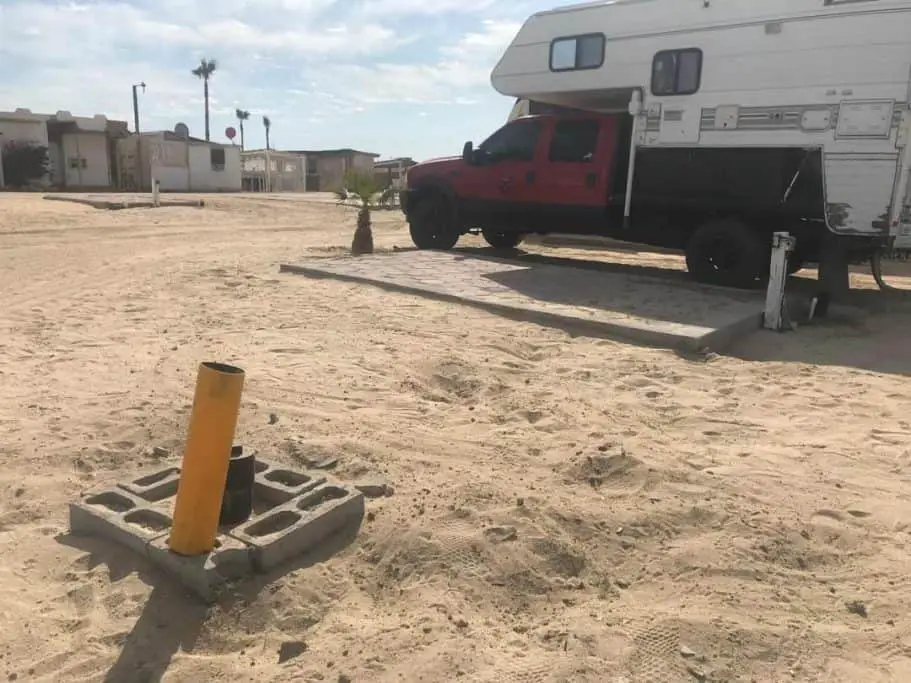 In Summary
We hope that you enjoy your trip to San Felipe. If it is your final destination and you are only looking to get your feet wet in Baja, then have a great time!
But if you are venturing further down the Baja peninsula then get ready for some more amazing places.
Up next on your journey south will be a quick stop at Puertocitos to bathe in the hot springs that border the Sea of Cortez and a few days at Gonzaga Bay.
But let's not get ahead of ourselves! First things first, have a great time camping in San Felipe!
About Author