Last Updated on December 9, 2021 by Chris and Lindsay
Building a one day Savannah itinerary can be incredibly difficult. With a rich history dating back to the colonization of Georgia, the city is ripe with history and culture. 
There are so many great things to do in Savannah that it can be challenging to try and fill just one day in Savannah. But as we have visited the city several times we have found that our favorite activities in Savannah fit nicely together in a full day (and on a budget!). 
No doubt you could spend a week in Savannah and not feel like you have experienced it all. In fact, we were only in the city for 24 hours the last time we visited Savannah and already we found ourselves thinking about how nice it would be to find a place to rent for a few months or a year!
So let's boil your visit down to one day. 
NOTE: We travel by truck camper RV and have RV-specific recommendations if you plan to visit Savannah with your RV. Read on below the itinerary to find out more tips for visiting Savannah in your RV. 
Some of the links below are affiliate links. This means we get paid a small commission if you make a purchase based on our recommendation. We only recommend those tours and services we know you will appreciate!
One Day in Savannah Itinerary
Trying to see everything that Savannah has to offer in one day is virtually impossible. But there is a lot that you can get done if you plan out your time and, of course, are willing to admit that you'll have to come back at some other time in the future. 
When you follow our Savannah itinerary you'll see how we take you through the heart of the city and all of the great things to do in Savannah while also giving you the flexibility to throw in nearby Savannah attractions. 
Getting around Savannah is best done by foot. There are so many things you will come across as you walk from one place to the next on this itinerary. And even taking in the scenery of each magical street is best done when you can stop and explore it as a detour.
But the next best way to explore Savannah is by booking either the full one or two-day hop-on hop-off trolley tour or the full 90-minute Historic Trolley Tour.
The hop-on hop-off tour will allow you to explore the city at your own pace and pick up on some of the history and stories along the way.
On the other hand, the Historic Trolley Tour will compact your trip into an hour and a half but will give you lots of great ideas of where you may want to get back and go explore on your own.
With that said, let's get into this epic one day in Savannah itinerary!
1) Explore Forsyth Park (FREE)
Most of what to see in Savannah is located in the heart of the Historic District. So for the start to your one day itinerary we're going to take you down to Forsyth Park. Forsyth Park is located on the fringe of the historic district and you absolutely can't miss it.
Unlike most of the other parks in Savannah, Forsyth Park is a long rectangular-shaped park similar to the National Mall in Washington DC. There are several monuments and a spectacular water fountain in the heart of the park.
As this is the first stop of the day, you can spend as much time as you want wandering around the park.
Or plan to come back later for a cat nap or a cup of coffee and people watching. There are plenty of benches in the shaded area of the park and lots of open space to set up a picnic or to play with your dogs. 
From Forsyth Park most of the next activities are going to be along a relatively straight path walking toward a sunset over the Savannah River and River Street in the historic district.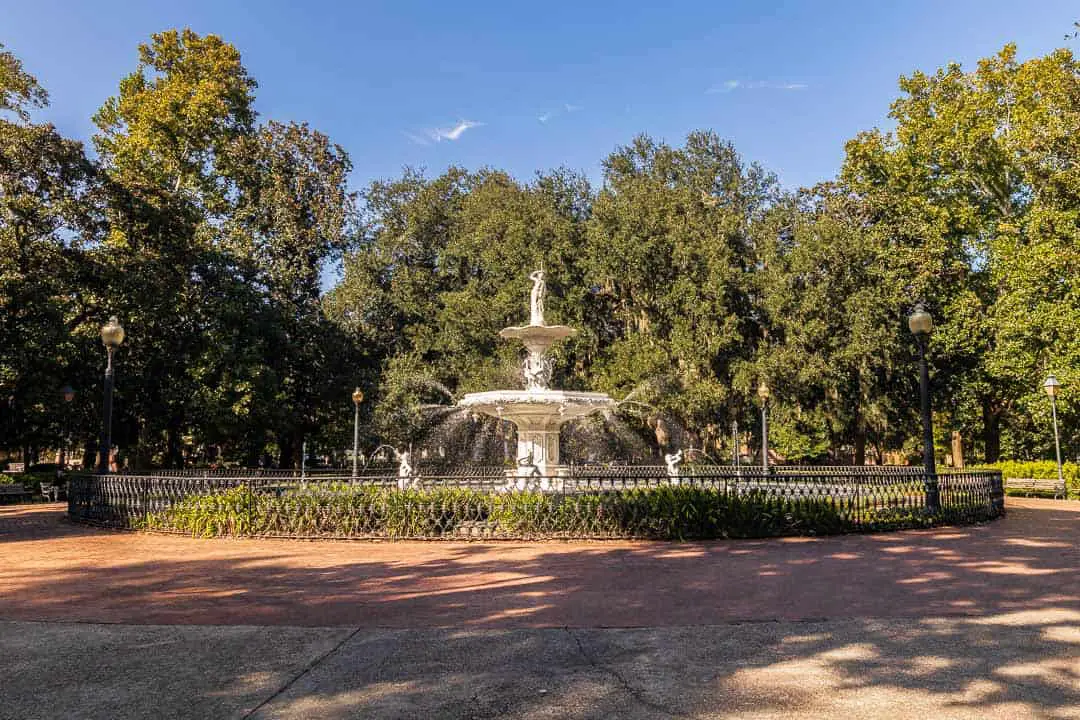 2) Cathedral Basilica of St. John the Baptist (FREE+)
Walking down Bull Street at the heart of Forsyth Park will take you through the grid that is Savannah's park system. You'll have a lot of options for jumping into different museums here.
But we recommend that you cut over to view the Cathedral Basilica of St. John the Baptist. 
Originally built in 1786, this is a Savannah attraction that stands out among all of the other historical landmarks throughout the city, literally.
You can't really miss the gothic spires that climb to the top of the city. The Cathedral Basilica of St. John the Baptist can be appreciated whether you remain outside or choose to go into the cathedral itself.
When we visited there were services going on that prevented us from touring the cathedral. But it is possible to arrange for a tour for a small donation ($3.00).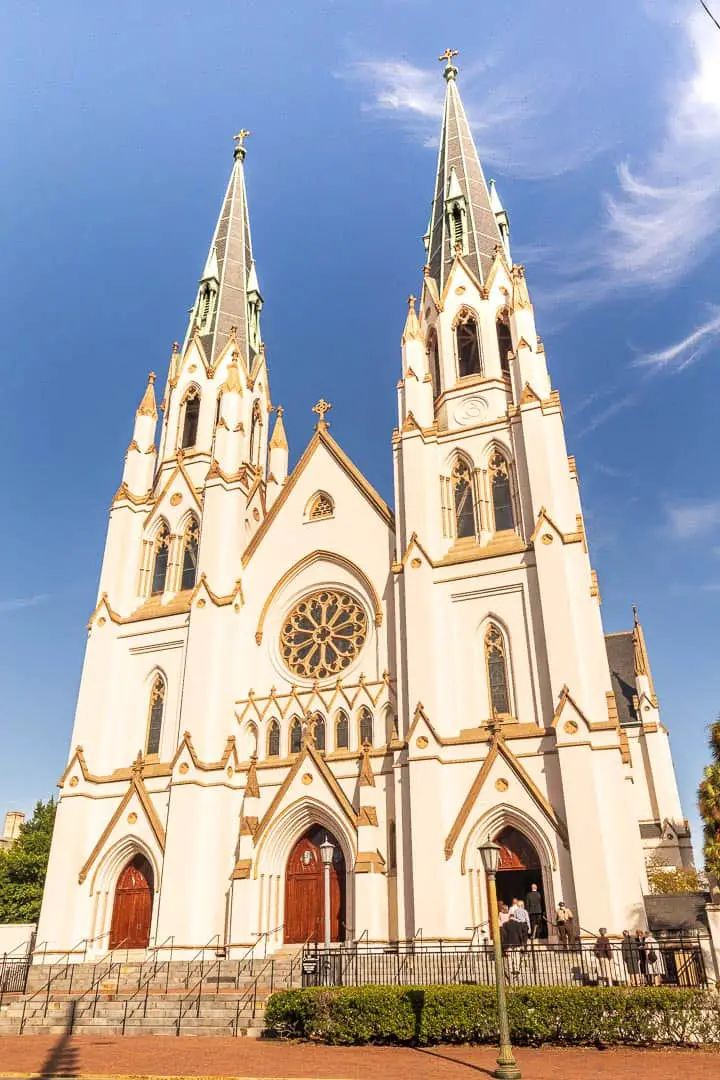 3) Colonial Park Cemetery (FREE)
From the Cathedral Basilica of St. John the Baptist, head to the Colonial Park Cemetery to view some of the oldest headstones in the region.
Growing to a size of nearly 6 acres to accommodate 9,000 graves, the Colonial Park Cemetery was the city cemetery between 1750 and 1853. There are numerous people of local historical significance buried here with placards to describe their feats in life.
You can easily spend an hour or so wandering around searching for the most unique headstones you can find. Some have been so well worn that you can barely read the inscriptions, if at all. 
4) Sit on a Bench at Chippewa Square (FREE)
From the Colonial Park Cemetery you will cut back toward the city park made famous by the award-winning film Forrest Gump.
Chippewa Square in and of itself is not any more unique than the 21 other squares throughout the city. But it is perhaps the most central and it is also where Tom Hanks famously sat on a bench recounting his life as Forrest Gump.
While the bench he sat on has long since been removed, there are plenty of other shady benches on which to sit and take in the day.
You can also check out what shows are screening at the Historic Savannah Theater, whose marquee juts out on the corner of Hull Street toward the Chippewa Square.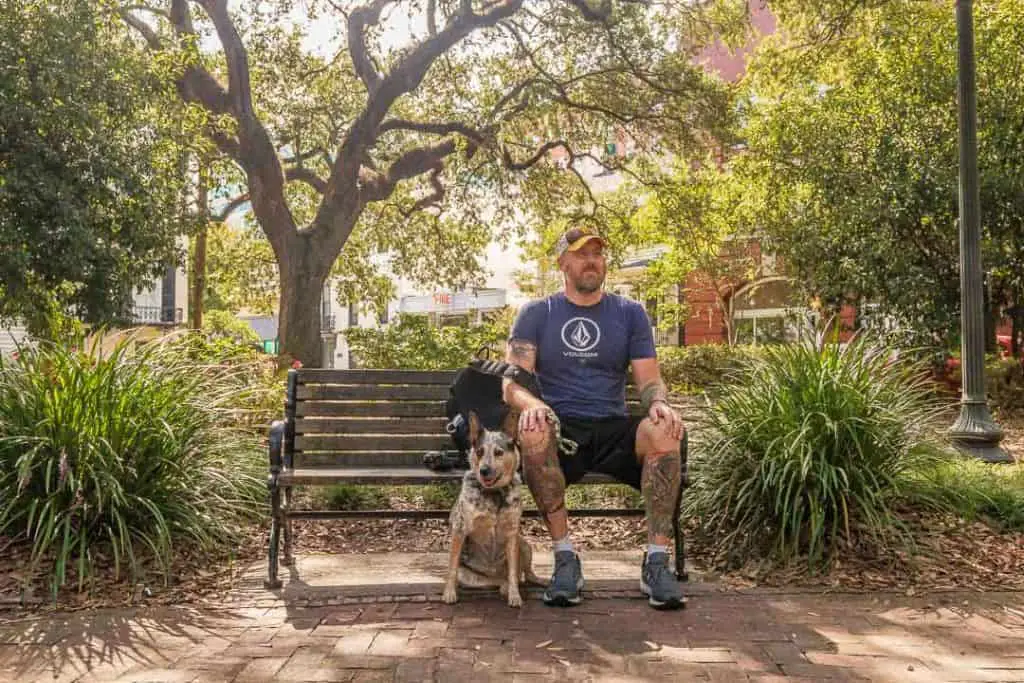 5) Chow Down at the Olde Pink House Restaurant ($$)
From here when you meet Oglethorpe Avenue you have a variety of options when it comes to historic attractions and museums. But if you're aching for a bite to eat we'd recommend that you head on down to the Olde Pink House Restaurant on the corner of Reynold's Square.
Originally built in 1771, the Olde Pink House Restaurant occupies a home that once  held meetings that seeded the American Revolution. Now it serves delicious southern-style meals on the finer side of dining.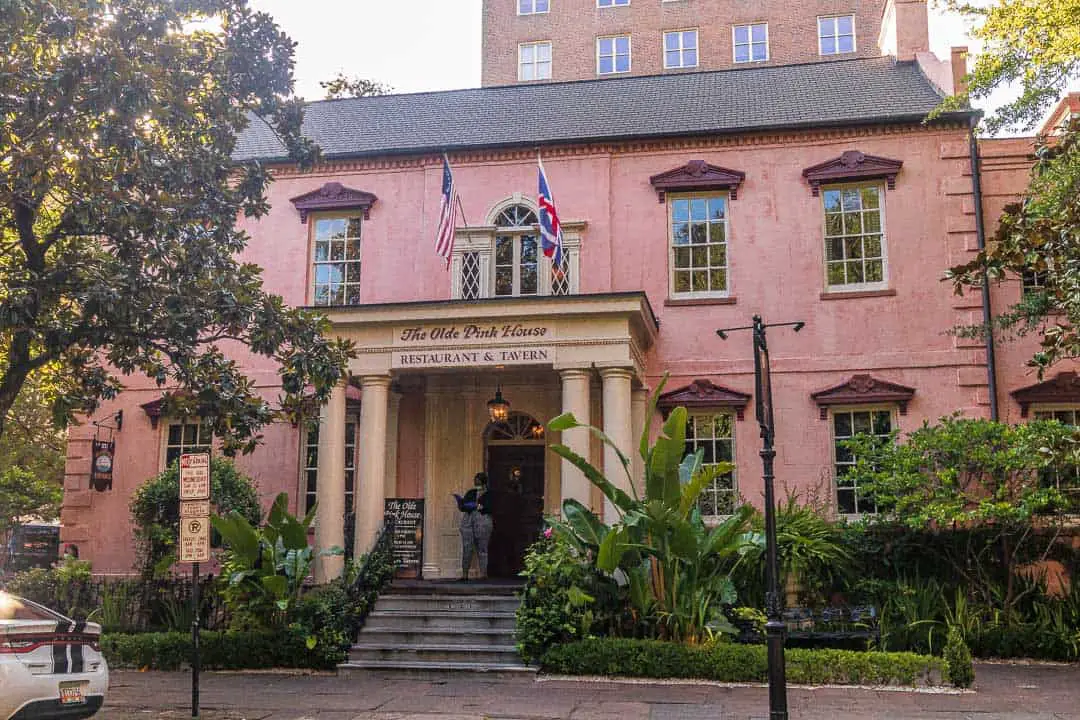 6) Eat Leopold's Ice Cream ($)
If the Old Pink House Restaurant is not of your taste (or budget) be sure to head on down the street to Leopold's Ice Cream.
Whether you eat ice cream for lunch or after lunch, this is a great sweet treat to keep you fueled up for the rest of your one day in Savannah itinerary!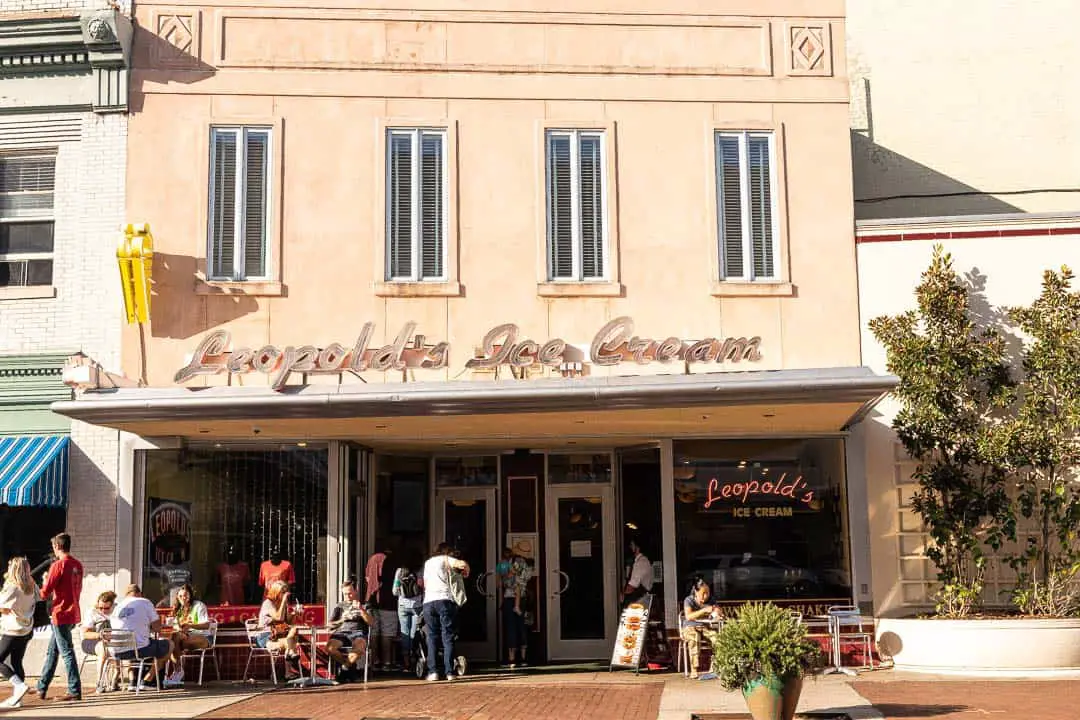 7) Enjoy Shopping at the City Market (FREE+)
As the afternoon begins to turn toward evening you're going to want to make your way to City Market near the river. Here you'll find four blocks of markets that have been selling all sorts of things since the 1700s.
If you skipped lunch, or need an afternoon snack, you'll find all sorts of meal options. You could even plan to sit down for dinner at any of a number of restaurants in the City Market.
Plus you can shop for gifts or artwork to take home from your trip to Savannah. Street performers typically line up throughout the evening and you are welcome to purchase adult beverages at any restaurant or bar to take with you as you walk the streets of City Market!  
8) Walk Along River Street (FREE)
Now you are close enough to the Savannah River that you can probably smell it. You may even watch a building cruise by and wonder to yourself how it is that a building can move.
No doubt it is not a building moving. Rather it is one of any number of freight ships carrying cargo in and out of the port through the narrow, but deep, Savannah River. 
When you reach River Street you will feel overwhelmed with romance and as if you have stepped back in time, quite literally, as the modern city gives way step by step to cobblestone streets.
Choose to leave Bay Street and walk down the cobble pathways or take the ancient, steep steps down toward River Street. However you arrive, you are sure to feel things really slow down once you reach the bottom. 
Now it's time to enjoy the evening. And one of the best things to do in Savannah is to simply walk around River Street. River Street itself is lined with shops and restaurants, all of which beckon you to visit.
Our favorite is River Street Sweets, where you can load up on delicious, fresh sweets such as praline pecans, a delectable southern treat. Or walk in either direction from there and find any number of other places to eat.
We have a personal attachment to the Olympia Cafe as we shot our engagement photos there!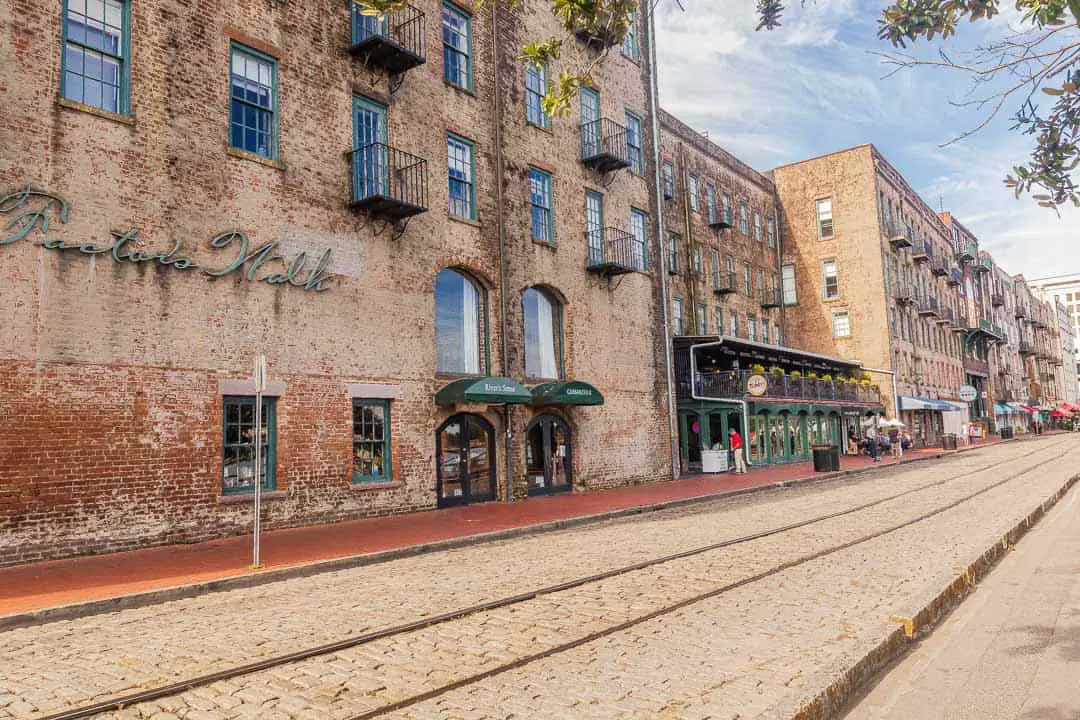 9) Take a Ferry Ride at Sunset (FREE)
Unlike many US cities built around the water, Savannah provides a free ferry service in one of any number of converted tug boats. You can catch the ferry at three stops on the city-side of the Savannah River.
Or, alternatively, you can catch the ferry from the Convention Center or Westin Hotel side of the river on Hutchinson Island. 
While there is nothing to see per se on Hutchinson Island, the real treat for taking the ferry around the river is getting spectacular views of Savannah at sunset.
We don't know how many times you can go around on the ferry before they ask you to leave! But if you have the time and the weather is nice, make your way to the bow of the boat for all the best views!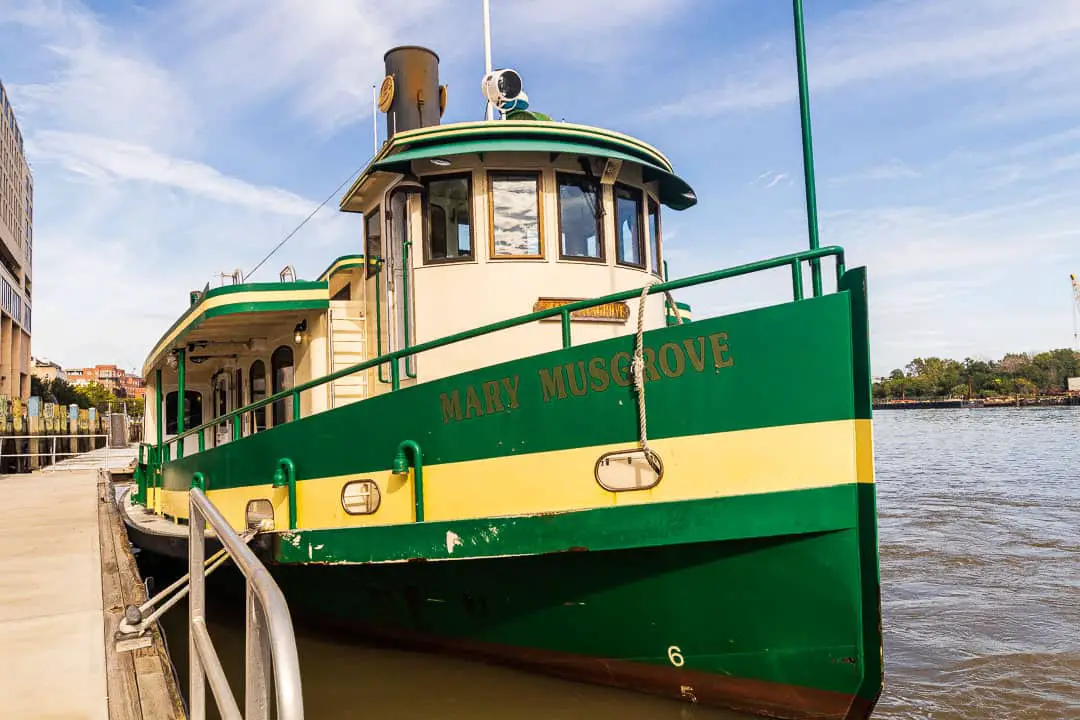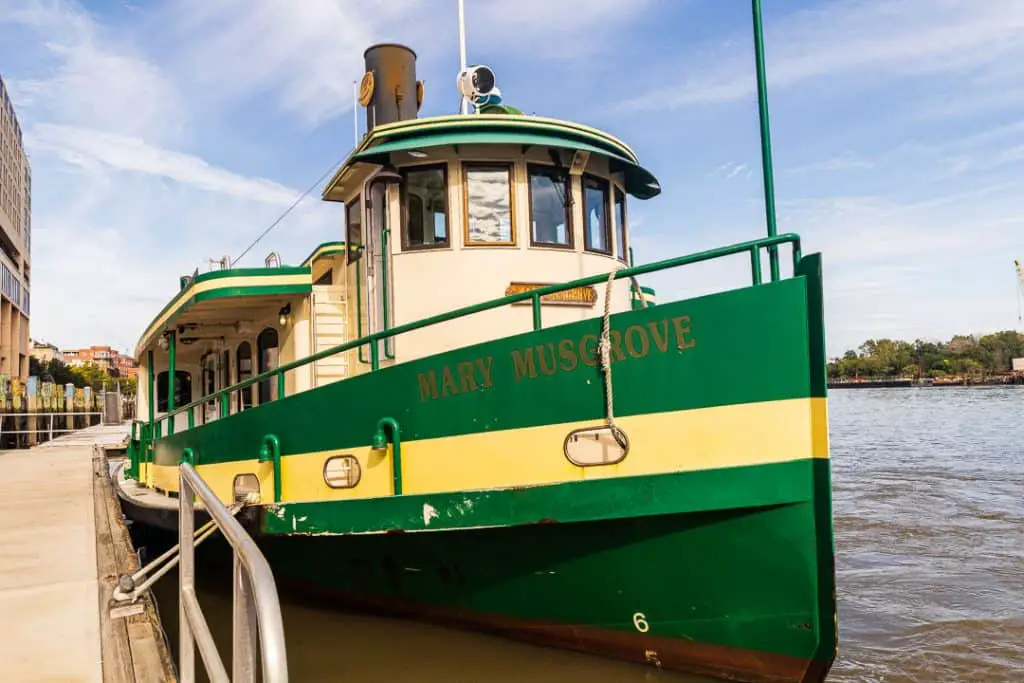 10) Evening Opportunity – Savannah Queen Riverboat ($$)
Depending on where you are staying and what your budget and interests are, you can choose one of two great evening options for what to do in Savannah in one day.
The first option is to take a ride on the Savannah Queen riverboat. Once you walk around River Street you won't be able to miss the Savannah Queen riverboat tied up along the river. 
The Savannah Queen riverboat offers a variety of cruise options. From dinner, brunch or lunch cruises to sunset or moonlight cruises, heading out on the Savannah Queen Riverboat will connect you with the historic past of Savannah.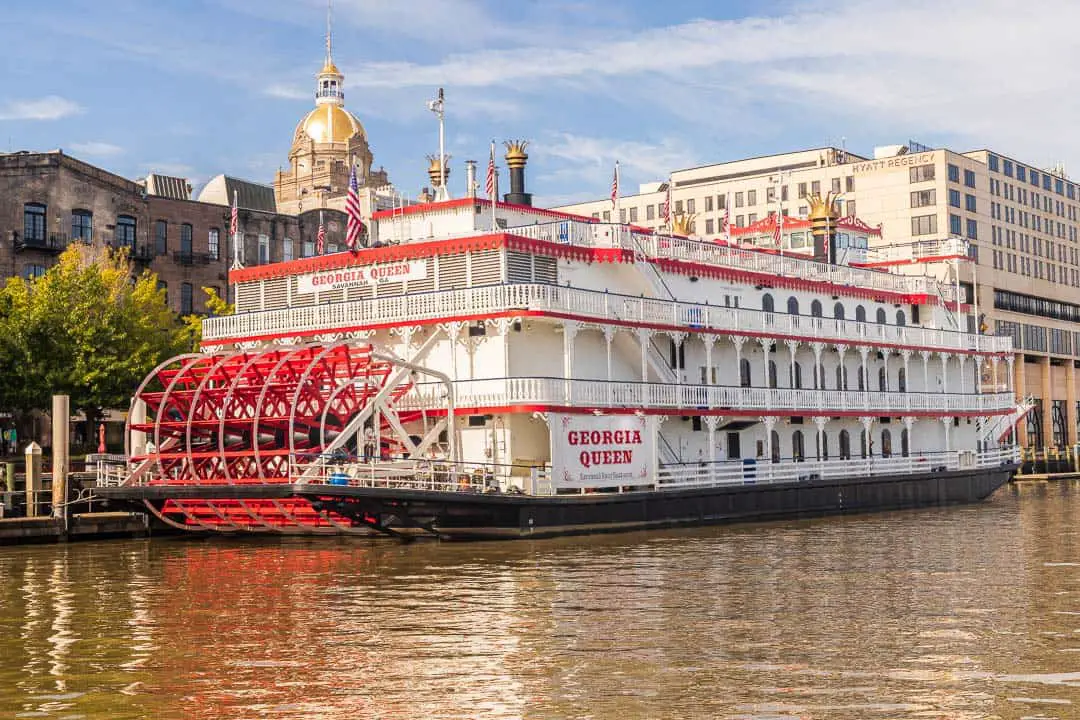 11) Evening Opportunity – Ghost Tours ($$)
With so much history in Savannah there are sure to be stories of ghosts and haunted houses/mansions in the area. Joining a ghost tour at night is one of the best ways to scare yourself (or your significant other!) while learning the history of the city.
Whether taking a private hearse tour (yes, in a hearse!) to a more common walking tour, you can join tours that combine pubs and bars or simply take you right into the heart of ghost town. 
One of the more popular ghost tours is this Ghosts and Gravestones Trolley Tour.
12 – 21) Other Things To Do In Savannah
No doubt by now you are exhausted. If you've only done the things we've recommended in this one day in Savannah itinerary then it's likely you're quite content with what you've seen of the city. 
But there are quite a few notable mentions we didn't specifically recommend that we would suggest you consider. Our Savannah itinerary was intended to be a nice pace for the average visitor to give you an overview of the historic city without breaking the bank. 
But if you are more interested in history, art or any number of other topics there is something in Savannah for everyone. Here are a few bonus alternatives for your one day Savannah itinerary: 
Telfair Museum of Art (Near JGL on Oglethorpe Ave)
Juliette Gordon Law Birthplace (Girl Scouts Founder, near Chippewa Park)
Owens-Thomas House (near Leopold's)
Mrs. Wilkes Dining Room (classic southern-style dining near Mercer-Williams)
Tricentennial Park (near Mrs. Wilkes Dining Room)
Andrew Low House (near Forsyth Park)
Ships of the Sea Maritime Museum (near City Market)
American Prohibition Museum (near City Market)
Davenport House Museum (near Owens-Thomas House)
Breweries/Distilleries (any number of them located throughout the city)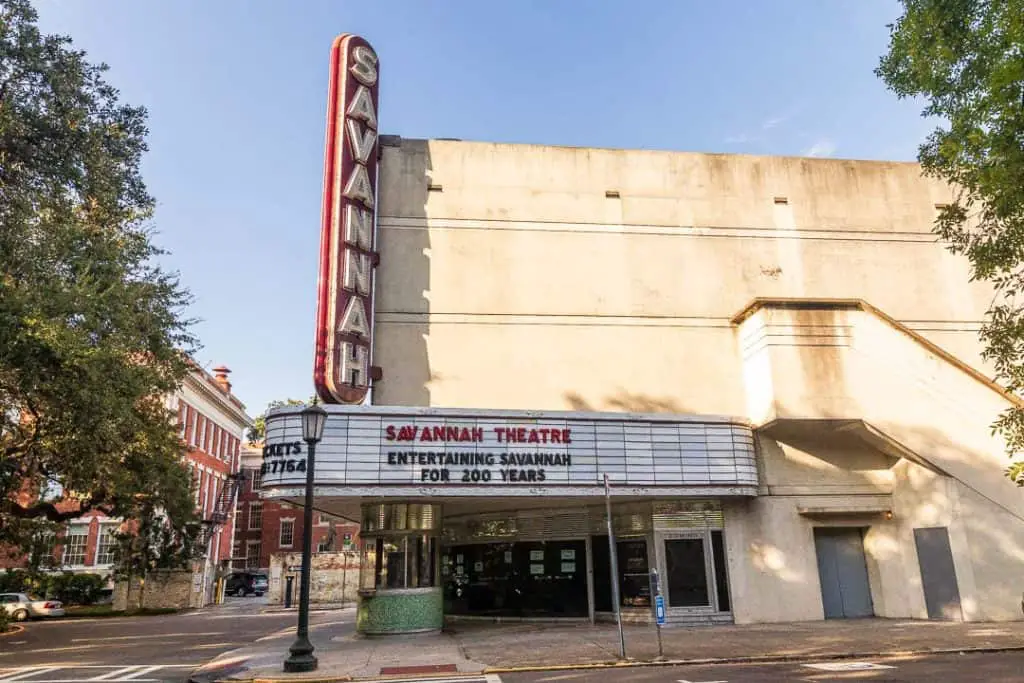 22 – 28) Day Trips from Savannah
While there are plenty of things to do in Savannah, there are also quite a few things to do nearby as well. And while this one day Savannah itinerary keeps you busy inside the historic district limits, these are a few ideas that we would suggest you consider if you are looking to add another day or two onto your trip to Savannah: 
Tybee Island – This barrier island is known for its beaches and lighthouse. Visit Tybee Island if you want to experience the beach while visiting Savannah. 
Wormsloe Historic Site – If you want the quintessential photo of the massive old oak trees lining the road, the drive into Wormsloe Historic Site is where you'll find it! 
Bonaventure Cemetery – The oldest cemetery in Savannah, the Bonaventure Cemetery was made famous by the book/movie Midnight In the Garden of Good and Evil. (Book a tour here)
Fort Jackson – Constructed in the early 1800s to protect Savannah from attacks by sea, Fort Jackson was one of 3 forts used by the Confederates to defend Savannah during the Civil War. 
Fort Pulaski National Monument – A second of three forts used to defend Savannah during the Civil War, Fort Pulaski is renown for its failure to stop Union batteries from destroying it and thus ushering in a new era of military warfare. 
Fort McAllister State Park – Located just outside of Savannah, Fort McAllister is the best-preserved Confederate earthwork fortress build into and around the ground. 
RV Tips in Savannah
While visiting cities can be intimidating with an RV, there are some opportunities particularly for smaller RVs to be able to enjoy the best of Savannah.
Our 26' truck camper handled all roads and turns and we were even able to find ample parking throughout the city.
But not all RVs are created equal, so here are some things to consider if you plan to RV to Savannah.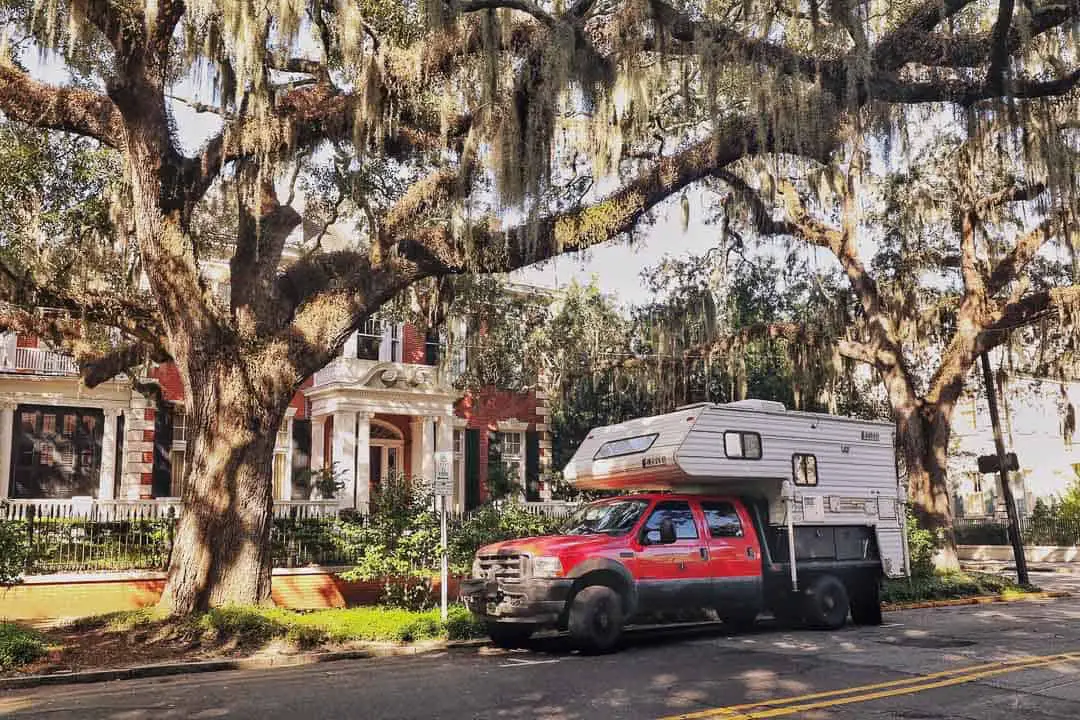 RV Camping in Savannah
While there is no formal camping in Savannah, there are a few places you can find on iOverlander if you are looking to camp around Savannah on a budget.
We camped at one of these locations on Hutchinson Island near the Savannah Convention Center. If you choose this route then not only will you have budgetary savings (albeit no-frills and/or boondocking conditions) but also you're in a great spot to take the free ferry across the river to Savannah.
This would give you an amazing chance to enjoy your one day Savannah itinerary without worrying about parking in the city or taking transportation from a campground further away.
NOTE: If you are a Harvest Hosts member there are 3 great farms within 30 minutes of downtown Savannah. If you plan one day in Savannah these would make for great places to stay. Click HERE to save 15% on your Harvest Hosts membership. 
Other campgrounds near Savannah: 
Traditional Campgrounds:

Red Gate Campground (15 min to downtown Savannah)
Biltmore RV Park (15 min to downtown Savannah)
Sunshine RV Park (15 min to downtown Savannah)
Hardeeville RV, South Carolina (15 min to downtown Savannah)
Creekfire RV Resort (30 min to downtown Savannah) PASSPORT AMERICA MEMBER. Click Here to Save 50% on your campsite through Passport America.
Rivers End Campground and RV Park, Tybee Island (30 min to downtown Savannah)

Harvest Hosts Destinations:

Whippoorwill Farms (30 miles north of Savannah)
Four Arches Farm (35 miles northwest of Savannah)

State Parks:

Skidaway Island State Park
Fort McAllister State Park
About Author