Last Updated on September 2, 2022 by Chris and Lindsay
A brief guide to everything you need to know about how and why to cross the Tecate border into Baja in your RV.
The thought of crossing into Baja in your RV can be a little overwhelming.
In fact, for us we felt a little paralysis as we tried to determine when and where and how to cross into Baja in our truck camper. 
There are a handful of crossings and, from what we could determine in our own research, we learned that each one offers its own advantages and disadvantages. 
Ultimately we decided to cross into Baja at Tecate as we learned this was perhaps the most relaxed, easiest Baja border crossing. 
If you have a truck camper or small RV we think you'll have a similar experience as us based on the following information. 
How To Cross the Tecate Border into Baja in Your RV
The process of crossing the Tecate border in Baja in your RV is pretty straightforward. 
There are 5 things (4 if you do not have a pet) you will want to consider prior to making your final drive to the border (each explained in detail below). 
Passport
FMM
Mexican Auto Insurance
TIP
Pet Vaccination Records
(For reasons why you should consider crossing into Baja in your truck camper or RV at Tecate, read further below.)
Passport
The obvious requirement to enter any country is a valid passport that expires no sooner than the latest authorized departure date for your stay.
In Mexico, the US and Canadian citizens are granted 180 days to travel throughout the country.
While it seems obvious, do check your passport expiration to ensure that you meet these dates. 
We are embarrassed to say that, although we have done a fair amount of international travel, we let this detail slip our minds almost until the last minute.
We had to expedite our passport renewals because both of our passports were going to expire during the 180-day validation period in which we planned to travel. 
FMM (Forma Migratoria Multiple)
Your FMM is your automatic tourist visa for visitations to Mexico.
If you plan to travel in Mexico for any length of time you need to be aware of this requirement.
While Baja (and certain other parts of Mexico) do permit you to travel in the country if your stay is less than 7 days, NOBODY at the border is going to tell you that you need to get it. 
This means you may find yourself traveling through Mexico illegally.
While it's highly unlikely that you'll ever need to show proof of the FMM (during accidents or incredibly thorough military inspections, for example), it is always good to have your paperwork in order. 
You can complete your FMM online here. It cost approximately USD$30 per person and you MUST PRINT both the FMM AND the receipt! 
We are also embarrassed to say that while we completed the process online and printed our FMM, we failed to print our receipt.
As such, we had to complete an entirely new FMM at the border and it cost us an additional USD$32 per person!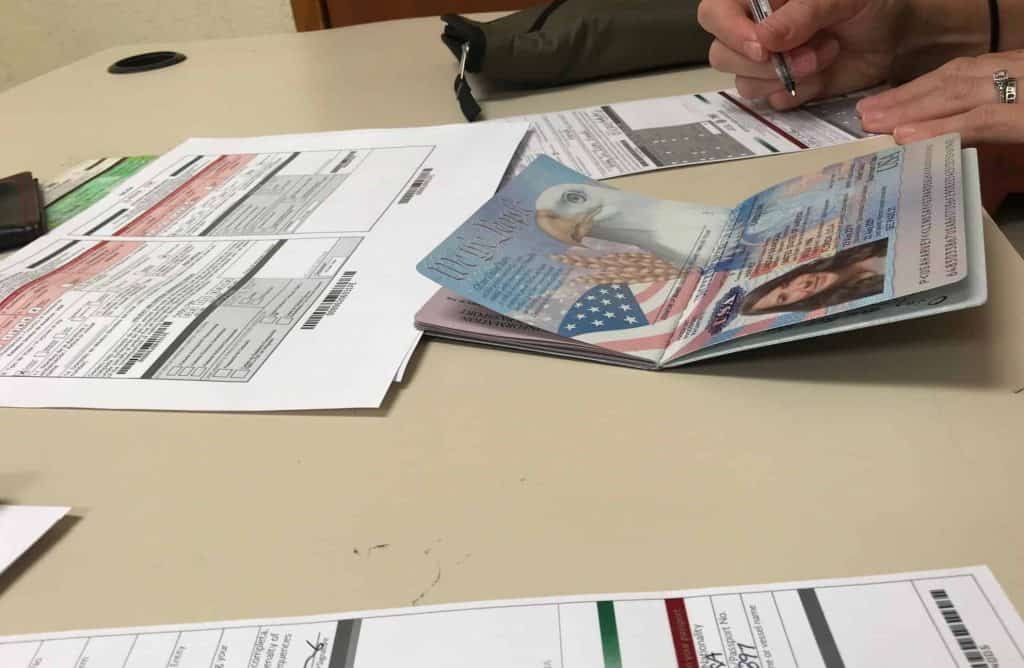 Mexican Auto Insurance
Auto insurance is mandatory when driving in any state in Mexico.
However, once again, NOBODY at the border is going to tell you that you need to get it. 
This means that you will, yet again, be traveling through Mexico illegally. Worse, if you are involved in an accident this could really mean trouble for you. 
However, a variety of companies help you obtain Mexican auto insurance and make the process incredibly easy. We went with Baja Bound and feel entirely comfortable with the coverage we received.
Mexican auto insurance is also incredibly affordable – like many things, well below US rates.
The longer you include in your policy, the more affordable it becomes. 
We purchased a 1-year full-coverage policy for USD$360 ($30/ month). This includes all of the bells and whistles that Mexican auto insurance has to offer. 
(NOTE: We also own an older truck and camper so our stated replacement values were quite small in comparison to what you may face with your truck camper or RV)
Many times it is cheaper to purchase a longer amount of coverage than the exact period in which you plan to travel.
For example, if we had purchased a 6-month policy instead of a 12-month policy it would have cost us around USD$30 less.
For $30 we were able to add an additional 6 months to our policy, which gave us the freedom we wanted to be able to stay in Mexico (Baja and the mainland) for up to a year. 
Note that if you plan to only visit for a few days or weeks the rates are going to seem quite astronomical compared to what I shared we paid. 
We recommend that you purchase your Mexican auto insurance through Baja Bound.
The insurance is reasonably priced and their website also has lots of helpful information to help calm your nerves about crossing into Baja in your truck camper or RV. 
TIP (Temporary Vehicle Importation Permit)
A TIP allows you to bring your vehicle into Mexico during your travels.
There are some "Mexico Free Zone" where you do not need to have a TIP to operate your vehicle. The entire Baja Peninsula is one of these. 
This again means that if you cross the Tecate border in your truck camper or RV NOBODY is going to tell you that you need to have your TIP. 
If you only plan to stay in Baja then this is not an issue and you do not need to worry about your TIP. 
However, if you plan to leave Baja either by taking the ferry to the mainland or driving back around the peninsula, then you will need to have your TIP paperwork in order. 
This is a little more in-depth process as it can be started online, but must be completed in person at a local Banjercito bank in a border town.
The cost is around USD$60 and your vehicle will be permitted to remain in Mexico during the duration of your stay (up to 180 days for US and Canadian citizens). 
If you think you will be spending massive amounts of time in Mexico there are options for applying for a 10-year "permanent" TIP for your RV.
However, your RV must be registered and titled as such (truck campers do not have titles unless they are permanently affixed to the truck, and thus do not qualify.). 
(NOTE: Because we planned to spend between 9 months to a year in Mexico, and because we live out of our truck camper, we did not bother with the 10-year TIP.)
Pet Vaccination Records
Obviously, this does not apply if you are not traveling with your pet.
However, particularly if you are traveling with a dog (as we are), you should ensure that your dog has been recently vaccinated against rabies and/or have evidence that this shot will not expire during your maximum allowable stay (180 days). 
Again, NOBODY at the border is going to tell you that you need to have this documentation.
But when you are asked to present it then it will be good to have all of the paperwork ready. 
Additionally, we were told that dogs, in particular, are not permitted in the front seat.
As our dog typically rides in the front seat between us, we built a special bed for her in the backseat in order to prevent unnecessary complications with Mexican authorities. 
NOTE: We have read that this requirement has been removed as of January 1, 2020. Like many things in Mexico, it seems to be too hit or miss and likely won't present a problem to anyone crossing the border by vehicle (we can't speak to the process for flying).
7 Tips for Crossing the Tecate Border into Baja in Your RV
If you take the above requirements into consideration then you should have a relatively uneventful crossing into Baja.
However, if you are still uncertain of the process or have other questions, here are a few tips we have for crossing the Tecate border into Baja in your RV:
1) Cross early
Any border is best crossed early to ensure enough time to iron out any wrinkles you may have with the border agents.
Traffic is typically less earlier in the morning.
For early crossing at Tecate, we camped at Potrero State Park (USD$30) which was 7 miles from the border.
2) Cross during a weekday.
Although Tecate is off the beaten path from San Diego and other populated California and Arizona towns, weekend traffic does pick up as people head south for short periods of time.
Crossing at a time when most people are either headed north (Sunday) or during the workweek is best.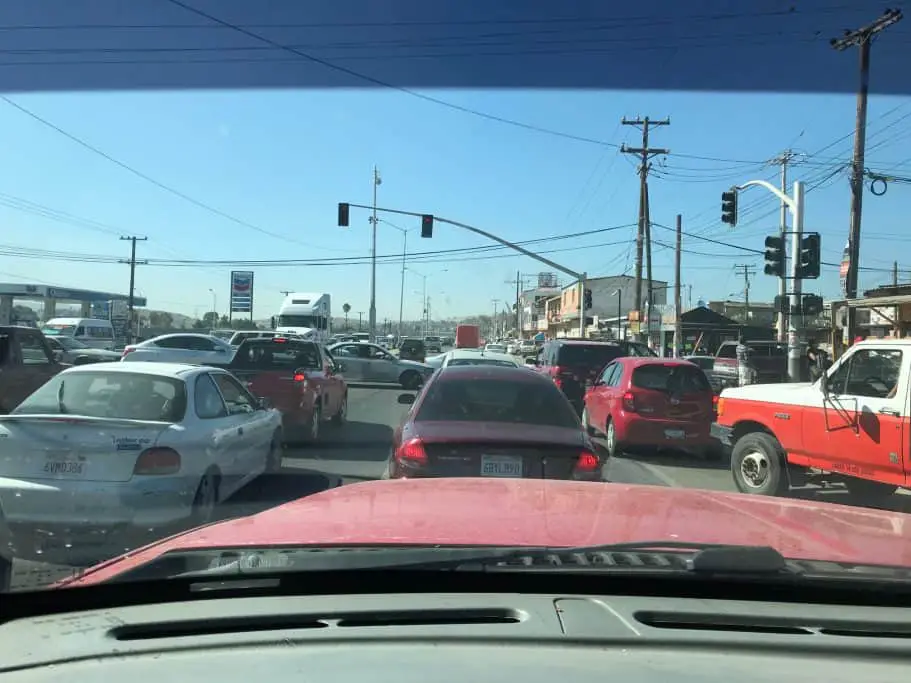 3) Have all of your paperwork ready to present.
These include your Passport, FMM and TIP.
(Note: We were not asked to show proof of insurance at the border but we still had this ready to present.)
4) Make photocopies of your documentation.
While horror stories exist of documentation being withheld until bribes are paid, we simply believe that it is best to have copies of every important document at all times.
It might be wise even to laminate these to ensure they remain protected. It is also good to consider taking a photo of the items as you can always refer to and/or replicate them from a digital copy if needed. Items to photocopy include: 
Passport
Vehicle and/or RV title (RV title, if applicable)
Driver's License
Proof of Mexican Insurance 
FMM
TIP 
US registration
License Plate
Financial information (credit cards, etc.)
Pet medical record/vaccination record (if applicable)
5) Be kind and courteous.
Kindness goes a long way with people, especially those helping to assist you to cross the border.
While you may not speak Spanish (and they may not speak English) don't become frustrated throughout the process.
Even when we were told we had to purchase another FMM we kept cool and simply followed protocol.
It's not their fault we didn't know – that's exactly why we're telling you this now! 
6) Expect to be Inspected.
It's best to put away personal items and anything that could be considered a weapon.
We've heard about kitchen knives, in particular, drawing the attention of border agents.
If you expect to be inspected then you won't take it personally when the border agents as to see inside your vehicle and RV. 
7) Consider walking your paperwork across the border.
While you can pull up to the border and handle all of your paperwork there, we found it to be more courteous to simply pay to park on the US side (USD$5) and then take the 30 minutes or so to walk the paperwork through.
If you are detained at the border to process paperwork there you are simply taking up one of the two lanes of traffic and slowing the process down for everyone behind.
Note that in doing this you will also have to return through the US border process, which is quite simple and straightforward when you tell the US agents what you have done. 
Why Cross Into Baja at Tecate in Your RV?
Tecate is a relatively small town compared to other border cities. If you consider the size of Tijuana, Baja's largest border town, that caters to massive amounts of traffic from San Diego, Tecate is tiny. 
Although we can only speak from our experience, and that shared among fellow RVers we've met in Baja, we feel that we would cross through Tecate every time we possibly return to Baja from the US. 
1) Less crowded
First, because of Tecate's relatively small size, it means there is less crowd built around it.
On the US side of the border, there are only a handful of shops, stores and other businesses that seemed to cater more to the regular border crossing citizens than to a general population. 
2) Smaller Border
Second, the border itself is small. With two lanes of traffic entering Baja and only one lane exiting, you don't feel like a sheep among the masses.
Of course, this means you get a little more individual attention.
But we found all Mexican border agents to be incredibly friendly and helpful in Tecate so the additional attention did not bother us. 
3) Ease of Crossing / Options
Third, you have options for the process of crossing into Baja itself. We had read about and chose to park our truck camper on the US side of the border.
There were ample secure paid parking places just a few hundred feet from the border. We then walked across the border and completed our documentation with the Mexican authorities before returning to our truck camper. 
But we met a couple that had camped near us the night before who simply drove their mini school bus RV up to the border. Because there was no other traffic they received the same attention we did as the Mexican border agents helped them to complete their paperwork. 
Six one way, a half a dozen the other. The options for crossing into Tecate in your RV make it another great reason to choose the Tecate border crossing over others. 
4) Central Location
A final reason Tecate is a great place to cross into Baja in your truck camper or RV is that it is centrally located at the northern end of the Baja peninsula.
This means you can head in either the east or west direction to meet up with Hwy 1 or Hwy 5 and continue on your journey south.
We took the highway west to the Pacific to meet up with our friends there. But you could just as easily head east to join up with Hwy 5 just south of Mexicali. 
Of course, where you cross is also dependent upon where you are coming from.
If you live or travel through San Diego it may not make sense to drive Interstate 8 east to Tecate as it can be a windy road at times.
Likewise, you may find Mexicali to suit you best. 
But we were looking for a simple, quiet crossing because our nerves were already making us anxious about the crossing. 
On the flip side, we have friends who have crossed in Tijuana at San Isidro who said, while it wasn't necessarily terribly difficult, there was a LOT of traffic.
They crossed on a weekday morning, away from typical weekend crowds, but found they were still waiting in line.
Further, they endured both an X-ray scan of their truck camper and physical inspection. (At the Tecate border, we were only asked what we were carrying and where we were going.)
Other friends crossed in Mexicali with similar experiences. There were longer lines than in Tecate and they were fully inspected.
But beyond that, it was a simple crossing for them and their goal was to head down Hwy 5 immediately toward San Felipe.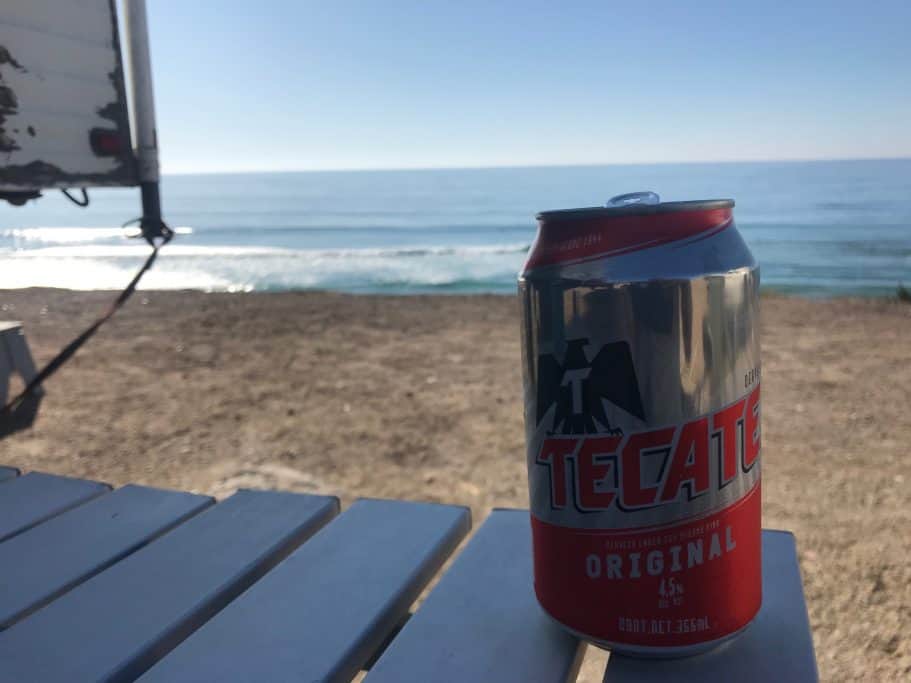 Wrapping Up
Border crossings can be intimidating, even though it's most likely you have nothing to hide (if you do have things to hide, we can't advise you!). 
But crossing the Tecate border into Baja in your truck camper or RV is a very easy process if you heed our advice. 
Have all required documentation ahead of time and be prepared to present it accordingly and you'll likely have a similar experience as us. 
Have you crossed the Baja border at Tecate in your truck camper or RV? What was your experience? Let us know!

About Author