Last Updated on December 9, 2021 by Chris and Lindsay
We are on a mission to give. On this journey from Alaska to Argentina we choose to serve others as we travel. We have always had humble hearts when it has come to giving. In fact, as much as we have always given to others we have always wanted to give more.
But, like many people, we allow "life" to prevent us from giving more.
This journey for us has been a chance to break the barriers down in our hearts and minds over what is possible, or not, when it comes to helping others. Life no longer interferes with our giving. We've absorbed giving into a natural part of our life on the road. Every day is different from the last and could, in some way, bring new opportunity to express love toward others.
What started as a structured plan to volunteer and donate on our own terms has turned into an expedition into the heart of mankind. We no longer seek to serve others by appointment. Rather, we seek to become more aware of those in need around us and to become more equipped to help them.
Unexpected Revelations of Giving
But sometimes plans, and intentions, get flipped upside down. Like a can of spray paint or a pint of orange juice that's been sitting in the refrigerator too long, a little shaking goes a long way for renewing purpose. Sometimes you have to shake things up, or have them shaken up around you, to realize that we were meant to live for so much more.
Sure, you're not a can of spray paint or a pint of orange juice. But everything you experience every day takes on new meaning when you consider that there is always another perspective to be gained in any circumstance.
Around the time we crossed our 7,000th mile of the journey (that is to say, it took us a long time to realize this) we learned the important lesson that there are two side to giving. There is the giving. Then there is the receiving.
It is the receiving that reveals the other half of a Giver's heart.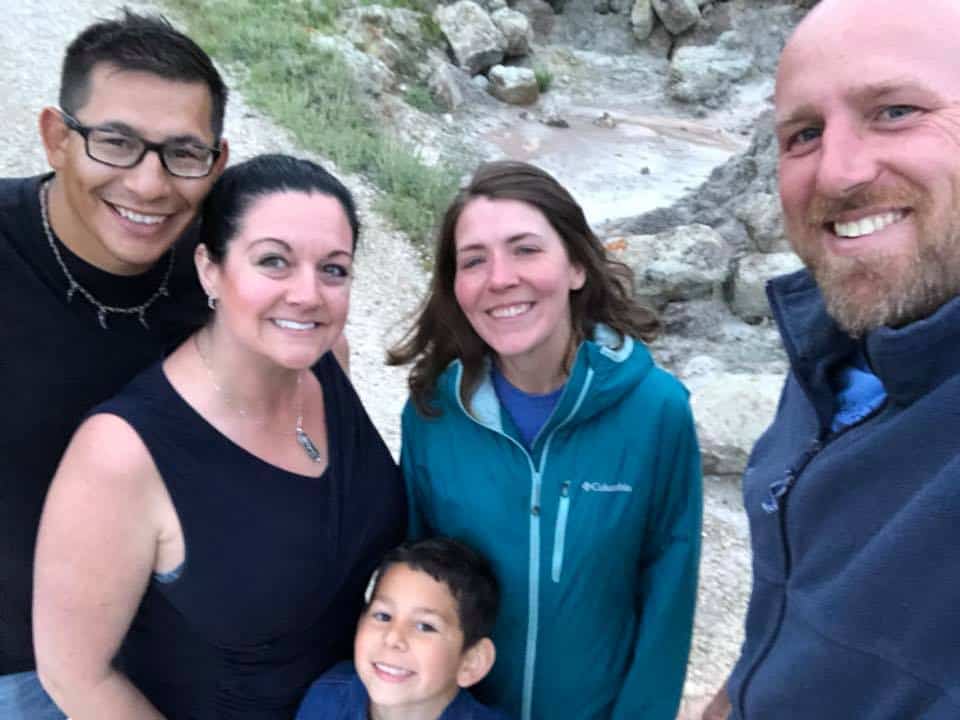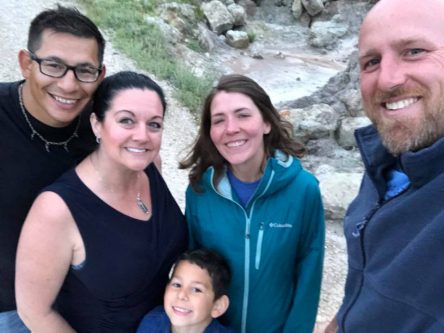 Unintended Lessons in Giving
We arrived into a small town in Wyoming at the start of Memorial Day weekend. As busy as the weekend was for camping, we stumbled into the last spot in town.
Knowing nothing of the town, we had little expectation about what to see or do. But something felt "right" as we pulled into the town and we were grateful for a place to rest after such a long travel day.
When we put together our Grateful American Road Trip we reached out to anyone we knew outside of Florida to try and arrange a meet-up. We counted on many of those distant friends or "friends of friends" to help us find and meet people that we could serve in their communities. That way we could fulfill our official goal in traveling through all 50 states.
Finding the Need to Share
We had friends in Wyoming who jumped at the opportunity to share their small community with us. It had been a while since we had last caught up.  So we planned to meet up for a picnic at the nearby state park.
We broke the ice in sharing stories of home, connecting dots between our shared acquaintances and sharing stories from the road. It wasn't hard to reconnect with such naturally good people.
Eventually we learned that our friend, who owned a small construction company, had recently completed a contract that had gone sideways in the middle of the project. He stuck through the contract as a man of his word. But his family suffered greatly from the financial fallout. They were currently trying to rebuild financially and were as cautious in spending money as we were.
Searching for Opportunities to Serve
We never have enough money to solve all of the problems we come across in our drive across America. I think the world is set up this way by design. This way money can never be the solution to people's problems. People have to be the solution. Money is just a vehicle that helps connect us at times.
We wanted to be able to stroke a check and give it to our friends. But we knew it wasn't possible. Still the more time we spent with them the more we felt compelled to find some way to serve them. They volunteered at the local food bank. And they always did what they could to help any of their neighbors. We felt they earned a break and we wanted to figure out what we could do to help them have it.
So we lived very modestly when we visited. Instead of going out to eat, we prepared meals together. We chose to hike rather than participate in more costly activities. The more time we spent together, the more compelled we felt to find more ways to help.
Unintended Consequences of Giving
Despite what we know about money and its inability to solve all problems, we still felt compelled to give some money to our friends. Before we left on our journey we were the recipients of two separate financial gifts. We saw these as blessings to be shared with others.
I physically separated them in our budget. And I used the actual bills in instances where we needed money to act as a vehicle. As such, we bought small toys for children in a hospital in Illinois. We purchased meals for homeless people in various places around the country. And we paid for gas for stranded people.

We use money where money can make a difference in someone's life. But we hardly ever give it away in the form of cash.
Blessings Multiplied
We believe that blessings can be multiplied. As such, when someone donates to us we purchase items that connect our donor to the people to whom we donate. We consider every day on the road an opportunity to "Travel With Purpose." By sharing our blessings, we believe that we connect two people who would never otherwise meet. We are just conduits of love – a pass-between.
After spending time with our friends, we felt compelled to multiply the blessings of those who had given to us. As such, I reached into the envelope for the last of the donations we had received. I wrote a note and tucked it with the cash into an envelope and waited for an opportunity to give it to our friends.
Flipping Giving Upside Down
After one of our meals together I returned to our camper to wash dishes and grab dessert. My friend approached the camper and called my name. As I turned around I noticed that he had his arm outstretched toward me.
"This is all I have to my name," he said as he handed me something. "But we feel like you should have it for your journey."
I could tell he handed me a small wad of cash. It had that familiar feel, though I refused to look at it.
"Thanks," I said humbly. "I guess we'll have to call it even," I continued as I reached into my pocket and pulled out the envelope I had planned to give him.
I think we surprised each other. Neither of us had expected to feel a desire to give to each other, let alone to receive blessings from each other. This was not about calculating generosity. It was spontaneous. A pure act of love toward each other. And in the moment I felt closer to my friend than I ever had.
Later, when I added the donation back to our savings, I noticed that we received the same amount as we had given!
The Ease in Giving
Giving should be easy. We complicate it by involving our heads in matters only meant for the heart. When we give, we tend to give in proportion to what we have or, at the least, what we are willing to lose. We often calculate what we will give. But even then, the math is hard to work out.
Receiving is, quite possibly, the most difficult action in life. It requires a degree of humility of which most of us are not too familiar. Sometimes we are too ashamed to ask for help. Or perhaps we are too prideful to admit that we need help. In either circumstance, humility is key to experiencing the joy of the exchange.
We desire the human connection that occurs uniquely in the moment of this exchange. It is beautiful when the heart of the Giver meets that of the Receiver. And we will continue to search for ways to bless other people as we travel.
About Author