Last Updated on December 9, 2021 by Chris and Lindsay
Is Ezoic the best advertising network for ads on your site? For nearly a year we asked ourselves this question as we studied and debated adding ads to our website. 
This Ezoic review is based on our personal experience in working with the advertising network and we'll be up front with you right here and say we are big fans of the success that we've had with using Ezoic. 
We think you'll appreciate our honest review based on our personal experience and be better able to decide if and when you want to partner with the Ezoic platform. 
Also, we don't want to be misleading. If you partner with Ezoic through our links (or email us directly to put you in touch with our friends on the Ezoic team) we will receive an affiliate commission from Ezoic. But we think you'll appreciate our honesty in this review and be better prepared to decide for yourself whether Ezoic is best for you. 
Our Honest Ezoic Review 2020 – 12 Reasons Why You Should Consider Ezoic For Your Website 
In this Ezoic review, we'll outline our personal journey in navigating the world of website advertising, including the hours upon hours of research we did in comparing Ezoic vs Adsense, Ezoic vs Monumetric and understanding the criteria for joining other larger advertising networks (such as Mediavine and Adthrive).
But first here are 12 reasons why we think you should consider using Ezoic for ad placements on your site. We'll go into more detail on each below. 
12 Reasons Why We Love Ezoic:
* 10K monthly sessions starting traffic
* More revenue than Adsense
* No starting fee 
* Nearly immediate acceptance
* Quit with 1 click (no 30-day notice)
* Can test Ezoic vs. your current ad network
* Can put a preference for User Experience, Revenue or Balanced
* Artificial Intelligence "learns" users behavior and tests ads 
* You can control how many ads and their placement
* Incredible data collection to help make decisions
* Customer Service is great
* Site speed has a negligible impact
1. 10K Monthly Session Threshold
In the world of marketing and advertising, the higher the amount of traffic you generate the more revenue you can expect to earn. It doesn't matter whether you are selling advertisements in magazines, on television or on your website – traffic matters. 
Google Adsense has 0 monthly session requirements. In other words, you can start your website and immediately place Adsense ads on it. This is not wise. But we want to put application thresholds in perspective. 
On the other hand, Mediavine (long considered the gold standard advertising network for bloggers) recently increased their application threshold from 25K monthly sessions to 50K monthly sessions. 
So this creates a wide gap between 0 sessions and 50K sessions per month. And if you're reading this now, it is likely you fall somewhere in between. 
At 10K monthly sessions you have 3 basic options for ad revenue: 
Continuing with Google Adsense
Joining Monumetric or
Joining Ezoic
You will find that Google Adsense revenue at 10K sessions is nearly half of what you'll earn with either Ezoic or Monumetric. So at this point, your decision is basically Ezoic vs Monumetric. 
As we'll elaborate on throughout this post, we didn't like what we learned about Monumetric. We were on the fence about whether we should wait to apply for Mediavine at the 50K sessions per month threshold or whether we should apply for Ezoic. 
Ultimately we joined Ezoic with 22K monthly sessions (we hit 25K sessions just 3 weeks after Mediavine upped their requirements!) and well above the 10K threshold. 
But 10K sessions per month is realistic and respectable in the advertising space. You want to work with a company that does weed out some of your competition (ie those who aren't at 10K monthly) but will not be so exclusive that they don't allow you in until you have crazy large numbers (AdThrive is minimum of 100K monthly sessions!).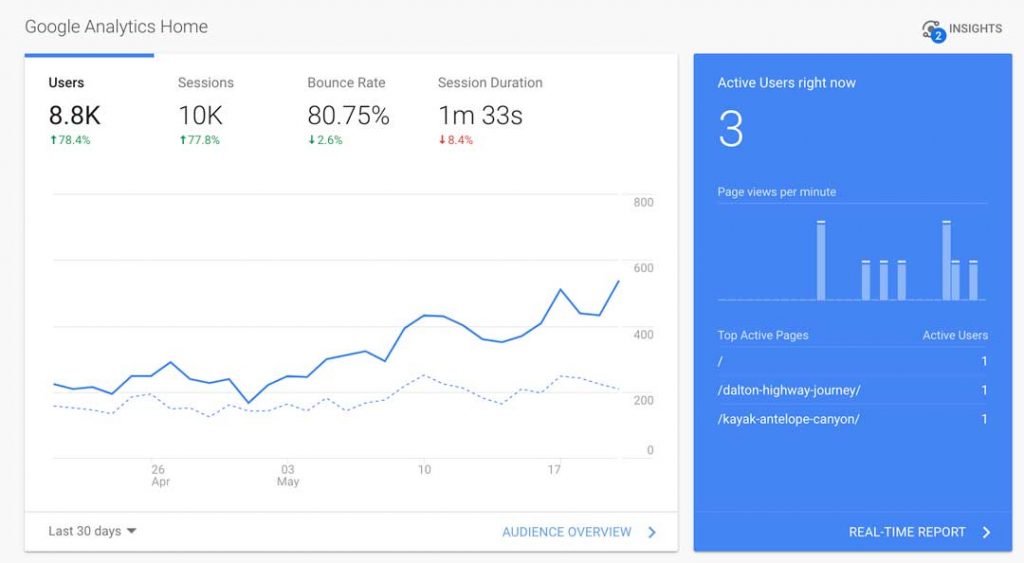 2. More Revenue with Ezoic vs Adsense
If you absolutely want to monetize your website right from the start, Google Adsense is your best option. You won't make much from this (which is part of why we did not advertise through Adsense) and you may turn early readers off and hinder your growth. 
But apples to apples, once you hit the 10K Ezoic threshold you are likely to make leaps and bounds more with Ezoic vs Adsense revenue. One great way you can see this for yourself is below in #6, where using Ezoic allows you to run ads from your existing ad network against those with Ezoic so you can test the revenue returns. 
With our traffic between 22K and 30K sessions per month in just our first month using Ezoic we averaged approximately $20 per day ($600 per month). Of course, with any advertising network, there are variables at play for how much you can earn – such as audience location, engagement and bounce rate. 
But again, apples to apples, you're going to earn more from Ezoic than from Google Adsense revenue. 
START WITH EZOIC TODAY! Follow THIS LINK to get started on your own or email hello[at]calledtowander.com and we'll personally put you in touch with our account manager who will give you the same great service we experienced!
3. No starting fee to join Ezoic
This was one of the three reasons we chose to go with Ezoic vs Monumetric. Monumetric requires a $99 startup fee, of which they are willing to deduct from your first month's earnings. 
Unless a program is vouched for by highly reputable people, we're hesitant to join any program/subscription/membership that requires money up front. We are even the type of people who are wary of cash back guarantees. 
Ezoic doesn't ask for money up front. When you sign up with them you start earning revenue immediately and it is 100% yours to keep. 
Sure they have their cut on the backend that keeps them in business. But they don't ask for a significant investment up front ($99 is a lot for an amateur blogger!). 
4. Almost immediate acceptance into the advertising network
The second reason we chose Ezoic over Monumetric is because Monumetric made no promises of acceptance nor did they specify exactly when you would or would not be accepted into their program. 
Just like paying up front fees, we don't like to be left wondering if/when we'll be accepted into a program. 
Yes, during this time they do their due diligence on your website. They say not only do they review your website internally, but also they allow their top possible advertisers to review your website as well. 
All of this takes anywhere between 4-6 weeks. 
To put this wait time in perspective, in our first 4 weeks with Ezoic we earned just over of $500. In other words, waiting for Monumetric to decide whether or not to accept our website would potentially COST US $500+ per month!! 
With Ezoic our website credentials were reviewed quickly and we were accepted within a day. From that moment we were able to set up our site and begin earning ad revenue well before Monumetric would have ever returned a decision to us.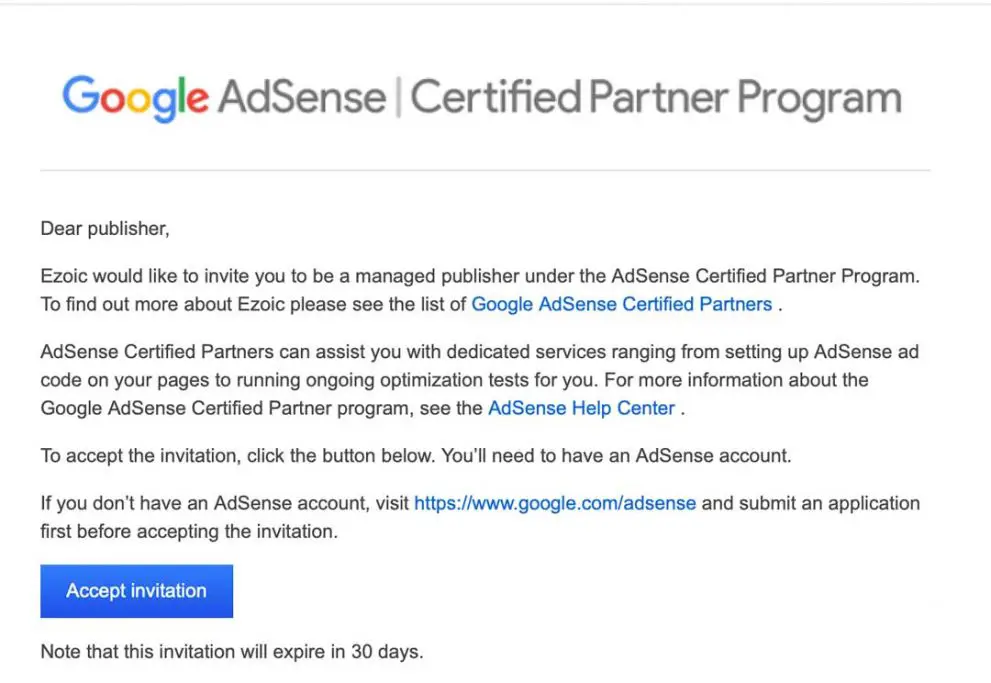 5. Leave Ezoic with no notice
While we don't like startup fees and being put into a 4-6 week indefinite hold, we also don't like being corralled into an agreement that requires 30 days notice to leave. 
This was the third and final reason why we decided to go with Ezoic vs Monumetric once we reached the 10K+ session threshold. 
With Ezoic you can leave the program quite literally with one click of a button. (I know this because I accidentally clicked the button a few times during the setup stage and received notifications from our account manager wondering what in the world I was doing!) 
With Monumetric you must provide a 30 day notice that you would like to leave their advertising network. That is 30 days that you are stuck in a situation for which you are already unhappy enough to want to leave. 
Another way of thinking, that is 30 days of losing revenue you could be earning somewhere else. 

6. You can test Ezoic vs your current advertising network
This is strange, right? It's already great that Ezoic would accept you into their program quickly, at no cost and allow you to leave their network at any time. 
But to allow you to test their ads vs your current ad network in a side by side comparison puts Ezoic over the top in terms of their level of commitment and confidence in their services. If you don't want to leave your current ad network yet, Ezoic gives you a chance to compare.
Note: We didn't do a side-by-side comparison because we did not previously go through Google Adsense ads. But if you don't trust Ezoic to this point, this comparison lets you make your own decision about what is best for your website and your revenue goals. 
7. Artificial Intelligence "learns" users behavior and tests ads 
Ezoic is a unique advertising network because they focus on ad placement testing. In other words, Ezoic works by using artificial intelligence (AI) to test ad placement, size and publishers to determine the optimal ads for your website. 
This means that readers are actually viewing ads that they are more likely to relate to, advertisers are paying more because there is the potential for higher click-through-rates for purchase and you are making more revenue as a result. 
Further, this is all done automatically. So once you setup your account with your awesome Ezoic account manager the AI will kick in and begin learning both your website and your audience and make its own adjustments according to whether you want to optimise for user experience, revenue or both (see #8 below). 
8. Ezoic allows you to prioritize User Experience, Revenue or both 
Our reader's experience on our website is always more important to us than revenue. So when we joined Ezoic and began working with our account manager we were very reluctant to allow Ezoic to bombard our readers with advertisements at the expense of reader experience. 
Ezoic knows this is a concern and so part of their program is to allow you to choose whether their AI system optimizes your ad placements for user experience or for revenue. 
In other words, when deciding whether to place an ad in a particular location for a particular reader Ezoic uses factors to determine whether the reader is more likely to engage with the ad or to leave the page. 
If you optimize for users the ad will be withheld and you'll likely retain your reader (great for your readers!). If you optimize for revenue the ad will be placed and you may or may not retain the reader. 
We like the fact that we can (and do!) choose user experience over revenue. And we will always put our reader's experience first. 
If you're still with us at this point it means yes, you are more important than the ads we have placed on this page! 


9. You can control how many ads and their placement (even by word count)
While the AI is a great way to let the system optimize ad placement and you can choose to prioritize user experience or revenue, you can also manually control where advertisements are placed. 
You can do this either by excluding specific pages (in the event you want to exclude certain pages, such as your homepage or perhaps a commissioned review or similar sponsored content) or by excluding pages based on parameters such as word count and page length. 
So say for instance you want to write a series of short posts about different facets of a topic. Each post may fall in the 500-750 word count range. Rather than bombard your readers, you can tell Ezoic to limit ad placement on these posts to, say 1-2, or even 0 ads if that is what you want. 
You can create any number of word count tiers in which to restrict the number and kind of ads, making the Ezoic ad platform pretty much entirely customizable from ad placement standpoint.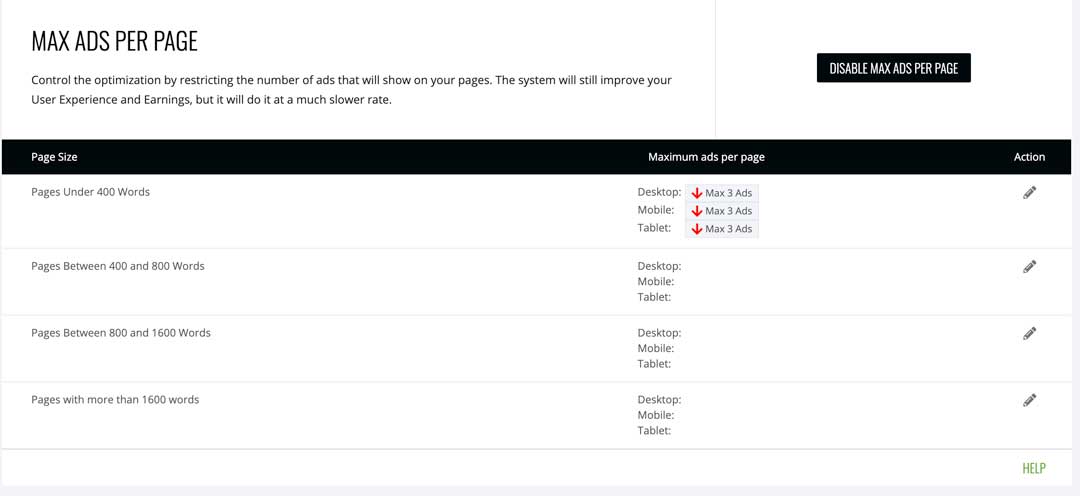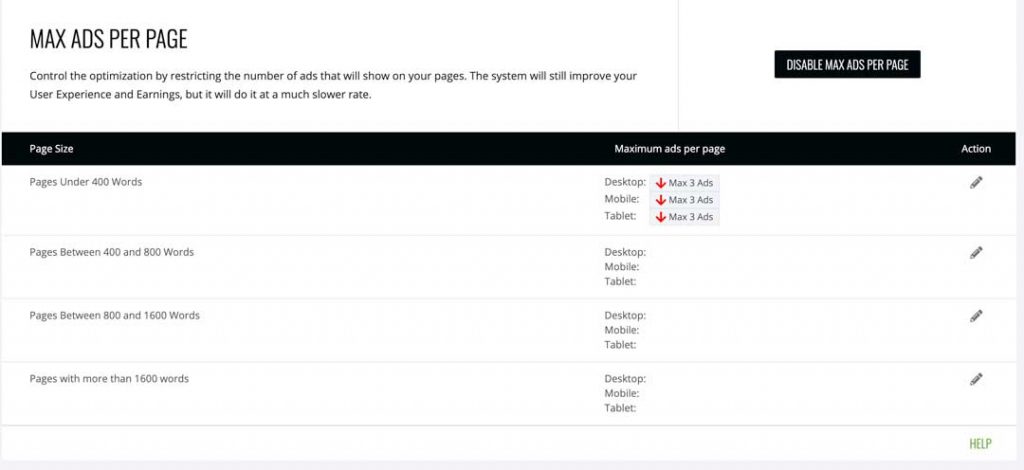 10 . Incredible data collection 
Google Analytics is the gold standard for website data. But when it comes to Ezoic, their internal "Big Data Analytics" (BDA) is incredibly thorough. 
Of course some of the most relevant data you will want to see on a regular basis include day to day revenue, visitors, ePMV (how Ezoic places ad earnings per thousand visitors) and even bounce rate and average engaged time per visit. 
But if you wanted to get even more specific you can see data on audience behavior (such as percentage of new visitors vs returning visitors) and page value (how well certain pages do). 
The BDA is so broken down that you can even see how well your ads do in different types of weather (clear, sunny days are almost always higher for us!) 
We are still getting used to trusting BDA instead of Google Analytics. But we've found that most of the time the data we wanted in GA is just as easily accessible and relevant as that which we found in BDA. 
Plus the primary reason we always checked our GA was to see when we could apply for advertising networks. Now that we've joined Ezoic the data we view in BDA is the most important data to help us see how we are doing and to make decisions. 
11. Customer Service is great
If you subscribe to the negative experiences in forums, Facebook groups and other Ezoic reviews you might find complaints about Ezoic's customer service. But from the moment we applied to Ezoic to this very moment we have a great relationship with the service Ezoic offers. 
From the start we were assigned an account manager to help us through setup for the first 4-6 weeks. Jordan (shoutout Jordan!) not only walked us through the practical setup steps and later reviewed our data with us, but also took the time to help dispel other myths about Ezoic (described below). 
While we don't harass Jordan on a regular basis, we do check in when we have questions (particularly in the early days of establishing trust and understanding what was going on with our website) and Jordan has scheduled regular meetings to go over our data and discuss any decisions we may want to consider making. 
START WITH EZOIC TODAY! Follow THIS LINK to get started on your own or email hello[at]calledtowander.com and we'll personally put you in touch with our account manager who will give you the same great service we experienced!
12. Site speed negligible impact
Advertisement placement will 100% slow down your site speed. It does not matter which advertisement network you choose. When you add ads to your website it is going to slow down speed. 
Although there are bells and whistles you can add to your partnership with the Ezoic platform that are intended to reduce the impact that ads have on site speed (such as their "Site Speed Accelerator") if you properly optimize your website before applying to ANY advertisement network then you will find using Ezoic ads have negligible impact on site speed. 
Before we joined Ezoic we hired Aamir at WPGeared to optimize our website. His optimizations, and recommendations for us moving forward, have created the situation where we are not worried at all about Ezoic's impact on our page speed when it comes to throwing red flags to Google.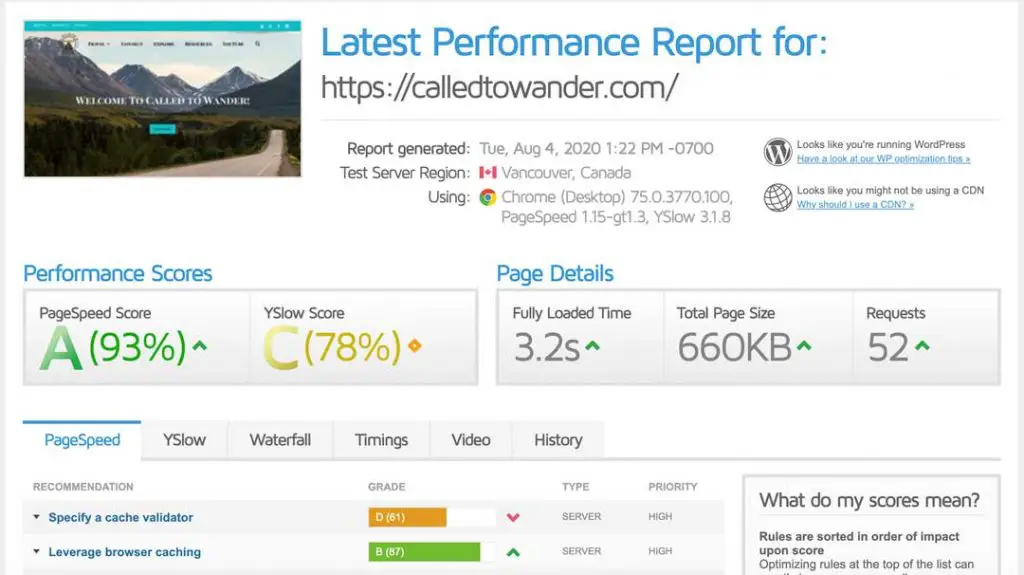 Additionally, you can (and should) connect with Ezoic at the server level, pointing your NameServers to them, in which they use Cloudflare CDN to reduce load times for your readers (technical stuff we didn't understand at first).
You can also subscribe to their "Site Speed Accelerator" ($19 per month up to 50K sessions) if you would like additional insurance that the ads have a minimal impact on site speed. We didn't go this route and have had no negative impact thus far.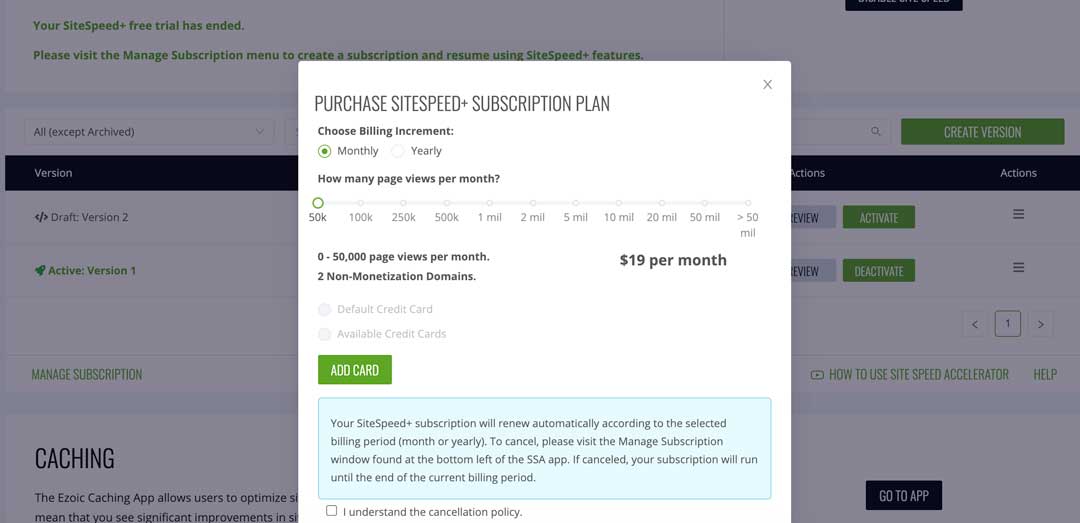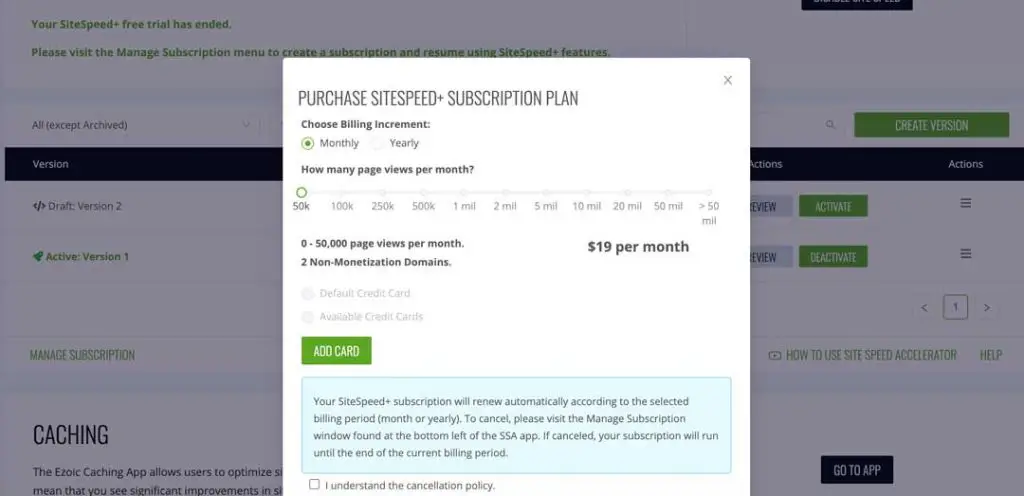 Other Key Features of Ezoic
Ezoic is an ad tester platform. This is one aspect of using Ezoic that makes it quite unique. As such, Ezoic uses its AI system to work with criteria you establish and your audience's behavior to "learn" which ads to place where. 
As referenced above, in some cases ads will not be placed if it interferes with user experience. This is huge and a significant reason why you may want to consider joining Ezoic.
In addition to the 12 reasons we think you should consider joining Ezoic, here are a few more key features about Ezoic's platform that are worth considering:
Ad Tester
As mentioned above (#7-9), Ezoic works as an ad tester that uses AI to continually optimize ad placement and revenue. The longer you run ads with Ezoic the more machine learning takes place and the more optimized your ads become.
In a real sense, the longer you stay with Ezoic the more ad revenue you will make.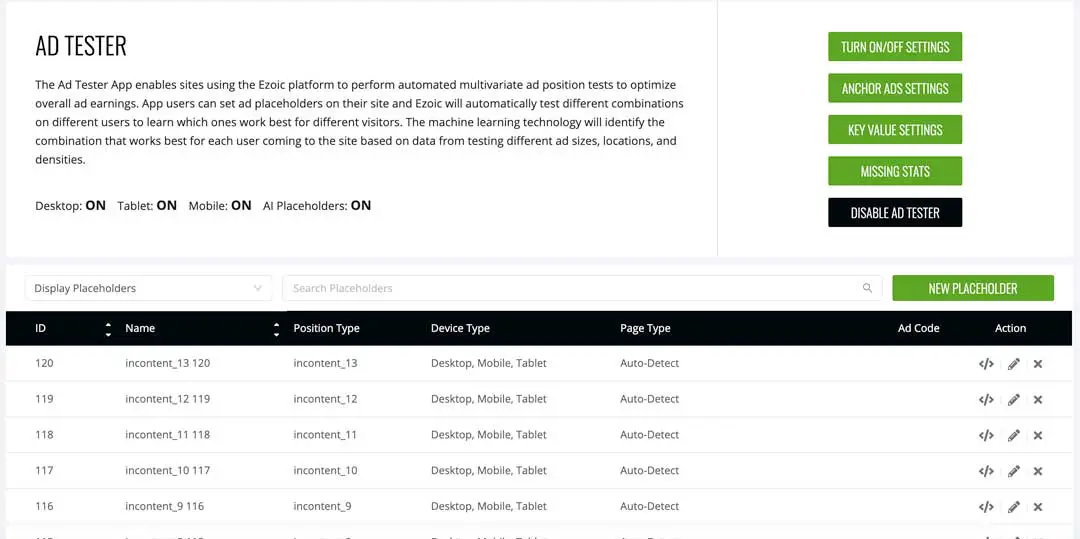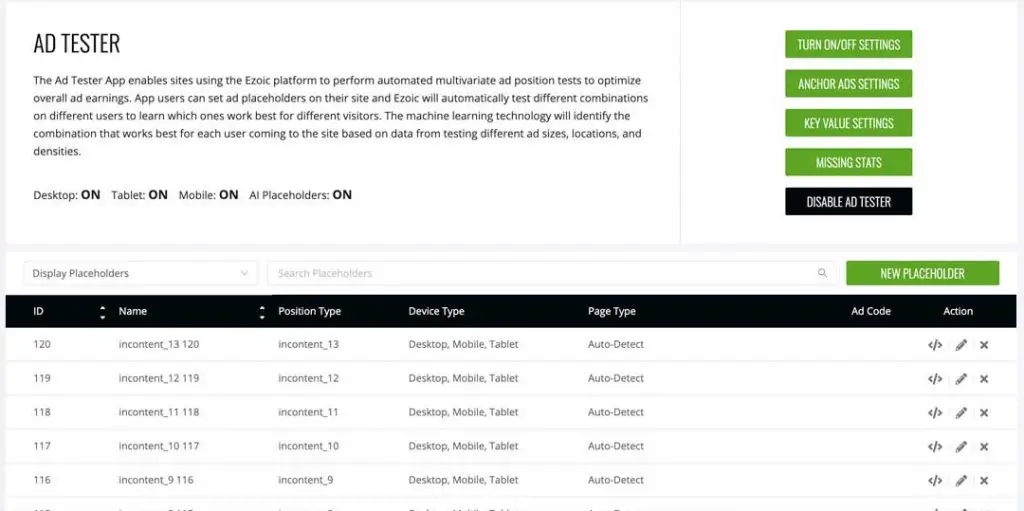 Caching
Caching allows Ezoic to deliver content to readers in a quick fashion. By storing basic information about the website using CDN services Ezoic can optimize site speed to reduce the negative impact ads may have on your site. 
Google Search Console Integration
Connecting your website's Google Search Console with Ezoic's dashboard allows Ezoic to create extensive amounts of relevant data related to ads on your site.
As mentioned above (#10), Ezoic's Big Data Analytics are phenomenal and broken down to such degree as you can make decisions about your content based on trends you see from an advertising standpoint. 

Layout Tester
Create templates for ad layout and test each simultaneously with your audience. Each visitor will be given a different template and Ezoic's AI will be able to learn to customize to each user's experience while optimizing revenue
Should You Apply to Ezoic 
Ezoic is a great option for mid-level websites looking to optimize ad revenue with no overhead expense and little waiting to get started. 
But the answer to this question depends on your personal goals and where you and your website are right now.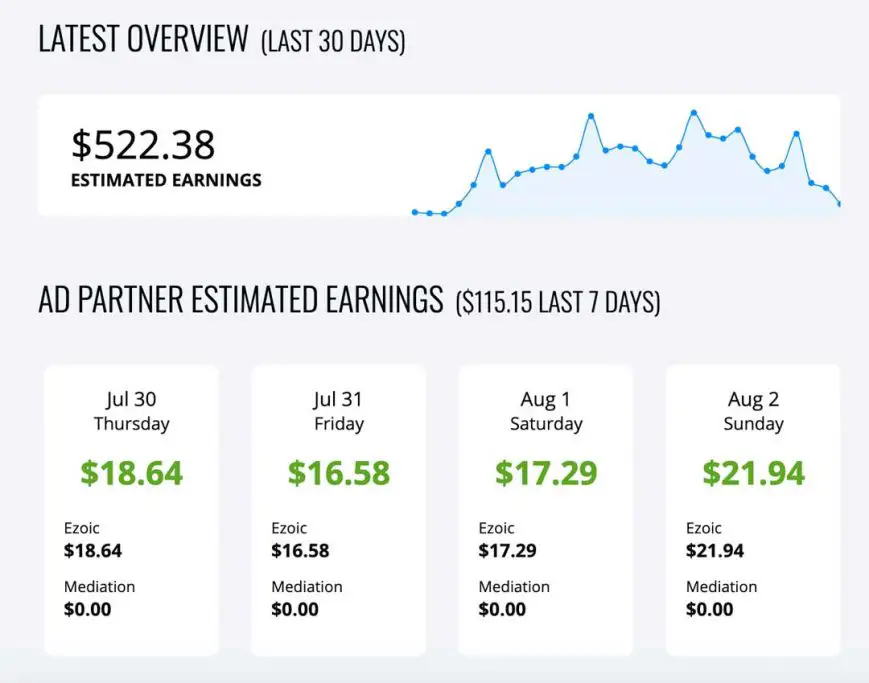 Here is a summary of the Top 5 Advertising Networks:
Ad Network
Sessions
Pros
Cons
AdSense
No min
* Largest, most popular
* Free to join
* No minimum traffic 
* Pays 68% to you
* Need massive traffic
* Pays per click through
* Ad revenue highly dependent on audience and niche
Monumetric
10K min
* Pays per impression not clicks
* Dedicated rep to help with strategy
* Displays updated ads
* $99 joining fee
* 4-6 week acceptance period
* 30-day cancellation notice
Ezoic
10K min
* Low traffic threshold
* Free to join
* Part of Google's Ad Exchange Program
** See all 12 reasons above!
* Complaints on site speed and service
Mediavine
50K min
* Pays 75% to you
* Pays almost double Adsense RPM
* Has an internal network of advertisers
* Higher minimum session threshold
AdThrive
100K min
* Helps monetize more than just ads
* Pays 75% to you
* Certified Google partner 
* Strong brand reputation and dedicated service
* High minimum session threshold
* Majority of traffic must be from the USA
Note that you are really only comparing Ezoic vs Adsense and Ezoic vs Monumetric until you reach 50K+ monthly sessions. 
Here are some things to think about as you determine where your website currently is and your goals for ad revenue and monetization moving forward. 
0 – 10K Monthly Sessions
If you're starting a new website, your goal should be to create as much quality content as possible to begin building trust and authority with your readers. Your only option for ad networks at this early stage will be Google Adsense and you can choose to partner with them if you really want to begin monetization through ad revenue.
Personally we focus more on building reader trust and authority and any consideration for revenue is through affiliate products and services we personally use and recommend.  
Note: With our second website we are not going to consider ad revenue until we reach at least 10K monthly sessions. We will skip right past Adsense and on to Ezoic once we feel we have the readership and credibility in our area of focus. 
10K – 50K Monthly Sessions
Once you reach 10K sessions you will have to decide whether to leave Adsense (if you even began) and/or whether to go with Ezoic or Monumetric. There are instances where website owners have bypassed both ad networks and held out on placing ads until they qualified for Mediavine. 
But with the recent increase in the Mediavine threshold and the fact that ads are becoming commonplace on websites we would encourage you to begin your ad revenue at 10K visitors with Ezoic. 
Between 10K and 50K sessions you are in the phase of grinding it out, kind of like where you just were. The only difference now is that you have ad revenue to make the extra effort worthwhile. Your focus is building great content that attracts readers month-after-month. 
If you are happy with Ezoic during this time then stick it out with them. However, you may find yourself considering whether Monumetric would have been a better choice. 
Remember Ezoic doesn't punish you for leaving their network. So if you have buyer's remorse, apply to Monumetric and compare the results. 
Note: Unless we learn some major differences in Monumetric, or if Ezoic ever lets us down in a big way, we will stick it out with Ezoic during this time.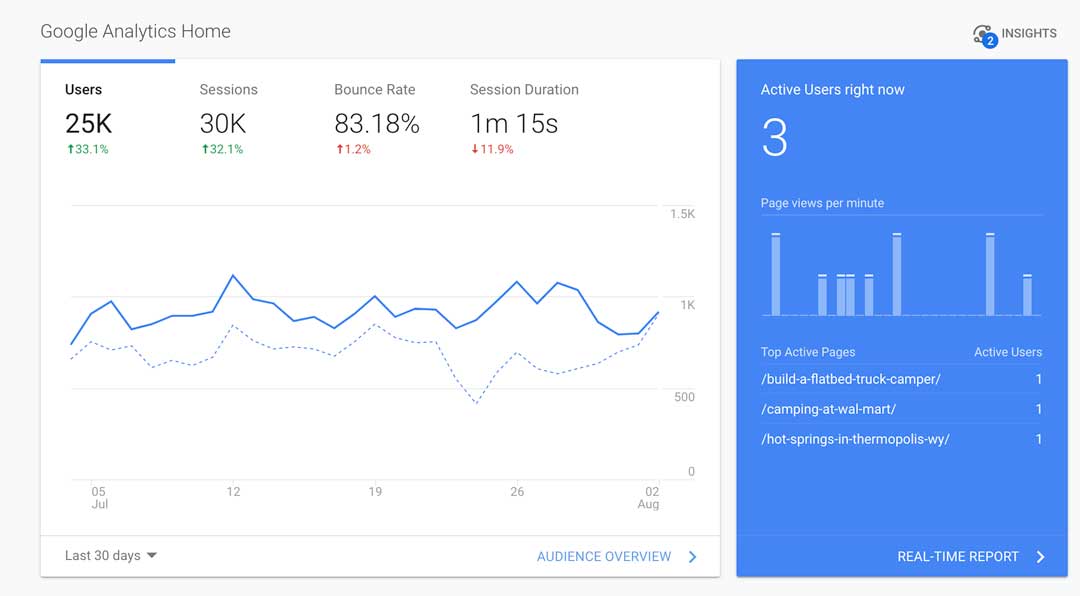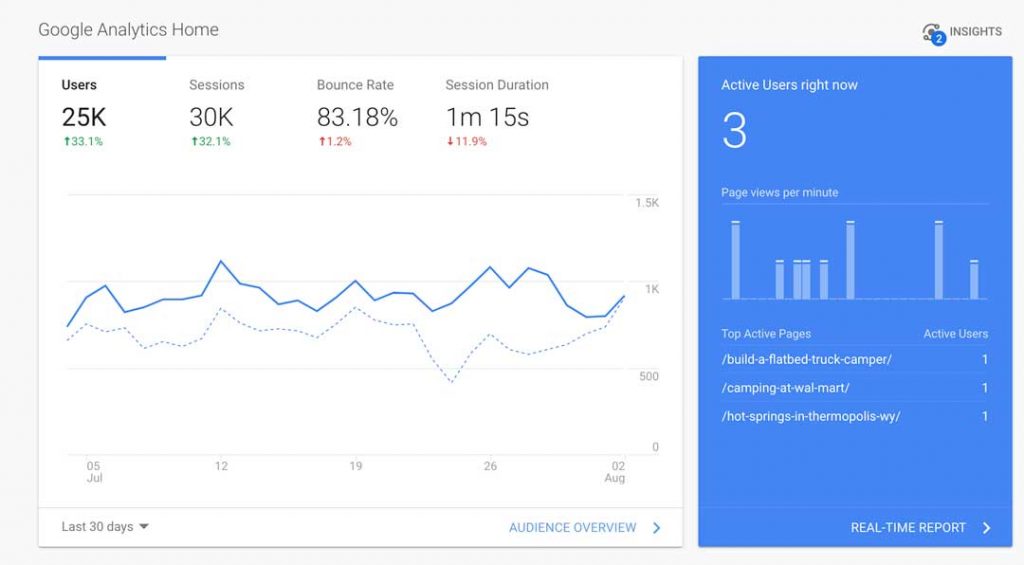 50K+ Monthly Sessions
The next big decision will come at 50K sessions, unless the bar is again raised in the meantime. At this point you'll have to decide whether to move your website to Mediavine's ad network. 
Once again, we don't intend to move unless we are completely unsatisfied with Ezoic at that point. 
Note: Ezoic has plenty of websites with 6-figure + monthly sessions that remain happy with Ezoic's results and we aspire to be one of these. 
100K+ Monthly Sessions
Then again at 100K you'll have another choice to make as to whether to stick with Ezoic (or Mediavine if you go that route) or to apply for AdThrive. AdThrive is considered top tier, which also includes more scrutiny of your website and audience. 
Yet again, we'll stick with Ezoic unless we are shown something entirely mind-blowing about AdThrive at that point. 
Our Story: Why We Choose Ezoic
We wouldn't write this Ezoic review without having gone down a pretty rocky journey in the travel blog space.
Since we began our website in 2018 we were on a quest to build a website that would create enough revenue to support our desire to travel full time in our RV.
Like most new bloggers, we joined forums and Facebook groups about monetizing our blog. We quickly learned that Mediavine is considered THE premier platform for ads. It's actually almost brainwashing if you read enough about what the "professionals" in the website industry say. 
For a long time, at least as long as we've been working on our website, Mediavine set the application threshold at 25K monthly sessions. Those publishers with one site on Mediavine could bring a second or third site onboard with 10K sessions.
Just recently, however, Mediavine increased their application threshold to 50K monthly sessions and this sent shockwaves throughout the blogging world. 
These shockwaves rippled through our lives as we were on the fringe of applying for Mediavine, sitting at around 20K sessions per month.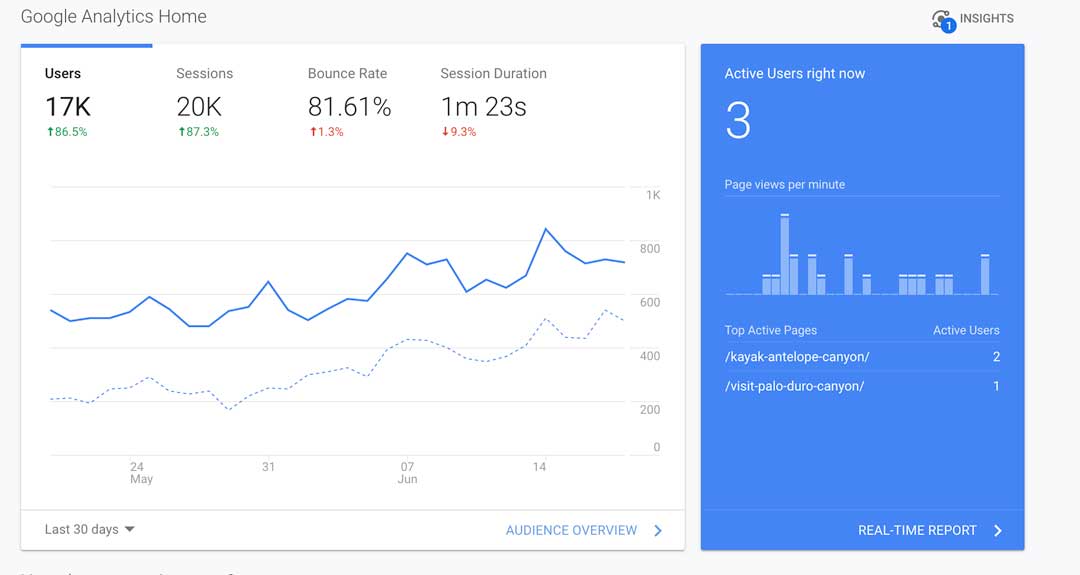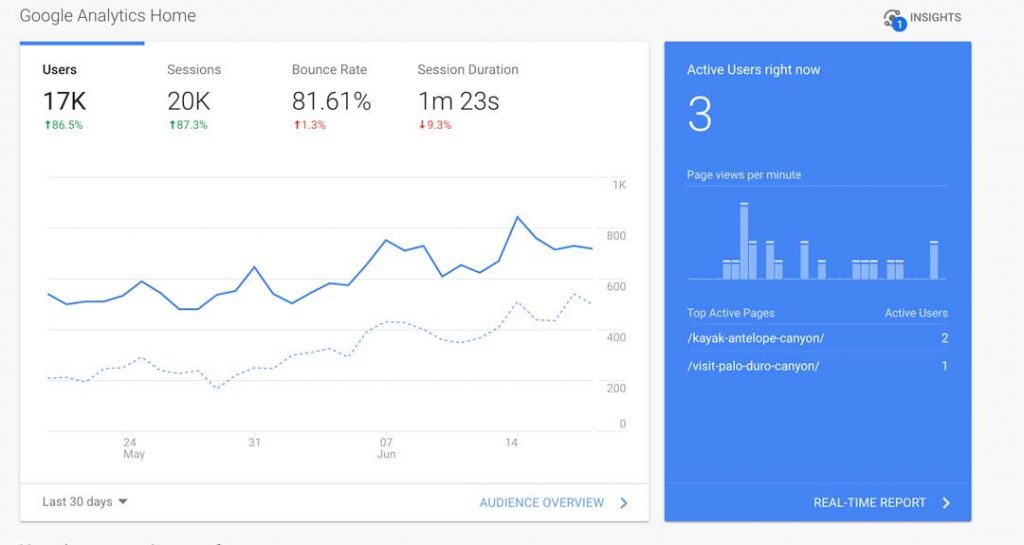 Having been so close to applying for Mediavine, we were devastated at the news and realized we had a few decisions to make: 
OPTION 1: Remain ad-free (no revenue) and strive to reach 50K monthly sessions before applying to Mediavine (with no guarantee that the bar isn't raised yet again before we get there!)
OPTION 2: Immediately switch to Google Adsense and at least start generating some revenue with the clicks of a few buttons. 
OPTION 3: Dive into the world of deciding between lower threshold advertisers like Ezoic and Monumetric 
While we wish we were financially independent and could offer all of the information we provide our readers on our website 100% without ad interruption, the reality is we are building our website as a way to provide value to our readers in exchange for revenue that will allow us to continue to create content that we love to share. 
So we immediately crossed through Option 1. We were ready to pursue ad revenue.
After a few minutes of research we decided against Option 2 as we were significantly over the 10K monthly session threshold of both Ezoic and Monumetric. It didn't make sense for us to take a step back to the basic advertising network when we qualified for a higher tier one. 
Option 3 made the most sense to us (literally) so we spent several days researching and weighing the options between Ezoic and Monumetric. Ultimately we decided on Ezoic and we couldn't be more pleased with that decision.
So I'll be up front with you – we joined Ezoic with 22K monthly pageviews and we have not looked back since. We are 100% thrilled about the results that we have seen and we want to share our experience with you – the good, bad and ugly – so that you can make a more informed decision about what is in your best interest for your website and your readers.
START WITH EZOIC TODAY! Follow THIS LINK to get started on your own or email hello[at]calledtowander.com and we'll personally put you in touch with our account manager who will give you the same great service we experienced!
Note: While our goal was to monetize our site in order to support our lifestyle of travel, our primary goal was always and continues to be user experience. Even as you read this now we want your experience and what you learn to be worth more than any possible ad revenue we generate from your visit. 


Ezoic vs Adsense
An important part of any Ezoic review is how Ezoic compares to Google Adsense. Honestly, we never considered Adsense at any point in building our website.
Our focus in starting our blog was to build trust with our readers and provide them with the information and inspiration that would keep them coming back.
 Of course we were naive in our endeavors. But we thought that adding advertisements to our site before we had significant monthly traffic would deter our growth. So we didn't mess around with Adsense ads. We set our sights on the former 25K session threshold for Mediavine and started working to reach that number. 
However, we have learned that ads are becoming a part of every user experience on virtually every website. They have been normalized in such a way that readers have come to expect ads on websites. 
I still personally click away from any website that is heavy with ads and/or has video ads that automatically play (and take me more than 1 second to find and turn off). So we are cognizant of this when we display ads on our website. 
But if you are starting off and would like to start generating revenue, Adsense is just about your only option. But don't expect to make much. And be sure to evaluate whether the minimal ad revenue you generate is impacting your user experience in any way deterring growth to your site. 


Overcoming Objections about Ezoic
There are 2 primary objections we faced in other Ezoic reviews when considering whether to join Ezoic or Monumetric. The first is around page speed. The second is around customer service. 
As we researched the differences between these two ad networks and we read various Ezoic reviews and posts in Facebook groups and other forums, it seems the 2 consistent complaints were always site speed and customer service. 
So when we first applied to Ezoic and met with our dedicated representative we were quick to point out how hesitant we were to join Ezoic's ad network because of these reasons. 
However, there are 2 things that have taken place to ensure both of the objections were easily overcome. First, as it relates to page speed, we hired a company to optimize our website prior to integrating with Ezoic.
As it turns out, two years of us not knowing what we were doing in building our website resulted in quite a few (fortunately) easy fixes for this company. Within 2 days we were fully optimized from a technical SEO standpoint.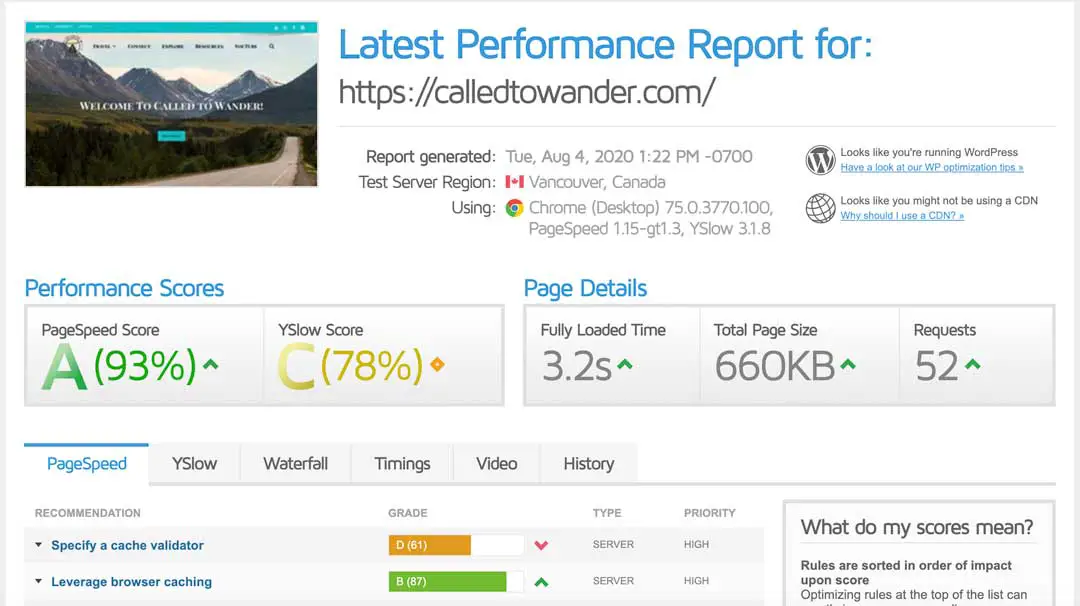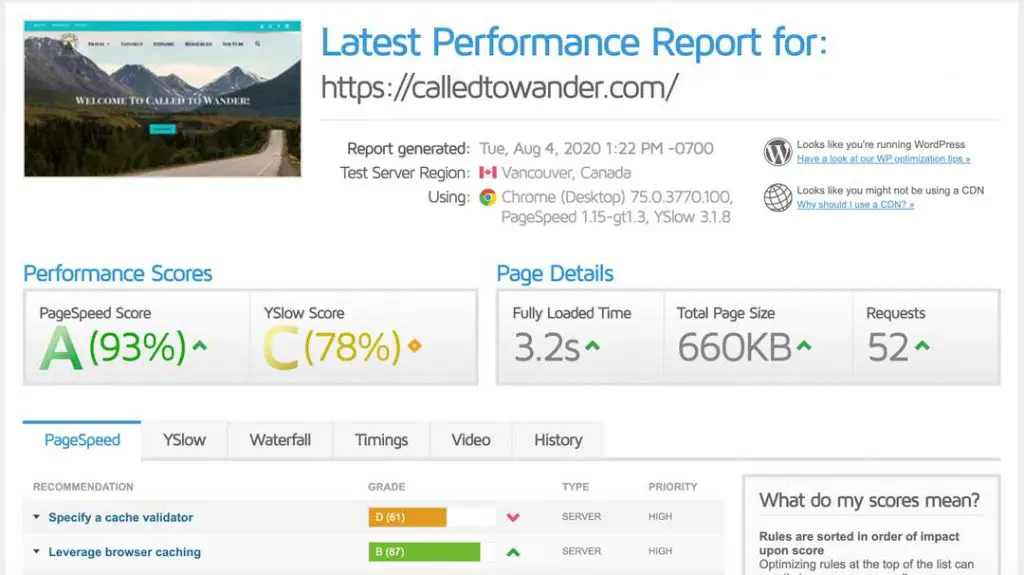 So when we integrated our site with Ezoic we knew our site speed would be reduced as occurs with adding ads to any website. But it truly was minimal due to the optimizations we made beforehand. 
Additionally Ezoic safeguards against site speed issues by offering CDN and other services that are aimed at page speed optimization. There is a premium feature you can subscribe to. We haven't and we have had no issues to date. 


Second, we have maintained a close relationship with our service representative (in fact I just got off a call with him today). Although we are a relatively small website account for him, our representative has taken the time consistently to help us understand the inner workings of our integration with Ezoic and to help alleviate any concerns we have as they arise. 
After each call with him I feel completely relieved about our decision and direction in partnering with the Ezoic platform. Yet it is inevitable that shortly thereafter I read some comment in some forum or group that makes me get anxious all over again. The more I learn, the more I question, the more our representative steps up to help us understand Ezoic's role in our website's success. 
Will you have the same experience as we have had? 
Hopefully! 
But we do advise that you reach out to Aamir at WPGeared so he can help you optimize your site from a technical SEO standpoint. 
And then if you'd like to work with our Ezoic representative as we have, send us an email and we'll put you directly in touch with him! 
In Conclusion: Is Ezoic Right For You? 
We believe Ezoic is right for just about any website looking to monetize with ad revenue. We've laid out our list of reasons why we love Ezoic. And while we would receive a small affiliate commission if you took our advice and joined Ezoic through this link, we do honestly believe that you will be pleased with your experience with Ezoic. 
Please send us an email if you would like to connect personally with our account manager who has made our experience with Ezoic what it is. We'd be glad to put you in touch so he can help you optimize your earning potential and overcome any objections you may face. 
At the end of the day we want you to grow your business and have the same success as we have had. And we think this is definitely possible if you choose to partner with the Ezoic platform! 
We hope this Ezoic review has helped you make the most informed decision about what is in your best interest and please let us know if you have any other questions!
START WITH EZOIC TODAY! Follow THIS LINK to get started on your own or email hello[at]calledtowander.com and we'll personally put you in touch with our account manager who will give you the same great service we experienced!
About Author