Last Updated on July 24, 2021 by Chris and Lindsay
It is important to know the Dalton Highway road conditions if you plan to safely drive any portion of the road. 
The Dalton Highway itself is a brutal 415-mile mixture of road conditions. The road is minimally maintained to accommodate semi-trucks.
Yet every year thousands of tourists attempt to drive the Dalton Highway. Most want to visit the Arctic Ocean at the road's terminus in Deadhorse, Alaska.
Download the ROAD CONDITIONS on the DALTON HIGHWAY pdf
We were such tourists that successfully completed the drive during the summer of 2018. But we had trouble in our planning. Despite all of our research we could find nothing that described the actual Dalton Highway road conditions.
We went into the drive almost entirely blind to the actual dangers of the highway. This nearly cost us on our return trip!
The Milepost offers a great reference so that you know the general sites and fuel locations along the way. Still we drove the entire 830-miles roundtrip without knowing anything about the Dalton Highway road conditions.
Whether you drive a motorcycle, car or truck, RV or even bicycle you should know the road conditions prior to leaving Fairbanks.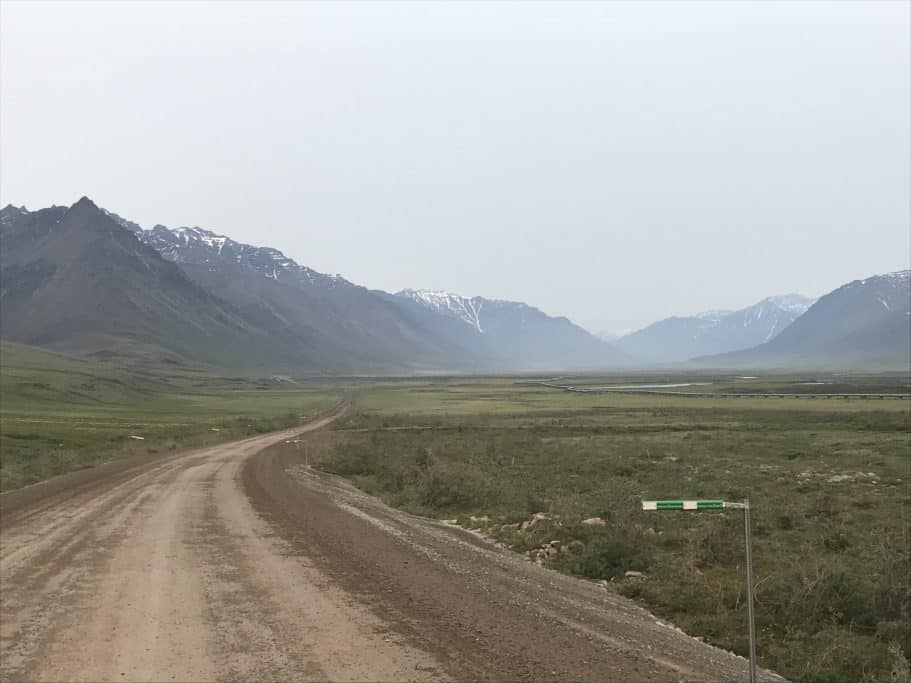 DALTON HIGHWAY ROAD CONDITIONS
We advise that you download and print the ROAD CONDITIONS of the DALTON HIGHWAY PDF for a mile-by-mile record of the Dalton Highway road conditions.
NOTES:
Dirt/Gravel is maintained in periodic portions by adding water and then grading it with a motor grader. Thus the actual conditions of the Dirt/Gravel vary on a DAILY BASIS.
"Frost Heaves" are bumpy portions of PAVED roads. We found it easier to drive on dirt/gravel than on paved roads with frost heaves.
MILE MARKERS
ROAD CONDITIONS
COMMENTS
0 – 17
Dirt/Gravel
Steep grades in both directions
17 – 18
Gravel/Paved
 
18 – 22
Paved
Significant road damage
22 – 36
Dirt/Gravel
 
36 – 48
Paved
LOTS of frost heaves
48 – 89
Dirt/Gravel
 
89 – 109
Paved
TERRIBLE, potholes, stretches of road that turn to dirt/disappear
109 – 110
Dirt/Gravel
 
*** 115
ARTIC CIRCLE TURNOFF
Photo Opportunity
110 – 135
Paved
Potholes NOT FILLED
135 – 143
Paved
Potholes mostly FILLED
143 – 158
Dirt/Gravel
 
158 – 165
Paved
OK, with some frost heaves
165 – 175
Paved
 
*** 175
COLDFOOT
Best place for fuel and coffee!
175 – 210
Paved
BEST stretch of highway! You can easily and safely drive up to speed
210 – 340
Dirt/Gravel
Hard packed dirt with loose gravel
*** 245
ATIGAN PASS
Highest elevation for drive
340 – 347
Paved
Higher quality pavement
347 – 359
Dirt/Gravel
Bumpy, frost heaves
359 – 363
Paved
Decent with few potholes or bumps
363 – 370
Dirt/Gravel
**CONSTRUCTION AT TIME OF WRITING

 

(NOTE: This is where we had our blow out on our return trip. One large, sharp piece of gravel punctured our tire.)

 

370 – 375
Dirt/Gravel
Hard-packed, loose gravel with some washboard and large gravel
375 – 380
Dirt/Gravel
Elevated road, hard-packed, occasional bumps, lower quality
380 – 415
Dirt/Gravel
Elevated road, hard-packed, loose gravel, large gravel at times
415
Deadhorse
YOU MADE IT!!
The Reward of the Dalton Highway
The reward for completing the drive of the Dalton Highway is that you achieve what very few tourists do. You can look back on the journey and count the amazing scenery and animals among your victories. But you can also cross off driving one of the world's most dangerous roads!
If you are still unsure whether you can complete the drive check out our Dalton Highway DrivingSafety Tips. By following these tips we completed the 830-mile roundtrip with minimal concern!
SEE ALSO:
Dalton Highway Driving Safety Tips