Alaska to Argentina: Driving the Pan American Highway
If you've ever wanted to drive from Alaska to Argentina you are not alone!
The Pan American Highway is a loose collection of highways that makes it possible to do just that. It connects over a dozen countries in a nearly 20,000 miles stretch between North and South America.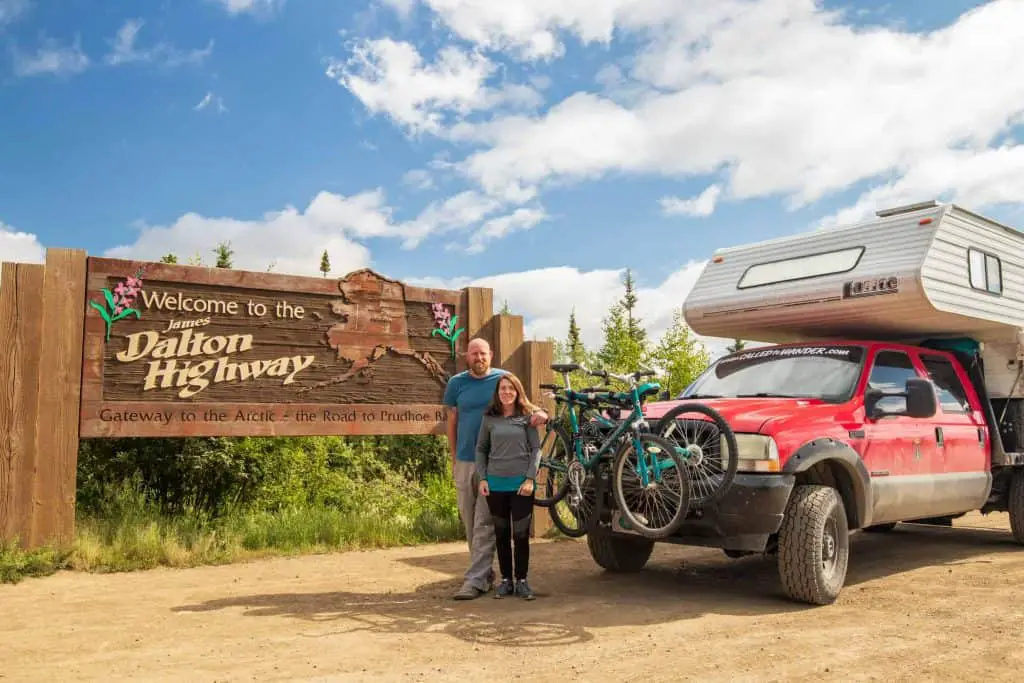 Currently there are thousands of overlanders at various stages of completing the drive in part or in whole.
Some drive from Alaska to Argentina. Others drive from Argentina to Alaska.
We started our journey in Florida… so we chose to attempt to drive from Alaska to Argentina.
Why Drive From Alaska To Argentina?
We still haven't figured out why most people choose to drive from Alaska to Argentina along the Pan American Highway.
We've conducted surveys from those on the road. They're inconclusive at best.
We've made friends on the journey and asked them. Nobody seemed to know either.
The only thing we seem to find consistent among people driving the Pan American Highway is that they all have a desire to try to do something that few people have done.
Some move fast. Some move slow. Some don't even move anymore because they find some place beautiful and call it home.
In 2016 we had the vision to drive the Pan American Highway from Alaska to Argentina.
It is really something we can't quite explain. We just felt a calling in our hearts to go.
And we trusted that we would figure out more about our calling once we got on the road.
At the time we were fostering 8 children in a group home. We also owned a 40-year old fixer-upper sailboat.
And we knew very little, if anything, about what the journey would entail.
But we were inspired by the idea that one day we might hit the road to complete the drive.
We felt it was part of our destiny.
Preparing To Drive From Alaska To Argentina
Just as people's motivations vary, so too do their methods of transportation as they drive the Pan American Highway.
Some people drive monster homemade overland vehicles.
Others drive more modest truck campers.
Still more drive vans or smaller vehicles converted for life on the road.
Yet a handful will make the journey on a motorcycle.
The crazy ones bicycle from Alaska to Argentina (we've run across a few of those!).
Heck, one guy even walked the whole way (from Argentina to Alaska).
There are as many ways to drive the Pan American Highway from Alaska to Argentina as there are people willing to do it.
After nearly six months of studying and shopping our options we decided to attempt the drive in a truck camper.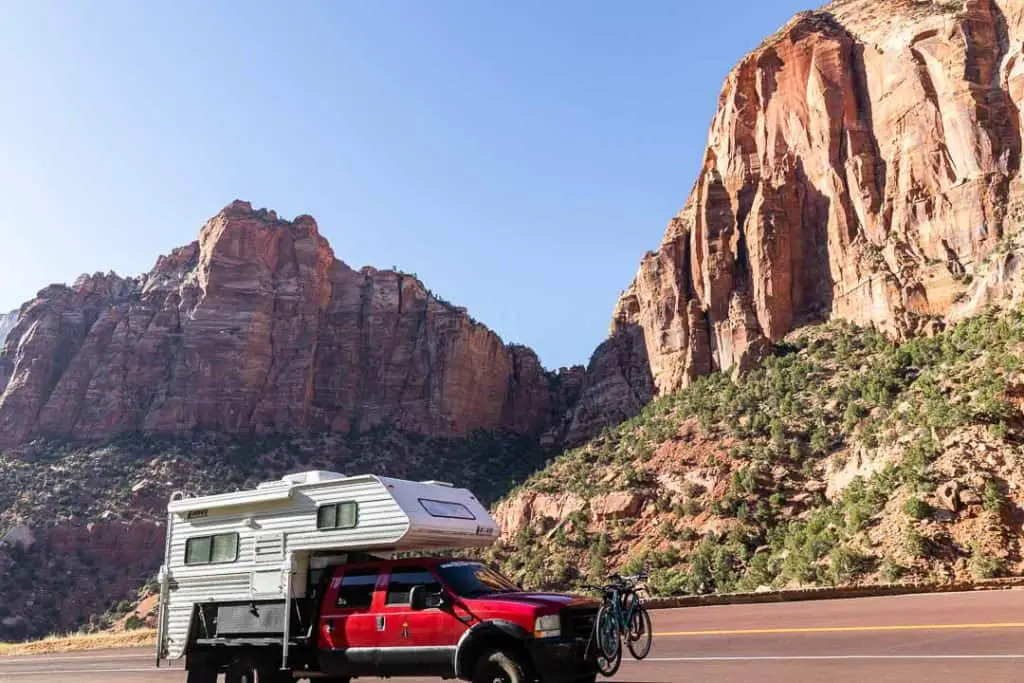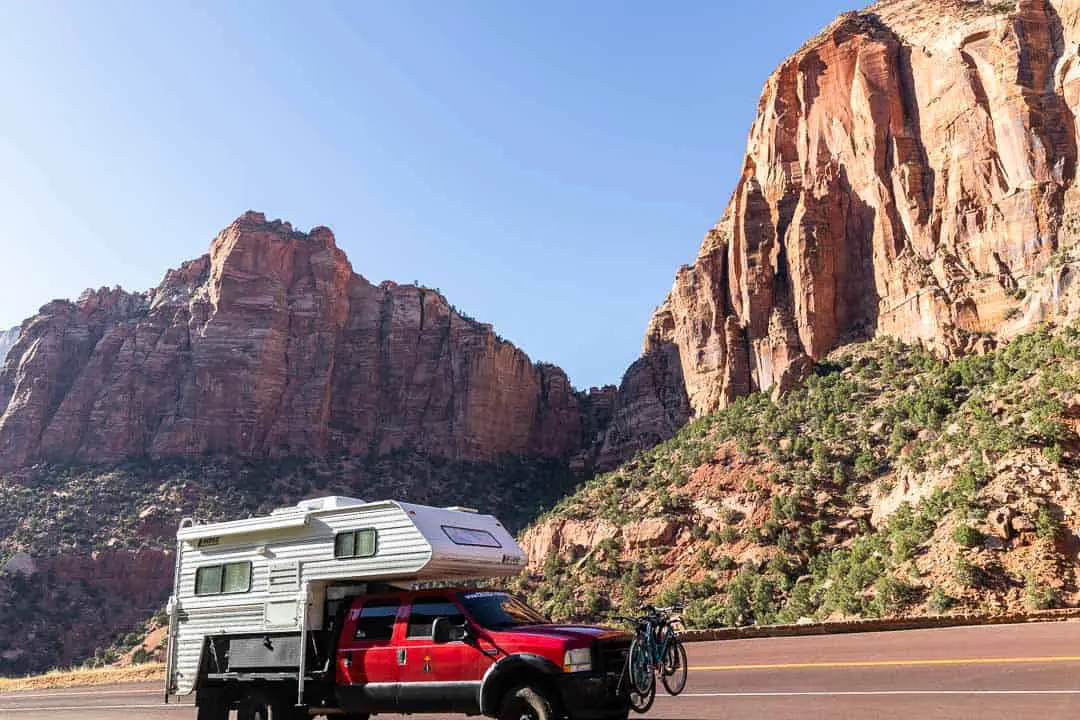 The next six months we shopped for both a truck and a camper. They had to be compatible, durable and… cheap. Honestly, our entire vehicle budget (including purchase, repairs, modifications and upgrades) was $20,000.
We won't tell you how close we came to maxing that budget in the days before we set out on our journey…
(we had many, many more repairs to make in the first year of our journey so sometimes we try not to think about how much we ACTUALLY spent on our truck camper!).
But we'd love to introduce you to our truck camper if you have a few extra minutes. (That was a cue to click on the hyperlink, in case you missed it!)
Once we had our camper ("Tree Trimmer") and our truck ("Rocket") we set to modifying it to make the journey from Florida to Alaska and from Alaska to Argentina.
We'll share some of those modifications soon.
Essentially we paired a long flat bed with a short-bed camper and created a super-storage vehicle capable of making a trip to the moon and back. Well, not quite.
But we call our truck Rocket because it had 445,000 miles on it when we bought it. That's enough miles to the moon and on its way back!
With the modifications came the routing, the studying of the itineraries and the saving.
We got pretty good at saving.
But we knew we'd never have enough.
Then we waited for the time to go…
---
In Pursuit of A Dream
After nearly two years of preparation and planning we began the journey to reach Alaska from our home in Florida.
We sold everything that we own. We put what was leftover into our truck and camper. Then we hit the road.
When we began the adventure in spring of 2018 we didn't have enough money to complete the entire journey.
But that too is part of the excitement of our story.
Every day we have to overcome challenges.
We are inspired to connect with people at every step of the journey and have learned to be dependent upon the kindness of strangers.
We help people everywhere we can, however we can. Our comfort zone is now stretched beyond anything that we could have imagined.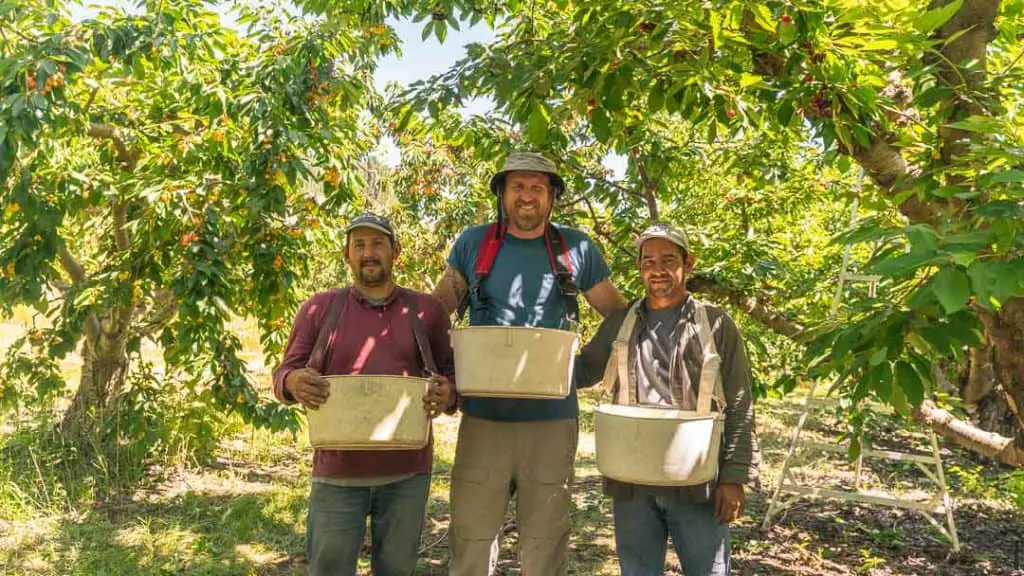 And the value of the relationships with people we have met, served and shared life with is invaluable.
Oh, and Lindsay has Crohn's Disease and is attempting to be the first woman with the disease to overland in a truck camper from Alaska to Argentina.
Because the disease limits mobility, most people with Crohn's Disease don't travel too far from their comfort zone.
There's really no information out there on how it is even possible to do this.
So we're forging a way through the unknown to help inspire and inform others on how to overcome obstacles in their lives to pursue their travel dreams.
Whether you want to drive from Alaska to Argentina or not.
The world is not waiting for you to come alive. Come alive now and go!
---
Stepping Out in Faith
We have always been inspired by adventure and those who have gone before us in exploring the world.
So our first part of the adventure was to get to Alaska from Florida.
You can make it in like 5 days if you drive fast and hard. We took closer to 3 months and 10,000 extra miles. But what a journey that was!
On July 6, 2018 we arrived in Deadhorse, Alaska at the top of the world.
This journey in itself covered twenty states, three Canadian provinces and over 10,000 miles.
It proved to be both exciting and educational.
The Arctic Ocean proved to be cold.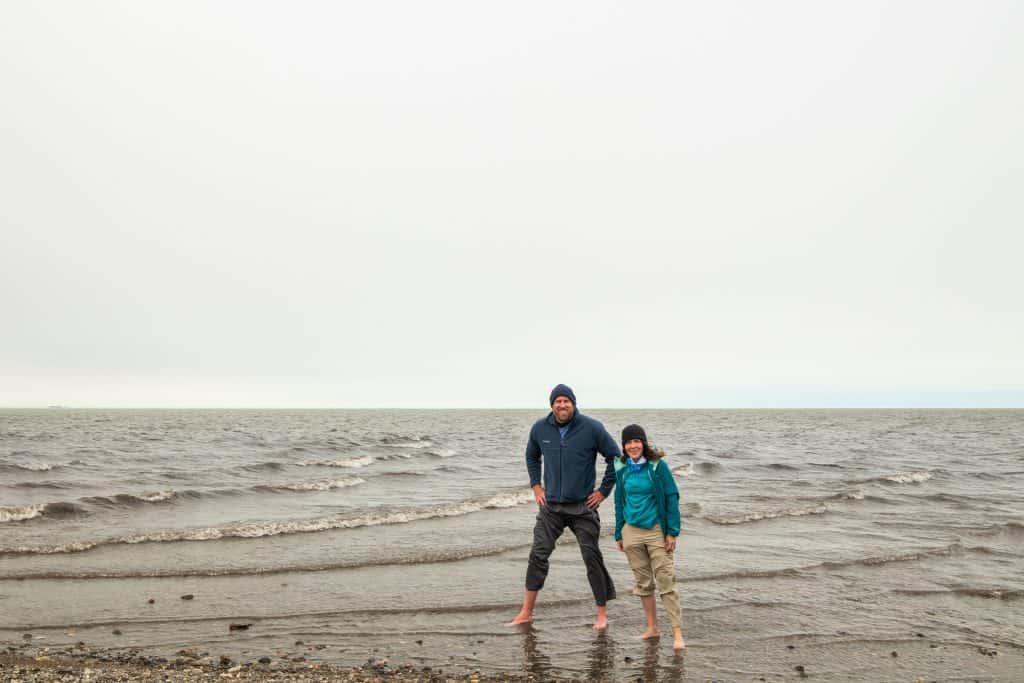 And life proved that there would be more twists and turns in our attempt to drive from Alaska to Argentina than we could ever plan.
That's good though. Sometimes plans need to be made just so they can be broken.
Life works out better that way…
---
Travel. Connect. Explore.
We believe that travel is the best way to connect people in the world.
A profound transfer of culture, ideas and information takes place when one ventures to a new place.
We call this creating a smaller world.
We also believe that everyone should travel with purpose. Sure, it starts with a vacation or a dream to travel to some part of the country or world.
But in exploring the world there is the opportunity to connect with others in unique ways that bring value to local communities.
Travel. Connect. Explore is core to our life mission and we think it should apply in some way to yours!
---
Travel.
We believe that every person has some innate desire within them to see some new wonder in the world.
For some of us, this takes the form of an intense craving to never stop wandering. In others, a brief family vacation or honeymoon might satisfy this thirst.
But we each have the ability to make the world a little better through our travels.
By venturing beyond our comfort zones we participate in closing the gap between peoples and cultures.
When we travel we transform the world in some small way.
So wherever you desire to travel, we encourage you to go! The world needs you to go!
---
Connect.
Connecting with people is core to our philosophy in life.
We have always sought to make the world a little smaller by spreading kindness and love wherever we are.
This philosophy extends into our travel. As we wander toward Argentina we look for ways to help people.
And we encourage you to connect with people in the world around you too!
As we drive the Pan American Highway we actively seek ways to connect with people that we can help in some simple, yet meaningful way.
We…
There are many ways to connect with people as you travel.
These are just some of the creative ways we have learned to help others as we drive the Pan American Highway.
The important thing is that you look for ways to connect when you travel!
---
Explore.
Travel is exciting! Even if you don't go far from your comfort zone or if it becomes routine through work trips or family visits.
We find great value in exploring the world around us.
Exploration teaches us new things about ourselves, our interests and passions.
It even presents us with the opportunities and possibilities to do things in life that we never imagined.
As we have traveled we have been able to experience some pretty amazing things. We…
Visited the home of the Delta Blues and spent time with the last Delta Blues Disc Jockey.
Drove Route 66 from Missouri to Arizona
Stumbled into the beauty of Palo Duro State Park in Texas
Witnessed sunrise and sunset from the rim of the Grand Canyon
Made our way through all 5 National Parks in Utah
Camped in the most beautiful small town in Colorado
Ran wild among the wild horses of Sand Wash Basin
Met the famous highlights of the National Parks of Yellowstone and Grand Teton
Played among the waterfalls and sand dunes of Idaho
Found rest in the lush, green forests of the Willamet Valley in Oregon
Spent a relaxing weekend in the wine country of the Columbia River Valley in Washington
---
"Serve the Servants"
Having reached Deadhorse, Alaska in July 2018 we are currently preparing for the second leg of our journey into Mexico and Central America.
We are working with friends, family and strangers alike to develop an itinerary of places to visit and people to serve along the way.
In Mexico and beyond our purpose will be to "Serve the Servants" and we are seeking opportunities to help those people who help others.
Whether we connect with churches and missionaries, non governmental organizations and nonprofits, or clinics and hospitals, our focus will be to serve the people on the front lines in each community we visit.
We'd be more than grateful if you'd join us in our journey!
---
Connect With Us
We hope that you find inspiration from our story and will engage with us as we attempt to reach Argentina. Please be sure to connect with us on social media:
---
Please Help Keep Us On The Road!
We are currently broken down in Wyoming. We're OK with that. We love where we are.
But our truck unexpectedly broke in Utah and we found ourselves stranded.
Through several weeks and several thousand dollars we managed to ship our truck to Florida, where Rocket will receive some substantial overhaul.
We shipped our camper to Wyoming, where we are working diligently to raise the funds to pay for the repairs and send us on our way toward Argentina in fall 2019.
We don't believe that money solves the world's problems. We believe that people solve the world's problems.
However, we do recognize that money acts as a bridge to connect people and a tool by which we can help each other.
If you believe in our mission to help others as we pursue our dreams, we would appreciate your support.
We are grateful for the opportunity to serve others as we pursue our calling and your support means the world to us.