SEPTEMBER 2018 (UPDATE #3) – $25K CHALLENGE
October 27, 2018
We saved a lot during September. This was mostly due to the fact that we were in Thermopolis, Wyoming for most of the month. We found that fuel is our single greatest expense when we travel. The more we move, the more fuel we use. So staying mostly stationary was an important way that we saved money.
Additionally we did not pay for camping when we were in Thermopolis.  We work-camped in exchange for free accommodation. We sanded and painted picnic tables, kept up with the lawn maintenance, drove campers to various places around town and helped out in any way that we could. While it worked out to around $10 per hour if we were paid cash, the experience and the savings was worth it.
We left Thermopolis on September 21, leaving us ten days of travel in the month. We accounted for this in our accommodation, fuel and food budget. Although since our return to Alaska we learned how to really save on travel expenses.
We started the month with $18,886.67.
TOTAL BUDGET: $3,485.00
Fuel: 2,500 miles @ 10 mpg x $4 per gallon = $1,000
Food: $25 per day x 30 days = $750
Accommodation: $25 per day x 10 days = $250
Phone: $100 for cell service (AT&T) + $100 for data service (Verizon) = $200
Maintenance: $500 monthly for each month of travel
Healthcare: $350 (includes insurance premium + miscellaneous expenses)
Truck Insurance: $135 (includes truck premium + camper rider)
Contingency: $10 per day x 30 days = $300
| | | | |
| --- | --- | --- | --- |
| EXPENSE | BUDGET | EXPENSE | BALANCE |
| Fuel | $1,000.00 | $828.81 | $171.19 |
| Food | $750.00 | $762.80 | |
| Accommodation | $250.00 | $82.10 | $167.90 |
| Phone / Internet | $200.00 | $194.00 | $6.00 |
| Maintenance | $500.00 | $16.79 | $483.21 |
| Health | $350.00 | $473.11 | |
| Truck Insurance | $135.00 | $100.08 | $34.92 |
| Contingency | $300.00 | $225.37 | $74.63 |
| TOTAL | $3,485.00 | $2,683.06 | $801.94 |
Throughout the course of the month we were able to save $801.94 on our budget.
Starting Funds: $18,886.67
MINUS September Expenses: $2,683.06
Remaining Funds: $16,203.61
PLUS Donations: $110.00
PLUS INCOME: $0.00
Remaining Balance: $16,313.61
FUEL
We budgeted for $4 per gallon to cover 250 gallons of fuel over an anticipated 2,500 miles. We ended up driving around all of those miles. However fuel was less expensive than we budgeted, especially as we made our way south and east.
FOOD
Our food budget is consistently difficult to manage. Although we do not go out to eat often, this did increase once we became stationary in Thermopolis. We were more social with our new friends when it came to sharing meals together. Additionally we were able to look back to see that when we travel we tend to skip meals. We were $12.81 over budget – close but not even!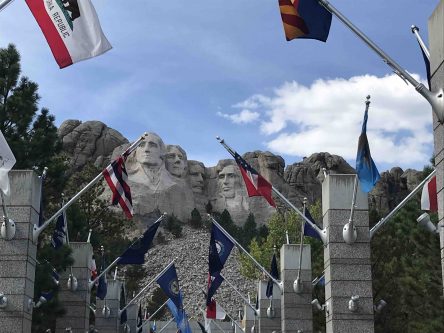 ACCOMODATIONS
By work camping we only had to account for ten days of travel accommodations. We boondocked several of those nights in rest stops. A handful of other nights we stayed with friends in Illinois on our way back to Florida. This allowed us to come in significantly under budget for the month.
MAINTENANCE
We are at the point where we kind of close our eyes and pray each time we start the truck. She is reliable on the road, but we know there is more significant maintenance that we need to do. So we have decided to save our monthly maintenance as much as possible for when we would be back in Florida for repairs. We did have to fix a headlight, which was a minor expense.
HEALTH
We previously budgeted for our insurance premiums plus some overage to account for any unforeseen medical expenses we might incur. Up until September we did not have any of those unforeseen expenses. However, in September Lindsay had to make a trip to see her ENT because she had some issues with her ear. Between the co-pay and the prescriptions to treat the issue we went over our budget by $123.11. However, if we had kept our previous $500 per month budget we would have fallen right in place with it.
CONTINGENCY
This expense usually accounts for any "fun activities" that we do. As we are pretty skimp on paying for excursions, this budget usually remains relatively untouched. However, as we were in the last few weeks of the first leg of our journey we decided that we would do a few tourist activities that we wouldn't normally do. We paid to visit the Kentucky Horse Park in Lexington. We also went to watch the final horse races of the season at Churchill Downs.

DONATIONS
We made friends with a couple in the campground in Thermopolis who left us with a generous $110 donation. They also gave us free passes to visit one of the local hot springs.
INCOME
While we did work camp in exchange for our accommodations, we didn't actually make any income. We planned to work with our friend in his construction business but instead we decided to donate that time to helping him rather than earning income.
OVERVIEW
September rounded out of 6th month on the road. We have learned to live very reasonably on our budget. While we keep watching the overall funds dwindle, we do believe that we can continue to be more and more responsible with our spending.
LOOKING AHEAD
We're going to be back in Florida by the first part of October. This will reduce many of our expenses. However we will have to complete rather significant maintenance on our truck. We suspect this will cost us between $2,500 – $3,000. By returning to Florida, we can reduce the sense of urgency to make the repairs. We intend to find employment to offset the costs and also to try and recoup money that we can save for onward travel.
We aren't really certain what will happen with our expenses and income once we return to Florida. However that uncertainty will fuel our push to be as active as we can to make money and continue to save toward the next leg of our journey!
---
---