Thank you for taking the time to read more about our life's calling and how you can be a part of supporting us!
We're doing things a little differently from commended missionaries. But we hope that won't stop you from helping us share God's love with the people we meet and serve on our journey to drive from Alaska to Argentina!
As you may or may not know, our story actually began on the mission field! We met while serving on a mission trip to Cuba. Nine months later we married while serving in unofficial capacity as missionaries in Honduras.
It's safe to say, we now recognize that every moment of our life is testimony to the Great Love that we have found (or that found us!). And we now see our journey as the pursuit of the Abundant Life!
This pursuit began with one simple word.
God Said Go!
It's as simple as that… or, not really… But this is how our journey began.
Essentially what happened is that we spent a weekend together in 2016 reflecting on life, our love for each other, the adventurous spirits within us that drew us to each other and God's calling and purpose for our lives.
At the time we were foster parents of 8 (mostly) teenage girls. We felt called to raise these girls at this point in our life – but we most definitely heard God's voice when He said Go!
We heard what became our "call to wander" – to drive from Alaska to Argentina. And through the next several weeks we received confirmation through Scripture, events in our lives and prophetic words from others.
We decided we would go, whenever the Lord said so, and we began the preparation process. This process would last nearly two years before we would set out on the road.
In the meantime we prayed over how we would travel from Florida to Alaska and then from Alaska to Argentina. And we prayed over the people we would meet and the words and actions we would say and do.
And in this time we discovered our ministry.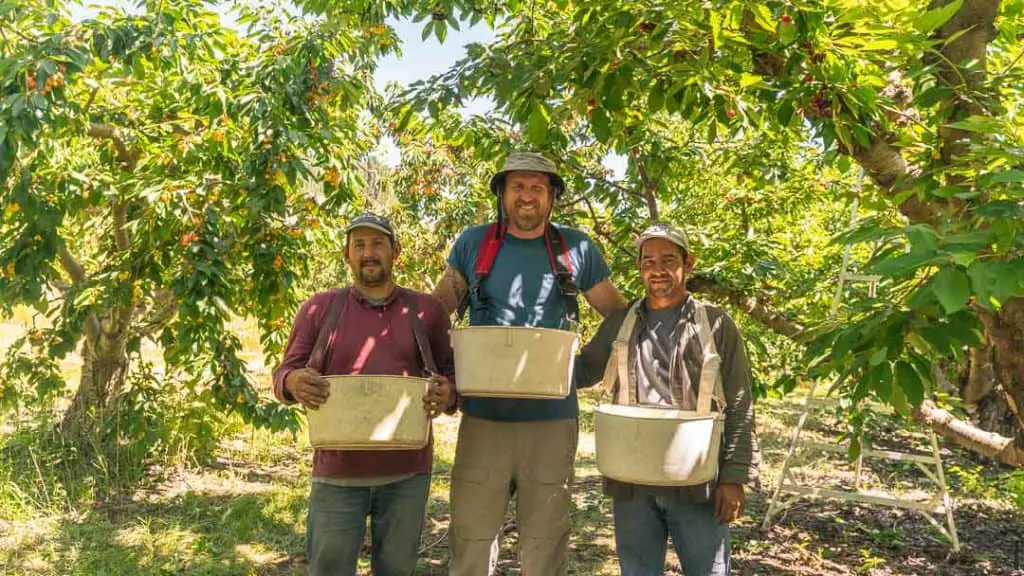 Our Ministry: Love Our Neighbors
Our ministry is incredibly informal. We are not affiliated with any particular church or even denomination. And, to date, we are not organized enough to qualify as a non-profit.
We simply love people everywhere we go.
As Christians, we are nondenominational. We don't flaunt our faith or our theologies. In fact, we feel part of our calling is to show other people who have been hurt by the Church what Love truly looks like.
We do believe that Jesus is our Lord and Savior. We are unapologetic about this conviction and we have our own incredible testimonies of how God called us into a relationship with Him.
But when it comes to ministry, our playbook is simple: We simply Love our neighbors as ourselves.
We have just been called to find neighbors all over the world with whom to share this Love!
We believe that Jesus has very specifically called us to drive our truck camper from Alaska to Argentina.
During the course of this journey, which has revealed to us that Abundant Life is here and now, we simply serve people, and set as an example the Love we have toward our neighbors.
In our journey to Alaska during 2018 we learned that God's love is spontaneous, incalculable and well beyond our understanding.
We met people who have become lifelong friends through circumstances only He could engineer.
And we realized that we cannot complete this mission by being absorbed into any corporate mission.
Our mission lay in front of us, one day after the next, as we wander where we are led.
Our Mission: One Year in Mexico
In the next leg of our journey we will spend 6 months serving others in Baja, Mexico.
Upon completion of the first 6 months we will return briefly to the US and re-enter mainland Mexico for an additional 6 month journey as we head toward Guatemala along the "Pan American Highway."
God-willing, we will enter Baja, Mexico in November.
We have chosen 10 towns and villages in Baja in which we are developing relationships with individuals and organizations we will serve during our time there.
These range from orphanages and schools to equine therapy and medical facilities.
In some cases we will serve as formal volunteers to assist in the day-to-day operations of the organization.
But in many cases we will informally "serve the servants" – whether that is preparing meals for volunteers, cleaning facilities or otherwise providing support and assistance to those people who have committed their lives to serving others.
We Need Your Support!
Although we are not commended missionaries, we are following the ministry model to try and raise support for our ministry.
Our current needs while in Mexico are approximately $2,500 per month.
Over the two years of planning and past 18 months of living full time out of our truck camper we have learned to be incredibly frugal and responsible with our budget.
And while we are traveling we are building a business that we hope will one day allow us the financial opportunity to become self-sufficient in our ministry.
It is our hope that in that day we can thank you and redirect your support toward other ministries.
But in the short term we could use your assistance in supporting us financially as we serve others in Baja and make our way toward Argentina.
How Can You Support Us?
Our goal is to raise a consistent $2,500 in monthly support. But we have 5 ways in which you could choose to partner with our ministry in reaching this goal:
GoFundMe
In April we were hit with a ~$5,000 surprise expense when our truck broke down in Utah. We immediately launched a GoFundMe campaign that helped us ship our truck back to our mechanic in Florida, who has since repaired it. But we are still behind in the total expenses. You can support us by contributing to this campaign as a one-time donation.
Patreon
Patreon is a platform for artists that allows us to gather monthly support in exchange for sharing creative projects. As you know, Lindsay is a brilliant photographer and together we have been sharing our journey on YouTube. This method acknowledges our attempt to use our experiences and creativity to support ourselves as entrepreneurs. You can join at any level of support and in exchange we provide you a variety of incentives/rewards.
PayPal
PayPal allows you to send us support either in one-time donations or on a monthly basis. If you contact us directly (hello@calledtowander.com) we can arrange a "friends and family" transfer of funds that will bypass fees.
Venmo
Venmo is another cash app that allows for easy and free transfer of funds. If you contact us directly (hello@calledtowander.com) we will share the information required for you to support us as often as you feel called.
Amazon
We are Amazon affiliates and, as such, we receive a small commission from anything you buy that we recommend. If you begin shopping with THIS LINK, anything you add to your cart and purchase will be credited to our account. You can support us by buying the things you would normally buy at no additional cost to you!
How Will This Money Be Spent?
Although we have yet to cross the border and have learned there are many unexpected expenses that can arise, we anticipate the following budget breakdown:
$300 Meals ($10/day)
$300 Camping ($10/day)
$360 Unexpected & Giving ($12/day)
$200 Phone and Internet
$125 Truck Insurance (Mexico requires its own auto insurance)
$450 US Health Insurance (we must keep this in the event of accident and to maintain Lindsay's Crohn's Disease)
$300 Health Supplements (Lindsay now treats her Crohn's Disease naturally instead of through IV medication)
$100 Business (maintaining our website, editing software, bookkeeping and so forth)
$365 Fuel & Maintenance
Should we raise beyond our needs our goal is to be able to support the individuals and organizations we serve along the way.
Our Commitment To You
We commit to remain financially responsible for your support. As such, we will include you in monthly updates of our expenses.
We will also include you in our newsletter where we will share the amazing stories of what God is doing through us in our mission.
Additionally, if you are interested, we offer the following at various levels of support:
$15/mo ($180 one-time): Post card update from us each month!
$25/mo ($300 one-time): 20 Page Coffee Table Photo book **
$50/mo ($600 one-time): 5×7 Print of your choice each month! **
$100/mo ($1,200 one-time): 8×10 Print of your choice each month! **
** You will receive all gifts from each previous level of support!
At any level of support (over $20 one-time), we will send you a postcard to put on your refrigerator, desk or other place where you will keep us in your prayers!
Parting Words Of Inspiration
Our ministry model came to us through prayer one day – the first day of our calling to wander. Someone we didn't know walked up to Chris at church and asked to pray over him.
No stranger to the seemingly random acts of the Holy Spirit, Chris agreed.
In the prayer this person said they saw a Bible open to a place where there was a red mark and an underline. They couldn't see where in Scripture this was. But they felt confident that it would make sense.
At this Chris raced home to find his Bible. Actually, his Bible was not his Bible. His Bible was stored on a shelf at his parent's house filled with years of marks and underlines.
The Bible he read presently was his grandmother's Bible that he received in her passing several years earlier.
As he flipped through the pages, starting in Genesis, he was eager to see what this prophetic word would reveal.
Nothing was underlined or marked in any way through the Old Testament. Discouraged, he flipped through the New Testament in reverse…
Then he came upon the revelation when he reached Luke Chapter 10.
There was a red mark next to the passage and an underlining within the verses!
"After this the Lord appointed seventy-two others and sent them two-by-two ahead of him to every town and place where he was about to go. He told them, "The harvest is plentiful, but the workers are few. Ask the Lord of the harvest to send out workers into his harvest field. 
Go! I am sending you out like lambs among wolves. 
Do not take a purse or bag or sandals; and do not greet anyone on the road. Whenever you enter a house first say, 'Peace to this house!' If a man of peace is there, your peace will rest upon him. But if not, it will return to you. And remain in the same house, eating and drinking what they provide, for the laborer deserves his wages. Do not go from house to house. 
Whenever you enter a town and they receive you, eat what is set before you. Heal the sick in it and say to them, 'The kingdom of God has come near to you.' But whenever you enter a town and they do not receive you, go into its streets and say, 'Even the dust of your town that clings to our feet we wipe off against you. Nevertheless know this, that the kingdom of God has come near.'
While we are not entirely certain of all of the meaning of this verse, we hope that you can see why we are profoundly convicted to pursue the Abundant Life through our call to wander.
And we are grateful if you will partner with us in supporting our ministry to love our neighbors as ourselves, in the model Jesus gave us all.
Thank you and we look forward to walking with you through this journey!
~ Love Chris & Lindsay + Everest!